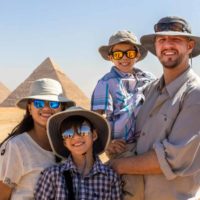 Welcome!
The Wandering Wagars are an adventurous travel-loving family who loves sharing new and unique family travel experiences with other parents.
In 10 years of parenting, we have traveled through four continents and encountered a lifetime worth of food, wildlife, and cultural adventures along the way.
Our goal is to be the best family travel blog for those who want to go beyond the traditional family vacation and help you and your children expand their views of the world.
Whether you're looking to go sandboarding in Egypt, explore the ruins of Petra, or learn to make chocolate from scratch, we can show you where to go, how to do it, and most of all, how to have an amazing experience that the whole family will love.
Check out our YouTube channel