Experience the gateway to Africa as you explore fascinating cities, epic mountains, and mouthwatering food through our Morocco family travel blog.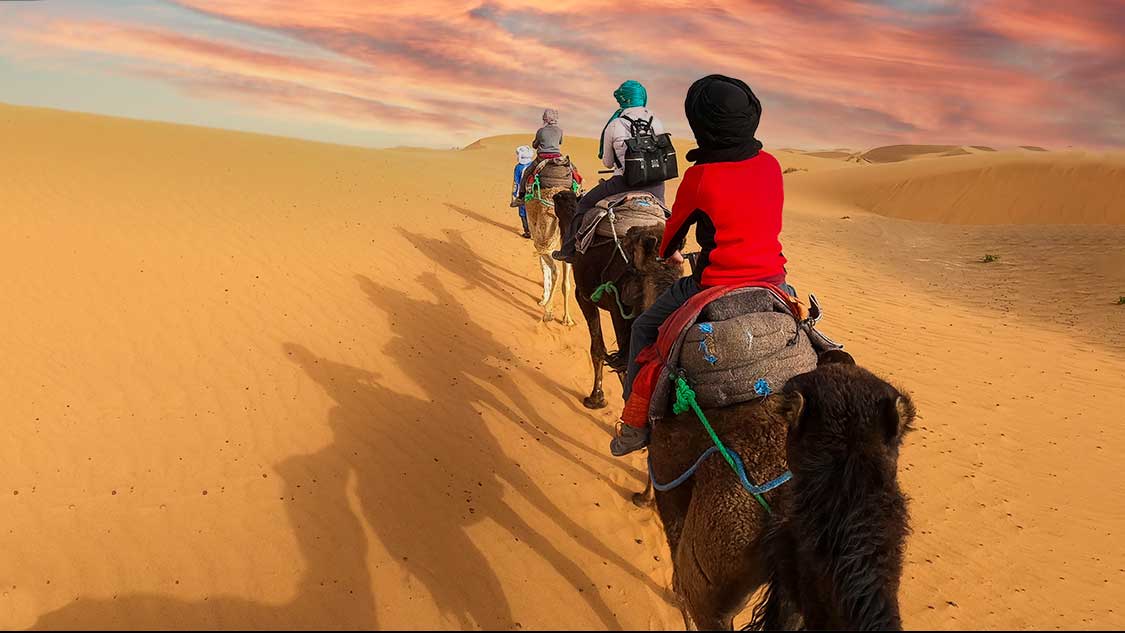 Explore Our Morocco Family Travel Guide
Morocco is a country that took us eight years of planning before we finally had the chance to visit. Canceled plans and frustrations were the names of the game as the world constantly shifted, forcing us to put the brakes on the journey time after time. But once all of the puzzle pieces came together and we finally had the chance to cross the border into the country, we absolutely fell in love.
Morocco is one of those countries that offers an idyllic combination of accessibility, adventure, culture, and beauty. The northern tip sits just across the Gibraltar Strait from Spain. At its closest, it lies just 9 miles (14.5 km) from the European mainland.
Morocco is packed with ancient wonders, stunning and unique cities, and warm, welcoming people with a deep love for children. With all of the places to visit in Morocco, from the towering sand dunes of the Sahara Desert to the snow-capped peaks of the Atlas Mountains, it's no surprise that Morocco is popular among adventure-seekers. But countless families have discovered that this North African country is among the most incredible destinations for family travel.
Urban Morocco, with its cities such as Marrakech, Ouarzazate, and Fes, is packed with mazelike medinas where you can shop for just about everything under the sun. And the food in Morocco stands at the top of the continent for its variety and delightful flavors. While our travels in Egypt, while magical, were definitely stressful, family travel in Morocco is done at a far slower pace. And in terms of accessibility, it's a country that can be traveled as easily independently as it can with a guide.
From the blue city of Chefchaouen and the winding center of Fes to the rich beaches of the Mediterranean and everything in between, there are plenty of places to visit in Morocco that will blow your mind. Our Morocco family travel blog and our Family Travel Support Group on Facebook are here to help you plan your visit.
Read Some Of Our Most Popular Morocco Family Travel Blog Posts
Tips For Family Travel in Morocco
Family travel in Morocco is fabulous, but it doesn't come without its own unique challenges. Unlike many North African countries, Morocco is very stable from a political perspective. And it's a relatively safe place to travel. However, it's a country with its own unique rules that are best understood prior to visiting.
The amount of work that goes into planning a trip to Morocco really depends on what you plan to get out of your trip. If your plan is to lounge on the beaches of Agadir, you might find the trip as painless as a trip to the Caribbean. But, if you're planning on traveling throughout the country and exploring some of the Roman ruins, historic cities, or luxury desert camping experiences, you might find some surprises along the way.
The good news is that there are relatively few areas of Morocco where travel with kids is not advised. And travel throughout the country is considered very safe.
Here are a few things to help you plan a family trip to Morocco. From what money they use to how to navigate the country safely. We even have great tips for what to pack for Morocco. And please explore our Morocco travel blog posts to learn more.
Currency

the Moroccan Dirham (MAD) is the primary currency in Morocco. Although the use of the Euro is also accepted regularly throughout the country. The average value of the Moroccan Dirham is approximately $0.1 USD. You can check out the current value here.

Capital

The Capital of Morocco is Rabat. This coastal city of just over 575,000 people is a popular destination for tourists. Visits to the city are often combined with its sister city of Sale, which has just 15,000 residents.

Electricity

Morocco uses C & E type 220V sockets. The C type uses two round pins, and the E type uses two round pins and ground. The frequency used is 50hz. You may need a voltage converter depending on your electronics.

Cellular Phone Service

Cell phone service is readily available throughout much of Morocco. Even the rural areas generally have some, though often limited, cell service. Sim chips are cheap and can be added to unlocked phones. Access in rural areas or smaller islands can be spotty, and wifi is less common in these areas.

Roads, Driving, and Public Transit

Driving in urban Morocco is quite chaotic. Traffic rules are very localized and lanes, signaling, and even passing are done on a first-come, first-serve basis. One thing of special note is that Morocco has a very "cars first" approach to road safety. Cars will not actively try to hit pedestrians, but they will also take the right of way unless there is more pedestrian than vehicle mass. Consider avoiding driving in Morocco if you are not exceptionally comfortable in stressful situations. Driving in Morocco can be chaotic. Traffic rules are generally not well-enforced and are often up to interpretation.
Roads throughout the country are in relatively good shape, although in rural and mountain areas they can be very windy and in poor maintenance.
Mass transit is not readily available in most Moroccan cities. Transit is normally done by car, motorcycle, or taxi.

Morocco with Kids

Family travel in Morocco is wonderful. The country may not be the easiest to navigate with children. But Moroccans are especially welcoming of families.
Touching children's faces is very common in Arabic cultures. This may often be done without asking a parent first. If the touching makes you or your child uncomfortable, be open and honest, and you will usually be treated with respect. You can find our complete guide to visiting Morocco with kids here.
What Language Is Spoken In Morocco?
Morocco has a complicated language structure that combines multiple official languages, local cultural languages, and local dialects. The most common languages are Arabic and French. If you know either of these languages, you will be able to get around with no issues. The two other most widely spoken languages are Berber and the Moroccan dialect.
Important Arabic Words To Know:
Yes: Nem
No: La
Thank You: Shukraan
Thank You Very Much: Shukraan jazilaan la
You're Welcome: Eelaa alrahab walsaea
Please: Raja'
Excuse Me: Efu
Hello: Marhabaan
Goodbye: Wadaeaan
Bathroom: Hamam
Read Our Latest Morocco Family Travel Blog Posts