Grab a taco and come explore the food, sights, and attraction in Mexico through our Mexico family travel blog.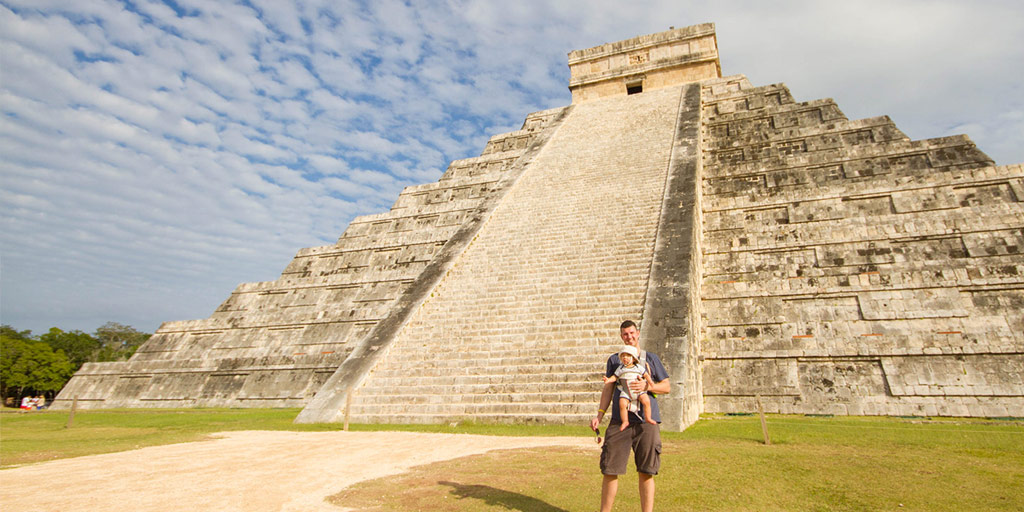 Explore The Best Of Family Travel In Mexico
From the famed Mayan ruin of Chichen Itza to the beautiful waterfront of the Mayan Riviera, Mexico is chock full of beautiful destinations, quaint towns, historic churches and so much more. And let's not forget their legendary food, music, and festivals such as Dia de Los Muertes! Travel to Mexico gives you the opportunity to explore the amazing culture and incredible destinations.
Tips For Family Travel in Mexico
There are many misconceptions about family travel to Mexico. Although many people worry that travel to Mexico is dangerous, it is actually on par with the United States in terms of safety. There are certainly areas of Mexico that are best avoided. And there are activities you should not partake in while in the country in order to maintain maximum security. But most areas of Mexico are very safe and incredible for family travel.
Our family travel to Mexico guide will help you with what you need to know when traveling to Mexico with kids.
Currency

Mexico uses the Mexican Peso. It averages about $0.058 USD. You can check the current rate of the Mexican Peso here.

Capital

The Capital of Mexico is Mexico City. This sprawling city of over 10 million people is home to incredible ruins, such as Teotihuacan, amazing museums, restaurants and so much more.

Electricity

Power sockets in Mexico are of type A and B. The standard voltage is 127 V and the standard frequency is 60 Hz.

Cellular Phone Service

Mexico has a wide network of cellular towers. Cellular access is available in most rural and urban areas.

Roads, Driving and Public Transit

Driving in most areas of Mexico is safe. Be aware of pedestrians and avoid driving at night due to hard to see pedestrian and animal traffic.
Mexico really likes their speed bumps. Take them seriously, as they are often large enough to send you off your seat if you don't
If driving a car across the border from the USA or Canada into Mexico, you MUST purchase a Mexican insurance policy. Most insurance policies will not cover a car from these countries being driven in Mexico.
For more information about driving in Mexico read this.

Mexico with Kids

Most of Mexico is safe for families and children. Tourist areas especially are popular family travel destinations. Be aware if traveling near US/Mexico border areas as drug cartels may be operating in the vicinity. Check local and international safety news for details.
Important Words And Phrases To Know When Traveling In Mexico
Like most of Central and South America, the main language in Mexico is Spanish. English is spoken in many of the larger cities and by most tour guides, however, in most neighborhoods and communities, it might be challenging to find locals who speak English.
It's always helpful to know a few words in the local language whenever you travel to a new destination. So here are a few important Spanish words to know before you visit.
Important Spanish Words To Know:
Yes: Si
No: N
Thank You: Gracias
Thank You Very Much: Muchas Gracias
You're Welcome: De nada (It's nothing)
Please: Por favor
Excuse Me: Perdóneme
Hello: Ola
Goodbye: Adiós
Bathroom: Baño
Read Our Latest Mexico Family Travel Blog Posts