Experience the Land of Fire and Ice with our Iceland family travel blog to learn what to eat, where to stay, and what to do in Iceland with kids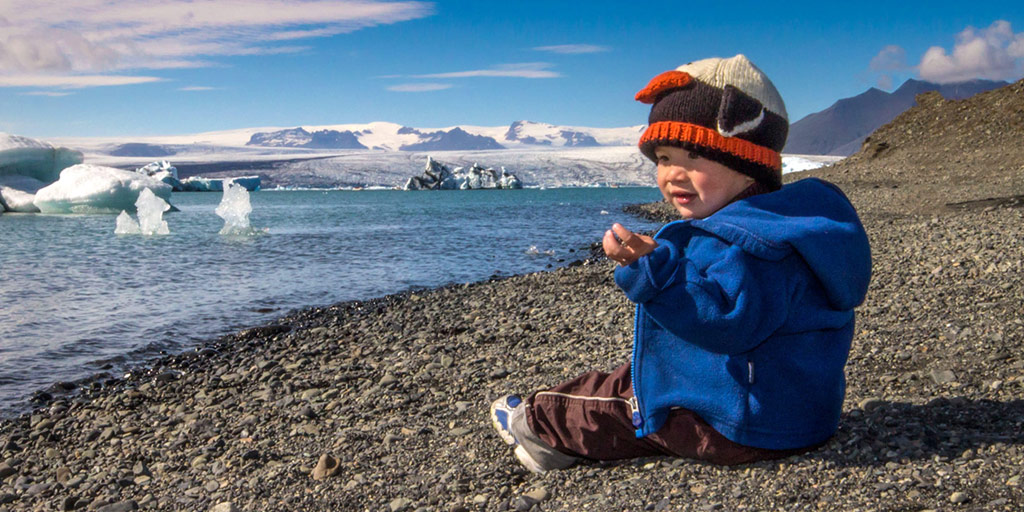 Explore A World Like No Other Through Family Travel In Iceland
There are few places in the world with vistas as epic as those in Iceland. Icleand is covered by both freezing glaciers and exploding volcanoes. No wonder it has been named The Land of Fire and Ice! And whether you are interested in the urban charm of colourful Reykjavik, the quaint farms and small towns of the ring road, or the barren beauty of the Icelandic highlands, there is something in Iceland for everyone.
Our Iceland guide covers a huge portion of this Island nation. We cover how to pack for Iceland. And takes you to some of the most incredible places to visit in Iceland. Whether you are traveling to Iceland with kids or doing it on your own, you're going to find something you LOVE here!
Family travel to Iceland can come in many forms. Foodies go for the hot dogs. Adventurer's visit for the incredible hiking and even the SCUBA Diving. And urban explorers can't get enough of the country's unique architecture and Viking museums. If you are looking at where to start exploring we suggest you have a look at our 14-day Iceland Itinerary here to give you an idea of what travel in Iceland has to offer.
Tips For Family Travel in Iceland
Travel to Iceland can offer one of the most incredible experiences in the world. And it the last 5-years it seems that EVERYONE has figured that out. Whether it's for the Icelandic food or the landscapes, tourists are flocking to Iceland in droves during both summer and winter to experience the majestic landscapes and unique culture. Our Iceland guide will give you everything you need to know about travel to Iceland.
Currency

The currency in Iceland is the Icelandic króna. The krónar averages approximately $0.001 to the USD. You can check the current value of the Icelandic króna here.

Capital

The Capital of Iceland is Reykjavik. This beautiful urban center is the home to more than half of the country's 120,000 residents.
Reykjavik has a perfectly European feel with great food, delicious coffee, and a lively nightclub scene.

Electricity

Iceland shares the standard European 220 volts at 50 Hz electrical system.

Cellular Phone Service

Cell phone service is readily available in most urban areas of Iceland. There are regions in the interior and more remote regions that are not covered.

Roads, Driving and Public Transit

Most roads in Iceland are well maintained. The country has one major highway (Hwy 1, also known as the Ring Road) that circles the country.
There are many roads labeled "F" roads that are not well maintained and require 4 wheel drive vehicles to safely navigate them. Many of these roads are on loose gravel and involve fording small rivers and streams.
Many rental car companies may not insure cars using F roads. Check with your rental company before using them.

Wildlife and Nature

Iceland has very sparse and low growing forests. In fact, Icelandic people have a saying "If you get lost in the woods in Iceland, just stand up."
Wildlife in Iceland is also quite sparse. Reindeer are common in the mountains. And the country is also home to many birds such as swans and puffins.

Iceland with Kids

Most places in Iceland cater well to children. Many restaurants feature small play areas for children. In addition, the wide-open expanses make for excellent natural playgrounds for children.
Important Words And Phrases To Know When Traveling In Iceland
The Icelandic language is one of the most complex languages in the world. Very few visitors to Iceland can get a grasp on the unique Icelandic alphabet, let alone the long, and often tongue-tying pronunciation. Luckily nearly everyone in Iceland speaks multiple languages, including English. This makes traveling through Iceland very easy for those of us coming from North America. But, just like any proud people, Icelandic people appreciate it when you make an effort to learn their mother tongue. So here are a few Icelandic words and phrases to help you along the way:
Unique Icelandic characters:
Æ: pronounced 'Eye'
ö: pronounced 'eu'
ð: pronounced as a soft 'th'
þ: pronounced as a hard 'th'
Important Icelandic Words To Know:
Yes: Já
No: Nei
Thank You: Takk
Thank You Very Much: Takk fyrir
You're Welcome: þú ert velkominn/Gerðu svo vela
Please: Vinsamlegast/Takk
Excuse Me: Fyrirgefðu
Hello: Halló/Góðan daginn
Goodbye: Bless
Read Our Latest Iceland Family Travel Blog Posts