Experience thousands of years of history, scrumptious food, and some of the most awe-inspiring experiences through our Egypt family travel blog.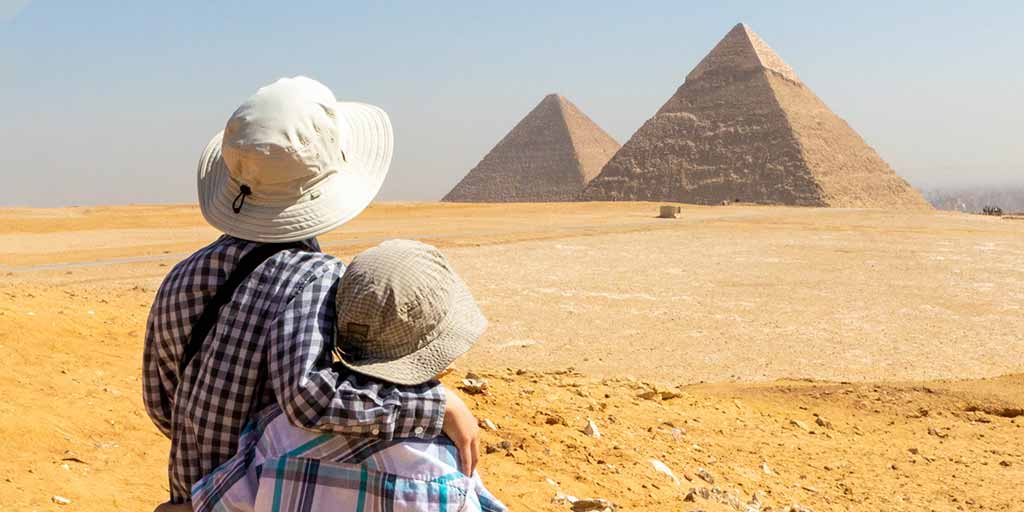 Explore Our Family Travel Egypt Guide
Egypt is one of those bucket list countries that seemingly every traveler has dreamed about. It's rich and exciting history is on display in its ancient wonders such as Abu Simbel and the Great Pyramids of Giza. But there is so much more to this North African country than we learn about in history class.
Egypt is dusty, stressful, and magical. I'll never say that Egypt is one of the most accessible places to travel with kids. But it's worth all of the effort that goes into planning a trip to the country. Even after we nearly got derailed from our journey by an epic storm in the Siwa Oasis, and when we almost got trapped in the country during the Covid-19 outbreak, Egypt still ranks as one of the most fascinating destinations that we have traveled to with kids.
From the blue shores of Red Sea locations such as Sharm-El Sheik and Hurghada to small towns lost in time like the Siwa Oasis near the Libyan border, you can find so much magic by delving further than the famous cities such as Luxor and Cairo.
Read Some Of Our Most Popular Egypt Family Travel Blog Posts
Tips For Family Travel in Egypt
Family travel in Egypt can be challenging. The country can be messy, both politically and figuratively. Planning a trip to Egypt requires some work. While a DIY Egypt trip is possible, for our visit, we partnered with Traveline Egypt to help us get around both comfortably and safely while we were in the country. There are a lot of areas of Egypt where it's either not advisable, or not possible to travel without a guide.
Here are a few things to help you plan a family trip to Egypt. From what money they use, to how to navigate the country safely. And please explore our Egypt blog posts to learn more.
Currency

Egyptian currency is the Egyptian Pound. The average value of the Egyptian Pound is approximately $0.065 USD. You can check out the current value here.

Capital

The Capital of Egypt is Cairo. This sprawling city of nearly 10 million people is often combined with its suburbs including Giza to encompass an area of over 20 million.

Electricity

Egypt uses C & F type 220V sockets. The C type uses two round pins and the F type uses two round pins and ground. You may need a voltage converter depending on your electronics.

Cellular Phone Service

Cell phone service is readily available throughout the urban areas of Egypt. Sim chips are cheap and can be added to unlocked phones. Access in rural areas or smaller islands can be spotty, and wifi is often unreliable.

Roads, Driving and Public Transit

Consider avoiding driving in Egypt if you are not exceptionally comfortable in stressful situations. Driving in Egypt can be chaotic. Rules are generally not well-enforced and are often up to interpretation.
Roads can be very rough, especially in rural areas.
Mass transit is not readily available in most Egyptian cities. Transit is normally done by car, motorcycle, or taxi.

Egypt with Kids

Family travel in Egypt is wonderful. The country may not be the easiest to navigate with children. But Egyptians (and Middle-East countries in general) are especially welcoming of families. Expect much attention to be paid to children's comfort and happiness.
Touching children's faces is very common in Arabic cultures. This may often be done without asking a parent first. If the touching makes you or your child uncomfortable, be open and honest, and you will usually be treated with respect.
What Language Is Spoken In Egypt?
Like many middle-east countries, the main language in Egypt is Arabic. Most Egyptians speak English as a second language, but it's always a good idea to know some important Arabic words and phrases to help break the ice.
Important Arabic Words To Know:
Yes: Nem
No: La
Thank You: Shukraan
Thank You Very Much: Shukraan jazilaan la
You're Welcome: Eelaa alrahab walsaea
Please: Raja'
Excuse Me: Efu
Hello: Marhabaan
Goodbye: Wadaeaan
Bathroom: Hamam
Read Our Latest Egypt Family Travel Blog Posts