Egyptian food is nutritious, delicious and full of flavor. Here are 5 easy Egyptian recipes to make at home if you love middle eastern food.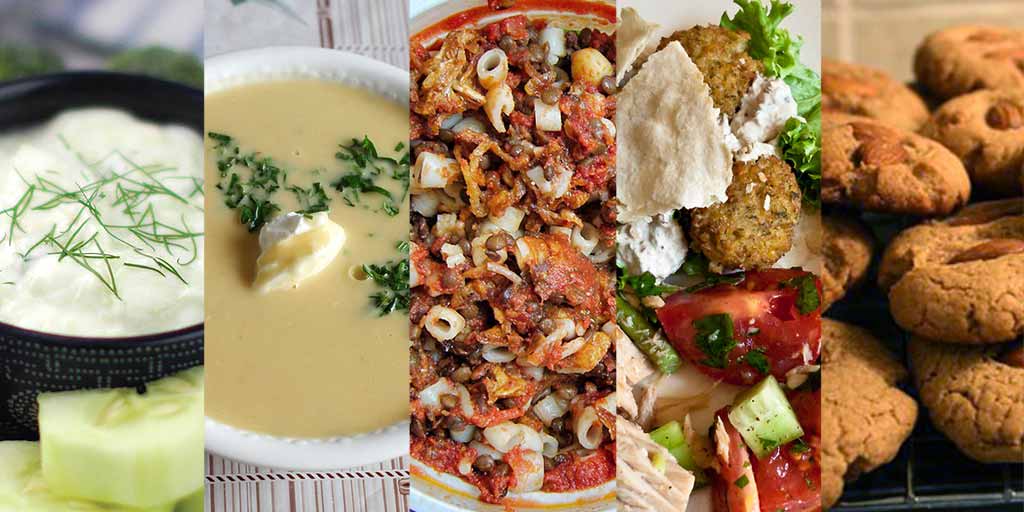 A trip to Egypt is something on every adventurer's bucket list. This country has some of the richest and most important history in all of humanity. The fact that they are the home to the Great Pyramid of Giza, the last remaining ancient wonder of the world, is really just the start of what makes Egypt such a wondrous destination. With incredible history and culture, comes amazing food. And while I can't always visit Egypt to taste their flavors first-hand, I can whip up some of these easy Egyptian recipes and enjoy Egyptian food at home.
Egypt sits in a unique spot in the world. It's the only African country with a direct link to the Middle East. Egypt shares a land border with Israel but is also just a short boat ride from Jordan and Saudi Arabia. This cross-section of the world makes for some very interesting cuisine. While staples like rice, figs, bread, fava beans, and cucumbers are nearly always on the menu, Egyptian food has seen it's fair share of influence from nearby countries. Persian, Lebanese, and Syrian influence are on display on both home tables and restaurants.
During our travels through Egypt, we ate, probably more than, our fair share of food. And we honestly couldn't get enough. So, whether you want to want to relive your own travels in Egypt, or are just looking for some new Egyptian dishes to make at home, these easy Egyptian recipes will put a little bit of the country into your belly. And you'll be happy to know that these Egyptian dishes are kid-approved.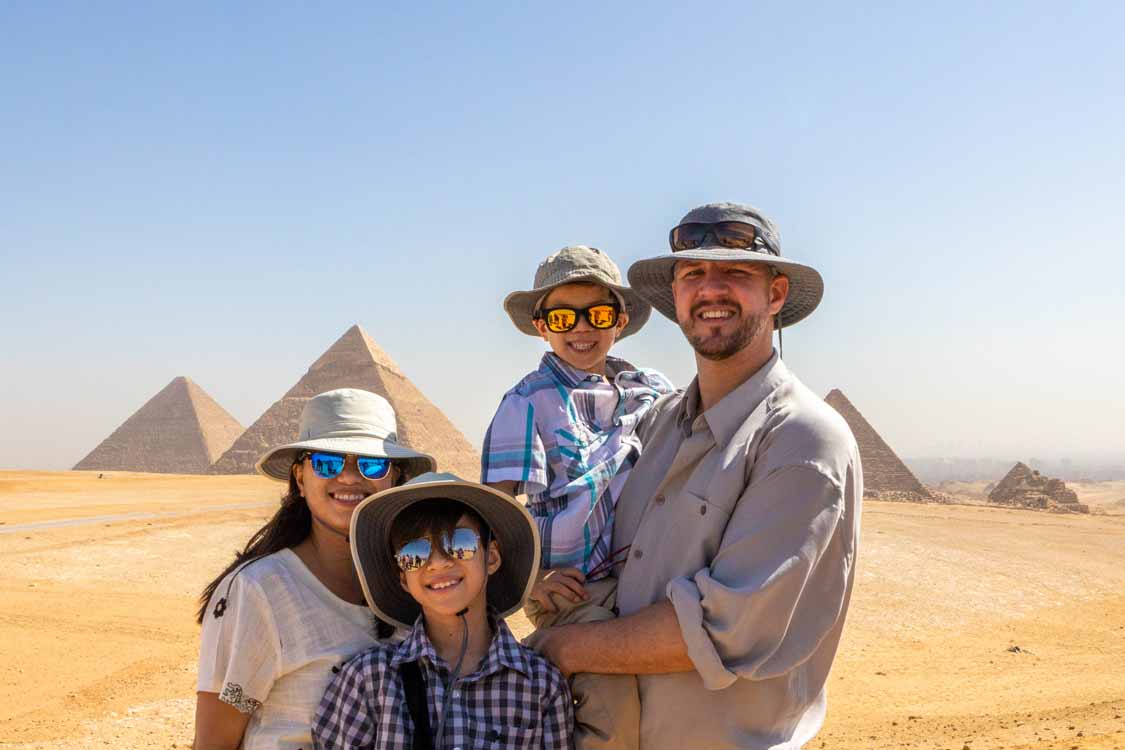 What Is Egyptian Food Like?
Egyptian food is rarely mentioned among the great foodie destinations of the world. But, with a cross between Mediterranean and Middle East flavors, Egyptian cuisine is a fascinating and flavorful adventure that is worth exploring.
You'll find flavors that are more varied than the popular recipes of Lebanon and Greece. And with a food culture that dates back more than 5,000 years, it's no surprise that they have perfected one of the oldest fusion cooking styles in the world.
Egyptian dishes are packed with beans, lentils, rice, pasta, and cooked vegetables. They're often mixed with garlic and coriander. And while you'll find similar dishes in many neighboring countries, there always seems to be a slight difference in the way that Egyptian dishes are prepared.
Falafel, for example, is a dish that has been popularized around the world. This dish is usually made with chickpeas. But, in Egypt, falafel is more often made with dried broad beans and mixed with herbs and spices for a more moist and varied taste.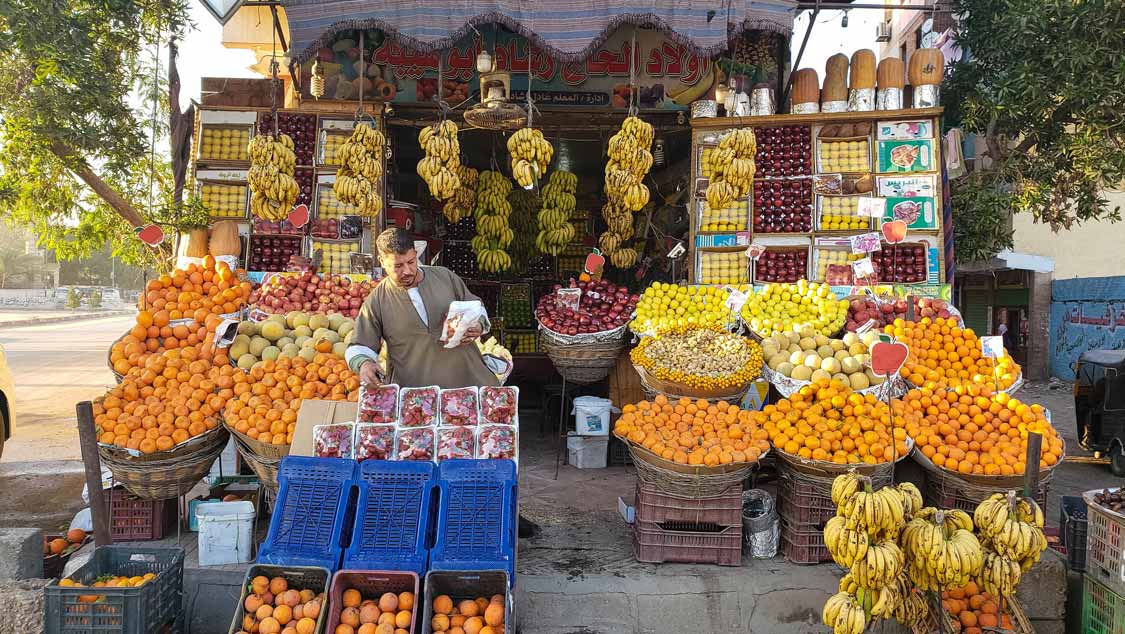 Here Are My Favorite Egyptian Recipes To Make At Home
Food is as much a part of a travel journey as the destination. While travel tends to come to an end when you come back to home soil, reliving my travels through cooking is one of my favorite pastimes. This way, the journey can continue long after I get home. Often, when I'm longing to revisit one of my favorite destinations, I'll head to the kitchen. Because one of the best ways to travel from afar is by remembering the flavors that helped you fall in love with a destination in the first place.
But I know as much as you do, that time is short. So to get started, I begin with easy Egyptian recipes and build from there. I know that I'll be back in Egypt before long. After all, our last trip was cut short by the 2020 pandemic. But in the meantime, I can throw together one of these Egyptian foods and sit back while the flood of memories rushes through me.
So warm up the oven and grab the apron. These 5 tasty Egyptian recipes will take you back to the wonders of Egypt.
Easy Egyptian Yogurt Cucumber Dip (Salatet Zabadee)
One of the best ways to start off an Egyptian meal is by dipping some naan, bread, or veggies in salatet zabadee. This delicious and refreshing yogurt-cucumber dip is prevalent everywhere in Egypt. It's light and fresh, and perfect for when the desert heat is at its peak. With its minty edge, this Egyptian recipe pairs with just about everything.
Salatet isn't only found in Egypt. Similar recipes are found in nearly every country that experiences extreme heat. People from these countries know how to cool down. So on your next summer bbq, try creating this easy Egyptian recipe and laying out a delicious bowl of Egyptian yogurt cucumber dip.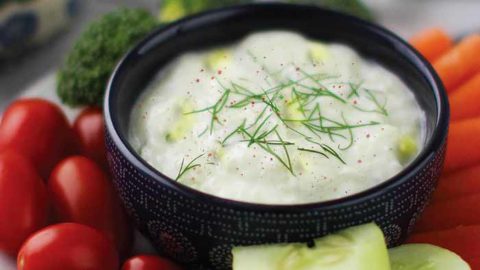 Yield:

6 servings
Easy Egyptian Yogurt Cucumber Dip (Salatet Zabadee)
Total Time:
1 hour
20 minutes
Salatet Zabadee is an easy and delicious Egyptian yogurt and cucumber dip that is perfect for dipping vegetables, pita triangles, or meats such as chicken, beef, or lamb.
Ingredients
2 cups Greek yogurt
1 large cucumber. Seeded and grated
10 large mint leaves. Minced
1 clove garlic. Crushed
1/2 tsp salt
1/4 tsp cumin powder
Pinch of paprika
1 tsp olive oil
Instructions
Shred the cucumber and leave aside for 15 minutes.
In a separate bowl whisk the yogurt until smooth.
Squeeze the juice out of the cucumber into the yogurt.
Add the minced mint leaves.
Add minced garlic. This is optional for those who aren't a fan of garlic.
Add cumin powder.
Add salt to taste.
Serve in a bowl garnished with olive oil and paprika.
Nutrition Information:
Yield:
6
Serving Size:
100g
Amount Per Serving:
Calories:

65
Total Fat:

.4g
Saturated Fat:

.1g
Cholesterol:

5mg
Sodium:

36mg
Carbohydrates:

3.6g
Sugar:

.2g
Protein:

10g
Egyptian Lentil Soup Recipe
Middle Eastern countries have the best lentil soup. This dish is a staple on tables throughout the land. But each state uniquely does their lentil soup recipe. My recent post on Jordanian recipes has one, but the Egyptian lentil soup recipe has a unique taste.
Nearly everywhere we ate in Egypt, we were served a variation of this Egyptian soup. It's hearty, flavorful, and perfect for those chilly desert nights or the cold winters here in North America.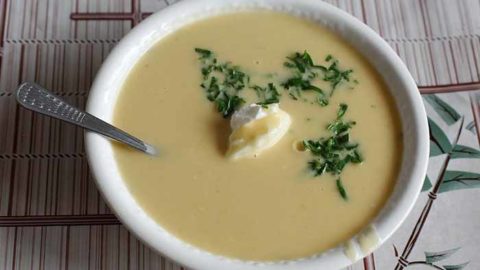 Yield:

4 servings
Easy Egyptian Lentil Soup Recipe
Egyptian lentil soup is rich, creamy, and incredibly healthy. This unique take on lentil soup uses tomatoes to add a flavorful tang.
Ingredients
3 cups water
1 cup lentils
1 Roma tomato. Quartered
1 medium carrot. Quartered
1 small onion. Quartered
4 cloves garlic. Quartered
1/4 cube chicken bouillon
1 cup water
2 tsp ground cumin
1/2 tsp sea salt
1/2 tsp black pepper
1/4 tsp ground coriander
Instructions
Place 3 cups water, lentils, tomato, carrot, onion, garlic, and chicken bouillon in a stockpot over medium heat. Cook until vegetables and lentils are softened (20 to 25 minutes).
Remove from heat and cool to lukewarm.
Blend vegetable and lentil mixture with an immersion blender until smooth.
Stir 1 cup water, cumin, sea salt, pepper, and coriander into soup mixture.
Cook over medium heat until warmed.
Nutrition Information:
Yield:
4
Amount Per Serving:
Calories:

196
Total Fat:

.9g
Cholesterol:

1mg
Sodium:

316mg
Carbohydrates:

34.3g
Protein:

13.3g
Easy Egyptian Koshari Recipe
There are few recipes more synonymous with Egypt than Koshari. Koshari is the national dish of Egypt. Koshari, which is sometimes spelled kushari, is found everywhere in Egypt, and it's absolutely delicious.
Often the best local meals are those that have come from a pure necessity. And Koshari fits that bill to a tee. It's rich in flavor and full of carbs. Combining lentils, chickpeas, rice, and pasta in a rich tomato sauce. It' is authentic Egyptian comfort food.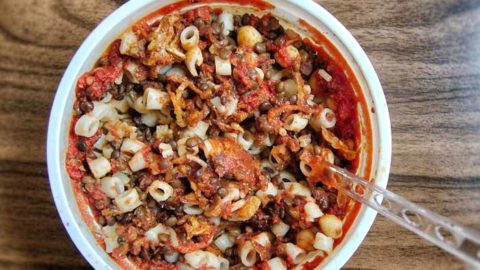 Yield:

4-6 servings
Easy Egyptian Koshari Recipe
Cook Time:
1 hour
10 minutes
Total Time:
1 hour
25 minutes
Koshari is traditional Egyptian comfort food. This dish combines chickpeas, pasta, fried onions, and zesty tomato sauce, served over rice and brown lentils.
Ingredients
Onion Rings
1 large onion. Sliced into thin rings
Salt to taste
1/3 cup all-purpose flour
1/2 cup cooking oil
Tomato Sauce
Cooking oil
1 small onion. Grated
4 garlic cloves. Minced
1 tsp ground coriander
1/2 tsp crushed red pepper flakes
1 28-oz can tomato sauce
Salt and pepper to taste
1–2 tbsp distilled white vinegar
Koshari
1 1/2 cup brown lentils.
1 1/2 cup medium-grain rice. Rinsed and soaked for 15 minutes.
1/2 tsp salt
1/2 tsp pepper
1/2 tsp coriander
2 cups macaroni noodles
Cooking oil
1 15-oz can chickpeas. Rinsed, drained and warmed
Instructions
Crispy Onion Rings
In a small bowl combine flour and salt.
Add onion rings to the flour and toss to coat. Shake off any excess.
In a large skillet, heat cooking oil over medium-high heat.
Add onion rings to oil. Cook until they've turned golden brown. Onions should be crispy, but not burned (est. 15 minutes)
Tomato Sauce
In a large saucepan heat 1 tbsp of cooking oil over medium-high heat.
Add grated onion and cook until slightly softened. Do not allow them to brown.
Add garlic, coriander, and red pepper flakes. Saute until fragrant (30-45 seconds).
Add can of tomato sauce and a pinch of salt. Simmer until the sauce thickens (est. 15 minutes).
Stir in vinegar and lower heat to low. Cover and keep warm until ready to serve.
Koshari
Cover and warm chickpeas in the microwave for 1 minute.
Lentils

In a medium pot or saucepan, bring lentils and 4 cups of water to a boil
Once boiling, reduce heat to low and cook until lentils are tender, but firm (est. 15 minutes). Do not cook completely. They will finish cooking with the rice.
Drain water and season with a pinch of salt

Rice

Drain rice from the soaking container.
Add rice and lentils to a saucepan. over medium heat.
Add 1 tbsp. cooking oil, salt, pepper, and coriander.
Cook for 3 minutes, stirring regularly.
Add warm water until rice and lentil mixture is covered plus about 1 inch of water (est. 3 cups) and bring to a boil.
Cover and cook until the lentils and rice are well cooked (est. 20 minutes).
Let mixture sit for 5 minutes.

Pasta

While cooking the rice and lentils, boil water with a dash of salt and cook pasta until it's al dense (cooked, but firm).
Combine
Fluff rice and lentils with a fork and transfer to a platter.
Add elbow pasta on top along with half of the tomato sauce.
Add chickpeas on top.
Top with crispy onion rings and serve.
Easy Egyptian Falafel (Ta'ameya) Recipe
There are few easy Egyptian recipes that we eat more than the classic falafel. These tasty and cheap wraps can be found pretty much everywhere. And they're among the most economical ways to eat, even amongst the relatively inexpensive food found in Egypt.
Falafel, which in Egypt is called ta'ameya, is tried and true street food. While in much of the Middle East, such as Jordan, it's made with chickpeas, in Egypt, falafel is made from dried fava beans. You can top ta'ameya in many ways, but I love mine with tahini, tomato, onion, and some peppers on some sweet warm naan bread.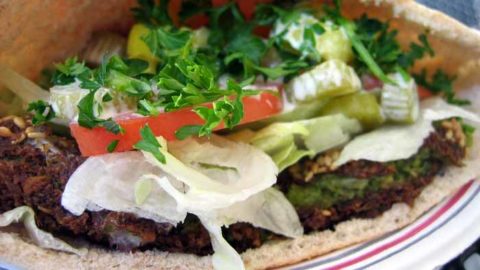 Yield:

10 servings
Easy Egyptian Falafel (Ta'ameya) Recipe
Additional Time:
20 minutes
Total Time:
8 hours
28 minutes
Ta'ameya is classic Egyptian street food. This easy and delicious fava bean-based recipe is fast and delicious. Served best on a warm naan with tomato, onion, parsley, and tahini.
Ingredients
2 cups dried split fava beans
1 red onion, quartered
1/2 cup fresh parsley
1/2 cup fresh cilantro
1/2 cup fresh dill
3 cloves garlic
1 1/2 teaspoons ground coriander
1 1/2 teaspoons salt
1 teaspoon ground cumin
1 cup sesame seeds (optional)
vegetable oil for frying
Instructions
In a large bowl, place fava beans and cover with two inches of water.
Let soak for 8-12 hours before draining.
Combine soaked fava beans, red onion, fresh parsley, cilantro, dill, garlic, coriander, salt, and cumin in a food processor. Blend to a dough-like consistency.
Heat a skillet over medium heat. Add sesame seeds and cook, stirring occasionally, until toasted (est. 5 minutes).
Transfer to a platter.
Scoop fava bean mixture in handful-sized balls.
Roll fava bean balls in sesame seeds to coat.
Fill a saucepan 1/4 full with oil. Heat over medium heat.
Fry fava bean balls until golden brown (est 3-5 minutes).
Remove fava bean balls from heat and let dry on a paper towel.
Serve on naan with freshly chopped tomato, parsley, onion, and tahini.
Nutrition Information:
Yield:
10
Amount Per Serving:
Calories:

234
Total Fat:

12.2g
Sodium:

359 mg
Carbohydrates:

22.8g
Protein:

10.8g
Easy Egyptian Butter Cookies (Ghorayeba)
Ghorayeba is one of the classic celebration foods in Egypt. These creamy and delicious Egyptian butter cookies aren't just served during holidays such as Eid-ul-Fitr, but at just about any family gathering. They are absolutely delicious, and my kids and I were always fighting over who would get the last one.
With just 4 ingredients, few Egyptian food recipes are more straightforward than this. My kids love making this at home.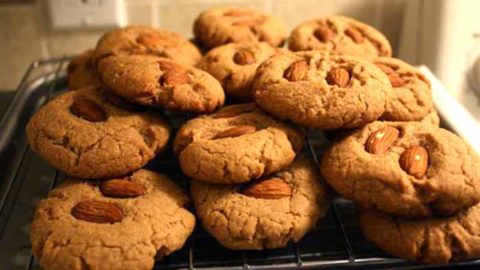 Yield:

24 cookies
Easy Egyptian Butter Cookie (Ghorayeba) Recipe
Egyptian butter cookies are melt-in-your-mouth delicious. Called ghorayeba in Egypt, these tasty treats can be found at nearly every family get together.
Ingredients
1/2 cup clarified butter
1/3 c. powdered sugar
1-1 1/4 cup flour
24 almond slivers
Instructions
Preheat oven to 250 degrees.
Line a cookie sheet with parchment paper.
In a large bowl cream together the clarified butter and powdered sugar. It should reach a smooth and sticky consistency.
Add in one cup of flour to the butter and sugar mixture. Mix until the dough is smooth (est. 2-3 minutes). If it becomes too sticky add a touch more flour.
Knead the dough for 1-2 minutes. It should become soft and sticky.
Roll the dough into 12 balls. With a small spoon, make a small divot in the center.
Press 2 almond slivers into the center of the cookie.
Bake for 20-25 minutes.
Place on a wire rack to cool.
Nutrition Information:
Yield:
24
Amount Per Serving:
Calories:

240
Total Fat:

14g
Carbohydrates:

26g
Protein:

3g
What do you think of these easy Egyptian recipes? Do they make for a simple Egyptian meal, or would you substitute for something else? Let me know your thoughts in the comments below. Or swing over to our Facebook page and say hello! You can find our web story for these recipes here.
Wandering Wagars is a participant in the Amazon Services LLC Associates Program, an affiliate advertising program designed to provide a means for sites to earn advertising fees by advertising and linking to amazon.com, amazon.co.uk, amazon.ca. Amazon and the Amazon logo are trademarks of Amazon.com, Inc. or its affiliates.
You May Also Like To Read:
Pin This For Later: