Food in Jordan is some of the best in the world. Relive the magic of travel in Jordan with these 5 easy Jordanian recipes you can make at home.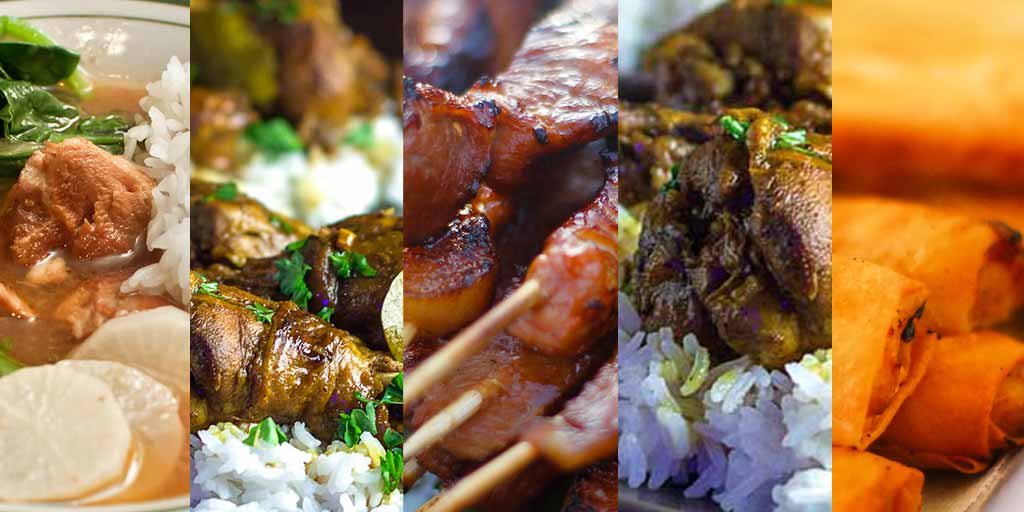 Jordan is one of those countries that will forever hold a place in my heart. And as I sit here at home, unable to travel due to the shutdown of the world, I'm always looking at ways to revisit my favorite travel experiences. One of the ways that I've found to experience a destination, again and again, is through food. The other week I shared some of my favorite Icelandic recipes. And this time I want to share the flavors of the Hashemite Kingdom of Jordan. So, if you love Jordan as much as I do, then these easy Jordanian recipes will help take you on a flavor journey through this magical country.
When my family last visited Jordan on a weeklong road trip through the country we had the delight of tasting everything from unique local restaurants, authentic Bedouin Zarb cooking, and street-side vendors. And everywhere we went to in Jordan the dishes were fresh, flavorful, and absolutely delicious. These easy Jordanian recipes have been put together not just to be a great reflection of some of the classic tastes of the country, but also to provide insight into their rich culture and ancient history. You'll find dishes that are as old as time, and others, like the classic mansaf, that has taken the country by storm in the last century.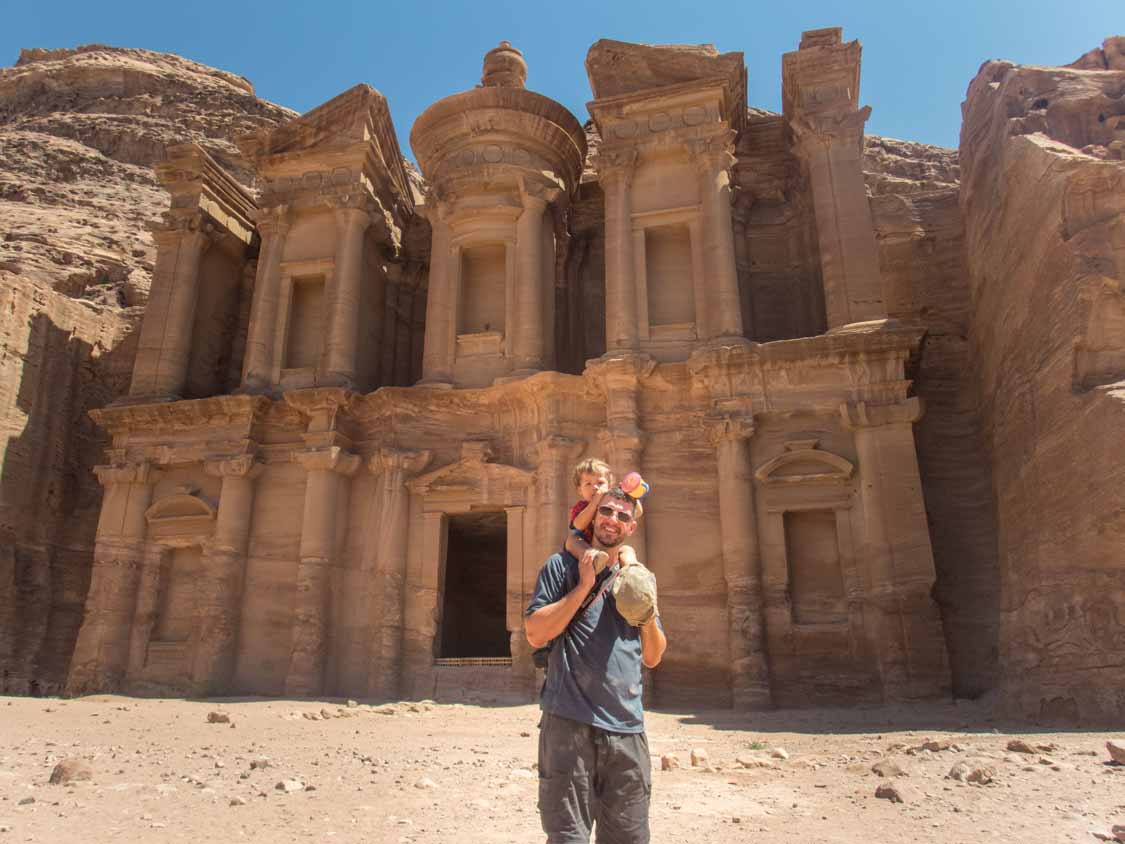 What Is Jordanian Food Like?
Jordanian cuisine, at its core, is a traditional Arabic style of food preparation. But the country's unique geological and political history has led the country to twist these ancient recipes in new and fascinating ways. One needs only to look at mansaf, the national dish of Jordan to understand that. Mansaf is based on an ancient meat and rice base. But the introduction of yogurts and nuts in the past century has led this dish to become one of the most popular foods in Jordan. And for a country full of ancient wonders such as the lost city of Petra and the castles of the King's Highway, that amount of time is just a drop in the bucket.
Jordanian recipes are often rice and meat-based. Because the country is Muslim, you won't find pork on the menu anywhere. Instead, meats such as lamb, beef, and poultry tend to be among the most popular. Dishes are often served with naan or pita-style bread along with dips such as hummus, tahini, and baba ghanoush.
Yogurt is also a popular ingredient in Jordan. It acts as the base for many dips. Jameed, which is unique to Jordan and often included in mansaf, is a dried form of yogurt as well.
In many recipes in Jordan, you'll find vegetables such as eggplant, carrots, and tomato. While fruits such as lemon are often used as seasoning along with garlic, onion, cardamom, and cinnamon.
Those who visit Bedouin towns or camps such as those in Wadi Rum will often find traditional Bedouin cooking. This is often cooked in a taboon, which is a style of underground oven where food is slow-cooked for the better part of a day. If you've never tried traditional Bedouin cooking, it's a must when in Jordan!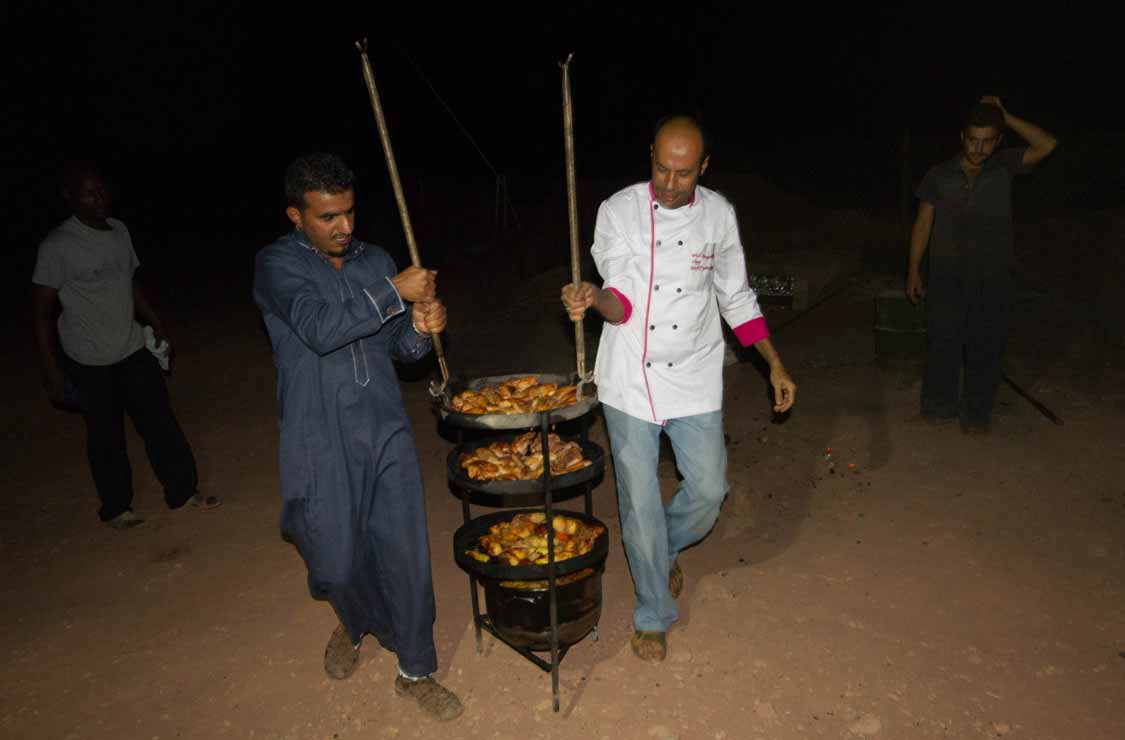 Here Are My Favorite Favorite Jordanian Recipes To Make At Home
One of the things that I love most about travel is that the memory of the experience hangs around far longer than the travel experience itself. When I'm at home, especially during lockdown times like this, I often find myself wanting to relive the memories of my favorite travel experiences. Sometimes that means sitting down with one of my favorite travel books. But one of the best ways is by cooking an incredible meal and to live the trip all over again through your tastebuds.
So warm up the oven and grab the apron. These 5 fantastic Jordanian recipes will take you back to this historic country.
Jordanian Mansaf Recipe
Mansaf is Jordan's national dish. The dish is typically served on a large platter and perfectly reflects the typical Jordan culture of openness and sharing. Mansaf is rice-based and typically is made with either lamb or beef. It's not the easiest Jordanian recipe, but it is so wonderful for large gatherings or family meals.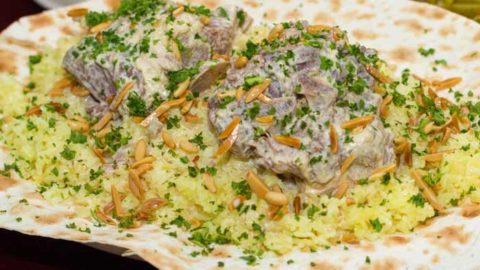 Yield:

6-8 servings
Jordanian Mansaf Recipe
Additional Time:
15 minutes
Total Time:
2 hours
45 minutes
Mansaf is the national dish of Jordan. This filling rice and meat-based dish is traditionally served on a platter family-style. Mansaf is normally placed at the center of table and the pita bread or naan base is used for schooping.
Ingredients
2 lbs lean lamb (can be substituted with beef)
1/2 cup butter
Salt
Pepper
1 medium onion. Finely chopped.
2 cups plain Greek yogurt
1 egg white
1/2 tsp. coriander
1 1/2 tsp. cumin
1/2 tsp. paprika
1/4 tsp. cardamom
1/2 cup whole blanched almonds
1/2 cup pine nuts
4-6 loaves pita bread or naan
3 cups uncooked rice
parsley or chives for garnish
Instructions
Rinse meat cubes and set in a container with a lid.
Cover meat with water and place it in the refrigerator for 4-8 hours.
When ready to cook, heat a skillet to medium-high. Melt 1/4 butter in a skillet.
Drain and pat dry meat cubes using a paper towel.
Add meat to melted butter and cook until brown on all sides.
Season meat with salt and pepper to taste.
Add enough water to just cover the meat. Reduce heat and cook for 1 hour.
Add onion and simmer uncovered for 30 minutes.
While the meat and onion are simmering place the yogurt in a large sauce pan over medium heat. whisk the yogurt until it has a liquid consistency. Whisk in the egg white along with 1/2 tsp. of salt.
Bring the yogurt mixture to a boil. Stir consistently in one direction with a wooden spoon. Once boiling, reduce heat to low and allow the yogurt mixture to simmer uncovered for 10 minutes.
Add the yogurt mixture to the meat. Season to taste.
Continue simmering on low for 15 minutes adjusting seasoning as you go.
In a small skillet melt 2 tbsp. of butter. Add almonds and cook for 5 minutes. Stir in pine nuts and continue cooking for an additional 3 minutes. Once finished, remove from heat and set aside.
Spread open the pita or naan and arrange on a large serving tray. (I like to have them pieces broken apart for easy scooping). Brush the bread with 2 tbsp. of butter.
Arrange the rice over the bread leaving a well at the center to place the meat.
Spoon the meat into the well and then add the butter and nut mixture over the meat.
Garnish with parsley or chives.
Jordanian Shorbat (Lentil) Soup Recipe
Shorbat soup is one of the staples during the Jordanian winter. But here in Canada, the season for enjoying this hearty lentil soup is much longer. In Jordan, Shorbat soup is normally enjoyed during the colder months. But it's also served at almost every breakfast table during the holy month of Ramadan.
Not only is Shorbat soup delicious, but it's also incredibly nutritious and healthy. Fittingly, as a dish for the country with the oldest city in the world (the capital of Amman), Shorbat soup is based on lentils, which is regarded as the oldest cultivated legume in the region.
Shorbat soup is one of the quickest and easiest Jordanian recipes on this list. And it's one that I make very often at home.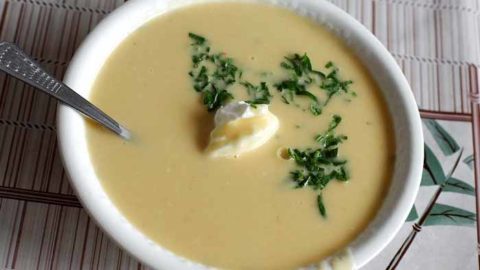 Yield:

5 servings
Jordanian Shorbat (Lentil) Soup
Shorbat soup is a staple of Jordanian cuisine. This easy lentil soup recipe is perfect for meals on its own or combined with sandwiches or mansaf. It's healthy, nutritious, and delicious.
Ingredients
1 cup brown lentils
1/2 tsp. salt
1/4 cup olive oil
1/2 cup fresh parsley. Finely chopped.
6 cups water
1 medium onion. Finely chopped.
Pepper
1/2 tsp. cumin
Instructions
1. Rinse lentils and drain. In a saucepan add lentils to the water and bring to a boil. Reduce heat and simmer for 30 minutes.
2. Remove from heat. Strain the lentil mixture through a vegetable strainer. Puree the lentils.
3. Return the pureed lentil mixture to the pot. Cook over medium heat and stir in cumin, salt, and pepper.
4. In a small skillet brown the chopped onion in oil, then add to the lentil mixture.
5. Cook the lentils and onion over medium heat for five minutes only.
6. Sprinkle the soup with chopped parsley and croutons.
Tabbouleh (Fresh Parsley Salad)
There are few things more refreshing on a hot day in Jordan than a mouthwatering bowl of Tabbouleh. This super healthy and delicious parsley salad is found on nearly every table throughout the hot season in Jordan. It's super easy to prepare and goes with just about anything. It's one of my absolute favorite Jordanian dishes.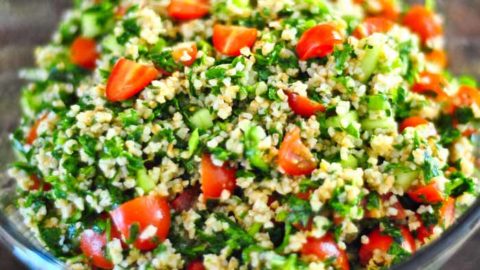 Yield:

4 servings
Tabbouleh (Fresh Parsley Salad)
Tabbouleh is one of the freshest and most delicious salads around. This parsley-based dish is a staple in many middle east countries. It's light, refreshing, and a perfect pairing with any summer meal.
Ingredients
500g finely diced tomatoes
3/4 cup fresh parsley
1/2 cup olive oil
1/2 cup fresh lemon juice
1/2 cup cracked wheat
2 large Spanish onions
3/4 cup fresh mint leaves. Finely chopped.
1 tsp. salt
Sambousek B'jibn (Jordanian Cheese Triangles)
Served both as a popular snack and appetizer in Jordan, Sambousek B'jibn, or Cheesy Triangles, as they are often referred, can be found in nearly every home and restaurant. The first time that my kids tried this Jordanian Snack we were outside fo the historic city of Jerash. And they asked for them at every meal for the rest of our trip.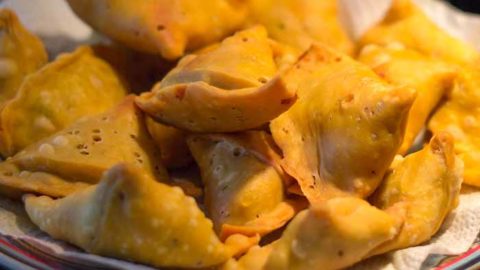 Yield:

8-10 triangles
Sambousek B'jibn (Cheesy Triangles)
Sambousek b'jibn is a classic Arabic snack. Often called cheesy triangles, these delicious, gooey bite-size morsels are perfect as an appetizer or on their own.
Ingredients
2 cups flour
1/2 tsp. salt
2 tsp. active dry yeast
1/2 cup warm water
pinch of sugar
1/3 cup vegetable oil
1/2 cup grated guyere or feta cheese
1 cup grated asiago cheese
1 medium onion. Finely chopped.
1 tsp. sesame seeds
Instructions
Dissolve yeast in four tsp. of warm water until smooth.
Sift sugar, salt, and flour into a large bowl. Pour yeast water, oil, and the remaining warm water into the center of the bowl.
Mix well by hand until smooth.
Transfer to a flat surface dusted with flour. Knead the mixture until smooth.
Place dough into an oiled bowl. Cover with a clean cloth and leave in a warm location to rise. It should double in size.
Return the dough to the flour-dusted surface and knead thoroughly.
Divide dough into golfball size balls and roll into eight-inch (20cm) circles.
Place dough circles under a damp cloth to keep them from drying out.
Mix cheese, onion, and sesame seeds together. Place one heaping tablespoon of stuffing onto each dough circle.
Fold the dough to form a rounded triangle.
Pan fry in oil until golden brown. Cook each side evenly.
Serve while still warm.
Notes
6. Mix stuffing ingredients together and stir well. Place one heaped tablespoon of stuffing onto each dough circle. Fold dough to form a rounded triangle.
7. Pan fry in oil until golden in colour, turning to cook each side. Serve hot.
Luqaimat (Honey Dumplings)
One of the most exciting things about every meal in Jordan is when the main dishes get cleared away. Because it's at this magical time when dessert is served. Dessert in Jordan is just as much of an event as the main course. And of all the Jordanian recipes, Luqaimat, or Honey Dumplings were our absolute favorite. These crunchy and sweet treats are as fun to share as they are delicious to eat.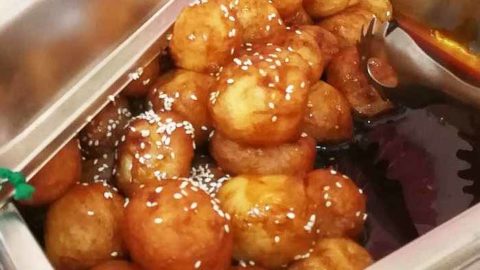 Yield:

20 dumplings
Luqaimat (Crispy Honey Dumplings)
Luqaimat is a traditional Arabic crunchy honey dumpling. They are a popular dessert in the middle east and are traditionally served as a sharing dish at the end of a meal. This is a Jordanian luqaimat recipe.
Ingredients
1 cup all purpose flour
1 tsp. sugar
1 tbsp. corn starch
1 tsp. oil
1/2 tsp. cardamom powder
3/4 cup warm water
1/2 tsp. dry yeast
Pinch of saffron
2 cups vegetable oil
3 tbsp. date syrup
Instructions
In a blender, add water, flour, sugar, cornstarch, 1 tsp. oil, cardamom, and yeast.
Blend thoroughly until the batter has a smooth consistency.
Pour the batter into a bowl, cover, and place in a warm place to rise. The batter should double in size. This may take up to an hour.
Heat a deep frying pan on medium heat. Once the pan is hot, add the oil. Add a dab of oil to the pan to test the heat. if the batter floats quickly, the oil is too hot.
With an oiled spoon, spoon the batter into the oil. Use another spoon to push the batter off the oiled spoon.
Using a wooden spoon move the dumplings through the oil allowing them to cook evenly.
When the dumplings become golden brown, remove them from the oil and place them on a paper towel.
Add room-temperature date syrup over the dumplings.
We can't wait to travel again and taste these Jordanian dishes in their home country. Do you have a favorite Jordanian recipe that I haven't covered here? Tell us about it in the comments below. Or swing by our Facebook page and share it with us there. You can in our web story for these recipes here.
Wandering Wagars is a participant in the Amazon Services LLC Associates Program, an affiliate advertising program designed to provide a means for sites to earn advertising fees by advertising and linking to amazon.com, amazon.co.uk, amazon.ca. Amazon and the Amazon logo are trademarks of Amazon.com, Inc. or its affiliates.
You May Also Like To Read
Pin This For Later: