Experience family travel in Thailand as you explore fascinating cities, epic mountains, and mouthwatering food through our Thailand family travel blog.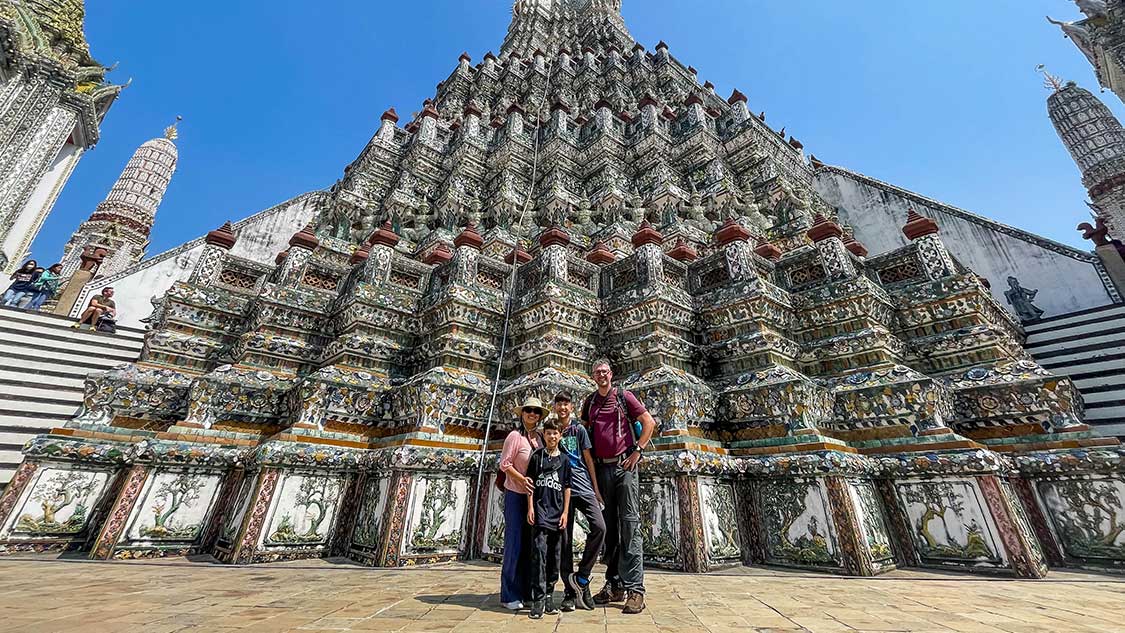 Explore Our Thailand Family Travel Guide
The Kingdom of Thailand, in Southeast Asia, was a destination that I never planned to fall in love with. But this country has a tendency to dig into your heart and not let go.
Thailand draws ex-pats and digital nomads from around the world thanks to its stunning natural beauty, low crime rates, world-class cuisine, and budget-friendly economy. And while all of these things make family travel to Thailand wonderous, it's the people that truly make the difference.
There's a genuine sense of caring that many Thai people put forth, and that sense of caring takes the insecurity of visiting a new place and being out of your comfort zone and simply erases it. As result, it doesn't take long to feel right at home in Thailand.
Thailand borders Malaysia, Cambodia, Laos, and Myanmar(Burma) on a wide peninsula that divides the South China Sea and the Pacific Ocean from the Bay of Bengal and the Indian Ocean. This country of nearly 70 million people runs a democratic monarchy where a Royal family is a part of the country's political process and is supported by a democratically-elected government. Although after the passing of the much-beloved King Rama IX's death in 2016, protests have risen up to reduce the power of the monarchy within the government.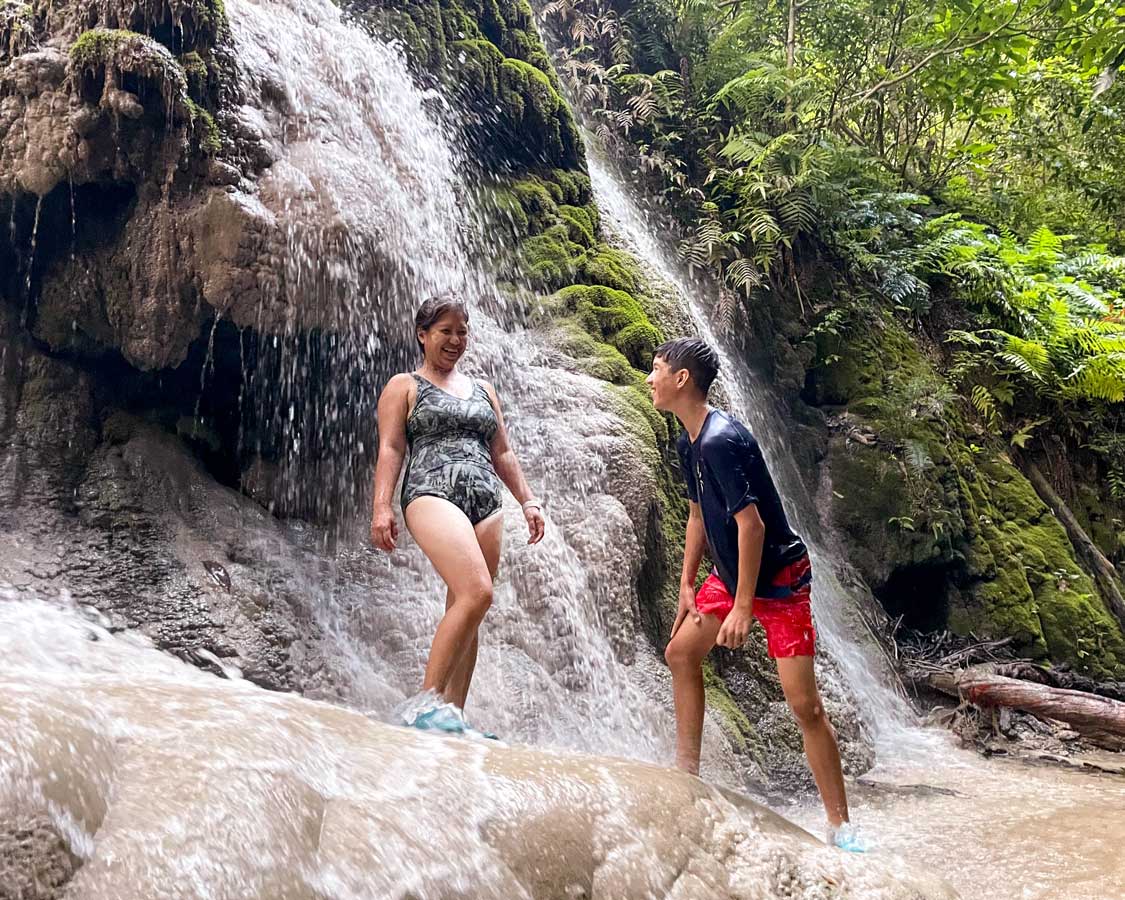 Thailand's claim to fame has often lied in the soft, sandy beaches that line the southern peninsula in areas such as Krabi and Phuket, and the incredible Buddhist temples that can be found throughout the country. But there is far more to Thailand than just these two incredible reasons to visit.
Thailand has become synonymous with incredible food. In fact, Food in Thailand, with its mix of curry spice, and flavor is known as some of the world's best cuisine. And Thailand's rich nature and awe-inspiring landscapes draw countless adventurers who love SCUBA diving, snorkeling, rock climbing, hiking, and epic wildlife experiences.
It's not just about the wild outdoors though. Culture and urban travel in Thailand mean that every stop in Thailand offers some wonder. Cities such as Bangkok and Chiang Mai are dotted with majestic temples, royal palaces, and towering stupas.
In the south, coastal cities such as Phuket and Krabi offer access to some of the best things to do in Thailand such as the Phi Phi Islands, marine parks, and unique cuisines. While in the north, cities such as Chiang Mai and Chiang Rai allow travelers to venture off the beaten path to discover some of the incredible hilltop tribes such as the "long-neck Karen peoples."
Read Some Of Our Most Popular Thailand Family Travel Blog Posts
Tips For Family Travel in Thailand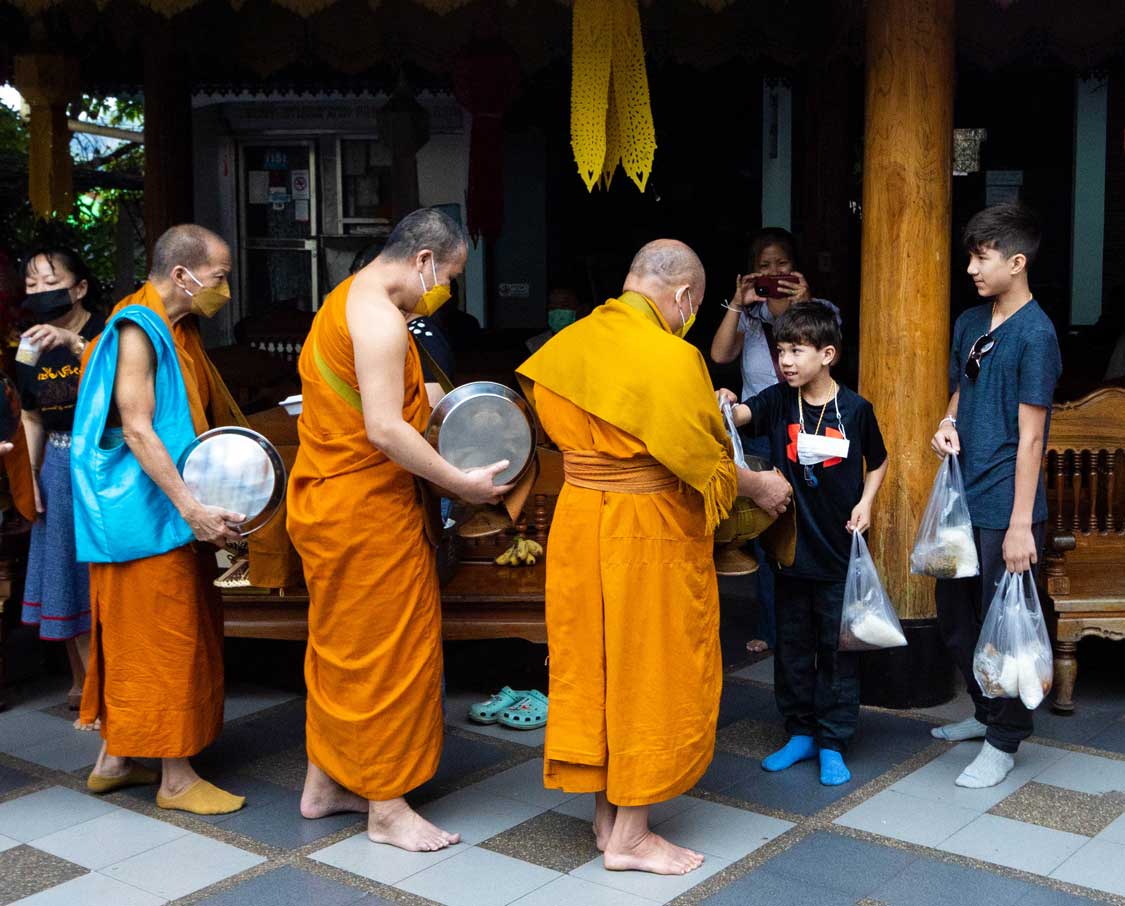 Thailand is a fabulous destination for family travel. But like any new country with its own unique culture and rules, travel in Thailand comes with its own unique challenges.
Thailand has a relatively stable government with a very low crime rate, and it's often considered among the safest places for family travel. However, there are a few things to know before visiting Thailand.
The amount of work that goes into planning a trip to Thailand really depends on what you plan to get out of your trip. If your plan is to lounge on the beaches of Phuket or Krabi, you might find the trip as painless as a trip to the Caribbean. But, if you're planning on traveling throughout the country and exploring some of the historic cities, you might find some surprises along the way.
The good news is that there are almost no areas of Thailand where travel with kids is not advised. And travel throughout the country is considered very safe.
Here are a few tips to help you plan a family trip to Thailand. From what money they use to how to navigate the country safely. We even have great tips for what to pack for Thailand. And please explore our Thailand travel blog posts below to learn more.
Currency

the Thai Baht (THB) is the official currency in Thailand. The Thai Baht is divided into 100 satang. It is recommended that you use this currency for all transactions within the country. The average value of the Thai Baht is approximately $0.030 USD. You can check out the current value here.

Capital

The Capital of Thailand is Bangkok. This coastal city of over 14 million people is a popular destination for tourists. Bangkok is home to the Grand Royal Palace, countless majestic temples, as well as Bangkok's famous floating markets.

Electricity

Thailand uses 220 volts (50 cycles). You will need a voltage converter if you are traveling from North America. As for plug converters, Thailand uses types A, B, C, F, and O, although A, B, and C are the most common. A and B plugs are North American standards while C is the European standard.

Cellular Phone Service

Cell phone service is readily available throughout most of Thailand. Even the rural areas generally have some, though the service can be limited outside of towns and in National Parks. Sim chips are cheap and can be added to unlocked phones. Access in rural areas or smaller islands can be spotty, and WiFi is less common in these areas.

Roads, Driving, and Public Transit

Driving in urban Thailand is generally safe. Traffic rules are respected throughout most of the country. Thailand is known for having a very high fatality rate in traffic incidents. This is due primarily to the extensive use of motorcycles and scooters paired with the country's lax laws around the use of helmets.
Roads throughout the country are in relatively good shape, although in rural and mountain areas they can be very windy and in poor maintenance.
While Bangkok has an excellent mass transit system, mass transit is not readily available in most smaller Thai cities. Transit is normally done by car, motorcycle, or taxi.

Family Travel in Thailand

Family travel in Thailand is wonderful. The country may not be the easiest to navigate with children. Thai people are especially welcoming of families.
What Language Is Spoken In Thailand?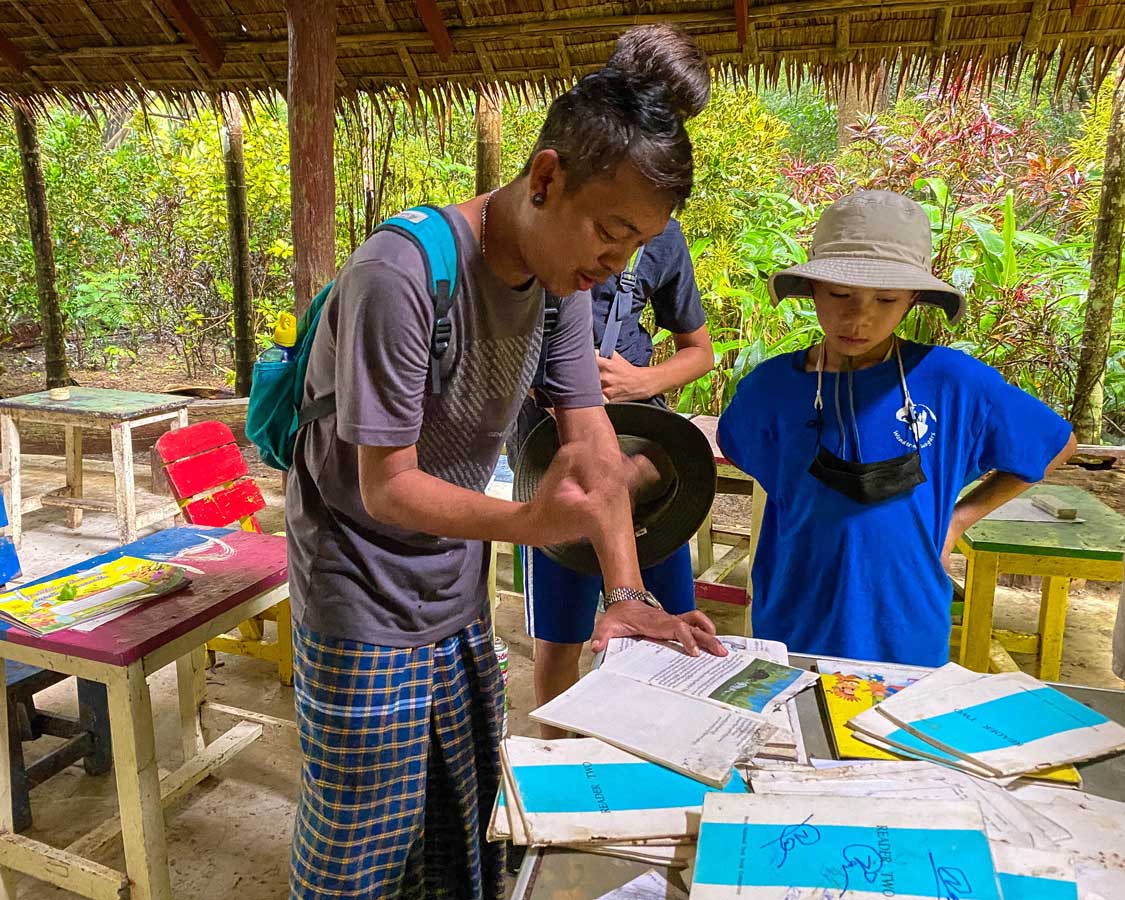 The official language in Thailand is Thai. However, English is commonly spoken and understood throughout the country, especially in larger urban centers such as Bangkok, Phuket, and Chiang Mai.
There are several other languages and dialects that are spoken throughout Thailand as well, especially near border towns such as Pai and Chiang Rai.
The Thai language is considered a difficult language, however, there are a few words that will help foreigners navigate their visit to Thailand. Thai people generally appreciate when foreigners make attempts to use the Thai language.
Important Thai Words To Know:
I've simplified some of the spelling of these Thai words to help with phonetics and pronunciation.
Yes: Chai
No: Mai
Thank You: Khawp khun
Thank You Very Much: Khawp khun khrap (if you are male), Khawp khun ka (if you are female)
You're Welcome: Sawasdee
Please: Khrap (if you are male) ka (if you are female
Excuse Me: Kho thot kha
Hello: Sawasdee
Goodbye: Sawasdee
Bathroom: Hong naam
Read Our Latest Thailand Family Travel Blog Posts