The Inside House in Chiang Mai, Thailand is a luxury Chiang Mai hotel that offers accessible elegance and comfortable stays for the whole family.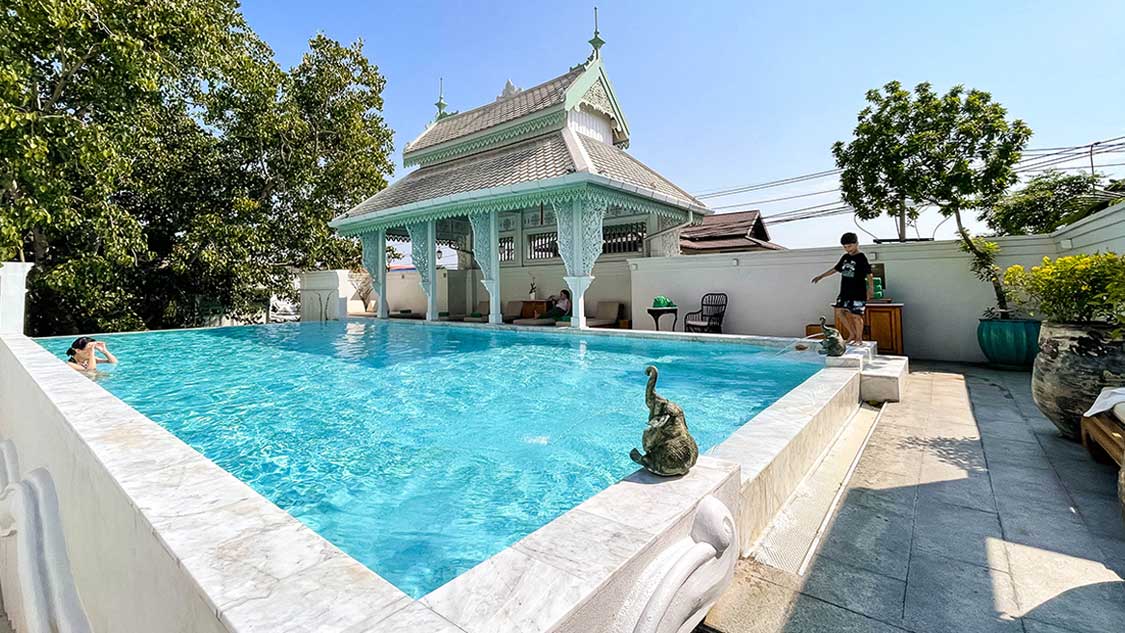 As we dragged our carry-on bags along the cobblestone sidewalks of Chiang Mai, Thailand, my family must have looked like quite a sight. A town known for backpackers and ex-pats, Chiang Mai isn't the first place that many family travelers look at for a getaway. But we discovered pretty early on that the city is an absolutely epic destination for families.
We were dusty, tired from our recent journey from Bangkok, and very much ready to lie down. But as we turned down a quiet street and came across the front of our Chiang Mai accommodations for the night, our hearts stepped up a beat.
From the outside, the Inside House in Chiang Mai doesn't stand out too much. The Lanna Colonial-inspired former mansion boasts a white facade with a light green trim. But with a short step through the intricately designed wooden front, we were transported into a world of luxury.
You can read on to find out more about The Inside House or you can check their rates and availability here.
What Is The Inside House Chiang Mai?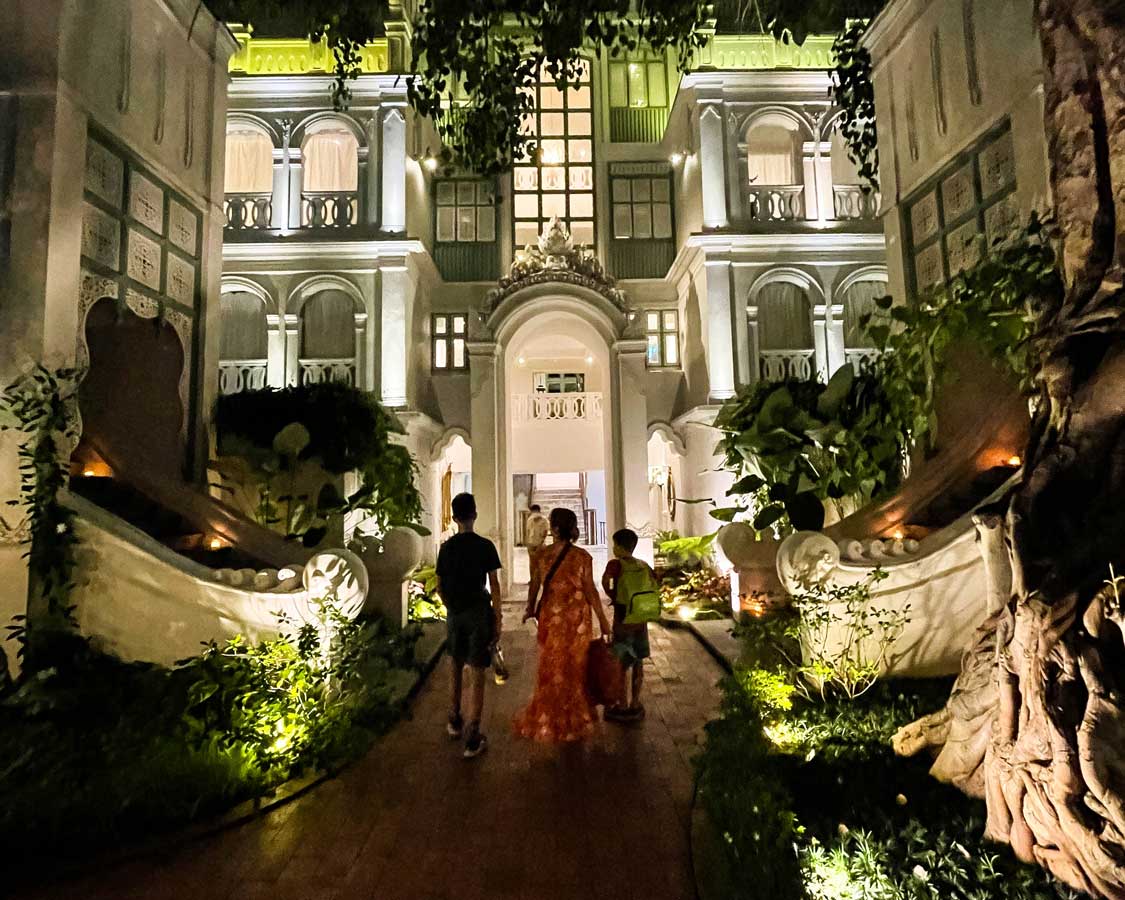 The Inside House is Chiang Mai's most lavish boutique hotel. It's been raved about for years due to its photogenic interior and its 31 beautiful rooms, many of which have their own private pools.
The bright, airy atmosphere of the hotel is almost entirely white and adorned with stone floors. The main courtyard within the walls is adorned with a towering Bodhi tree that is bursting with character while adding shade and beauty.
The Inside House Chiang Mai is located in the southwest quadrant of the Old City on Samlarn Road. Its accessible location near some of the best things to do in Chiang Mai makes it a convenient location. Attractions such as Ratchamanka Road and Wat Chedi Luang are all within a half-mile of the hotel while Wat Phra Singh is just a five-minute walk away.
And, of course, you're not too far away from some of the other attractions near Chiang Mai such as Bua Tong Sticky Waterfall, the Karen Hill Tribes, and Wat Phra That Doi Suthep mountaintop monastery.
Rooms At The Inside House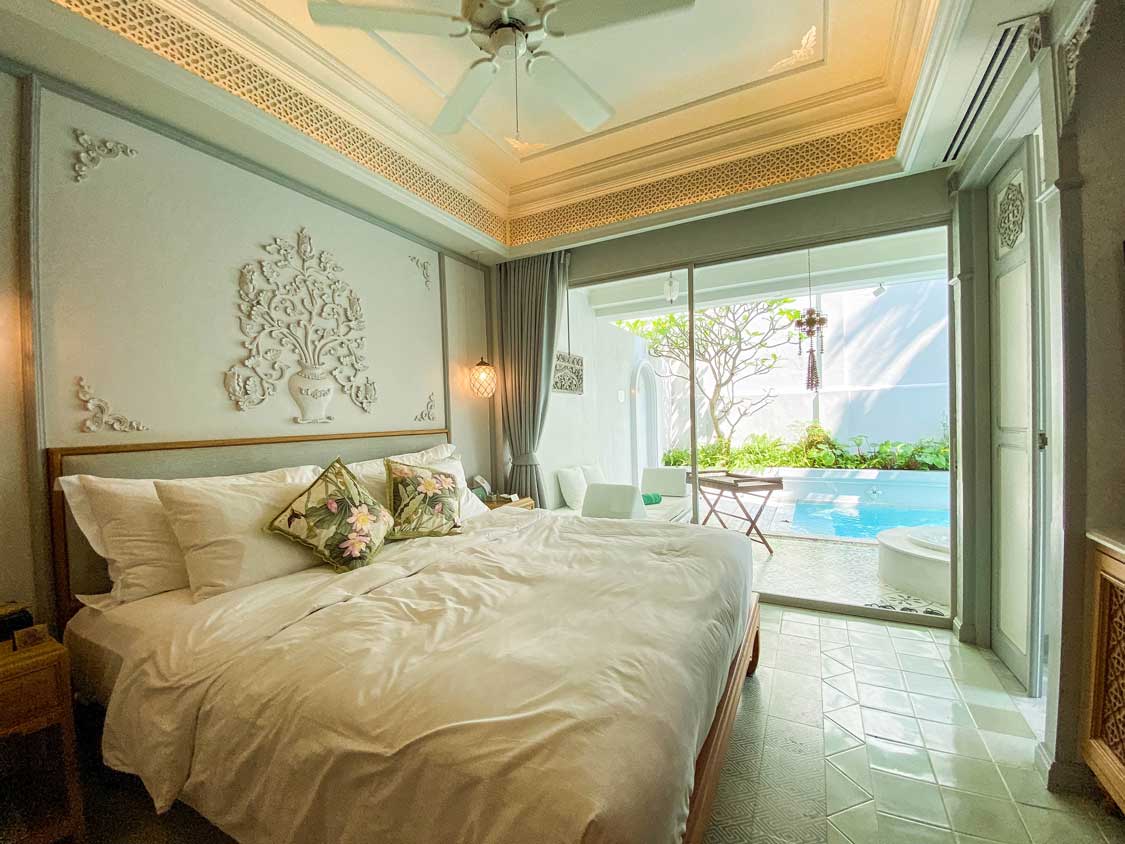 Featuring whitewashed elegance and a modern design trimmed with Lanna Colonial trims, the Inside House experience flows seamlessly from the courtyard to the rooms.
The rooms at The Inside House in Chiang Mai are spacious and inviting. They feature modern amenities such as mini-fridges (where you're welcome to anything stocked inside them) and plenty of outlets for recharging your devices.
The hotel is compact in size, but you'd never know that once you're inside. Everything flows with an airy ambiance that makes every experience both intimate and unimpeded. Instances of traditional Arabic and Thai decor dot the property without being overwhelming.
The 13 front-facing palatial suites of The Inside House feature private pools in a walled garden. Many of these pools are fed by beautiful fountains and surrounded by attractive planters that add a fresh and welcoming aroma. Our outdoor garden also featured an outdoor tub for those who would like to soak in the suds, but still enjoy the fresh air.
The rooms feature spacious bathrooms that include a rain shower, and you'll also find all of the amenities you might need for a short stay including toothpaste, razors, toiletry kits, and more. You could literally pull up to The Inside House Chiang Mai with nothing but your clothes and get by just fine.
The Inside House Facilities And Services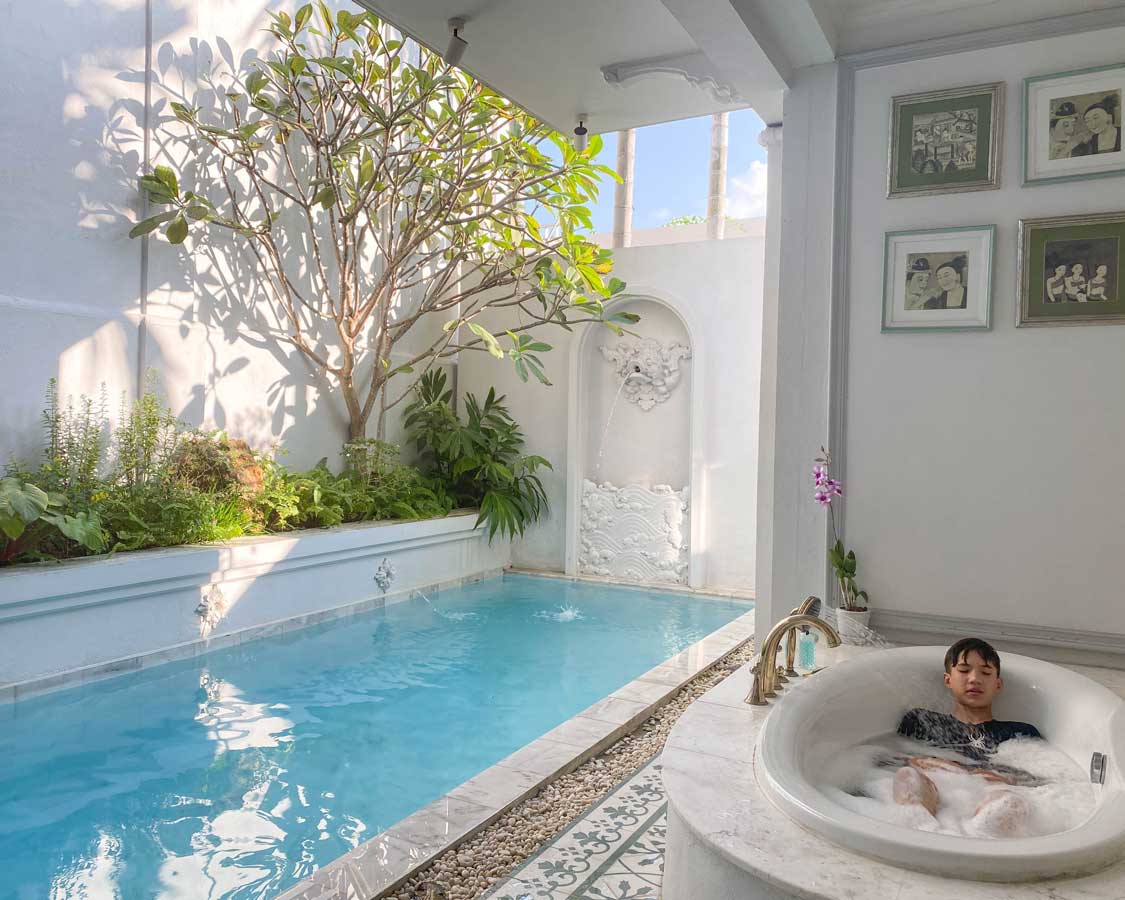 The Inside House is an experience. Activities such as afternoon tea are an absolute delight. My family was presented with a three-tiered tray of delicacies and drinks that brought huge smiles to the boy's faces.
While The Inside House afternoon tea can only be enjoyed at a private pool by those in a palatial suite, those with inside rooms can still indulge poolside at the community rooftop pool, which is large, warm, and beautiful.
There is also a restaurant where guests are treated to a delightful a-la-carte breakfast where items served with The Inside House branding and colorful flare can be enjoyed at leisure. One of the few downsides of The Inside House is that it does not have a spa. But due to its small size, I think having one would have taken away from the aesthetic. Besides, you're in Thailand, where Thai massages can be found on almost every block.
Food At The Inside House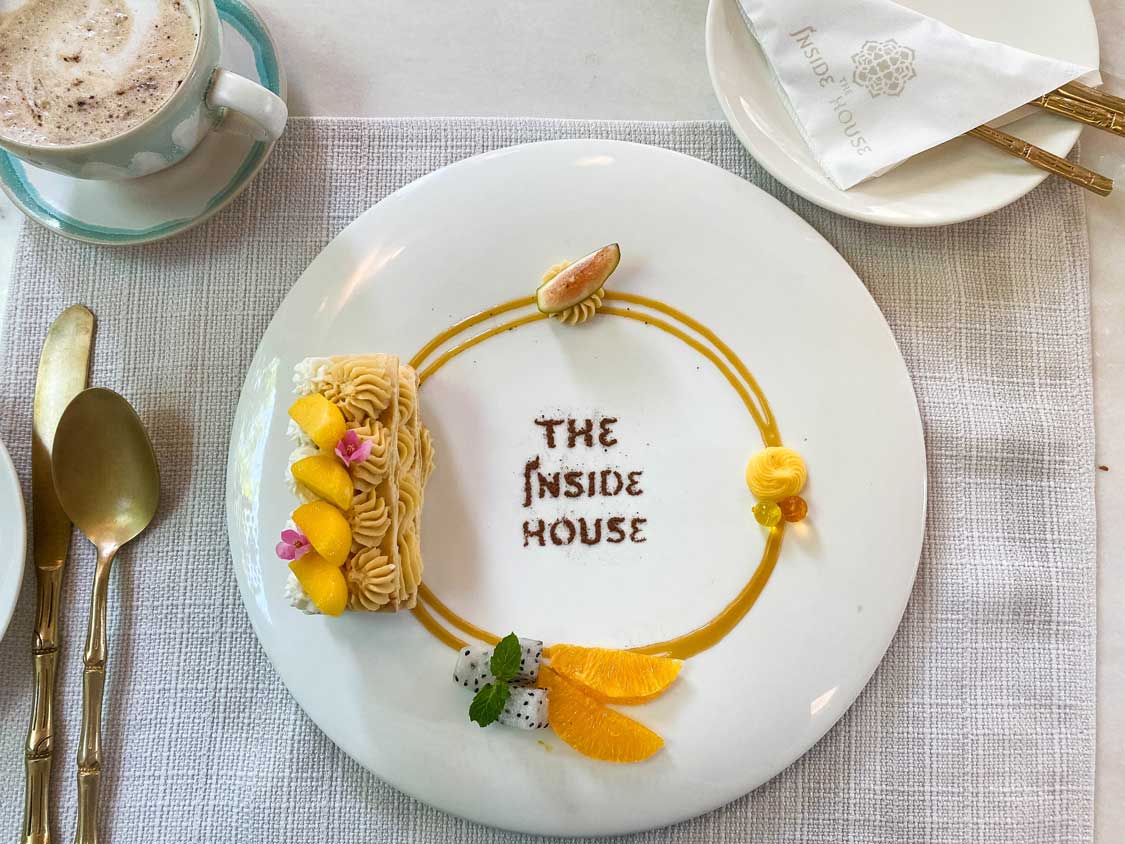 As a small Chiang Mai luxury resort, there is only one restaurant at The Inside House. The restaurant is called Ghin and it acts as both a breakfast and dinner space for guests at the hotel. Expect unique twists on classic Thai cuisine with lots of fresh fruits and vegetables all served with a creative flare.
The restaurant serves up delicious food and is complimented by an afternoon tea that guests in the palatial rooms can opt to have delivered to their rooms. Guests in the inside rooms can opt to have their afternoon tea served poolside on the rooftop deck.
Don't miss their delicious and innovative drink choices such as the Dragon House signature cocktail served in a hollowed-out dragonfruit.
If you'd like to see this hotel for yourself, you can find their rates and availability here.
Visiting The Inside House With Kids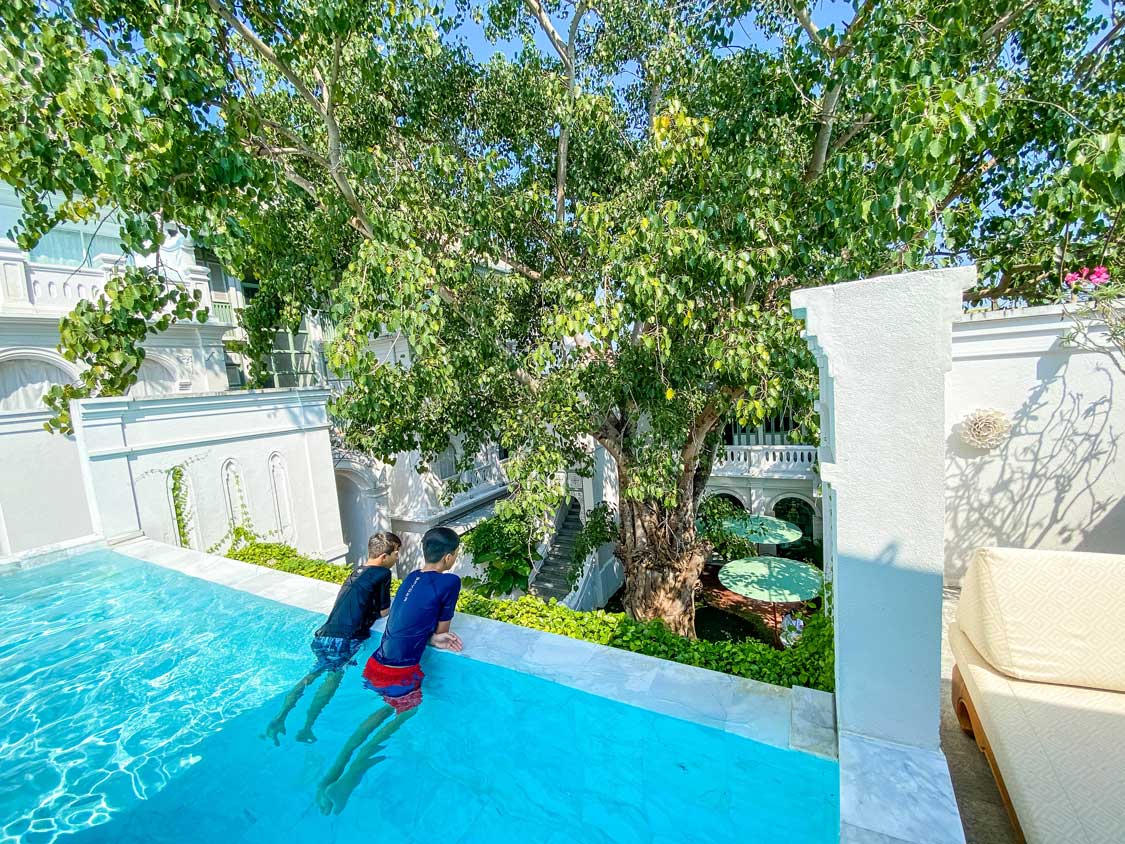 We absolutely loved visiting Thailand with kids and The Inside House was one of our favorite places to stay in Chiang Mai.
While the Inside House is focused on adults and couples, children are welcome at this Chiang Mai hotel. Cribs are available at no additional cost for those traveling to Chiang Mai with babies, and cots are available for older children.
The Inside House Chiang Mai even has babysitting services available, although additional charges for hotel services may apply for children older than six years of age.
Are You Ready To Experience The Inside House Chiang Mai?
With some of the most beautiful rooms in Chiang Mai, The Inside House is the perfect place to stay for those looking for accommodations as beautiful as the city itself. Its location in Old Town Chiang Mai is perfect for sightseeing, and the staff are friendly, knowledgable, and professional.
If you love family travel as much as we do, please join our Family Travel Support Group on Facebook. You can connect with more family travelers just like you who love to explore the world.
You May Also Like To Read: