Exploding with vibrant history, culture, and natural beauty, these are the best places to visit in Thailand for your first-timers.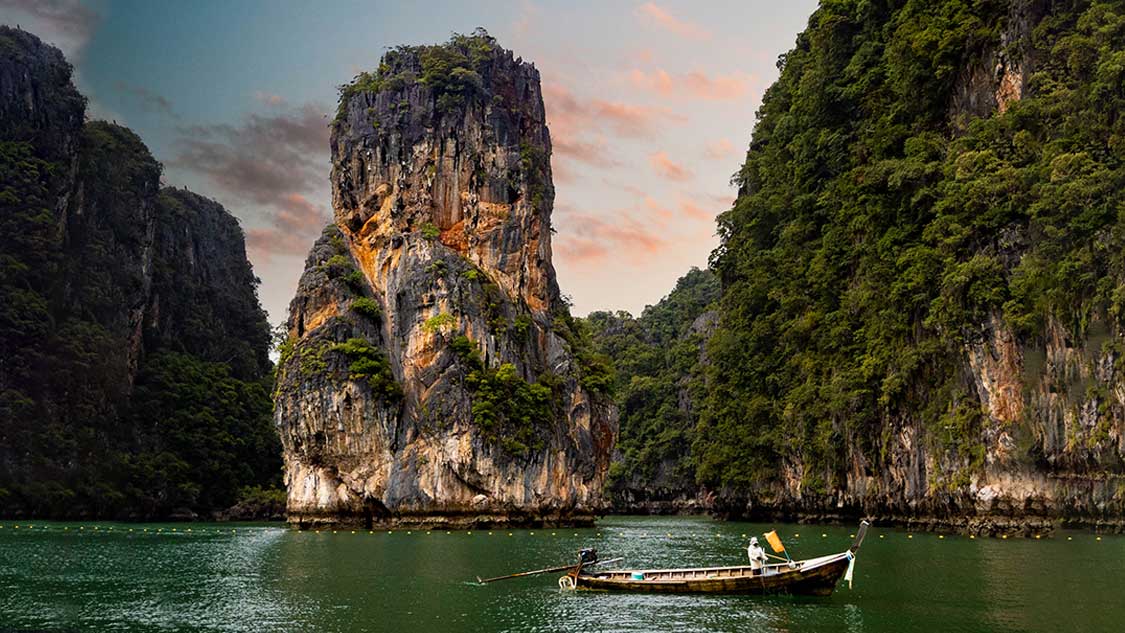 Thailand is a country steeped in stunning beauty, magical history, and rich, cultural traditions. This country, in Southeast Asia, has become a hugely popular destination for travelers thanks to its low crime rate, affordable lifestyle, and huge variety of places to visit in Thailand.
My family absolutely adored our time in the country. We visited famous cities such as Chiang Mai, and Bangkok, and wandered through historic centers including Ayutthaya. We hiked to mountain caves in Koh Sok National Park, experienced ethical elephant sanctuaries, and even chilled out on the islands and beaches of Phuket and the Phi Phi Islands. It was a country that we absolutely fell in love with, not just for the range of attractions, but for the warm people, mouthwatering food, and how easy it was to travel through Thailand.
I spent weeks touring the country with my family, exploring where to visit in Thailand to have the most phenomenal and memorable travel experience. If you're looking at where to visit in Thailand for your travels, I've got you covered
Why Should You Travel To Thailand?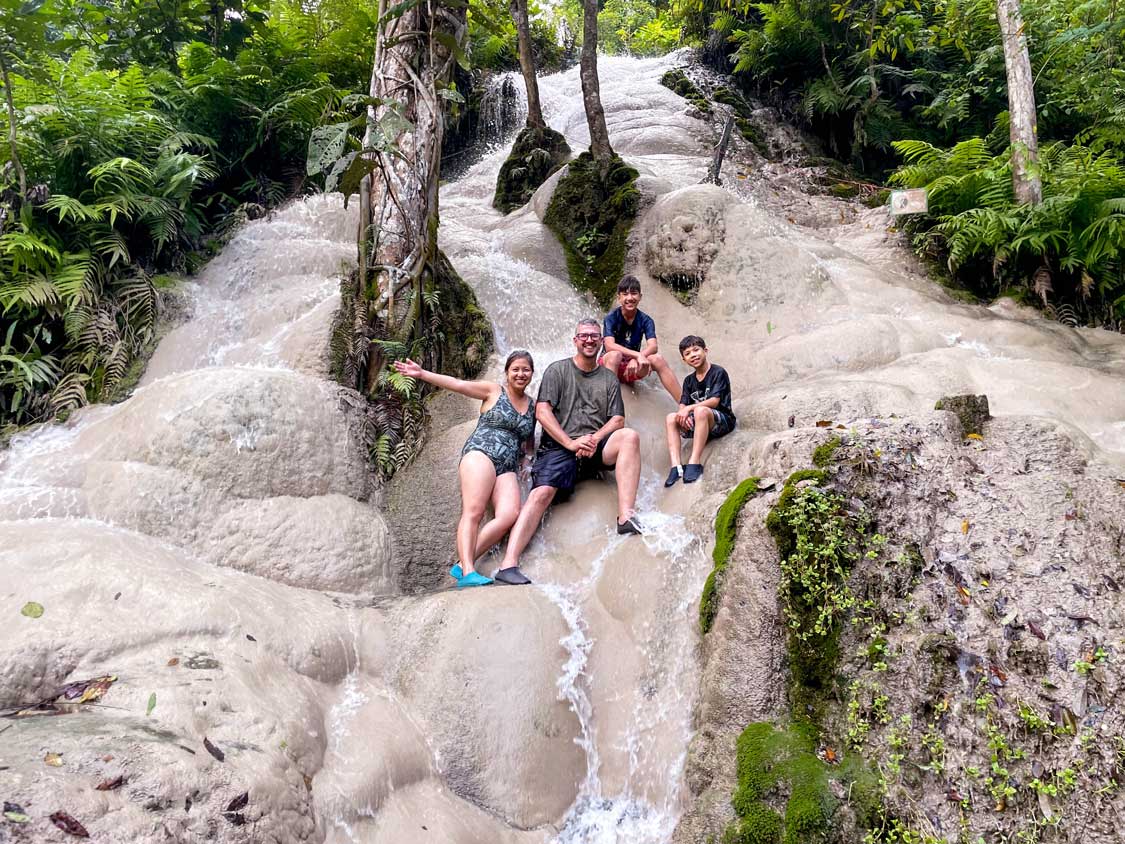 Thailand shocked us.
This massive Southeast Asian country quickly became one of our favorite family travel destinations. Thailand ranked up with the Philippines, Iceland, and Peru among the top. The country has become massively popular among ex-pats searching for affordable, beautiful, and safe destinations. And after seeing this for myself, I can understand its popularity.
Thailand is a huge country. You'll find vastly different experiences in the northern, central, and southern regions. The northern regions of Thailand have stunning forests, unique tribal cultures, and vast, mountainous landscapes that have helped the country protect its borders for so long. Here you'll find many of the country's ancient Buddhist temples, mountaintop monasteries, and unique cultures such as the long-neck Karen hill tribes.
In the center of Thailand lies the massive economic hub of Bangkok, the most populous city in the country. Here you'll find some of the country's award-winning food experiences, great shopping, and crowded markets. But venture off the beaten path and you'll also find historical treasures such as the Bridge over the River Kwai and the Death Railroad as well as beautiful national parks and river lodges.
Southern Thailand offers up some of the world's most pristine beaches, intensely beautiful islands, and fascinating communities that live like nowhere else on Earth. You'll find the region has its own unique cuisine that food lovers will adore while still retaining those magnificent Thai flavors.
The fact is that Thailand is, quite simply, a pleasure to explore. Everywhere that my family went, we encountered warm, wonderful people, inspiring stories, and those precious moments that lead to memories that last a lifetime. If you travel to any of these incredible places to visit in Thailand, you'll come home with countless stories to tell.
What Is The Best Time To Visit Thailand?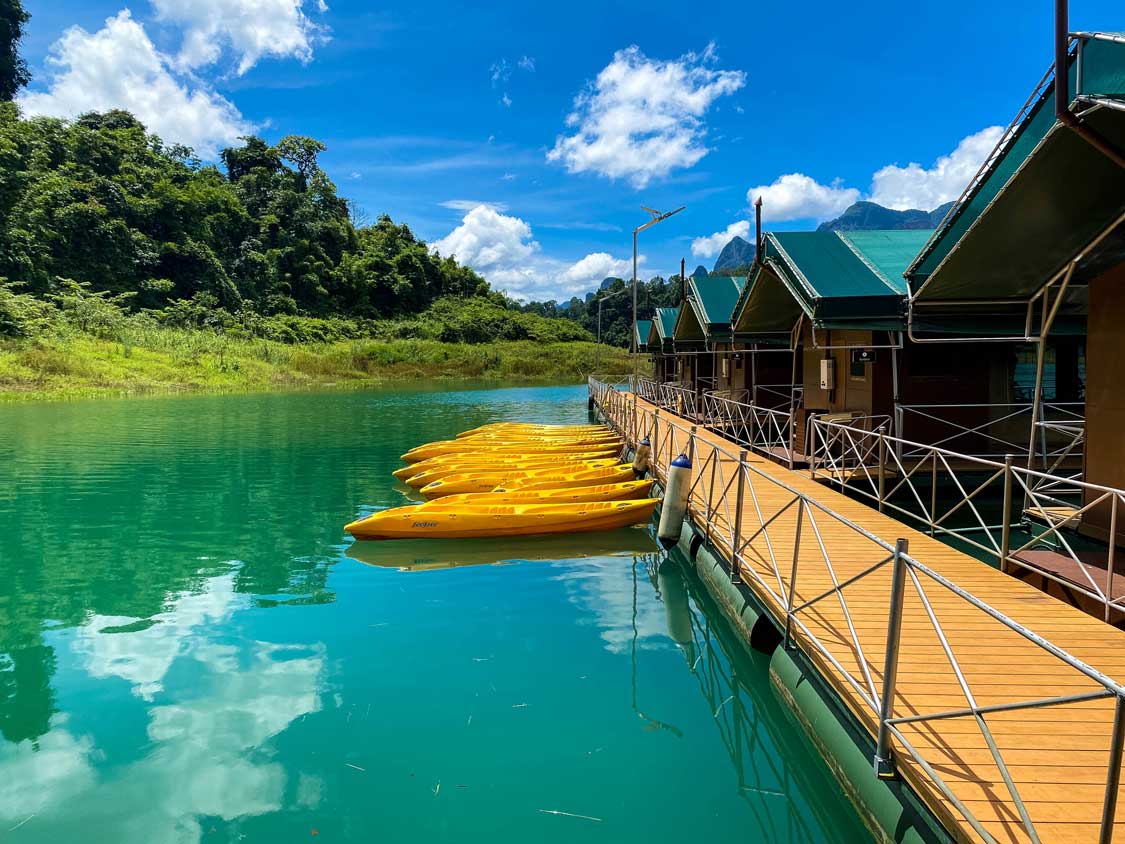 Thailand is a world-class destination that offers amazing travel experiences year-round. However, you'll find that choosing the times that you visit Thailand will greatly impact your experience.
For the best weather, November through May is the dry season for most of Thailand. The exception to this is southern Thailand, where you'll find cities such as Ko Samui, Phuket, and Ko Tao. In this region, the rainy season is from October through December.
Thailand is notoriously hot and humid. So if you're looking for the coolest temperatures in Thailand, consider a visit between November and February. These months tend to offer the most comfortable temperatures. They average in the low 80s with little rain and humidity.
Thailand sees its hottest temperatures between March and April. However, if you're looking for smaller crowds and lower prices than the November-to-February peak travel time, this makes for a great option. April tends to be the best time for shoulder-seasoned travelers. There are many great festivals and the heaviest rains are usually still a month away.
The Best Places To Visit in Thailand
If you're planning your travels and are wondering where to visit in Thailand, you've come to the right place. Below, I lay out all of the best places to visit in the country and what makes each one so special.
Bangkok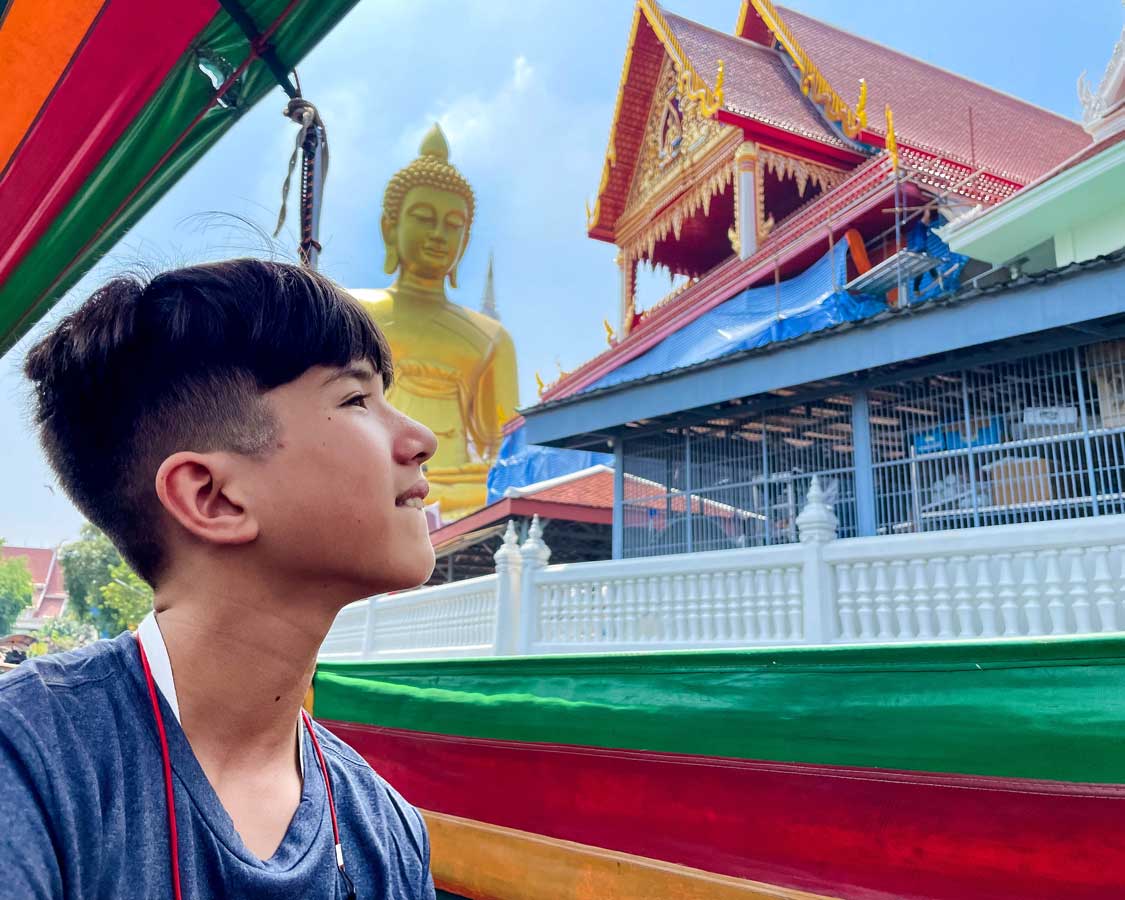 The sprawling capital of Thailand, Bangkok will be the start and end point for most visitors to Thailand. But Bangkok is far more than a jumping-off point for the best destinations in Thailand. Bangkok is a destination on its own worthy of a few days of your Thailand itinerary.
Bangkok is a fast-moving, exciting city of over eight million people. It's where you'll find some of the best hotels in Thailand, and some of the most exciting things to do.
The city is connected by a network of canals and rivers that meander through neighborhoods and past golden temples. The rivers are dotted with Bangkok's famous floating markets, royal palaces, and awe-inspiring temples. Tucked amidst glass skyscrapers are food markets, incredible parks, and some of the most mesmerizing Buddhist temples in Thailand.
Among the top things to do in Bangkok are visits to the Grand Palace, a monumental complex that houses Wat Phra Kaew (the Temple of the Emerald Buddha). You'll also find famous streets such as Khao San Rd, and the epic Chatuchak Market with its labyrinth of over 8,000 stalls.
The best street food in Thailand can be found in Bangkok, as well. Stroll down any side street and you're sure to find vendors dishing out delicious local delicacies. Areas like Khaosan Road and Chinatown are great places to start.
You can find our guide to visiting Bangkok with kids right here.
Chiang Mai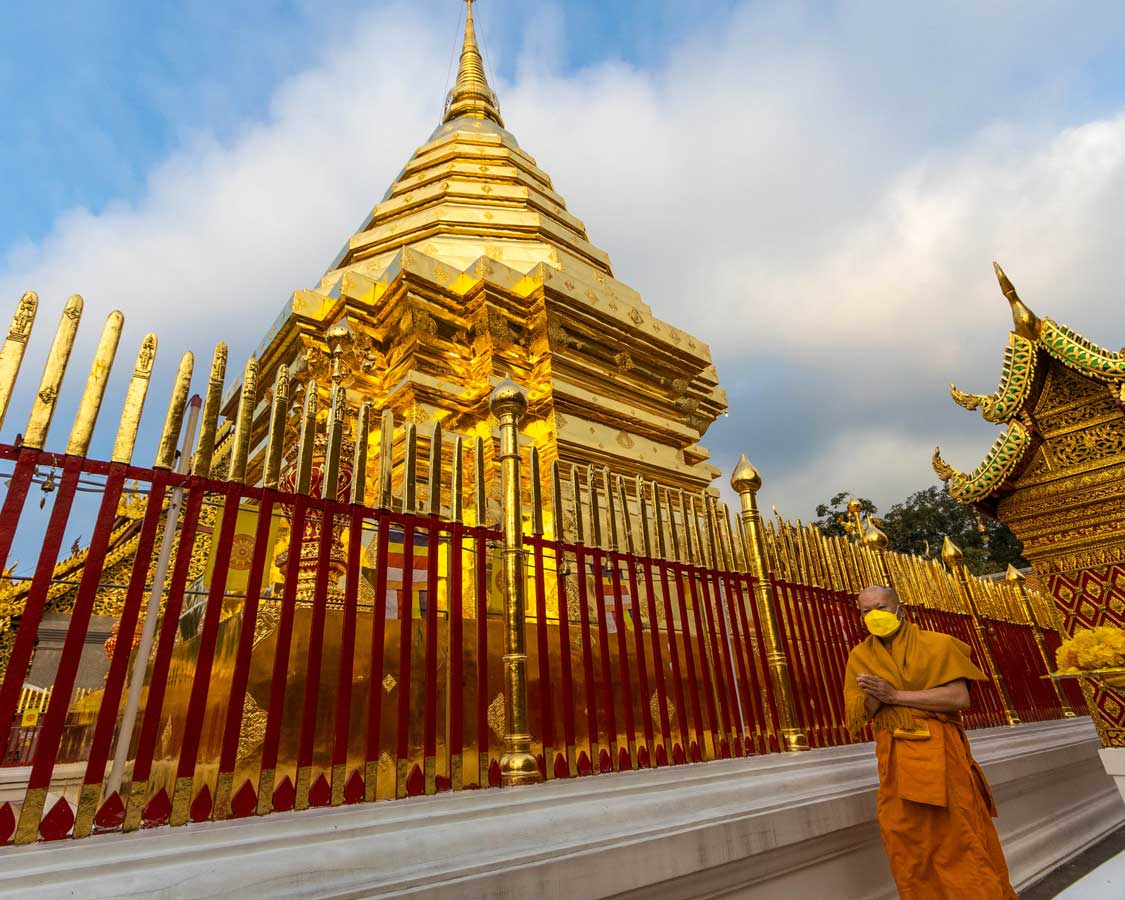 Chiang Mai is among the most popular places to visit in Thailand. This stunning city in northern Thailand is centered by an old city, surrounded by moats and walls, dating back to 1292. The city is packed with ancient Buddhist temples such as Wat Phra Singh and Wat Chedi Luang. You'll also uncover incredible food experiences and narrow lanes packed with unique shops.
Chiang Mai is a city built to explore. But the region surrounding it makes Chiang Mai a hub for day trips as well. Near Chiang Mai are fascinating attractions including the Doi Suthep hiking trail that takes adventurers to the mountaintop monastery known as Wat Phra That Doi.
If you love experiencing unique cultures, Chiang Mai is what most visitors use as a base to visit the hilltop Karen tribes. Most of these communities were created by refugees fleeing nearby Myanmar (Burma). There are several different Karen communities with unique cultures all living in the mountains near Chiang Mai and their stories are as fascinating as those of Thailand itself.
Our visit to the Karen hill tribes near Chiang Mai opened up some debate surrounding ethical tourism. You can read all about our visit the Karen hill tribes near Chiang Mai here.
Ayutthaya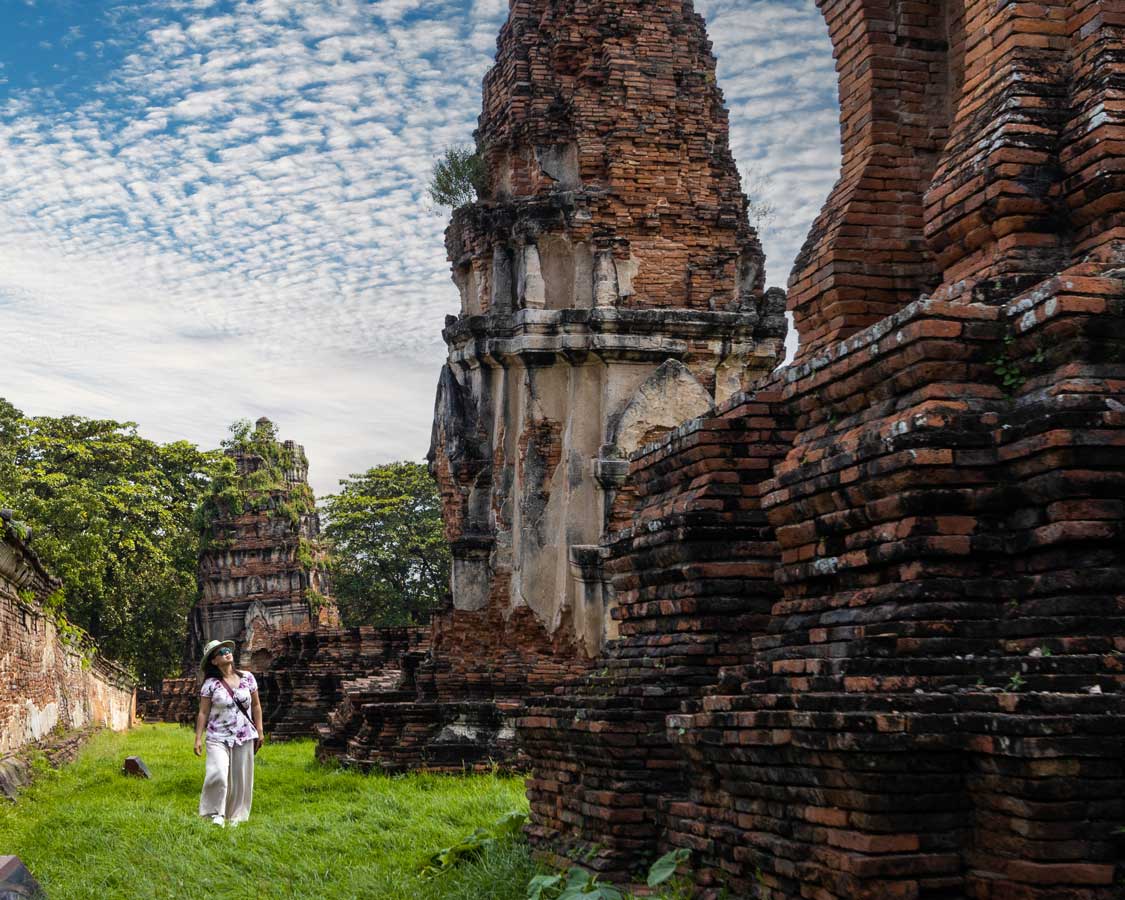 Home to one of the most iconic experiences in Thailand, the ancient city of Ayutthaya is one of the must-see stops in the country. The city, founded in 1350, is about 50 miles north of Bangkok. In the 14th century, Ayutthaya was the capital of the Kingdom of Siam, and today it is home to some of the most magnificent temples in Thailand.
At the heart of the city is Ayutthaya Historical Park. This UNESCO World Heritage Site. This massive collection of temples, reliquary towers, and wats is one of the most sought-after experiences in Thailand.
Wat Phra Mahathat is among the most famous sites in Thailand. Nestled within the complex is the head of a statue of Buddha that nature has attempted to reclaim. Now, the peaceful visage peeks out from among a nest of roots, drawing visitors by the thousands.
Other awe-inspiring things to do in Ayutthaya include a visit to Wat Yai Chai Mongkol, which is the home of a giant reclining Buddha and the statues of dozens of sitting Buddha statues, many of which have been draped in golden sashes.
You can read our complete guide to Ayutthaya here.
Kanchanaburi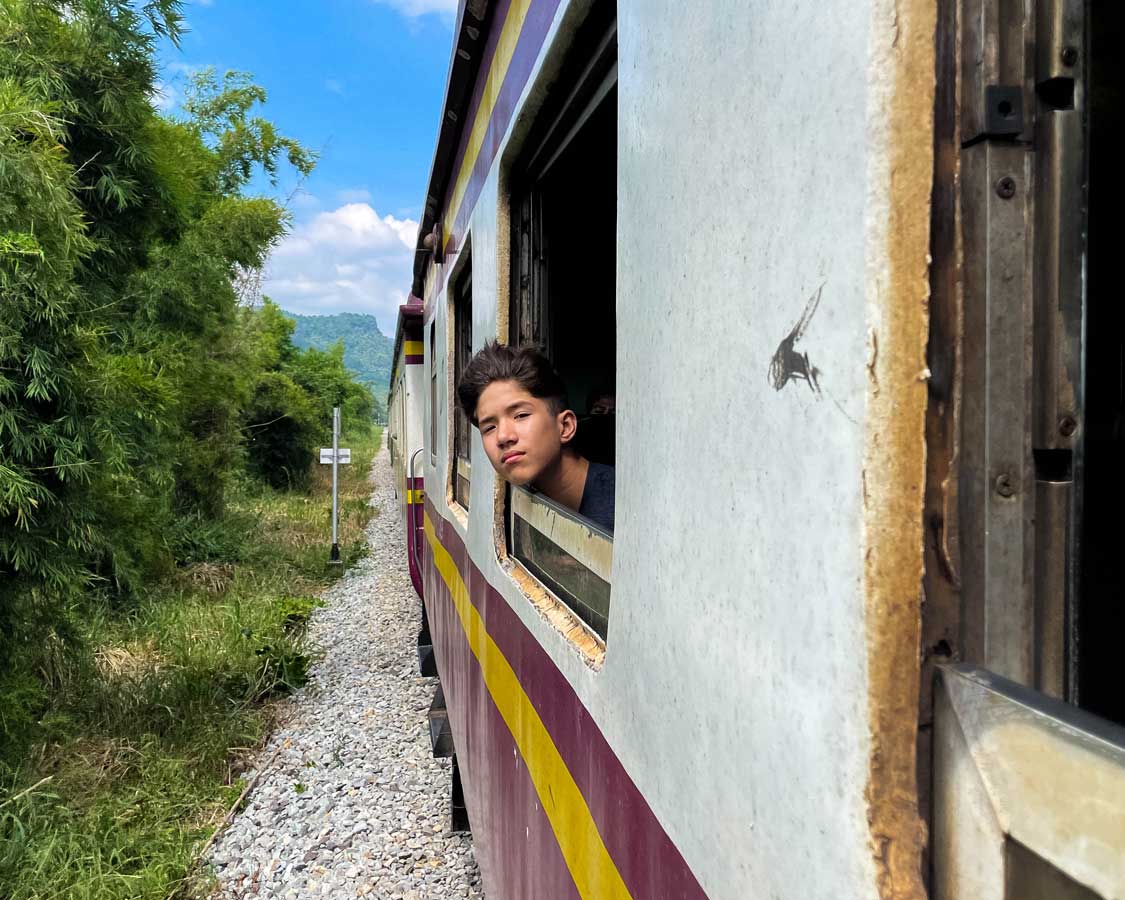 History and nature buffs will find Kanchanaburi to be one of the top places to visit in Thailand. This region of the country has risen to fame due to its dark connections to the country's Japanese occupation during WWII.
Kanchanaburi is home to the infamous Bridge of the River Kwai and much of the horrific "death railway" linking Myanmar(Burma) to ports of Southern Thailand. The railway was built using forced labor provided by Allied prisoners of war and Chinese slaves. In the process, thousands of prisoners perished under inhumane working conditions.
Today, the narrow bridge brought to fame by the Hollywood movie can be sauntered across at leisure. Other stops along the way include the Kanchanaburi war Cemetery and "Hellfire Pass" one of the most tragic sections of the railway line.
It's not all dark tourism in Kanchanaburi though. The province is home to the Erawan and Sai Yok National Parks. These stunning Thailand National Parks are home to magnificent waterfalls such as Erawan Falls, a seven-tier wonder in the depths of the rainforest. You'll also find wondrous cave systems and beautiful resorts floating right on the river.
You can check out our complete guide of things to do in Kanchanaburi, Thailand here.
Pattaya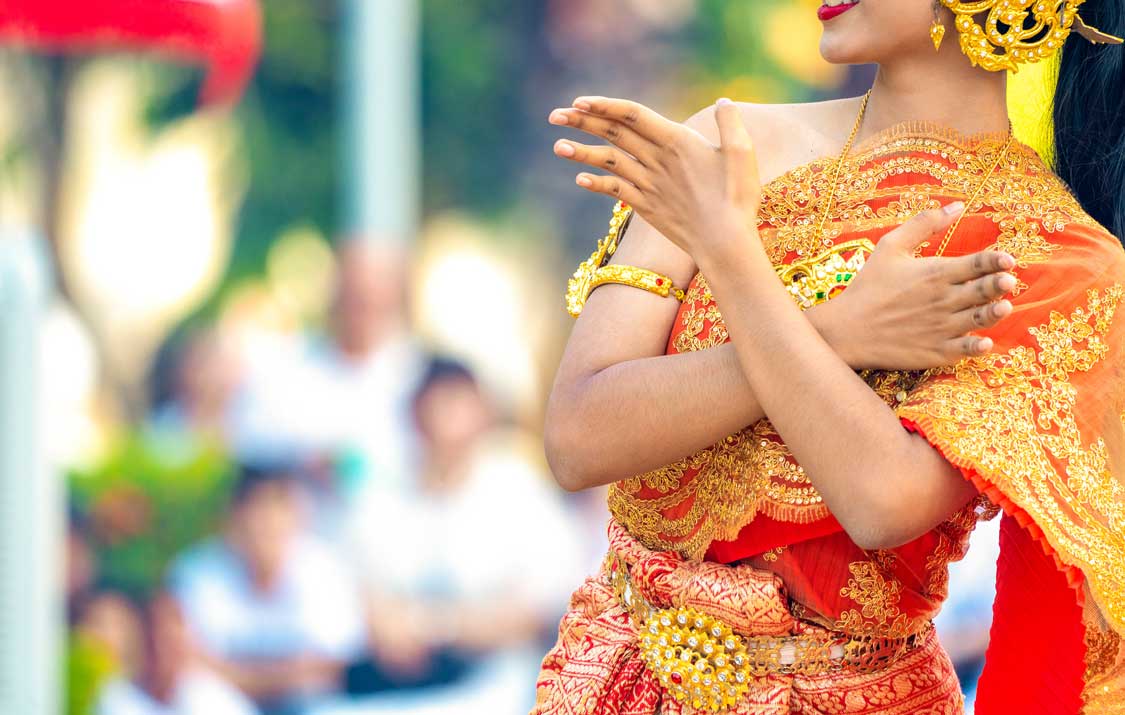 The small city of Pattaya is Bangkok's beach getaway. The city, which is about an hour and a half south of Thailand's capital draws visitors from the city in droves on weekends and holidays. If you have a chance to make the journey during the week, you may feel like you have it all to yourself.
Apart from beautiful beaches, this Thai holiday destination also features beautiful islands, glass-bottom boat tours, and the Chanthaburi Sapphire Mine, where you can enjoy tours.
Those visiting Thailand with kids might get a kick out of Siam Pattaya. This outdoor park has an impressive display of miniature monuments from around the world. Among them are the London Bridge, the Statue of Liberty, Angkor Wat, and even the Bridge of the River Kwai.
Among other touristy attractions are a Ripley's Believe it or Not museum and a 3D museum known as "Art in Paradise."
Koh Samui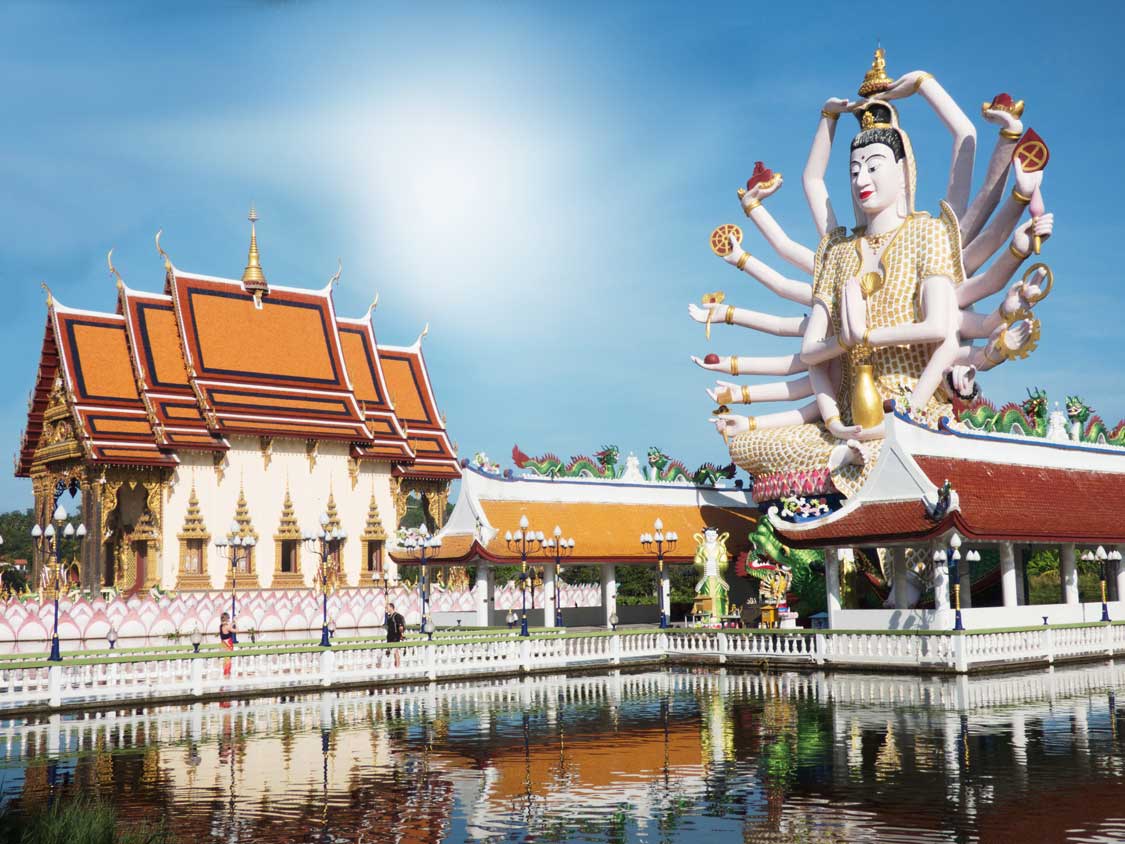 Koh Samui is an island located off the shores of Suratthani in southern Thailand known for having some of the best beaches in the country. This resort island is cored by luscious green mountains, rainforests, and soft, white sand beaches where you can catch some of the best sunsets in the world.
Koh Samui is one of the most popular places to visit in Thailand for family vacations. Along with the natural beauty of the island are resorts that are home to some of Thailand's best spas, and stunning temples such as Wat Phra Yai, home to a nearly 40-foot-tall statue of Buddha
A visit to Koh Samui wouldn't be complete without exploring some of the marvelous islands and archipelagos nearby. The area is where you'll find Ang Thong National Marine Park, which covers 42 islands. This protected area is home to sharks, rays, turtles, and countless species of birds.
Koh Tao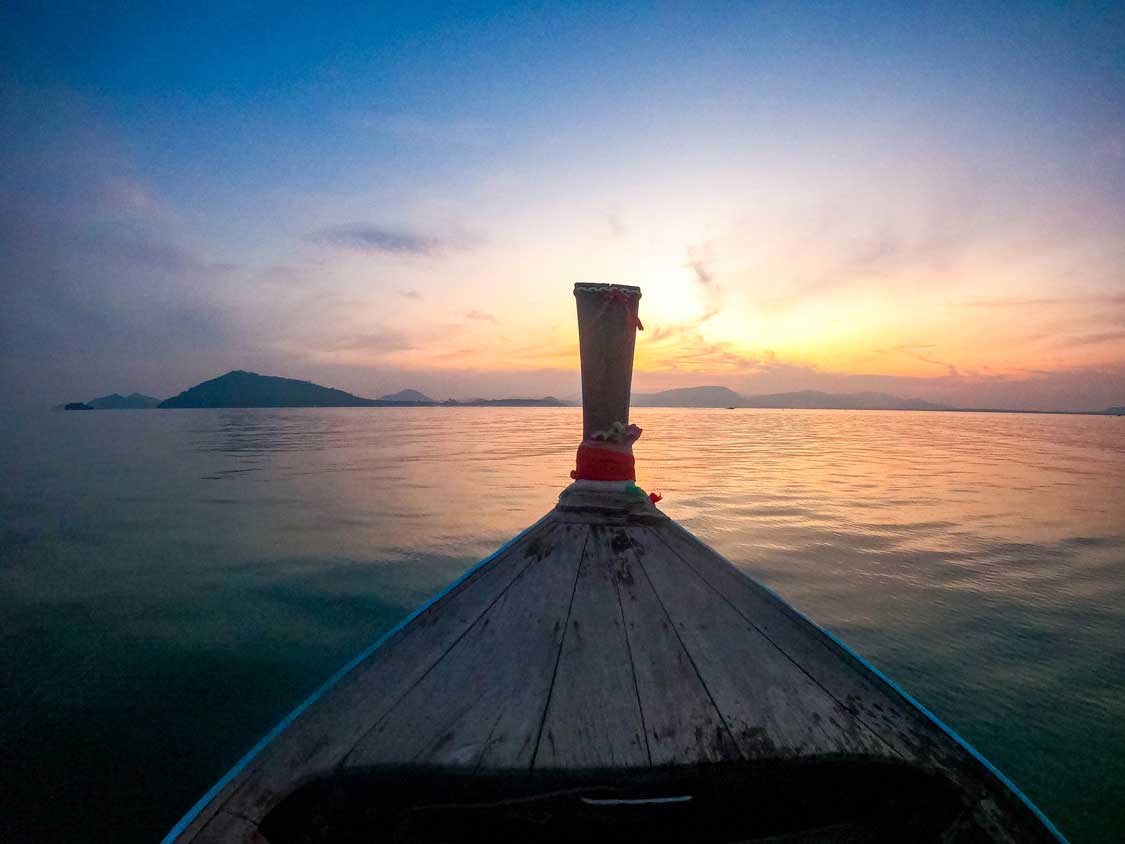 North of Koh Samui off the western coast in the Gulf of Thailand sits the island of Koh Lanta. The island is part of the same archipelago as its southern neighbor but is a significantly smaller and more relaxing destination.
Although you can see the entire island in less than a day, it's a popular destination for multi-day getaways, especially for those who want to unwind amidst a jam-packed Thailand itinerary.
Koh Tao is among the best SCUBA diving destination in Thailand. With endless visibility, bright corals, and fascinating shipwrecks, the reputation of this tiny island is catching on among visitors to Thailand. Underwater explorers will often come face-to-face with massive grouper, barracuda, peaceful whale sharks, eagle rays, black-tipped reef sharks, and other fascinating undersea creatures.
Phuket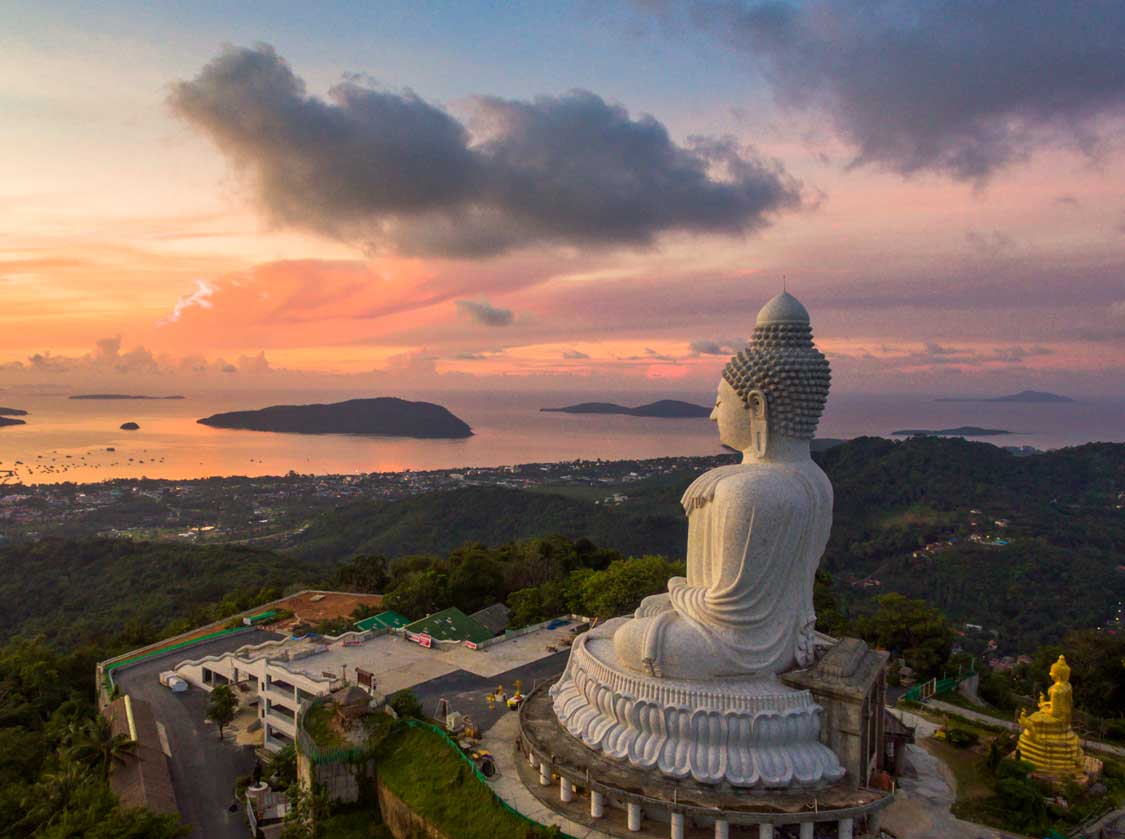 One of the most famous tourist destinations in Thailand, the island of Phuket hosts the most popular beaches in the country. Not only are there a wealth of incredible things to do in Phuket such as a nearly 150-foot Buddha on Nakkerd Hill that gazes out over the island.
Phuket draws visitors by the thousands thanks to its dramatic scenery that has been the backdrop of famous Hollywood movies including Khao Phing Kan, otherwise known as "James Bond Island," and Phi Phi Ley, made famous in the Leonardo di Caprio movie "The Beach."
Exploring the amazing day trips from Phuket is one way to experience this glorious region on the west coast of southern Thailand. But don't miss exploring the city itself. Phuket is home to a wealth of wonderful shops, restaurants, temples, and outdoor markets that shouldn't be missed.
You can read our guide to the best things to do in Phuket here.
Krabi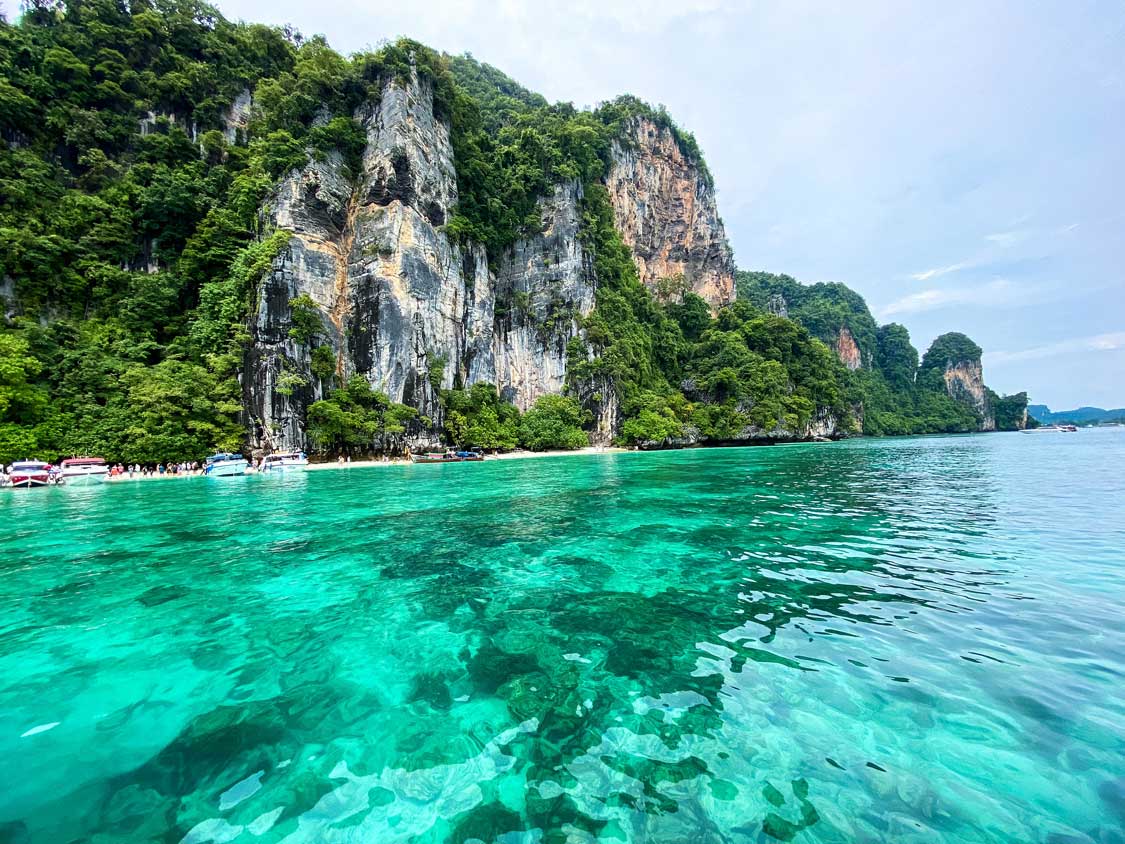 Located off the eastern shores of Phang Nga Bay across from Phuket are the 200 islands and vast forests of Krabi Province. Known for its luxurious beaches, the shores of Krabi are also popular for their dramatic landscapes. The shoreline features rugged limestone cliffs that drop majestically into the ocean. The cliffs often draw rock climbers from around the world.
Krabi day trips include some of the most popular ones in Phuket as well such as the Phi Phi Islands and Koh Panyee a fascinating Muslim village floating deep in Phang Nga Bay. Krabi province is also home to the majestic Thung Teao Forest Natural Park.
This incredible park is home to mostly virgin rainforest and features magnificent warm water pools, a 1.7-mile hiking trail, and crystal-clear ponds that are very popular swimming holes. Visitors can wade in nearby waterfalls and experience some of the wonderous and unique flora and fauna of the park.
Sukhothai Thani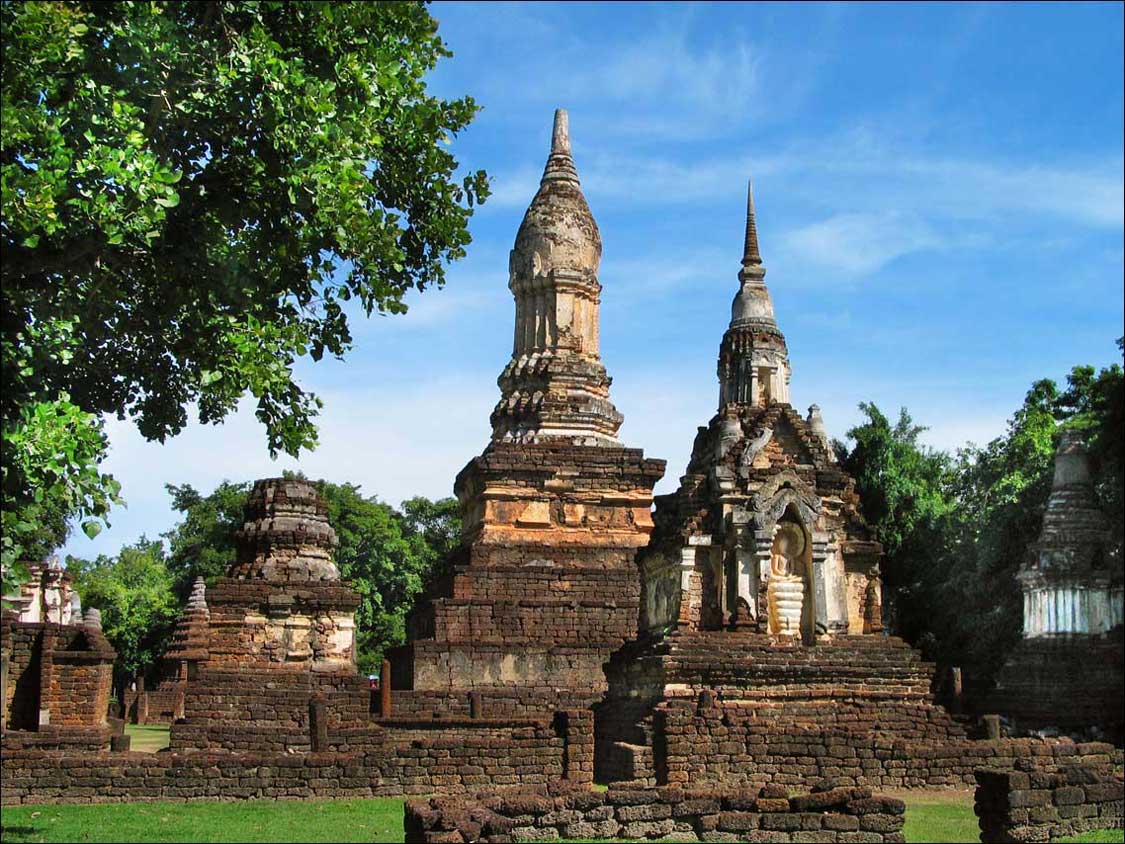 Home to Sukhothai Historical Park, the 13th-century ruins of the Sukhothai Kingdom, the small town of Sukhothai Thani is one of the most fascinating places to travel in Thailand. The park is home to 193 ruins dotted across 26 Buddhist temples. Among them are the remains of a royal palace and a series of dramatic stupas.
What draws most visitors to Sukhothai Thani is Wat Mahathat. This gorgeous temple features a pillared pavilion centered by two nine-meter tall Buddha statues. Among some of the other popular attractions are Wat Si Sawai, which is the park's oldest temple and sits in the middle of a lake, and Noen Prasat, which was once a royal palace.
Chiang Rai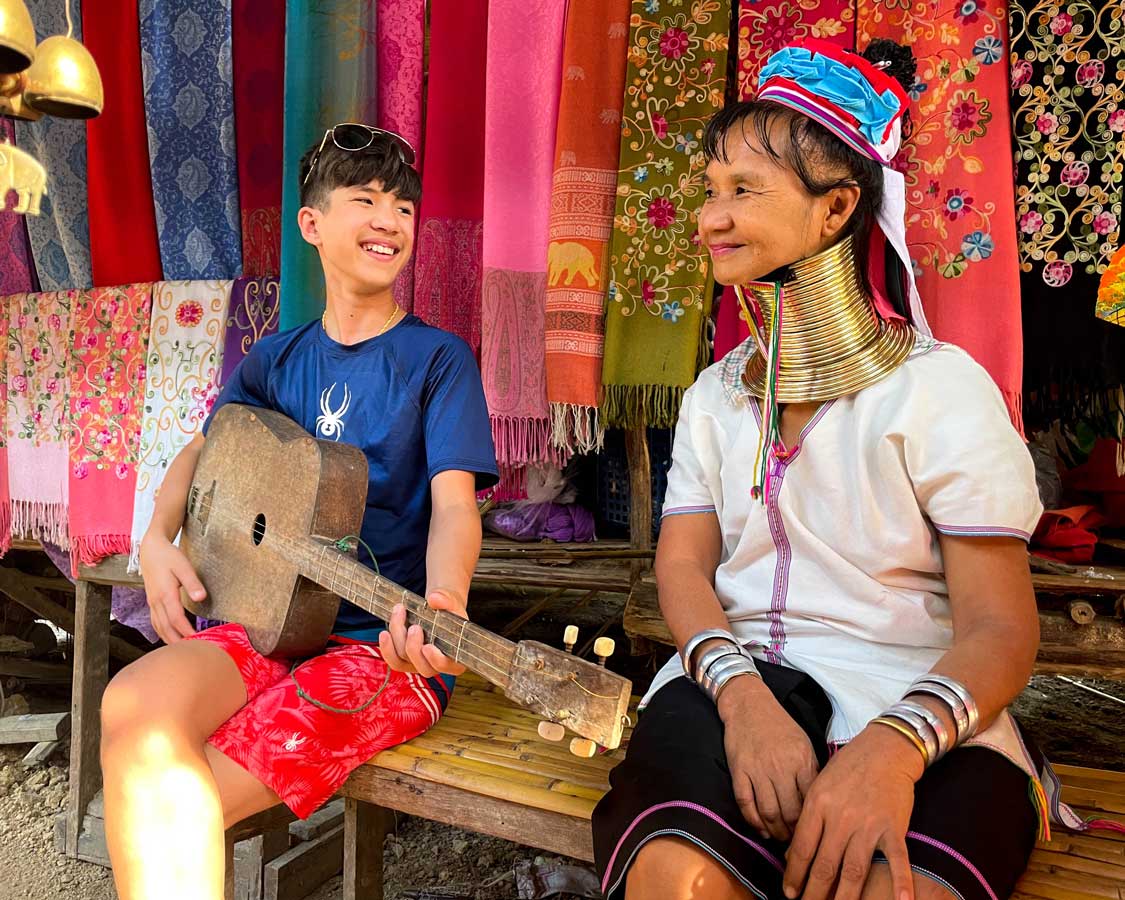 The city of Chian Raig is the northernmost major city in Thailand. Sitting close to the borders of both Myanmar(Burma) and Laos and surrounded by lush national parks and filled with historic Buddhist temples, this is one of the most sought-after, but rarely visited places in Thailand.
Chiang Rai draws visitors with a penchant for exploring. Lam Nam Kok National Park, which is just 30 minutes from the city, features a series of cascading waterfalls. Among the most popular is the 230-ft Khun Kon waterfall, which drops dramatically into a shallow stream.
Chiang Rai is also known for its access to some of Thailand's most vibrant hilltop communities including the Karen, Akha, Hmong, Lahu, Lisu, Palong, and Mien (Yao) tribes. Some of these villages require long hikes to reach, but they offer some of the most authentic and unique experiences in Thailand.
Kao Sam Roi Yot National Park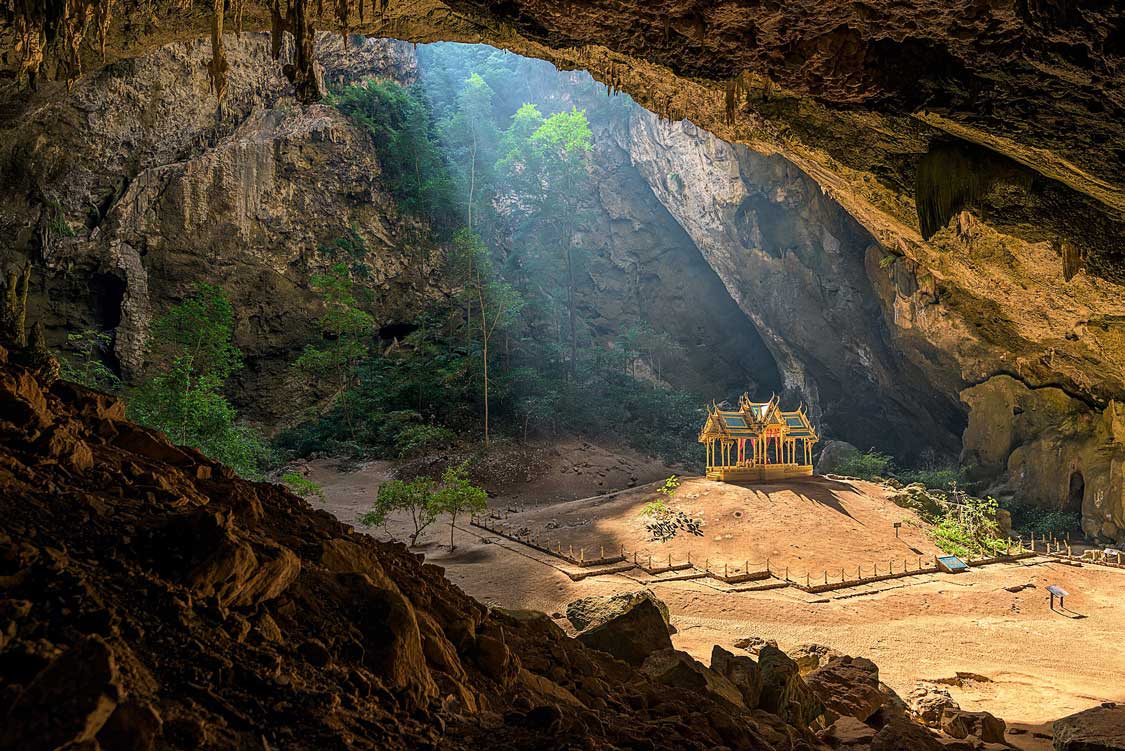 There are many amazing national parks in Thailand, but Khao Sam Roi Yot is one of the most impressive. The park, whose name translates to "Mountain of 300 peaks") is packed with pristine beaches, impressive caves and caverns, and the largest freshwater marsh in Thailand.
The park offers camping near Thung Sam Roi Yot Freshwater Marsh where visitors will have easy access to hiking trails and swimming holes and epic views of the mountain range.
One of the biggest draws of Kao Sam Roi Yot National Park is Phraya Nakhon, an immense cave system. The cave itself isn't the top draw though, within Phaya Nakhon sits a delightful royal pavilion that's often bathed in light from above.,
Running through the center of the park is the Khao Daeng Canal. Visitors can take a boat tour through the park and experience the dense mangrove forests right to the beautiful coastal waters of the Gulf of Thailand.
Khao Yai National Park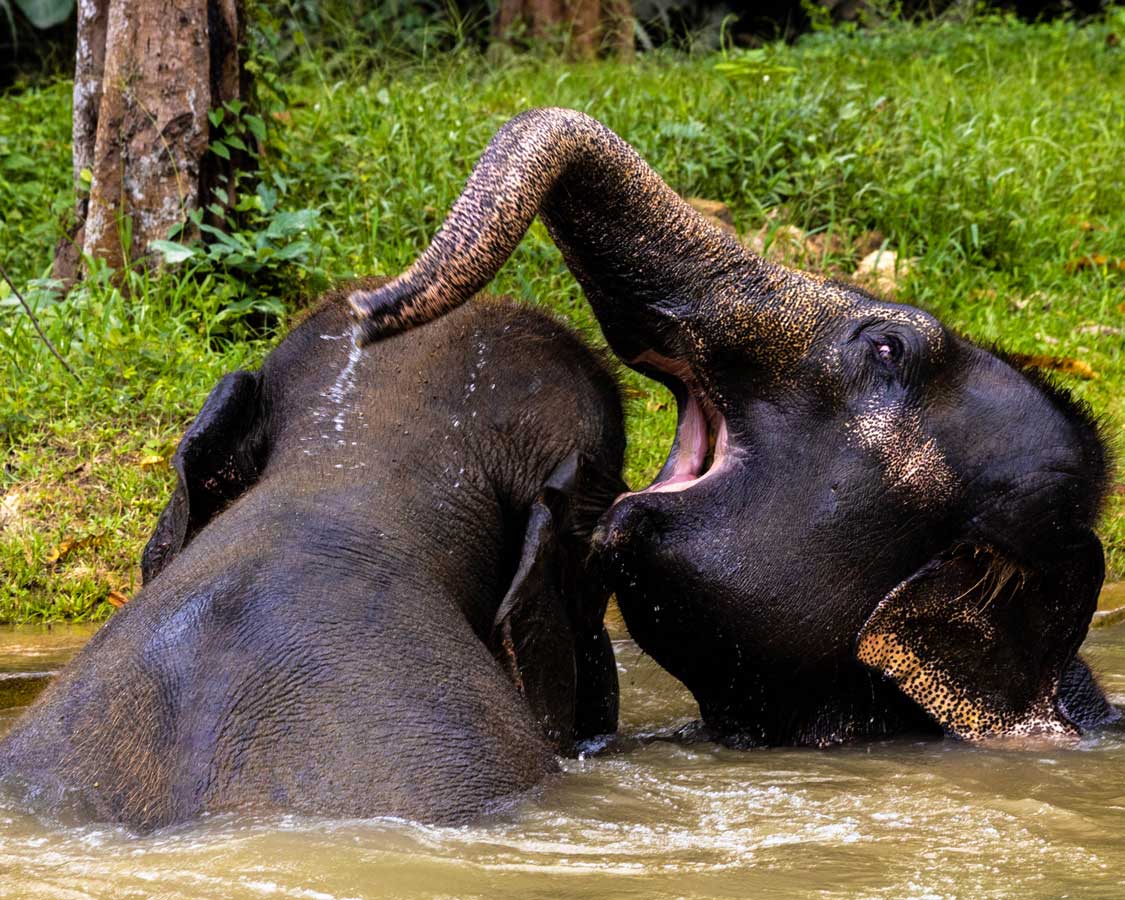 Three hours northeast of Bangkok is Khao Yai National Park, home to one of Thailand's largest populations of wild elephants. The park, which covers a massive 1,250 square miles is jam-packed with mountains, rainforests, and grasslands.
Along with the 140-200 elephants that roam free within the park are gibbons, jackals, the Malayan sun bear, and the Asiatic black bear. and for those chasing scenes from the movie "The Beach," the park is also home to the breathtaking Haew Suwat Waterfall.
Among the most popular experiences here are hiking and mountain biking. Visitors can also hire a park ranger who can bring them to rarely visited sections of the park including watering holes that are popular with the wildlife of the park.
Pai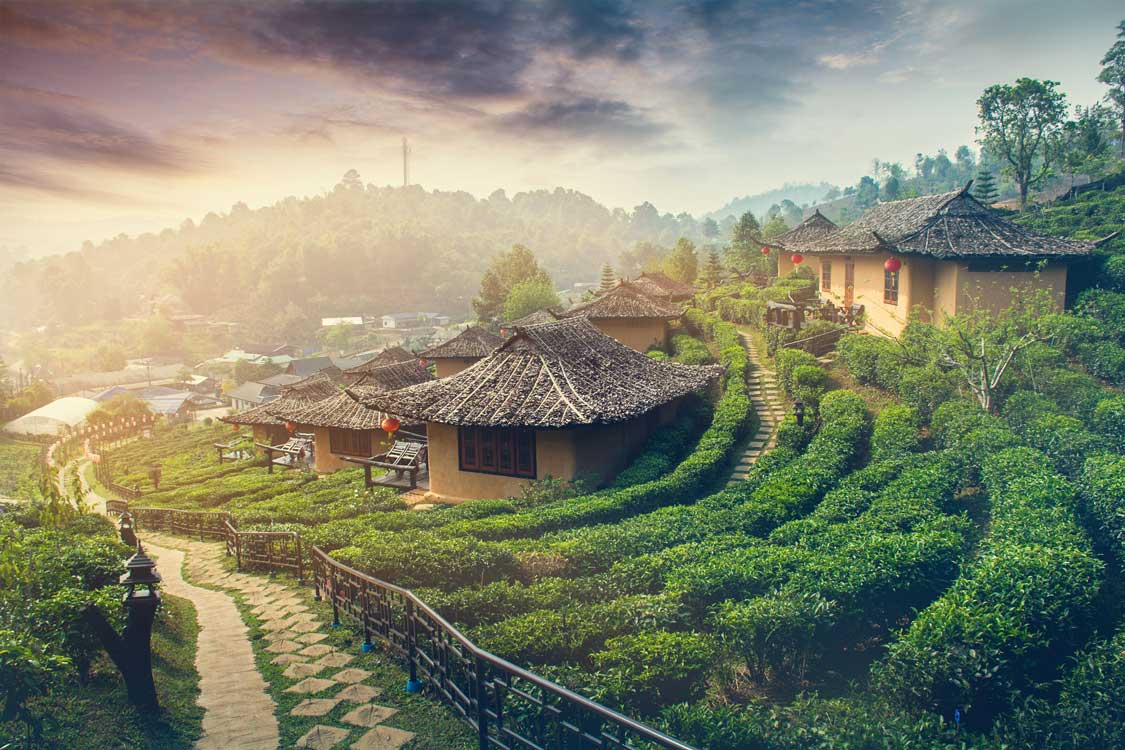 The town of Pai sits in the northwest section of Thailand just a short distance from the border with Myanmar(Burma). This quaint town, 3 hours from Chiang Mai, has become one of the most popular places to visit in Thailand thanks to its relaxed pace.
Pai offers a glimpse of the "less-touristy" side of Thailand. The city is surrounded by lush hills teeming with waterfalls and crisscrossed with scenic hiking trails. Among the attractions surrounding Pai are Pai Canyon, which is home to a 3.7-mile hiking trail with mind-blowing views and some of the best sunsets in northern Thailand.
Other attractions that draw visitors to Pai are the scenic rice terraces, the towering Wat Phra That Mae Yen temple, the immense Tham Lod limestone caves, and the Pai hot springs, which offer travelers the chance to relax after a long day of exploring.
Koh Lanta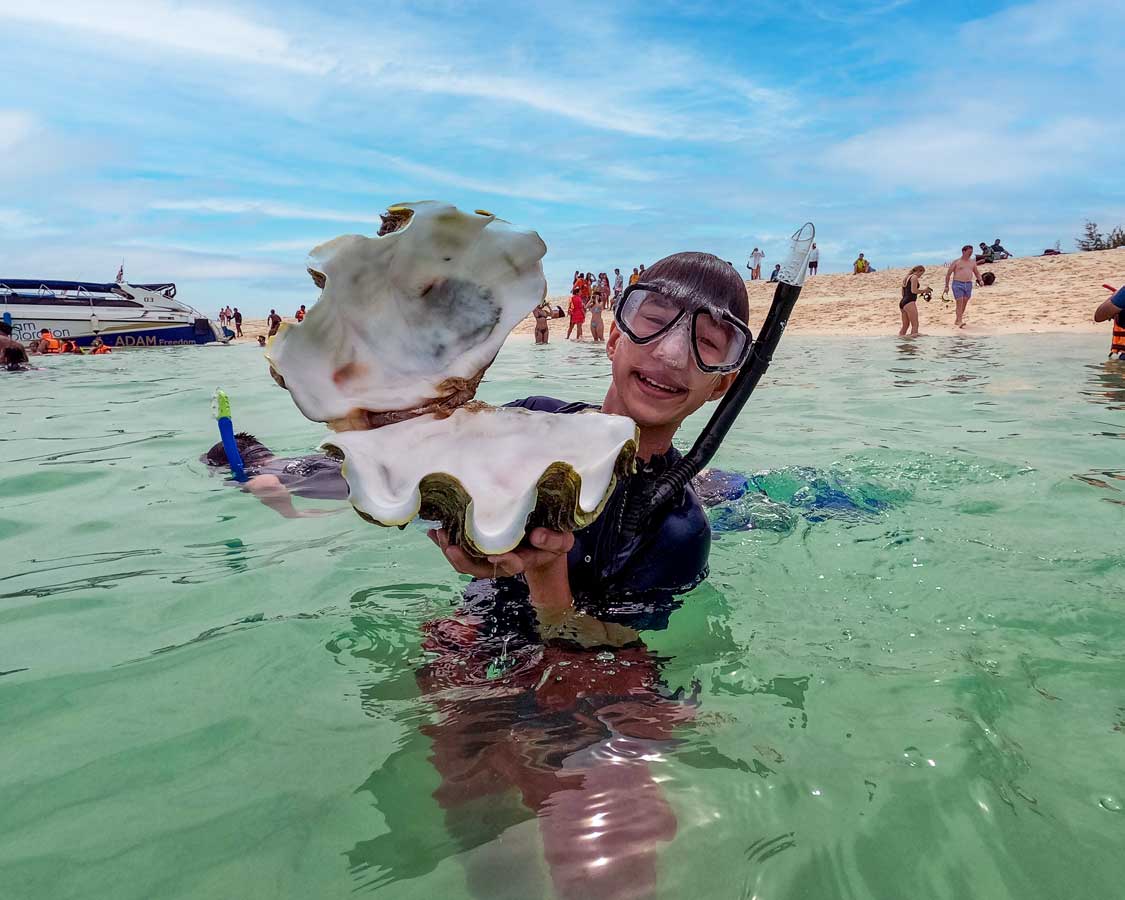 Situated off the coast of Krabi province in Phang Nga Bay is Koh Lanta, an often overlooked island destination in Thailand with magical beaches, incredible parks, and beautiful towns.
Koh Lanta offers a southern Thailand getaway that is far more peaceful than the bustling cities of Phuket and Krabi. The island, which sits just a short distance from the mainland, and is connected by a bridge, offers an easy escape that still gives you access to the mainland attractions.
Koh Lanta is over 18 miles long and features some excellent small resorts, lots of fantastic, locally-run restaurants, and countless quaint shops and markets.
One of the most famous spots to visit in Koh Lanta is Koh Lanta National Park. Koh Lanta National Park consists of a series of 16 major islands (and several smaller ones) off the southern shores of Koh Lanta. Nearly half of the island park is covered in lush rainforest and mangrove forests. It's a wonderful destination for laid-back travel and popular with ex-pats.
Koh Sok National Park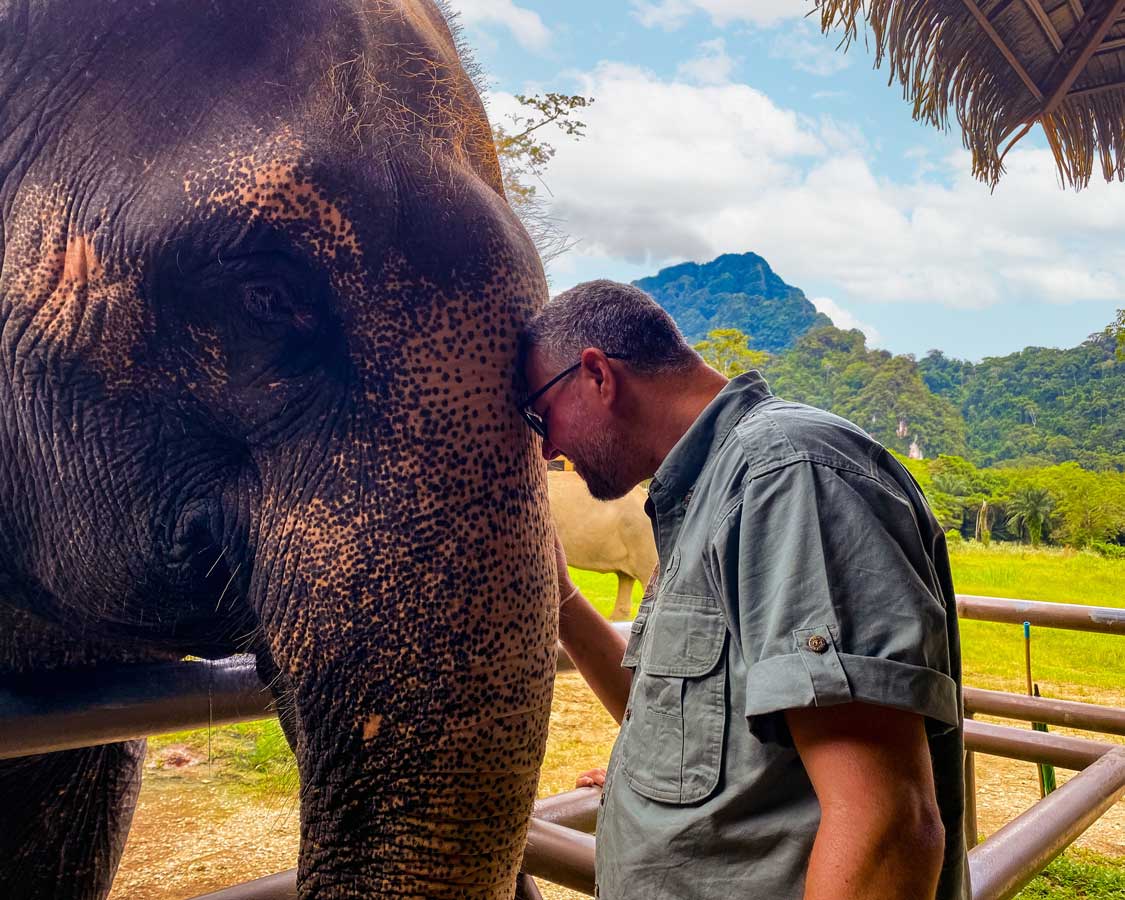 Although far from the most famous places to visit in Thailand, Koh Sok National Park is one of my personal favorites. The park is located just an hour and a half from the town of Suratthani.
This massive rainforest is packed with incredible plants and animals, including a small population of wild elephants. Among the limestone hills, waterfalls, and hiking trails are a series of jaw-dropping floating lodges in Cheow Lan Lake where guests can enjoy kayaking, nature trails, and guided boat rides through the flooded wilderness.
One of the park's biggest attractions is Elephant Hills, a luxury lodge and elephant sanctuary where former working elephants, along with their mahouts (trainers/caregivers) are rehabilitated and given shelter and food. Visitors have the chance to feed and interact with these magnificent animals in a safe and ethical way.
Are You Ready To Visit These Incredible Places in Thailand For Yourself?
Thailand was a magical destination for family travel. The hot weather, brilliant beaches, delicious food, and stunning history were just the icing on the cake. If you're looking for a memorable travel destination, these stunning places to visit in Thailand are sure to delight
If you love family travel as much as we do, please join our Family Travel Support Group on Facebook. You can connect with more family travelers just like you who love to explore the world.
Wandering Wagars is a participant in the Amazon Services LLC Associates Program, an affiliate advertising program designed to provide a means for sites to earn advertising fees by advertising and linking to amazon.com, amazon.co.uk, amazon.ca. Amazon and the Amazon logo are trademarks of Amazon.com, Inc., or its affiliates.
You May Also Like To Read: