From the best beaches to the night markets, experience the best things to do in Phuket, Thailand, the pearl of the Andaman Sea.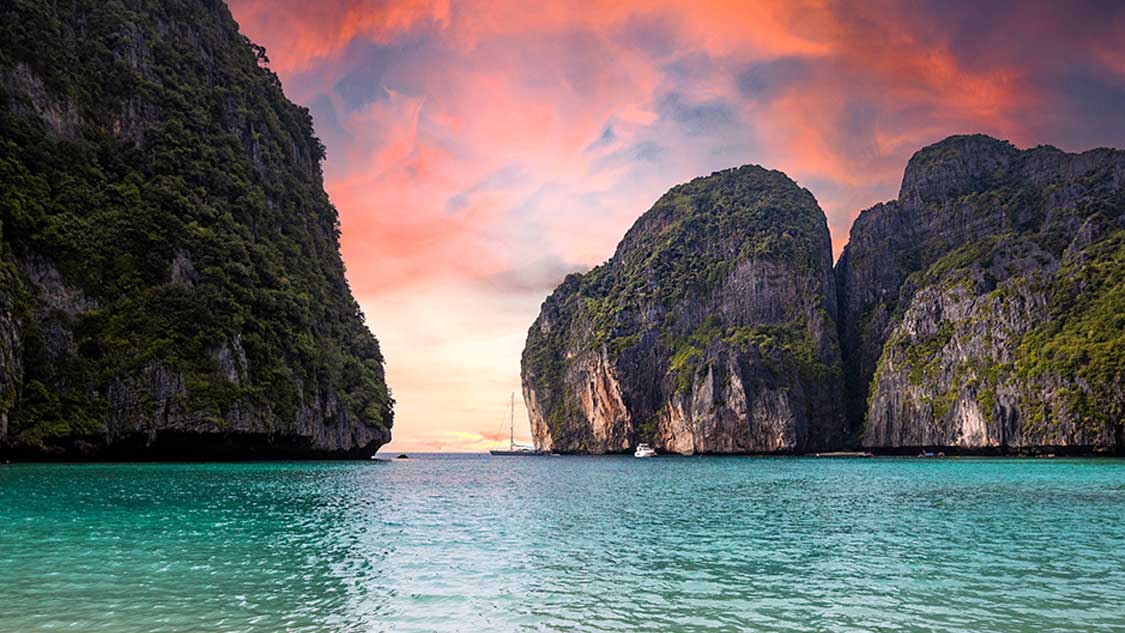 The island of Phuket, situated off of the west coast of Thailand in the Andaman Sea has been one of the most popular places to visit in Thailand for decades.
The hot weather, pristine beaches, magical surroundings, and rich culture make Phuket one of the most popular draws for tourists, travelers, and ex-pats who are drawn to the country. With a range of incredible things to do in Phuket combined with spectacular scenery, an epic food scene, and warm, welcoming locals, I can't blame people for flocking here.
In truth, many visitors to Thailand could spend their entire vacation checking off all of the best things to do in Phuket. At 335 square miles, Phuket is the largest island in the country. That size is important when you consider that Phuket welcomes over ten million visitors each year.
So if you're planning a visit to Thailand, let's explore all of the best things to do in Phuket.
About Phuket, Thailand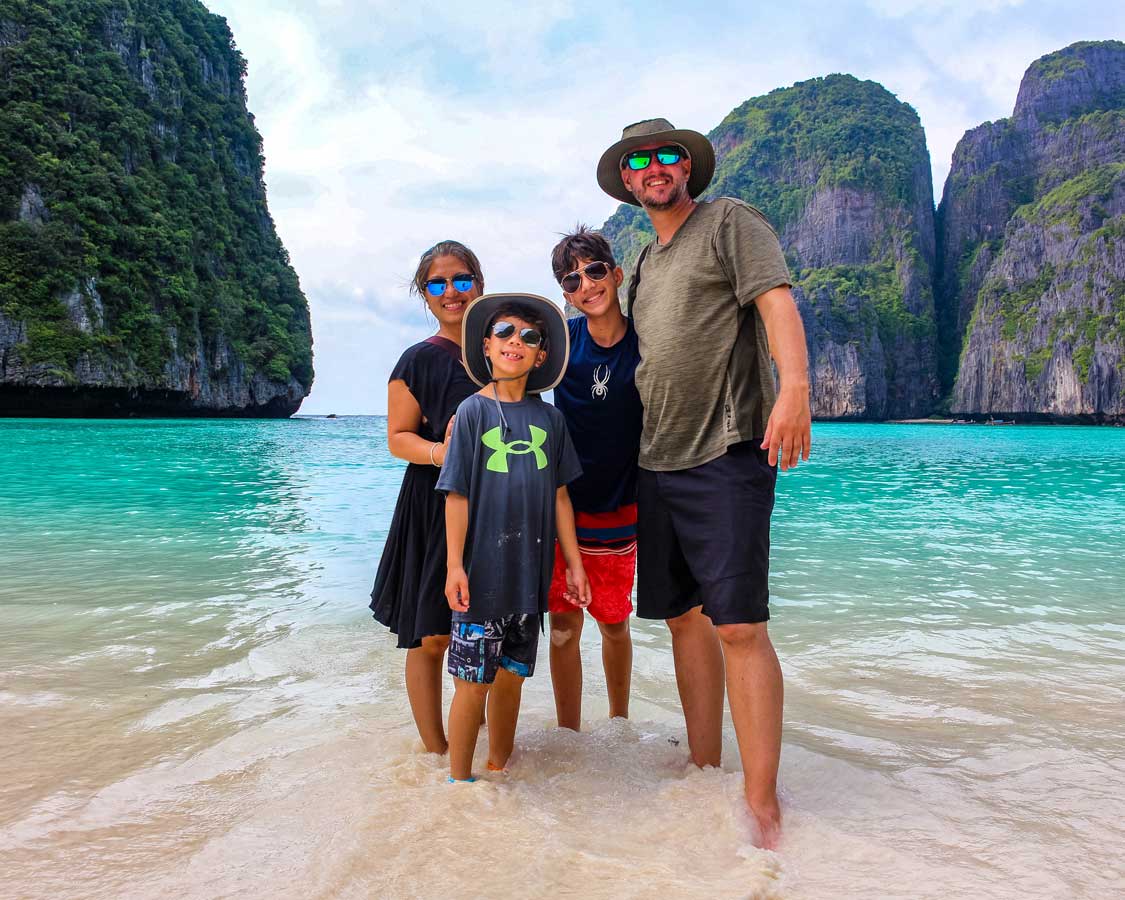 One of the highlights that draw so many visitors to Thailand is the sunshine. The weather in Phuket is warm and tropical. Temperatures in Phuket are impressively stable, typically hovering between 77°f (25°C) and 87°f (32°C). From November to March the weather is dry and sunny. This is the high season when most tourists come to Phuket.
From May to October, Phuket experiences its monsoon season. During these months the region experiences heavy rainfall and the occasional storm. During these months, more tourists and drawn to islands and towns on the other side of the peninsula in the Gulf of Thailand, such as Koh Samui.
Phuket has a population of over 400,000 residents. The people are a mix of Thai, Chinese, and Malay. There's a very heavy Chinese influence in the region, and this influence can really be seen in the architecture, food, and local traditions.
Phuket has become famous for its incredible food. In fact, some of the best food in Thailand can be found sold by street vendors. Dishes like spicy curries, noodle soups, and grilled meats and seafood are an absolute delight.
If you're visiting Phuket during the ninth lunar month, don't miss the city's Vegetarian Food Festival, also known as the Nine Emperor Gods Festival. During this month the streets of Phuket are packed with locals and visitors dressed in white. Vendors and markets are busy selling some of the world's most delicious vegetarian cuisine imaginable. You can find out more about that here.
Phuket is a vibrant and exciting part of Thailand. It's a place that offers a little something for everyone, including families. It's no surprise that it has become one of the best places to travel in Thailand with kids. And while most visitors to Phuket make a straight shot to Patong, one of the most popular areas of the island, there are many attractions in Phuket that like outside that area.
So join us as we explore the top things to do in Phuket on your next visit to Thailand.
Things To Do In Phuket, Thailand
Whether you love lounging on the beach, adventurous family vacations, or bouncing between monuments and temples, Phuket is packed with amazing things to do. It's a huge island, so it's easy to get overwhelmed, but don't worry, our guide to the top places to visit in Phuket will help guide your journey so you don't miss anything.
Make A Visit To The Big Buddha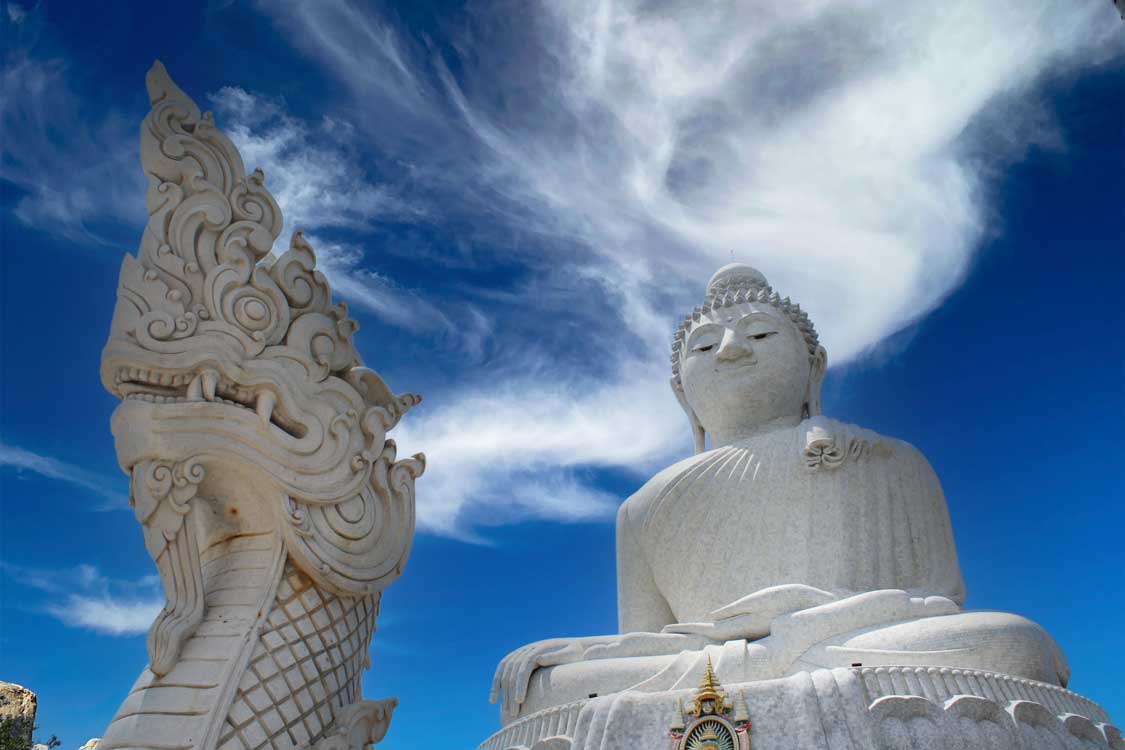 Towering above the Phuket skyline, the Great Buddha of Phuket, or Phra Puttamingmongkol Aktenakkiri Buddha is a massive 45-meter-tall marble statue of Buddha sitting atop a lotus flower. The iconic Phuket Buddha sits at the summit of Nakkerd Hills in the southern part of the island.
The Great Buddha statue in Phuket was finished in 2014 and has become one of the most iconic symbols of faith in Thailand. It was built to commemorate the 80th birthday of King Bhumibol Adulyadej, the longest-reigning king of Thailand.
To reach the Big Buddha, you'll need to climb a staircase to the base of the statue. Here you can take in panoramic views of southern Phuket. There are also a number of smaller statues and shrines dotted across the property as well as a meditation area and a bell tower.
The Great Buddha is a sacred site, so ensure that you're dressed modestly with your knees and shoulders covered before entering. You'll also be asked to remove your shoes before entering the base of the statue.
Step Through The Doors Of Wat Chalong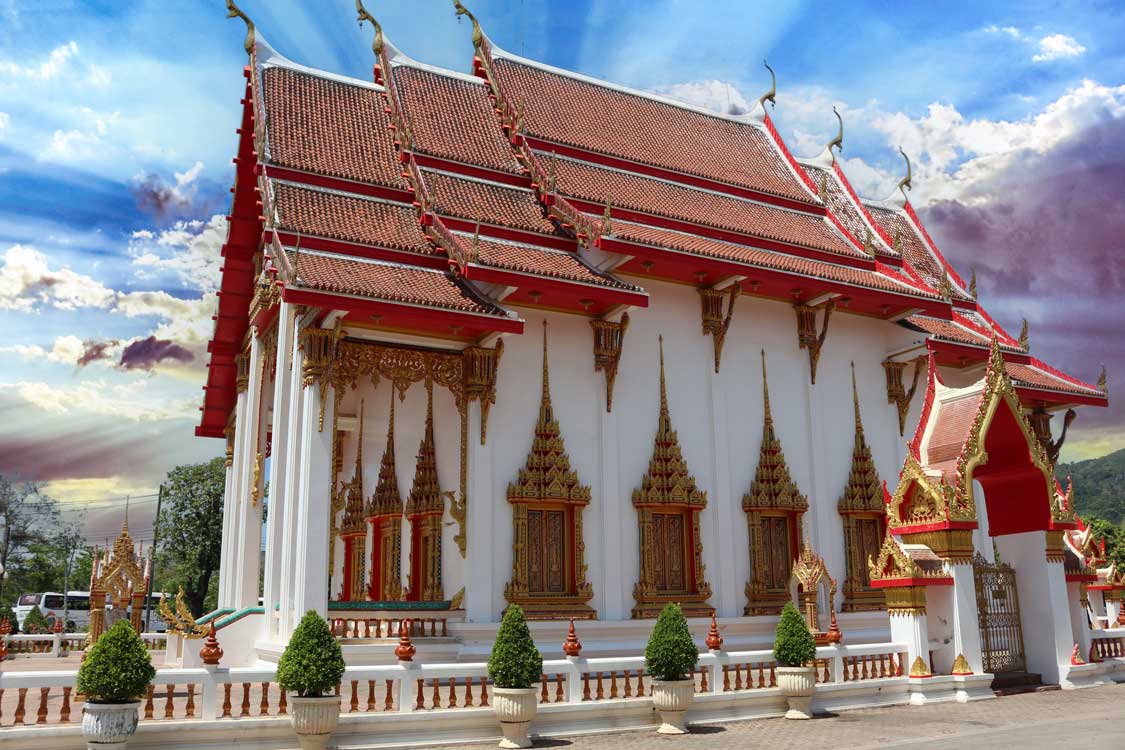 Considered one of the most important Buddhist temples in Thailand, Wat Chalong, or Wat Chaiyathararam, is a beautiful place to visit in Phuket. The temple is made up of several buildings such as the Grand Pagoda, the ubosot (ordination hall), and several smaller temples.
Wat Chalong was built in 1837 and has been welcoming visitors for over a century. You can spend time giving alms to the monks at the sunrise service as we did at the Wat Phra That Doi monastery in Chiang Mai, wander past the statue of Ta Khee-Lek, who reportedly won several lotteries after praying at the temple, and visit the Grand Pagoda, which contains a splinter of one of the bones of Buddha himself.
The temple is open to visitors every day from 7:00 am to 5:00 pm, and there is no admission fee. However, visitors are expected to dress modestly and remove their shoes before entering the temple buildings.
Take Part In A Thai Cooking Class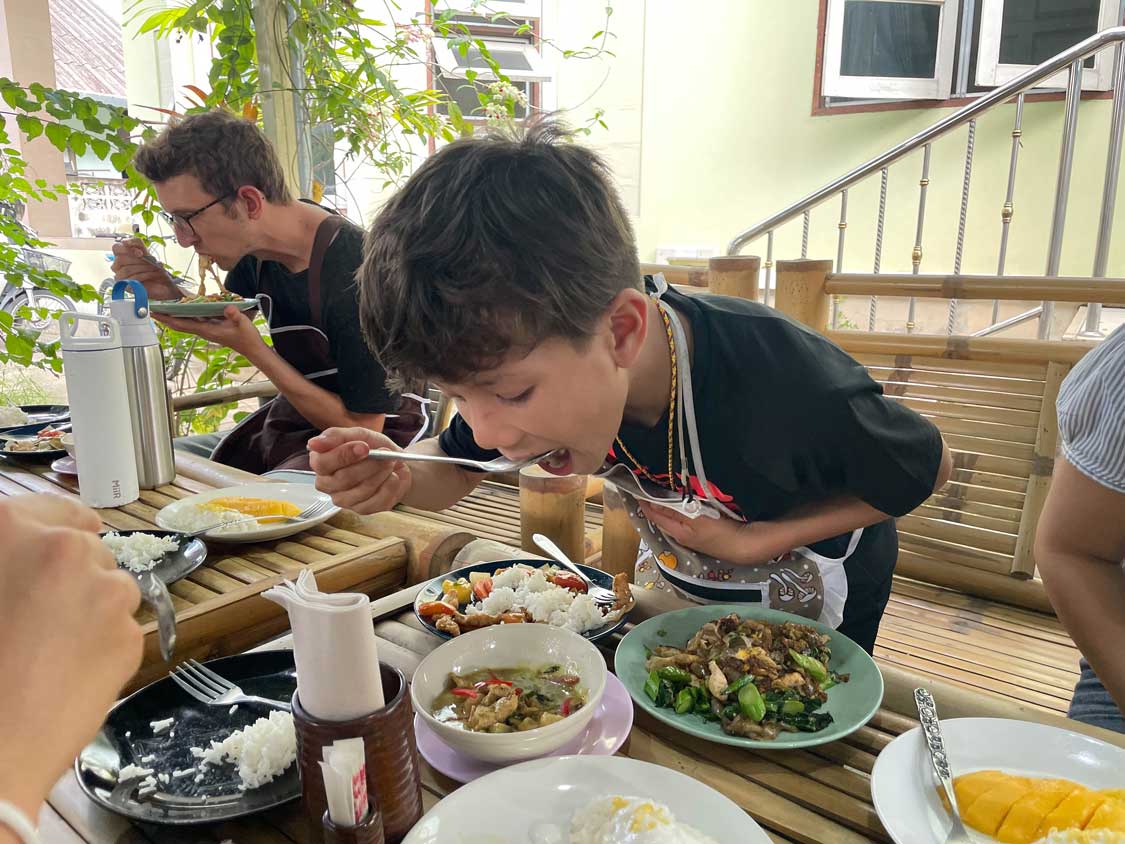 Thai food is one of my absolute favorite reasons to visit Phuket. This region of Thailand has so much incredible diversity, and some of the best food in the country. If you're like me and you love to relive your travel moments in the kitchen, then a Thai cooking class in Phuket might be the perfect way to spend an afternoon.
You'll find a lot of great Thai cooking classes in Phuket, but few of them are as highly rated as this one, which includes a market tour, and lets the small group pick the menu from local favorites like red and green curry, kuay tiew, and Massaman curry.
By taking a Thai cooking class you'll experience the markets, learn about the local ingredients, and understand the unique techniques to perfect Thai cooking.
Enjoy An Ethical Elephant Experience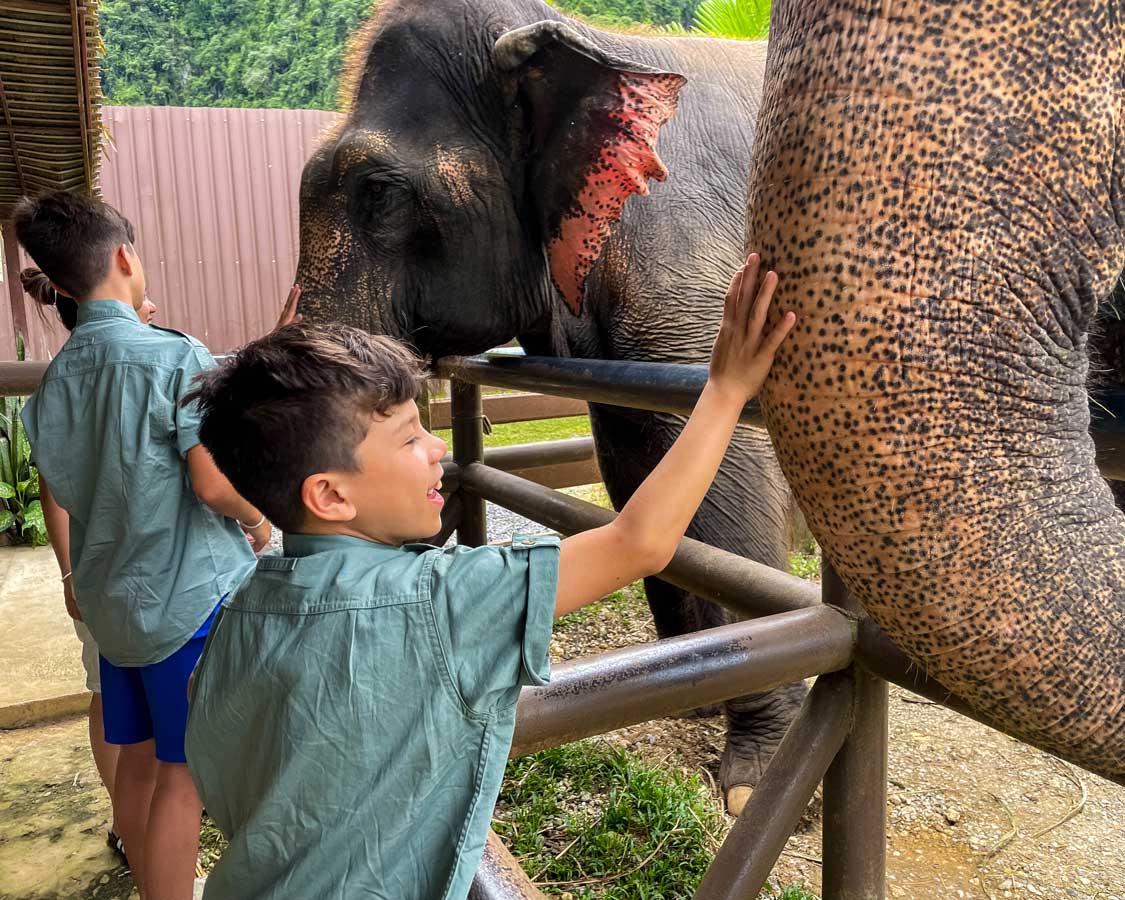 One of my family's most memorable experiences in Thailand was our time at the Elephant Hills Sanctuary in Koh Sok National Park. Our experience interacting, feeding, and learning about elephants in Thailand was absolutely magical.
But not every elephant experience in Thailand is created equal. This is a country that, not long ago, was still using elephants for labor in the logging industry. When that practice was shut down, many elephants and their mahouts (caregivers and trainers), were left with nowhere to go.
As a result, a huge tourism industry boomed that involved sketchy practices that are very harmful to the health of these majestic animals. Things such as elephant rides and bathing with elephants became popular activities for tourists, and it led to some tragic consequences.
As a result, choosing an ethical elephant experience in Phuket will help you experience these wonderful beasts up close, as well as ensure that you're causing no harm to them. One of the top ethical elephant encounters in Phuket is the Phuket Elephant Sanctuary. This incredible location harbors elderly and overworked elephants who have experienced decades of abuse. Here, they receive care, treatment, and rehabilitation.
You can visit the park by reservation, or if you don't have your own transportation, sign up for a small group tour that includes transportation, snacks, and lunch.
Go Phuket Beach Hopping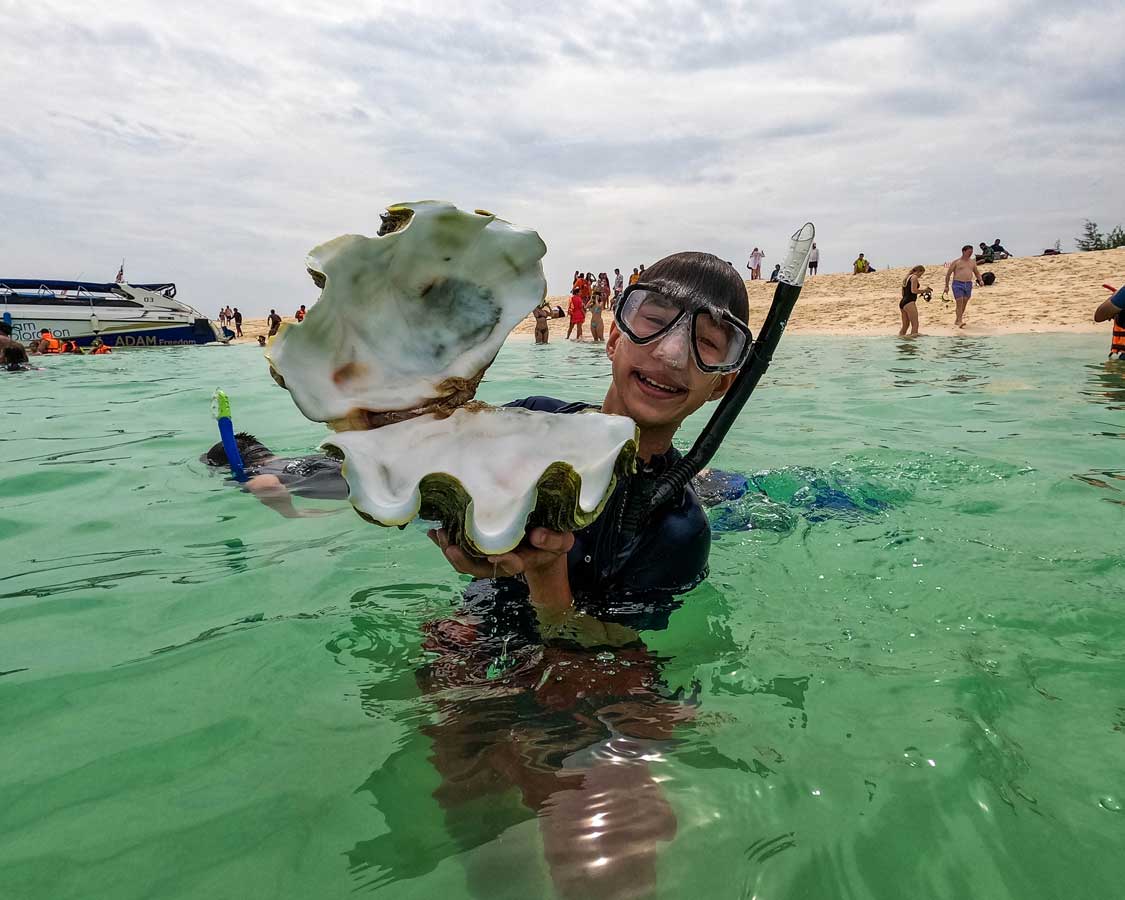 It's almost impossible to explore the best things to do in Phuket and not include the beaches. Phuket Island is packed with stretches of brilliant white sand that stretch from party spots like Patong down to the quiet and relaxing Panwa Beach on Phuket's eastern shores.
If you've got some time on the island, consider doing some beach hopping to experience some of the incredible beaches in Phuket. If you want a lively experience filled with ex-pats and tourists, Patong Bay is for you. But don't miss some of the other beaches on the island such as Freedom Beach, Kata Noi, Surin Beach, and Na Hairn Beach.
Enjoy The View From Karon Viewpoint
Located just a short distance south of Kato Noi Beach is Phuket's most popular viewpoint. This is one of the best places to visit in Phuket thanks to its incredible panoramic views of Kata Noi, Kata Yai, and Karon.
Karon Viewpoint, also known as Kata Viewpoint, sits on top of a hill that can be reached by a walkway or winding road that leads to a parking area. From there, it's just a short flight of stairs up to an observation deck that offers epic views of the turquoise waters of the Andaman Sea and the lush hills of southern Phuket.
The best time to visit Karon Viewpoint is early in the morning or late in the afternoon when the sun is not too harsh, and the sky is clear. There are several food and souvenir vendors at the viewpoint where you can pick up local snacks and handicrafts.
The Karon Viewpoint is open to visitors every day, and there is no admission fee. However, be careful when walking around the steep cliffs and watch out for monkeys that can be found in the area. They can be aggressive and sometimes like to steal food, bags, or shiny items.
Visit Phuket's Old Town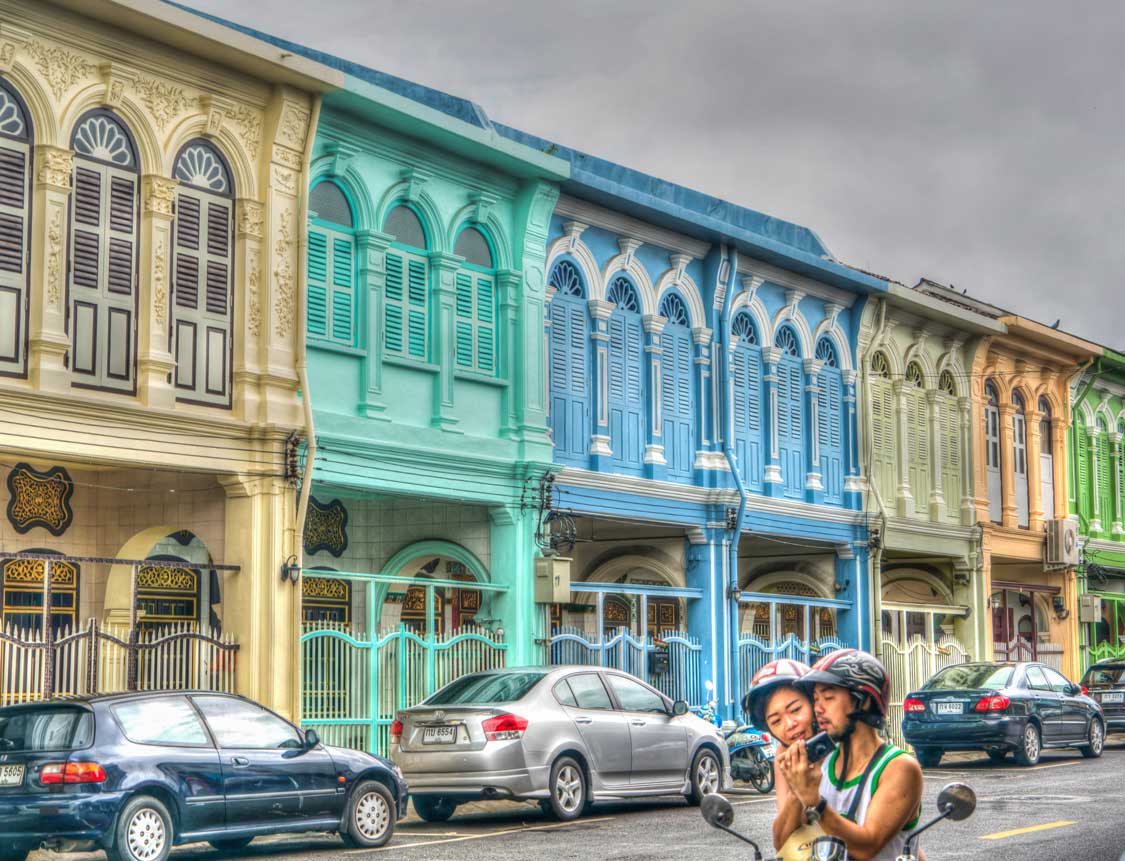 A stop at Phuket Old Town is one of the most scenic things to do on the island. With an idyllic collection of Sino-Portuguese buildings, Instagram-worthy night markets, and magnificent mansions, the area along Old Thanlong Road is worth a stop.
The historical district of Phuket is located in the city center of Phuket Town. Most of the area was established in the late 19th century when the island thrived thanks to the tin mining industry.
Enjoy a stroll down narrow streets lined with cafes, restaurants, art galleries, and boutiques. Don't miss some of the area's biggest attractions such as the Thai Hua Museum which explores the island's Chinese and European influences which can be seen in the old town's shuttered windows and intricate architecture.
Old Town Phuket is also famous for its street art. You'll find loads of colorful murals decorating walls and buildings. Some of these depict the history and culture of the island. You can even sign up for a walking tour that takes you to some of the best murals.
The best time to visit Phuket Old Town is in the morning or late afternoon when the weather is cooler, and the light is perfect for photography. The area is easily accessible on foot, and visitors can explore at their own pace.
Enjoy A Day Or Two Exploring Phang Nga Bay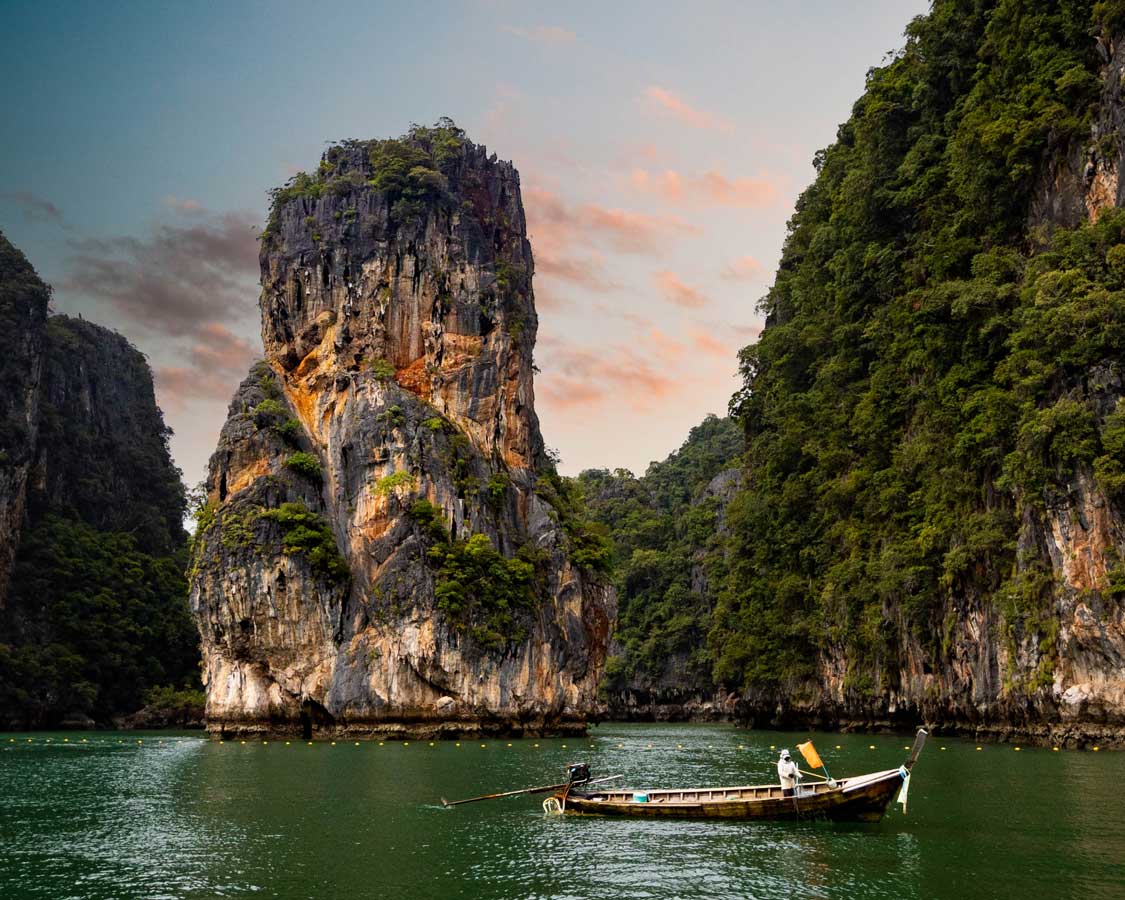 With more than 40 idyllic islands, a tour of Phang Nga Bay is one of the best things to do in Phuket. This absolutely stunning region of Phuket brought back memories of our time in El Nido, Philippines thanks to its beautiful sea caves, lagoons, and mangroves.
The bay experiences calm waters for most of the year, even during much of the monsoon season thanks to its protected nature. And Phang Nga Bay is home to some of the most incredible attractions in Phuket and southern Thailand.
There are two major tours that explore the best of Phang Nga Bay, the first is called the "James Bond Island Tour." This tour takes you to Khao Phing Kan, the iconic island from the James Bond movie "The Man With The Golden Gun." Here you can take some great photos, explore some caves, and relax on the beach. But this full-day tour also includes stops at some of Phang Nga Bay's most incredible attractions such as the sea caves of Hong Island and Koh Panyee, an incredible floating village inhabited almost entirely by Phuket's Muslim people
Another one of the best Phang Nga Bay tours in Phuket is the Phi Phi Islands tour. This tour visits Monkey Beach (please don't feed the monkeys), the ultra-soft sands of Maya Bay, which was made famous from one of my favorite travel movies "The Beach." You'll also get the chance to enjoy some snorkeling, and swimming in some ridiculously beautiful places. All of the tours include snacks, lunches, and beverages.
Some of the tours go by big boats, which are more comfortable, but slower, so you won't get to see as many spots. Others travel by speedboat, which is what we chose.
Gawk At The View From Khao Rang Viewpoint
Just a short distance northwest of Phuket city center is Khao Rang Viewpoint. Located at the top of a small mountain, with views overlooking the city as well as the range of small mountains that make up the "spine" of Phuket Island.
At the viewpoint are three restaurants, where you can dine with a view. There's also a large terrace for gazing out over the view. If you're visiting Thailand with kids, there's also a free "fitness park" to enjoy that can help your kids burn off some of that excess energy.
Support The Gibbon Rehabilitation Project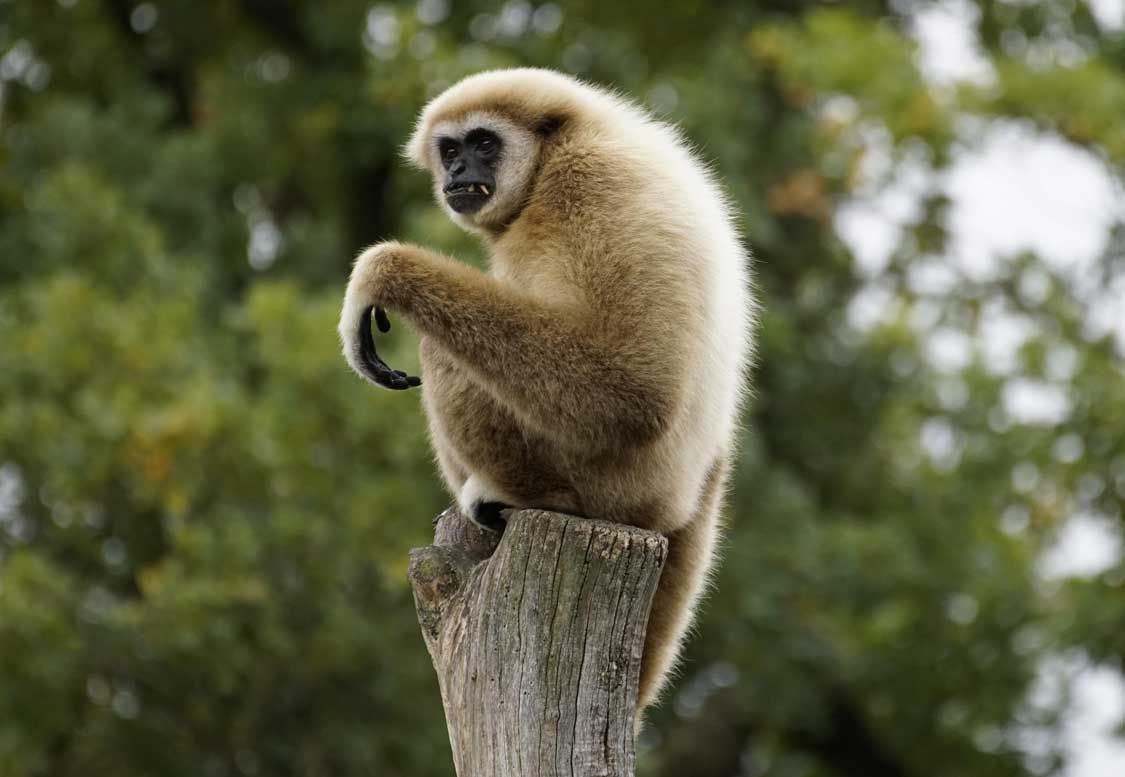 Each year in Thailand over 3,000 gibbons are killed by hunters. And each year that number grows. The Gibbon Rehabilitation Project was organized to help heal and nurture gibbons who survived the hunt in order for them to be released back into the wild.
Guests can volunteer at this Phuket gibbon sanctuary on various projects from working in the gift shop to feeding the gibbons. This experience is definitely not akin to a zoo. The entire project is focused on what's best for the gibbons, so don't go in expecting cuddle experiences.
You can learn more about the Gibbon Rehabilitation Project here.
Experience Phuket SCUBA Diving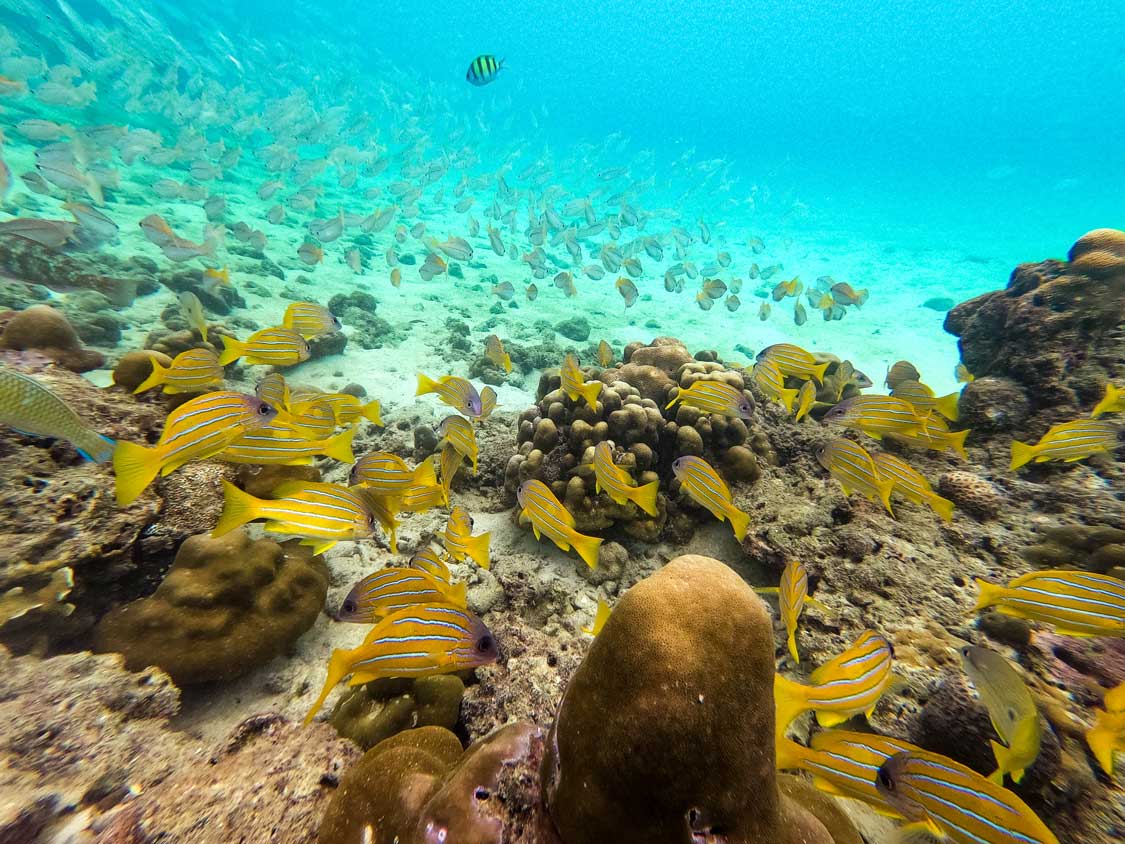 One look at the waters surrounding Phuket and you'll have no reason to doubt why SCUBA diving is one of the best things to do on the island. While there are many incredible places to SCUBA and snorkel around Phuket, one of the top places is the Similan Islands.
The Similan Islands are situated about 62 miles (100 km) from Phuket and are often experienced via a liveaboard yacht, although day trips to the islands can be done as well through local SCUBA shops such as Aussie Divers Phuket.
One of the best places to go scuba diving in Thailand is the Similan Islands. The Similan Islands are located about 100km from Phuket, but if you want to really delve into the best scuba diving there is, book a liveaboard yacht to explore the crystal clear waters and secluded beaches.
If you'd like to knock around and experience some of the other great SCUBA spots in Phuket, this full-day tour will take you to some of the most popular spots closer to the island.
Shop The Phuket Night Markets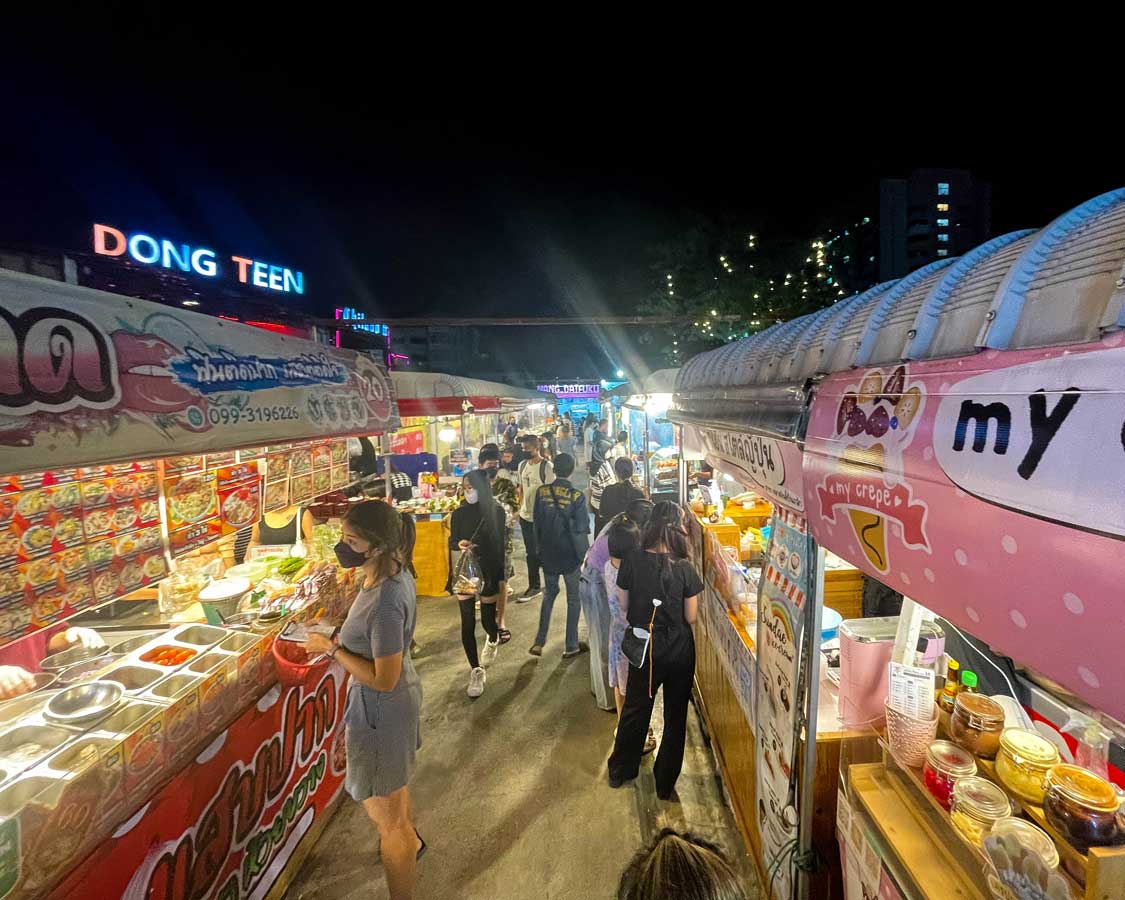 One of our favorite parts about visiting Bangkok with our kids was touring the night markets. And the night markets on the island are high up on the list of the best things to do in Phuket.
Dotted with souvenir shops and clothing boutiques, the night markets are a wealth of the best food experiences in the area. There are a number of great night markets in Phuket, but the most popular are the markets near Patong Beach, Karon Beach, and Bangtao Beach.
Khao Lak Lam Ru National Park
Just 50 miles (80 km) from central Phuket, Khao Lak Ram Ru National Park is a small park that runs along the shores of the Andaman Sea. The park is full of tropical evergreen forests and is dotted with mountains that peak at 3,300 ft (1077 m).
Khao Lak Lam Ru National Park draws visitors with its beautiful hiking trails, a series of small beaches, and the stunning Ton Chong Fa Waterfall. You can even join a bamboo rafting tour that takes you along the rivers through the magical scenery.
Andamanda Water Park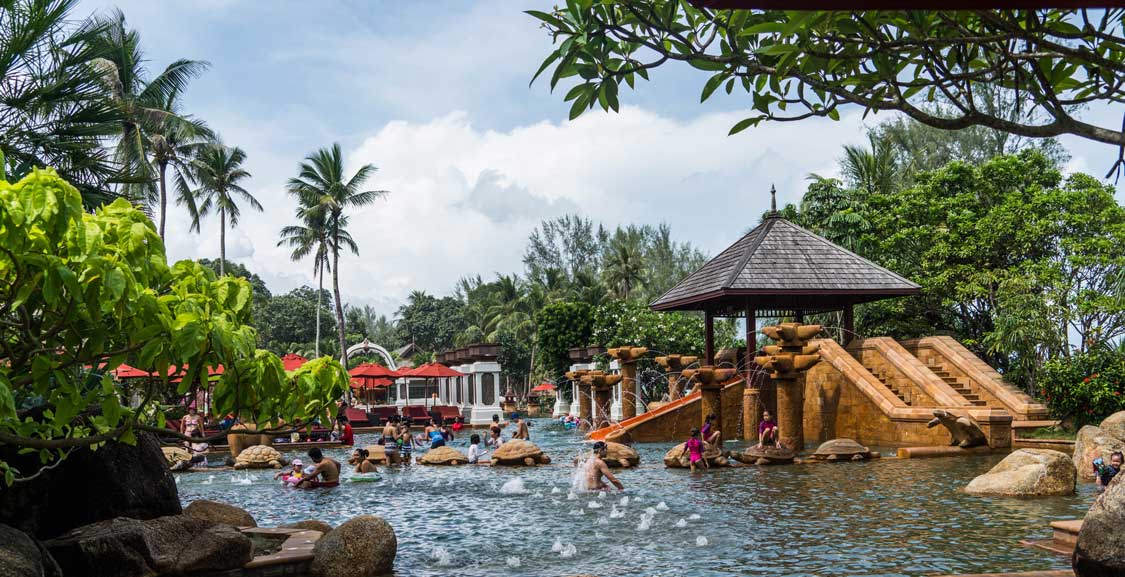 One of the best things to do in Phuket for families is visit to the Andamanda Waterpark. This heritage-themed water park covers a massive 1,000 square feet and is packed to the brim with splash pools, water slides, and wave pools. It makes for a great place to cool off if you're in Phuket on a hot day.
Along with the waterpark, Andamanda also has restaurants, shopping, a Thai market, and you can even enjoy a Thai massage.
Go Fishing In Phuket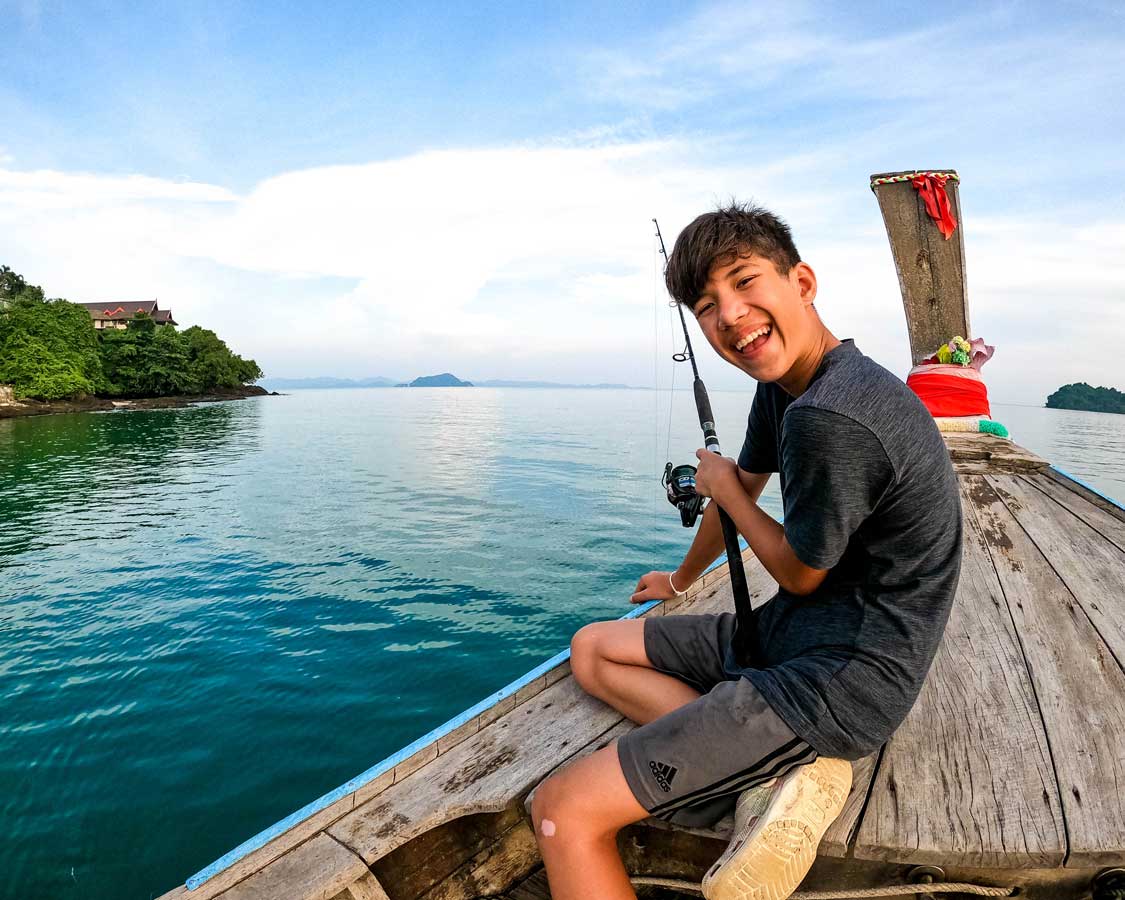 Fishing is something that my oldest son, C loves. So every place we visit, I try to find a great fishing tour for him to join. And Phuket, with its miles of incredible water, has lots. You can hire local longtail boat drivers to take you out into the Andaman Sea to catch some wild-looking fish, or you can join a freshwater fishing tour that takes you to nearby lakes where you can catch anything from giant stingrays to Mekong catfish.
Tips For Visiting Phuket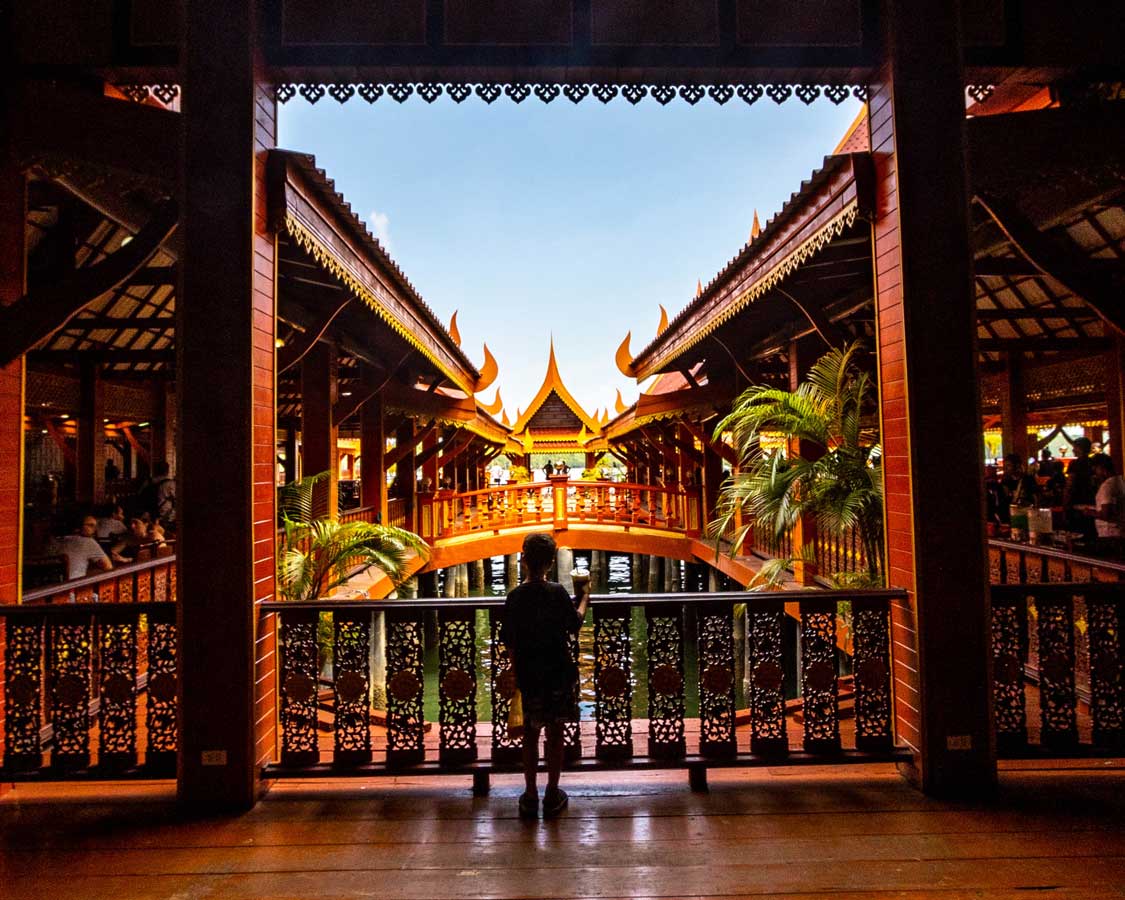 Just like any new place, it's good to have a few pointers before exploring all of the fun things to do in Phuket. Here are some of my top tips.
Weather: Phuket has a tropical climate, with high humidity and temperatures ranging from 77°f (25°C)-95°f (35°C )throughout the year. The monsoon season runs from May to October, so plan accordingly.
Culture: Thai culture is different from Western culture, so it's important to respect local customs and traditions. For example, when visiting temples, you should dress modestly and remove your shoes before entering.
Language: Thai is the official language, but many locals speak English, especially in tourist areas. Learning a few basic phrases in Thai can be helpful and show respect to the locals. You can find some of the key Thai words and phrases on our Thailand family travel blog.
Currency: The Thai baht is the official currency in Phuket, and it's recommended to have some cash on hand, especially for smaller purchases. ATMs are widely available throughout the island.
Transportation: There are various modes of transportation in Phuket, including tuk-tuks, taxis, and motorbikes. Negotiate the price before getting into a tuk-tuk or taxi. If renting a motorbike, be sure to have a valid license and wear a helmet.
Beaches: Phuket is known for its beautiful beaches, but some of them can be crowded, especially during peak season. Do some research beforehand to find quieter, less touristy spots.
Street food: Thailand is famous for its street food, and Phuket is no exception. Try the local specialties but make sure the food is cooked and served hot to avoid food poisoning.
Scams: As with any tourist destination, there are scams to be aware of. Be cautious of people offering "cheap" tours or activities and always do your research before booking anything.
Wildlife: Phuket has a diverse range of wildlife, including monkeys, snakes, and insects. Be respectful and keep your distance to avoid any potential danger.
Nightlife: Phuket has a vibrant nightlife scene, but it's important to stay safe and responsible. Drink plenty of water and be aware of your surroundings at all times.
Things To Avoid In Phuket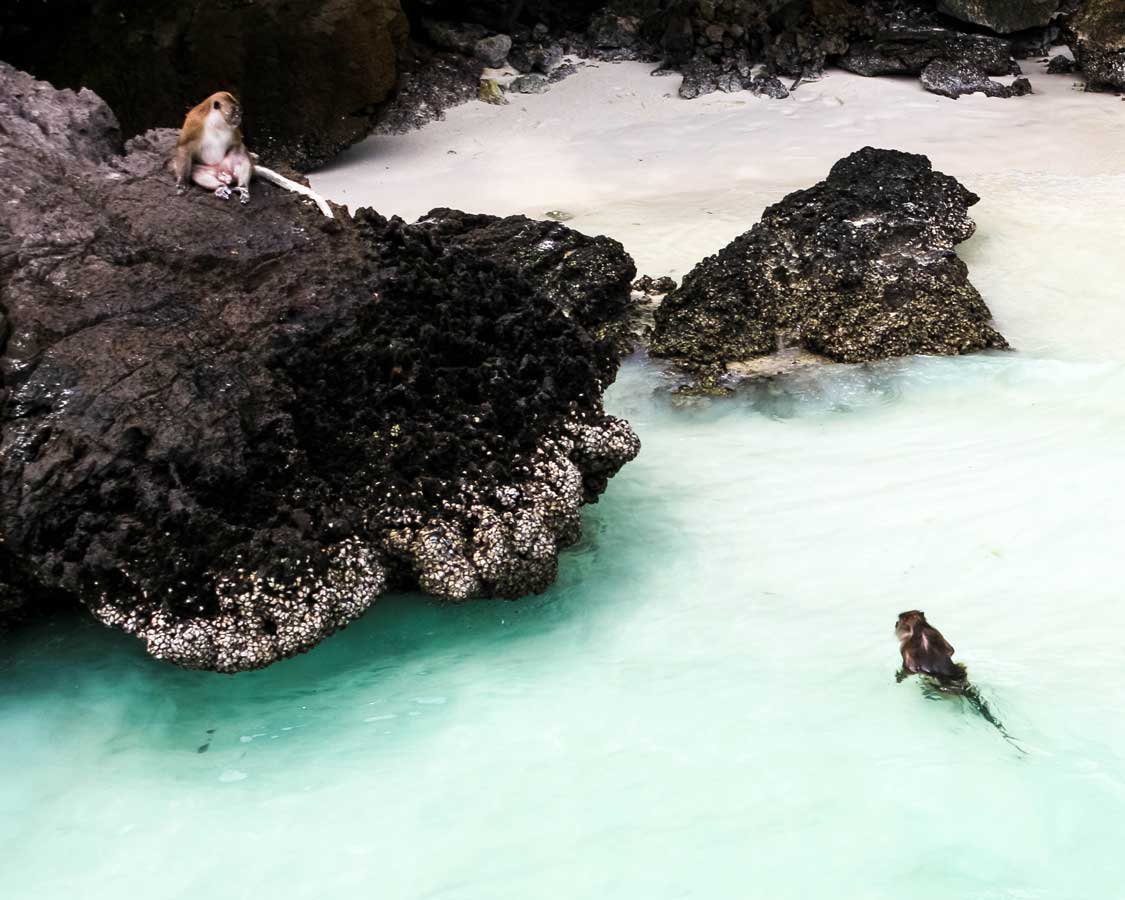 Like a lot of places, there are some highly unethical tourism experiences in Phuket that should be avoided at all costs.
Don't Insult The Royal Family: In Thailand, insulting the royal family can result in harsh penalties. No matter how you feel about the current state of Thai royalty, keep it yourself in public settings.
Don't Wear Your Shoes In Temples Or Homes: It's considered rude and unclean to keep your shoes on in private homes and temples. Remove them before you enter.
Don't Touch The Wildlife: No matter how many photos you've seen of the adorable slow loris or that cute gibbon or that weird-looking iguana, don't fall into temptation. Many of these animals are endangered species, those offering them up for your Instagram feed are doing something highly illegal.
Don't Ride Elephants: Elephants are incredible creatures, and we would all love to get some personal time with them. But elephants are not designed to have the weight of a human on their back. It's incredibly harmful to their spine. Thailand is in the midst of a change from using elephants as service animals, to recognizing their importance as a protected species. Be part of that change.
Don't Take Photos With Tigers: Places in Thailand like the Tiger Kingdom have become synonymous with the kinds of animal abuse that have plagued Thailand in the past. More and more of these places are closing due to their unethical practices of drugging animals so that humans get a photo for the "Gram." Please recognize that these animals are not healthy or safe and avoid tiger meet and greets.
Enjoy These Incredible Thailand Attractions
Thailand is a special destination for family travel. The island of Phuket is jam-packed with some of the most incredible beaches, food experiences, and markets in the south. From the magical waters of the Andaman Sea to the majestic views from the Great Buddha these fun and exciting things to do in Phuket, Thailand will fill your visit with wonder.
If you love family travel as much as we do, please join our Family Travel Support Group on Facebook. You can connect with more family travelers just like you who love to explore the world.
You May Also Like To Read: