Taking a trip to Palawan? From where to stay, where to eat, and what to see, we have what you need to plan your El Nido family vacation.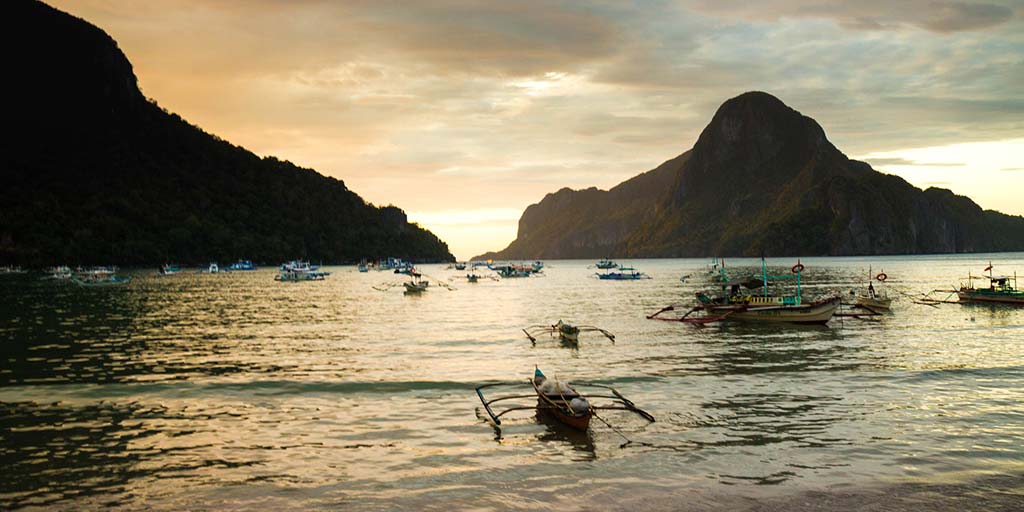 For those planning a trip to the Philippines, it is almost a crime to avoid the popular destination of El Nido. This small town in the Palawan region is the quintessential Philippine paradise. And with over 45 islands it has gained worldwide attention for its beauty. And with loads of caves, lagoons, and undersea life, it's hard not to find amazing things to do in El Nido Palawan.
This post may contain compensated links. Find more info on our disclaimer.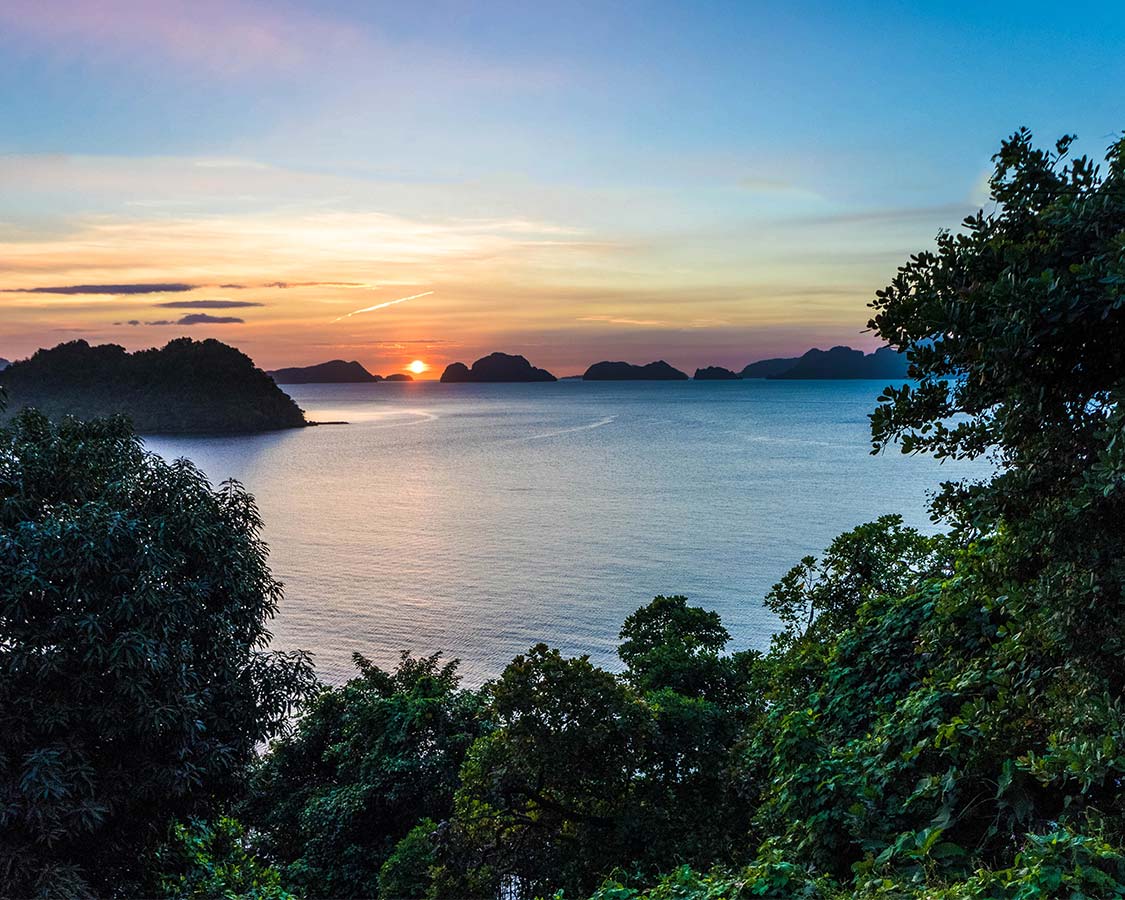 What You Need to Know about Visiting El Nido Palawan
El Nido is one of the top tourism destinations in the Philippines, and one of the best places to visit in Palawan. It's famous for its postcard-perfect karst rock islands, white sand beaches, gorgeous lagoons, and laid-back lifestyle.
How to Get To El Nido Palawan
You can get to El Nido from Manila through El Nido Airport via a direct flight. Currently, the only airline offering flights directly into El Nido is Air Swift (You can find their information here). However, people searching for what to do in Palawan often combine a visit to other great Palawan attractions such as the Underground River in Puerto Princesa. For those traveling to El Nido from Puerto Princesa City, you can make the drive or catch a shuttle van or bus from Puerto Princesa town. The distance from Puerto Princesa to El Nido is about 200 km (137 miles) and takes about 6 hours.
Getting Around in El Nido with Kids
The core of El Nido town is small and easy to navigate on foot. Those staying within the core of the town can easily get to most places via a short walk. For those staying outside the town, tuk-tuks are usually the most cost-effective travel style. Or you could rent scooters as well.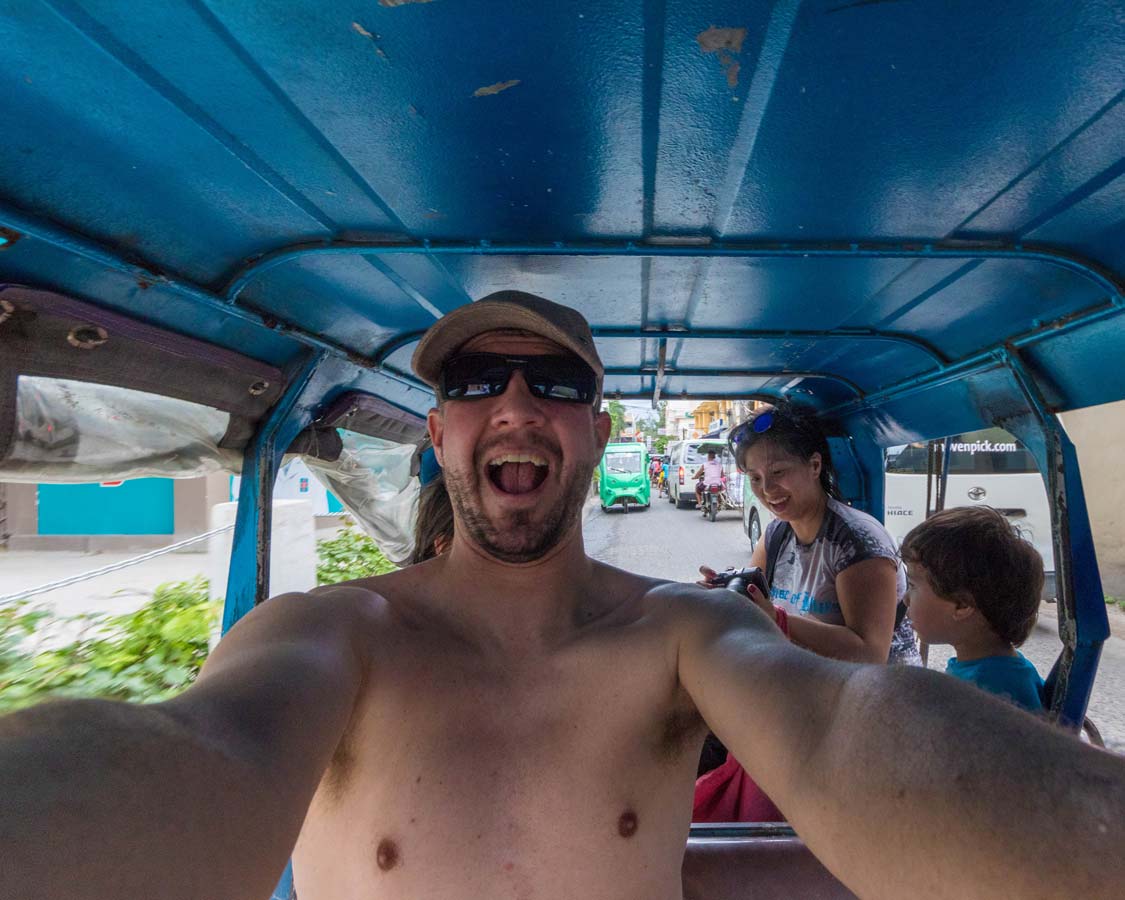 As with most towns in the Philippines, there are minimal traffic rules, no sidewalks, and a lot of distracted drivers. If you are walking through El Nido with kids, keep them close and near the side of the road. The main tourist area near Altrove Restaurant is closed to traffic in the evenings though, and it makes a great place for an evening stroll.
Is Family Travel to El Nido Safe?
El Nido offers one of the most spectacular natural playgrounds for kids. Touring the islands of El Nido with children is an absolute treat, and you will find few places more welcoming to children than Filipinos. It's important to remember that most El Nido island hopping tours won't include life jackets suitable for children. Similar to our experience looking for great activities in Boracay, we were approached by numerous parents offering to buy our children's life jackets, as they couldn't find any of their own. I highly recommend that you purchase one before you travel to the Philippines. We recommend Hyperlite children's life jackets. You can find the [easyazon_link identifier="B06Y18V6FV" locale="US" tag="anderinagars-20″]prices for them here[/easyazon_link].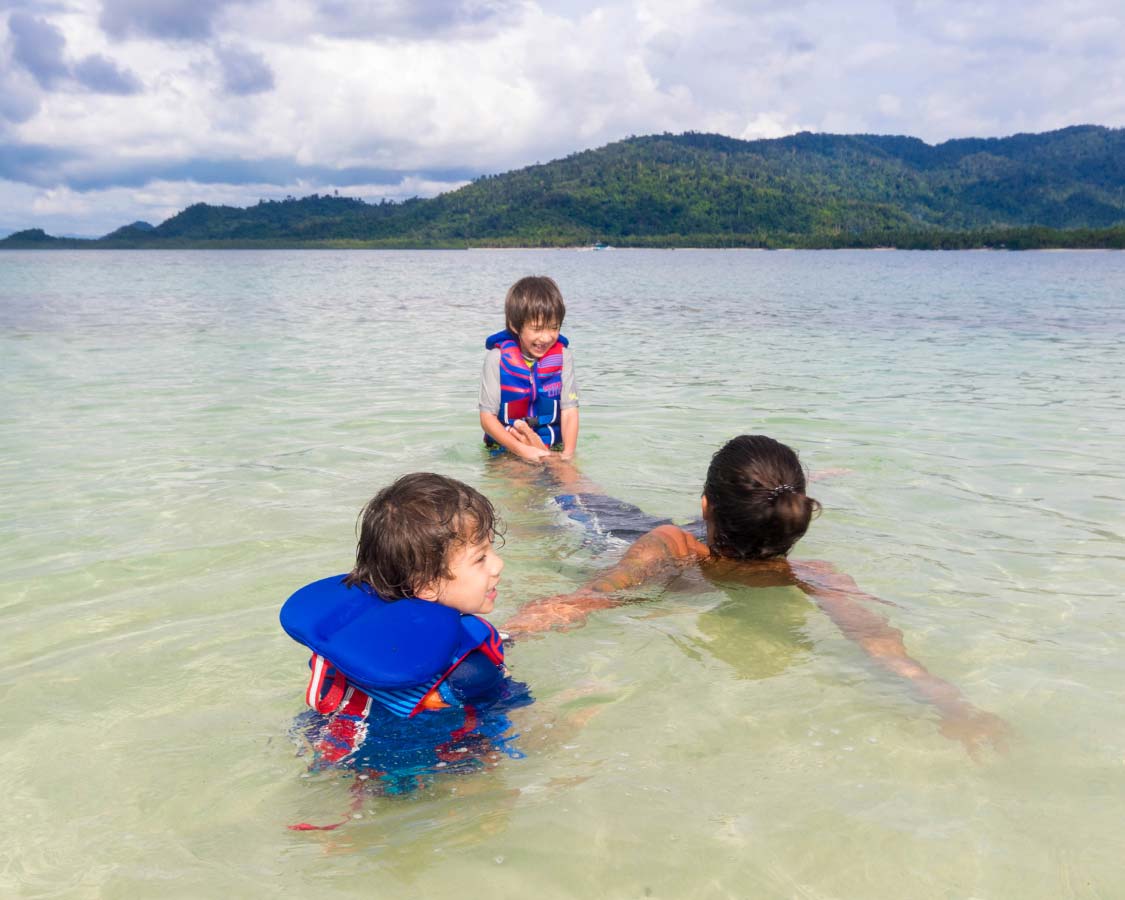 El Nido, Philippines is small. But it can get very busy, especially during the high season. It's highly recommended that you book your accommodations in El Nido ahead of time. Even restaurant reservations are recommended if you can find a restaurant that accepts them.
Other Tips for Visiting El Nido
Contrary to popular belief, there are ATM and debit machines in El Nido. However, there are very few of them, and they can run out of money, especially later in the day.
Although many restaurants accept credit card, power interruptions are common in the town. So, we recommend you have cash on hand when you visit El Nido.
If you haven't bought one yet, purchase a dry bag from one of the local sellers. Don't risk your electronics.
Although internet service in El Nido is among some of the best in the Philippines, it can still be sketchy. Expect slow and often interrupted service.
There are four main El Nido Tour Packages available from nearly all tour operators. They are boringly named, Tour A, B, C, and D. You can learn more about the tours below.
Top Things to do in El Nido Palawan
Watch the Sunset from El Nido Beach
The sunsets over El Nido Beach and the surrounding islands are legendary. At sunset, it seems that nearly everyone in the town makes their way down to the shoreline to catch the beautiful El Nido sunsets
Discover The Nooks and Crannies of the Small Lagoon
The Small Lagoon is one of the most iconic spots in El Nido, this narrow canyon is loaded with beautiful nooks and crannies to explore, and kids will love the shallow areas that are perfect for spotting colorful fish. The Small Lagoon is part of El Nido Tour Package A.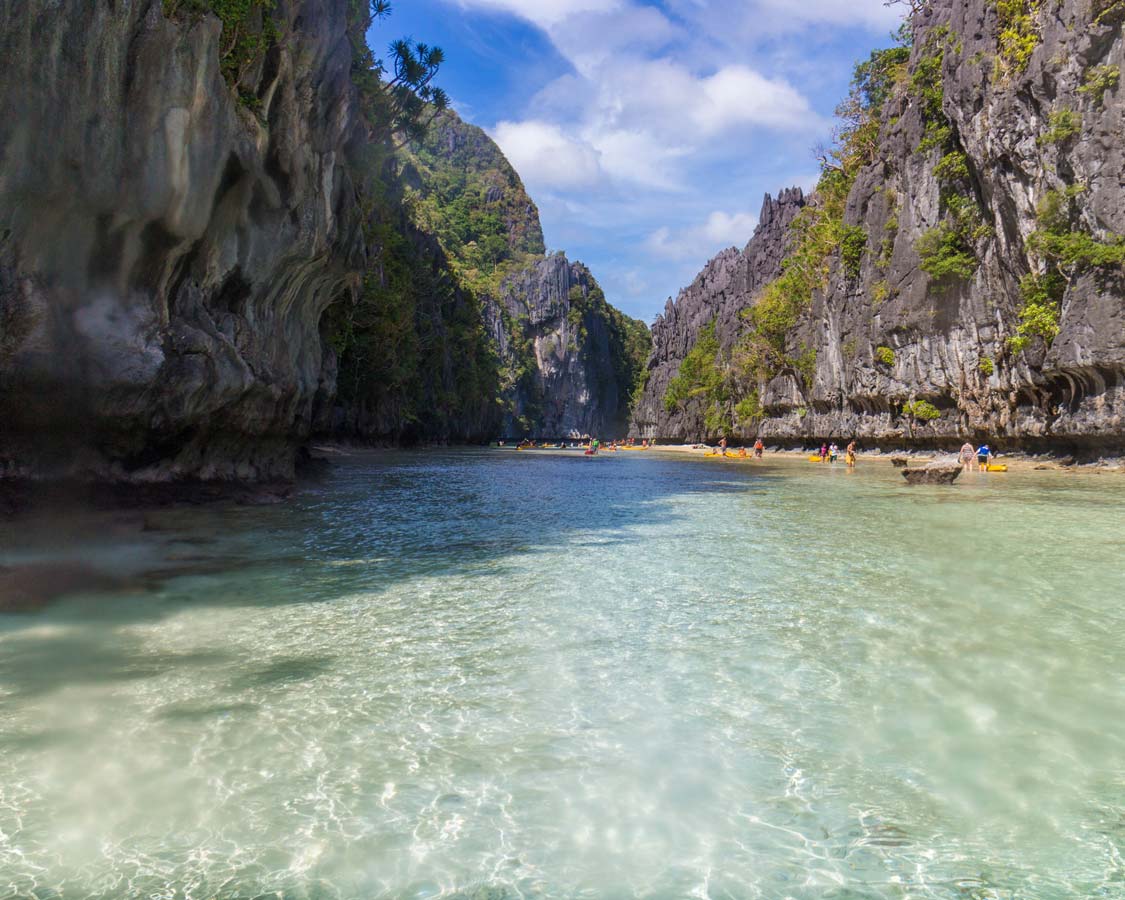 Kayak and Snorkel in the Big Lagoon
The Big Lagoon is one of the most iconic destinations in El Nido. This long canyon-like stretch of shallow water gives way to a deep, turquoise lagoon filled with coral and colorful sea life. The Big Lagoon is packaged under El Nido Tour A. The Big Lagoon is incredible, and it's great for kids since the shallow waters allow a comfortable and refreshing stroll, that's why we rated it one of the top things to do in El Nido Palawan.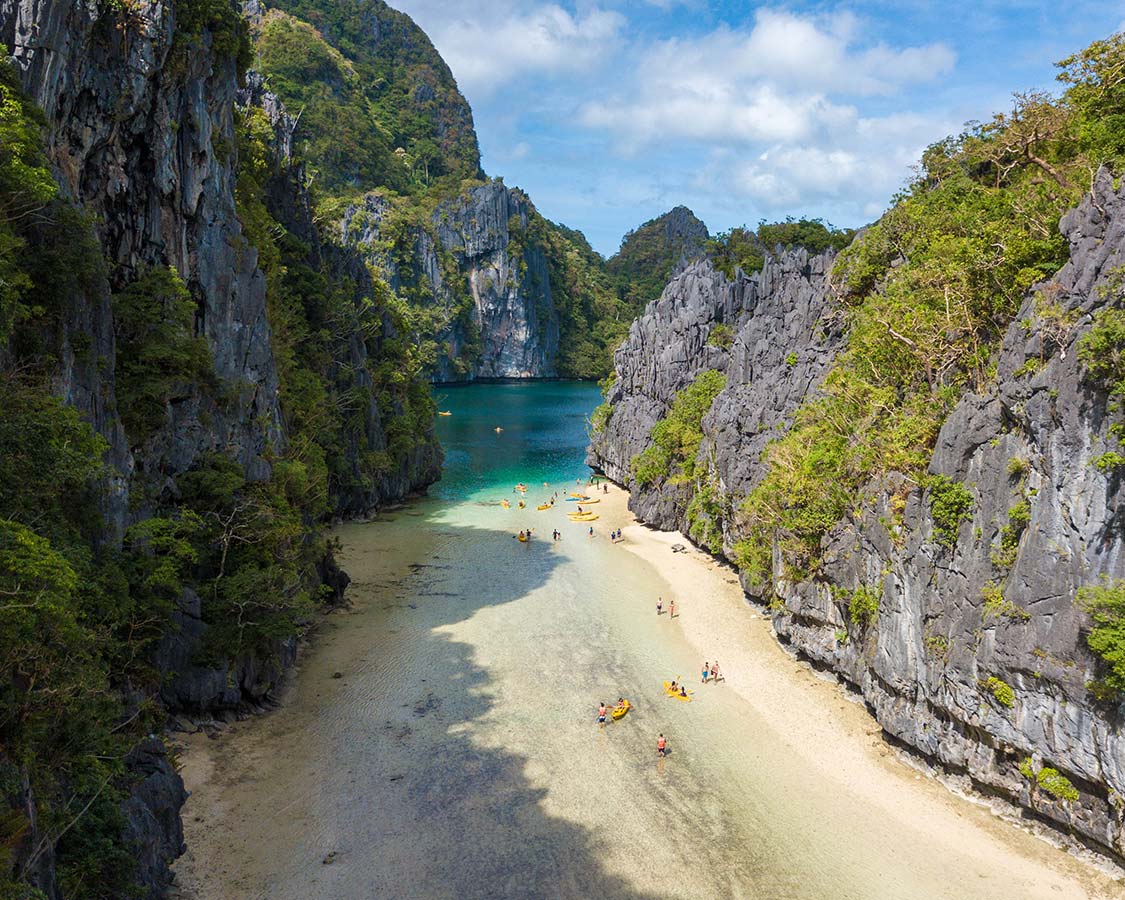 See What Lies on the Other Side of the Secret Lagoon
The Secret Lagoon is a small rocky lagoon accessed via a small hole in the side of a cliff. It has become famous through some viral videos. Inside the Secret Lagoon is a shallow, rocky area great for exploring tidal pools and a small beach. The Secret Lagoon is part of El Nido Tour Package A.
Discover the Incredible Rock Formations of Shimizu Island
Shimizu Island was one of our favorite lunch destinations in El Nido. The rock formations jutting into the bay are gorgeous, and the two connected beaches offer vastly different views and experiences. There is a picnic shelter and a small manual flush toilet on the island as well, which is great if you're visiting El Nido with kids. Shimizu Island is offered on El Nido Tour Package A.
Relax in the Shade at Entalula Beach
Entalula Beach is a beautiful stretch of sand shaded by towering mountains. Strung from a tree on the left side of the island is a perfectly placed swing that makes for a great photo opportunity. Kids will love seeing how high they can get before jumping off into the soft sand. Entalula Beach is included in El Nido Tour Package B.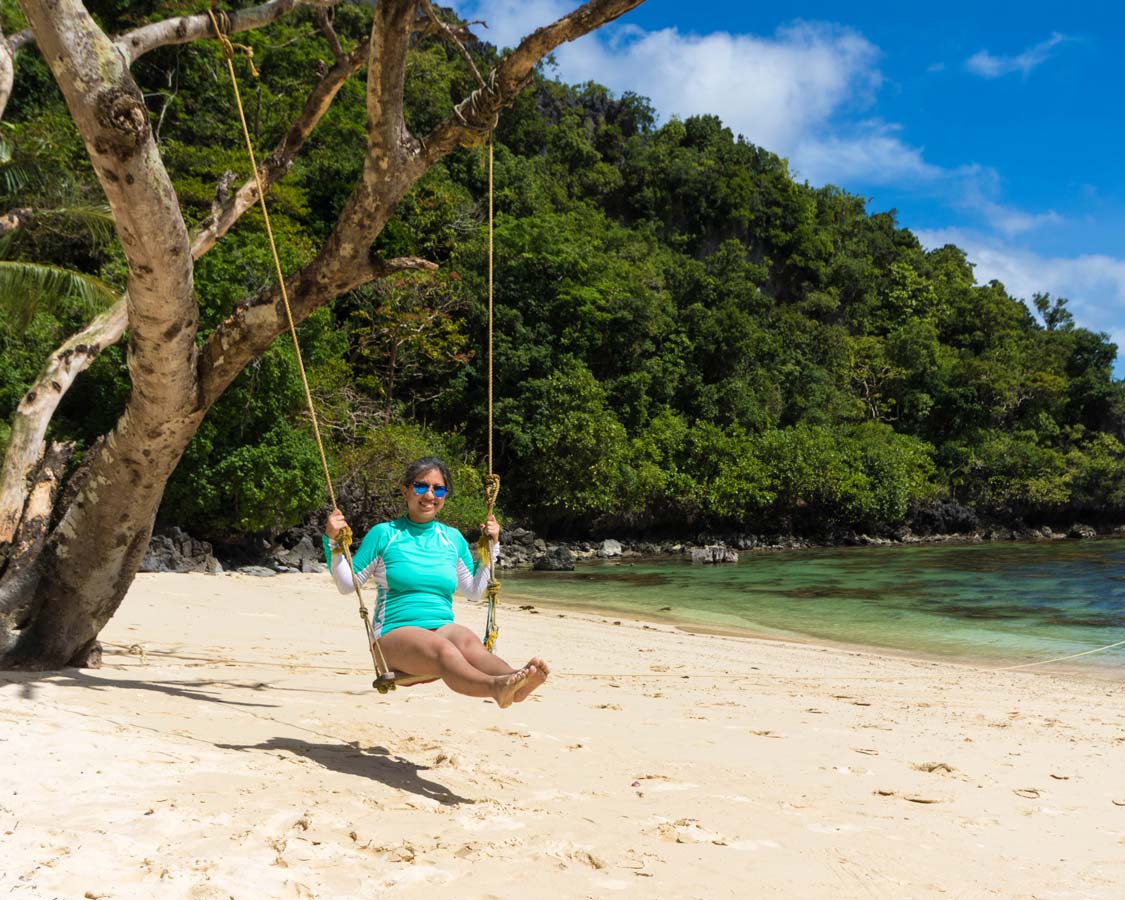 Stroll the Sandbar of Snake Island
Snake Island El Nido is one of the most famous sites in El Nido. This tiny island has a sandbar that stretches and curves towards its neighbor. There is a small island bar about halfway down the sandbar that is accessible during low tide. Snake Island is part of El Nido Tour Package B.
Grab a Coconut on Pinagbuyutan Island
Pinagbuytan Island is a tall mountain island with an absolutely beautiful palm tree forest and tall grass field on one side. There are the usual gorgeous El Nido rock formations, but it was one of the most peaceful islands of our entire visit. A visit to Pinagbuytan island is part of El Nido Tour Package B. If you watch the video at the bottom of the article, all the opening scenes were shot on Pinagbuyutan Island. You'll see just how beautiful it is.
Explore the Cudugnon Cave Off the Beach
On the left side of Ipil Beach is a small opening in the cliff that opens up to a spectacular cave with tall ceilings. This cave on Ipil Beach in El Nido once held artifacts from the indigenous people. Ipil Beach also has a great tree swing. It is offered on El Nido Tour Package D.
Search for Starfish at Cadlao Lagoon
Cadlao Lagoon is an open lagoon with one half shallow water and one half deeper water. The lagoon is divided by a small rock island in the middle. Cadlao Lagoon is a popular spot to search for colorful starfish, or just swim around in the beautiful waters. Cadlao Lagoon is part of El Nido Tour Package D.
Play on the Tire Swings at Pasandigan Beach
Traveling to El Nido with Kids is amazing! Many of the El Nido island hopping destinations have great features that are perfect for kids, and of course photo opportunities! One great example of this is the tire swings at Pasandigan Beach. Pasandigan Beach also has wonderful shallow waters for young snorkelers. El Nido Tour D includes a visit to Pasandigan Beach. A visit to Pasandigan Beach, with its relaxed atmosphere and playful mood, is one of the best things to do in El Nido Palawan.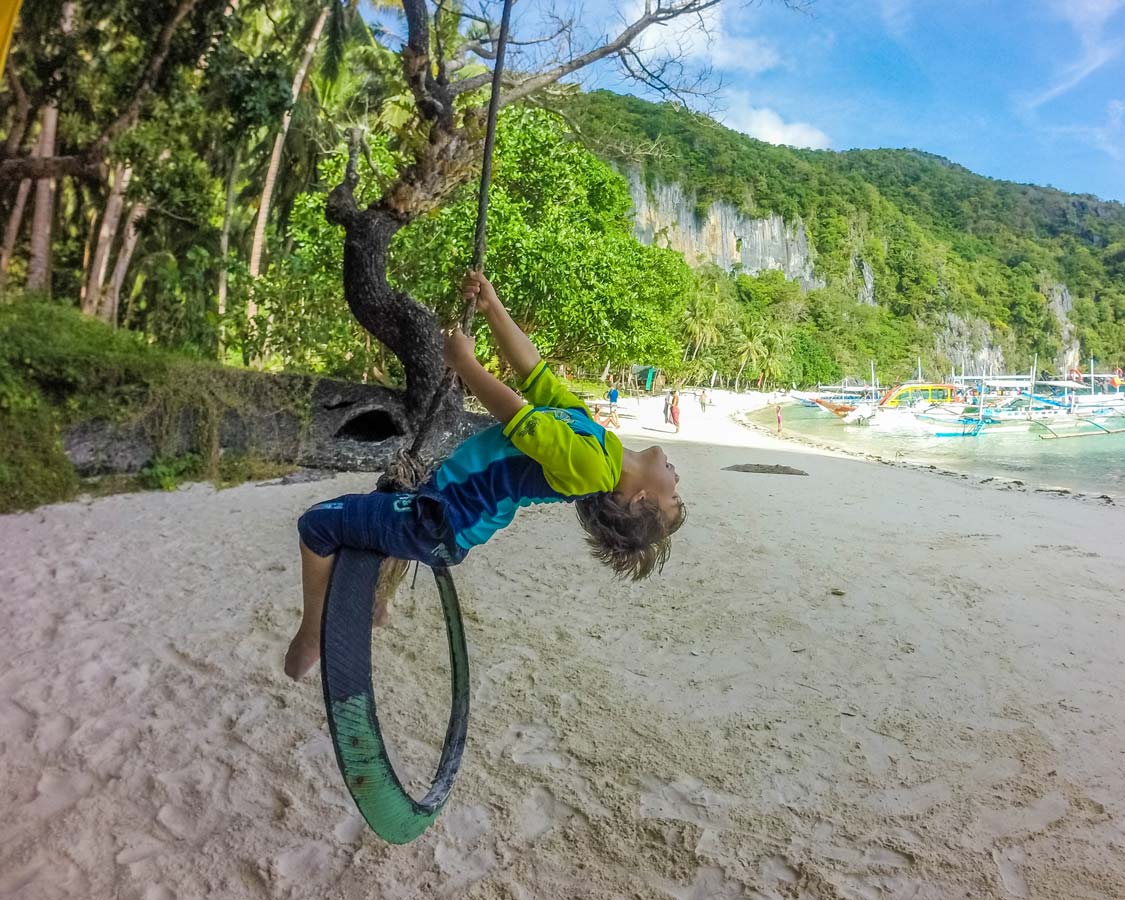 Best Restaurants in El Nido
Explore the El Nido Fish Market and Grills
The nightlife in El Nido starts early, and one of the busiest places to join the action is at the El Nido Fish Market. This small area bordered by Jarace Grill and Sea Jane Resto Bar sits where Rizal St. meets El Nido Beach. Visitors can buy seafood directly, or have them grilled on-the-spot and served at the restaurant. Jarace Grill is one of the most popular restaurants in El Nido. Seats fill up fast. It is best to be prepared.
Grab a Homemade Ice Cream at D'Factory Ice Cream on TayTay
Nothing closes out a day of adventure travel like a delicious homemade Ice Cream. And D'Factory on TayTay on the main drag dishes out an amazing selection of flavors including traditional local favorites such as Ube.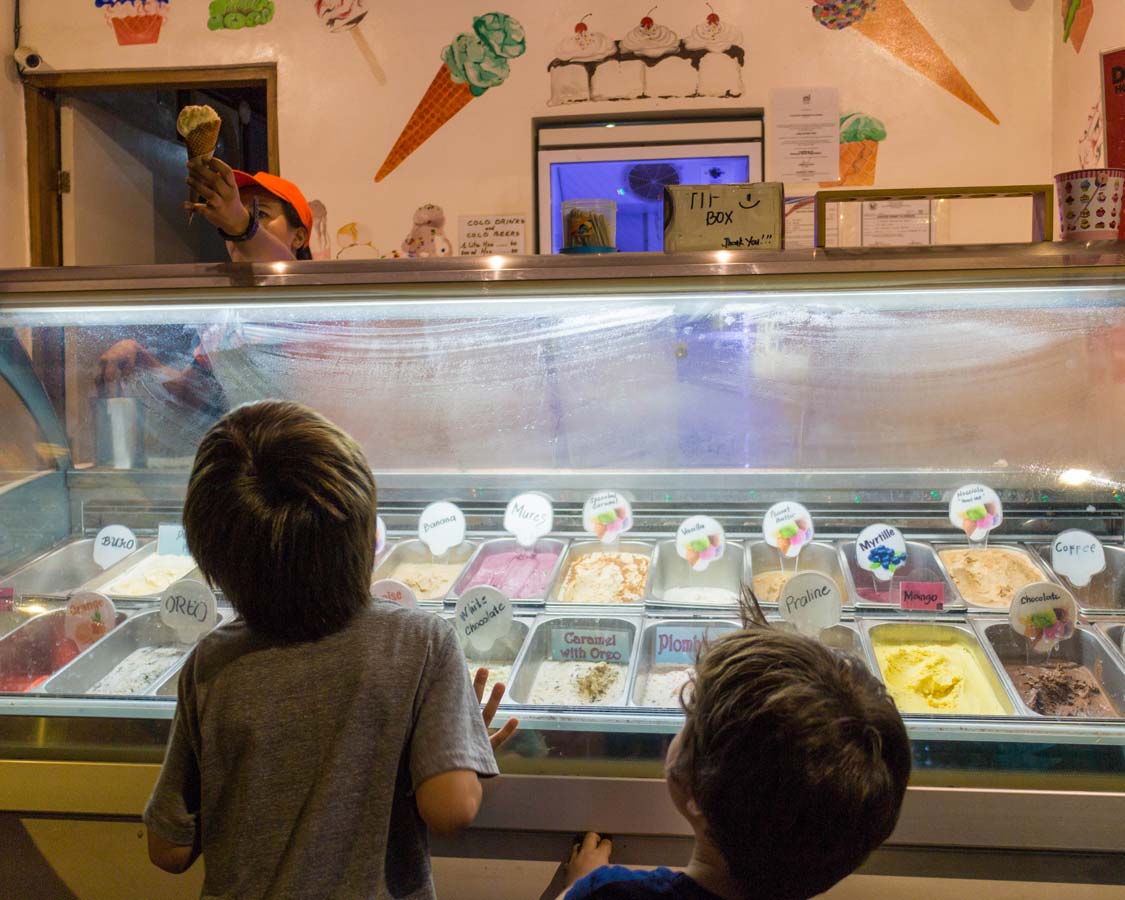 Eat a Local Lunch on a Beautiful Island
The only thing better than relaxing on a secluded island paradise than eating delicious fresh Philippine seafood and delicacies on a secluded island paradise. Often, the tour packages include these delicious lunches. However, you can also organize them as a separate outing.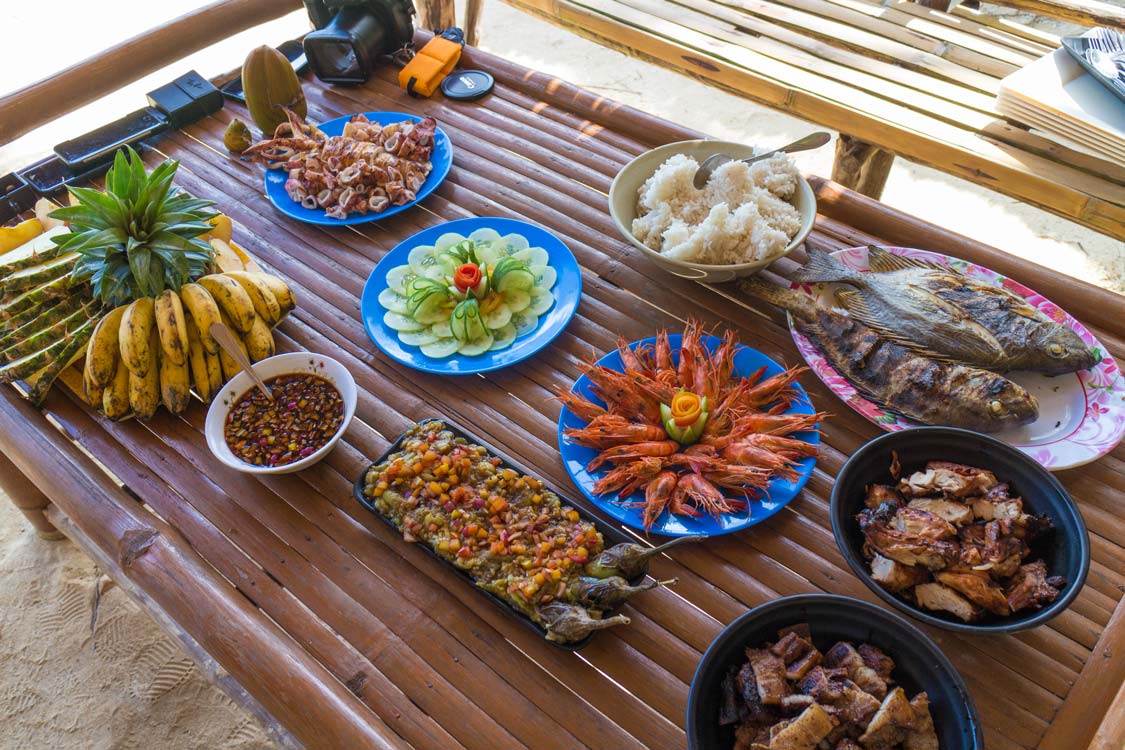 Dine at Altrove Pizza in El Nido
It's hard not to notice Altrove Grill when walking through the main drag in El Nido. There is always a line outside of Altrove, and there's a good reason why. Altrove offers a super laid-back bohemian atmosphere. Service is first-come-first-serve, but if you manage to get one of the floor seats at the back, it's one of the most relaxing places to eat in El Nido. Once you dig into the soft crust, you'll understand why a visit to Altrove is one of the most popular things to do in El Nido Palawan.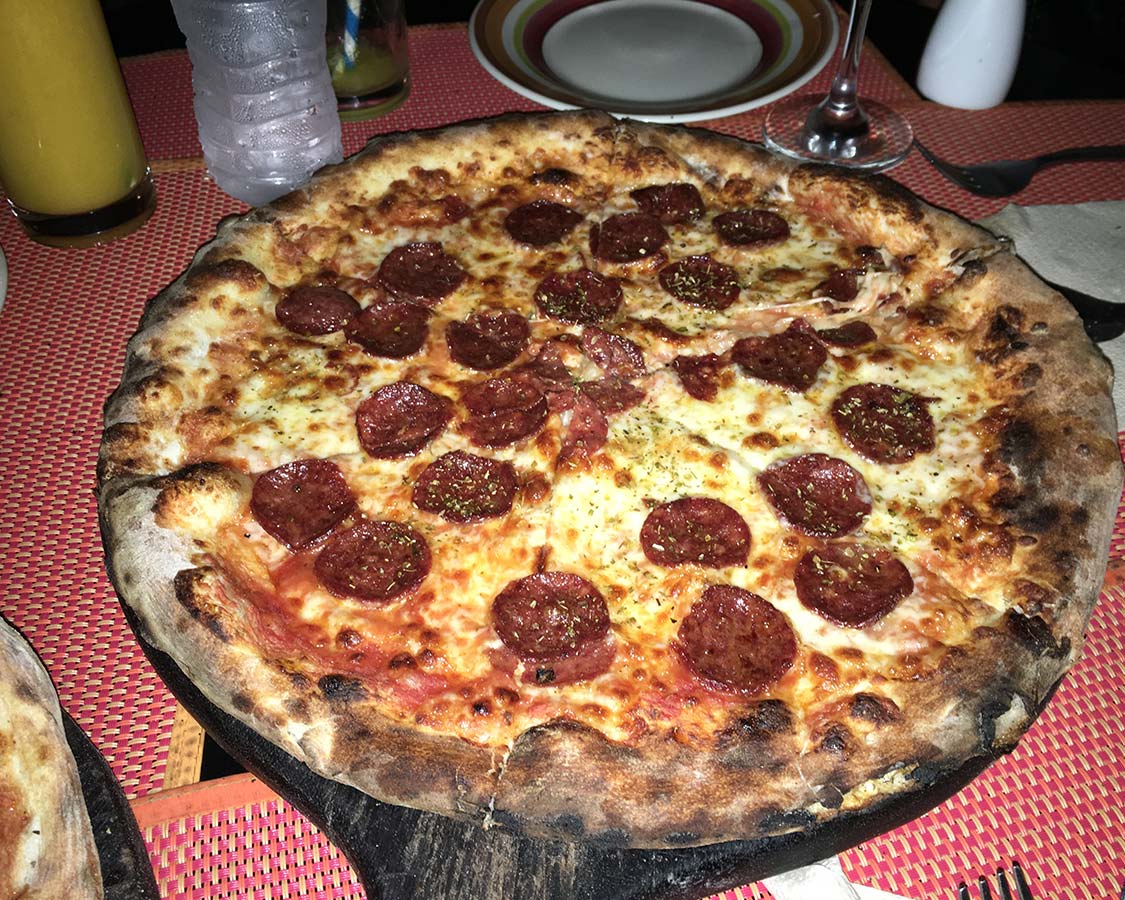 El Nido Tours
There are countless tour operators in El Nido and it is very easy to book outings on short notice within the town. Most El Nido accommodations can also arrange Palawan tours quickly. For our outings, we used Skipper Charters. Their El Nido tour team was amazing with our children, and there were some wet eyes when we finally had to say goodbye to them. You can contact Skipper Charters here.
Where to Stay in El Nido
El Nido tourism is booming, and there are some great hotels in El Nido that will suit all travel styles. For those looking to stay directly in El Nido or near El Nido Beach, it's good to know that things there can be loud in the evenings. El Nido Beach also can have a bit of an … aroma to it that some visitors might find off-putting.
The Nest El Nido Beach Resort
The Nest El Nido Beach Resort is located just 1-minute from the beach and has all the views and amenities for those looking for one of the best resorts in Palawan. The resort offers continental breakfast and excellent amenities that are great for families. The Nest is one of the most popular El Nido Palawan resorts, so it's good to book early. You can find the best prices and availability on booking.com here.
Amakan – Bed | Bunk | Breakfast
Located just 4-minutes from El Nido Beach is Amakan – Bed, Bunk, Breakfast. The location of Amakan is fantastic offering an intimate atmosphere. There is also a great on-site restaurant for those not looking to walk after a long day exploring the islands of El Nido. You can find the best prices and availability on this El Nido accommodation on booking.com here.
Garden Bay Beach Resort El Nido
For those willing to stay a little outside the city of El Nido, Garden Bay Beach Resort El Nido is one of the best options. The resort offers either sea-view or garden view rooms, and both views are wonderful. They even offer two-bedroom bungalows for the perfect family accommodations in El Nido. You can find the best prices and availability on booking.com here.
Is El Nido Palawan a Great Destination for Family Travel?
There is a very good reason why El Nido is one of the most popular destinations in the Philippines. It's easy to navigate, exciting, and offers some of the most unforgettable views in the world. Kids will love the peaceful islands, abundant wildlife, and natural beauty of El Nido. Parents will love how open and inviting the town is, the great restaurants, and wonderful views. And families won't be able to get enough of all the incredible things to do in El Nido Philippines!
Wandering Wagars is a participant in the Amazon Services LLC Associates Program, an affiliate advertising program designed to provide a means for sites to earn advertising fees by advertising and linking to amazon.com, amazon.co.uk, amazon.ca. Amazon and the Amazon logo are trademarks of Amazon.com, Inc. or its affiliates.
You May Also Like To Read: