There's way more to Boracay than White's Beach! But if you travel there with family, what are the best things to do in Boracay with kids?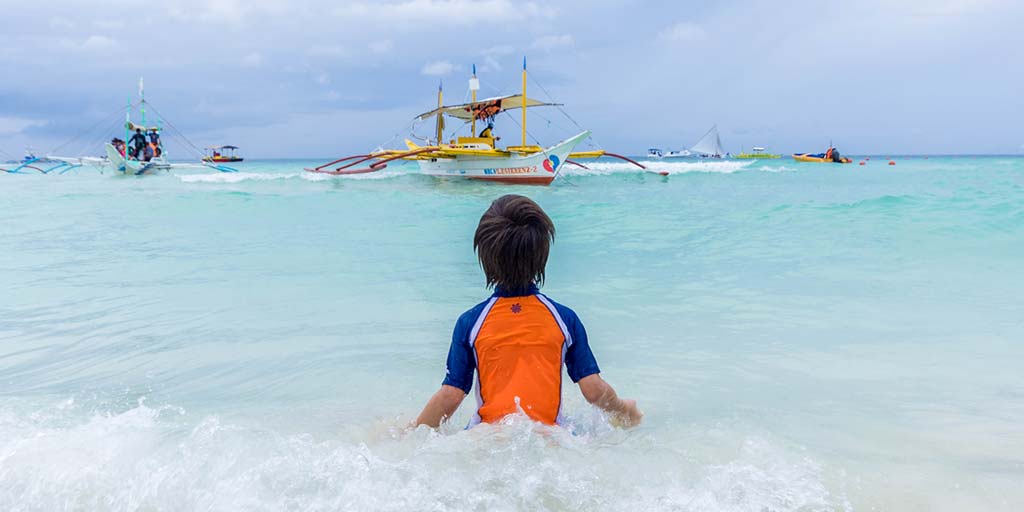 Boracay Philippines is arguably one of the most popular places in the Philippines for both visitors and locals. On our trip to the Philippines, we arranged to meet with family for 3-days in Boracay. But this was no small family get-together. We had traveled halfway around the world for celebrations, so 40 people joined us to spend New Year's in Boracay! So, with so many aunts, uncles, cousins, nieces, nephews, and so on, what were the best Boracay activities to entertain everyone?
We cover the best beaches in Boracay for kids and we'll help you figure out which Station in Boracay is the best for families. We also list the best way to get around in Boracay, both on, and off the water. And if you're looking for the best places to eat, our Boracay travel blog has got you covered! Oh, and did we mention, there was a typhoon barrelling down on us as well, so activities like island hopping were off-the-table during our visit as one of the things to do in Boracay with kids. The waters between the islands were shut down to tourist boats due to high waves and the unpredictable weather.
This post may contain compensated links. Find out more in our disclaimer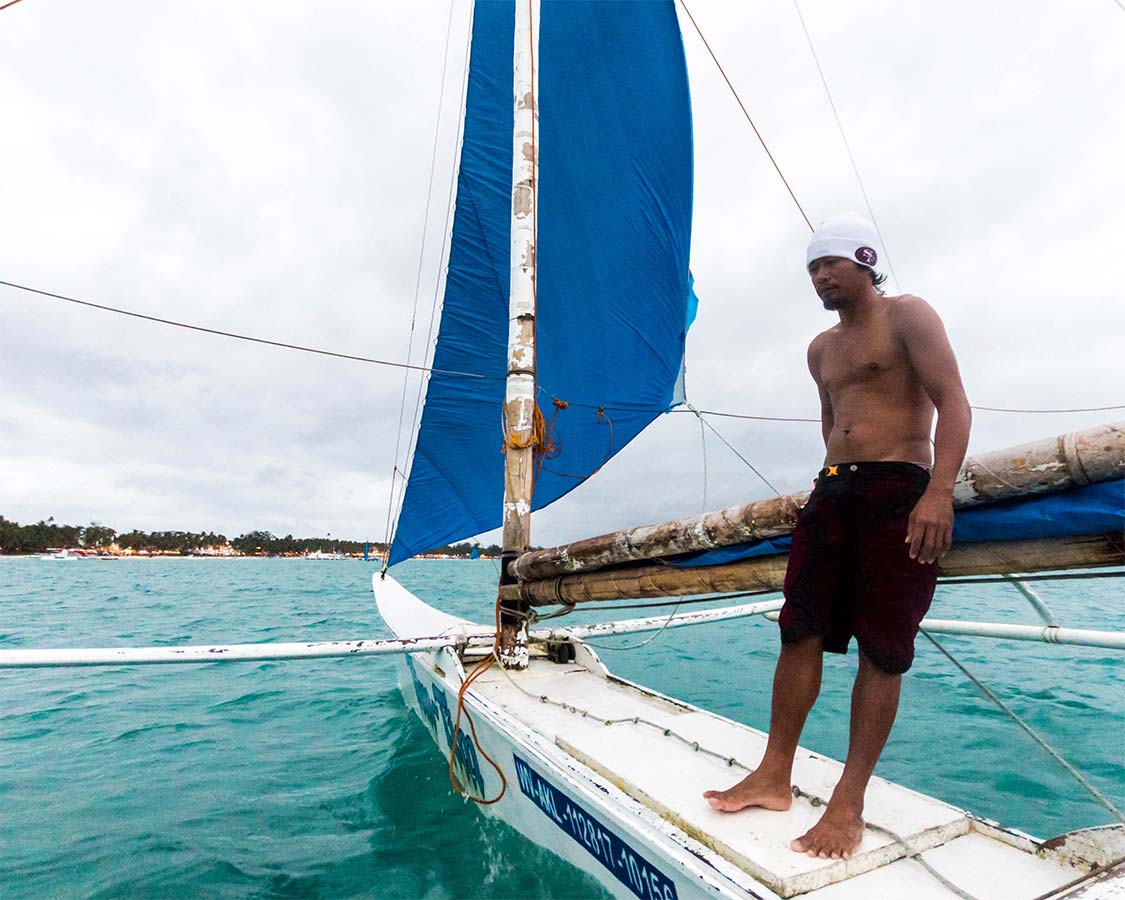 Top Things To Do in Boracay For Kids
Visiting Boracay with family opens up options for incredible activities. We list our favorite things to do in Boracay, Philippines both on the beach, on the water, and around town. And while we were only in town for a short while, discover what to do in Boracay in 3 days was easier than we had expected.
Splash in the Waves of White Beach in Boracay
White Beach is the action center of Boracay. Not only is it the busiest beach, but it is by far the most popular beach in Boracay. Not only is White Beach considered one of the most beautiful beaches in the Philippines, but it's also consistently ranked as one of the best beaches in the world! It's packed with restaurants, hotels, shops, and more.
And it was no surprise. Swimming at White Beach is fantastic. With sandbars that stretch deep into the ocean, kids will love jumping into the gentle waves. While White Beach can get very busy, especially during weekends and holidays (we were there over New Years, so it was packed to the brim), you can still find solitude during the early morning hours. It is also less busy during the middle of the day when the sun is at its peak (just make sure to lather up on the sunscreen). But even though we were there during one of the busiest weekends of the year, it never felt too crowded. Just lively, and that's a good thing!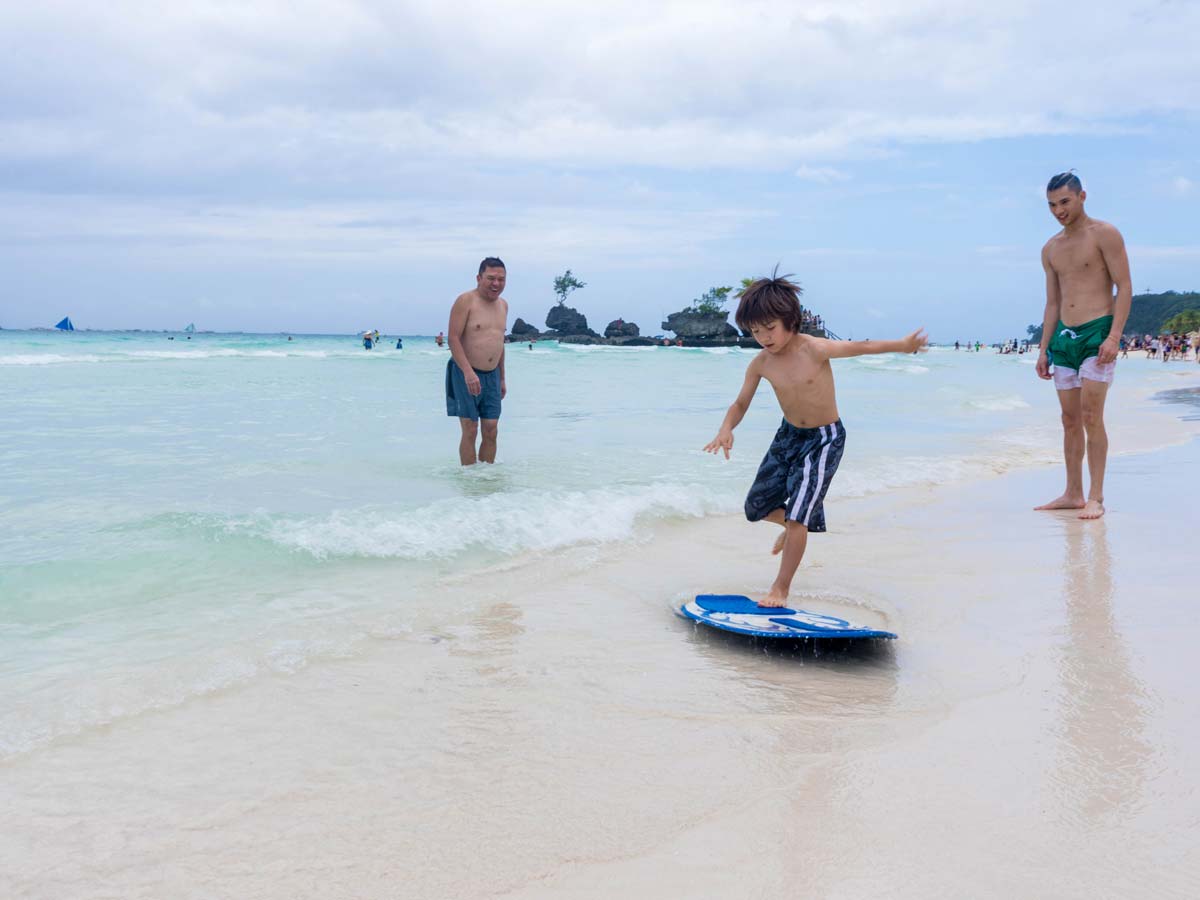 White Beach is 4 km long. And it covers all of the main districts of Boracay. So choosing where on the beach to settle yourself will play a big part in your Boracay experience. Read on to learn about the different Boracay Stations and what they have to offer. The only real annoyance of White Beach is that while taking a stroll, you'll likely be asked every 2.5 seconds about whether you would like to buy a hat or take a boat tour. Beyond that, White Beach is beautiful, with soft sand and great activities. It's definitely one of the best beaches in the Philippines for families.
Explore the Boracay Stations
The main city of Boracay is separated into stations. White Beach spreads across Station 1, Station 2, and Station 3. Although sometimes it's easier to think of these as the North, Middle, and South Stations.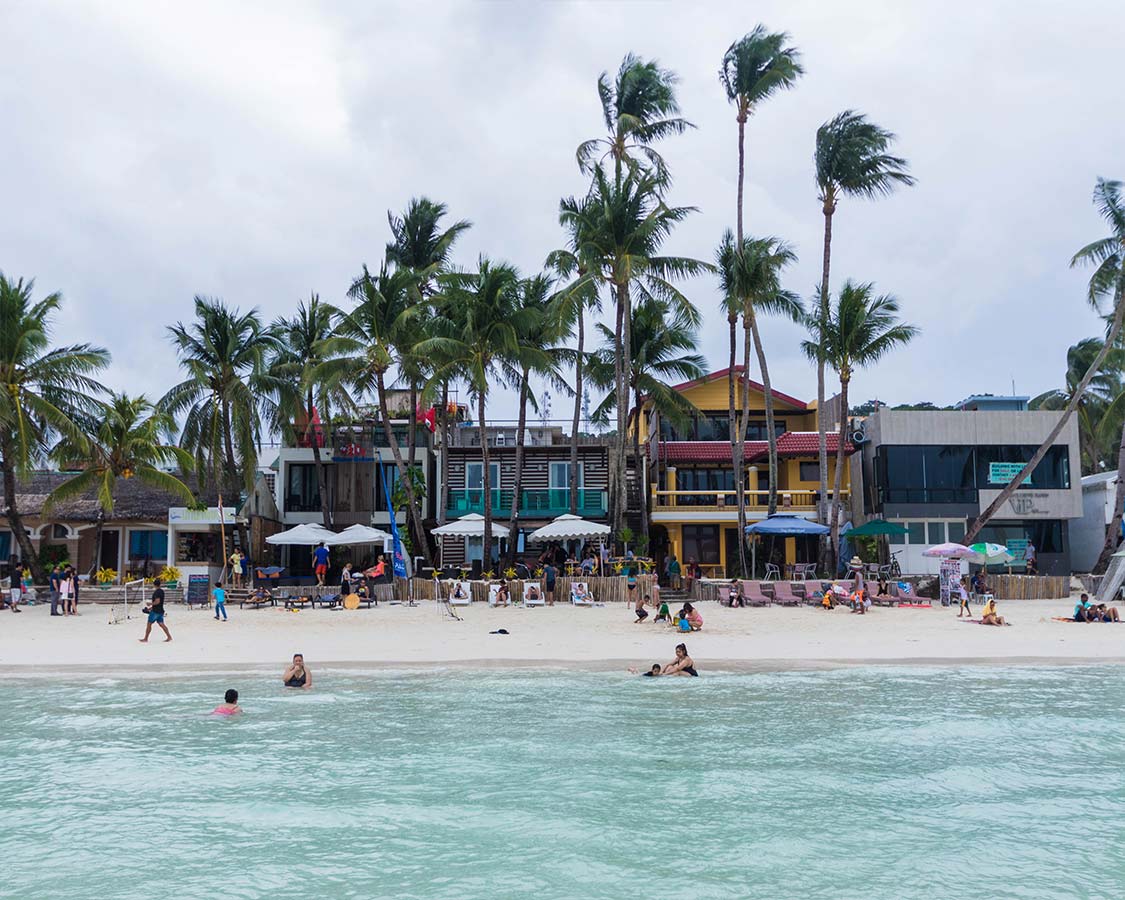 Boracay Station 1
Station 1 is where many of the high-end resorts are located. It's also where you can find the famous Willy's Rock (which you can read about further down the page). You'll find hotels such as Astoria Boracay, which has a great pool and a popular restaurant (it also features a soft-serve ice-cream machine for the kids!). Station 1 tends to be the least crowded of the three stations. It is also home to the widest section of White Beach. There are lots of food and shopping options nearby, but most of them require a short walk. The size of the beach here makes it the perfect place to build a sandcastle, or tear one down!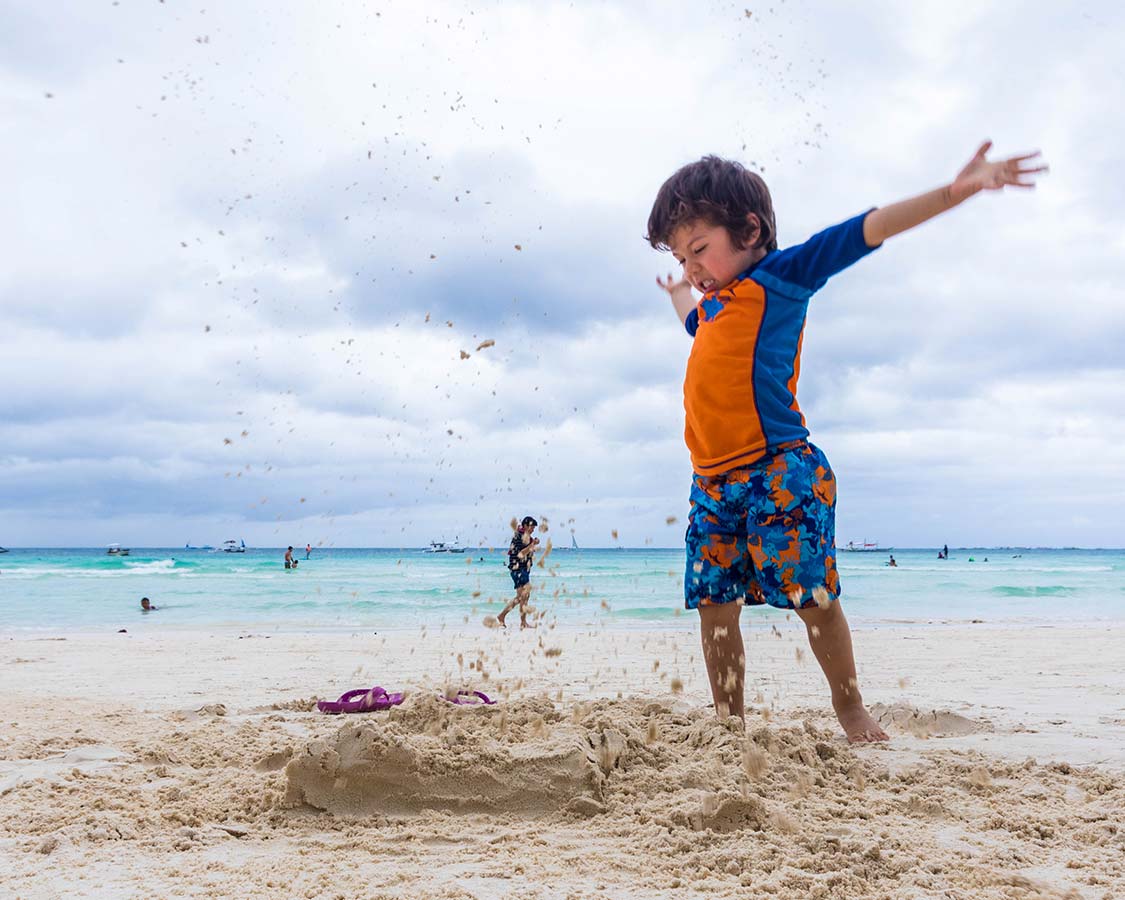 Boracay Station 2
Station 2 in Boracay is the center of the action. The beach is still beautiful, but significantly busier than Station 1. It's also home to D'Mall, which is the largest of the major shopping centers in Boracay. The beach here is lined with small shops, massage parlors, small restaurants, and mid-range resorts and hotels. The hotel we really like in Station 2 is the District. It is a short 3-minute walk from D'Mall and is great for families who want to have everything they need within arms reach.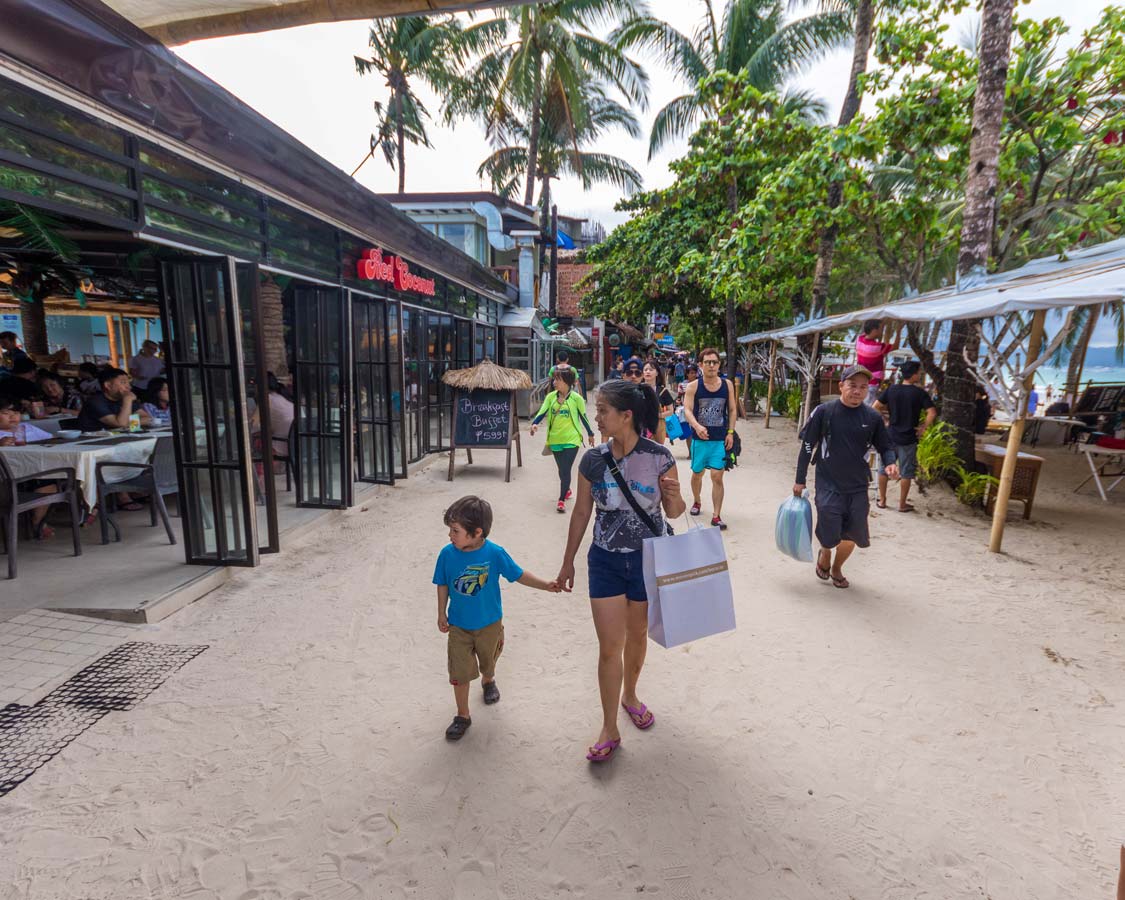 Boracay Station 3
Station 3 in Boracay is where most of the budget hotels and hostels can be found. The beach in Station 3 is still very beautiful, however, the slow grade of the water is gone, and it becomes deep quite quickly. Station 3 is fairly quiet, as many of those staying here tend to make their way towards the more active Station 2 during the day. Station 3 is the closest station to the Caticlan Ferry, and staying here can save short-term visitors the painful ride through the narrow streets of Boracay.
You can see the complete list of hotels in Boracay here.
Grab a Selfie on Willy's Rock in Station 1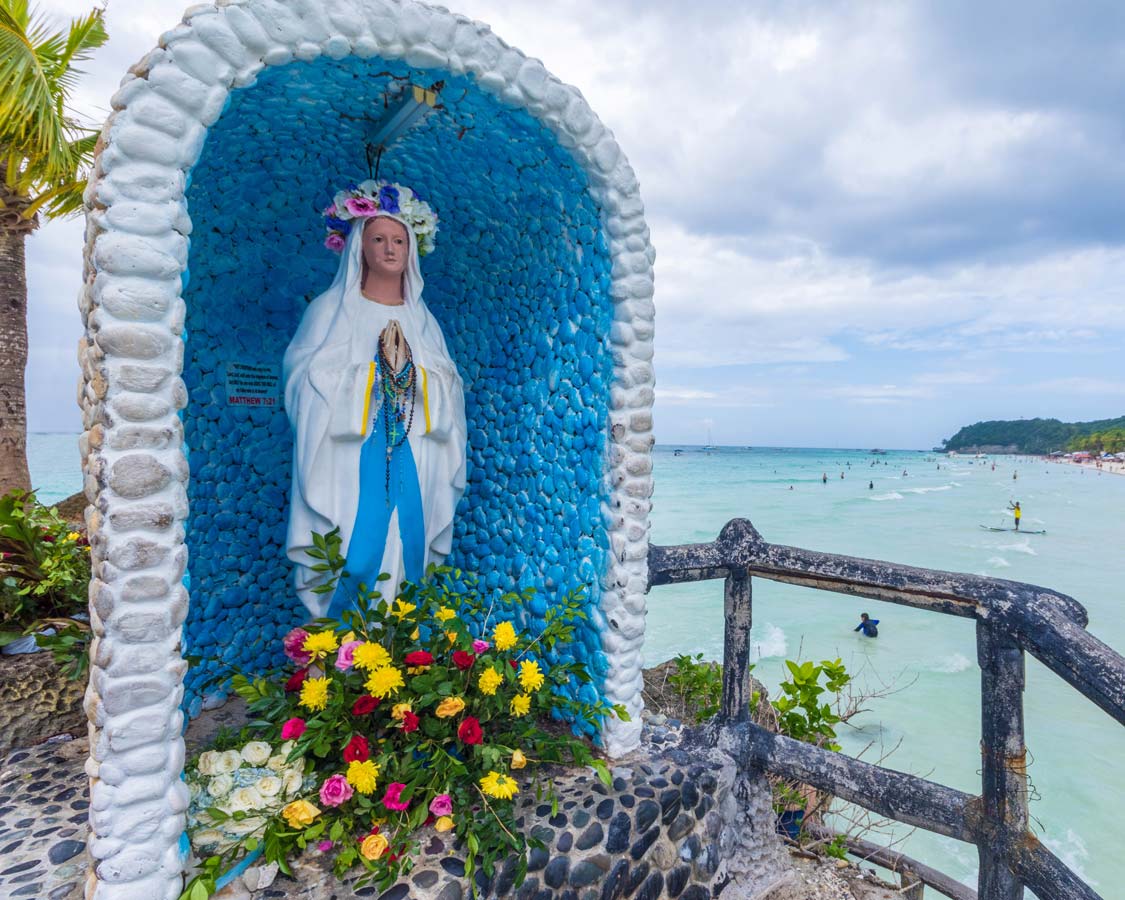 Willy's Rock is one of the most famous sites in Boracay. This rocky outcrop in Station 1, near the border to Station 2 is beautiful to behold. The swaying palm trees and colorful plants that live on Willy's Rock are paired with a shrine to Mother Mary. This may seem an odd pairing in such a touristy location. That is until you learn that over 90% of all Filipinos are Catholic. And their religion is only challenged by their food as the most important social aspect in the country.
Willy's Rock offers the perfect break into what would otherwise be a beautiful, but relatively featureless waterfront. We also found it to be one of the best spots for swimming along the beach. There were restaurants nearby for food, and the sand was busy, but not too busy. But if you're looking for that perfect photo of Willy's Rock, just be sure to know that everyone else on the beach has the same idea!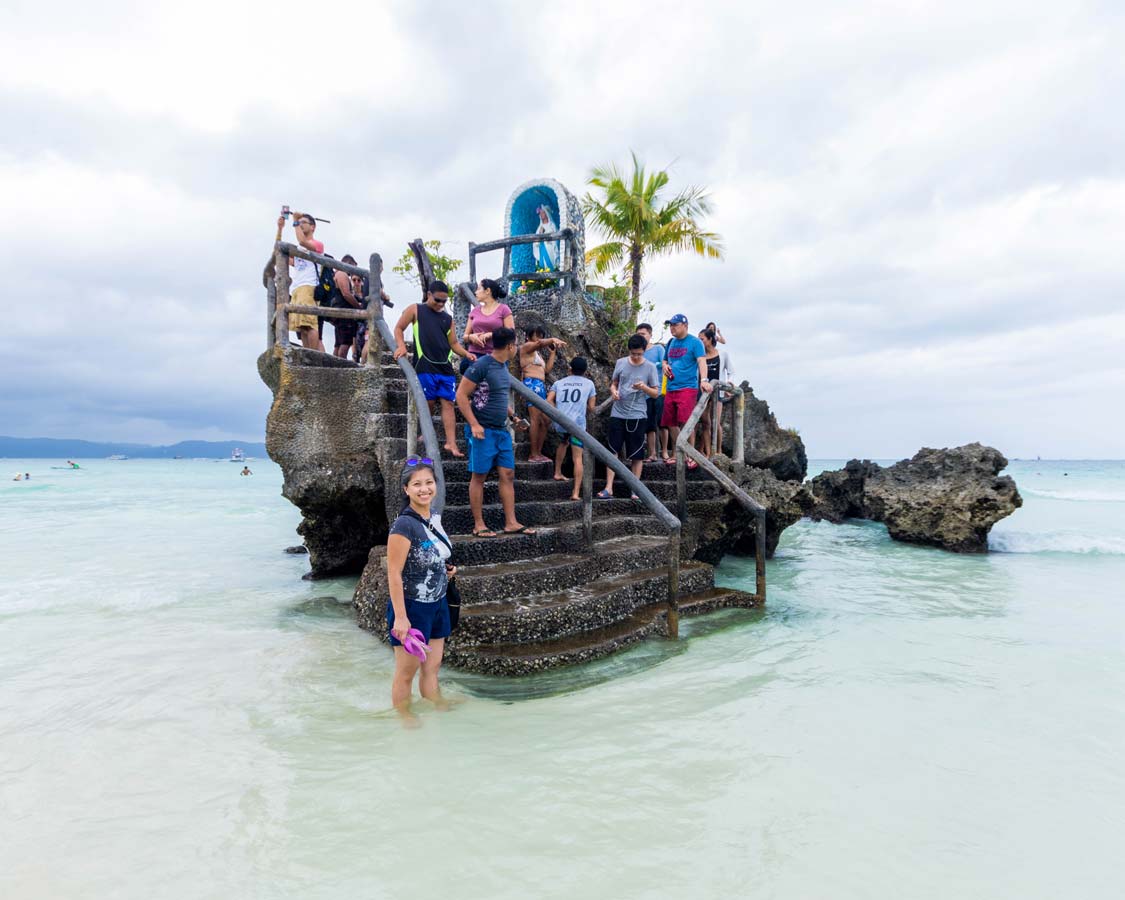 Go Beach Hopping in Boracay
It might be the most famous beach in Boracay, but White Beach isn't the only beach there! There are 17 beaches dotting the island including Punta Bunga Beach and Banyugan Beach. Punta Bunga is located at the base of a series of resorts north of Station 1. It is where our hotel for our visit, Movenpick Resort and Spa, Boracay was located. Punta Bunga beach is quiet, beautiful, and offers a rustic landscape that I just fell in love with. The waters were rougher than White Beach, but the view more than made up for it. Punta Bunga and Banyugan are both private beaches only accessible via the resorts. For Punta Bunga it's Movenpick, and for Banyugan it's the Shangri-La Boracay. You can read our full Movenpick Boracay review here.
Puka Shell Beach is located at the top of the island and is sheltered on the island side by tall cliffs. Tambisaan Beach is the best beach on Boracay for spotting marine life. It's the best spot for those who love snorkeling. Ilig Iligan Beach, on the other hand, is a more rugged and raw beach that offers a touch of nature. The waters can be a bit rough here, but it's well worth the visit.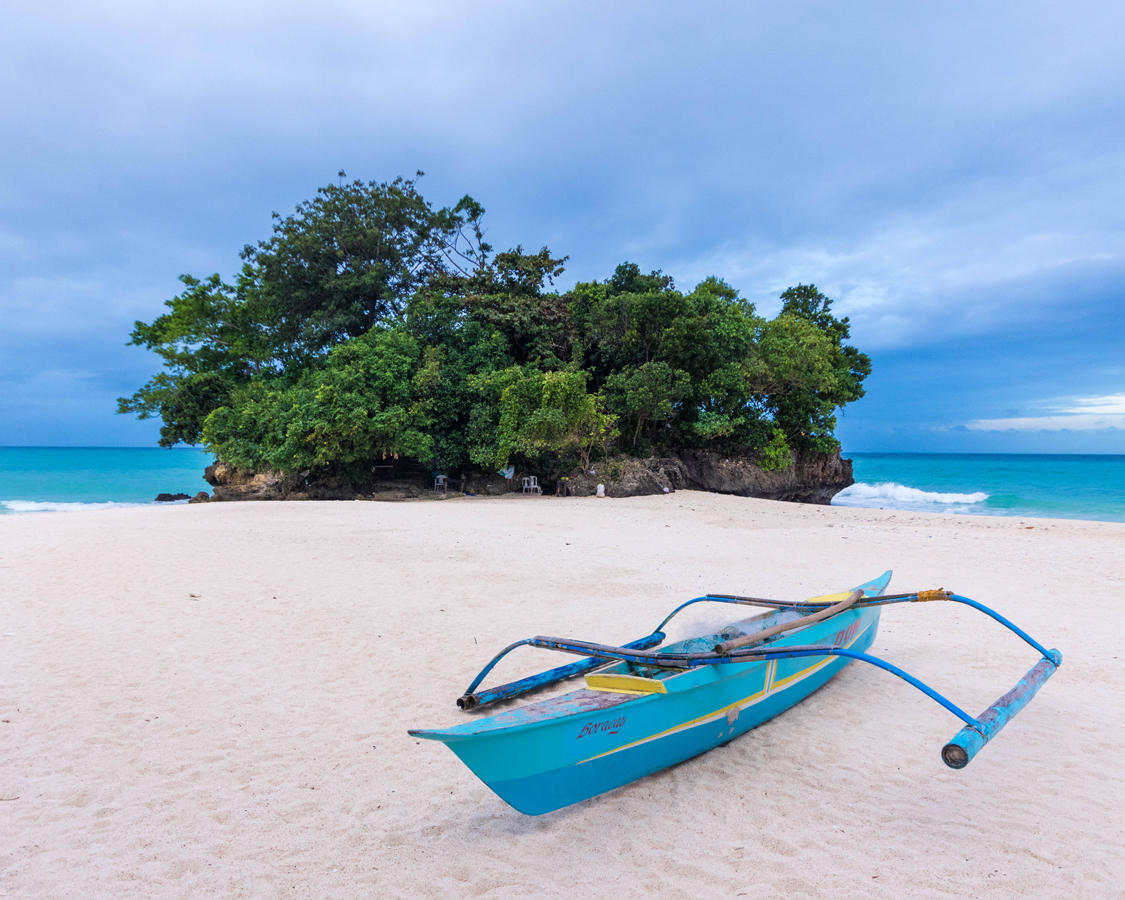 Tear Through Boracay on a Tricycle
If you've never been to the Philippines before, it won't take long to realize that the main mode of transportation is the tricycle, also known as a tuk-tuk or pedicab. Boracay offered our first of many trike rides in the Philippines, and each of them was as much fun as the one before it.
Tricycles are the easiest way to get around the narrow streets, and their small size allows them to zip around larger vehicles when the traffic gets heavy. And in the Philippines, the traffic gets heavy a lot! Boracay actually offers some of the nicest and roomiest tricycles that we encountered in the Philippines. So if luxury travel is your thing, this is as good as it gets!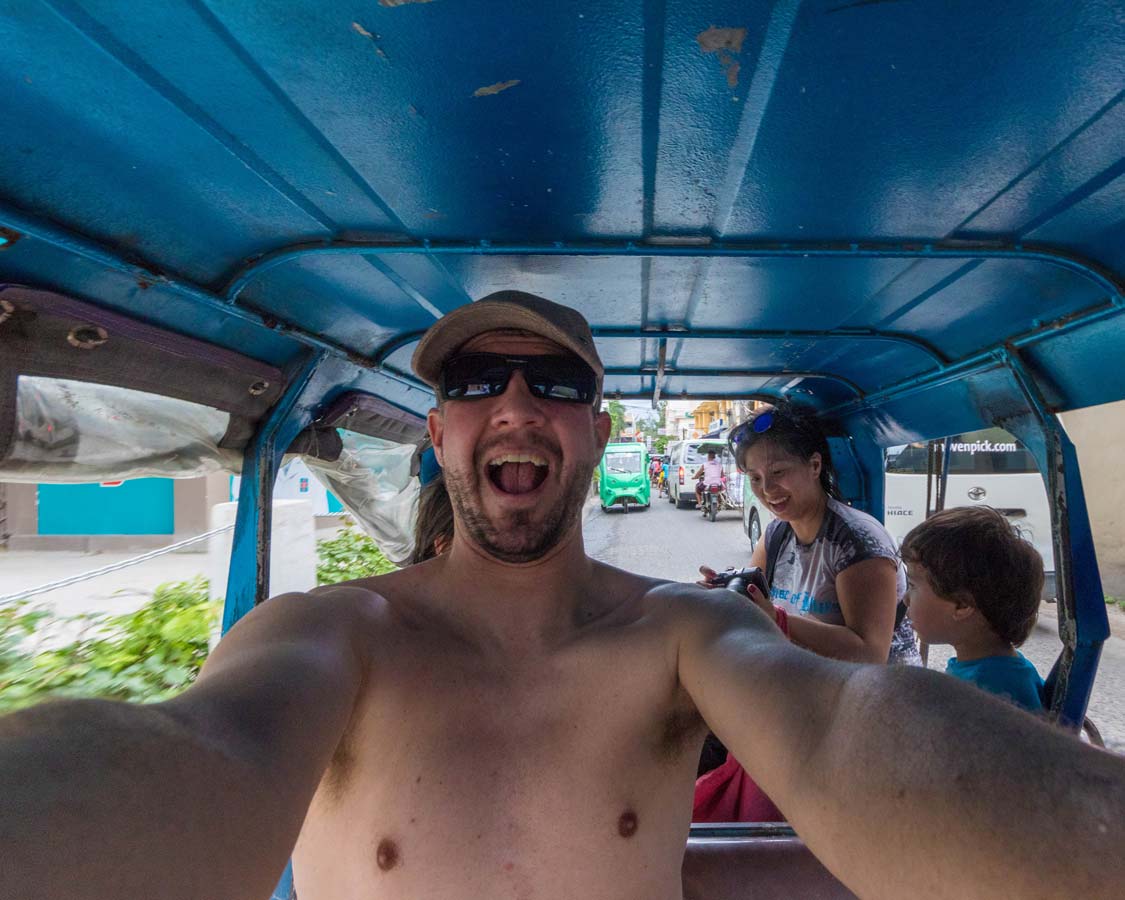 The Best Water Activities in Boracay
Take a Paraw Boat Tour
Paraw boats are the traditional boats of the Philippines. They are narrow hull boats with double outriggers, usually made of bamboo. A Paraw boat Boracay tour can be combined with a few of the great Boracay activities listed here. The Boracay boat tours can be hired from areas along the Stations of White beach or, if you're less impulsive, you can book them ahead of time. There is no lack of offerings, from island-hopping to local tours along the Boracay coast. The Paraw boat tours are often combined with other activities such as snorkeling and lunches on some of the islands.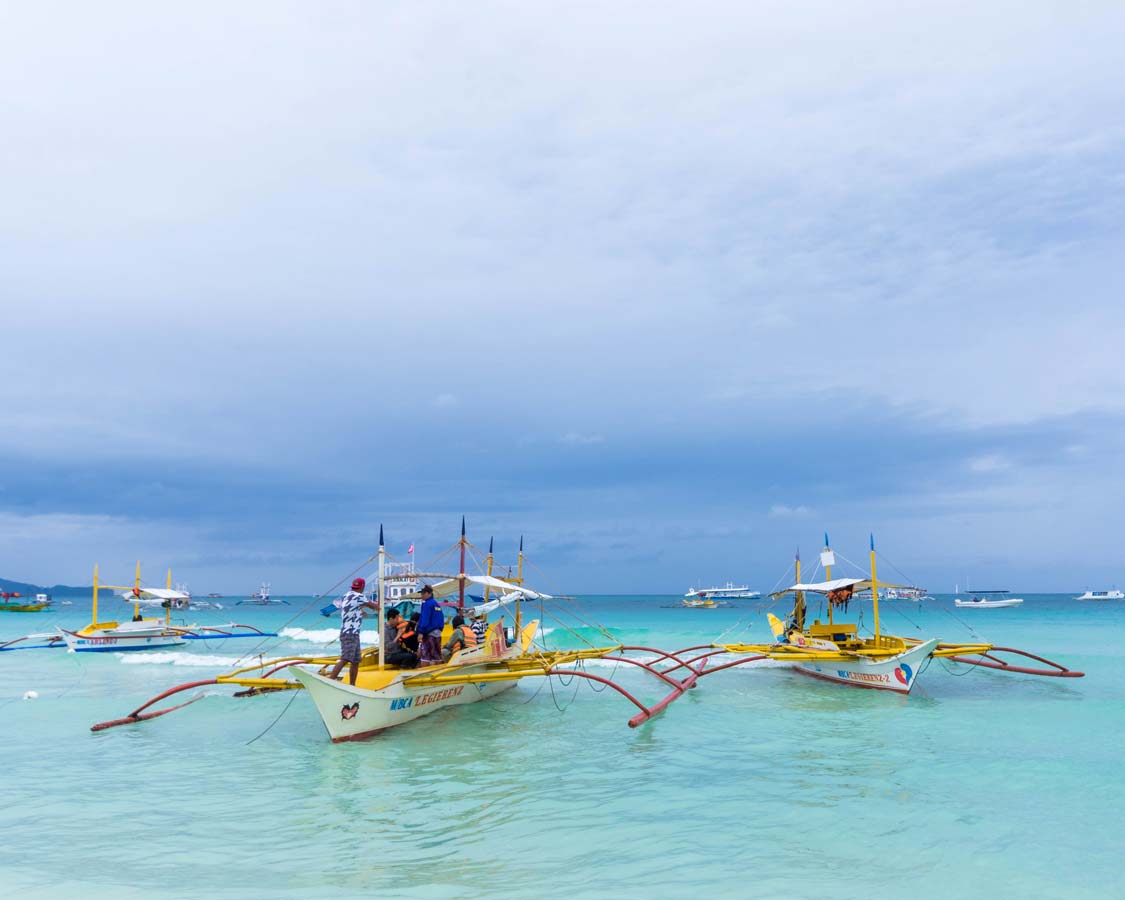 Please be aware that in the Philippines it is almost unheard of for boat tours to have life vests for children. We brought ours along from Canada and don't regret it. In fact, we had several people ask to buy ours because children's life vests were so difficult to find there, and so many of the Boracay activities are on the water. We highly recommend Hyperlite life vests. Our boys absolutely love ours. You can also check here for a list of our favorite family travel gear.
Try Snorkelling in Boracay
While Tambisaan Beach may offer the best shore snorkeling in Boracay, you can often combine snorkeling with a Paraw boat tour. The water in Boracay isn't quite as perfect for snorkeling as it is in places like El Nido or Coron, however any chance for kids to explore the underwater world is fantastic. This was C's first time going full-out snorkeling, and by the end of our tour of the Philippines, he was practically an expert!
Experience Sunset Sailing on a Paraw Sailboat
Where the Paraw boat tours offer a great way to see the island of Boracay, enjoying a beautiful Boracay sunset with a loud motor as a soundtrack isn't exactly paradise. Enter the Paraw sailboats. These boats are the traditional boat style of the Philippines, and they haven't changed much through the years. The outriggers come lined with mesh bottoms, perfect for kicking back and relaxing while the sun paints a picture in the sky.
And remember the typhoon that I mentioned earlier? Well, the grey skies parted, ever so briefly during our Paraw sunset sailing adventure. We hit the waters with no expectations of a sunset but were greeted with just enough color to get us excited.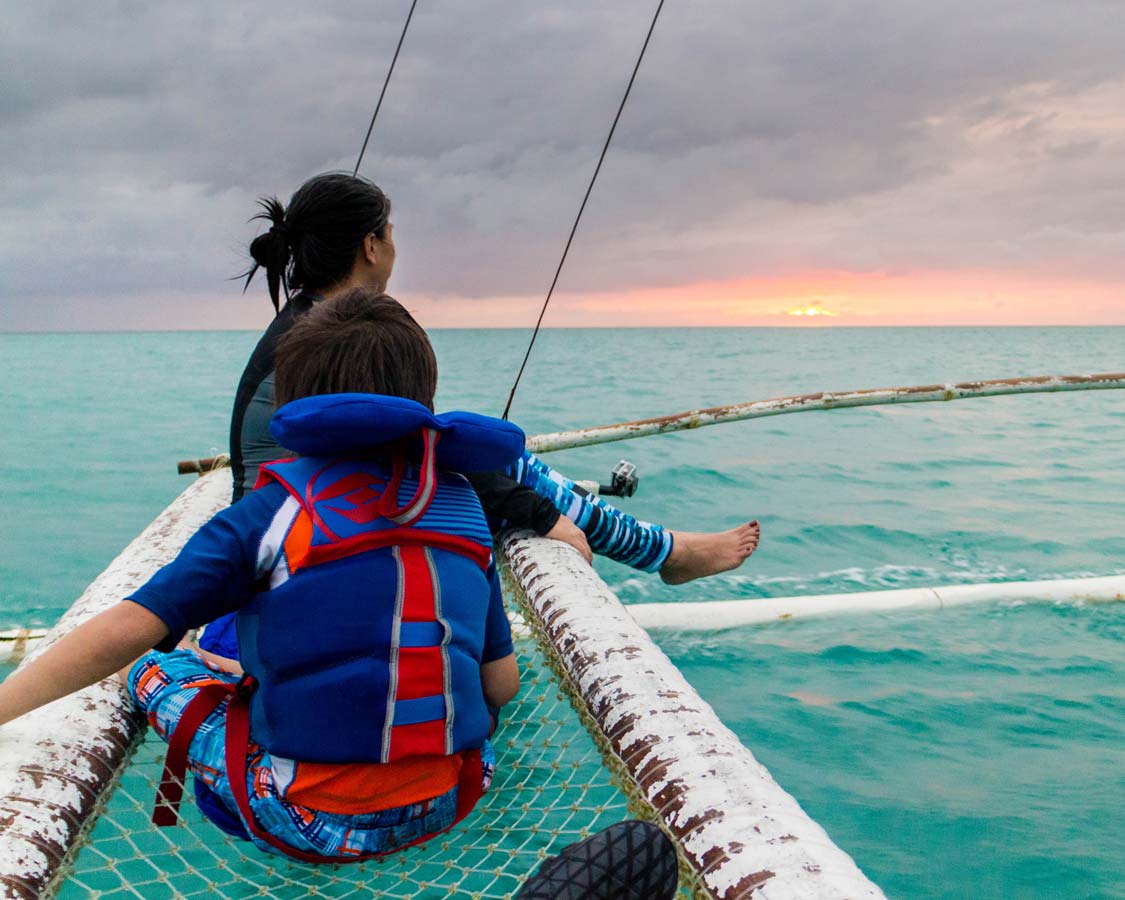 Surf or SUP off Boracay Beach
Hanging on the beach is great and all. Sandcastles, sun tanning, sun burning. But those who follow our blog know that we can't sit still for long. Thanks to Tito Ace, C got to try his legs surfing the waves of Boracay. SUP, or Stand Up Paddleboarding is also a popular activity here. Like the Paraw boats, it is usually easy to find rentals along the beach. Often locals will have them placed in popular locations, and they approach those who look interested in trying their hand. Rentals are usually from P300 to P500 per hour.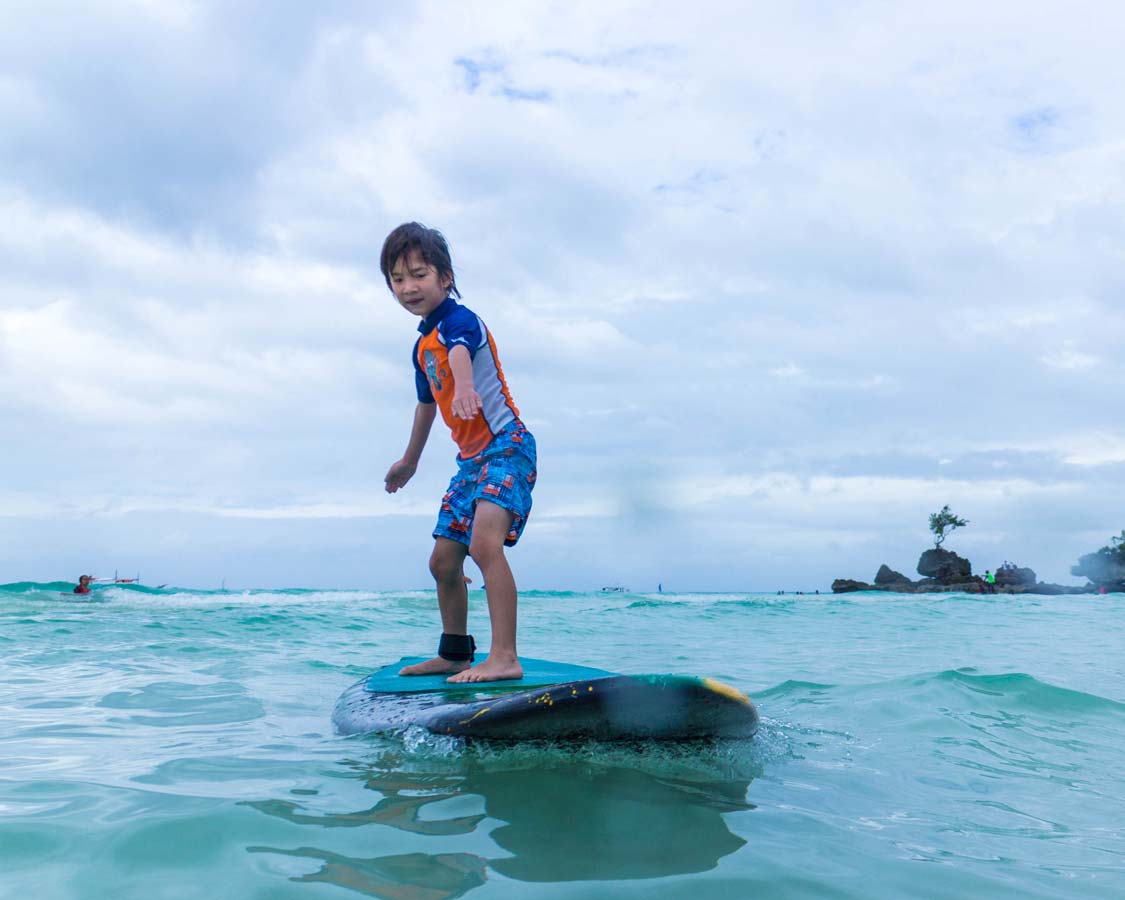 Discover Where to Eat in Boracay
Boracay isn't all beaches and water. There are some great places to eat on the island as well. For those looking for something quick and easy, Yellow Cab Pizza is a delicious comfort food worth trying. They have a few locations scattered throughout the island. Christina's cousin Angelie highly recommended Jonah's Fruitshack as a delicious option for great food right on the beach. They have a location right on the border of Station 1 and 2 near Willy's Rock.
If you are looking for the best restaurants in Boracay for local eats, Nonie's was a restaurant that we were dying to try but had to cancel our reservations due to timing. It's located at the border between Station 2 and Station 3. Lemon Cafe in D'Mall was one of our favorite places for lunch. The food is fresh and fun, and the kids absolutely loved the fruit shakes.
But the restaurant we loved the most was Pig Out Bistro. Pig Out Bistro is small so wait times can be very long (we waited about 45 minutes). But if you can hold out, then you'll be greeted by great seafood dishes and tasty takes on pub grub. We really loved the green oysters.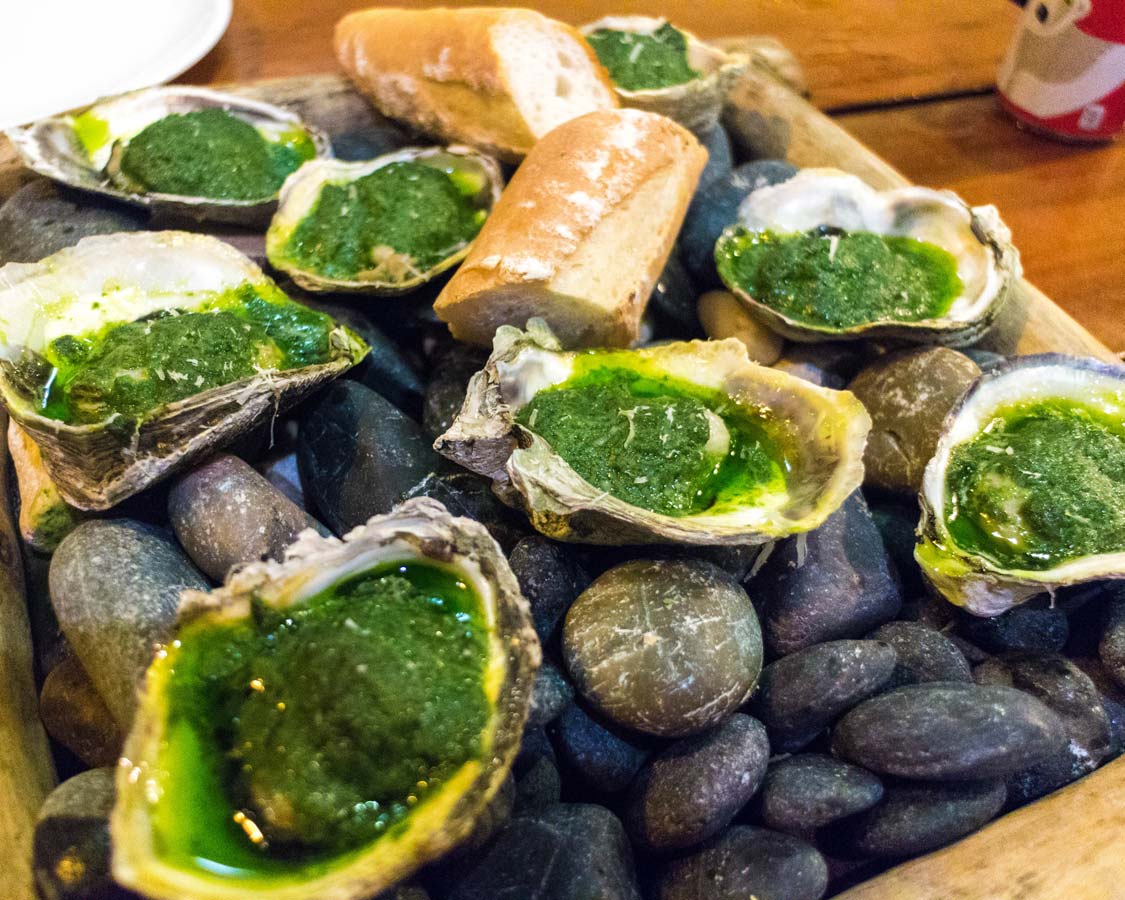 Best Places to Stay in Boracay
There are loads of great hotels in Boracay. We mentioned some of them earlier when talking about the various Stations and private beaches. But here is the breakdown of the best hotels and resorts in Boracay. Whether you are looking for budget hotels or the best resort in Boracay, we recommend using Agoda for booking hotels in Asia. It tends to offer the best deals and show the most accurate availability. It shows you the prices of hotels across many hotel booking engines so you can find the best deal.
Movenpick Resort and Spa Boracay
The Movenpick is a family-friendly resort on Punta Bunga beach. It's on the north end of the island, so it takes about 20-25 minutes to get there from the Caticlan ferry and involves about a 10-15 minute drive to D'Mall in Station 2. It features a fantastic pool, a variety of restaurant options, and some of the best service we have experienced. Kids will love "Chocolate Hour" in the afternoon where a variety of chocolate treats are available. Make sure to try the traditional Hot Shell massage. It's the perfect way to relax. You can check out the latest prices and availability here. You can check out our experience at the Movenpick Boracay here.
Shangri-La Boracay Resort and Spa
Shangri-La Boracay is considered to be the premier hotel and resort on Boracay Island. Situated on Banyugan Beach, just north of Movenpick, this resort boasts 3 of the top 4 rated fine dining restaurants in Boracay. Kids under 12 stay free, so it's excellent for family vacations. You can check out the latest prices and availability here.
Astoria
Located in Station 1, Astoria is a gorgeous, beachfront resort that is great for families. It boasts a fun pool with a shallow section that includes a slide. It's close enough to the action that you won't feel out of the loop but situated in a spot that isn't as crowded as Station 2. You can check out the latest prices and availability here.
Two Seasons Resort
Two Seasons is a mid-range resort in Station 1. It features a fantastic beachfront restaurant. The best thing about Two Seasons is that it has all the mid-range offerings and prices but is located among the high-range Station 1 resorts. You can check out the prices and availability here.
Willy's Beach Hotel
Located right near the famous Willy's Rock, Willy's Beach Hotel offers spacious rooms and a popular breakfast buffet. Because it's a great location, Willy's Beach tends to offer one of the best views of the sunset on Boracay beach. You can check out the prices and availability here.
Wandering Wagars is a participant in the Amazon Services LLC Associates Program, an affiliate advertising program designed to provide a means for sites to earn advertising fees by advertising and linking to amazon.com, amazon.co.uk, amazon.ca. Amazon and the Amazon logo are trademarks of Amazon.com, Inc. or its affiliates.
You May Also Like To Read: