Our Brazil family travel blog explores the wonders of the country from the sights to the sounds, the beaches to the food.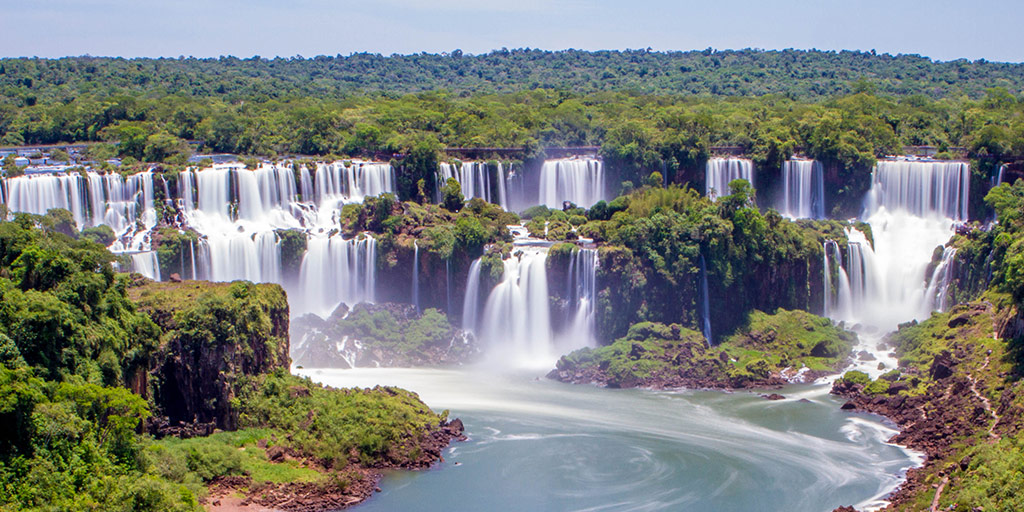 Discover Our Brazil Family Travel Guide
Brazil is the largest country in South America and home to the vast majority of the famous Amazon rainforest. It's Portuguese history makes it unique among Latin American countries. In fact, Brazil is the only country in the Americas to have Portuguese as an official language. This global superpower is a wonder of adventure travel. It's famous for beautiful beaches, untouched wilderness, and of course, it's unique cultural history.
Famous Brazil attractions include the Itaipu Dam (which it shares with its neighbor Paraguay) and Iguazu Falls (which it shares with Argentina), the Christ the Redeemer statue in Rio de Janeiro, and of course, its string of world-class beaches. It's not hard to find fun things to do in Brazil with kids, so, if you are planning a trip, start here for some amazing travel inspiration!
Tips For Family Travel in Brazil
Currency

Brazilian currency is the Brazilian Real. The average value of the Brazilian Real is approximately $0.35 USD. You can check out the current value here.

Capital

The Capital of Brazil is Brasília. Brasília is located in the Brazilian highlands in the center-west of the country. It is also home to Paranoá Lake, a large artificial lake that was built to increase the available water and humidity of the region. The lake is a popular spot for water sports, especially SCUBA diving to a village that is submerged beneath the lake.

Electricity

Brazil uses the Type N socket. This socket is unique to Brazil. Type N sockets run off 230 V electrical outlets.

Cellular Phone Service

Cellular service is available through most of Brazil

Roads, Driving and Public Transit

Driving in Brazil is a popular way to get around. Especially due to the limited nature of the country's public transit system. Roads are generally in good repair and Brazil has an excellent highway system.

Brazil with Kids

Family travel in Brazil is extremely popular. Brazilians are generally very inviting towards children. The country is large, which means travel through Brazil can take time, or require numerous flights. But the experiences within this country more than makes up for the effort needed.
Important Words And Phrases To Know When Traveling In Brazil
The main language in Brazil is Portuguese. The Portuguese language can be found throughout much of the world. In the America's, it's spoken widely in destinations such as Puerto Rico and Brazil. It has many similarities to Spanish, which makes translating between the two languages easier. But, it's very much its own language.
It's always good to be able to say a few words in the local dialect whenever you visit a country. So here are a few important Portuguese words to remember.
Important Portuguese Words To Know:
Yes: Sim
No: Não
Thank You: Obrigado
Thank You Very Much: Muito obrigado
You're Welcome: De nada
Please: Desculpa
Excuse Me: Desculpa
Hello: Olá
Goodbye: Adeus
Bathroom: Banheiro
Read Our Brazil Family Travel Posts
While over 80% of the Iguazu waterfalls sit on the Argentine side, there's plenty to see in Iguazu Falls Brazil with kids! We had an amazing time visiting Iguazu Falls Argentina with our kids. We were able to get up close and personal with the majestic falls via all the walkways that are set up.…
Continue Reading How To Visit Iguazu Falls, Brazil with Kids