Uniquely perched in Eastern Europe and Western Asia, Turkiye sits at a crossroads of cultures. Discover the best of family travel with our Turkiye family travel blog.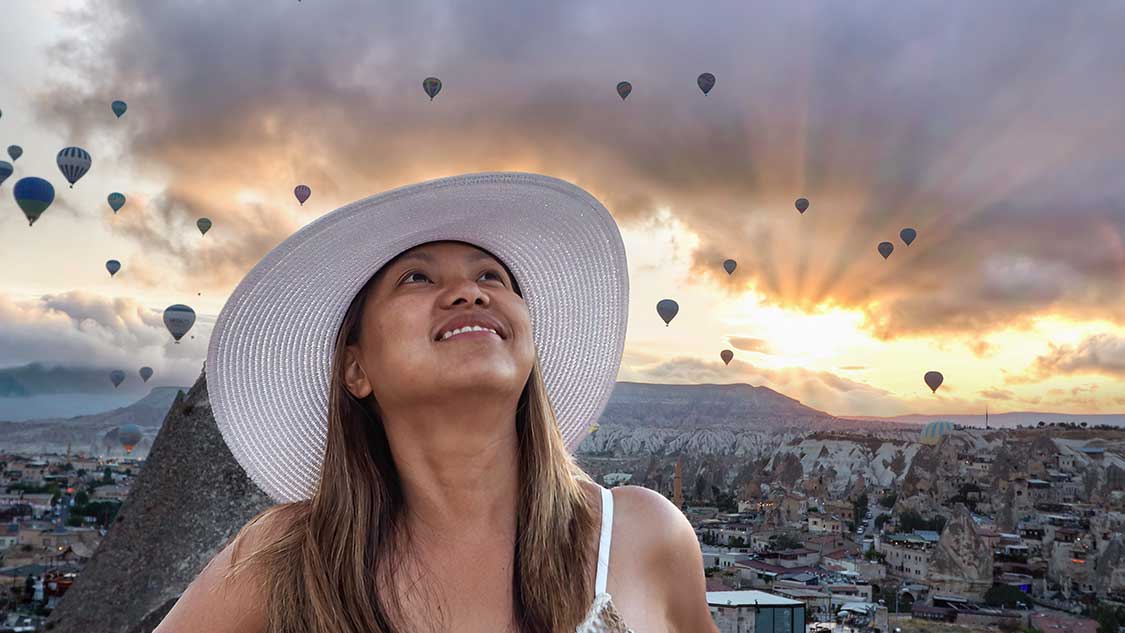 Explore Our Family Travel To Turkiye Guide
Family travel to Turkiye offers a unique glimpse into one of the most fascinating countries on the planet. Turkiye sits at a unique crossroads of cultures where Asia and Europe border the Middle East. Turkiye's vital position on the famed "Silk Road" allowed the country to become a melting pot of cultures, and evidence of this is shown through its incredible food, diverse religions, and magnificent architecture.
Parts of Turkiye also lie within the "Cradle of Civilization," the area of the world where human culture, arts, and sciences truly began to thrive. This region, which includes Eastern Turkiye, Iraq, and Syria, helped foster some of the most astonishing leaps in humanity's understanding of their planet and the universe that surrounds it.
Visions of family travel in Turkiye are often inspired by the magical fairy chimneys of Cappadocia, where colorful hot air balloons fill the sky over open-air terraces dotted with spectators lying on Turkish rugs. While that experience is just as magical as you may have imagined, there is so much more to this breathtaking country. E
xplore top cruise ship excursions such as Ephesus and Selcuk or bask on the beach along the Turquoise Coast. For something even more spectacular, venture inland to the gleaming white terraces of the "Cotton Castle," Pamukkale, or into the far eastern sections of Antalya and the majestic tombs atop Mount Nemrut.
If you're open to sharing the wonders of traveling with family to Turkiye, you may find yourself visiting again and again.
Read Some Of Our Most Popular Turkiye Family Travel Blog Posts
Tips For Family Travel in Turkiye
Turkiye sits at a very unique place in the world. Its capital, Istanbul, is one of the only cities in the world that lies on two continents. Eastern Istanbul sits with Asia, while Western Istanbul sits within Europe. The two are divided by the Bosphorus Strait, a vital waterway that connects the Black Sea with the Meditteranean Sea, and, ultimately, the Atlantic Ocean. You can read our guide to visting Istanbul with Kids here.
Western Turkiye borders Greece and Bulgaria, while the wide expanses of Eastern Turkiye connect with Georgia, Armenia, Iran, Iraq, and Syria. While the country is considered quite safe and stable, its eastern regions have been subject to conflict and terrorist attacks.
Border measures that have been implemented in the past decade have helped reduce the conflict in the region, but it is important to check with your country's travel advisory guide before you visit this part of Turkiye.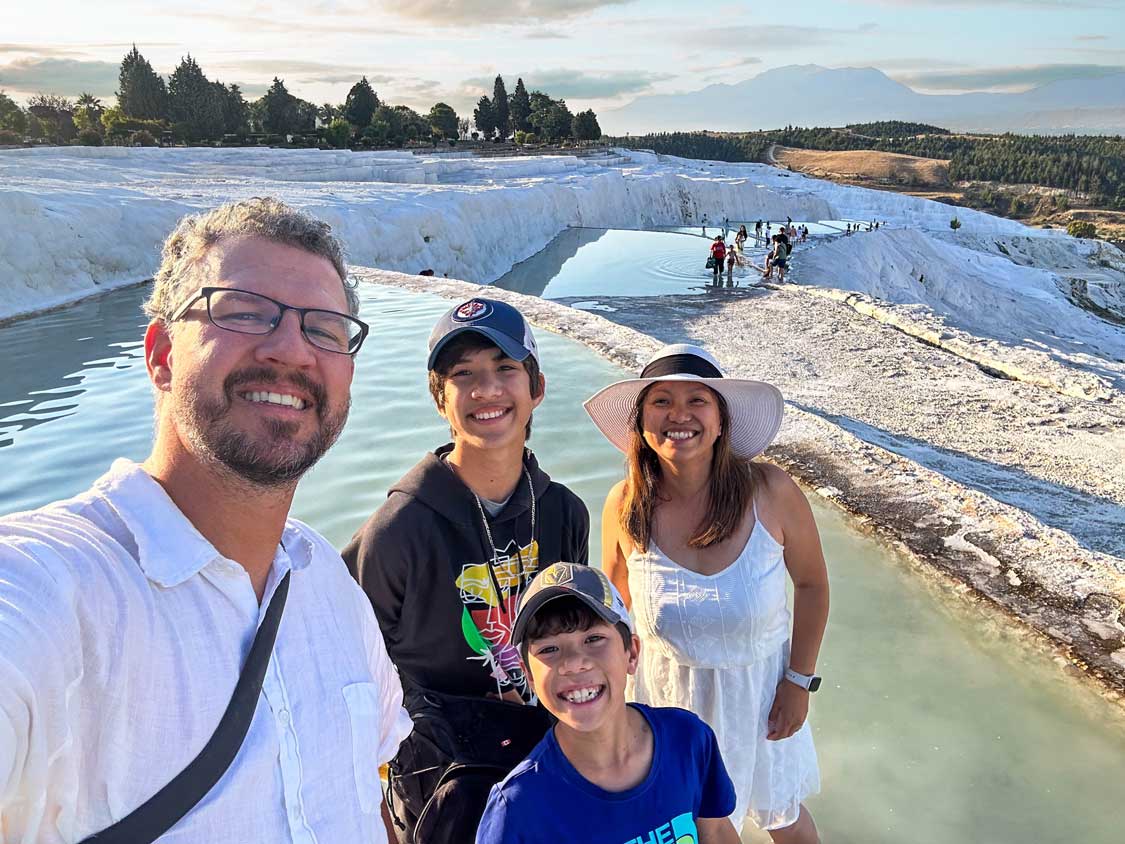 Currency in Turkiye

The currency in Turkiye is the Turkish Lira. The Turkish Lira is notoriously unstable, and the value can change dramatically from day to day. You can check the current exchange rate here. It's advisable to pay in the local currency in Turkiye, as it usually offers the best value. But US dollars and the Euro are accepted in most places, and many tourist cities quote prices in Euro. Along the Turquoise Coast, most prices are quoted in British Pounds.

Capital of Turkiye

The Capital of Turkiye is Istanbul. This city is home to over 15 million people. That number is actually believed to be much higher due to the large number of undocumented Syrian refugees living within. Istanbul is a vibrant metropolis straddling two continents, blending rich history with modern energy, showcased through its iconic architecture, bustling bazaars, and the picturesque Bosphorus Strait.

Electricity

Turkiye uses the Europlug Type C and Type F plugs. Type C plugs consist of two round prongs, and type F plugs include two round prongs and a grounding pin. Type F plugs are essentially an earthed version of Type C plugs. You can find our favorite power adapter here that will allow you to use your electronics in Turkiye.

Cellular Phone Service In Turkiye

Turkey has a well-developed cellular service infrastructure with widespread accessibility in urban areas, towns, and major roadways. The network provides reliable mobile connectivity for voice and data services. However, remote and rural regions might have varying levels of coverage.

Roads, Driving, and Public Transit

Roads and highways in Turkiye are well-maintained. The landscapes and geography of this vast country mean that driving conditions can change dramatically based on the location and the time of year you're visiting. In the coastal areas, warmer weather is the norm. Outside of the challenges of driving in ancient cities, where car access is an afterthought rather than a plan, driving in Turkiye is relatively straightforward. Western norms of signals, lanes, and lines are often not practiced, but compared to countries such as Peru and Thailand, driving in Turkiye is relatively painless.

Travel in Turkiye with Kids

Visiting Turkey with kids offers an unforgettable blend of history, culture, and adventure. It's a country overflowing with rich educational experiences that sparks curiosity, wonder, and excitement. Exploring ancient ruins, vibrant bazaars, and unique landscapes engages their imagination, while family-friendly activities like hot air balloon rides in Cappadocia or beach fun along the Turquoise Coast ensure lasting memories. Turkey's diverse offerings provide a unique opportunity for families to learn, bond, and create cherished moments together.
What Language Is Spoken In Turkiye?
The main language in Turkiye is Turkish. While only about 20% of the people in Turkiye speak English, most major cities are easy to navigate for English speakers. Signs are often in both languages and regions popular with tourists, and travelers often have larger English-speaking populations.
Important Turkish Words To Know:
Yes: Evet
No: Hayir
Thank You: Teşekkürler
Thank You Very Much: çok teşekkür ederim
You're Welcome: Rica ederim
Please: Lütfen
Excuse Me: Affedersin
Hello: Merhaba
Goodbye: Güle güle
Bathroom: Banyo
Read Our Latest Turkiye Family Travel Blog Posts