Welcome to Our Travel To Portugal Guide
Prepare to be amazed with our guide to Portugal with kids!
Discover History in Portugal
Portugal is one of the jewels of Europe. Its beautiful location, friendly people, and incredible food make it a popular destination for visitors, especially those who travel from the UK. And if done right, Portugal can be one of the most budget-friendly destinations in Western Europe.
Prepare to be amazed at the incredible variety of castles, beaches, natural beauty and stunning cities that Portugal has to offer.
Explore the best of Portugal
Check out some of our most popular Portugal blog posts.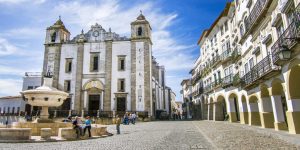 Why We Don't Recommend a Daytrip to Evora Portugal
Evora, Portugal has been consistently touted as one of the best places to visit in Portugal. Does it live up to its reputation?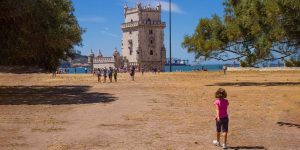 Exciting Things To Do In Lisbon With Kids
Searching for amazing Things To Do In Lisbon with kids? Discover one of the world's most incredible cities with this family guide to Lisbon Portugal.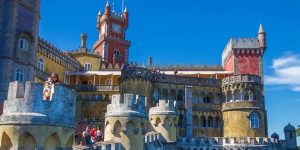 The Fairytale Town of Sintra in Portugal
It's time to live out all those fairytale stories in one of the most picturesque cities we have ever seen!

What you need to know about travel in Portugal
Family travel in Portugal is AMAZING! The food is inexpensive and delicious. There are magical towns and historical castles everywhere. The Algarve has some of the best beaches in the world. And for those traveling to Portugal with kids, the locals will generally treat you like gold. Portugal is a popular destination for travelers in countries like the U.K. since it's very close. Also, one's dollar goes a long way here.
Our family travel to Portugal guide will give you everything you need to start planning your trip here.
Currency

Portugal is a member of the European Union and uses the Euro currency. The average value is approximately $1.20 USD. You can check the current exchange rate here.

Capital

The Capital of Portugal is Lisbon. This vibrant city is a favorite among travelers due to its beauty, scenic views, and incredible history.

Electricity

Portugal uses the Type F socket at 230 V and the standard frequency is 50 Hz.

Cellular Phone Service

Cell phone service is readily available throughout most of Portugal.

Roads, Driving and Public Transit

Portugal has a series of well-maintained roads and highways. Traffic on local roads in Portugal can be heavy, especially in urban areas.
There is also a series of toll highways in Portugal. The highways have both upper and lower limits but expect traffic to be moving at all speeds and be cautious.

Portugal with Kids

Portugal is a great destination for family travel. It's pedestrian friendly cities, amazing history and beautiful buildings are great for capturing the minds of people of all ages. We especially loved the dinosaur footprints monument.
All the best of Family Travel in Portugal