Untouched and unforgettable. Our Paraguay family travel blog explores some of the wonders of this magical South American country.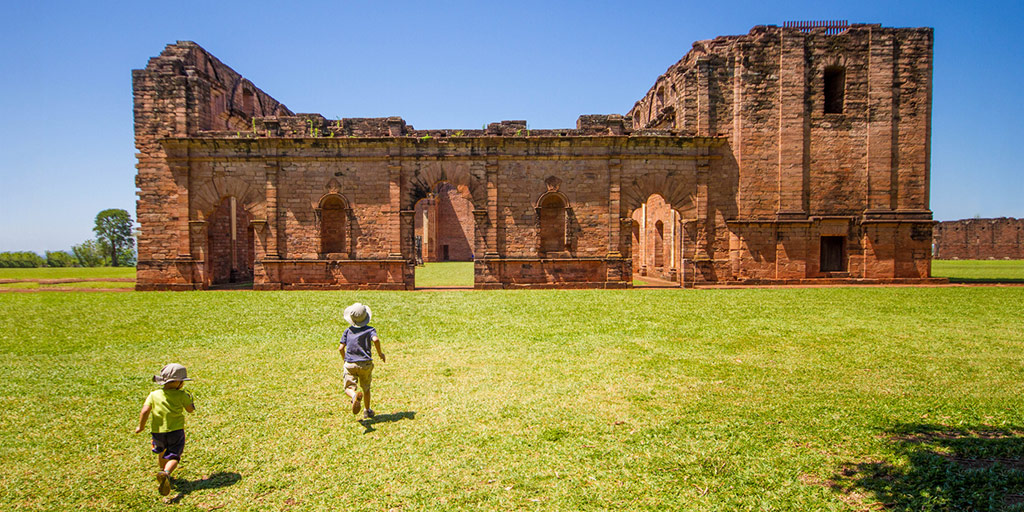 Discover the Heart of South America In Our Paraguay Family Travel Guide
Bordered between Argentina, Brazil, and Bolivia, Paraguay is a landlocked nation that has been largely overlooked by many travelers. However, in the last 25-years, Paraguay has seen a resurgence of influence and popularity. Its unique population, which is highly influenced by the indigenous Guarani culture and language, and the struggles the country has endured since the end of the Paraguayan war have shaped this nation.
Tips For Family Travel in Paraguay
Currency

The currency in Paraguay is the Paraguayan Guaraní. The average value of the Paraguayan Guaraní is approximately $0.00018 USD. You can check out the current value here.

Capital

The capital of Paraguay is Asunción. This city bordering Argentina is home to over a third of the entire population of Paraguay. It is considered a shopping mecca due to its low prices.

Electricity

In Paraguay, the electrical outlets are 220 V and the frequency is 50 Hz. It shares a common plug with Europe.

Cellular Phone Service

Cellular phone service is readily available in most urban areas of Paraguay. Most companies have SIM cards compatible with most phones.

Roads, Driving and Public Transit

Many major roads and highways in Paraguay are well-maintained. Many are not. Be prepared for rough conditions, especially in remote regions.
Car insurance is NOT mandatory in Paraguay. Many drivers do not have insurance. We highly recommend that if you drive in Paraguay, that you are covered by proper insurance.
Traffic regulations are often ignored here. Drive with caution.

Paraguay with Kids

Paraguay is often overlooked when it comes to family travel. As such it has not developed the typical family travel base that many of its neighbors have. However, this doesn't mean that Paraguay isn't ideal for family travel. In fact, its lack of tourism, relative safety, and beautiful rural and urban areas may appeal to many family travelers who enjoy exploring off-the-beaten-path locations. We sure loved it.
Important Words And Phrases To Know When Traveling In Paraguay
Like most of Central and South America, the main language in Paraguay is Spanish. English is spoken in many of the larger cities and by most tour guides, however, in most neighborhoods and communities, it might be challenging to find locals who speak English.
It's always helpful to know a few words in the local language whenever you travel to a new destination. So here are a few important Spanish words to know before you visit.
Important Spanish Words To Know:
Yes: Si
No: No
Thank You: Gracias
Thank You Very Much: Muchas Gracias
You're Welcome: De nada (It's nothing)
Please: Por favor
Excuse Me: Perdóneme
Hello: Ola
Goodbye: Adiós
Bathroom: Baño
Read Our Latest Paraguay Family Travel Blog Posts
Visiting the Jesuit Missions in Paraguay makes for an incredible day trip. The two main missions are full of history and culture. We are suckers for historical ruins. The more remote and character-filled, the more we love them. In Portugal, the Moorish Castle in Sintracaptured our heart. While in Guatemala, it was the ruins of…
Continue Reading Jesuit Mission Ruins in Paraguay: 3 Amazing Sites Full of History