Discover La Belle Province from the St. Lawrence River through Quebec City, and the Maritimes through our Quebec family travel blog.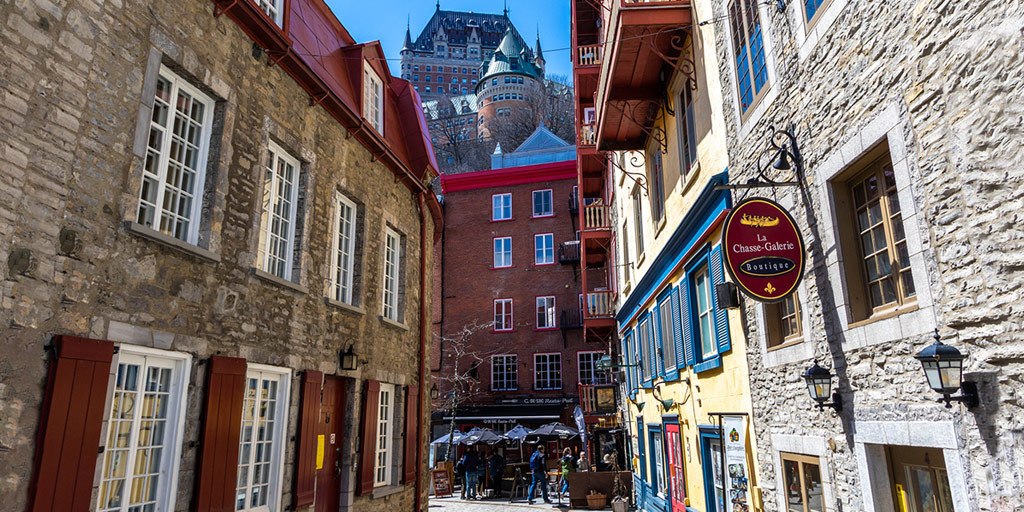 There's a Lot More To Quebec Than Poutine! Discover Our Guide To Family Travel In Quebec
Quebec history dates back hundreds of years. From the timeless history of Quebec's Indigenous experiences to the magical cities and wildlife, Travel through Canada's only francophone province is like a taking a journey back in time.
Quebec City is the oldest city in Canada and its history is overshadowed only by the natural beauty that the province has on show.
Explore the quaint towns along the St. Lawrence River, go whale watching in Tadoussac, or take a road trip through timeless small towns. Our Quebec guide is stuffed with gorgeous landscapes and unforgettable destinations. All with a side of poutine!
Discover the Beauty of Quebec
Check out some of our most popular Ontario blog posts.
Tips For Family Travel in Quebec
Travel in Quebec is different than in much of Canada. To start, the official language in Quebec is French. Quebec is the only province in Canada that doesn't count English as an official language, and they are fiercely protective of their language. While it's relatively easy to travel through the major cities of Montreal and Quebec as an English speaker, once you head out into the smaller towns, it can be difficult to find English services.
We highly recommend learning basic French greetings and phrases. Your attempts at speaking the local language is often appreciated by the locals.
Capital

Although Montreal is the most accessible city in Quebec, Quebec City is actually the province's capital. Not only is Quebec city the oldest city in Canada (St. Johns Newfoundland loses out on a technicality.) It is also a cultural hub. Quebec City is home to the world's largest winter carnival, Carnaval de Quebec. It is also home to the most photographed hotel in the world, the beautiful Fairmont Chateau Frontenac.

French culture

Quebec is Canada's only francophone province. And they take that designation very seriously. There are laws in place to protect the language. And those include limiting the amount, or at least the prominence of English on signage and packaging throughout the province. There are also a number of areas, especially in rural Quebec, where English is not spoken at all.

Montreal

Montreal is Quebec's largest city. Montreal is home to a popular arts and food scene and incredible entertainment festivals such as the Jus Pour Rire (Just for Laughs) comedy festival.

Quebec with Kids

Quebec is beautiful, full of history, and offers some of the best landscapes in Eastern Canada. And family travel in Quebec is a wonderful way to teach children about early European history in North America.
Important Words And Phrases To Know For Family Travel In Quebec
Canada is a country with two official languages, English and French. But, Canada is also a huge country, so that language can vary between local dialects, especially in the Canadian Maritimes which is separated from the rest of English-speaking Canada by the French-speaking Quebec.
French is the dominant language across the province of Quebec. They speak a regional dialect known as "Joual", although it's locally referred to as "Quebecois", which varies quite a bit from traditional French found in countries such as France.
Northern Ontario and much of the Maritimes has many French-speaking communities as well, and the French influence on the language is very evident in rural communities. In fact, it was French-speaking Acadians who fled to Louisiana from the Canadian Maritimes who led to much of the rich French culture found in that state.
Because this blog is written in English, I'll assume that you don't need help with those words. Instead, I'll share some of the French language important words to know.
Important French Words To Know:
Yes: Oui
No: Non
Thank You: Merci
Thank You Very Much: Merci beaucoup
You're Welcome: Ca va bien
Please: Si'l vous plait
Excuse Me: Pardon
Hello: Bonjour
Goodbye: Au revoir
Bathroom: Salle de bain
Read Our Latest Quebec Family Travel Blog Posts