Discover everything you need to know before camping Lac Temiscouata National Park, one of Quebec's newest Sepaq parks.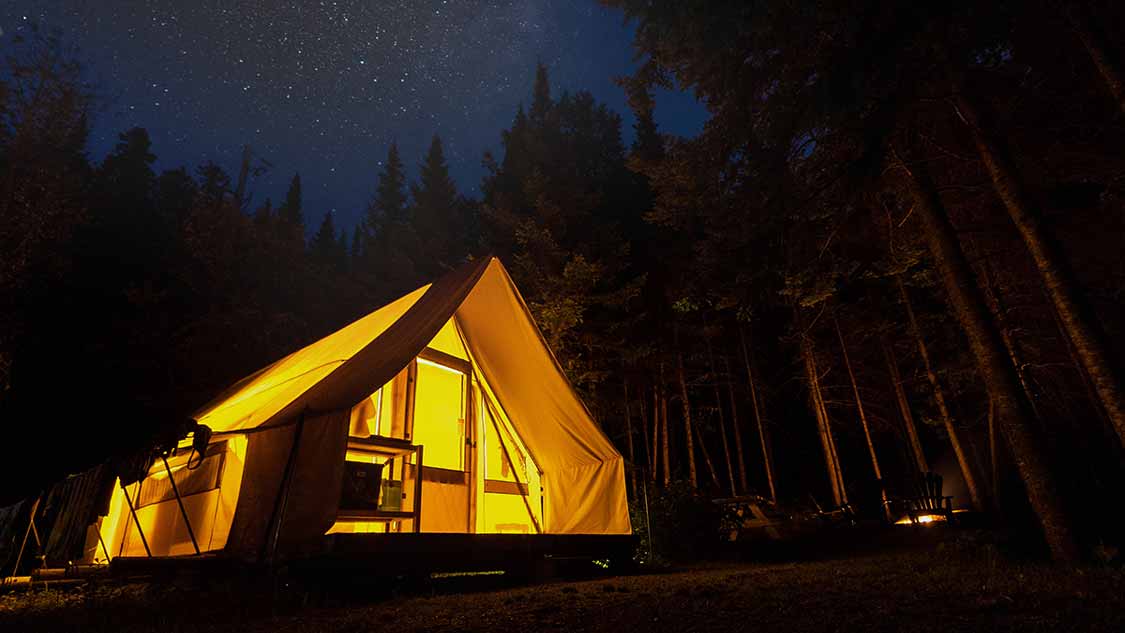 Lac Temisoucata National Park is one of the newest Sepaq parks in the province of Quebec. This magnificent landscape, located in the Bas St. Lawrence region, has become a hugely popular road trip destination since first established in 2009.
Lac Temiscouata camping, hiking, biking, and more have driven a huge amount of the park's popularity over the past 15 years. But this incredible region of southern Quebec has been drawing attention for far longer than that.
Parc National de Lac Temiscouata is undeniably beautiful. Although the forests are young, they are bouncing back from generations of logging. As a result, the rich landscapes are once again flourishing with plants, trees, wildflowers, and animals. In time, this area will once again take the shape that caught the attention of archaeologists and explorers.
You see, within a small mountain inside Lac Temiscouata National Park is a chert deposit. This strong and lightweight material was a favorite among local Indigenous people who would use Lac Temiscouata as a transit route between the St. Lawrence River and the Bay of Fundy in New Brunswick. And that history dates back a whopping 10,000 years!
We have made no secret of our love of Indigenous tourism in Quebec, so visiting this park was an absolute must during our travels in the province. The 30+ archaeological sites in the park led the push to make Lac Temiscouata a Quebec National Park.
How To Get To Lac Temiscouata National Park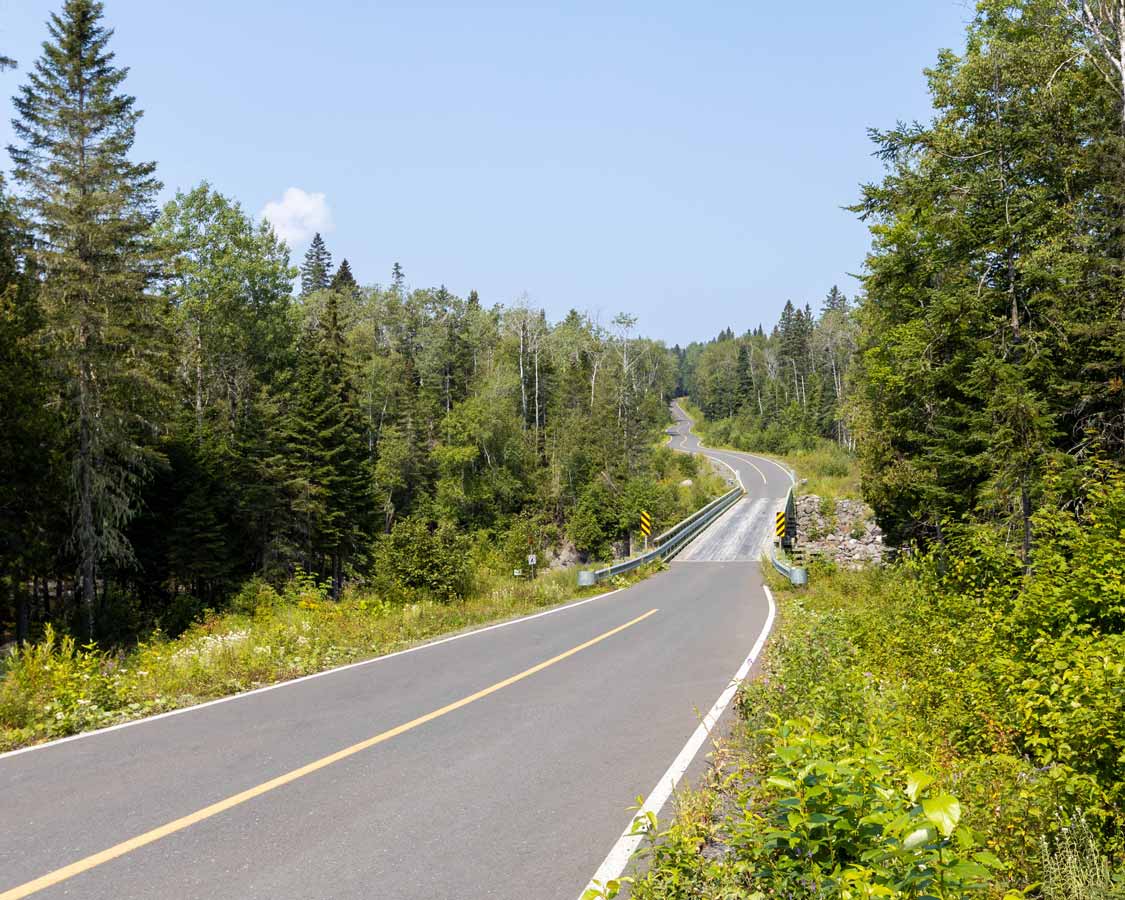 Lac Temiscouata National Park is situated south of the St. Lawrence River near the town of Temiscouata Sur-Le-Lac. The city is slightly more than an hour from Rimouski and about the same distance from the town of Riviere du Loup.
Lac Temiscouata from Riviere du Loup
To reach Lac Temiscouata National Park from Riviere du Loup, follow HWY 291 to St. Hubert de Riviere du Loup and Chemin Tache E. to HWY 293. This will take you to the top edge of Lac Temiscouata. Here, hang a left on HWY 232 to where it becomes HWY 295. 295 will divide at Chemin de la Vielle Rte.
If you follow HWY 295 to the left, you'll reach the town of Squatec. This is the last town before you reach the park and is a great place to stock up on supplies. If you head right, you'll head straight into the park. Your GPS or Google Maps might take you to the park border. Know that you may need to follow the road for another 10 km before you are at the park visitor center.
Lac Temiscouata from Rimouski
The route from Rimouski to Lac Temiscouata National Park is much more direct. From Rimouski, you'll follow HWY 232 as it winds through the scenic countryside. It will ultimately take you through the town of Squatec and on into the park.
As an alternative, you can take the scenic route by following HWY 232 to A.85, where you'll pass through the city of Temiscouata Sur-le-Lac, and turn left onto 295 at the town Degelis. Degelis has some small restaurants and a roadside market where you can also pick up supplies if needed.
Lac Temiscouata National Park Camping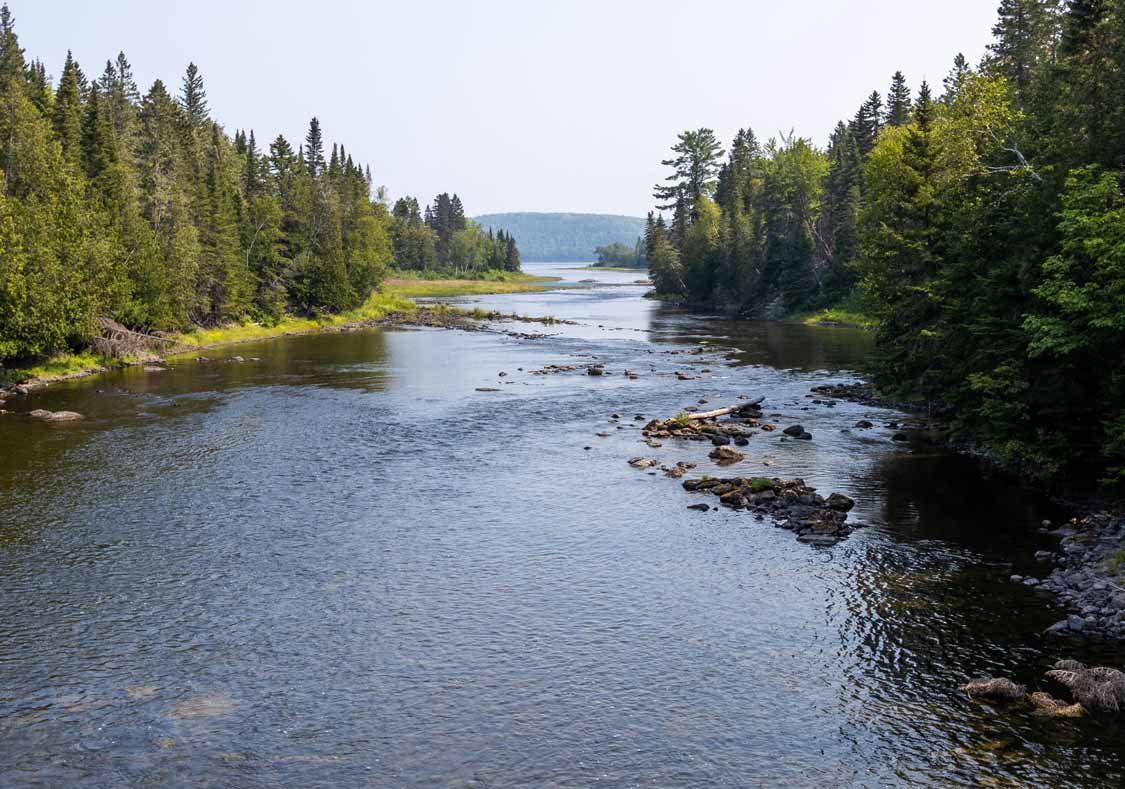 Lac Temiscouata camping offers visitors the chance to experience the beauty, serenity, and history of this incredible Sepaq National Park in Quebec.
The park offers three excellent campgrounds all along the shorelines of Lac Temiscouata. And those camping Lac Temiscouata might be hard-pressed to pull themselves away from the glorious sunsets and sunrises that reflect on the water on clear days.
The three Lac Temiscouata campgrounds offer very different experiences. So here are some tips for picking the right one for you.
Anse-a-William Campground
Anse A-William Campground is the largest Lac Temiscouata campground. It's also the most central and accessible. Anse-a-William has 72 campsites, 53 of which include both hydro and water.
There are 19 non-serviced sites and 9 ready-to-camp frontier tents that include just about everything you need to enjoy Lac Temiscouate camping. This includes wood (for purchase), a hot plate, dishes, pots and pans, cutlery, and two queen-sized beds. Of course, you need to bring your own bedding and food, and you're set.
The campsites at Anse-a-William campground in Lac Temiscouata aren't huge. They can accommodate medium-sized RVs and campers, but large ones might have trouble fitting.
Anse-a-William campground has a great playground for kids and is also where you'll find the Lac Temiscouata National Park Discovery Centre and the parks service center. The Discovery Centre has a small grocery and a gift shop. Also, be on the lookout for Indigenous artifacts on display. These are some examples of archaeological finds from the digs that are ongoing at the National Park.
Grand Lac-Touladi Campground
For those visiting Lac Temiscouata with kids, the Grand Lac-Touladi campground is the perfect spot. This campground has 66 sites that mix both service and non-serviced options. There are also 3 non-serviced canoe-access sites.
In addition, Grand Lac-Touladi campground has the most incredible nature-based playground. Families will also love the Curieux Nature Trail. This 0.7 km trail includes a series of fun and interactive challenges that explore the park's rich history.
Grand Lac-Touladi campground is just a short distance from the best beach in Lac Temiscouata National Park. This is located right near the nature trail and Grand Lac-Touladi Visitors Centre. There is a small grocery and gift store here, including canoe, kayak, and paddleboard rentals.
Des-Grands-Pins Ready-to-Camp Village
Located 20-minutes from Grand Lac-Touladi campground in Lac Temiscouata National Park is Des-Grands-Pins campground. This Lac Temiscouata camping area is made entirely of ready-to-camp sites. All within a short walk from the shores of Lac Temiscouata.
There are 14 ready-to-camp sites spread throughout Des-Grands-Pins. You'll also find an indoor bathroom and shower, a small playground for families, and a rocky beach with a boat launch. In addition, you can rent canoes, kayaks, and stand-up paddleboards at the visitor's center.
This campground is in an entirely different section of the park down near the lake's bottom near the town of Degelis. To access the park's main area, you'll need to drive through the Grand Lac-Touladi campground.
Things To Do In Lac Temiscouata National Park
These fun things to do in Lac Temiscouata National Park will help fill your visit with adventure.
Hiking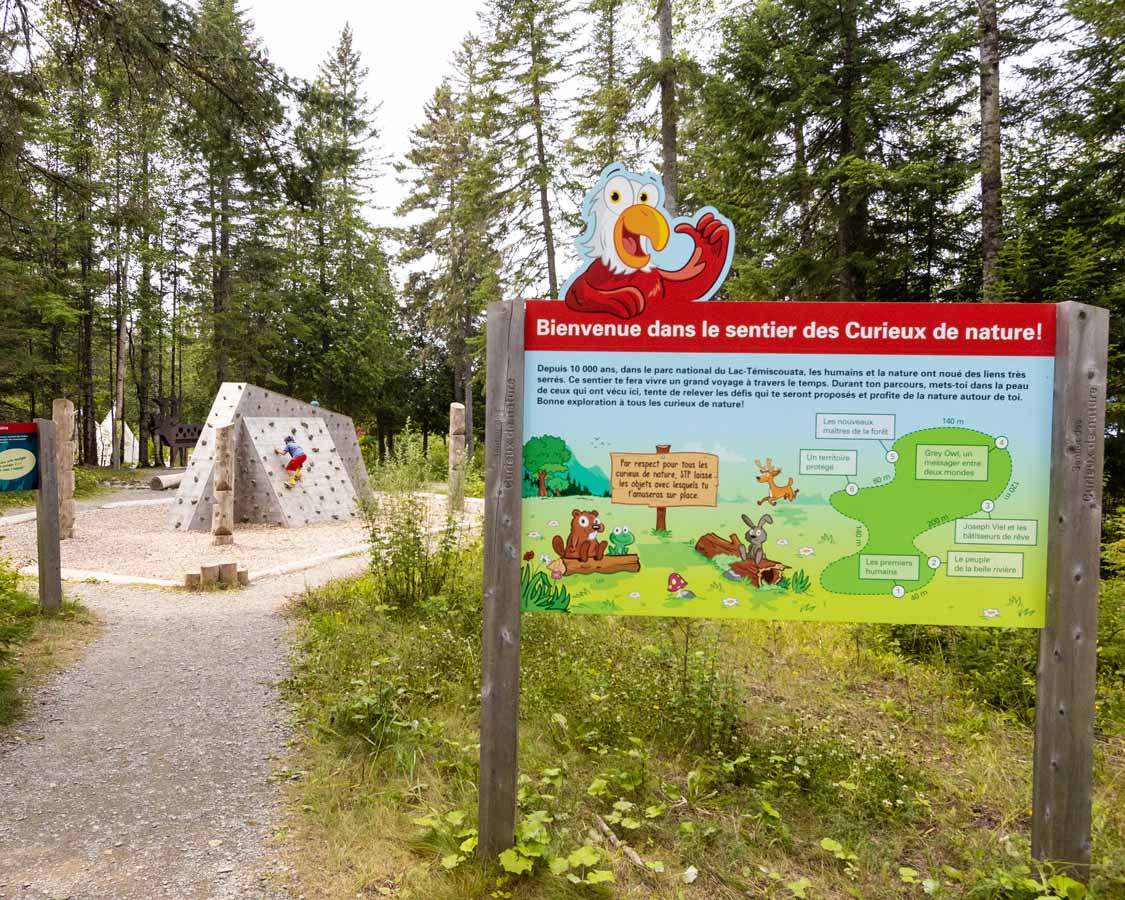 There are some stunning Lac Temiscouata hikes to enjoy. Whether you're an experienced hiker or a beginner looking for some comfortable strolls, you'll find something that will engage you and taste the wonderful wilderness that surrounds you.
There are eight hiking trails in Lac Temiscouata National Park that combine 35 km of hiking trails.
Montagne-du-Fourneau Hike is a 5.3 km trail is rated easy and takes an average of 1 hour 45-minutes to complete. The well-treaded path winds through the forests and offers a nice glimpse into the new growth forest of the Bas St. Laurent area.
Rivière-des-Mémoires Hike can be either a short and sweet 0.7 km out and back hike, or a longer 12.2 km out and back hike. The shorter route takes you to one of the archaeological sites in Lac Temiscouata National Park. Within the trail you'll find displays that speak to 8,000 years of human history within the park. The longer route follows along the River of Memories to the shores of Lac Temiscouata.
Sutherland Hike is a 6.9 km out and back hike that takes you along the northern edge of Lac Temiscouata. The hike is rated easy.
Montagne-de-Chert Hike is a 6.0 kilometer lightly trafficked loop trail. The trail is rated easy and takes you up the Montagne-de-Chert that was the source of much of the traffic and archaeological significance of the park.
Grey-Owl Hike is a 10.9 kilometer lout and back trail that follows the Lac Temiscouata Shores between Chemin du Lac and the Anse a William Discovery Centre. This is a moderately difficult hike and is one of the most popular in the park.
Grands-Pins Hike is a 6.3 kilometer llocated in the Grands-Epins campground. This easy hike also makes for a popular snowshoe trail in the winter.
Curious-by-nature trail is a family-friendly 0.7 km easy trail that includes a number of engaging discovery areas that show information about the history of the park. There are also a number of adventure areas along the trail for kids to climb, scramble, and learn in a nature-based playground.
Cycling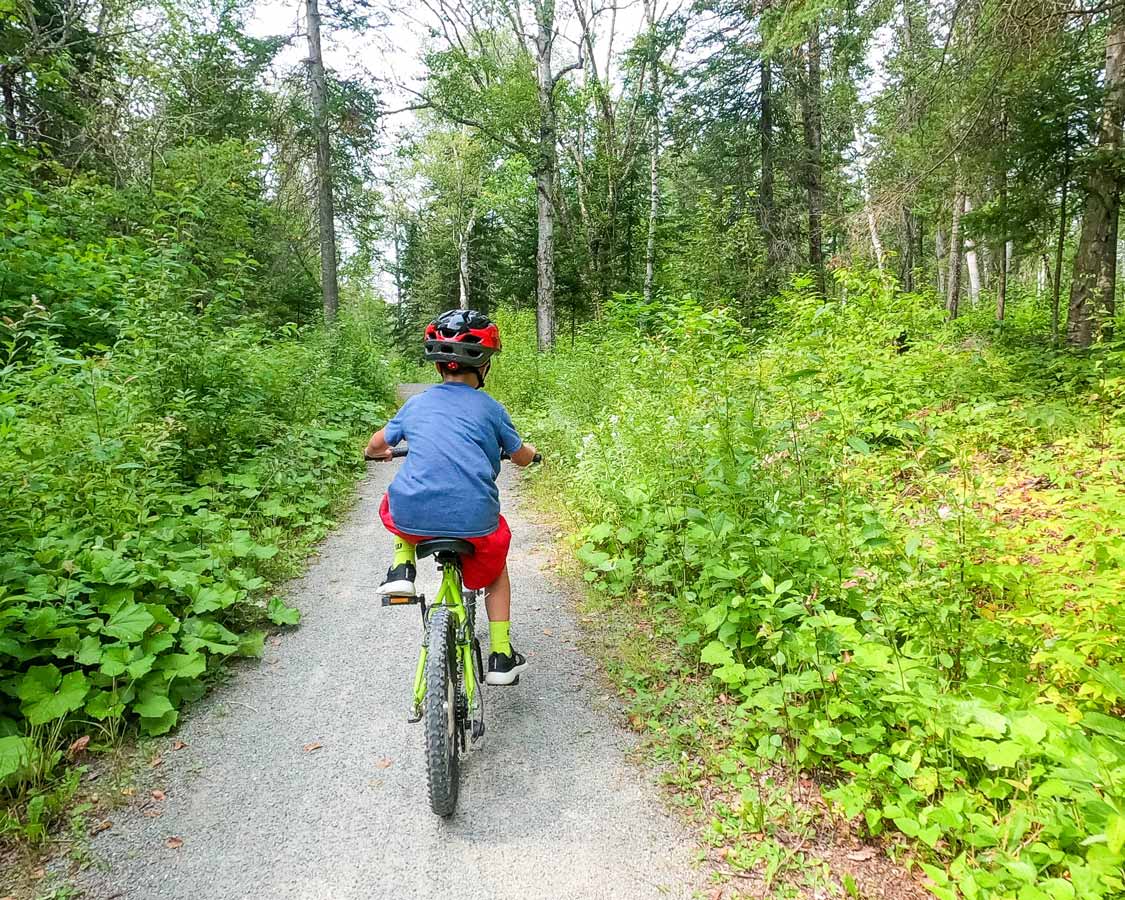 Many of the trails in Lac Temiscouata National Park are bike-friendly. The most popular is the Grey-Owl Trail which offers a 5.5 km one-way trail between the Grand-Lac Touladi entrance and the Anse a William Discovery Centre. The trail is easy and well-groomed.
Another popular route for those looking for a longer ride is the route along the outskirts of Lac Temiscouata. This trail offers many incredible places to stop and explore, including the small towns, historic Fort Ingall, and much more.
Paddling
One of the most popular things to do in Lac Temiscouata National Park is enjoy the water. The campgrounds offer kayak, canoe, and paddleboard rentals, and guests can get out on the water on either Lac Temiscouata or Grand Lac Touladi.
There are a few more options for paddling in Lac Temiscouata National Park, including Petit Lac Touladi, Lac Rond, and Lac Croche.
Swimming
Both Lac Temiscouata and Grand Lac Touladi have beach areas. The Grands Epin campground has a stony beach with a dock to get in from. The Anse A William area has another sand and stone beach located near the Discovery Centre.
However, the best beach in Lac Temiscouata National Park is located at Grand Lac Touladi. This soft, sand beach is perfect for families. But beware, the long, shallow sandy bottom drops off suddenly about 40 meters out, so be careful if you are a beginner or swimming with children.
Time To Enjoy Lac Temiscouata Camping and More!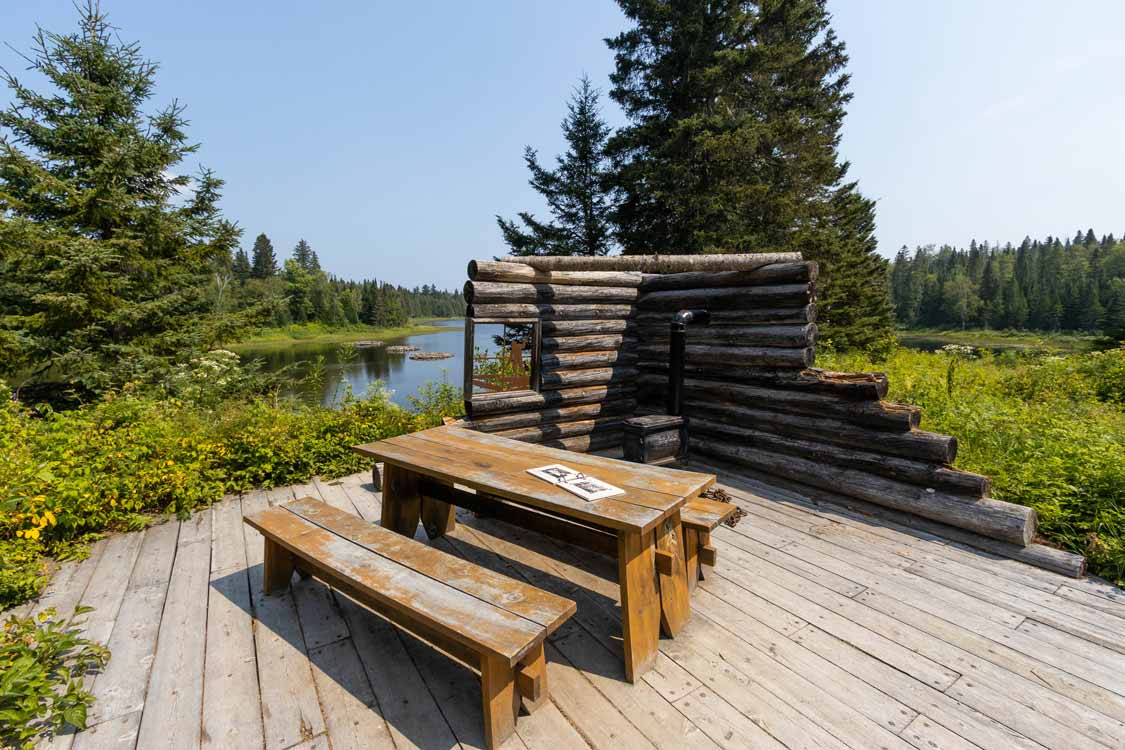 If you're considering Lac Temiscouata camping, hiking, or more incredible adventures in the Bas St. Laurent region, I hope that this guide has been helpful for your planning.
Don't forget that Lac Temiscouata National Park is part of the Sepaq National Park system and is not part of the Parks Canada National Park system. As such, it requires a different pass to enter. However, you can book camping here.
And feel free to drop any questions or comments below. I always answer them.
If you're passionate about family travel, head on over to our Family Travel Support Group on Facebook. It's a fantastic community of parents who love travel. We share experiences, knowledge, and the lessons learned along the way. You can also sign up for our newsletter to keep in the loop about new family travel adventures.
Disclosure: Our stay at Lac Temiscouata National Park was supported by Quebec Maritime and Sepaq. As always, all opinions remain our own. Wandering Wagars is a participant in the Amazon Services LLC Associates Program, an affiliate advertising program designed to provide a means for sites to earn advertising fees by advertising and linking to amazon.com, amazon.co.uk, amazon.ca. Amazon and the Amazon logo are trademarks of Amazon.com, Inc., or its affiliates.
You May Also Like To Read: