Experience the scenic trails and historic towns while cycling the St. Lawrence River from Brockville to Cornwall with Ontario by Bike.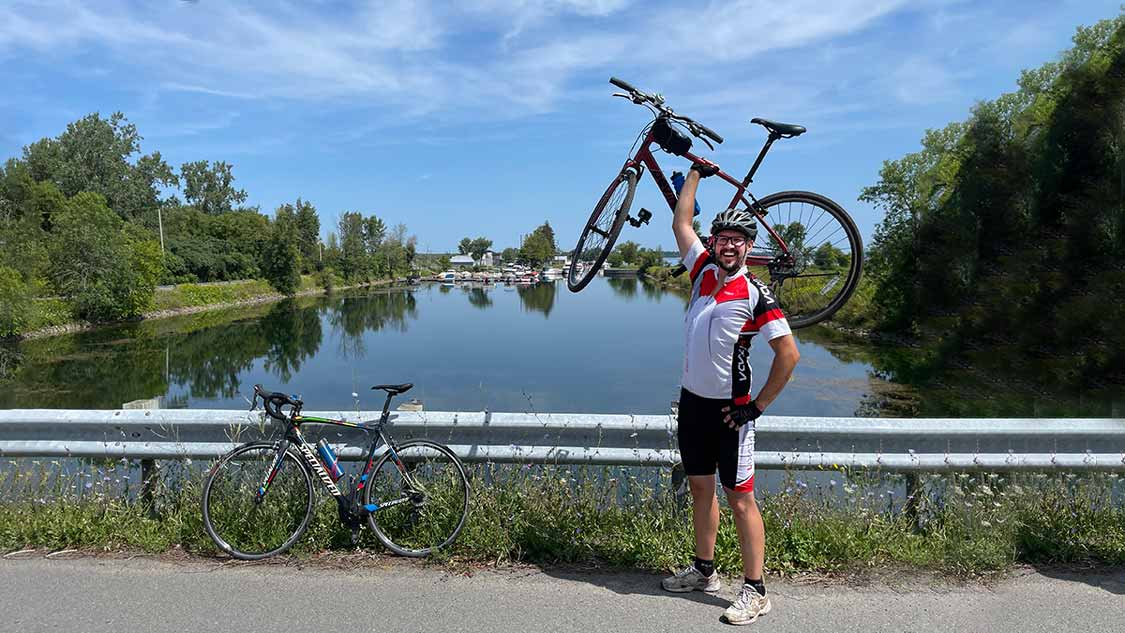 Cycling is something that's offered an escape from the world around me. When I've needed to break away from my desk and get a change of scenery, it's always been a solitary experience where just myself and my headphones hit the trail to burn off some energy.
Trail rides were always punctuated with a smile or a nod at fellow riders as we passed, a welcome greeting that would offer a brief window of camaraderie before a return to my own little universe.
But more and more, I've found that cycling offers one of the best ways to experience the scenery and nature of small towns. As a result, my boys have begun joining me on rides. Together, we hit the Blueberry Trail in Saguenay Lac St. Jean, Quebec. More recently, we rode through one of the newest National Parks in Quebec, Parc National de Lac Temiscouata.
When an opportunity came up to ride along the St. Lawrence River with Ontario by Bike, I was both excited and nervous. 165 km over three days between Cornwall and Brockville, Ontario, would amount to the longest ride I had ever been on. And with a group of 40 riders, it would be the first time I had ever taken part in a group ride.
Truthfully, I didn't know if I was ready. So many questions were running through my mind about how I would fare on an Ontario bike ride like this.
Was I in good enough shape?
Would my big, old, heavy mountain bike survive the journey?
Would I be able to keep up with all of the avid cyclists that I'd be riding with, or would I slow down the pack?
In the end, some of these things were valid concerns; others, not at all.
About Ontario By Bike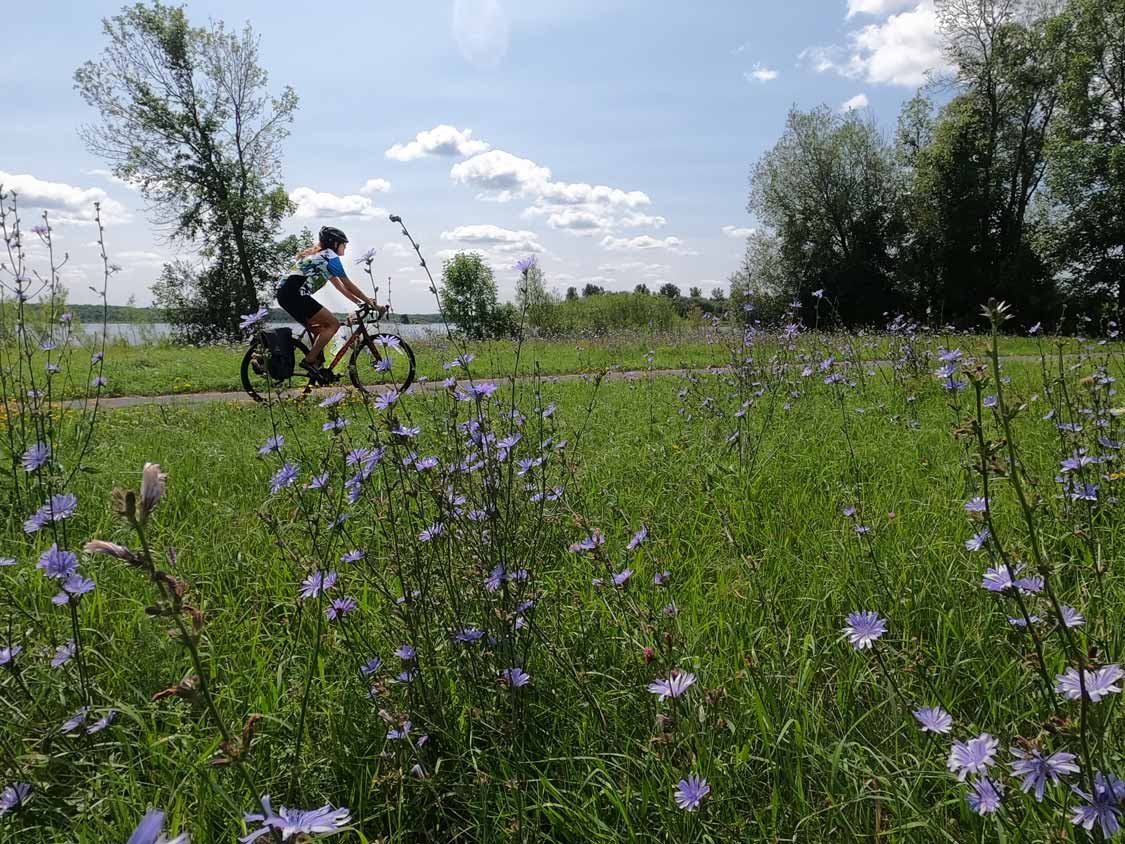 What really got my attention about Ontario By Bike was that their goal was to bring cyclists together in a non-competitive environment while highlighting the amazing local businesses on their cycling routes.
OBB runs between four and six rides per year throughout a revolving set of townships. My friend (and partner on our Ultimate Ontario website) Chris took part in the Sarnia-Lambton loop earlier with them and absolutely loved it.
Ontario by Bike is a non-profit organization. In fact, it's the same group that runs one of my favorite programs, the Park Bus, which helps transport people out to many of the Ontario Parks throughout South and Central Ontario. For those without access to a vehicle or those looking for alternative ways to visit parks such as Arrowhead and Algonquin, there is simply no better way to get there.
The rides include breakfast and lunch each day, complete itineraries, as well as a support van on-hand in the off-chance that there is a mechanical or health issue along the way. If you're interested in checking out one of their tours, you can find their complete list here.
My St. Lawrence River Cycling Trip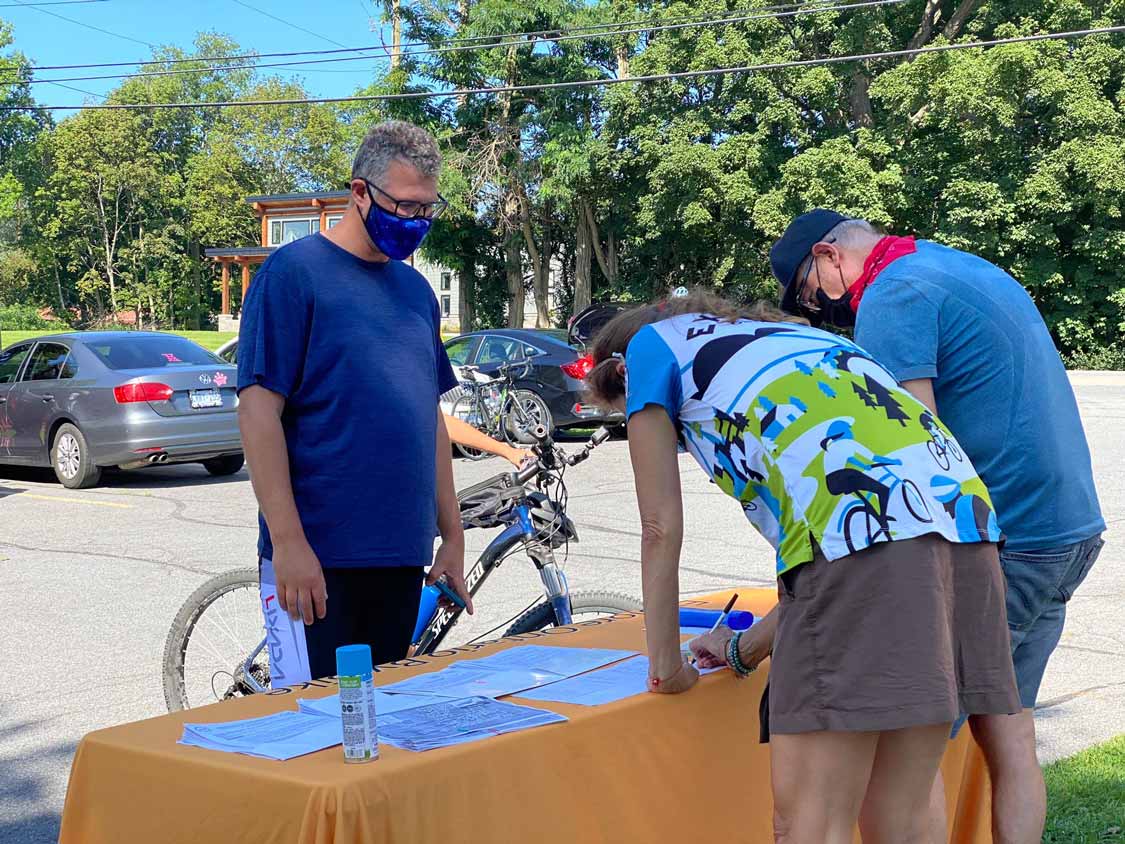 Day 1: Brockville To Mallorytown Loop
The first morning started with a meeting at the front of our starting point at the Super 8 Motel in Brockville. The 40 riders, most divided into couples or small groups that signed up together, listened to all of the details for the day's ride.
What struck me right away was the diversity of all of the riders. I had been expecting a group of ripped cycling addicts decked out with all of the latest and greatest gear. Instead, what I saw was different. Riders were ranging from beginner to experienced and aged between their 30s right up to mid-70s. In addition, the selection of bikes ranged from high-end road bikes all the way to brand-new mountain bikes that looked like they had recently had the price tags peeled off of them.
Everyone took a moment for introductions. Then we hopped on our bikes to begin the 25 km journey along the trails of the Thousand Islands Parkway to Mallorytown and Thousand Islands National Park.
The ride began very smoothly. Rather than the blistering pace that I had tried to prepare myself for, most cyclists were taking a very casual approach to the ride as we wound through the streets of Brockville and along the picturesque streets and trails that lined the St. Lawrence River. The ride took us through towns such as Ferndale, Woodridge, and Butternut Bay.
As we rode, I made my way from group to group, starting up conversations with different riders along the way. I met a woman just healing from a broken wrist who wanted to test how well it had healed. Another rider had never biked more than 10 km in one sitting and wanted to push herself to something she had never thought possible.
It seemed like in no time before we reached our lunch spot at Mallorytown Landing in Thousand Islands National Park. We were served up a heavy sandwich and salad that would do well to keep my energy up for the way home.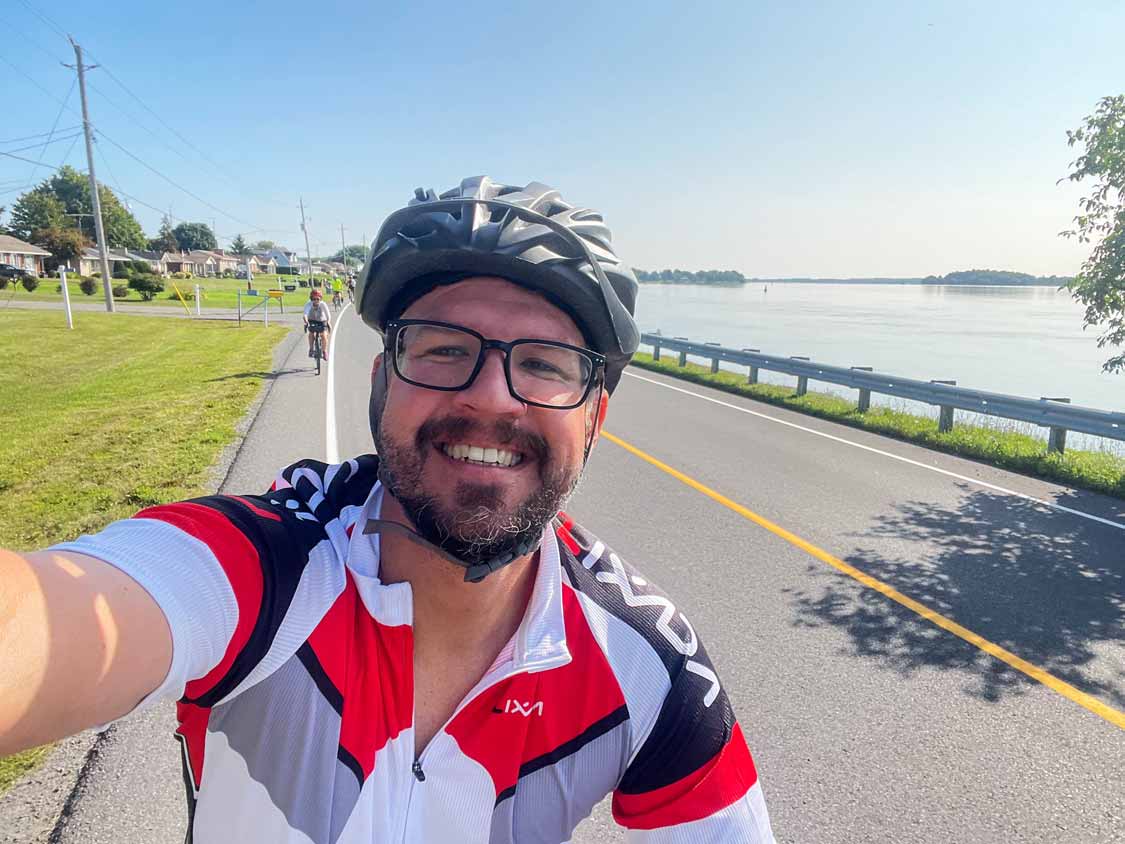 At lunch, I met Nema, a regular on the Ontario by Bike rides. In fact, he was such a regular that he and I had a mutual friend who had done one of the rides in the past. I had planned to take the same route back, but Nema convinced me to take the scenic route through the county roads for the return. We enjoyed a great chat about cycling and a mutual passion for travel, and before we knew it, it was time to hit the road for a return trip.
This, unfortunately, is where I ran into trouble.
47 km into our first day's ride, and only about 6 km from the hotel, my front tire fell apart.
And it wasn't something simple.
The bearings that keep my tire rolling disintegrated, causing my bike to grind to a stop.
As I pulled my bike to the side of the road, all the riders behind me stopped to see if I was ok. I was checked on, offered help, tips, and friendship.
Luckily, I was able to dial up the Ontario by Bike Support Van and get picked up for the final leg of the journey.
This wasn't how I felt that my St. Lawrence River bike ride would end. I felt dejected.
But, it turns out that my weekend wasn't over.
That evening, at the end-of-day social get-together, I was offered all sorts of help. Other riders, people that I had just met, were calling up friends, neighbors, children, and more, trying to track me down a bike so that my weekend wouldn't come to a sudden halt.
I was overwhelmed with the kind gestures from people who had, just hours before, been total strangers. That's when it dawned on me.
Ontario by Bike isn't really about biking at all.
It's about the community.
These are people who are coming together to share something that they love with other people.
We had found a bike rental at the Cornwall Marina by the end of the evening, just an hour up the road. Unfortunately, the bikes would only be day rentals, so I would have to return them in the evening, but that is certainly better than nothing.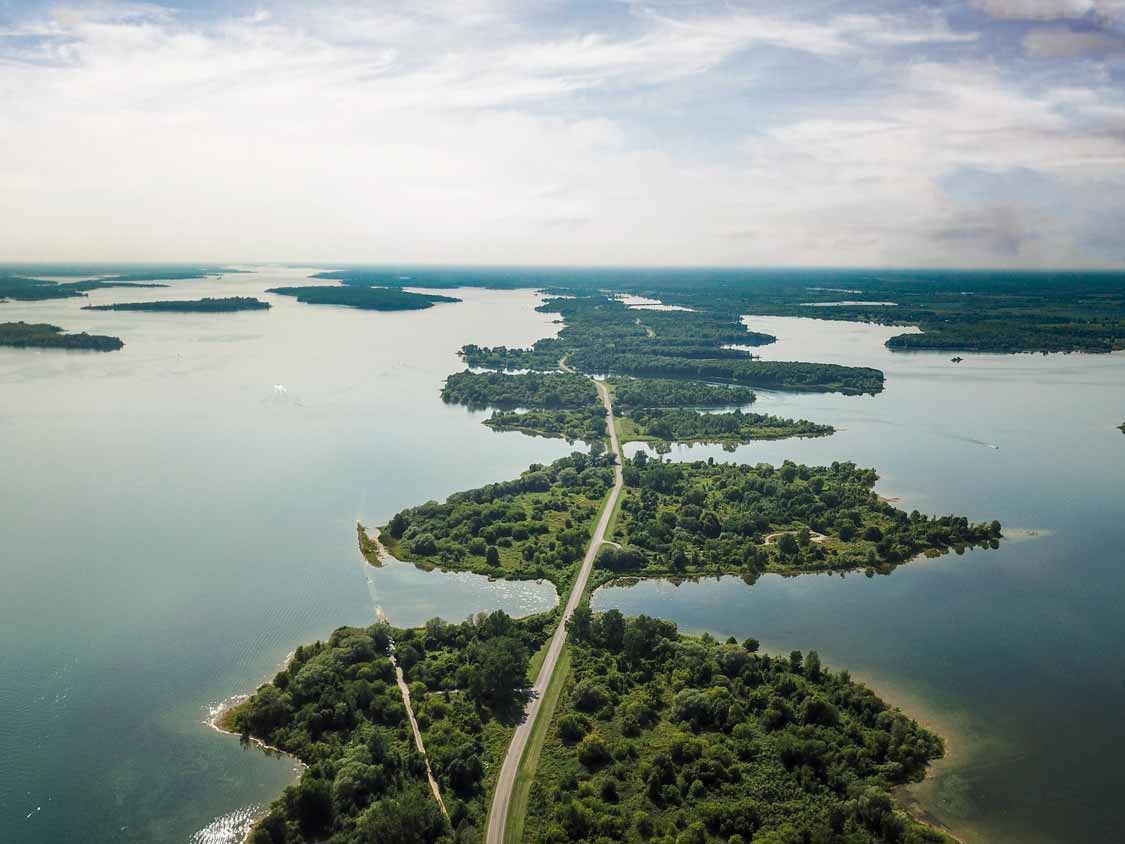 Day 2: Morrisburg to Long Sault Parkway
The next morning, as the other riders made their way to Morrisburg to start the ride along the St. Lawrence River to Long Sault Parkway, I jumped in the car with my family to make my way up to the Cornwall Marina. To pick up my 'bike du jour.'
The Cornwall Marina offers day bike rentals as part of a program to encourage visitors to explore the incredible bike trails along the St. Lawrence River. And I couldn't think of a better place to rent from.
I rejoined the Ontario by Bike group at Woodlawn Beach on the Long Sault Parkway. If you've been to Long Sault before, you'll understand why I was so excited to cycle this route.
Long Sault Parkway is an idyllic chain of 11 islands in the St. Lawrence River, connected via a causeway. It's one of my favorite stops on the Toronto to Montreal drive.
For the ride back, I was joined by Louisa Mursell, leading the ride along the St. Lawrence River. In true community style, she didn't want me to miss what she dubbed "the most beautiful ride of the weekend." And I'm so glad that she did.
The two of us cycled through fields of wildflowers, past historical monuments, and along the rocky shores dotted with many of the thousand islands that helped get this region of the St. Lawrence River its name. Our pace was casual and peppered by many stops for photos of the beautiful surroundings.
This is where I realized that this ride isn't about "getting there." Instead, like all of the best experiences, it's the journey that makes it worthwhile.
Although, when we arrived at the Macintosh Inn, our Morrisburg hotel for the evening, the destination was a treat thanks in part to the ice cream stand next to the hotel.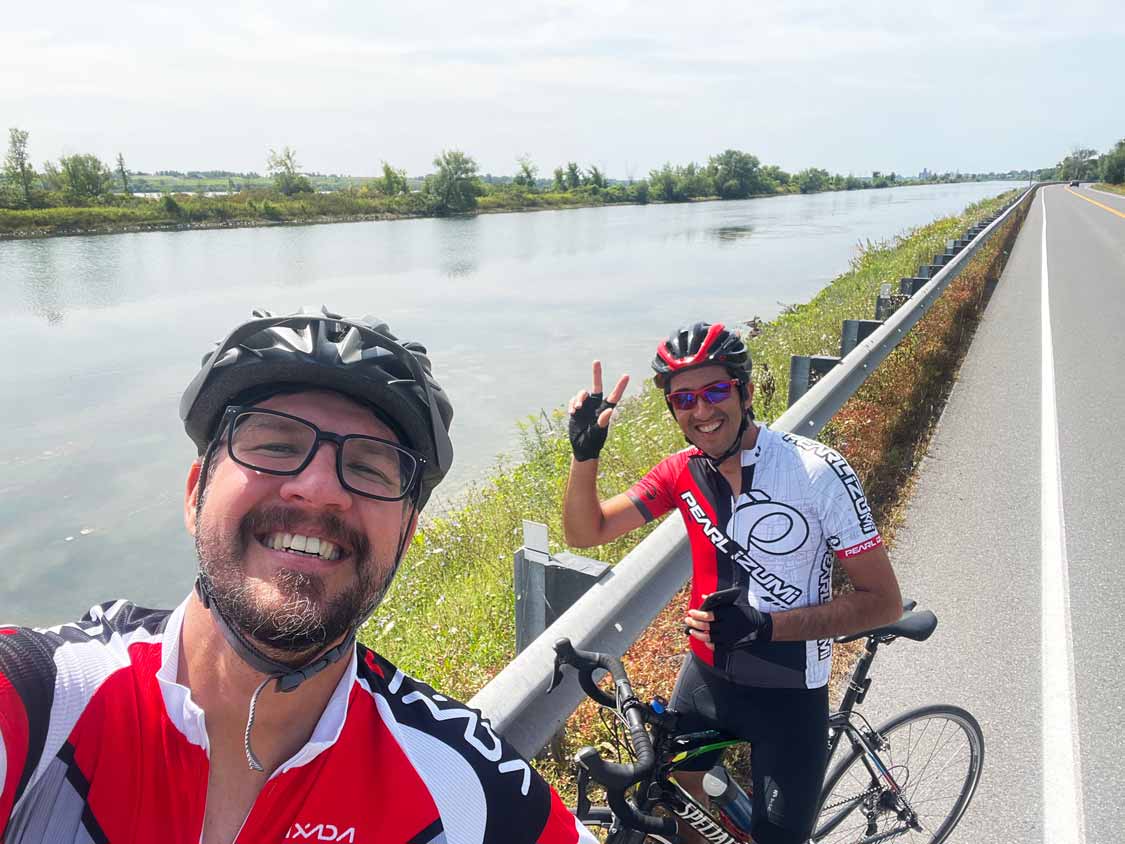 Day 3: Morrisburg To Cardinal Loop
On the morning of our third-day cycling along the St. Lawrence River, I woke up incredibly excited. We would be cycling along the riverfront south from Morrisburg to the town of Cardinal.
This would mark the only full day of riding on my Ontario by Bike ride if I could hold it together. And there would be some incredible things to see along the way.
Our 23 km ride started early. We were all on the road by 9:15 am. Whether it was the early start or the excitement of the day, the pace was brisk that morning.
With beautiful scenery surrounding us, we whisked on past beaches, parks, small towns, and more. The ride didn't seem that fast, but we arrived at our lunch spot at a shockingly early hour of 10:30 in the morning.
We were served up some delicious wraps and salad, but it was so early that I had barely worked up an appetite. So I ate with Nema once more, enjoying my salad; but, I couldn't find the room for the rest.
The whole bike group knew that this would be the last leg of our long weekend journey together. Although we all reached the lunch spot in record time, it was well past noon before everyone saddled up for the final push to the end.
I think, like me, no one really wanted the weekend to end.
Nema kindly agreed to pair with me for the ride back to Morrisburg. And, in true explorer-style, we decided not to stick to the standard route back. Instead, we veered off the set trail and explored some of the backroad scenery that makes this province so special.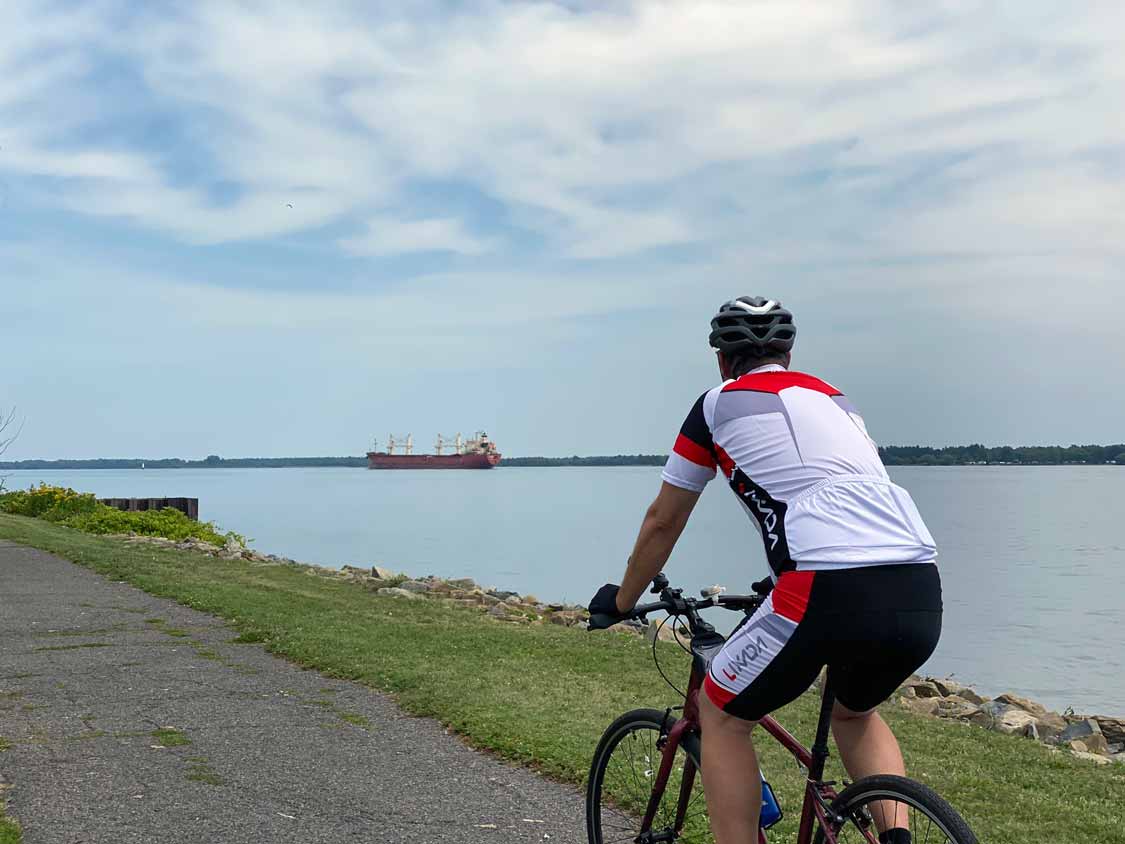 We even stopped for nearly an hour to watch a massive barge make its way through an impossibly tiny channel at the Iroquois Dam.
On this ride, I felt like I had finally tuned in to what the Ontario by Bike experience truly on this ride was.
As the two of us shared an ice cream and a new friendship back in Morrisburg, we both knew that it wouldn't be our last ride.
Disclosure: This bike trip was supported by Ontario by Bike. As always, all opinions remain our own. Wandering Wagars is a participant in the Amazon Services LLC Associates Program, an affiliate advertising program designed to provide a means for sites to earn advertising fees by advertising and linking to amazon.com, amazon.co.uk, amazon.ca. Amazon and the Amazon logo are trademarks of Amazon.com, Inc., or its affiliates.
You May Also Like To Read: