Experiencing the fall colours in Algonquin Provincial Park is a right of passage for both locals and visitors to Ontario. Here's everything you need to know.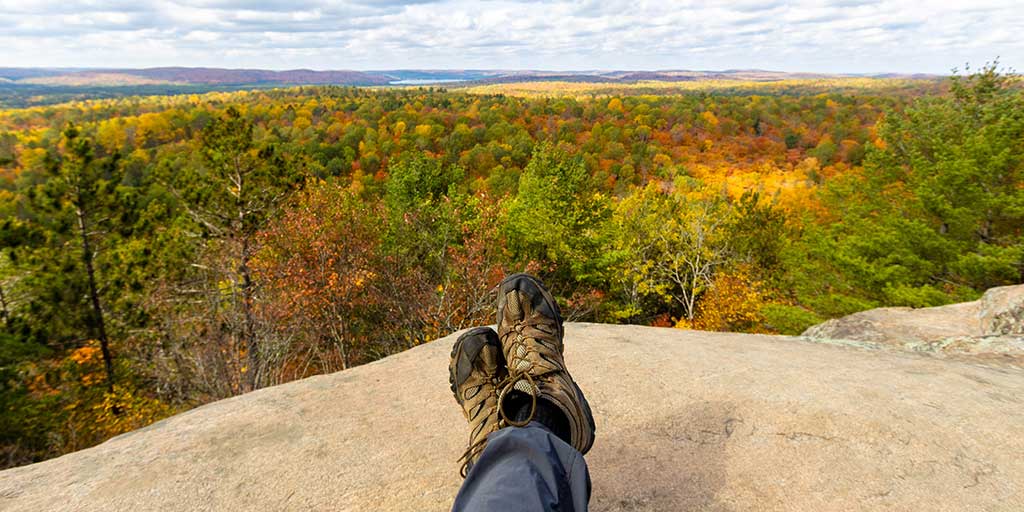 Fall in Ontario is one of the most beautiful places to be anywhere in the world. And of all the autumn foliage that explodes across the landscape, the fall colours in Algonquin Provincial Park consistently rank among the best. It's no surprise that Algonquin Park in the fall is a world-renowned destination. You can find Algonquin Park bus tours rolling along the highway 60 corridor, shuttling visitors from nearly every continent during most years.
I've been asked a number of times why I hadn't written about Algonquin after over 5 years of having launched this website. After all, I've produced so much content on Ontario provincial parks and the National Park system in Ontario.
The truth is that I thought Algonquin Park was almost too famous. Unlike many parks up north, such as Lake Superior Provincial Park, Algonquin sees too many visitors.
Algonquin Provincial Park is among the most famous outdoor destinations in Canada. It's truly synonymous with the wilderness-loving, plaid-wearing, Canuck heritage. In fact, Algonquin Provincial Park is the one that really started it all. Algonquin was the first provincial park in Canada after being established back in 1893.
Where Is Algonquin Provincial Park?
Algonquin Provincial Park covers an absolutely massive 7,630 square kilometres (2,946 square miles) of wilderness roughly bordered by Huntsville, Pembroke, and North Bay. Although Algonquin isn't quite as big as nearby Kawartha Highlands Provincial Park, it's massive size still makes it a popular destination for wilderness explorers.
The primary access to Algonquin Provincial Park is along the highway 60 corridor between Huntsville and Madawaska. Huntsville, the popular Arrowhead Provincial Park location, is the largest town along the west side of the park. The East Gate, which is the lesser-travelled of the two sides of the park, is home to some of the most beautiful trails in the park, such as the Barron Canyon Trail. The East Gate is about an hour from Bonnechere Caves and Bonnechere Provincial Park.
How To See The Fall Colours In Algonquin Park
Most locals tend to view the fall colours in Algonquin Park as a day trip or a weekend camping getaway. But getting camping permits in Algonquin can be a bit like winning the jackpot. Many locals book up to six months ahead to secure the best camping spots in Algonquin Park. Visitors and last-minute leaf-peepers often book Algonquin Park fall colour tours like this one through Get Your Guide. If you're new to Ontario Parks camping, make sure to check out our complete guide to camping with kids.
But planning an Algonquin fall tour often depends on what it is that you love to do. Are you an avid outdoors person who adores the wilderness? Are you a fishing fanatic who spends as much time on the water as you do on land? Or maybe you're a casual road-tripper who loves to see the Algonquin scenery from the comfort of your vehicle?
Whatever your preference, there are some great ways to see the fall colours in Algonquin, and these are some of my favourites.
Fall Into An Algonquin Road Trip Along Highway 60
No matter how you plan on seeing the fall colours in Algonquin Park, you're going to end up driving the highway 60 corridor at least part of the way. This route offers the easiest way to experience fall in Algonquin. Whether you enter the park from the East Gate or the West Gate, you're guaranteed to get beautiful scenery.
If you're planning an Algonquin Park road trip, where you enter the park will depend a lot upon where you're travelling from.
Suppose you're coming from Ottawa, Peterborough, or the Kawartha Lakes region. In that case, you'll likely get to the park via the lesser travelled routes to the East Gate. This route opens you up to the dramatic descent along the lakes and valleys of Algonquin Park. I might be a little biased, but the westbound way along HWY 60 is my favourite way to road trip through the fall colours of Algonquin Provincial Park.
If you drive through Algonquin Park from end to end, you'll likely end up in Huntsville in time for dinner at one of the local restaurants. 3 Guys and a Stove is a personal favourite of my family.
Suppose you're coming from the west from places such as Muskoka, Toronto, or London. In that case, you'll likely enter the highway 60 corridor from HWY 11 at Huntsville. This route enters the park near some of my favourite places to see the fall colours in Ontario, such as the Dorsett Fire Tower.
The eastbound route through Algonquin Provincial Park starts off in the busiest areas. You'll roll past gorgeous lakes and most of the camping areas. You'll exit the park on the east side of the park where things are much quieter. This park side will give you easier access to the trailheads without nearly as many crowds as the west side.
Catch The Reflections On The Algonquin Park Lakes
With over 230 lakes inside its borders, Algonquin Provincial Park has more bodies of water than many countries contain in total. I've been paddling the lakes and rivers of Algonquin for as long as I can remember. And seeing the fall colours in Algonquin reflected on the water has been an all-time favourite fall experience for me.
If you've brought your own canoe, kayak, or SUP, you can let into almost any lake along highway 60. Although we've been rocking our new Bluefin SUP most of the summer, the boys wanted to test out their new kayaks on this trip. This meant that Christina and I had to pull out our (un)trustworthy canoe "Tippy" to join them on the water.
If you don't have access to your own canoes, kayaks, or SUPS, there are many places within Algonquin Park to rent gear. Outfitters such as Algonquin Outfitters will often deliver equipment to your lake or campsite as well.
Lake of Two Rivers is one of our top lakes for paddling in Algonquin, but there are literally dozens of lakes right off of Highway 60 for you to choose from. Suppose you want to extend your fall exploration of Algonquin Park. In that case, you can also portage to most of the backcountry lakes throughout the park, where there's a good chance that you might have the entire lake to yourself.
Algonquin Provincial Park has over 1,600 canoe routes that criss-cross tens of thousands of kilometres of trails, ponds, rivers, and lakes. This park is, quite simply put, a paddlers paradise. If you want to enjoy the Muskoka fall colours from a boat, but aren't confident paddling yourself, consider taking in some of the nearby boat cruises. The Seguin steamship cruises out of Gravenhurst are a personal favourite. The Lady Muskoka out of Bracebridge is another great one that dips into the beauty of Georgian Bay.
Surround Yourself In Colour On One Of The Algonquin Park Hikes
Driving and paddling through Algonquin Provincial Park are terrific ways to experience the fall colours. But, if you want to truly surround yourself with the fall colours of Algonquin, you need to hit some of the beautiful hiking trails that crisis crosses the Muskoka landscape. And while few of the Algonquin hikes are as wild as our recent climb on the Cup and Saucer on Manitoulin Island, they still offer some fun challenges and epic views.
Some absolutely amazing Algonquin hikes will take your idea of fall in Ontario and blow your expectations away. Hikes, such as the Mizzy Lake Trail and Centennial Ridges, offer stunning vistas and full-day adventures. If you're looking for some shorter hikes, Big Pines explains some of Algonquin Park's logging history. The route explores some of the parks towering white pine trees sprinkled with gorgeous fall colours.
The Spruce Bog boardwalk is a short but sweet stroll through the Algonquin wetlands. This hike explodes with colour in the autumn months with golds, reds, and oranges bouncing off the marsh's calm waters. But if you genuinely want the best visual bang for your buck, the Lookout Trail might be or you. This 2 km loop starts with a steep climb and peaks with one of the best overlooks in the entire park. Personally, we were floored by the collection of colours looking out over Lake of Two Rivers.
Our Fall In Algonquin Provincial Park Video
Our visit to Algonquin Park came at a rough time for our family. Not only were we deep amidst the pandemic after having escaped from Egypt just as the country's airspace was shut down, but we had lost two exceptional people the week before. But it's pretty incredible how the outdoors can provide some respite just when you need it most.
On our Big Pines hike, we had one of those special moments when everything just comes together and offers some healing.
When Is The Best Time To See The Fall Leaves In Algonquin Park?
Predicting the fall colours in Algonquin Park has been a challenge for leaf-peepers for as long as the park has been around. Because the fall colour change is dependent on a number of factors including the weather, the amount of rain that year, and the fall temperatures in Algonquin, the Algonquin fall colour season changes every year.
Typically, the leaves begin to change in mid-September and reach their peak between the last week of September and mid-October. But, to top off the unpredictability, the different trees also change colours at different times. During our last visit, we hit the peak of all the Algonquin fall spectacle. But we could have just as easily missed it. Because once the autumn foliage reaches its peak, it's not long before all of those leaves come tumbling down to the ground.
Fall colours have been measured for the past 40 years. The average for the peak colours in Algonquin has been September 24-27. But, if you don't mind cheating with a little bit of science, Ontario Parks runs an excellent fall colour predictor. This will most definitely help you plan your fall visit to Algonquin Provincial Park. You can check that out here.

Tips For Visiting Algonquin Park In The Fall
Visiting Algonquin Park is something that every local or visitor should strive to put on their Ontario bucket list. Algonquin is a beautiful and special place. But, Algonquin Provincial Park can sometimes be a victim of its own success. During the summer, and on weekends in the fall, Algonquin Park can seem to be bursting at the seams.
Visit Algonquin Park During The Week
On weekends during peak season (June-October), Algonquin Park is incredibly busy. If you're hoping to catch the fall colours in Algonquin or enjoy some of the hikes during the summer, visiting during the week will offer the best chances of finding parking near the trailheads.
Obey The Parking Rules
Most of the access points within Algonquin Provincial Park are located along the Highway 60 corridor. This is an active and busy route for many Ontarians. There are strict rules about parking in the Algonquin park due to past abuse. If you park, make sure that your car is within the parking bounds of each parking lot to avoid tickets or getting your vehicle towed.
Be Careful Where You Stop
The fall colours and fantastic wildlife can be very tempting to stop and take photos around every corner in Algonquin. If you encounter wildlife such as moose, bear, or deer, only stop if you can do it safely at the side of the road. There are broad shoulders in some sections, and other sections of Highway 60 don't allow vehicles to stop at all. Respect these rules to avoid accidents, traffic jams, and dangerous situations for humans and the Algonquin Park wildlife.
Respect The Wildlife
Do your part to keep the Algonquin Park wildlife wild. Do not approach, feed, or harass any of the animals that you may encounter in the park. Moose, while majestic, are also tremendously dangerous. If you are speeding on Highway 60 and encounter a moose on the road, the moose will win. Slow down, be aware, and stay safe. Moose are especially apt to wander the roads during the early morning and evening when they are more challenging to see.
Bear, which can often be seen eating berries on the road's side, should not be approached. Bring a camera with a long zoom lens and give the bear lots of space to enjoy its snack. Don't honk, put out food, or do anything that might startle the animal.
Tread Lightly
Nature is spectacular because it is natural. The moment the beauty is tarnished with garbage, noise, and smells, it loses its lustre. Try to approach each visit to the park as a way to leave it more beautiful than when you arrived. Not only should you pack out any and all garbage that you bring (or better yet, don't bring in anything that needs to be thrown away), but you should pick up at least one piece of litter that you see along the way.
Remember to take nothing but photos and leave nothing but footprints so places like Algonquin Provincial Park can be enjoyed for generations to come.
Phone Reception
Algonquin Provincial Park has phone service in much of the West Gate Area. As you head east, cell service in Algonquin tends to decrease. Of course, cell service depends significantly on your service provider, so if you require cell service in Algonquin, it's best to reach out to your service provider for details.
The area between kilometre 20 (Algonquin Arts Centre) and kilometre 30.6 (Mew Lake Campground) offers particularly spotty service. As you venture off the highway into the lakes and hiking trails of Algonquin Provincial Park, expect cell service to diminish.
Where To Eat In Algonquin Park
The best way to eat in Algonquin Park is by bringing in a picnic lunch that you can enjoy at any one of the spectacular lakes or picnic areas within the park. Picnic areas in Algonquin Park usually offer access to charcoal barbeques, picnic tables, and toilet facilities. Some of the most popular picnic spots in Algonquin are the Tea Lake campground, East Beach, and Lake of Two Rivers.
Please make sure to dispose of any food and garbage in the animal-proof garbage and recycling bins located at all major picnic grounds and campgrounds. Do not put any trash in the vault toilets.
Restaurants In Algonquin Provincial Park
If you didn't bring your own food, there are a few restaurants in and around Algonquin Provincial Park that serve up great food. The Algonquin Park Visitor Centre has a restaurant on-site. However, it is closed for the 2020 season. The Lake of Two Rivers Store and Restaurant near the Lake of Two Rivers Campground is open and offers excellent diner-style fast food for takeout. There are no restrooms on offer at Lake of Two Rivers this season, but the Lake of Two Rivers Campground has a comfort station a short walk away.
If you're looking for some baked goods to snack on during your visit to Algonquin, stop at Henrietta's Pine Bakery in Dwight. Grab some bread twists or danishes for a tasty snack for after a hike.
Do you have a favourite place to see the fall colours in Algonquin Park? Drop a comment below to tell us about it. Or, tag our Instagram account in your photos. We would love to share in your travels.
Wandering Wagars is a participant in the Amazon Services LLC Associates Program, an affiliate advertising program designed to provide a means for sites to earn advertising fees by advertising and linking to amazon.com, amazon.co.uk, amazon.ca. Amazon and the Amazon logo are trademarks of Amazon.com, Inc. or its affiliates.
You May Also Like To Read:
Pin This For Later: