Discover the best things to do in Ottawa with kids! From where to eat, where to stay, and what to do in Ottawa for kids, we have all you need to know.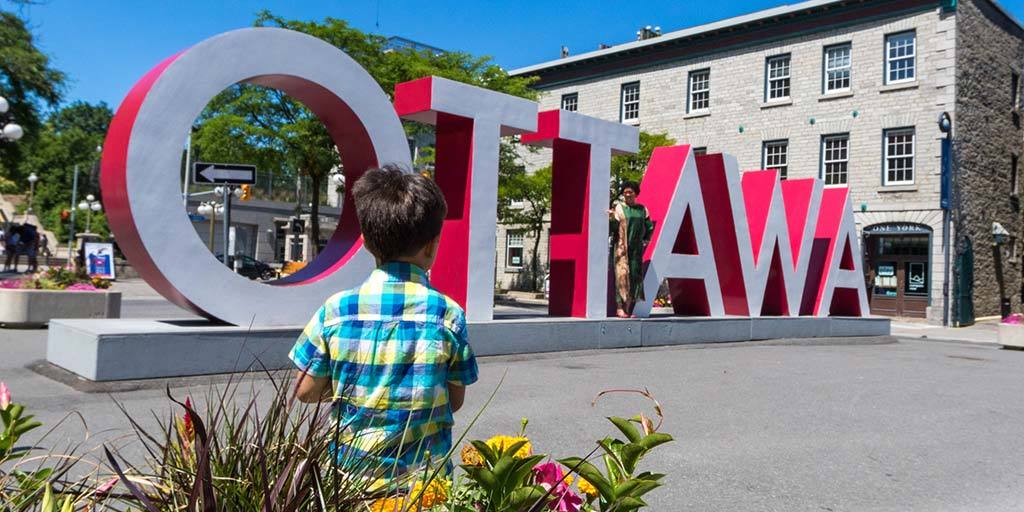 Ottawa may be the most family-friendly city in Canada. Whether you're looking for museums, adventure, or a way to learn about the rich history of Canada, it is almost impossible to count the many things to do in Ottawa with kids. Family travel to Ottawa is something that I find myself doing several times a year. We have family in the city. And, getting from our home in Toronto to Ottawa is a pretty easy drive. Ottawa is a year-round city too. So, whether you're looking to enjoy an Ottawa family vacation in the height of summer fun, or cool off with some of the best winter activities in Ottawa, you know there will be something incredible happening all-year-round.
Ottawa is the capital of Canada, so the city makes a point of showcasing some of the best in the country. For a capital city, Ottawa isn't massive. And the core, where most of the best things to do in Ottawa are located, is easy to get around by car, on foot or using the public transit system. And whether you're looking to do family yoga on the lawn of Parliament Hill, snack on Beaver Tails at the famous Byward Market, or experience white water rafting right inside the city limits, I've laid out some of the things to do in Ottawa with kids for your next visit here.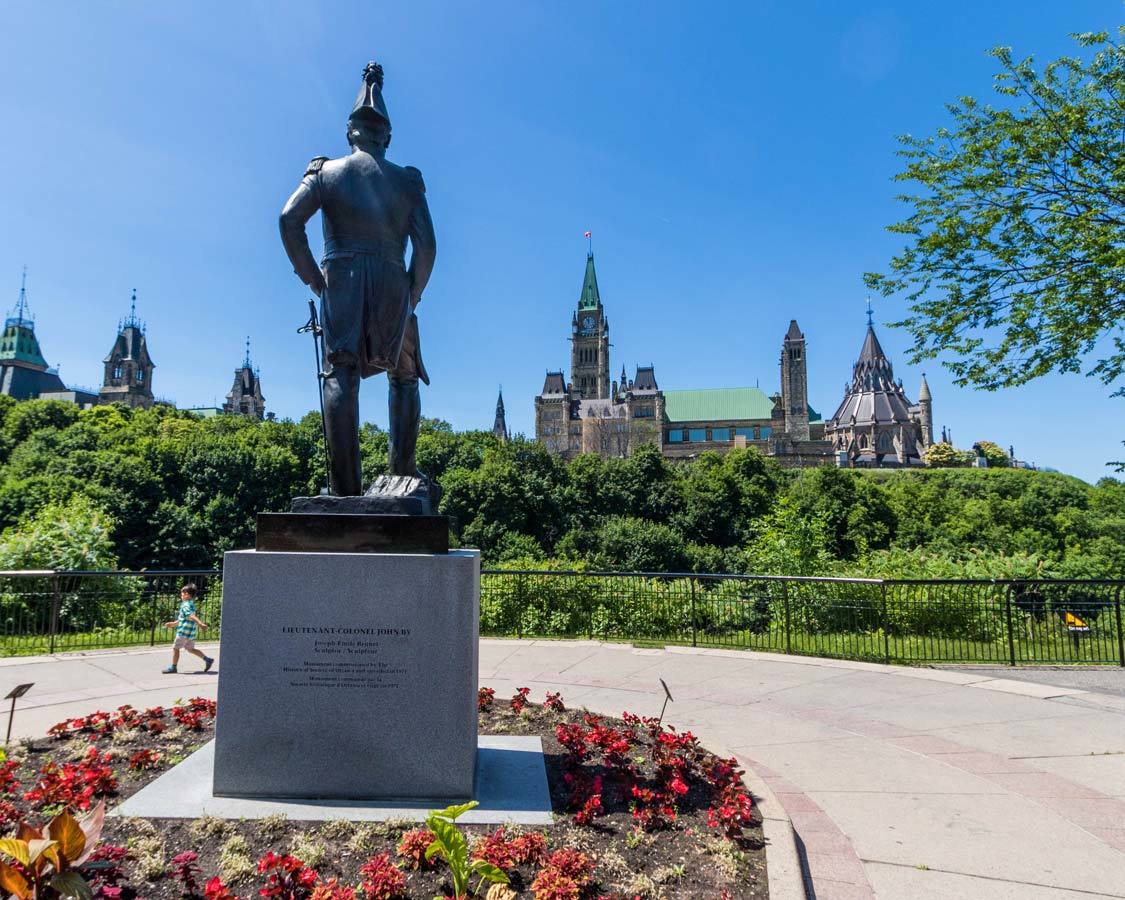 The Best Things To Do In Ottawa With Kids
Whether you're looking for Ottawa things to do during the winter or summer, this town has a lot to offer. To help you organize your family visit to Ottawa, I've broken down the best Ottawa attractions into categories so you can maximize your Ottawa tour.
The Best Sightseeing Spots In Ottawa For Kids
Every destination has them. Those things that are so iconic that you just must do them. Ottawa has more than a fair share. Some of them fit within the other categories here. But a few stand out on their own. These are a few of my favorite Ottawa attractions that fit that bill.
Byward Market
Byward Market isn't just a great spot to spend some time and do some shopping. It's actually one of the most historic farmer's markets in Canada. The Ottawa market is open 363 days per year. It's only closed on Christmas Day and New Years Day. Whether you are looking for fresh fruits and vegetables, mouth-watering baked goods, local maple syrup, or trinkets and crafts from across Canada and the world, Byward Market is always one of the top things to do in Ottawa. You can even get a taste for the city with a Byward Market food tour.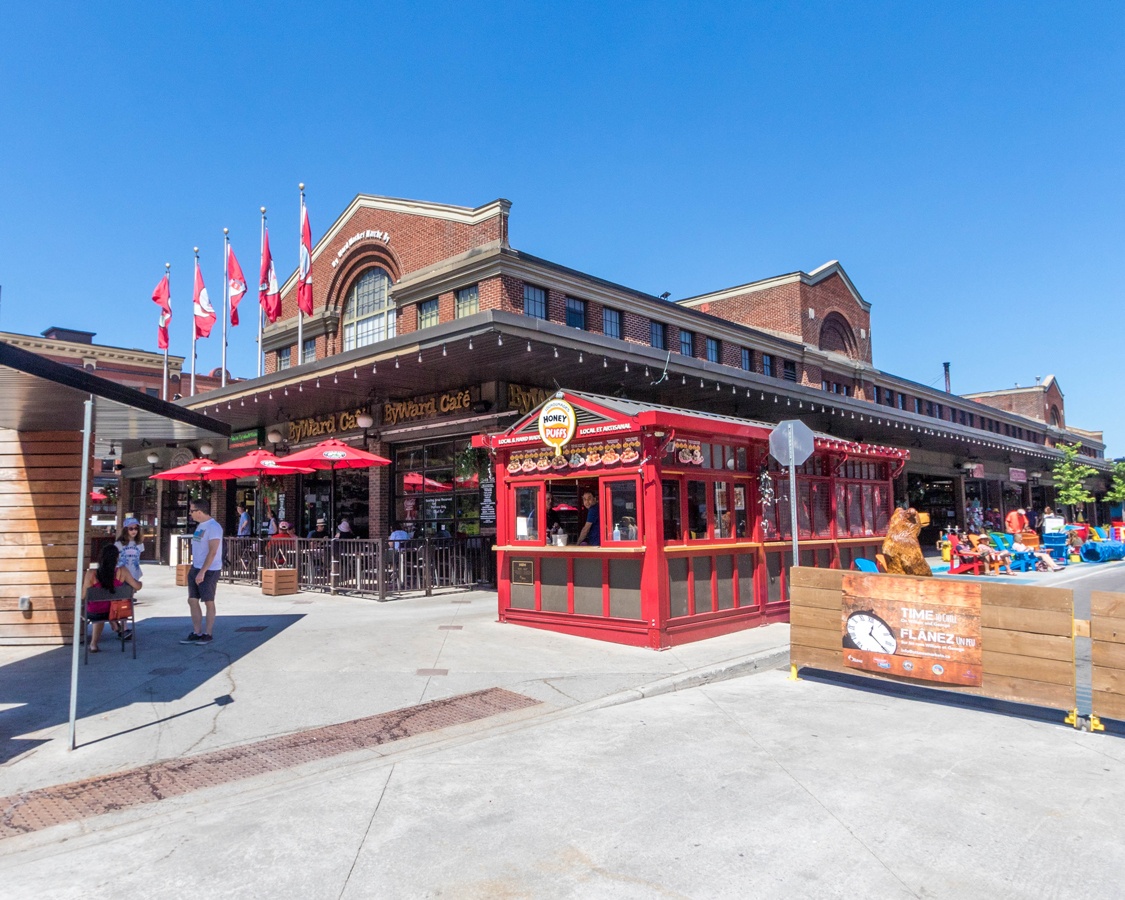 The Royal Canadian Mint
I've lost count on how many times I've been to the Royal Canadian Mint. And it's still one of my favorite things to do in Ottawa. From learning about the craft of coin making to lugging a $750,000 bar of gold, the mint is mint. I'm not entirely sure how they've made the art of designing and printing money so fascinating, but I always have a blast when I go here. You can learn more about the Royal Canadian Mint here.
Notre Dame Cathedral
Like most great cities, Ottawa has a beautiful cathedral. And, like many great cities, that Cathedral is named Notre Dame! Notre Dame is a great place to visit in Ottawa. Especially during the hot summer days or cold winter evenings when a visit to this beautiful cathedral offers a comforting respite from the weather. Notre Dame cathedral is a short walk from Byward Market and the National Gallery of Canada.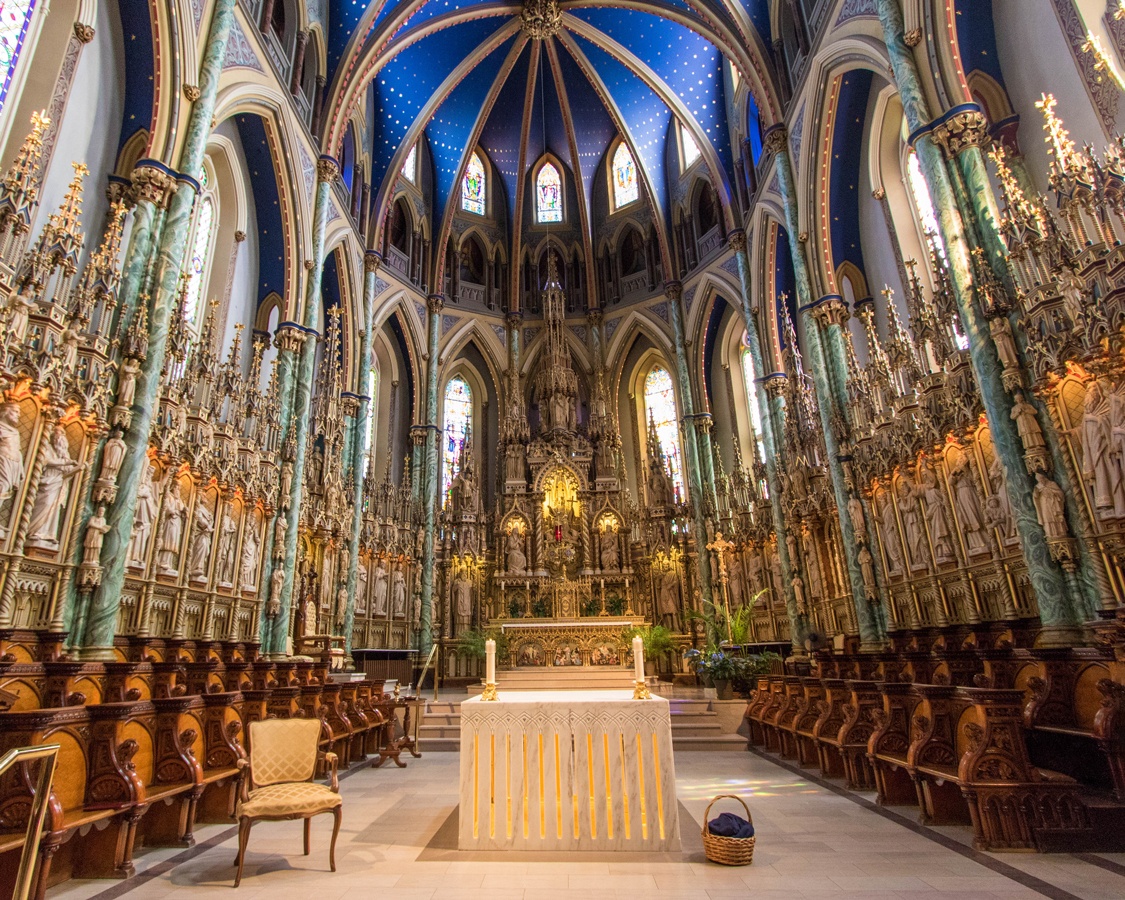 The Best Adventure Activities In Ottawa For Kids
I LOVE adventure. Whether we are ziplining, canoeing, hiking, or sandboarding, I rarely recommend a destination that doesn't have some incredible family adventure activities. Ottawa is at the center of great adventures in Ontario. Whether you want to be on the water or on the trails, there are amazing opportunities for adventure in Ottawa with kids.
Whitewater Rafting
Did you know that the Ottawa region is a whitewater rafting mecca? Whether you're looking for epic class V rapids to boost your adrenaline or a class II to get your heart racing without any real danger, Ottawa rafting has what you're looking for. The fast water trips are fun by companies such as Wilderness Tours. They're located about an hour from the city center. A day out here is epic. You'll be sore the next day, and you won't be able to wipe the smile from your face. You can find some great whitewater rafting tours here.
But if you're interested in rafting in Ottawa, Ottawa City Rafting is for you. We did a family tour with them recently and absolutely loved it. Ottawa City Rafting is low-intensity. And there are loads of options to get in the water. Whether you want to float through some mild rapids or do some cliff jumping inside the city, this experience is a must-do for any family visiting Ottawa. You can learn more about our Ottawa City Rafting experience here.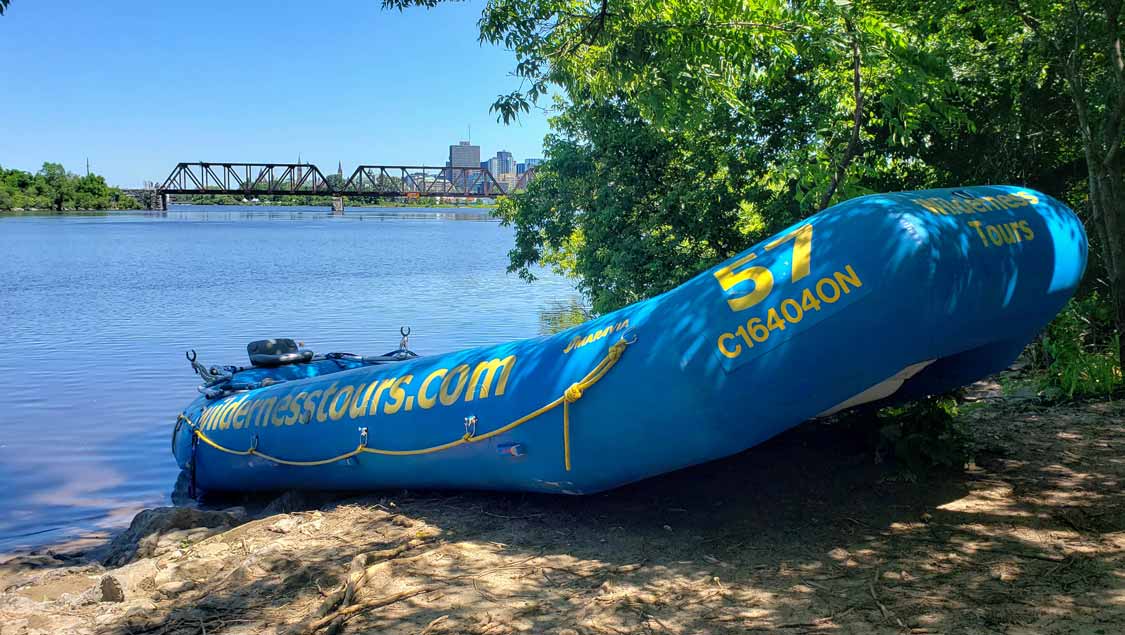 Explore The Rideau Canal
The Rideau Canal is one of the most iconic parts of Ottawa. Whether you visit Ottawa in the winter or summer, spending some time on Rideau should be a compulsory visitor activity. During the summer you can join a Rideau Canal cruise to experience the sites and sounds of the capital. During the winter, the canal freezes over and becomes one of the world's longest skating rinks. In fact, skating on the Rideau Canal is so engrained in Ottawa culture that many people choose to skate to work rather than fight the traffic! Skating on the canal is free and there are skate rentals and snack shops at many places along the way. You can find more about the Rideau Canal here.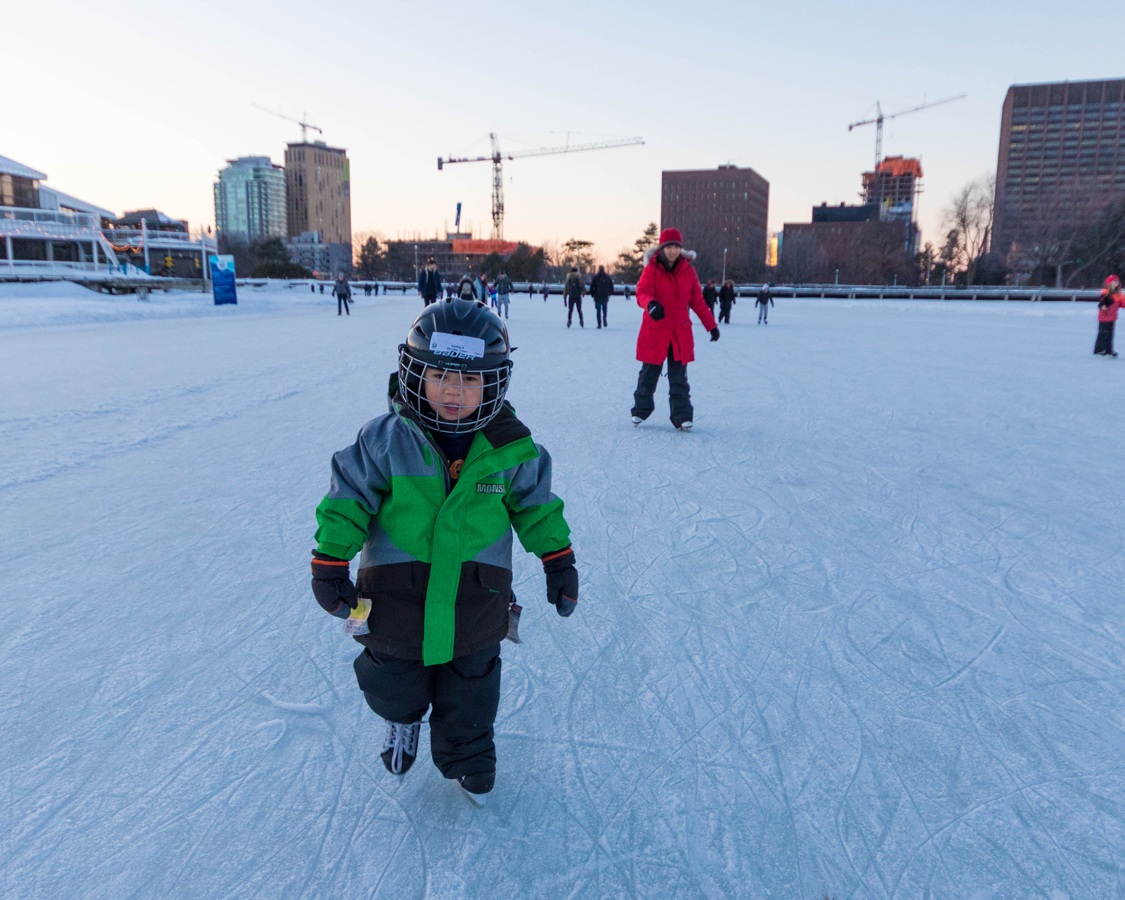 Indigenous Experiences
Currently running out of the Canadian Museum of History in Gatineau, Indigenous Experiences holds the title of one of Canada's Signature Experiences. And if you've ever been interested in learning more about First Nations history and culture, this is one of the best places to start.
We experienced Indigenous Experiences as part of our Indigenous road trip through Ontario, and it was a blast. This experience combines drumming and dancing, education on traditional First Nations living, and even a Voyageur canoe ride on the Rideau River.
Kids will love the engaging, hands-on exploration, and beautiful music and regalia. You can find out more about Indigenous Experiences here.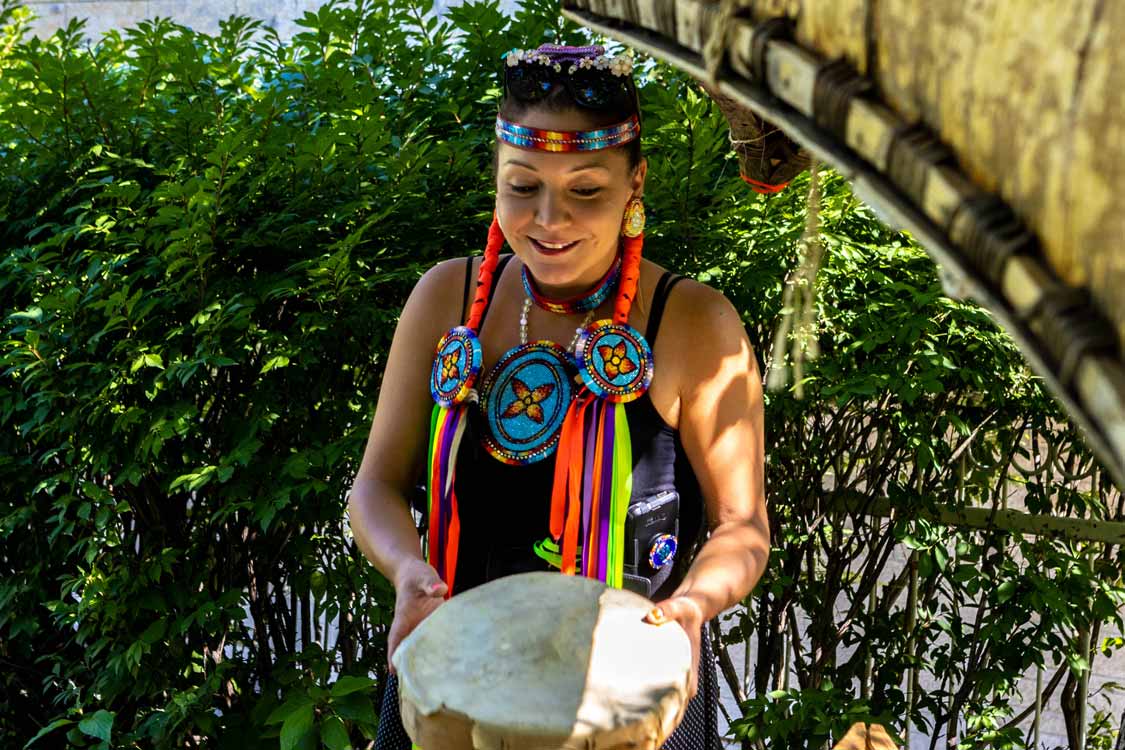 Ottawa Beaches
I'll admit it. Until my last visit to the capital, I had no idea that there were so many great beaches in Ottawa. It turns out that the Ottawa River is lined with excellent patches of sand that are just perfect for a day of soaking in the sun and splashing in the waters of the Ottawa River. Some of the most popular beaches in Ottawa are:
Westboro Beach near Island Park Dr. and Sir John A MacDonald Parkway. This beach might be a bit on the small side, but it's proximity to downtown makes it super popular with locals. It's very close to the picturesque Kitchissippi Lookout. The beach has lifeguards during the summer season as well as a cafe and changing areas.
Britannia Park and Beach at the junction of HWY 38 and HWY 36 is one of my favorite beaches in Ottawa for families. The beach is large enough that you can find your own patch of sand. The Baja Burger Shack cooks up great food. And the nearby parks and conservation areas are a wonderful spot for walking and a picnic.
Petrie Island Beach on the other end of the city is another great family-friendly Ottawa beach. This island, located in the Ottawa River near the junction of HWY 174 and HWY 57. The swimming here is very kid-friendly. And the beach boasts one of the best sunset views in Ottawa.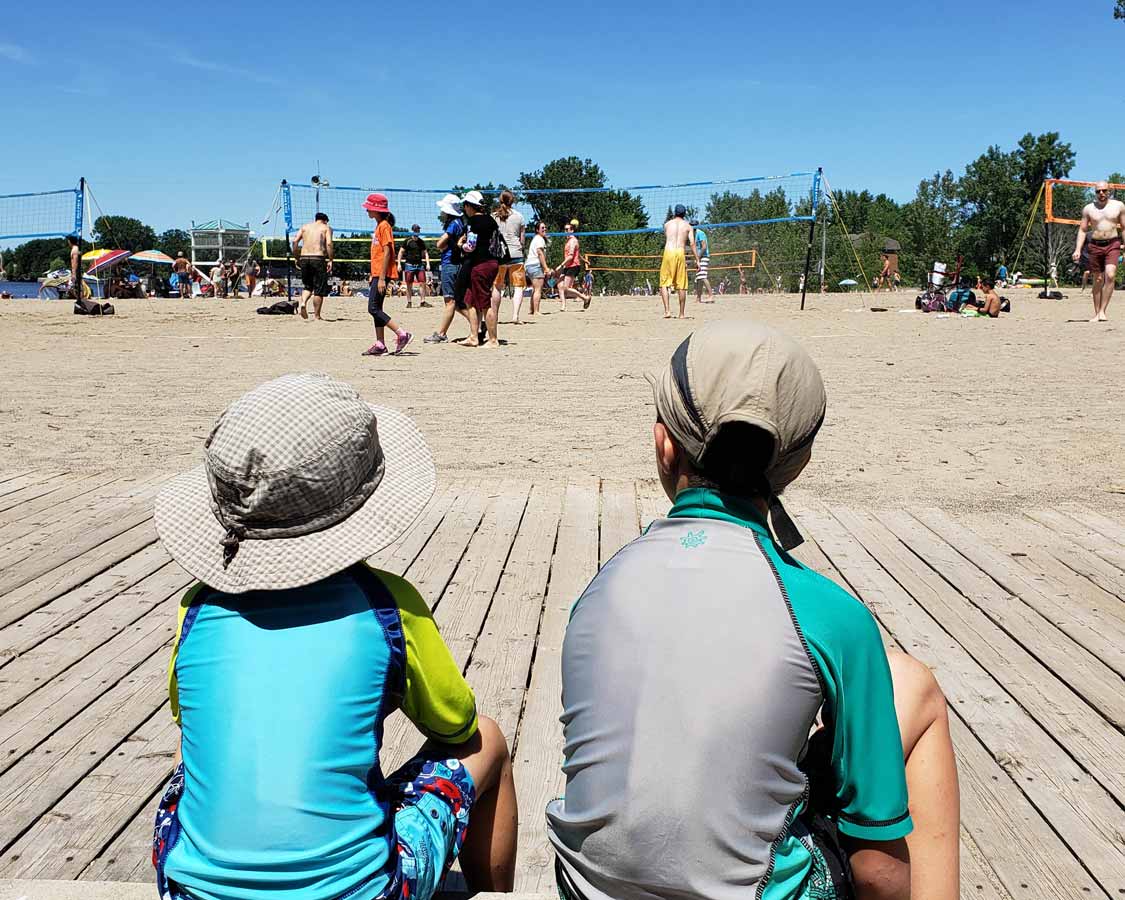 The Best Museums In Ottawa For Kids
Many capital cities have a great range of museums and education attractions. Ottawa fits that bill to a tee. If you're looking for great things to do for kids in Ottawa, heading to one of the museums is always a safe bet. Here are a few of my favorites.
The Canadian Museum Of Nature
If you're asking me for my favorite museum in Ottawa for children, it has to be the Canadian Museum of Nature. The Nature Museum always has a great selection of special exhibits. And they have dinosaurs too! Including a room with life-sized dinos that you can actually touch. When we visited in 2019 they had an incredible flying reptile exhibit that featured amazing interactive displays. And one of the new features is the massive moon display hanging in the Queen's Lantern. You can even find a real piece of moon rock on display in the Earth Gallery. You can find the latest exhibits at the Canadian Museum of Nature here. The Canadian Museum of Nature has free admission on Thursdays between 5-8 pm.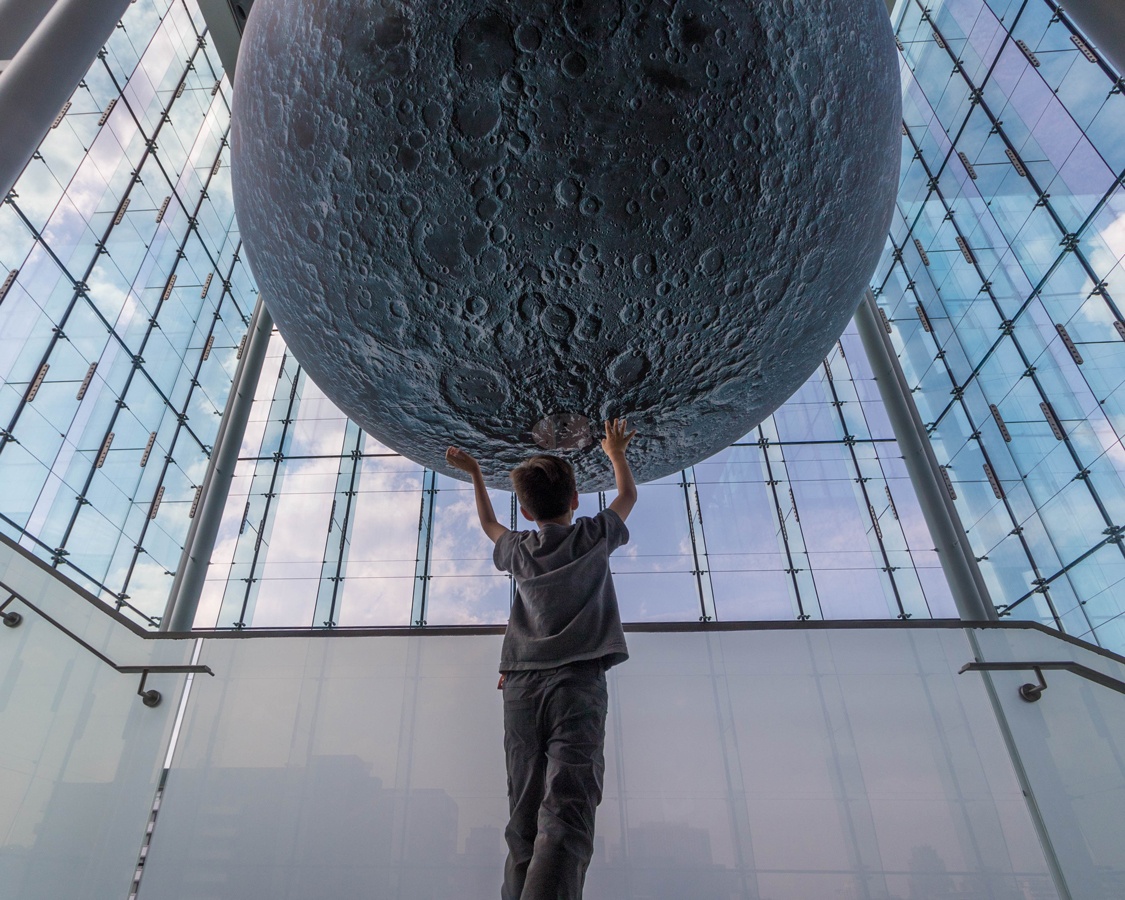 The Canadian Children's Museum
A great children's museum can be a lifesaver if you get stuck with bad weather during a visit. The Ottawa Children's Museum is definitely one of the top things to do for kids in Ottawa. The interactive exhibits are a love letter to Canada's immigrants. Kids will be enthralled collecting passport stamps from each of the countries on display. And combining learning with travel is pretty much the best way to win over my family's heart. The Children's Museum is located within the Ottawa Museum of History. You can get tickets to the Ottawa Children's Museum here. The Canadian Museum of History has free admission daily between 4-5 pm.
Museum Of Science And Technology
If you're looking for some amazing hands-on activities for kids in Ottawa, check out the Museum of Science and Technology. This highly interactive museum focuses on everything from locomotion to science, to space, and beyond. Kids can climb through massive real-life steam trains, test out all sorts of slides on microscopes, and even watch demonstrations on fire. You can find out more information on the Museum of Science and Technology here. The museum admission is free daily between 4 and 5 pm.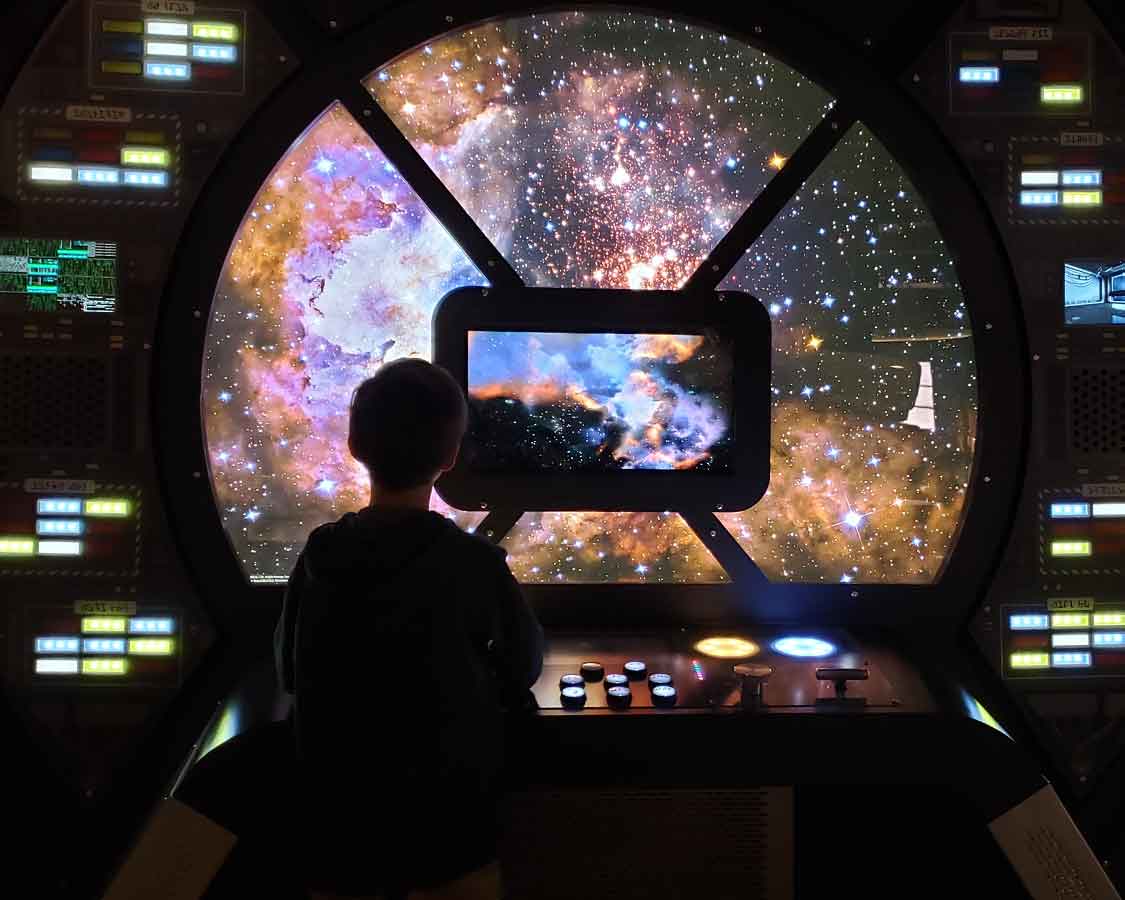 Canada's Agriculture And Food Museum
If you're looking for a truly unique museum experience in Ottawa with kids, it's worth checking out the Canada Agriculture and Food Museum. This museum combines educational and hands-on displays with a working dairy farm. Kids will learn about the science of agriculture and even get a chance to milk a cow. You can learn more about the museum here. The Agriculture and Food Museum has free admission daily between 4-5 pm.
National Gallery of Canada
The National Gallery of Canada is likely the most visited museum in Ottawa. It's located right downtown across from the Notre Dame Cathedral. The gallery has visually stunning exhibits of some of Canada's most important artwork. This includes beautiful work from the Group of Seven who led the charge in painting some of Ontario's most spectacular parks such as Lake Superior Provincial Park.
Kids will love visiting on Sundays when there are special themes focused on families. You can find out more about the National Gallery of Canada here. The museum is free on Thursdays between 5-8 pm. There are special exhibits on throughout the year at the National Gallery of Canada. Families visiting Ottawa with kids will find guides on hand that can help interpret the artwork. And you might even find interactive activities and workbooks to make the experience even more meaningful.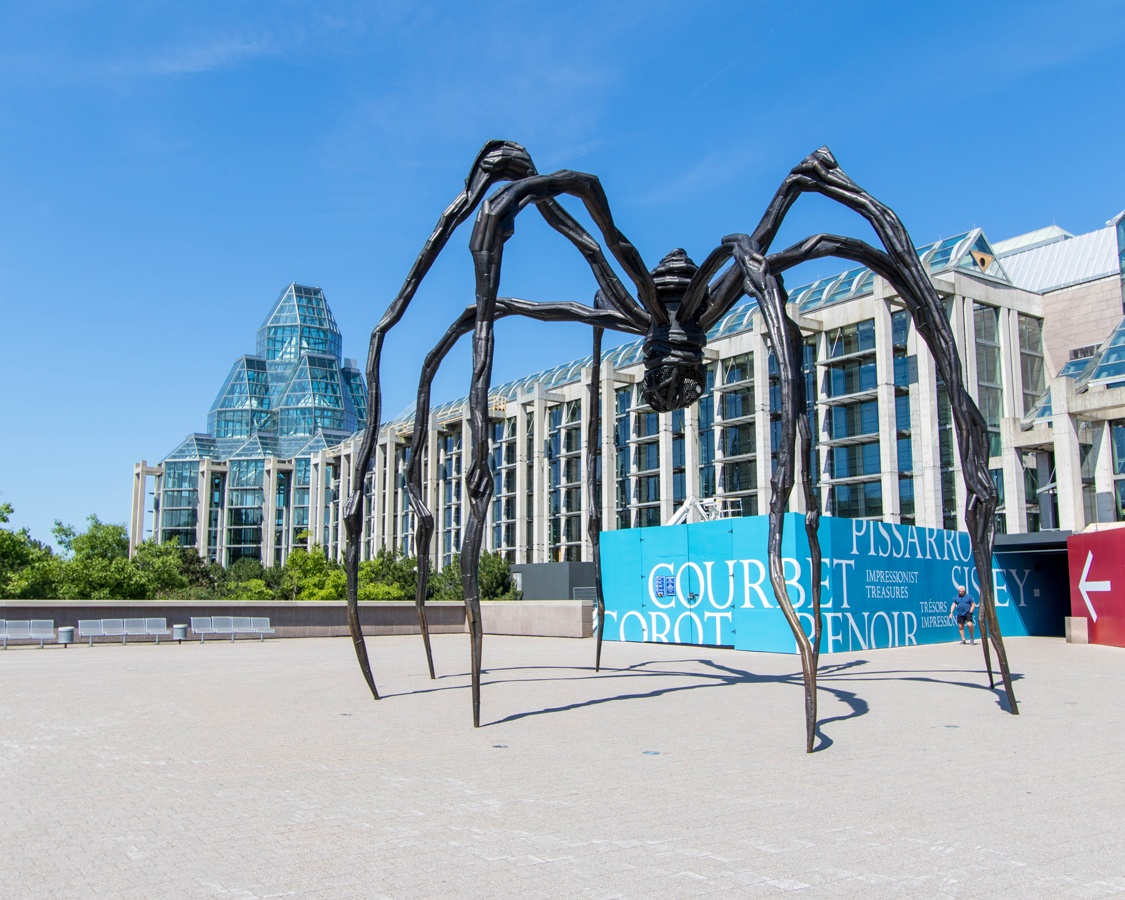 The Best Monuments In Ottawa For Kids
Great capitals have an amazing collection of monuments to commemorate achievements, loss, and discovery. Things that we visit to help us remember, celebrate, or re-live important moments in the history of a country. One thing I love to do when I travel with kids is to visit incredible monuments and I try to do my best to answer the sometimes tough, questions that they come up with. Here are some of the most impressive, important, or thought-provoking monuments in Ottawa for kids.
For something truly special, consider contacting Indigenous Walks for a walking tour of some of the Ottawa monuments from an Indigenous perspective. This is an amazing activity to learn about the history and culture of First Nations people in Canada. And the guide's ability to explain the artwork in a way that even a six-year-old can understand and enjoy is amazing. This was one of the best parts of our Indigenous road trip through Ontario this summer.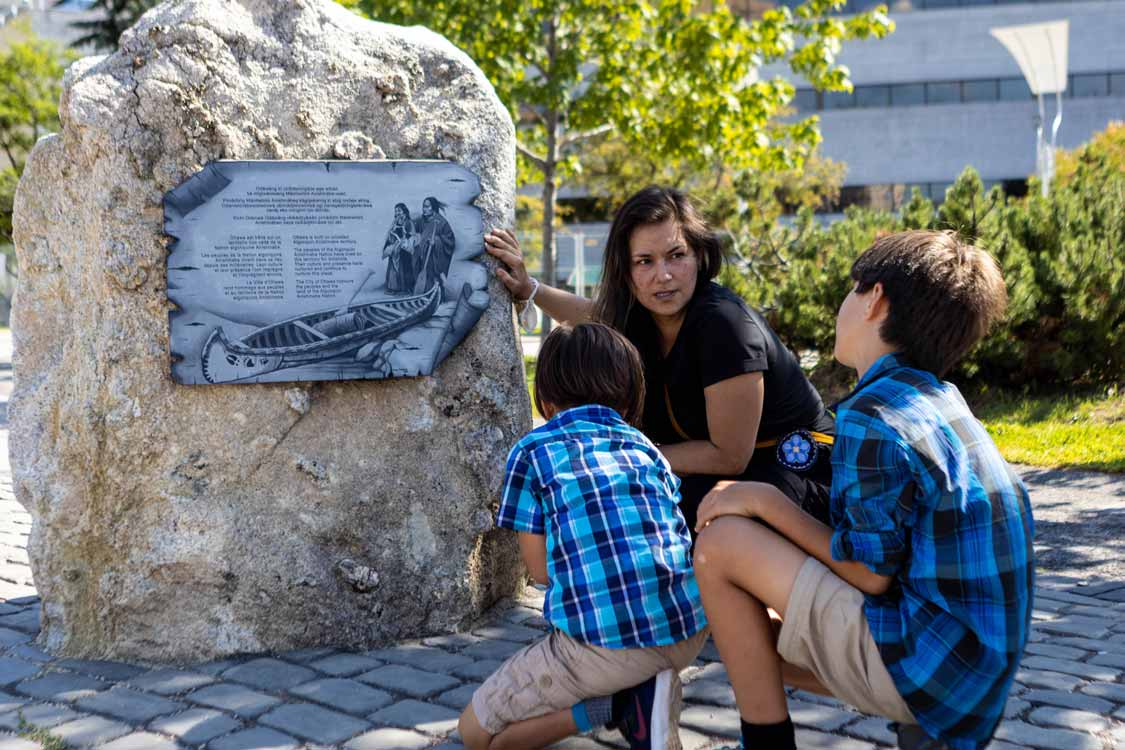 Parliament Hill
Parliament Hill is where the government of Canada sits when it's in session. You can book tours of the Canadian Parliament, however, tours book up many months in advance. Your best bet is to apply for last-minute cancellations. You can book tours here. If you don't want to try your hand at getting a tour though, you can still visit the Parliament grounds. Also, you can even check out the changing of the guards on Parliament hill. This happens each morning at 10 am from June 24 to August 23. The changing of the guard involves nearly 100 guards led by a marching band and bagpipes. It's best to arrive 15 minutes early to ensure that you get a view of the action.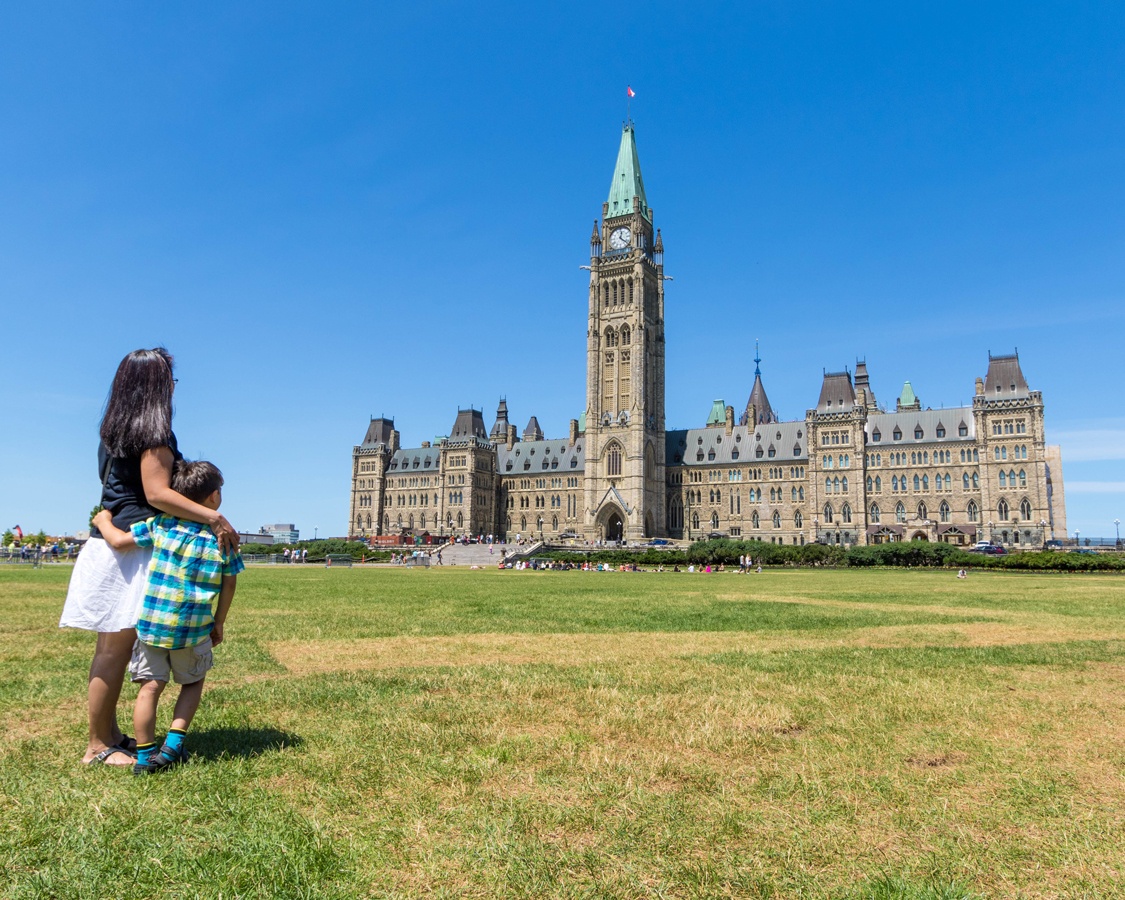 Tomb Of The Unknown Soldier
One of the most special places in Ottawa is the Tomb of the Unknown Soldier. This memorial at the corner of Elgin and Wellington Streets contains the remains of an unknown Canadian soldier who was repatriated from France in 2000. It has since become one of the most important memorials in the country and serves as a backdrop for many days of remembrance. The changing of the guard at the Tomb of the Unknown Soldier happens daily at 10 am.
Best Festivals In Ottawa For Kids
Ottawa hosts a number of amazing festivals throughout the year. And in true Ottawa-style, these festivals not only draw out the locals but huge crowds from across Canada and even around the world. These are some of my favorite Ottawa kids' festivals.
Winterlude
Winterlude is one of the biggest winter festivals in Canada. The Winterlude Festival takes place over the first two weeks of February. There are dozens of world-renowned ice sculptors, live music, and Gatineau Park is transformed into an icy playground complete with tube slides and characters in costumes. Winterlude is one of my absolute favorite things to do in Ottawa during winter. You can check out all of our details on Winterlude in Ottawa here.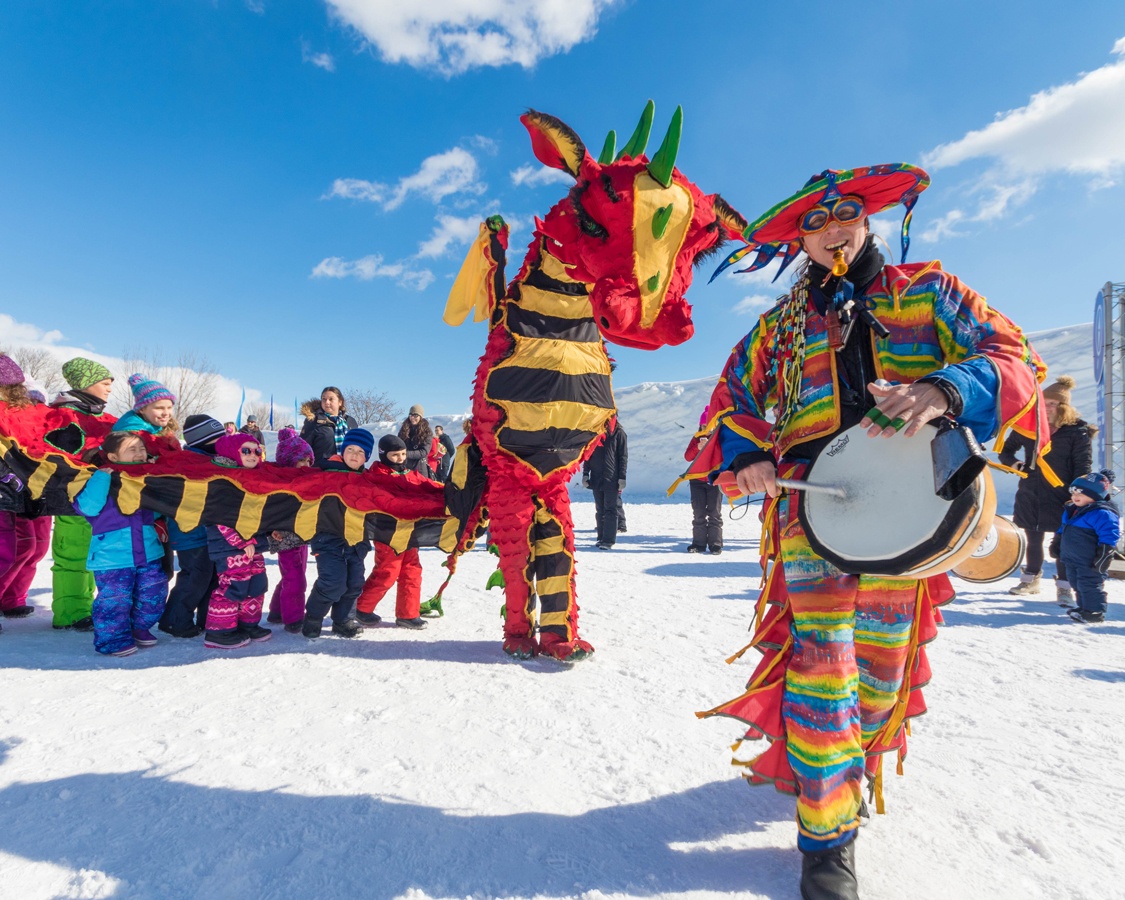 Ottawa International Children's Festival
The Ottawa International Children's Festival takes place in LeBreton Flats Park over 5-7 days in early May. The children's festival has a focus on the arts. Children will love the crowds, the music, the excitement, and the vibrant themes that the Ottawa International Children's Festival has on display each year. You can find out more about the festival here.
Summer Solstice Indigenous Festival
I absolutely love combining Canadian Indigenous experiences with travel. Especially when children are involved. The Summer Solstice Indigenous Festival, which takes place at Vincent Massey Park from June 20-23 is one of the most accessible Indigenous festivals in Ontario. The festival combines traditional entertainment with culinary experiences and a pow wow. If you've never experienced a pow wow before, this is a great place to start. I'm sure you'll fall in love with them just like our family has. You can find out more about the Summer Solstice Indigenous Festival here.
Canada Day
There is no day more wild and crazy in Ottawa than Canada Day. To be honest, it's a bit TOO wild and crazy for my liking. It seems like half the country packs into the city for this amazing day of festivities, and the crowds are intense. But visiting Ottawa on Canada is a right of passage for many Canadians, so join the party, just be prepared. You can find out about the latest Ottawa Canada Day news here.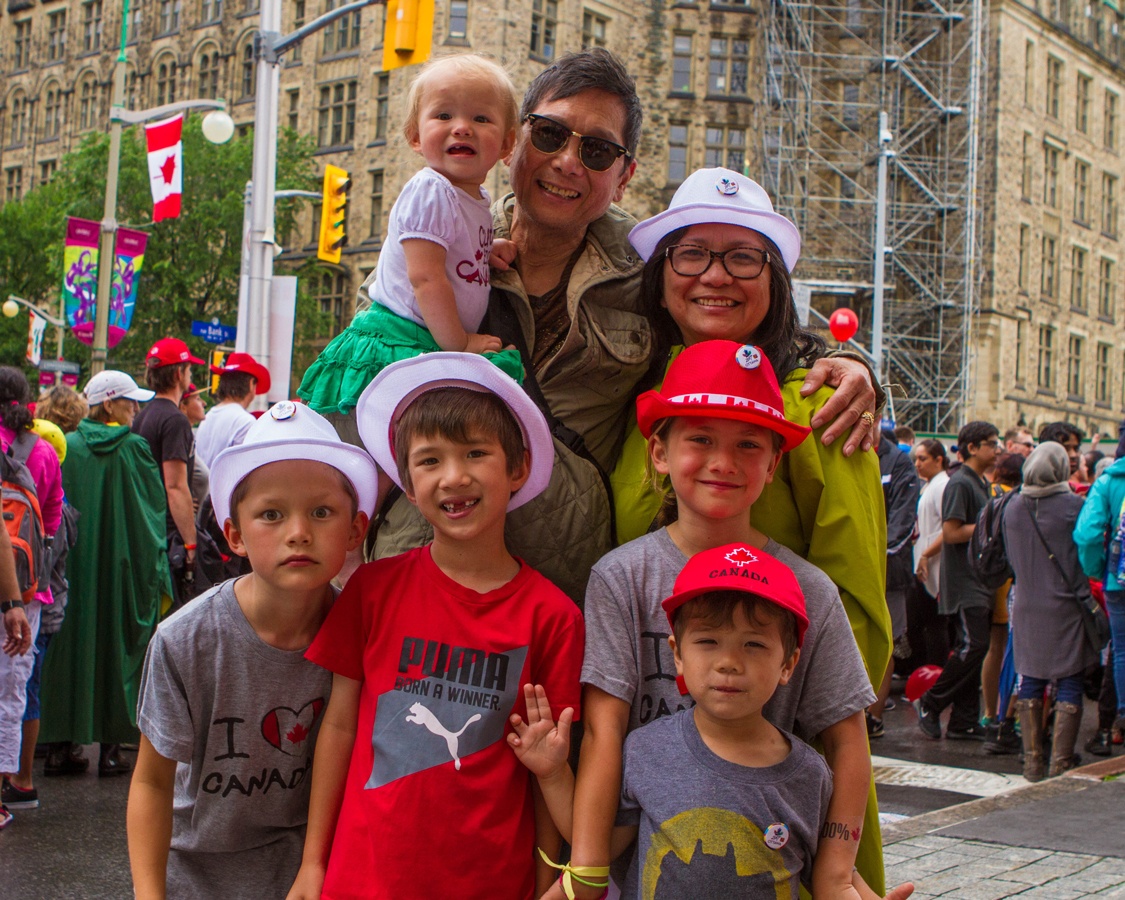 The Best Places To Eat In Ottawa For Kids
Ottawa has loads of amazing cuisine. Whether you're looking for tasty and quick food trucks or a high-end culinary experience, there is no lack of places to eat in Ottawa for families. Here are a few of my favorite family-friendly Ottawa restaurants.
Zak's Cantina
I love a great casual diner and Zak's Cantina in Byward Market has an amazing casual vibe. But Zak's combines that vibe with amazing Mexican food fused with diner-style old fashioned milkshakes and ice cream. And the vibe at Zak's Cantina is super fun. They combine the great food with a literal taco bus parked inside the restaurant. You can even sit in the driver's seat if you want!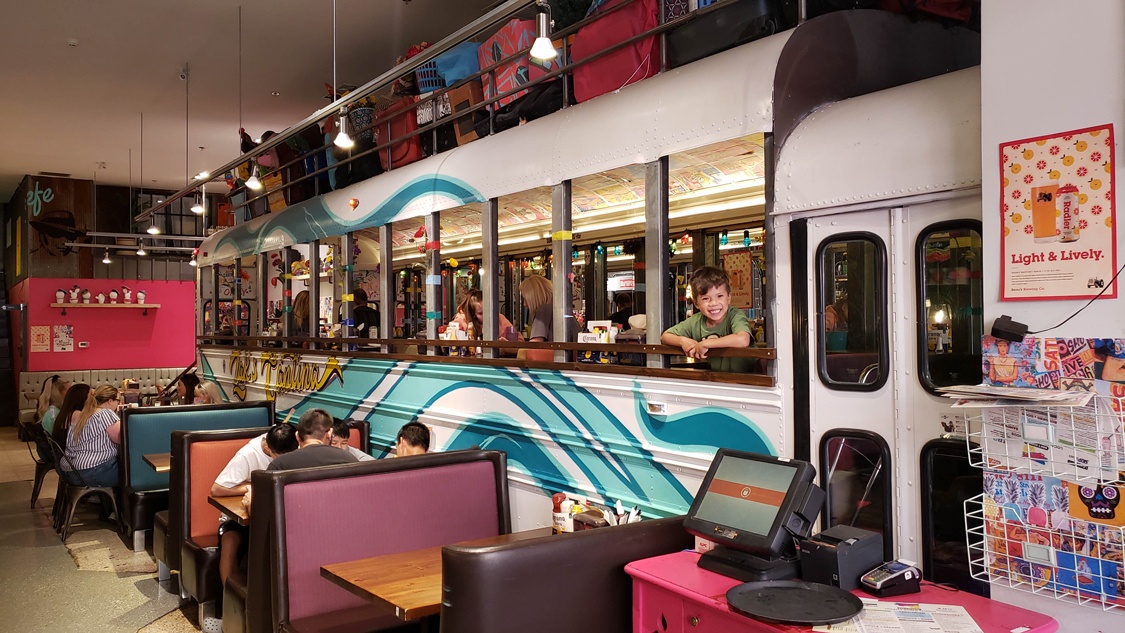 The Grand Pizzeria
Centrally located at the corner of George St. and William St., The Grand Pizzeria could get by with terrible service and low-quality food and still make a killing. But this hugely popular restaurant instead churns out amazing wood-fired pizza and Italian food that even Momma would let into her kitchen. To top it all off, The Grand Pizzeria has one of the best patios in town.
Baja's Burger Shack
If you find yourself on the Ottawa City Rafting trip or just visiting Britannia Beach, make sure to stop at Baja's Burger Shack. With a fantastic patio and a great beach at their disposal, Baja's grills up excellent, full-figure burgers that have a hint of island-style. Make sure to get a side of their special Baja sauce to dip your fries in as well.
Tavern On The Hill
The best view of any restaurant in Ottawa is held, hands-down, by Tavern On The Hill. This spectacular spot in Major's Park across from the National Gallery of Canada is perched high on the cliffs overlooking the Ottawa River. It's laid back selection of gourmet hot dogs and tacos offer a casual contrast to the sunset views of the Canadian Parliament buildings across the lock.
Beaver Tails
There are few things more Candian than Poutine and Beaver Tails. While the former you can get almost anywhere in Ottawa (although for the true original Poutine, you need to visit Quebec City), the latter is always best served in Ottawa where the Beaver Tail first came to life. You can find a Beaver Tails shack at nearly every festival and major attraction in Ottawa, but Byward Market is a great place to go if you don't want to look too far. And yes, you can get loads of delicious toppings on your Beaver Tail, but the true classic is the simple cinnamon and sugar. Yum Yum.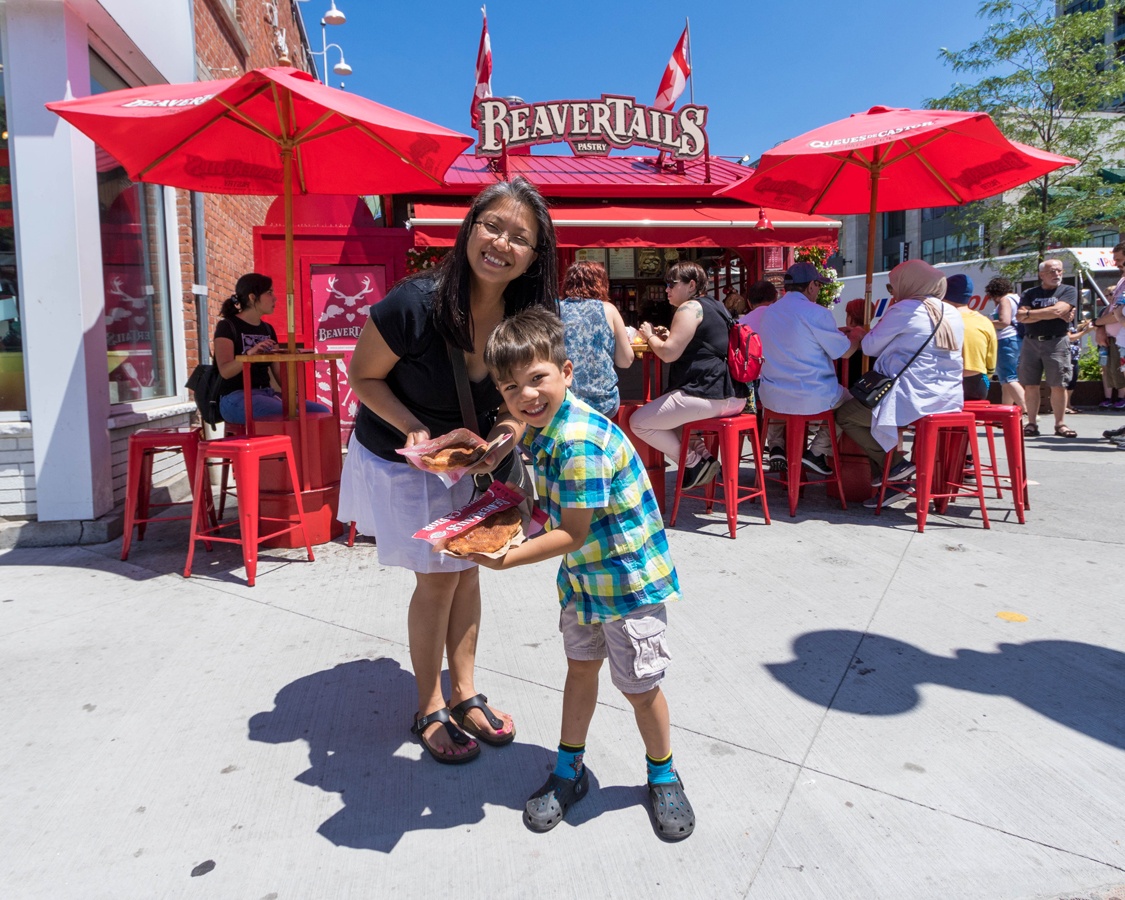 The Best Places To Stay In Ottawa With Kids
To have the best Ottawa family vacation, you need to have an amazing place to stay. Someplace that's close to the action but offers lots of room for the whole family to sleep comfortably. Here are a few of the best hotels in Ottawa for families.
Hotel Les Suites
If you're looking for a suite-style accommodation in Ottawa for families, Les Suites should be on your list. Located on Besserer St. right in the heart of downtown Ottawa, Les Suites is perfect for families. You can get multi-room accommodations that can fit even large families. There is a great on-site pool, kitchens, and even laundry facilities available in some rooms. Les Suites, Ottawa is a short walk from Byward Market too, so you won't have to walk far at the end of the day.
Fairmont Chateau Laurier
Chateau Laurier is the postcard-perfect accommodation in Ottawa. If you're looking for a luxury Ottawa hotel after a long day of exploring the city, this is definitely one that you'll want to consider. The Chateau Laurier is just steps from Parliament Hill, Byward Market, and the Rideau Centre shopping mall. You can check their prices and availability here.
Albert At Bay Suite Hotel
The Albert At Bay Hotel is a bit further from the core of the city. For those families looking for a great suite-style hotel in a slightly quieter neighborhood, this one is worth considering. I've stayed at Albert at Bay a few times throughout the years and I've always had a great experience. You can check their prices and availability here.
HI Ottawa Jail Hostel
Yes, you read that right! In the core of Ottawa, you can stay in one of the most unique hostels in the world. And it's family-friendly! The HI Ottawa Jail Hostel is perfect for families looking for unique accommodations in Ottawa for kids. You get to stay in a genuine, authentic jail cell (complete with creaky steel doors). But you won't be without modern conveniences. This Ottawa hostel includes WiFi, continental breakfast, and an orientation tour of the jail. You can check out the prices and availability here.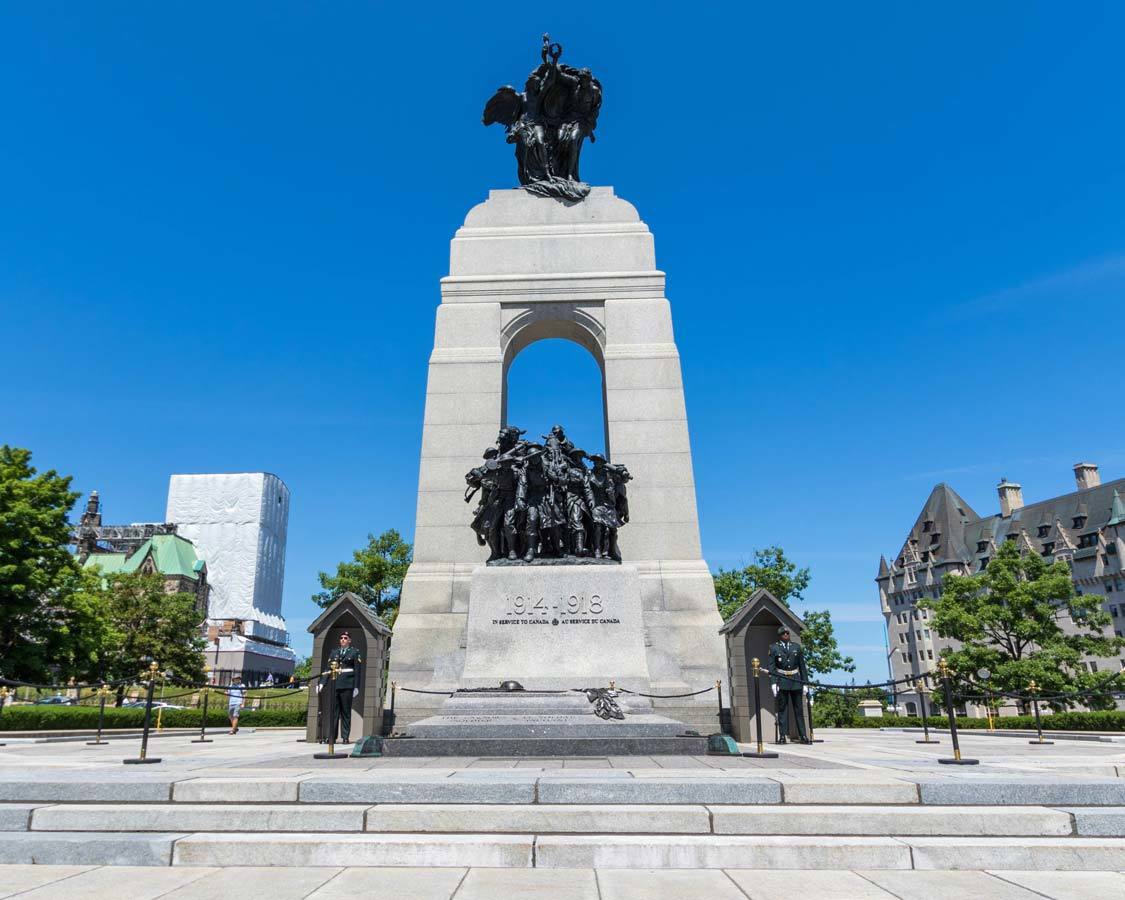 Other Great Things To Do In Ottawa For Families
If you've got more than a weekend to spend in Ottawa with children, there are a few more great activities that you may want to check out. Here are a few things to do in Ottawa that we haven't mentioned yet.
Have you ever traveled to Ottawa with kids? What were your favorite things to do? Tell us about them in the comments or drop by our Facebook page and share a photo. We would love to share in your travels. Don't forget to sign up for our newsletter so you can stay up to date on all of our family travel adventures. Subscribe
Disclosure: Portions of this post were made possible with the support of Ottawa Tourism and Destination Indigenous. All opinions remain our own. This post may contain compensated links. Find more info in our disclaimer. Wandering Wagars is a participant in the Amazon Services LLC Associates Program, an affiliate advertising program designed to provide a means for sites to earn advertising fees by advertising and linking to amazon.com, amazon.co.uk, amazon.ca. Amazon and the Amazon logo are trademarks of Amazon.com, Inc. or its affiliates.
You May Also Like To Read:
Pin This Post For Later: