Whether you are just driving through or looking to spend a few days, a Lake Superior Provincial Park camping trip is something you will never forget.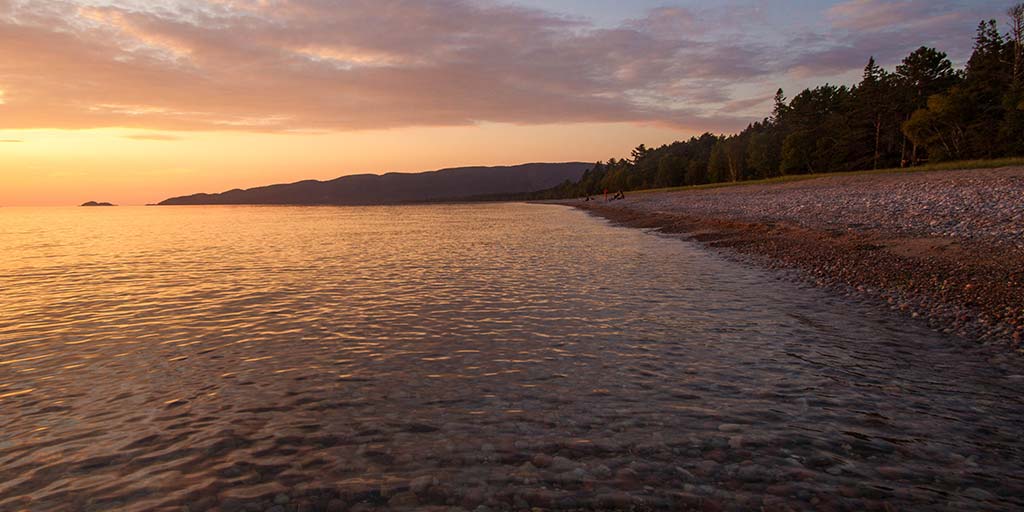 Ontario, Canada is blessed with some of the most beautiful landscapes in the world. And few places in this province epitomize the rugged Canadian wilderness as much as this Northern Ontario coastal park.
Lake Superior Provincial Park in Algoma county is one of our top Ontario Provincial Parks. And Lake Superior Provincial Park Camping is a must-do for lovers of nature. Whether you are camping with children or visiting as a couple, Lake Superior Provincial Park is filled with adventure.
I had a chance to visit here when I was in high school for a month-long camping and canoeing trip, so when we went on our epic Ontario road trip, I made sure to stop here again so I could share the experience with my family. Lake Superior is one of the most untouched Canadian shorelines, and there are some absolutely amazing things to do in Lake Superior Provincial Park.
Lake Superior Provincial Park camping is one of our favorite stops on a Sault Ste Marie to Thunder Bay drive. It's right off the highway, so you can't miss it.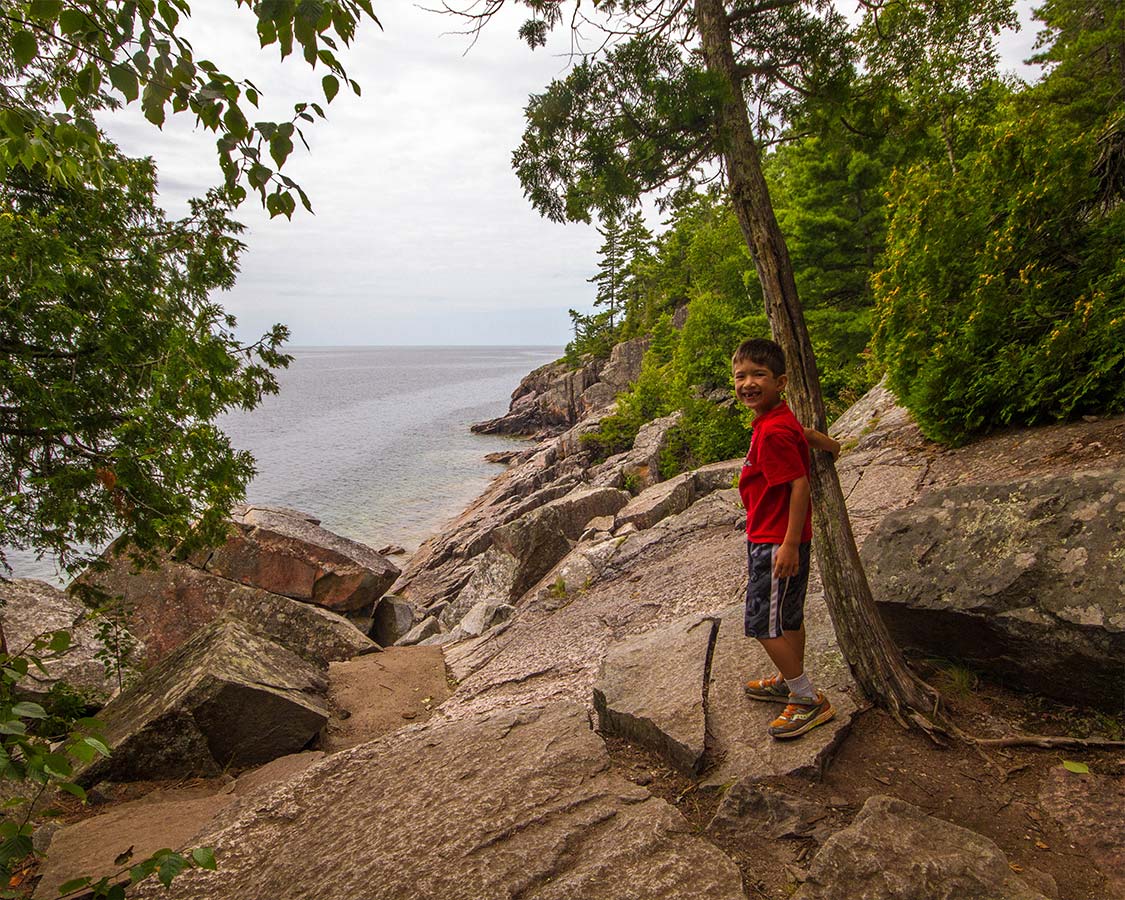 About Lake Superior Provincial Park
As the name suggests, this provincial park borders the northeast side of Lake Superior in Northern Ontario. The park was established in 1944 and covers over 1,500 sq km of the rocky coastal landscape and endless Canadian forest. It's one of the largest parks on the Lake Superior shores. and the final Provincial Park before reaching the most remote National Park in Ontario, the marvelous Pukaskwa National Park, which is a few hours north of Lake Superior PP.
Thousands of visitors flock here every year to camp, explore, or hike the epic Lake Superior Coastal Trail. The Lake Superior Coastal Trail is a 65 km coastal hike along some of the most rugged and beautiful coastline in the world is one of the best hikes in Ontario. But there's much more to this park than just the Lake Superior Coastal Trail.
This northern Ontario park is full of mature forests, waterfalls, pristine lakes, and beautiful scenery. Visitors to Lake Superior might also come across some of the local fauna such as moose, black bear, and Canadian Lynx. Lake Superior Provincial Park isn't just a natural treasure but also holds some incredible indigenous history. This includes the Agawa Rock Pictographs which have been painted throughout time from 400-150 years ago.
Before you head out, make sure you check out our tips for Ontario Parks camping so that these parks are here to enjoy for generations to come.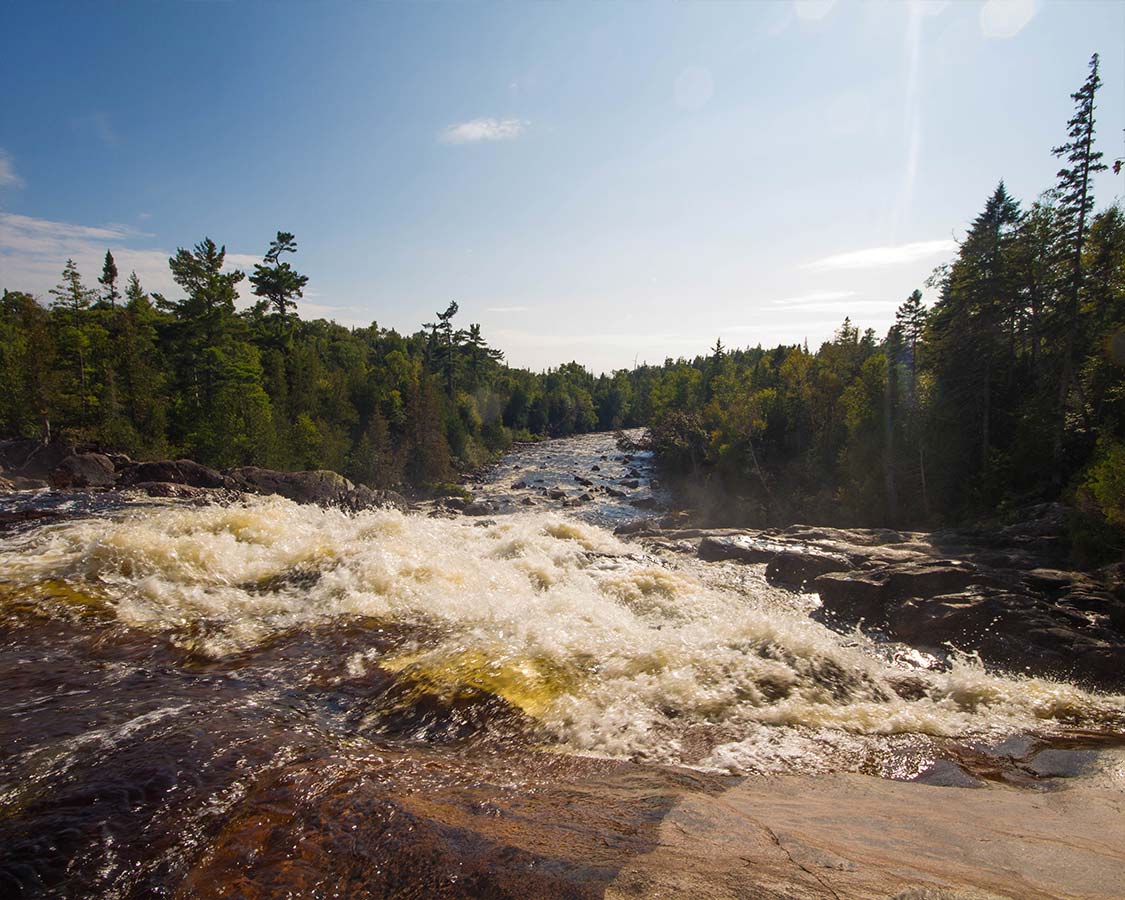 How To Get To Lake Superior Provincial Park
Lake Superior Provincial Park is located a little over 9 hours north of Toronto. The park sits between the cities of Sault Ste. Marie and Wawa. The Trans Canada Highway passes through the park via Hwy 17. And for those making their way north to Thunder Bay, it makes a perfect detour along the way. The park's visitor center is situated in Agawa Bay, while the Lake Superior park office is located at Red Rock Lake.
The drive through Northeastern Ontario is a beautiful one. Things get really exciting once you drive north through Sault Ste. Marie and the sheer size of Ontario's northern forests start to become apparent. Our drive took us through Lake Superior Provincial Park to as far north as Pukaskwa National Park. But many travelers continue through to Thunder Bay and Sleeping Giant Provincial Park.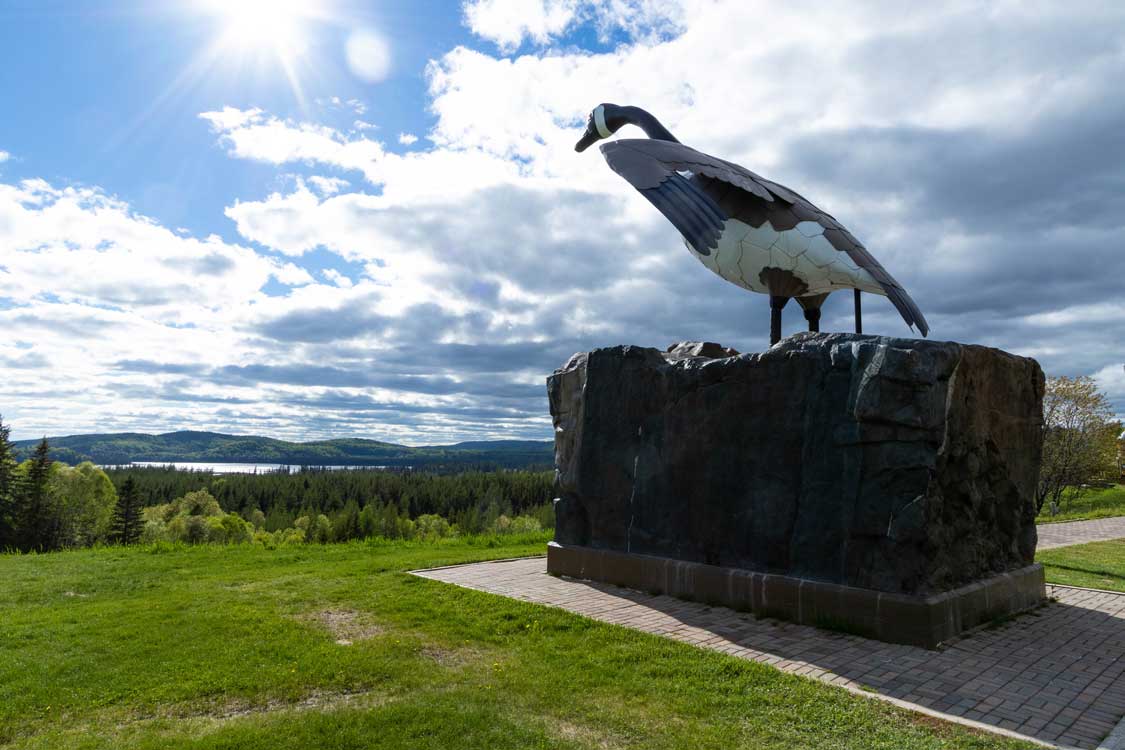 Pro-Tip: Be cautious driving through Northern Ontario. Large animals such as deer, bear, or even moose can wander onto the road, especially at night. You DO NOT want to hit a moose.
Top Things To Do In Lake Superior Provincial Park
With its huge size and picturesque landscape, there is no lack of things to do in Lake Superior Provincial Park. Here are some of our favorites.
Canoe or Hike to the Agawa Rock Pictographs
The Agawa Rock Pictographs are indigenous paintings found on the side of a towering cliff. The pictographs date back to the 17th and 18th centuries. Agawa Rock in Lake Superior Provincial Park is a sacred Ojibwe site and should be treated with respect. Generations of Ojibwe have made the journey here to experience dreams and visions.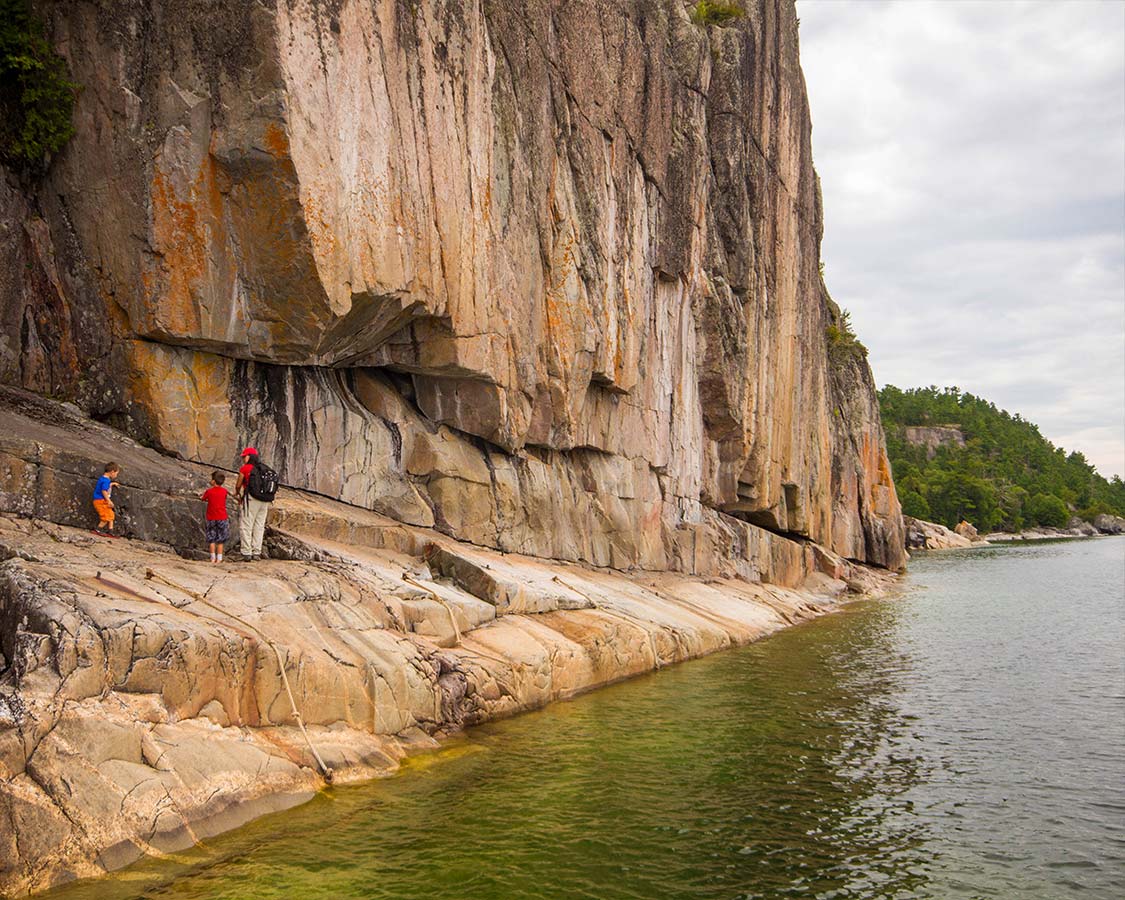 The Agawa cliff can be reached via a short, but beautiful hike along the Lake Superior coast. But once you get to the cliff, things get a bit more difficult. The Lake Superior pictographs are not located in a spot that is easily accessible. In fact, we saw many people get there and then decide to turn back as the last little climb is daunting.
There is a rope attached to the rock wall, but the narrow angled rock can be slippery. Be cautious. Another way to see the Agawa Rock Pictographs is by canoe or boat, similar to how we saw the Pictographs in Bon Echo Provincial Park in Ontario.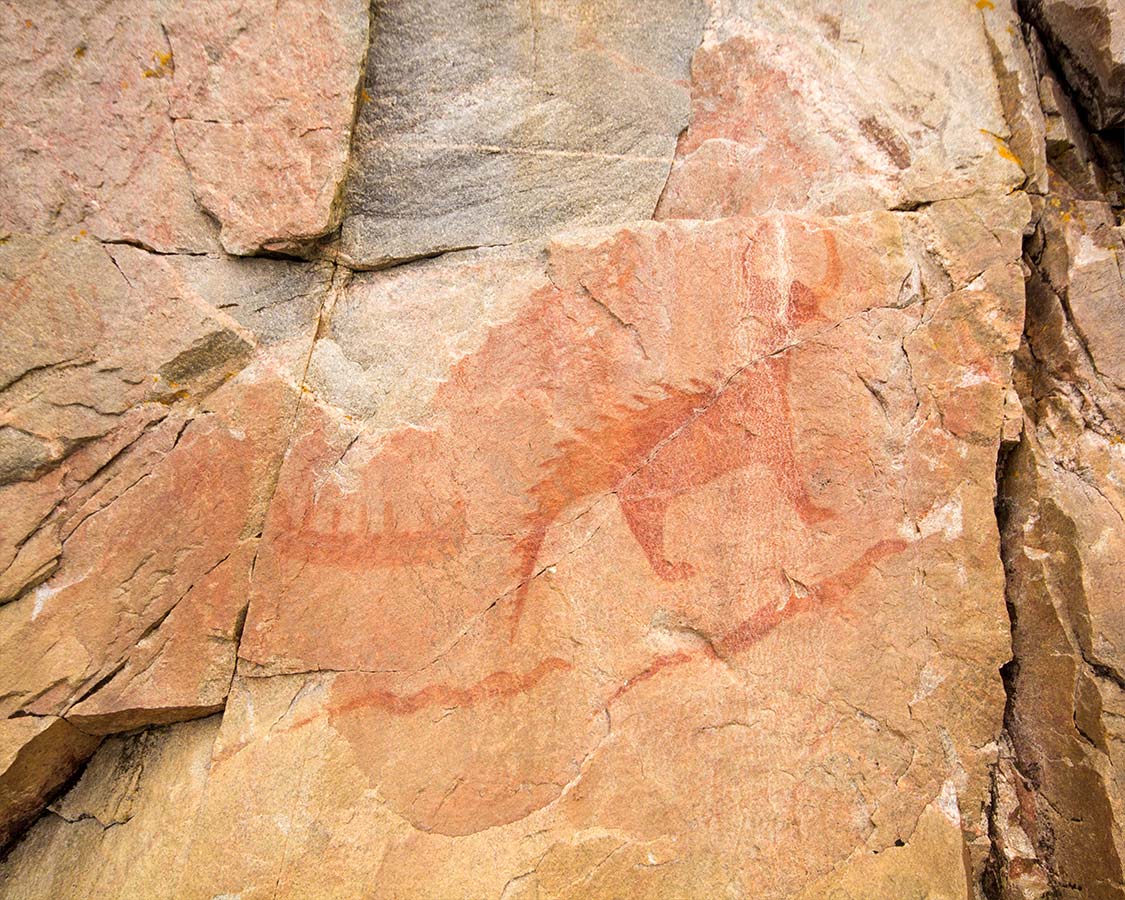 Pro-Tip: If the waters of Lake Superior are rough, don't attempt to climb along the rocks to the Agawa Rock Pictographs. The rocks can be slippery and it's easy to slip or be washed into the lake.
This area also connects to the Orphan Lake Trail (Thanks to Colin for pointing this one out to us). The Orphan Lake Trail takes explorers along some scenic routes that include 100 meter-high views of the shoreline and some coastal sea caves. And you know how much we LOVE caves!
Hike the Sand River Trail
The Sand River Trail, also known as the Pinguisibi trail is one of the most popular hiking trails in Lake Superior Provincial Park. This hike follows the Sand River passing roaring waterfalls along the way. The route is fairly easy to follow, although there are tree roots, large rocks, and slippery areas to watch out for. The Sand River hiking trail is a linear trail, so you can hike as much or as little of it as you would like.
The Sand River Hiking Trail is very beautiful and incredibly peaceful. The most picturesque waterfalls along the trail are about halfway through the trail. There is a large parking lot at the entrance to the 6-km round-trip trail. The trail itself is mapped along a roughly 2,000-year-old Ojibwa route that took them between their winter camp and their coastal summer camp.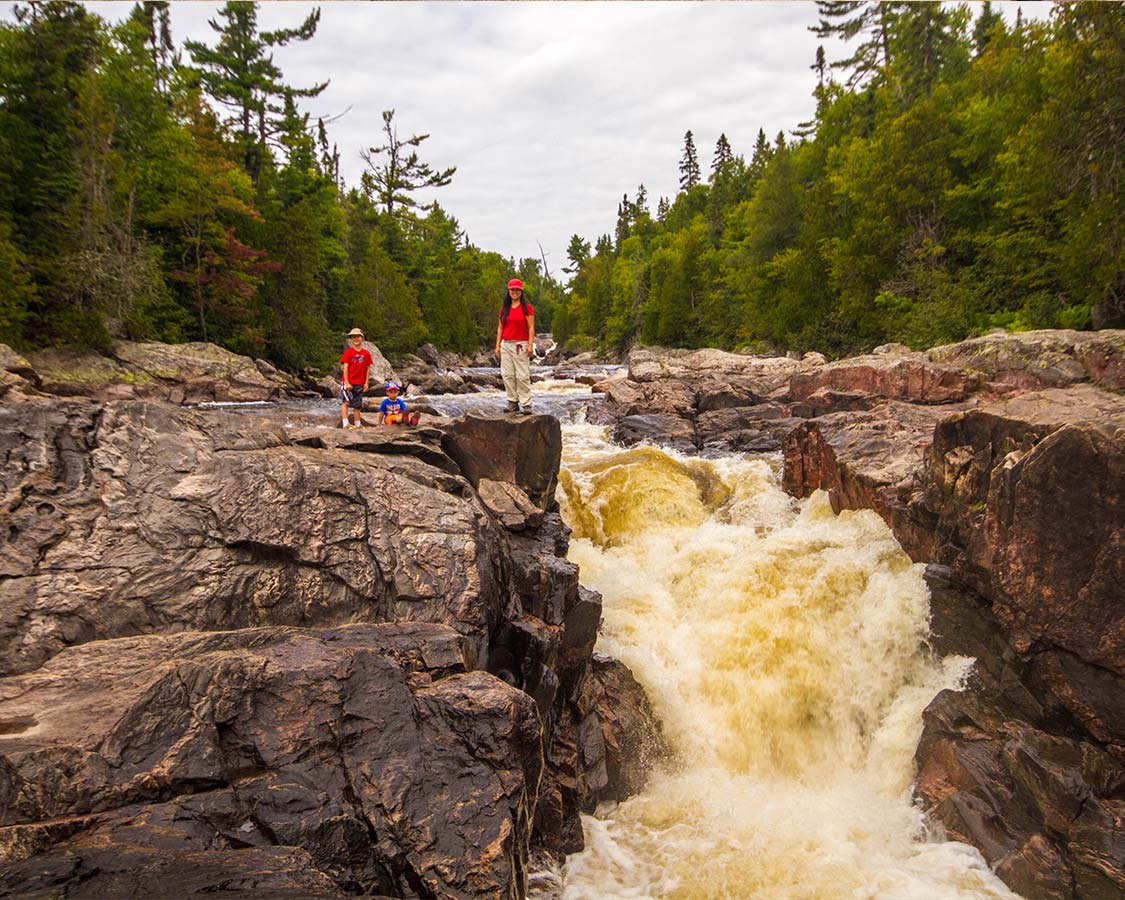 Enjoy a Picnic at Old Woman Bay
Old Woman Bay is located at the northern edge of Lake Superior Provincial Park. It's a popular spot for picnics or swimmers who aren't afraid of the chilly Lake Superior water. Old Woman Bay gets its name from the 200-meter cliffs on the left of the bay. The cliffs appear to make up the face of an old woman.
Old Woman Bay was the perfect break after a morning of hiking. The boys spent time skipping rocks and splashing in the pools. We had a picnic surrounded by driftwood next to a small river that dissects the beach. Old Woman Bay is a popular spot for picnics, fishing, and even a cold-water swim. While there is no camping at Old Woman Bay, nearby Rabbit Blanket Lake campground is a good option for those looking to stay close.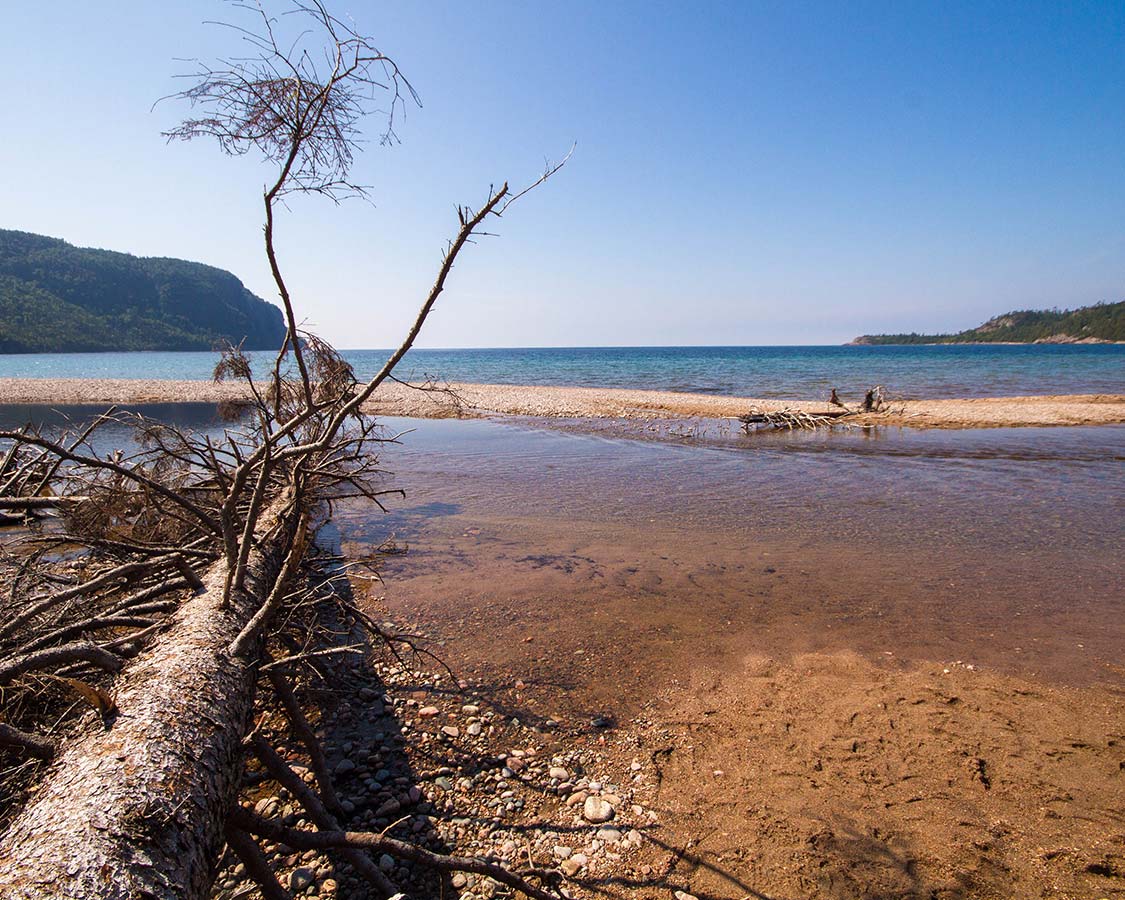 For those looking to push themselves a little, the Nokomis trail shouldn't be missed. The Nokomis trail snakes along Old Woman River and offers a spectacular view of Old Woman Bay. (Thanks to Allison for reminding me of this!). The Nokomis Trail climbs steeply up about 200 meters over the water, so be prepared to put some effort in.
Take In the Sunset From Agawa Bay
Every night we spent during our Lake Superior camping trip was topped off by something that made us stop and marvel. The sunset views from Agawa Bay on the coast of Lake Superior are nothing short of magical. Along the beach, all the campers in the park stopped and paused in silence while the sky put on a show.
Nothing is quite as special as a quiet Northern Ontario sunset with no sound to be heard but the waves lapping the shores and loons calling from the lake.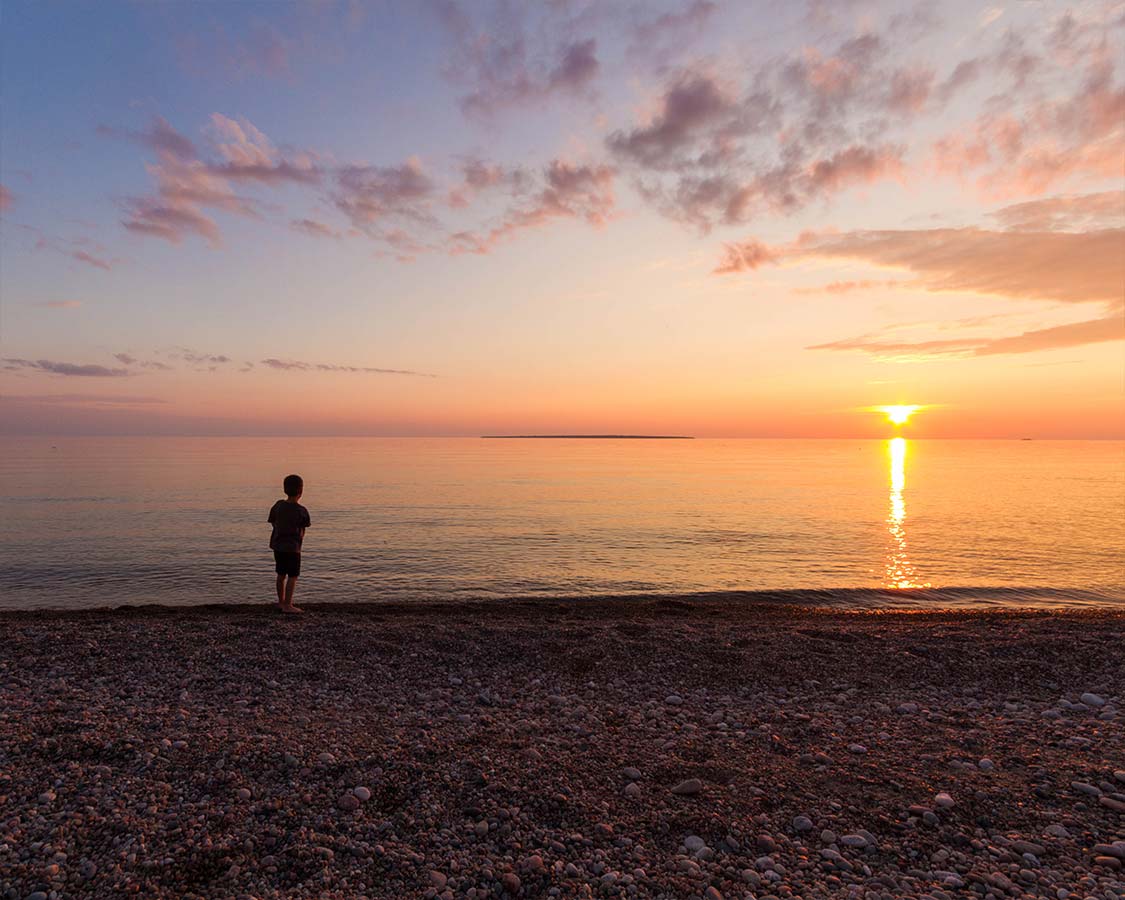 Explore The Lake Superior Coastal Trail
Our Ontario road trip through Pukaskwa, Manitoulin, and Bruce Peninsula didn't give us as much time to spend in Lake Superior Provincial Park as we would have liked. But when we return we'll definitely be doing the Lake Superior Coastal Trail. I had a chance to do the Lake Superior Coastal Trail hike when I was 18, and it was one of the most unforgettable experiences of my life.
The coastal trail is a long, 65 km hike with some very difficult sections. These include bouldering and rough terrain. Some parts were very similar to our hike to the Crack in Killarney Provincial Park. The Lake Superior Coastal Trail is a multi-day hike, so those making the journey will need to have all of their gear on them. But those who aren't deterred by this are rewarded with some of the most beautiful views in Ontario.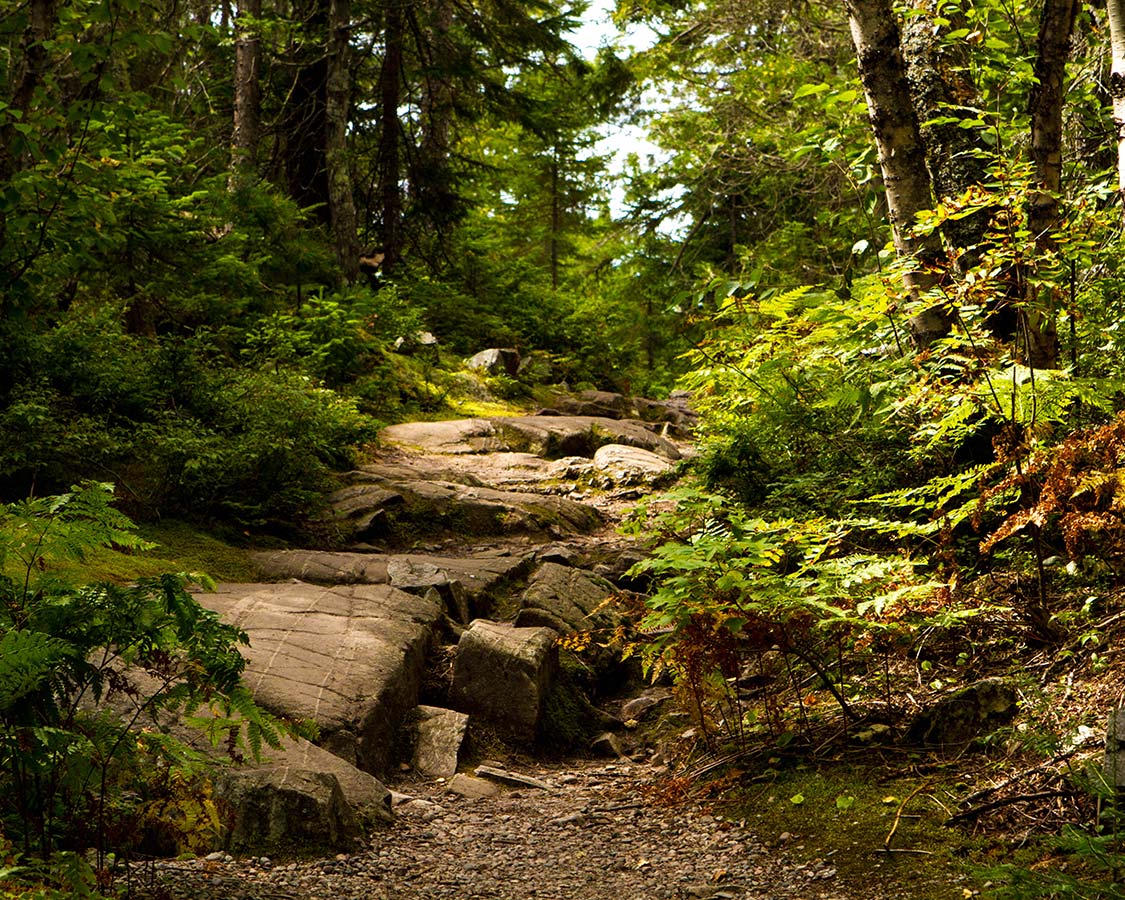 Lake Superior Provincial Park Camping
Apart from Wawa, Ontario, there aren't too many towns near the park. So Lake Superior Provincial Park camping is a popular thing to do here. Lake Superior camping has over 200 sites combined for both front country and backcountry camping sites. You can access the Ontario Parks new reservation system here.
Lake Superior does not currently have any oTENTik campsites, like those we stayed at in Thousand Islands National Park, or cabins, like those we stayed at in Georgian Bay Islands National Park.
Car Camping in Lake Superior Park
There are two car camping campgrounds in Lake Superior Provincial Park. The campsites in Lake Superior Provincial Park are generally large and flat. In Agawa Bay, the planted red pines grow large and spaced out, so don't expect too much in the way of privacy. There is not much undergrowth, so apart from neighboring trailers blocking the view, things are pretty open. If you are looking for privacy you won't find much.
Your best options would be the radio-free sites in Agawa Campground or staying in the Rabbit Blanket Lake campground which has included a more dense, natural forest. But if you choose Agawa Bay campground, the coastal breeze helps keep the bugs away when you fall asleep waiting for Dad to cook you some SMORES.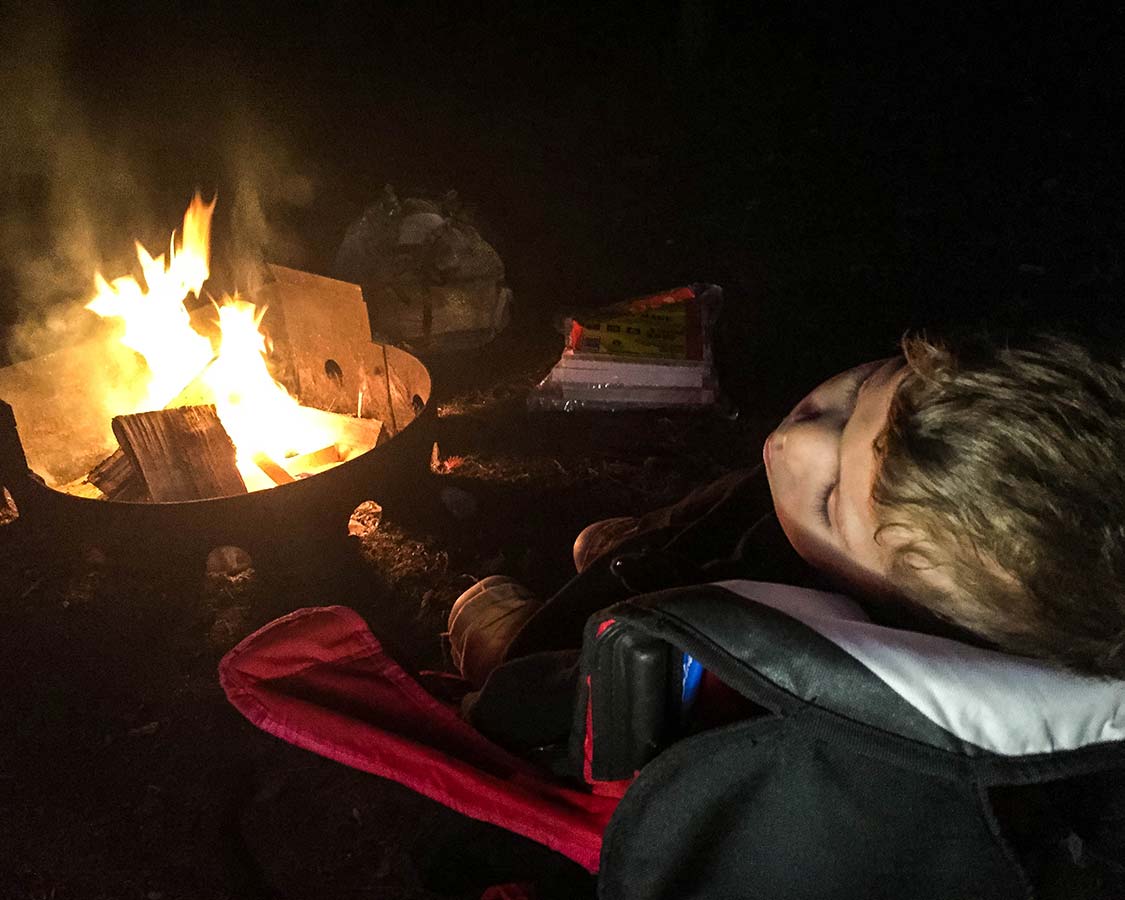 Rabbit Blanket Lake Campground
Rabbit Blanket Lake, near Old Woman Bay, has 60 sites. Of these sites, 20 include electrical services. This campground has a comfort station with flush toilets, laundry, showers, and a dump and fill station.
Agawa Bay Campground
Agawa Bay Campground in Lake Superior Provincial Park is the largest and most popular of the sites. The campground has 147 sites, of which 38 offer electrical hookups. Agawa Bay campground also has a radio free zone in the far south of the campground. Agawa Bay Campground is located right on the shores of Lake Superior Provincial Park and features 3 km (2 miles) of rocky beachfront.
The Agawa Bay Campground has 2 comfort stations with flush toilets, showers, a laundry, and a dump and fills station. The Agawa Bay Campground is also where the Lake Superior Provincial Park Visitor Centre is located.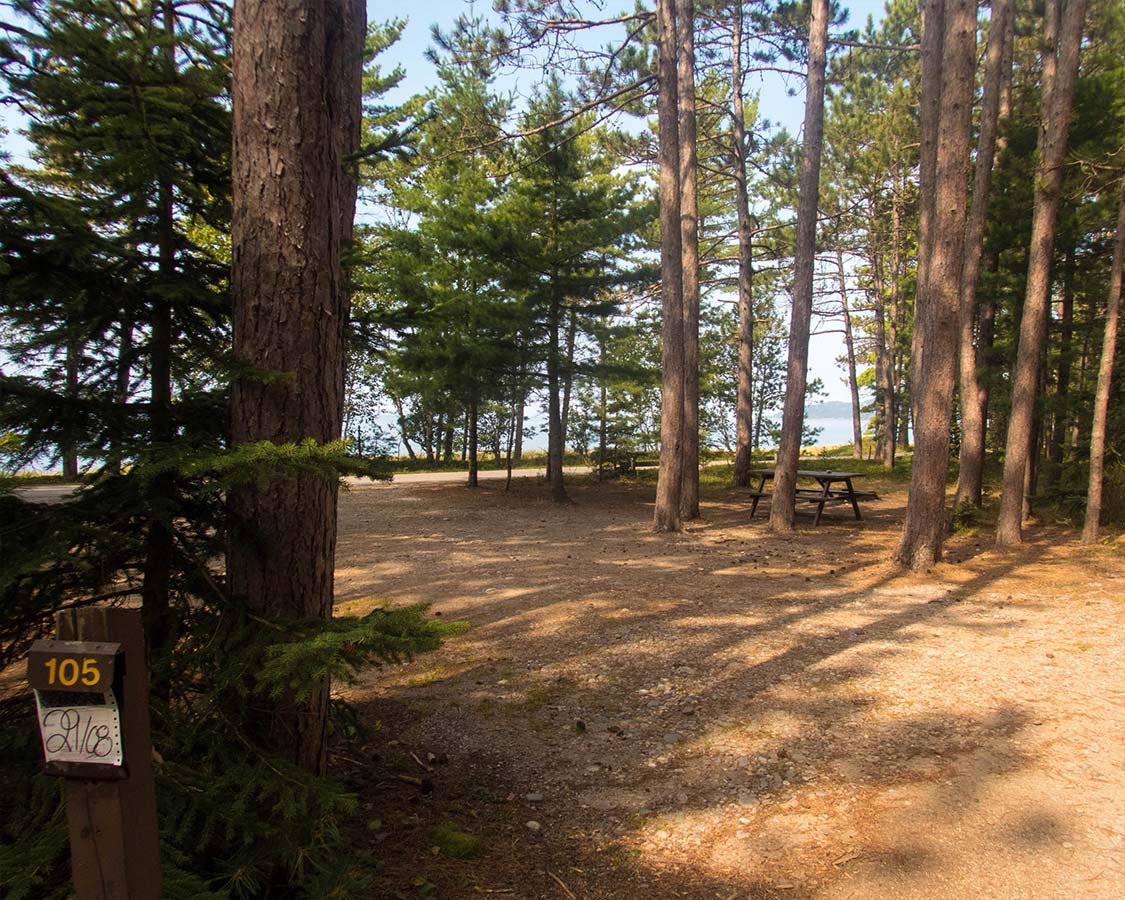 Back Country Camping in Lake Superior Provincial Park
There are 200 backcountry sites in Lake Superior Provincial Park. These campsites are first-come, first-serve. They are located along the hiking trails and canoe routes throughout the site.
Lake Superior Provincial Park For Kids
Like all of the amazing provincial parks in Ontario, visiting Lake Superior Provincial Park with kids is a great experience. The Visitor Centre has excellent learning tools to help kids understand the surrounding forest and the wildlife that call it home.
Hiking with kids through the many trails is a wonderful way to build confidence, learn about nature and experience some of Canada's most breathtaking natural beauty.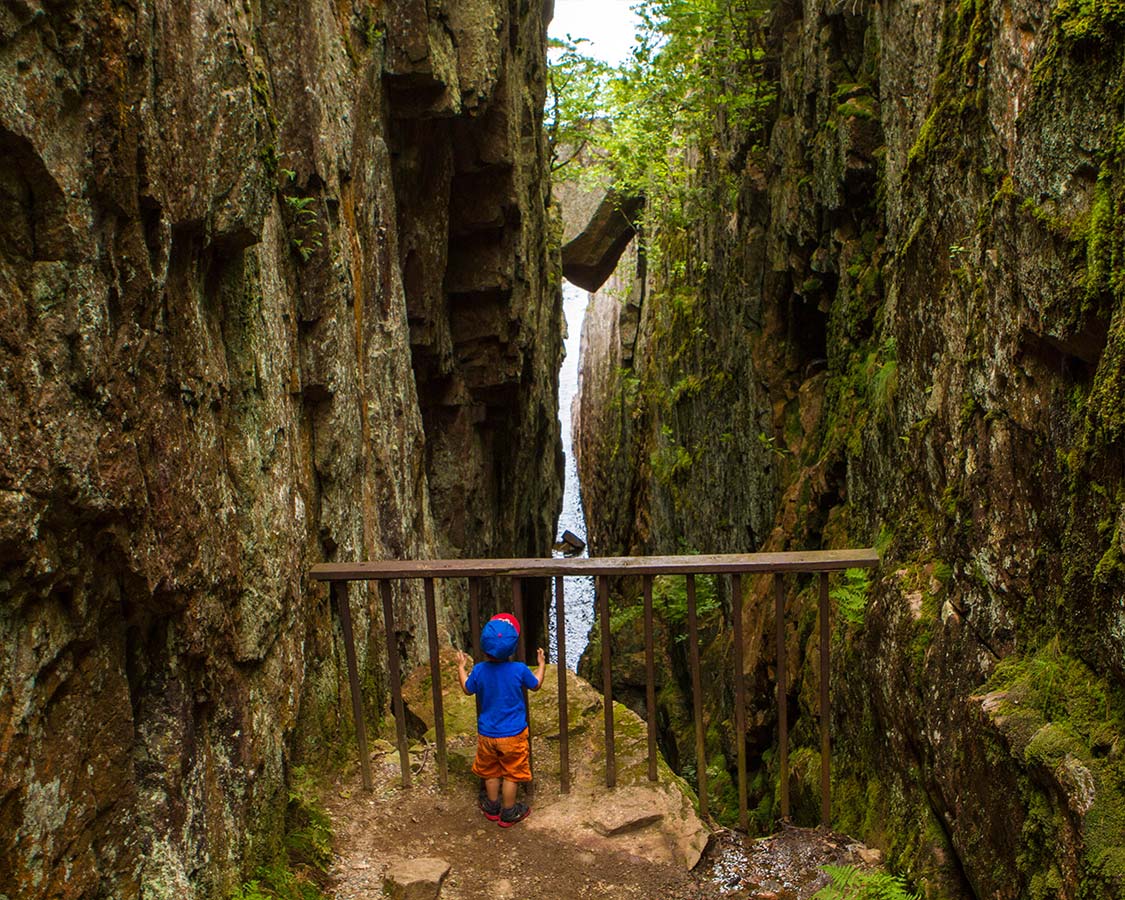 Best Time To Visit Lake Superior, Provincial Park
Lake Superior Provincial Park is a year-round destination. Some people love to experience the winter here when the coast of Lake Superior starts to crust with ice. Snowshoeing and hiking are popular at this time of year, however, park facilities are closed during winter. But the most popular time to visit Lake Superior Provincial Park is from spring to mid-fall.
Late May and June tend to offer the lowest crowds, however, the weather during this time can be rainy and cold. Spring is also when black flies are at their worst.
The summer months offer the best weather with long days, warm nights and the warmest water. By September the crowds begin to thin again. But Fall is one of the most spectacular times. The colors erupt on the trees and the beauty of fall in Ontario starts to show. Early fall is also when Lake Superior is at its warmest, so for swimming in Lake Superior Provincial Park, this is your best bet.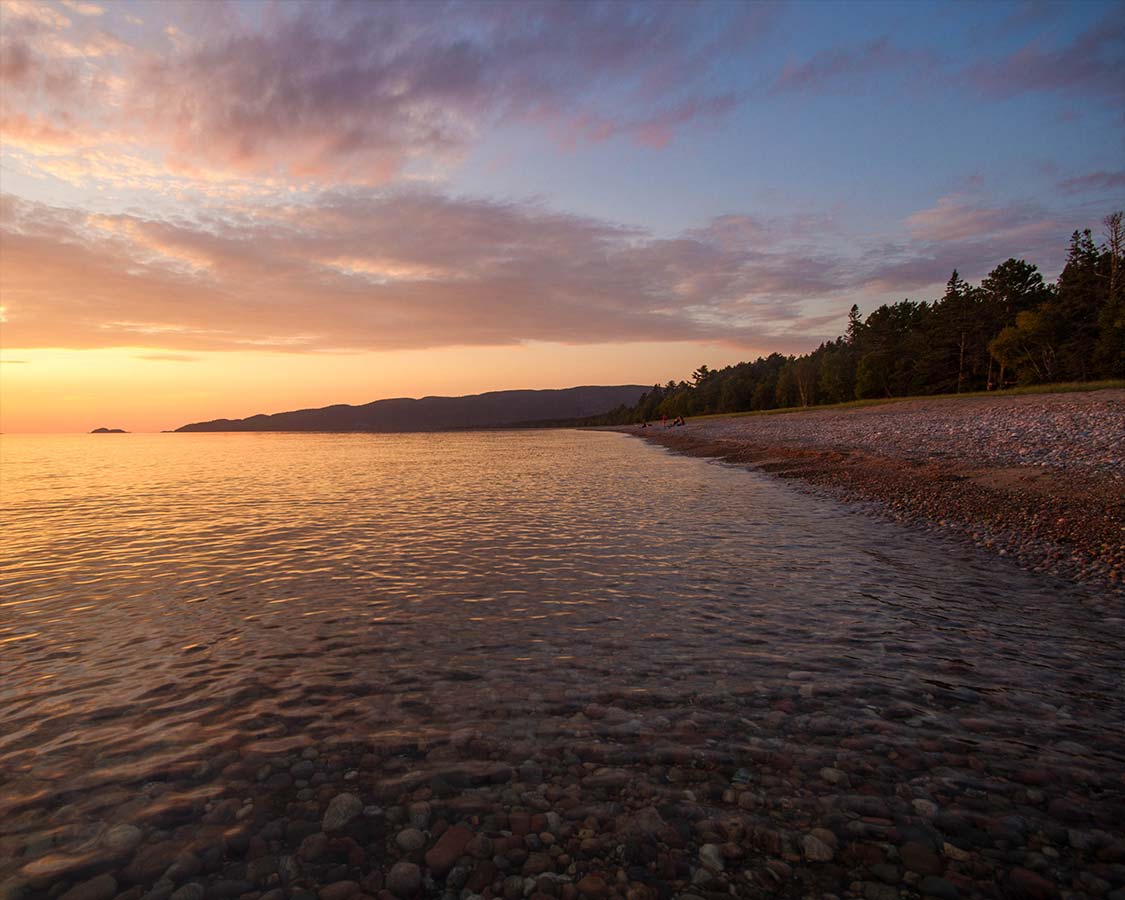 What To Pack for a Lake Superior Provincial Park Camping Trip
Getting in and out of Lake Superior Provincial Park can be a hassle due to its remote location. It's a good habit to make sure you have everything with you before you get to the park so that you don't have to make the drive of shame to Wawa Ontario.
Tent
Sleeping bags
Bug spray (something with DEET, especially during the early and late season to keep black flies and mosquitoes at bay)
Cooking supplies (camping pots, plates, cutlery)
Food
Water bottles
Water (We recommend bringing a large, refillable water container)
Matches and fire starters
Swimsuits and towels
Fishing poles and bait
Hiking shoes
Sandals
Camping stove and propane (even if you are planning on cooking on the fire pit, it's important to remember that there are sometimes fire bans)
Canoe or Kayaks
Do you have a favorite provincial park or National park in Ontario? Tell us about it!
Wandering Wagars is a participant in the Amazon Services LLC Associates Program, an affiliate advertising program designed to provide a means for sites to earn advertising fees by advertising and linking to amazon.com, amazon.co.uk, amazon.ca. Amazon and the Amazon logo are trademarks of Amazon.com, Inc. or its affiliates.
You May Also Like To Read: