Often referred to as Ontario's "Other" National Park due to its remote location, Pukaskwa National Park is bursting with stunning landscapes and wildlife.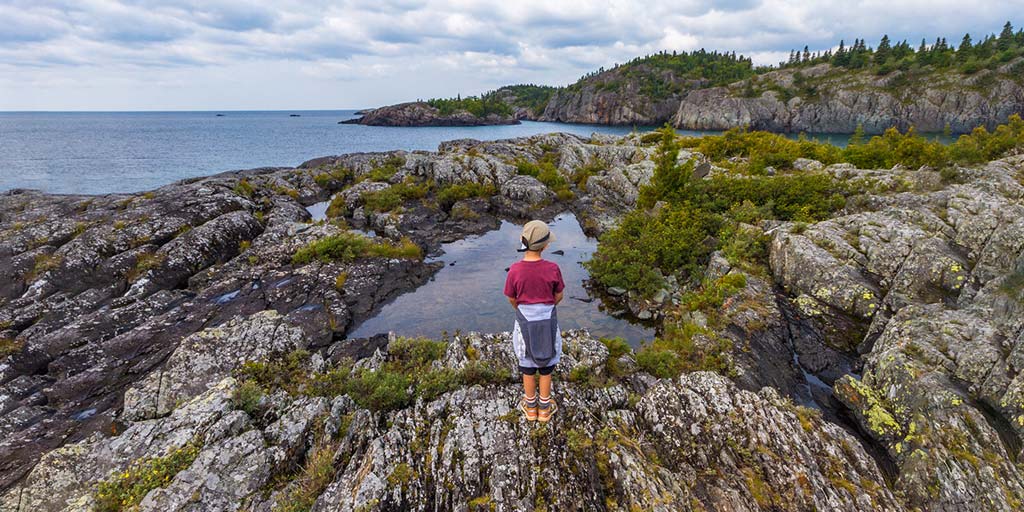 There is a lot of opportunities for camping in Ontario. From the province's vast selection of Provincial and National Parks, it's sometimes hard to choose! But amidst all of these incredible nature destinations, Pukaskwa National Park remains a bit of an enigma.
Maybe it's the remote location or the fact that most people don't know how to pronounce the name (PUK-a-SAW). But whatever the reason, this gorgeous spot is often overlooked by even the most die-hard Ontario parks lovers. But it shouldn't be! In fact, Pukaskwa is one of our favorite National Parks in Canada.
Pukaskwa is one of the most amazing stops on a Sault Ste Marie to Thunder Bay drive. It's a little bit out of the way, but it is more than worth the little bit of extra time.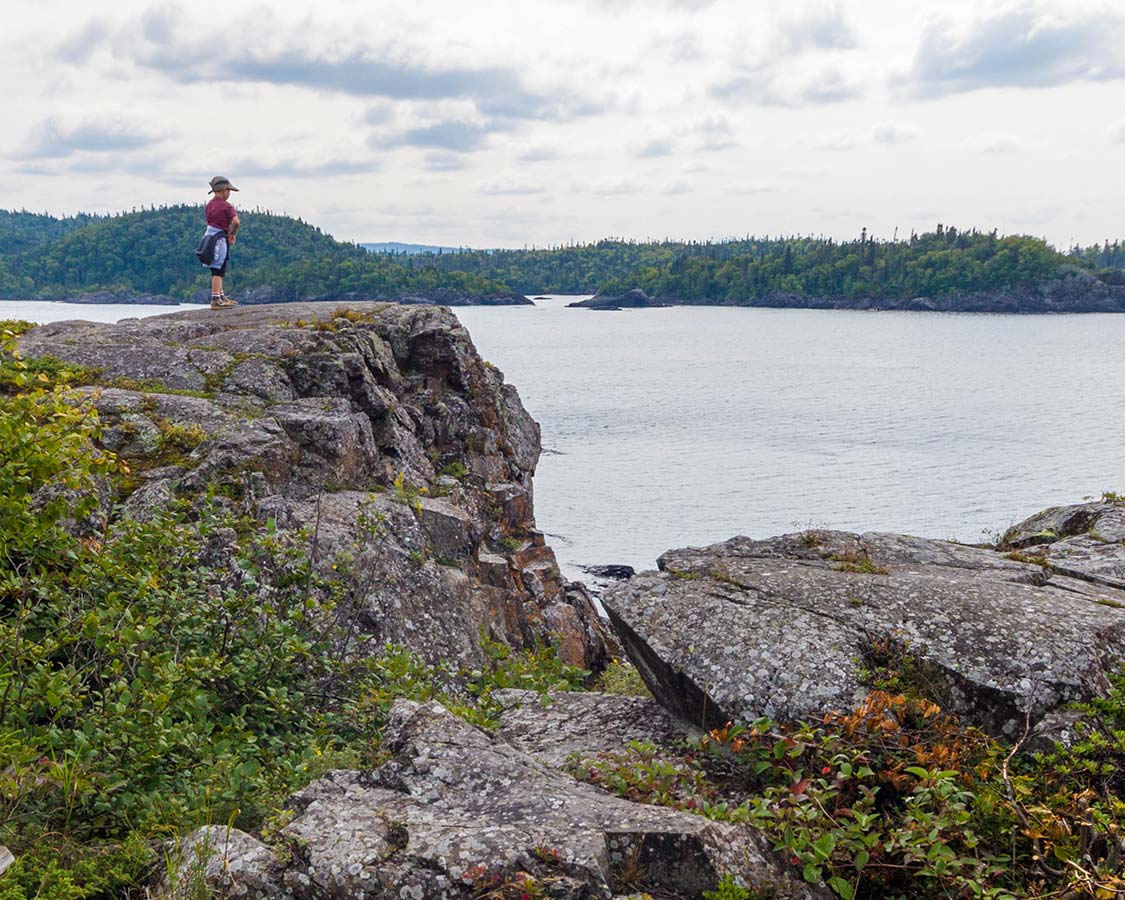 About Pukaskwa National Park
Pukaskwa National Park was the only one of the Ontario National Parks that we had not yet visited. So, when we were planning our Northern Ontario road trip through Lake Superior and Georgian Bay Islands, we knew we had to push further north to visit this vast natural playground.
Pukaskwa is a Canadian National Park located in Northern Ontario. This remote wilderness sits about halfway between Sault Ste Marie and Thunder Bay. At 1880 km sq (725 sq mi), it is Ontario's largest National Park. And it is bordered by the world's largest freshwater lake, Lake Superior. Pukaskwa is famous for its stunning views of Lake Superior. And that's no surprise considering it houses the longest undeveloped shoreline on the Great Lakes.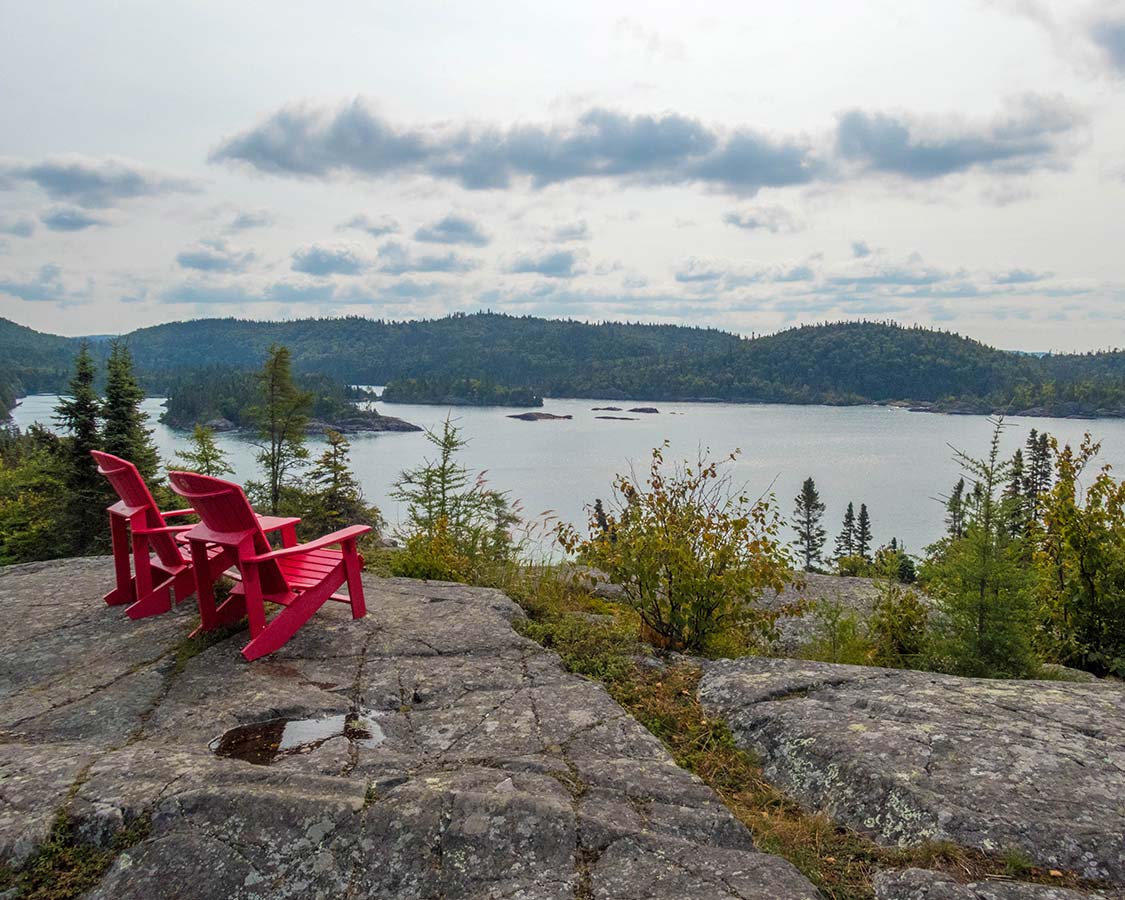 How to Get to Pukaskwa National Park
Getting to Pukaskwa National Park is not as easy as the other National Parks in Ontario. That is of course unless you live in Northern Ontario. Since we were starting from just outside of Toronto, in Southern Ontario, we had two options: flying or driving.
Flying to Pukaskwa National Park
The closest town to Pukakswa National Park with an airport is Marathon, Ontario. There are two airports you can fly into. Thunder Bay Airport, which is a three-and-a-half-hour drive from Pukaskwa and Sault Ste. Marie Airport, which is a five-hour drive. Either way, you will need to get transportation the remaining distance. In case you were thinking of it, public transit is not an option.
Driving to Pukaskwa National Park
As our Pukaskwa visit was part of our Northern Ontario Roadtrip, we decided to drive from the Greater Toronto Area to Pukaskwa National Park. The 1100 km drive starts by taking Highway 400 North to the Trans Canada Highway to Highway ON-627 which goes through the park. It's a long Ontario road trip, but the views along the way are incredibly scenic.
The alternate route to Puksaskwa takes travelers through Bruce Peninsula National Park and across the Chi Cheemaun Ferry to beautiful Manitoulin Island. To mix things up a bit, this is the route that we took home.
Both routes will take travelers through the towns of Sault Ste. Marie, and past Lake Superior Provincial Park. Further north are the towns of Wawa, home to the famous Wawa Goose, and White River, the birthplace of famed children's storybook character, Winnie The Pooh.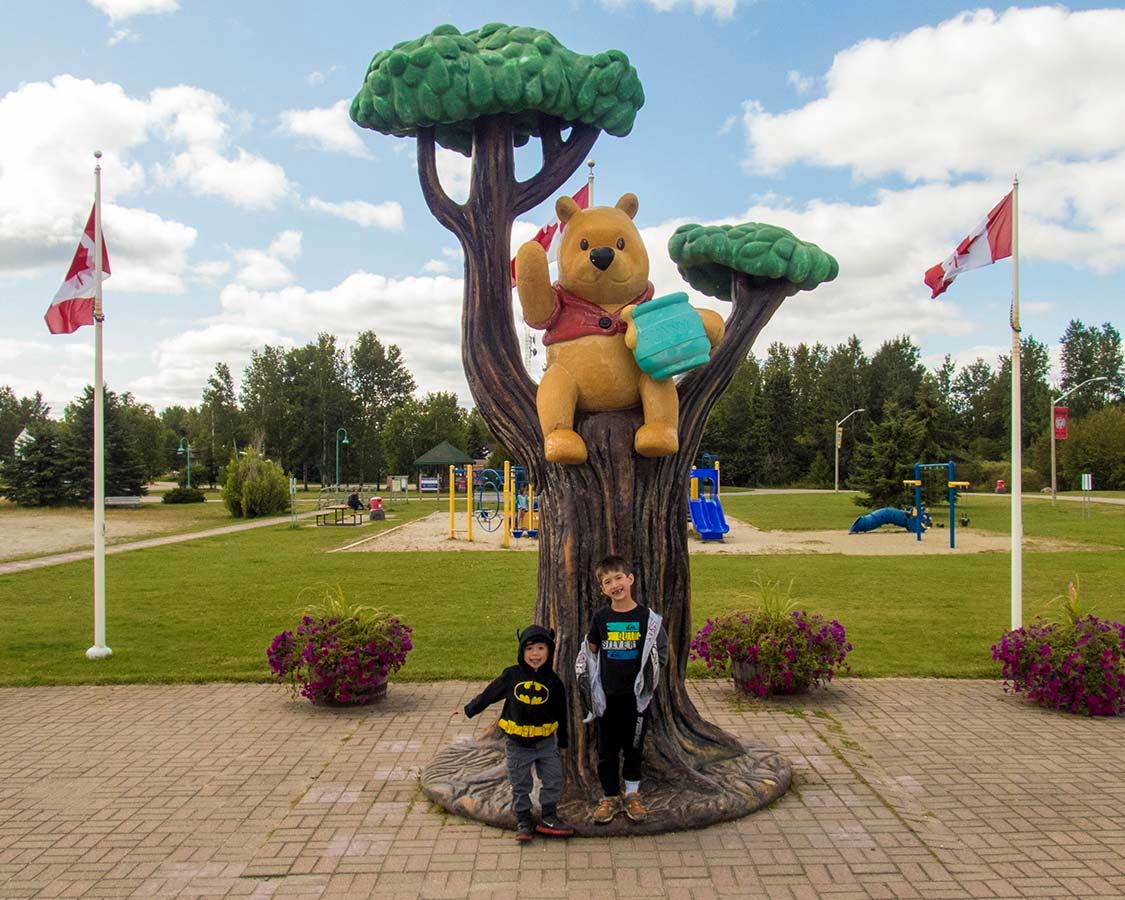 Top Things to do at Pukaskwa National Park
Stop by the Visitor's Centre at Hattie Cove
Hattie Cove is the only section of Pukaskwa National Park that is accessible by road. It is where the Pukaskwa campground and the Pukaskwa Visitor Centre are both located.
Within the Visitor Centre, there were displays explaining the life of the Anishinaabe, the local indigenous people of the area. Right behind the Visitor Centre, is a village recreation where recreations are held throughout the summer to help people learn more about the Anishinaabe. This includes a Drum Social similar to what we experienced at the Great Spirit Circle Trail on Manitoulin Island.
The Visitor Centre also houses the park store. You can purchase camp provisions or in C and D's case, the latest addition to their Canada Park's badge collection.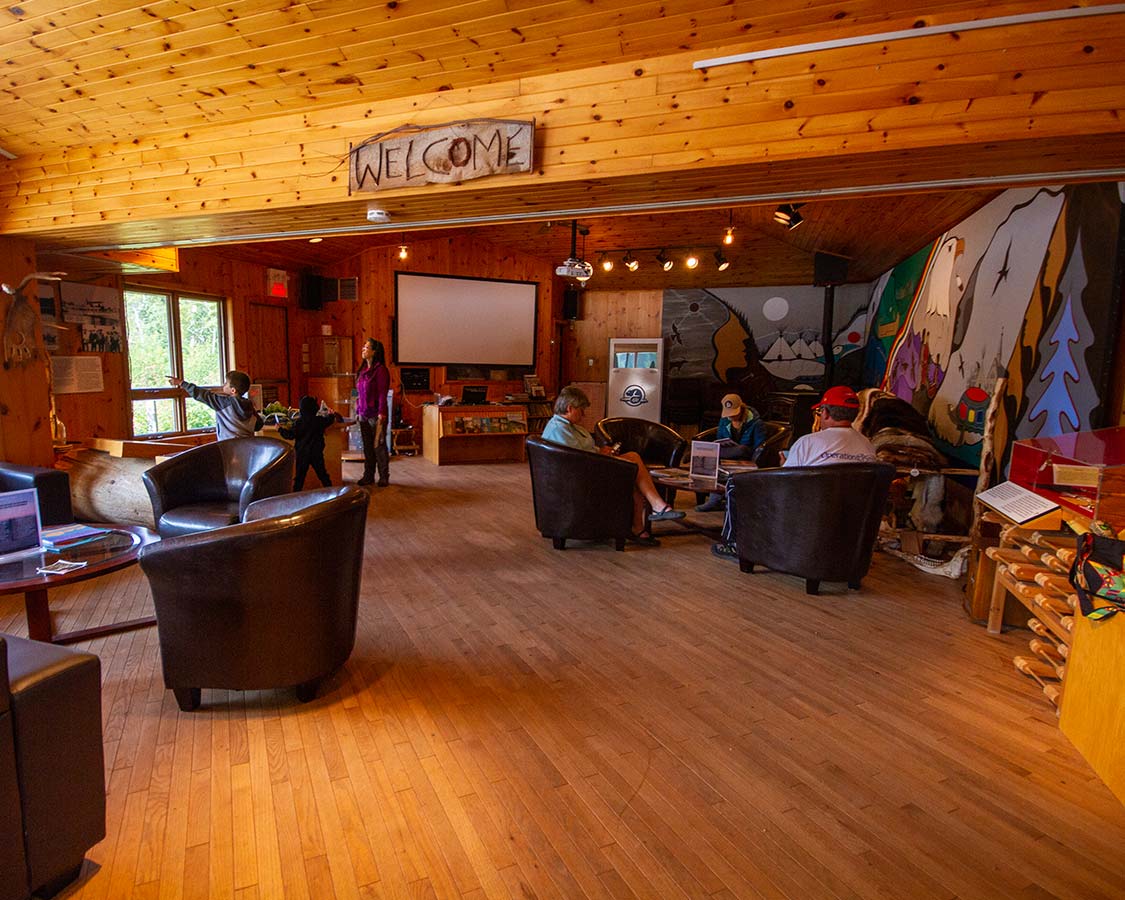 Pro-Tip: There is limited phone and data reception in Pukaskwa. But there is free wi-fi access available at the Visitor's Centre.
Kayaking and Canoeing in Pukaskwa National Park
Pukaskwa covers a huge area full of lakes and rivers. It is truly a water lovers paradise. Whether you are looking to paddle the calm backcountry waters, or brave the Lake Superior coastal route, you'll find something just right here.
The main canoe launch is located at Hattie Cove within the campground. Due to the protected nature of the waters at Hattie Cove (or Bii to bii gong in Anishinaabe), paddling here was very easy. The calm waters of the cove meant we could easily paddle for long distances without the boys complaining about the waters getting choppy.
From here it's also easy to make your way out into Lake Superior. But be warned, the waters can get a little wavy if the wind picks up.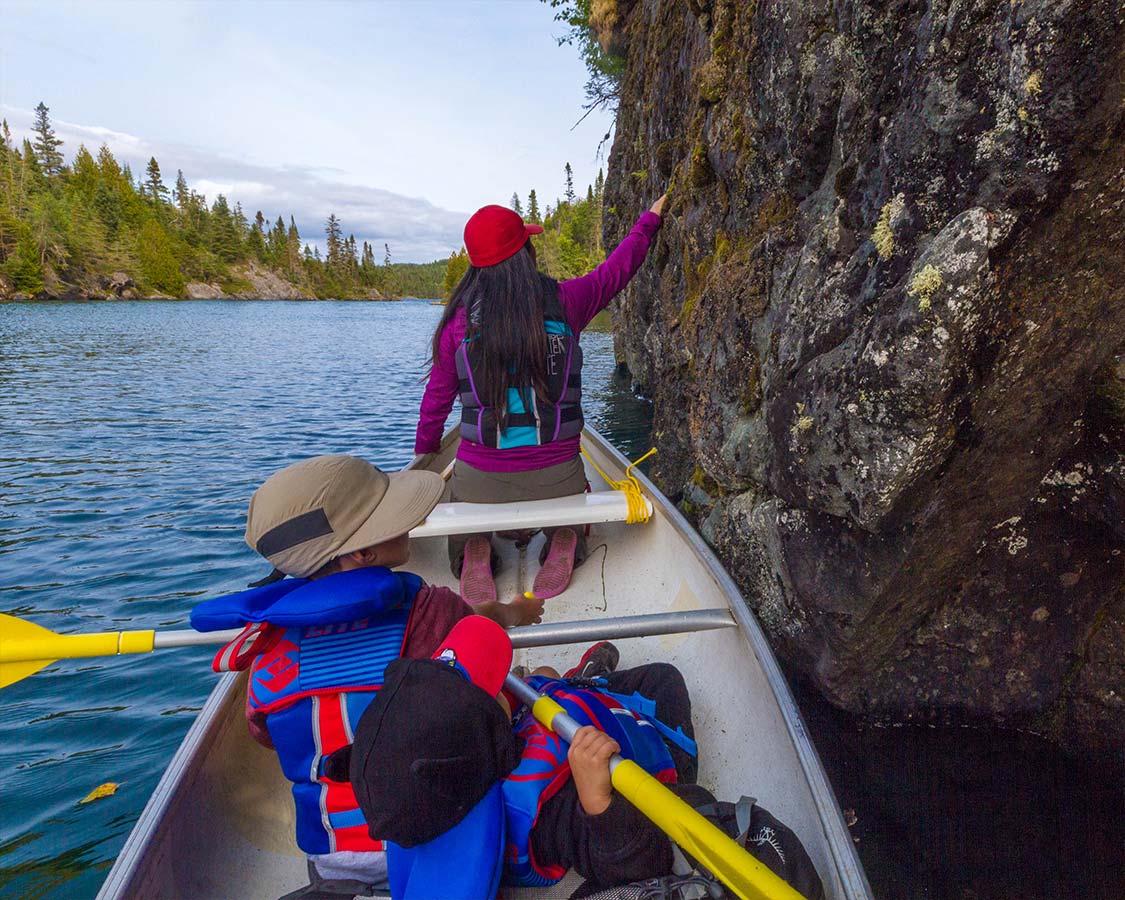 Pro-tip: Canoe, kayak, and stand up paddle board rentals are available at the park kiosk.
Pukaskwa National Park Fishing
Our eldest son C is a bit of a fishing fanatic. So, we couldn't visit here without fishing in Pukaskwa National Park. Ontario fishing regulations apply within Pukakswa National Park. This means that you need to have an Ontario fishing license in order to fish in the park. To obtain a fishing license click here. With all this coastline, the fishing in Pukaskwa is excellent, but it's best done from a boat, kayak or canoe.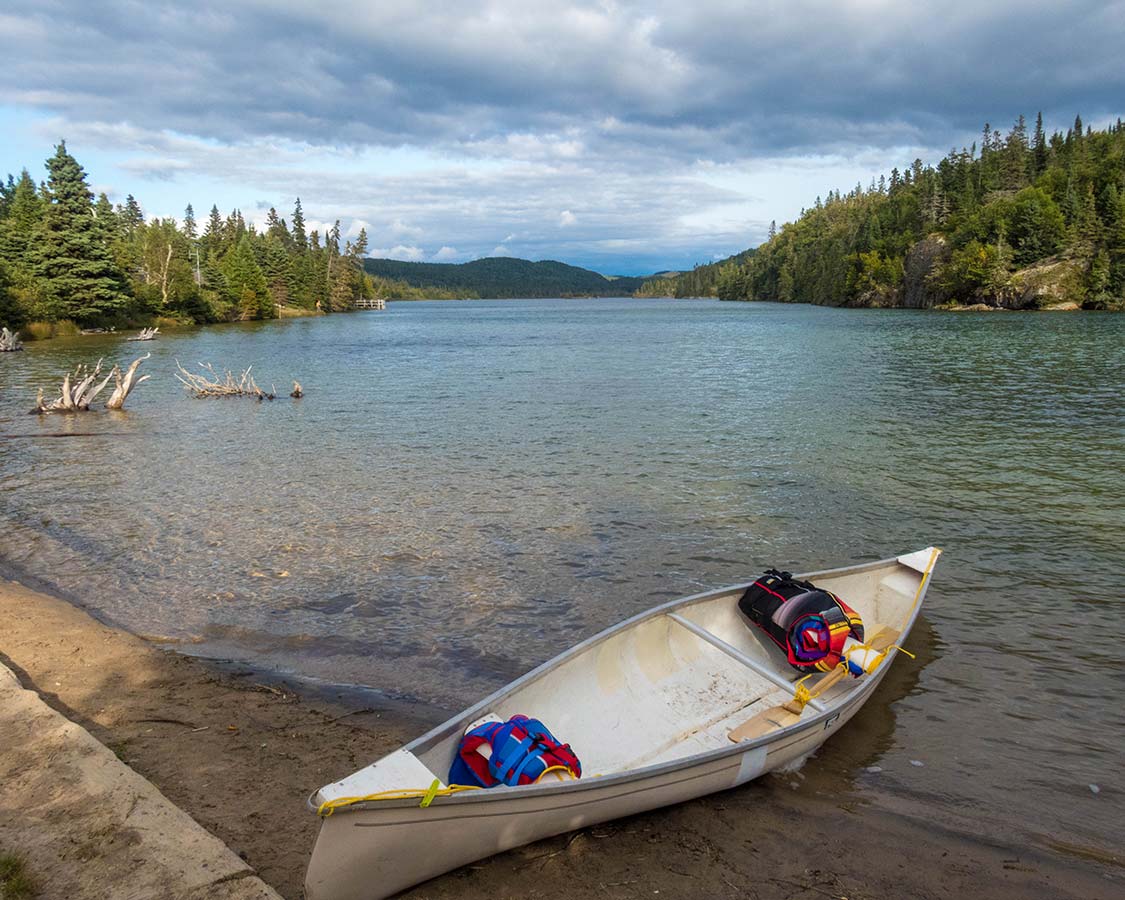 Pro-Tip: No live bait or lead sinkers can be used while fishing in Pukaskwa National Park.
Pukaskwa National Park Hiking
There are many family-friendly hikes in Pukaskwa National Park. In fact, all of the hikes within the park can be completed as day excursions. For a Pukaskwa National Park trail map, head to the Visitor's Centre. There are also signs around the Visitor's Centre parking lot which clearly mark the various trail heads.
During our few days at the park, we were able to complete most the hikes with the exception of the White River Suspension Bridge via the Coastal Hiking Trail. Though we would have loved to see the iconic Pukakswa National Park suspension bridge, the kids just did not have the energy for that hike on this trip. Pukakswa was the third park in our 12-day Northern Ontario camping road trip and being without their beds was starting to affect their energy levels.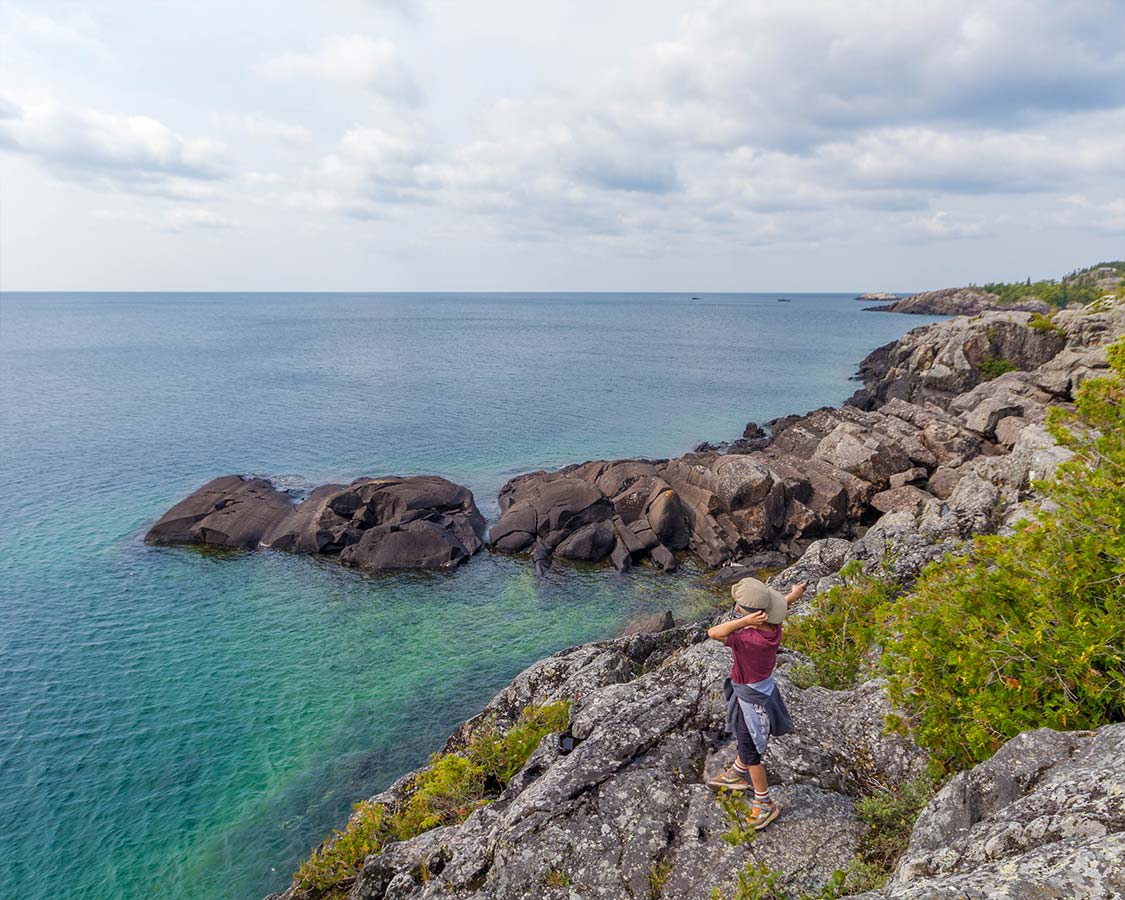 Hikes in Pukaskwa National Park
Level of Difficulty
Trail Name
Length (km)
Return Time
Easy
Boardwalk Beach Trail
1.4
30 mins
Hattie Cove Fire Walk via the Coastal Hiking Trail
0.07
1 hr
Moderate
Beach Trail
2
1 hr
Southern Headland Trail
2.2
1 hr 15 mins
Manito Miikna
2
1 hr
Bimose Kinoomagewnan
3.7
2 hr
Difficult
White River Suspension Bridge via the Coastal Hiking Trail
18
8-9 hrs
Beach Trail
But we did get to enjoy all the other trails with the exception of Bimose Kinnomagewnan. The boys really enjoyed the Beach Trail. The scattered driftwood and soft sand made it a bit of a playground. They also got to learn about Canada's famous Group of 7 artists group from plaques along the way. It was inspiring learning how they used areas like Pukaskwa and Killarney Provincial Park as a muse.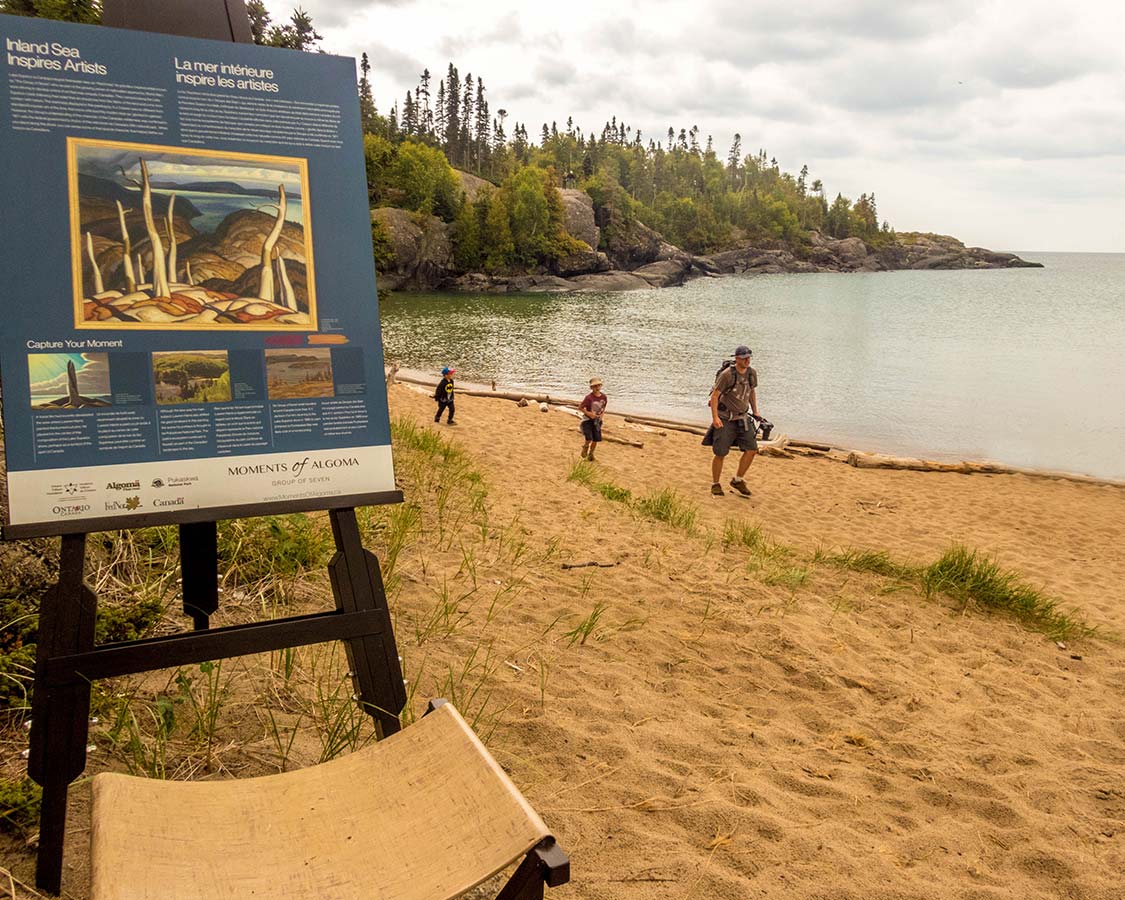 Manito Miikna and Southern Headland Trails
We were all in awe of the sweeping views Lake Superior afforded by hiking the Manito Miikna and Southern Headland Trails. The "Spirit Trail", as the Manito Miikna Trail is also called, had two viewing decks where we could sit, recharge, and have a snack, while taking in the views of the boreal forest surrounding us and the Pic River Dunes.
At the Southern Headland Trail, C and D quickly spotted the iconic Parks Canada Muskoka chairs. Our first Red Chair Experience was during our Green Gardens hike in Gros Morne National Park in Newfoundland. In fact, this is where the Parks Canada Red Chair experience first began. Now, these famous Muskoka chairs can be seen at many Canadian National Parks. We could view Hattie Cove, Pulpwood Harbour, and Horseshoe Bay along the hike.
Pro-tip: For those that are not comfortable hiking on your own, guided hikes are provided by the park. Please inquire at the Visitor's Centre where you can speak to a park ranger to learn more.
Swimming at Horseshoe Bay
It is possible for those who want to cool off to swim at Horseshoe Bay. It is easily accessible via the Boardwalk Beach Trail. Not to be confused with Horseshoe Bay in Bermuda, the Lake Superior water in Horseshoe Bay is a brisk and refreshing 4 degrees Celsius on average in the summer. As we were visiting late in the summer with some frosty nights, we only ended up dipping our toes.
Pukaskwa National Park Wildlife Spotting
Pukaskwa covers a huge area. And within the deep wilderness there are plenty of incredible Ontario wildlife to experience. Beavers and lynx can often be spotted at the park. In addition, although not originally from the area, moose are commonly sighted in the park interior.
During the evenings, it's not uncommon to hear wolves howling in the distance. Pukaskwa National Park is also home to Black Bears, so be aware when hiking. Wear bells or make noise so that you don't startle wildlife by coming upon them unexpectedly.
Pukaskwa National Park Camping
Frontcountry Camping
Front-country camping in Pukaskwa is only available at Hattie Cove. At this 67-site campground, it is possible to have both non-electrical and electrical sites. Unlike front country camping at Bruce Peninsula National Park and Georgian Bay Islands National Park, where you have to reserve a spot weeks, if not months in advance, camping at Hattie Cove is on a first-come, first-serve basis.
Each front-country Pukaskwa campsite has a fire pit and picnic table. Hatti Cove also has a large comfort station with hot showers! Last, it was easy to refill our water jugs with potable water stations near the comfort station.
There are also Campground Hosts in Pukaskwa! Campground hosts are campers that are staying at the park long-term. The designated site is clearly marked. Campground hosts can offer assistance when the park kiosk is already closed. They also sell firewood and can offer other assistance. If you're new to camping with kids, you can check out our tips on family camping here.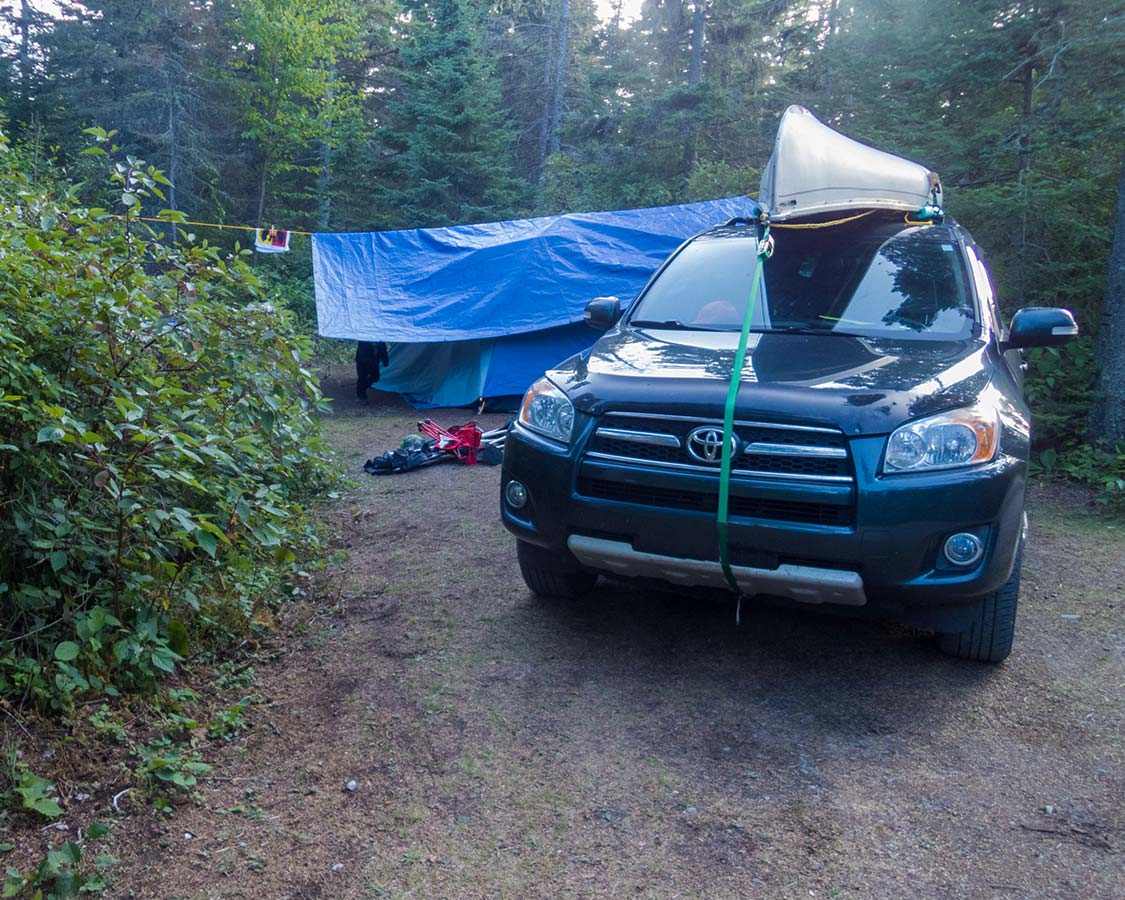 Backcountry Camping in Pukaskwa National Park
There are also backcountry sites in Pukaskwa National Park. The 65-backcountry sites can be reserved online here, unlike the front country sites. Each site has a fire pit, and a food locker and privy toilets are also accessible.
Pukaskwa oTENTik Camping
The newest addition to Pukaskwa National Park lodging options are oTENTiks. These part tent part cabin structures come with many amenities such as beds that sleep up to 6 people, wood stove for those cool Northern Ontario evenings, and a bbq on a nice wooden deck. We had the pleasure of staying in on oTENTIK when we visited the Thousand Islands National Park.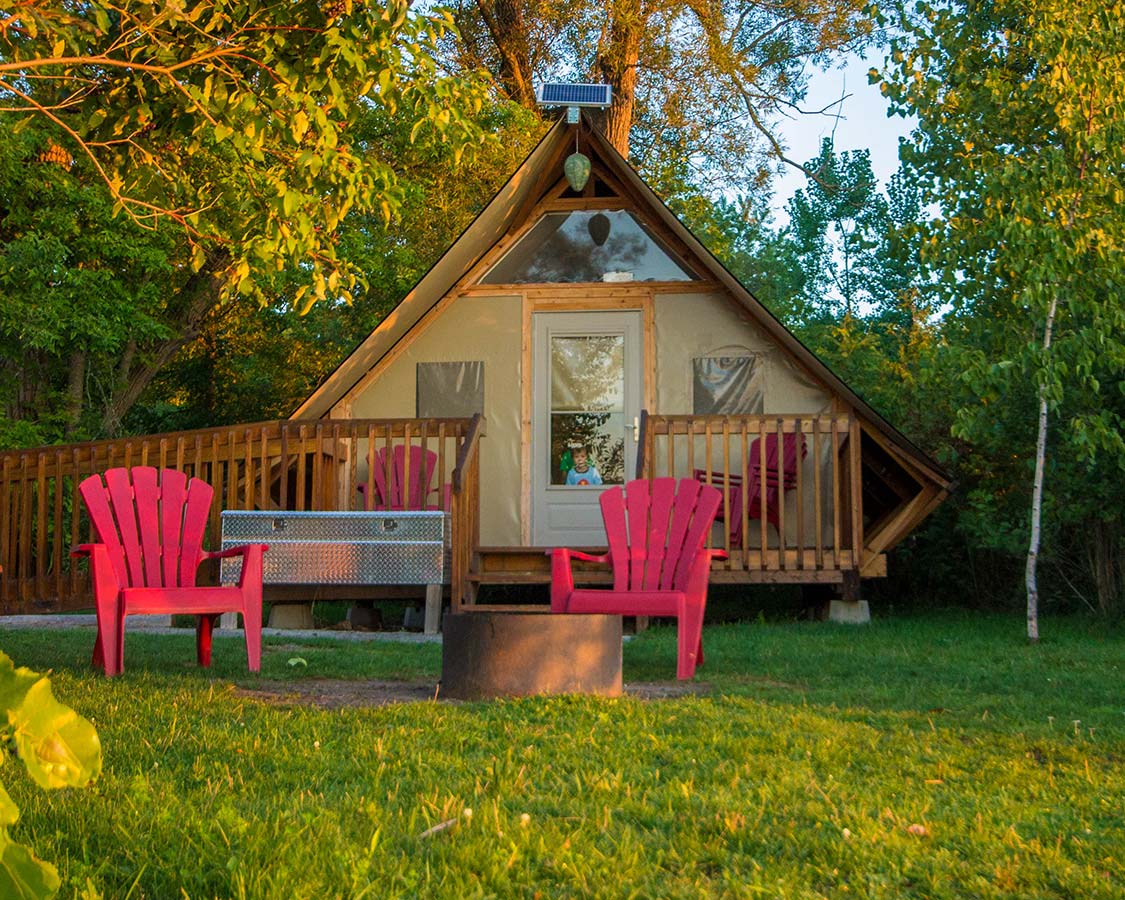 Is Pukaskwa National Park Kid-Friendly?
Pukaskwa National Park was strikingly beautiful. And we were impressed at how so many of the hikes were so well suited for families with children – even young children. Also, paddling in the protected waters of Hattie Cove was so relaxing it allowed the kids to look around and watch for birds.
But, this is bear country! So, do be careful and make sure to maintain a bare campsite. Keep small children close by and be sure they know how to behave if they spot a bear.
What Is The Best Time to Visit Pukaskwa National Park?
As with all of Ontario's National Parks, summer is peak season in Pukaskwa NP. The National Park is not open in Fall or Winter and only opens to the public during late spring. Unlike other Canadian National Parks that are relatively close to major cities, Pukaskwa's remote location means that it doesn't get crowded.
We recommend spending at least 2-3 days in Pukaskwa to experience the most accessible trails and views. However, it is easy to spend a week, or even more exploring the backcountry of Pukaskwa.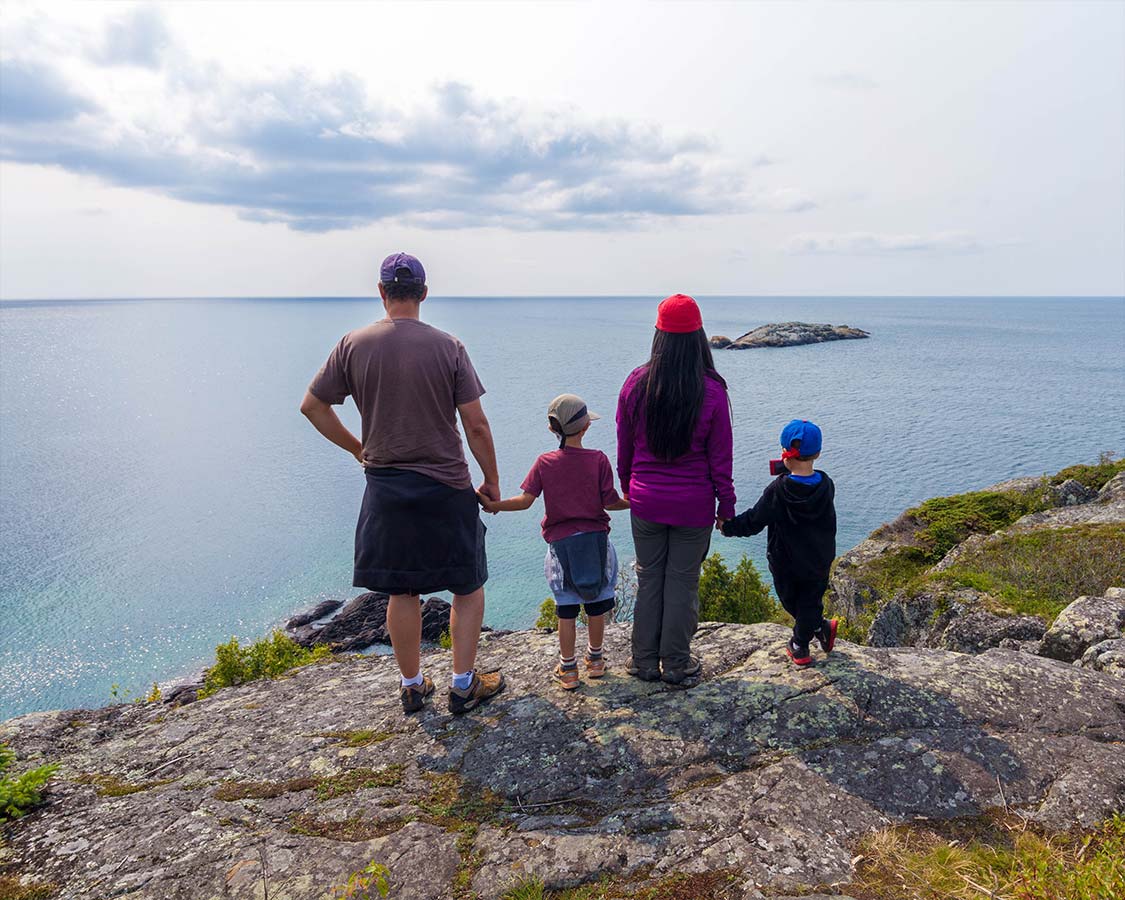 What to Pack for a Pukakswa National Park Camping Trip
Getting in and out of Pukaskwa National Park can be a hassle due to its remote location. It's a good habit to make sure you have everything with you before you get to the park so that you don't have to make the drive of shame to Marathon or White River.
Tent
Sleeping bags
Bug spray (something with DEET, especially during the early and late season to keep black flies and mosquitoes at bay)
Camp stove, propane and cooking supplies (camping pots, plates, cutlery)
Food
Water bottles
Water (We recommend bringing a large, refillable water container)
Matches and fire starters
Swimsuits and towels
Fishing poles and bait
Hiking shoes
Sandals
Canoe or Kayaks
Do you have a favorite provincial park or National park in Ontario? Tell us about it!
Wandering Wagars is a participant in the Amazon Services LLC Associates Program, an affiliate advertising program designed to provide a means for sites to earn advertising fees by advertising and linking to amazon.com, amazon.co.uk, amazon.ca. Amazon and the Amazon logo are trademarks of Amazon.com, Inc. or its affiliates.
You May Also Like To Read:
Pin This Post For Later: