Ontario's Bruce Peninsula is one of the most iconic destinations in the province. Tobermory Camping in Bruce Peninsula National Park is the best way to see it.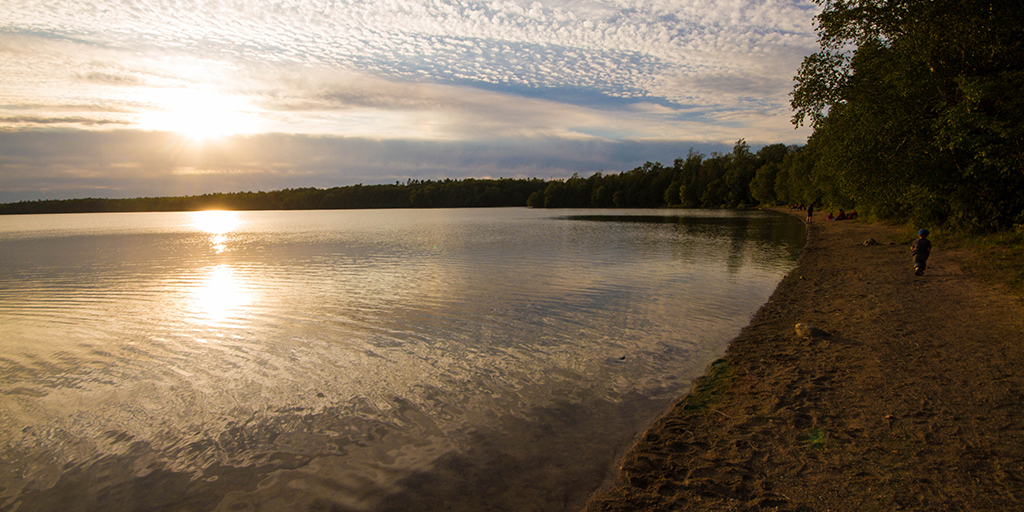 Heading 3-4 hours north of Toronto, Ontario in Bruce County takes travelers into one of the most beautiful and popular places in Ontario. Tobermory, Ontario is a lakeside town situated at the tip of the Bruce Peninsula on the shores of Lake Huron. Not only is camping in Tobermory the perfect way to spend a summer getaway, but it's also home to two of Ontario's best National Parks: Bruce Peninsula National Park and Fathom Five National Marine Park.
Bruce Peninsula National Park is one of the busiest and most popular National Parks in the entire country. During the summer months, hundreds of thousands of visitors flock to the region to experience some of the most incredible views and hike the legendary trails. So understanding how to plan your visit to Bruce Peninsula NP is very important to enjoying the park in the best possible way.
Here's how we suggest you make the most of your Tobermory camping getaway in Bruce Peninsula National Park.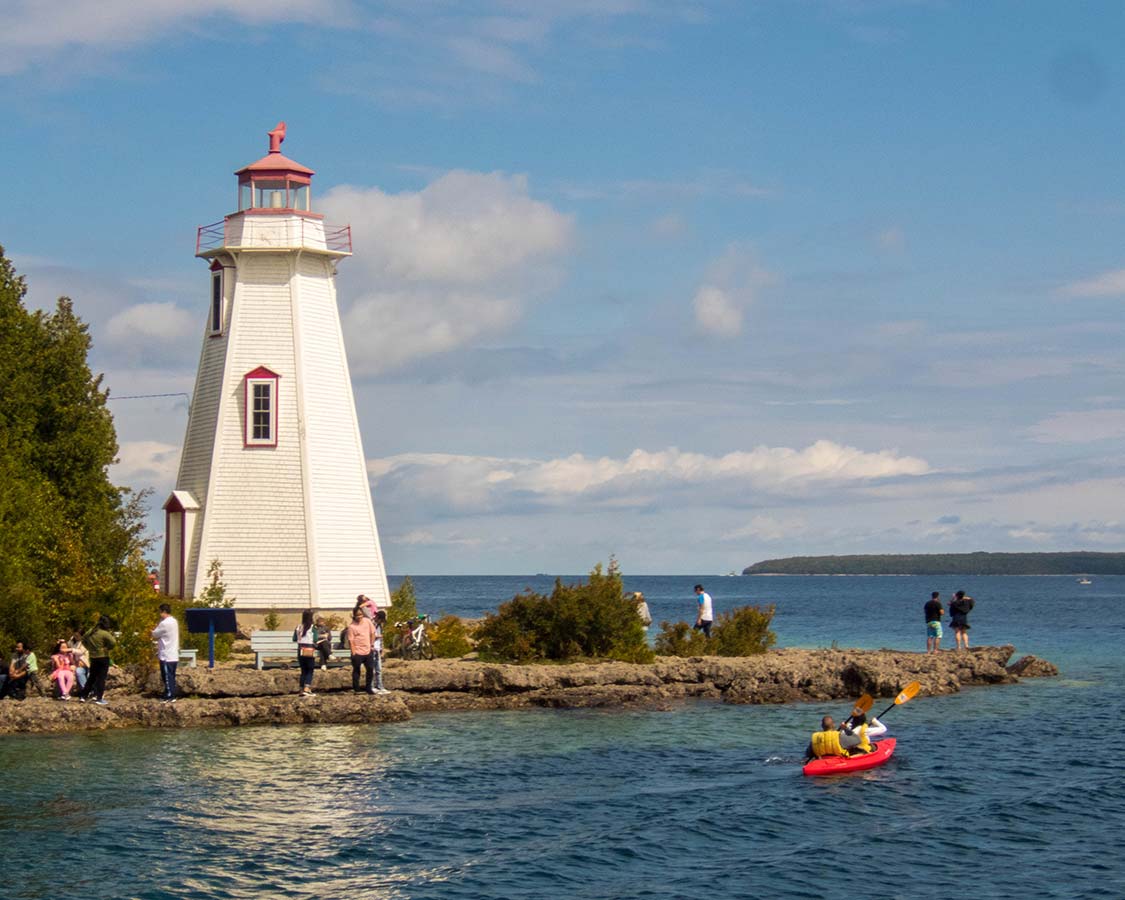 There are loads of amazing things to do in Tobermory Ontario, from the Big Tub Lighthouse, tours of the amazing Tobermory shipwrecks, kayaking, and boat tours. But for those that want to be as close to nature as possible, then bar none, the best way to enjoy the beautiful scenery in the Bruce Peninsula is to go camping in Bruce Peninsula National Park!
If you're camping with kids, Tobermory camping has everything you need for an unforgettable family trip. It's no surprise why this is considered one of the best National Parks in Canada.
About Bruce Peninsula National Park
Bruce Peninsula National Park is 156 sq km of craggy limestone cliffs, mixed forests, wetlands, and gorgeous beaches! The Bruce County National Park really has it all. It's no surprise as to why it' has been made a part of the UNESCO World Biosphere Reserve.
While Bruce Peninsula NP isn't the only spot for camping in Tobermory, Ontario, it's certainly the most beautiful. Ther e are many private campgrounds throughout the Bruce Peninsula if the national park is booked. You can check out a list of private campgrounds near Tobermory here.
There are two separate Parks Canada visitor centers at Bruce Peninsula National Park. The main one is actually located within the town of Tobermory itself at 120 Chi Sin Tib Dek Road. The main Bruce Peninsula National Park visitor center located at the Cyprus Lake campground within the park is geared more towards those camping or filling out their reservation for day use reservations. Accessing the Cyprus Lake visitors center is best done by those who have a prior reservation for camping or hiking.
There are loads of things to do in Bruce Peninsula National Park for families, solo travelers, and more. Here are some of our favorite Bruce Peninsula National Park activities.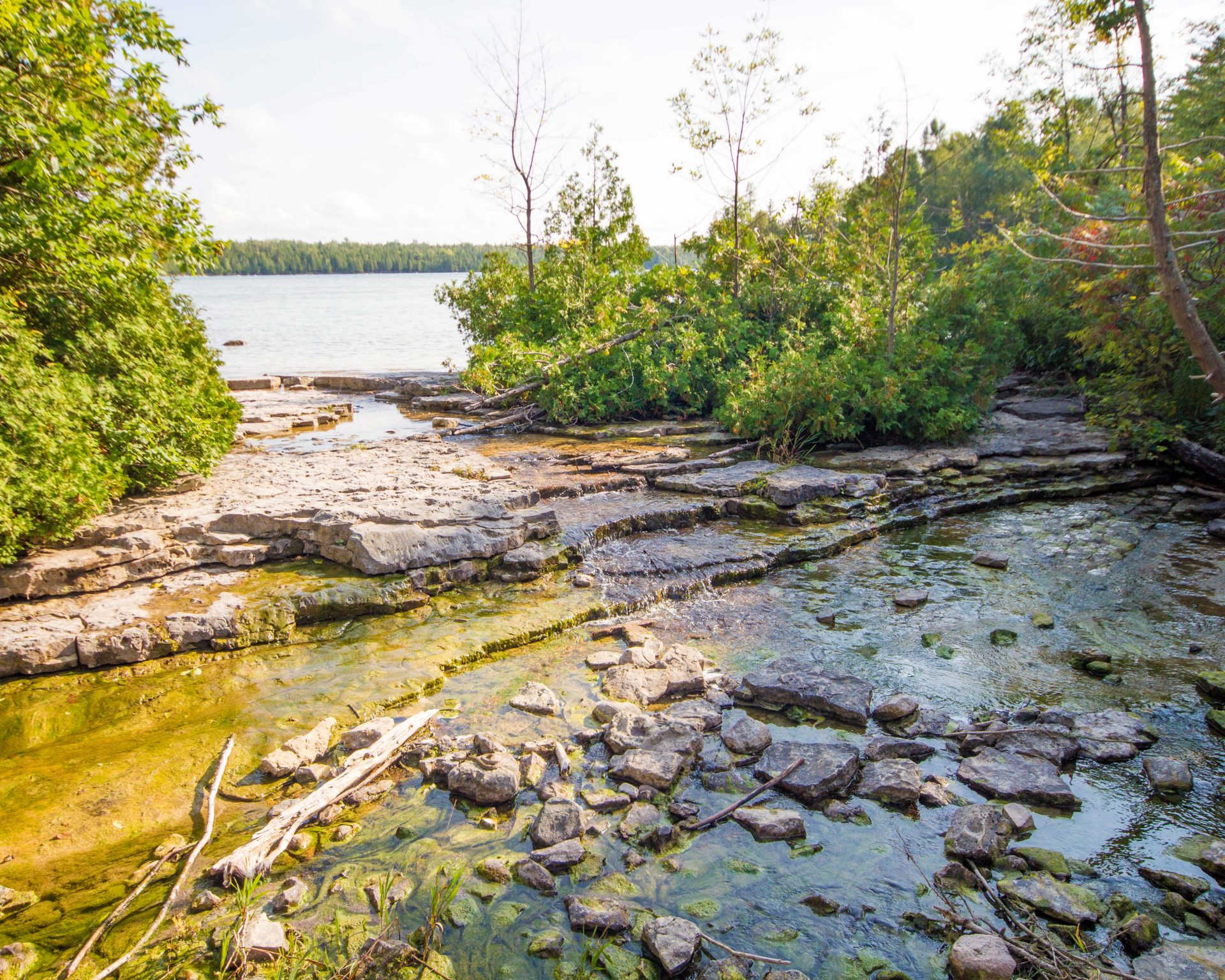 Things to do in Bruce Peninsula National Park
The best way to start your Tobermory camping adventure is at the National Park office in Tobermory. Here, you can pick up a map and learn about the many activities that are offered by the Bruce Peninsula National Park staff.
It is also the place to purchase firewood or ice when camping in Cyprus Lake Campground. There is also a park office within Bruce Peninsula National Park as well for those camping or looking to register for the hike to the Grotto.
Tobermory Camping at Cyprus Lake Campground
Cyprus Lake Campground in Bruce Peninsula National Park is the most popular spot for camping in Tobermory. This campground has 232 front country sites divided into three unique campgrounds: Birches, Poplars, and Tamarack.
All the Cyprus lake campsites provide easy access to Cyprus Lake. The boys took full advantage of this during our long weekend camping trip. They happily skipped rocks, hiked the trails, or jumped in the water for a quick swim. You can access the Parks Canada reservation system here.
Cyprus Lake Campgrounds have access to potable water and toilets. However, none of the Cyprus Lake campgrounds are serviced (that is, none of the sites have access to electricity).
We stayed in the Birches campground and found the sites easily fit our medium-sized tent and tent shelter with ease. Two picnic tables came in handy as we used one for eating and another for cooking and keeping our gear off the ground.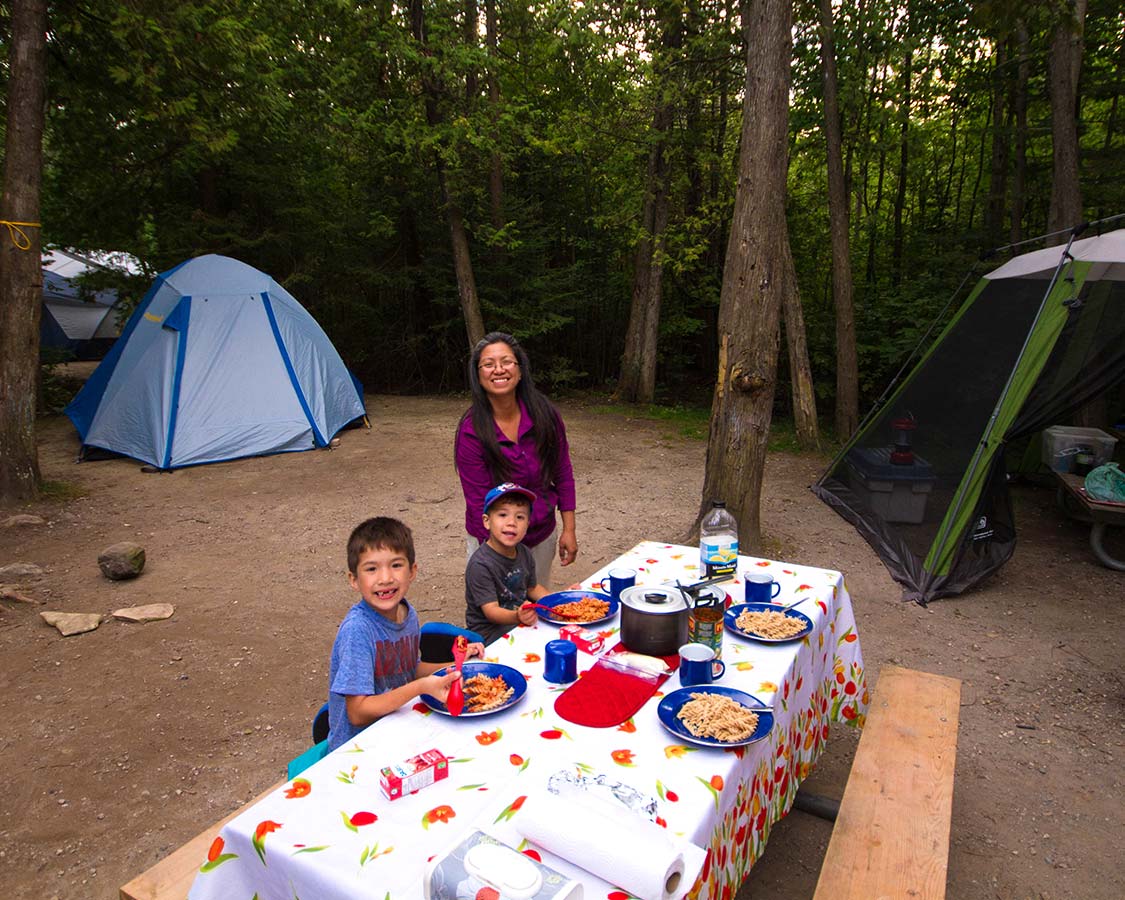 Pro-tip: There are no shower facilities at Cyprus Lake Campground. Instead, we used nature's shower AKA the lake. For those the need warm running water, you must drive 15 km back to the town of Tobermory where there are facilities that provide pay-per-use showers.
Yurt Camping at Bruce Peninsula National Park
For those that want a little more luxury for your Tobermory camping adventure or if you simply don't want to lug camping gear with you, there are 10 yurts at the Cyprus Lake Campground in Bruce Peninsula National Park. Yurts are one step up from the oTENTik that we stayed in at Thousand Islands National Park.
What is a yurt, you ask? A yurt is like a semi-permanent circular tent with a wooden frame. The yurts at Ontario Parks are a modern adaption of the yurts that are used by nomadic tribes in central Asia. The yurts have a double bed plus a bunk bed or a double bed plus a futon bed. Either way, you must bring your own bedding, so check before arriving. There is also a wooden stove, shelving, dining table, and chairs.
Although no cooking is allowed inside the yurt, there is a propane barbecue located on the deck of each site. We stayed at a yurt when winter camping in MacGregor Point Provincial Park, so we know how amazing and comfortable Parks Canada yurts can be.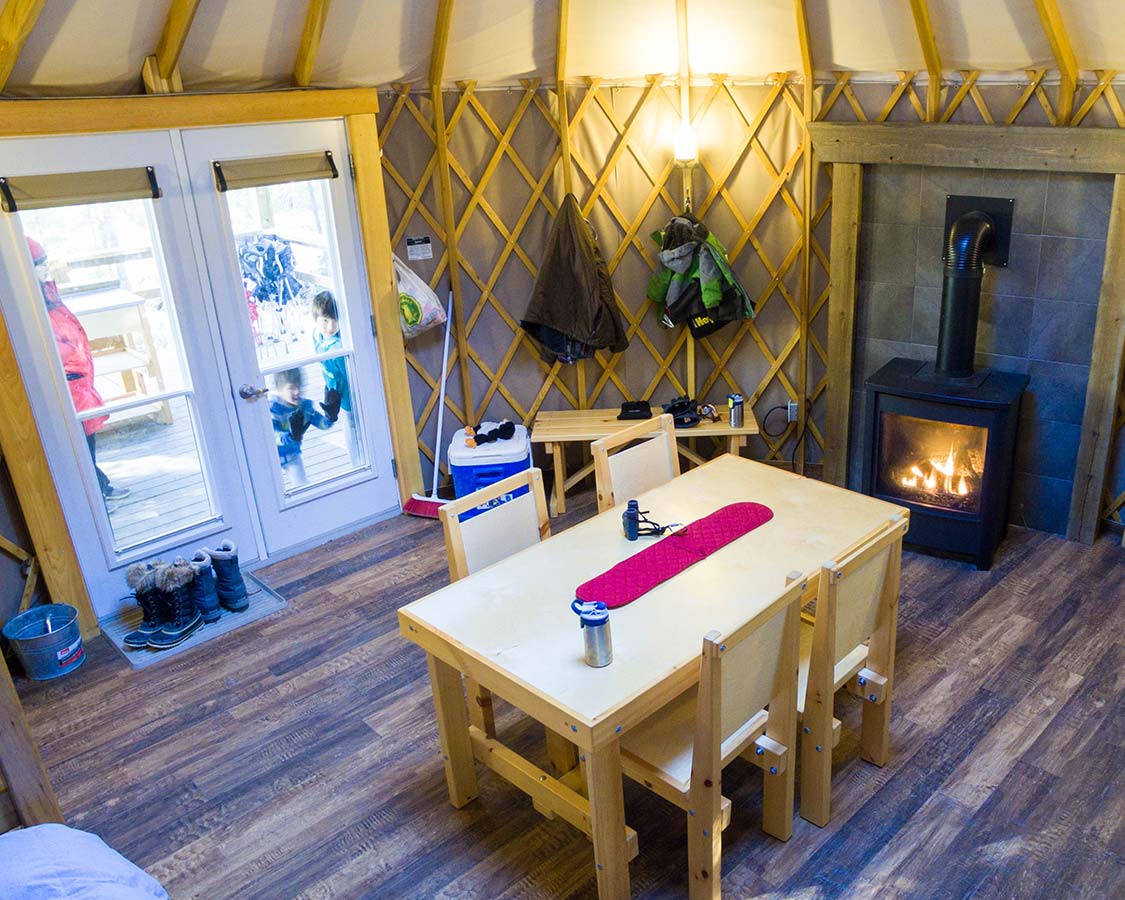 Experiencing the Grotto at Bruce Peninsula National Park
Yes, the Instagram-famous Grotto is actually inside Bruce Peninsula National Park. The Grotto is a cave found on the shores of Georgian Bay. The waters within the Grotto are so blue it is often mistaken as a Mediterranean cave instead of a Canadian treasure.
But the word is out, and thousands of people visit the Grotto each year. To ensure site sustainability, access to the Grotto for those not camping in Bruce Peninsula National Park must register via a timed parking system.
You must register online or at the Bruce Peninsula National Park to access the grotto. Registrants receive a 4-hour time slot for visiting the Grotto. There are a limited number of parking spots reserved for those visiting the Grotto.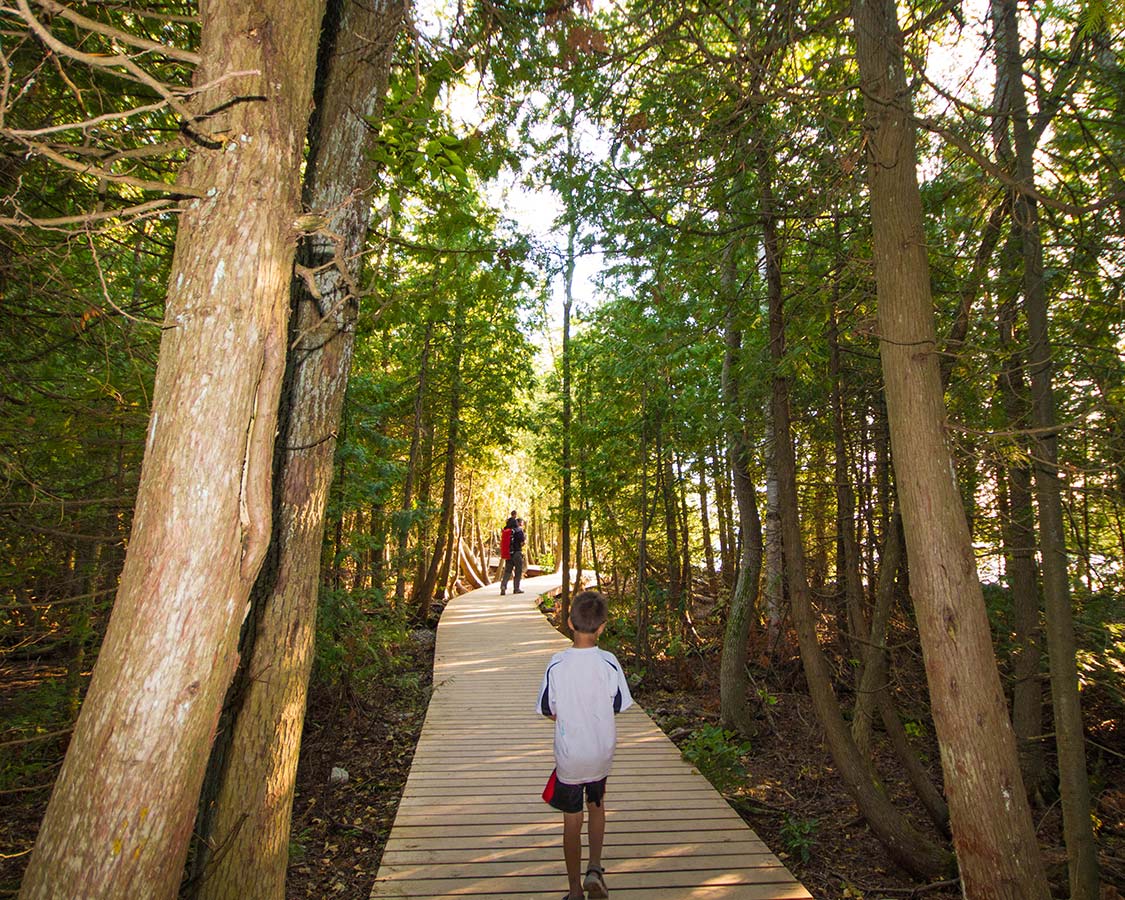 How to Get to the Grotto in Bruce Peninsula National Park
From the Grotto parking lot (P1), you must hike along a wide crushed gravel trail for approximately 30 minutes. The Grotto hike is easy at first. It goes through some woodland and is shady in parts.
Once at the Georgian Bay shoreline, however, you must climb over some limestone rocks to get a view of the Grotto. The boys, aged 5 and 3 years old, respectively, were able to descend into the Grotto with a little help. We strongly recommend sturdy footwear. For our favorite hiking shoes, click here.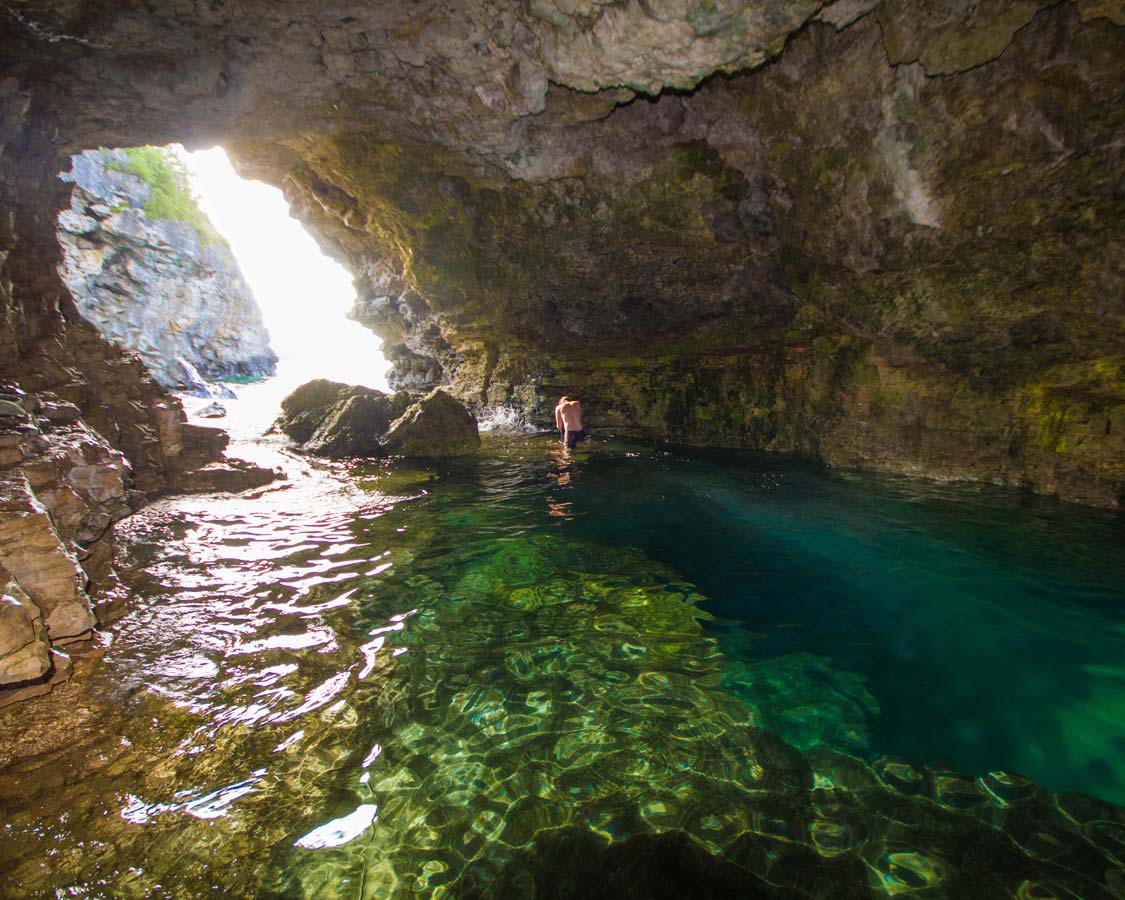 Pro-tip: There are washroom facilities near the Grotto, so no need to go in the forest (which is strongly discouraged by the park).
Swimming in the Bruce Peninsula Grotto
For many, taking a dip inside the alluring azure waters of the Grotto is a bucket list. Although it is not forbidden, swimming in the Grotto is not encouraged. There is an underwater tunnel between the Grotto and Georgian Bay for those seeking a bit more adventure. it's a popular activity for SCUBA divers in Bruce.
There are no easy access points. One way to get down is via a small rock tunnel that you must twist your body around while descending. This doesn't allow for two-way traffic, so make sure nobody is coming up before you head down. This is definitely not for the claustrophobic.
The other option is to scale the limestone cliffs and make your way down 12 meters (40 feet) to the cave entrance. The rocks are often slippery from the strong waves. There are no lifeguards. Being a strong swimmer is a must. And, you must enjoy Canada's cold waters as water temperatures rarely go above 16 degrees Celsius (60 F) even in the height of summer.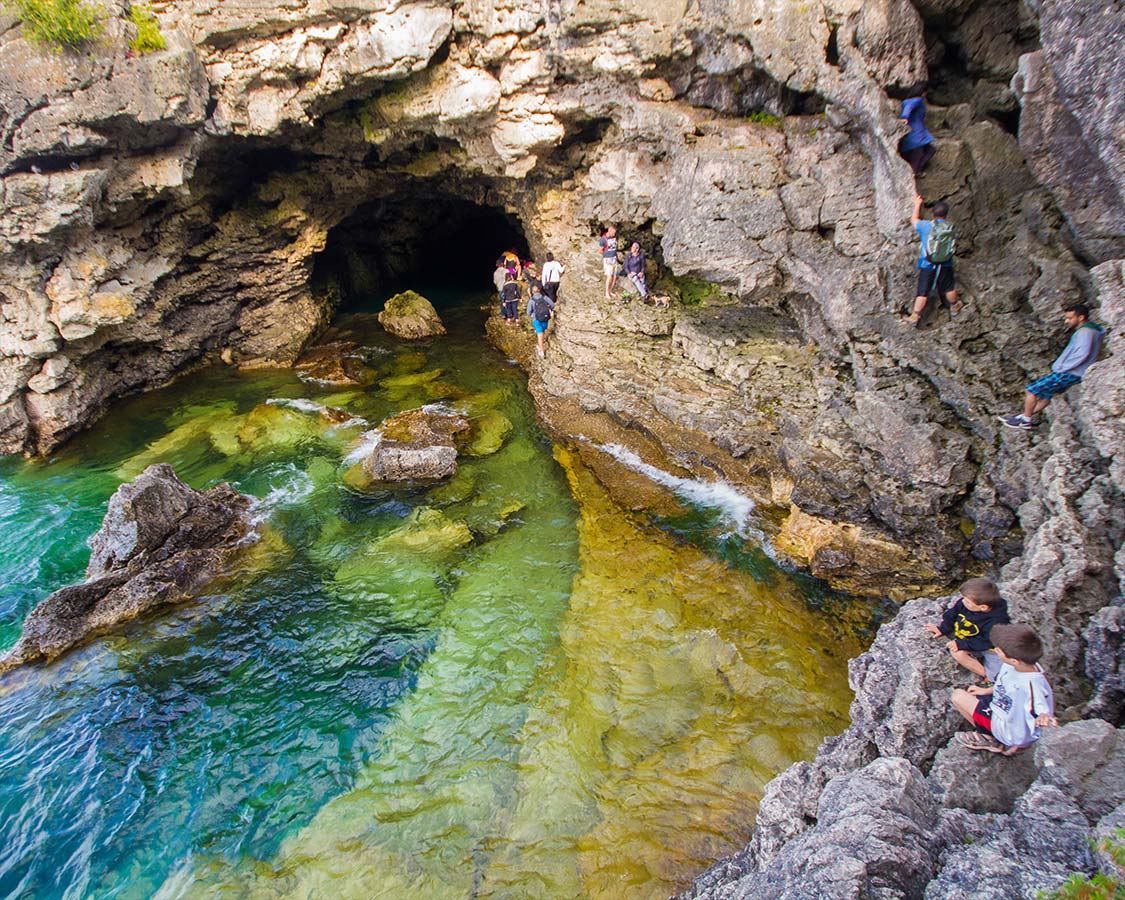 Pro-tip: One of the main advantages of Tobermory camping within Cyprus Lake Campground is that you can access the Grotto at any time by hiking the trail right from your campsite.
Hiking Bruce Peninsula National Park
There are many opportunities for hiking in Bruce Peninsula National Park. One of the best hikes in Bruce is the famous Bruce Trail which has a trailhead right to the visitor's center. The Bruce Trail is a 782 km trail making it Canada's longest and oldest trail.
There are also many hikes in Bruce Country including family-friendly coastal hikes. In fact, Bruce Peninsula National Park has some of the best hiking trails in Ontario.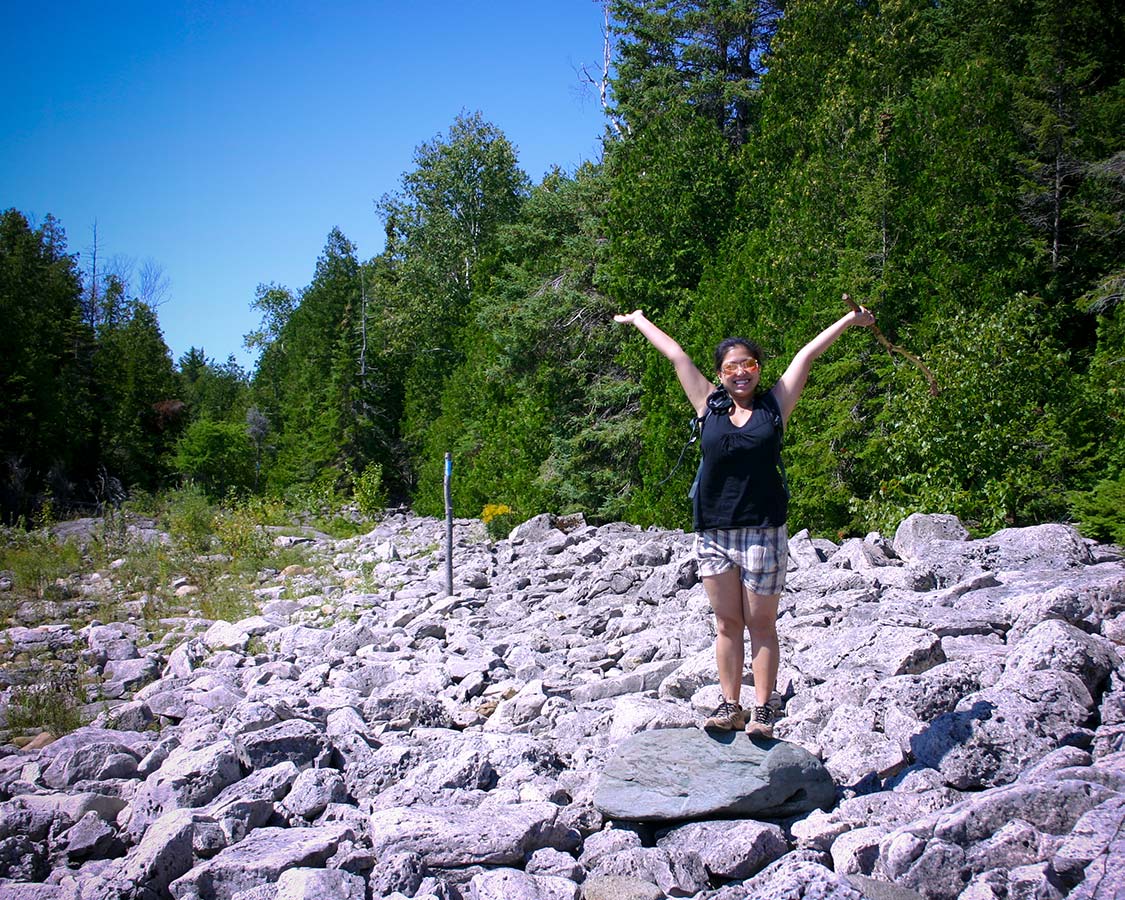 Swimming
With so much water around, there are lots of great places for swimming in Bruce Peninsula National Park. These are some of the most popular swimming areas.
Indian Head Cove
Besides the Grotto, the most popular swimming spot in Bruce Peninsula Provincial Park is Indian Head Cove. To get to Indian Head Cove, you must take the same trail that leads to the Grotto. Once you reach the shoreline, you will see a small white pebble beach.
During our visit, many people were enjoying the cold Georgian Bay waters while others were content with sitting on the flat limestone rocks that encircle the Cove. Note that having a barbecue on the beach is not allowed. However, it is possible to bring food and have a picnic. If you have reached the Grotto, then you have gone too far.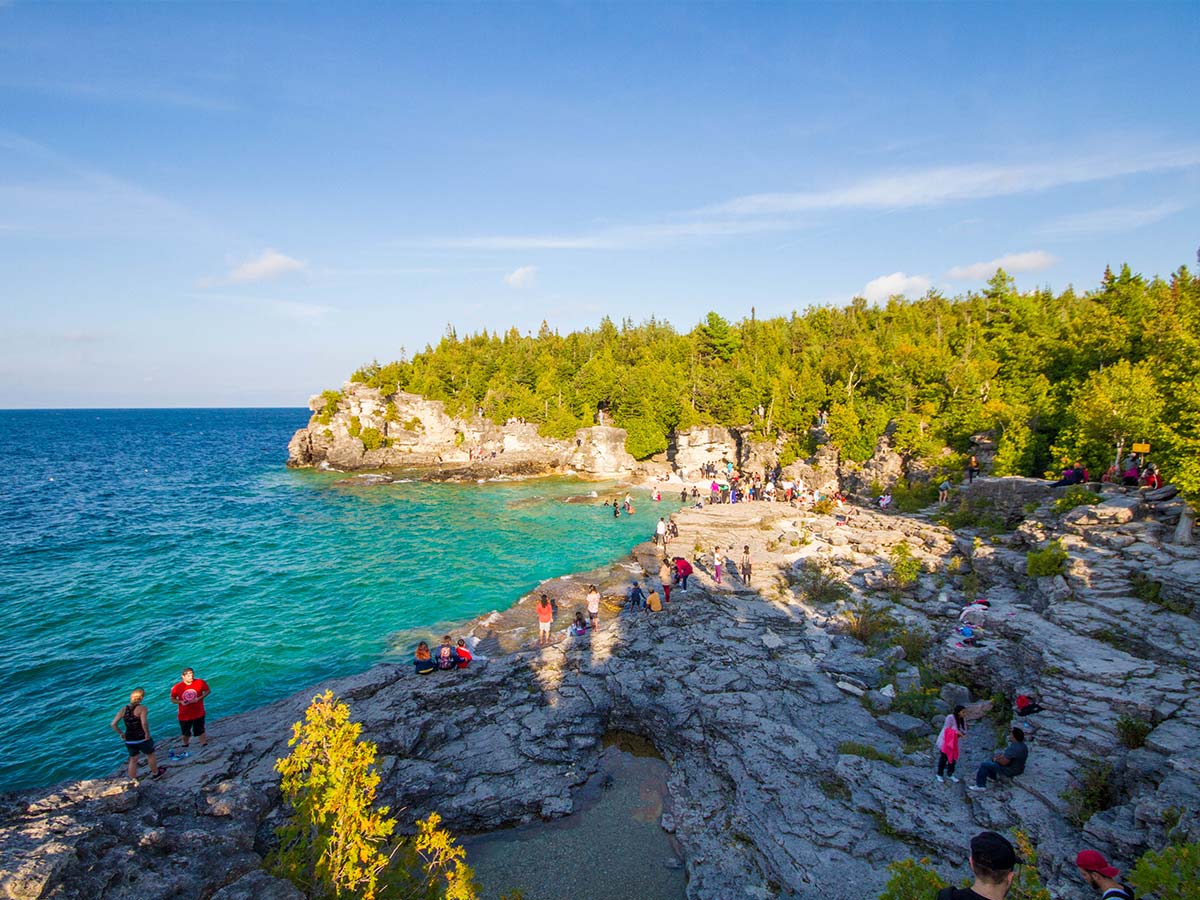 Singing Sands Beach
On the western edge of Bruce Peninsula, many people enjoy the refreshing Lake Huron waters at Singing Sands Beach. Singing Sands is so-called because the sands seem to be singing when winds pass through.
Note that the entrance to Singing Sands Beach in Bruce Peninsula National Park is not the same entrance as is used to get to Indian Head Cove. Also, the beach has much shallower water compared to Indian Head Cove which means the waters at Singing Sands are often warmer. The calmer and shallower waters also make it a better alternative in Bruce Peninsula National Park for kids.
Cyprus Lake
Also, our kids enjoyed swimming at Cyprus Lake. Due to it's close proximity to our campsite, it was very easy for the kids to walk over to the lake and take a quick dip. Because of the small size of Cyprus Lake, the waters tend to be much warmer than those of Lake Huron.
As with Indian Head Cove and Singing Sands, there are no lifeguards on duty at Cypress Lake. So, one of us always had to accompany our boys.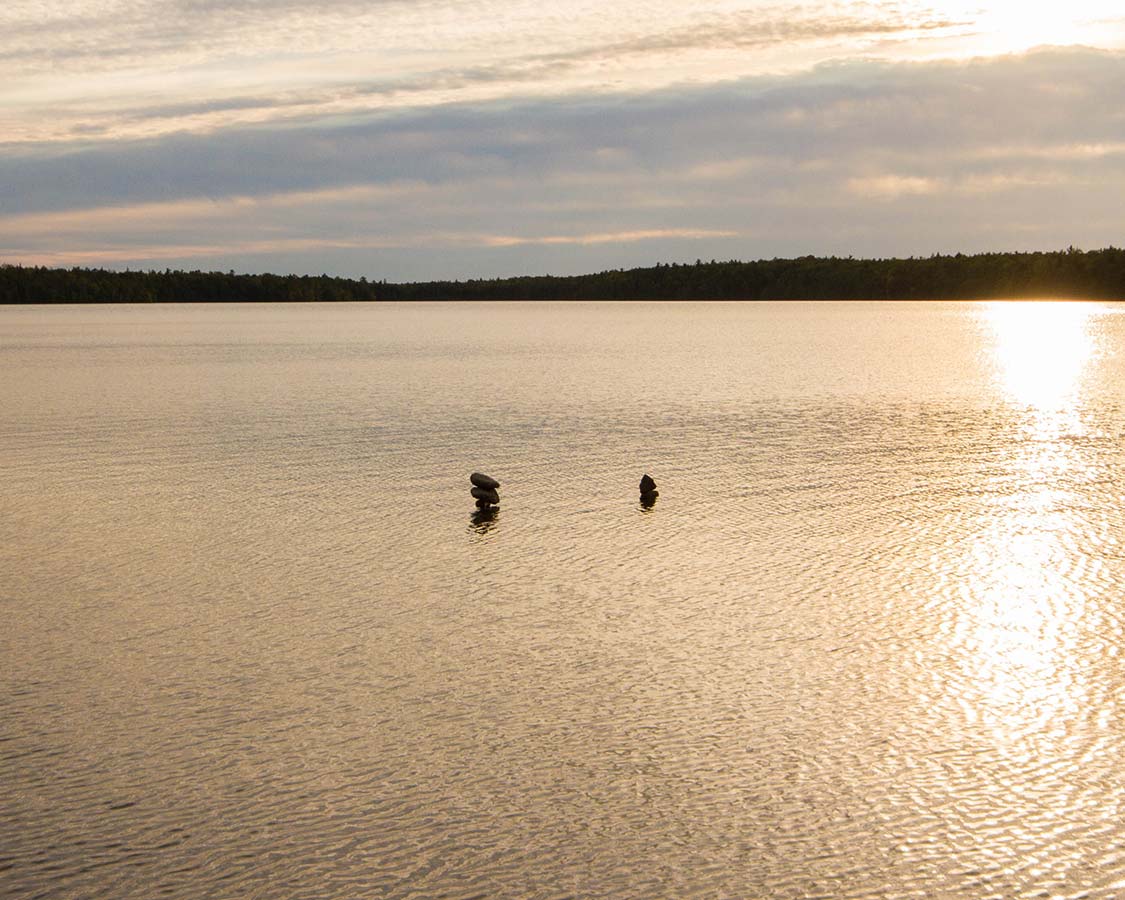 Canoeing/Kayaking
Canoeing is one of our favorite activities when visiting Ontario parks. And for our Northern Ontario road trip through Pukaskwa NP, Lake Superior PP, and Georgian Bay Islands NP, we definitely had a lot of opportunities to use our canoe. There are many lakes within Bruce Peninsula National Park that can be explored by canoeing or kayaking.
The most popular canoeing lake in Bruce county is Cyprus Lake. The lake is easy to paddle and is kept calm via a ban on any motorized watercraft. It is easily accessible from the Cyprus Lake campground and is a great spot for an early evening canoe just before the sunsets.
For those looking for a longer paddle, from Cyprus Lake, a navigable stream connects to Cameron Lake.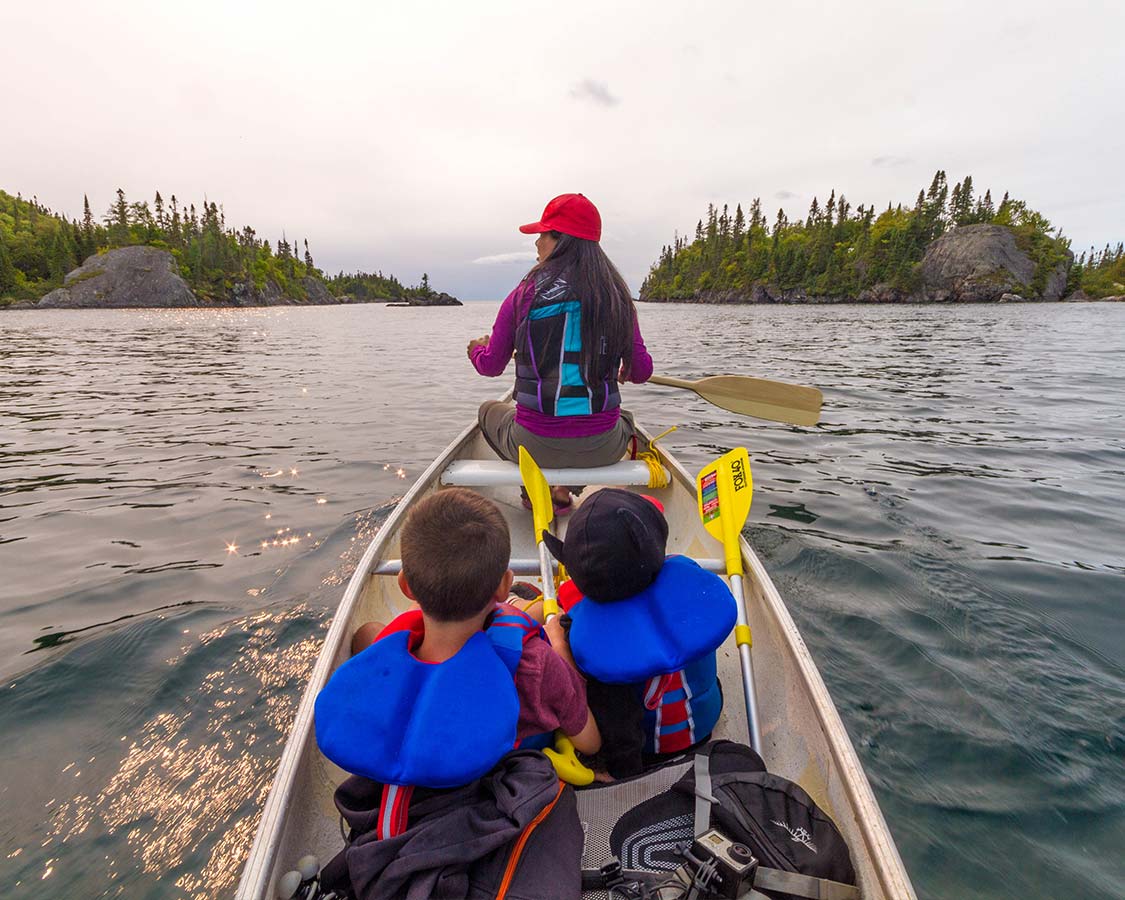 Daytrips from Bruce Peninsula National Park
If you haven't seen enough of Ontario's natural beauty within the park itself, there are many things to do near Bruce Peninsula National Park. Here are a few of our favorites.
Fathom Five National Marine Park
Head into Tobermory and catch a boat tour across the waters of Georgian Bay from Tobermory to Fathom Five National Marine Park. Fathom Five National Marine Park is home to the much-photographed Flower Pot Island.
This gorgeous protected island has incredible, natural stone towers that stand out against the blue waters of Lake Huron. Additionally, the Marine Park is a diver's paradise with many shipwrecks in the area waiting to be explored.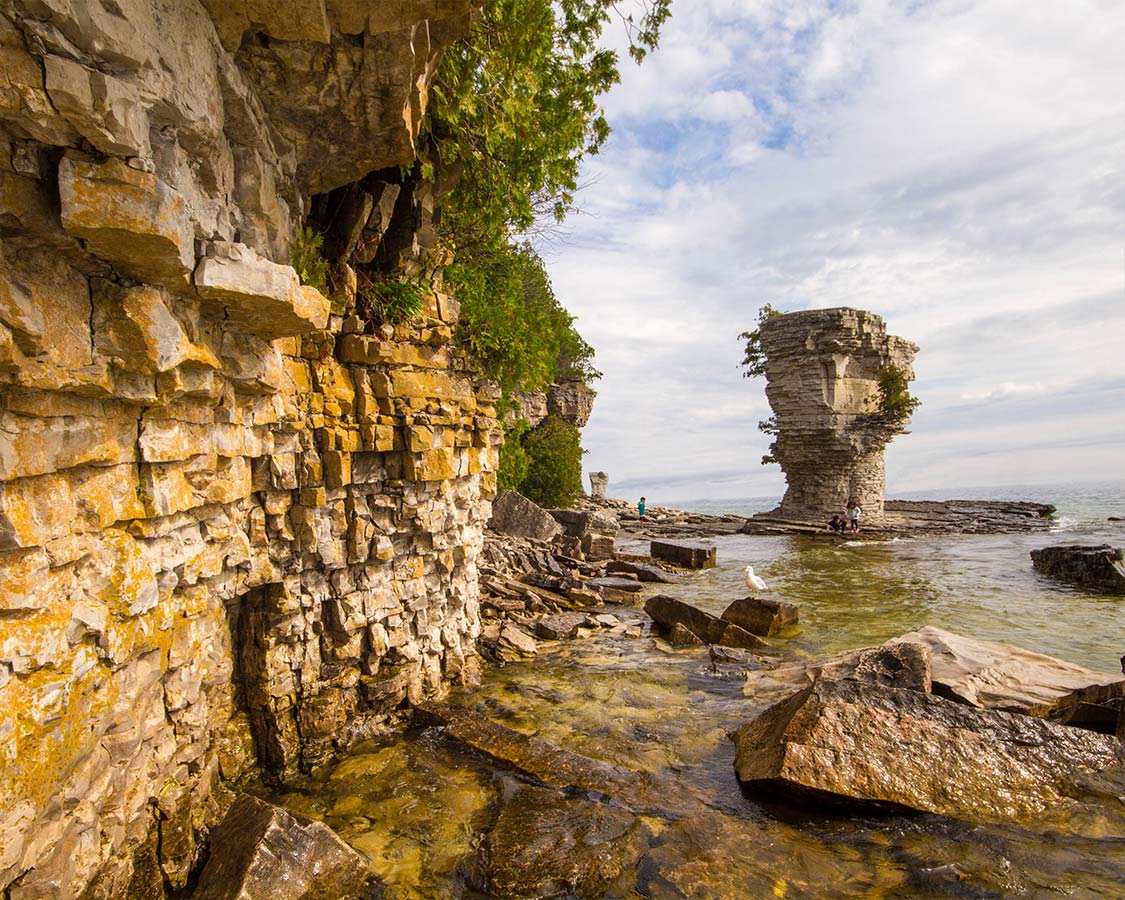 Manitoulin Island
A visit to Manitoulin Island, Ontario is a popular day trip for those visiting the Bruce Peninsula. Manitoulin Island can be reached via a 2-hour trip on the Chi Cheemaun Ferry that travels between Tobermory and Manitoulin Island.
There are amazing things to do on Manitoulin Island, including hiking, beaches, and the Great Spirit Circle Trail. If you have the time to spare, a trip to Manitoulin Island is worth it. You can even enjoy a few days of camping on Manitoulin Island if you want to extend your adventure.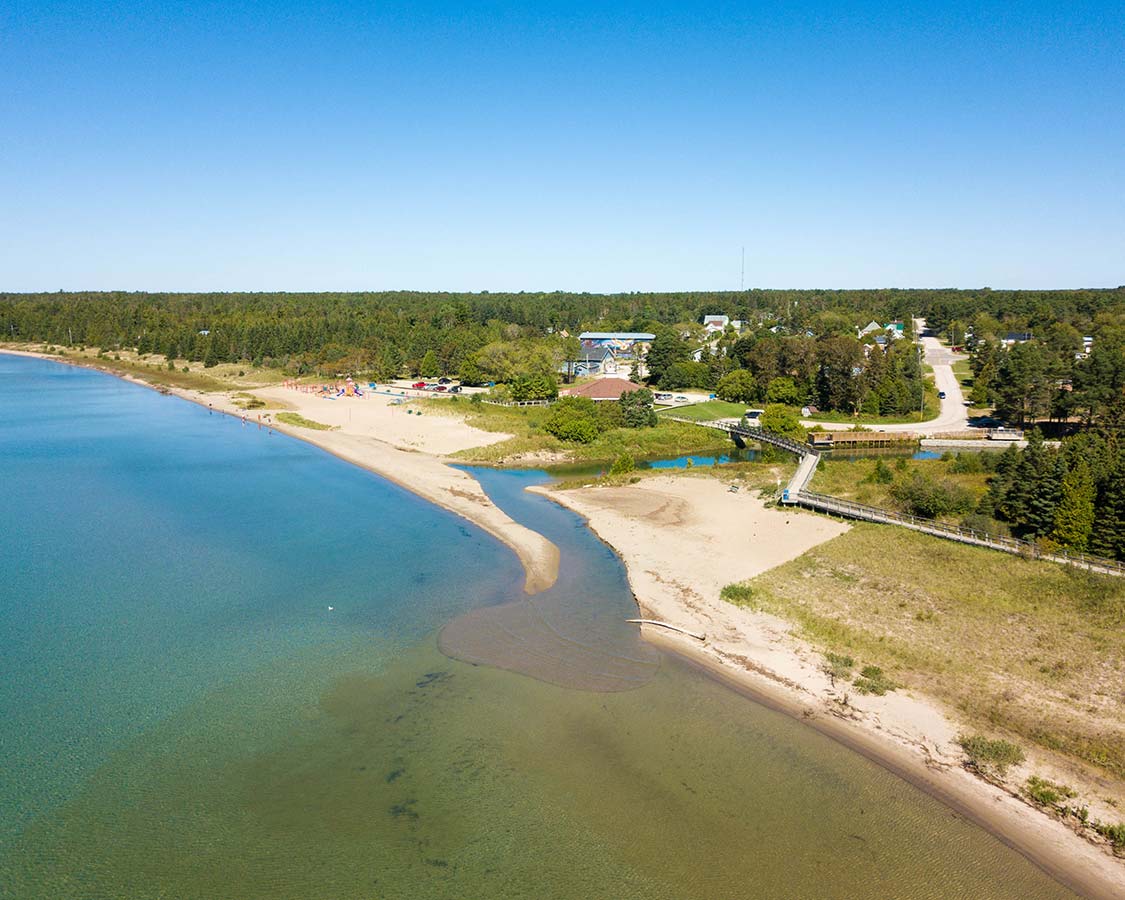 What To Pack for Camping in Tobermory at Bruce Peninsula National Park
Because the Bruce Peninsula National Park camping sites are mostly front country, those camping in Tobermory don't need to pack as lightly as in other parks. But because of the lack of services, there are a few unique things that you should bring for your Tobermory camping experience.
Tent
Sleeping bags
Bug spray (something with DEET, especially during the early and late season to keep black flies and mosquitoes at bay)
Cooking supplies (camping pots, plates, cutlery)
Food
Water bottles
Water (We recommend bringing a large, refillable water container)
Matches and fire starters
Swimsuits and towels
Fishing poles and bait
Hiking shoes
Sandals
Camping stove and propane (even if you are planning on cooking on the fire pit, it's important to remember that there are sometimes fire bans)
Portable Battery Back up to charge small electronics like phones.
Wandering Wagars is a participant in the Amazon Services LLC Associates Program, an affiliate advertising program designed to provide a means for sites to earn advertising fees by advertising and linking to amazon.com, amazon.co.uk, amazon.ca. Amazon and the Amazon logo are trademarks of Amazon.com, Inc. or its affiliates.
You May Also Like To Read:
Pin This Post For Later: