Manitoulin Island is a perfect getaway for those looking to escape the summer crowds. Check out the top things to do in Manitoulin Island.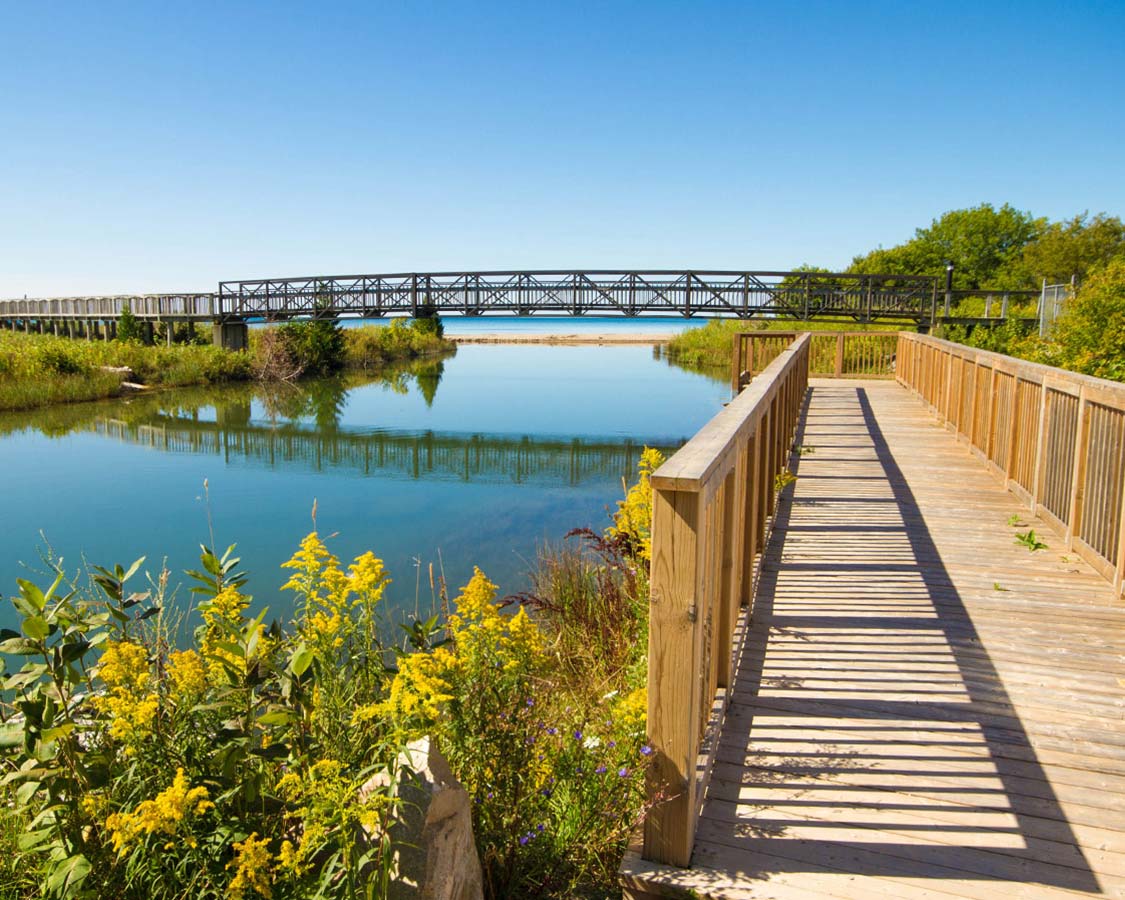 Manitoulin Island is a destination that keeps drawing us back. Since we first visited the island as a day trip from Tobermory, we've visited Manitoulin at least 10 times. This magical Ontario destination is quiet, peaceful, and beautiful. But it's the sheer number of amazing things to do on Manitoulin Island that keep pulling us back in.
Manitoulin Island is located on Lake Huron in Northern Ontario. Beyond being the largest island in a freshwater lake in the world. It is also home to the largest lake within an island within a lake in the world. AND the largest island within a lake, within an island within a lake in the world! With all of those weird and wonderful world records, discovering what to do in Manitoulin Island has become a mission of our near yearly visits.
So if you're searching for the best things to do on Manitoulin Island, we have you covered. Here you'll find some of the most amazing attractions, restaurants, beaches, and hotels on Manitoulin Island. You're almost guaranteed to find something you've never heard of before. So whether you're taking a day trip from Bruce Peninsula National Park or trekking across from Killarney or Sudbury, here is your guide to Manitoulin Island adventure.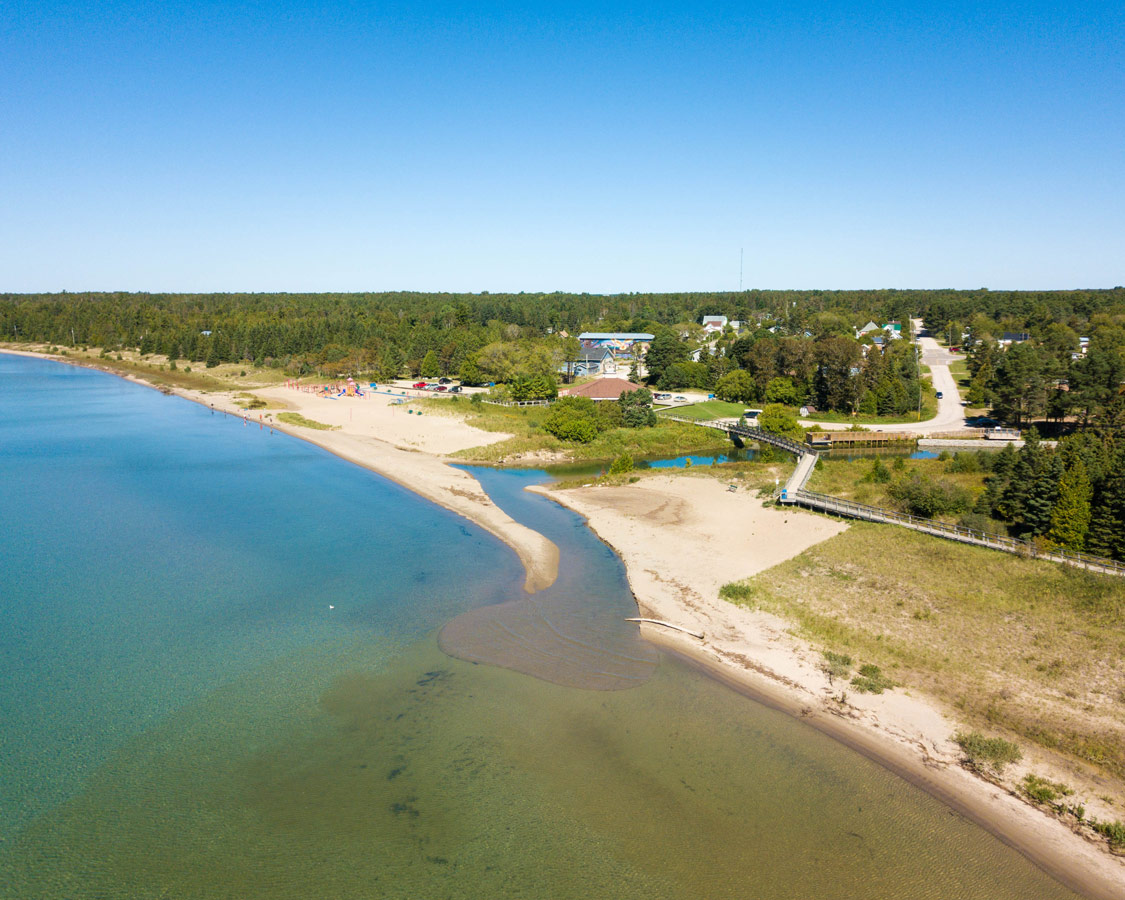 How to Get to Manitoulin Island
If you're thinking of driving from Toronto to Manitoulin Island, you could do it as a day trip, but it would be a long one. It involves a 3-hour drive north to Tobermory, Ontario. Next is a 2-hour ride on the Chi Cheemaun Ferry to get to the southernmost point of Manitoulin Island, South Baymouth. If you're visiting Manitoulin from central or Southern Ontario, consider making it part of a multiday adventure that will really give you the chance to understand what makes this island such a special place.
You can also access Manitoulin Island via the famous swing bridge through the island's largest town, Little Current near Sudbury. This is a popular route for those coming from Sudbury, Sault Ste. Marie, and Thunder Bay. It's also popular for those who want to avoid the HWY 10 traffic or deal with wait times for the Chi Cheemaun Ferry.
This route to Manitoulin is accessed by following the Trans Canada Highway along 69 to Sudbury and bearing left on 6 and on through to Little Current. If you really want something special, consider this route for the views along HWY 6 between Little Current and Sudbury alone. The Killarney/La Cloche landscape is among the most spectacular south of Thunder Bay. You can check out some of the best things to do in Sudbury, Ontario here.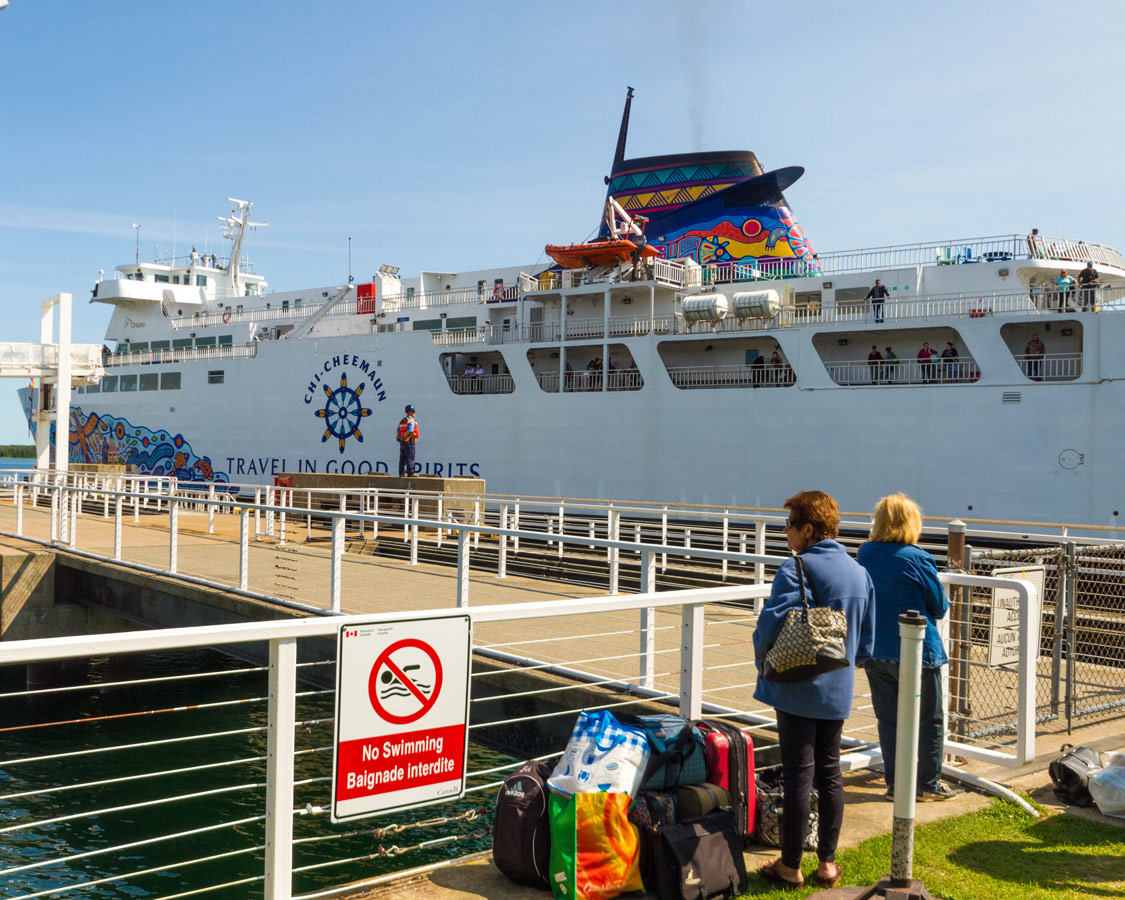 Some of the Best Things to do in Manitoulin Island, Ontario
We recommend making your visit a Manitoulin Island long weekend rather than a day trip. There are so many things to do on Manitoulin Island that it's worth spending some extra time. You can extend your trip to Manitoulin Island even further by taking the time to explore Bruce Peninsula National Park and Fathom Five National Marine Park. Manitoulin Island itself can be explored at a casual pace over a couple of days. And it makes an excellent Ontario road trip destination.
Hike the Cup and Saucer Trail for Incredible Views of Manitoulin Island
There are many hiking trails on Manitoulin Island. The most famous hike on Manitoulin Island is the Cup and Saucer Trail. The Cup and Saucer trail has over 12 km of hiking trails and a 2 km adventure trail that involves ladders and rock scrambling. The Cup and Saucer Trail can take as little as 1.5 hours or up to half a day if you plan to explore the whole route.
The hike has some pretty steep climbs but is relatively tame for the most part. But, if you choose to hike the Cup and Saucer Adventure Trail, be prepared, it has a lot of scrambling, some big climbs, and will definitely keep your heart rate up.
The Cup and Saucer views have been marred over the past few years by the development of a large stone quarry at its base. And while the views might not be as untainted as they were, the climb itself and the remaining overlooks over Manitoulin Island still make this one of the top hikes in Ontario.
You can read all about our experience hiking the Cup and Saucer and Adventure Trail here.
The first time we took the trail to the top Cup and Saucer viewpoint and back took us a little over 2 hours while hiking Manitoulin Island with kids. It could have taken much longer if we didn't have our Great Spirit Circle Trail guide as the Cup and Saucer trails are not always well-marked. At the time of our first visit, D was only 2 years old. So we did not do the Cup and Saucer Adventure Trail. But we did tackle it just before D's 7th birthday, and a month afterward, we're still talking about how much fun it was.
Other hiking trails on Manitoulin Island include:
Bebamikawe Memorial Trail at Beach Rd in Wikwemikong
Lewis Twins Peak Hiking Trail, a 1.4 k loop off HWY 6 near Shequiandah.
M'Chigeeng Aboriginal Trail off Highway 551, just south of Highway 540. This trail was recently doubled in length and features the Bear Caves and Fossil Rock Point.
Misery Bay Provincial Park features a number of picturesque trails. I recommend setting aside 2-4 hours for exploring the park.
Join North Channel Tours For Some Sightseeing out of Little Current
The North Channel offers up some of the most inspiring views on Manitoulin Island. The smooth red rock dotted with windswept white pine is a treat to behold. And there is no better way to enjoy these views than with a cruise out of Little Current with North Channel Cruises.
North Channel Cruises is a small, family-owned business that offers lunch, dinner, and sunset cruises to some of the most spectacular spots on the east side of Manitoulin. Our last visit to the island had us tour up to the Benjamin Islands for some light hiking and swimming, and it was amazing!
Even though the day started with some heavy rain and an ominous forecast, the views from the cruise and the clear skies when we stopped to explore made for one of the most memorable days on our recent Northern Ontario road trip. You can even join one of their cruises to the lovely town of Killarney. If you'd like to check out their cruise schedule, you can find that here.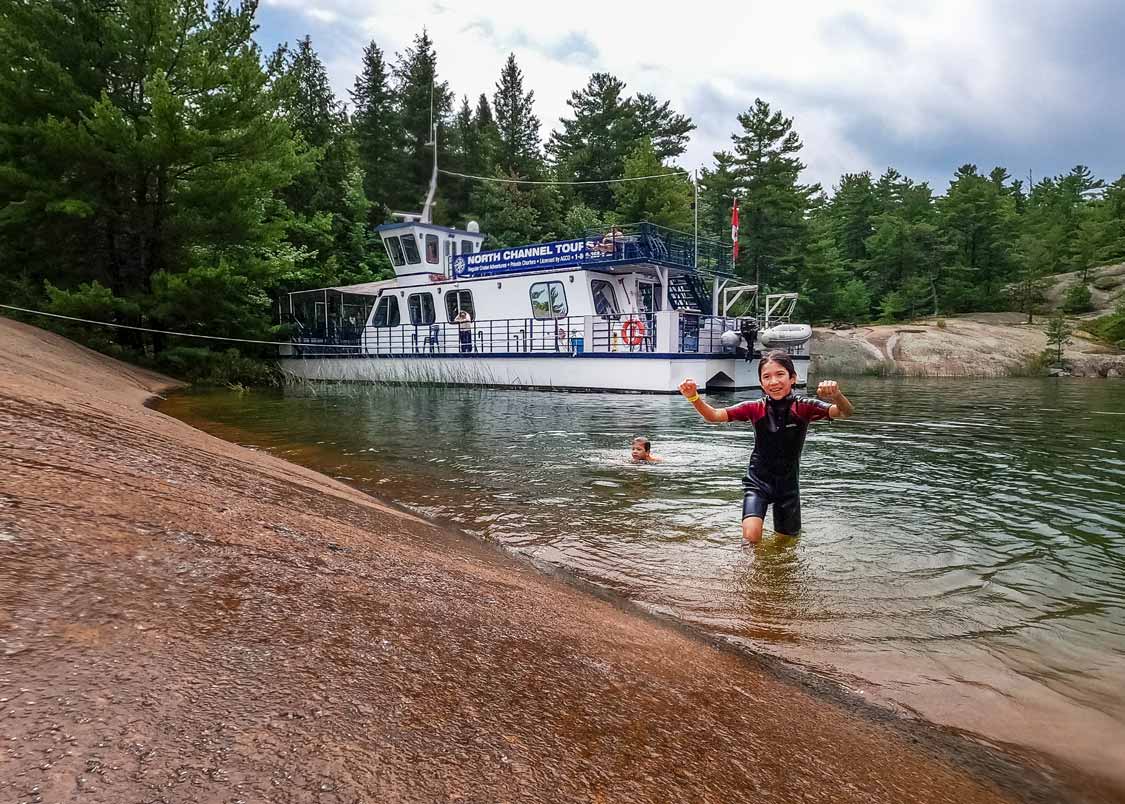 Discover All The Lighthouses on Manitoulin Island
A lighthouse tour of Manitoulin Island starts while on the Chi Cheemaun ferry ride from mainland Tobermory to South Baymouth on Manitoulin Island. After a 30-minute ride, it is possible to spot the tall, century-old Cove Island Lighthouse. There are 10 lighthouses on Manitoulin Island. One of the Manitoulin Island lighthouses that are most easily accessed lighthouse is Janet Head Lighthouse in Gore Bay. The views are fantastic but call ahead if you want to go inside the Lighthouse as it is often closed.
If you're doing a road trip through Manitoulin Island, you can find even more lighthouses on Manitoulin Island. Heading further west towards Meldrum Bay, stop by to get a look at the Mississagi Lighthouse (currently the road is closed). Built in 1879, it is the oldest lighthouse on Manitoulin Island. The Mississagi Lighthouse and Museum have been closed to the public since 2019, but you can still get a great view from outside. Plus, there is a trail that allows for the area surrounding the Lighthouse to be explored. There are rock crevices, grottoes, limestone ledges, and more.
Other lighthouses on the island include:
Strawberry Island Lighthouse
Kagawong Lighthouse
Manitowaning Lighthouse
Gibraltar Point Lighthouse
Griffith Island Lighthouse
Knife Island Lighthouse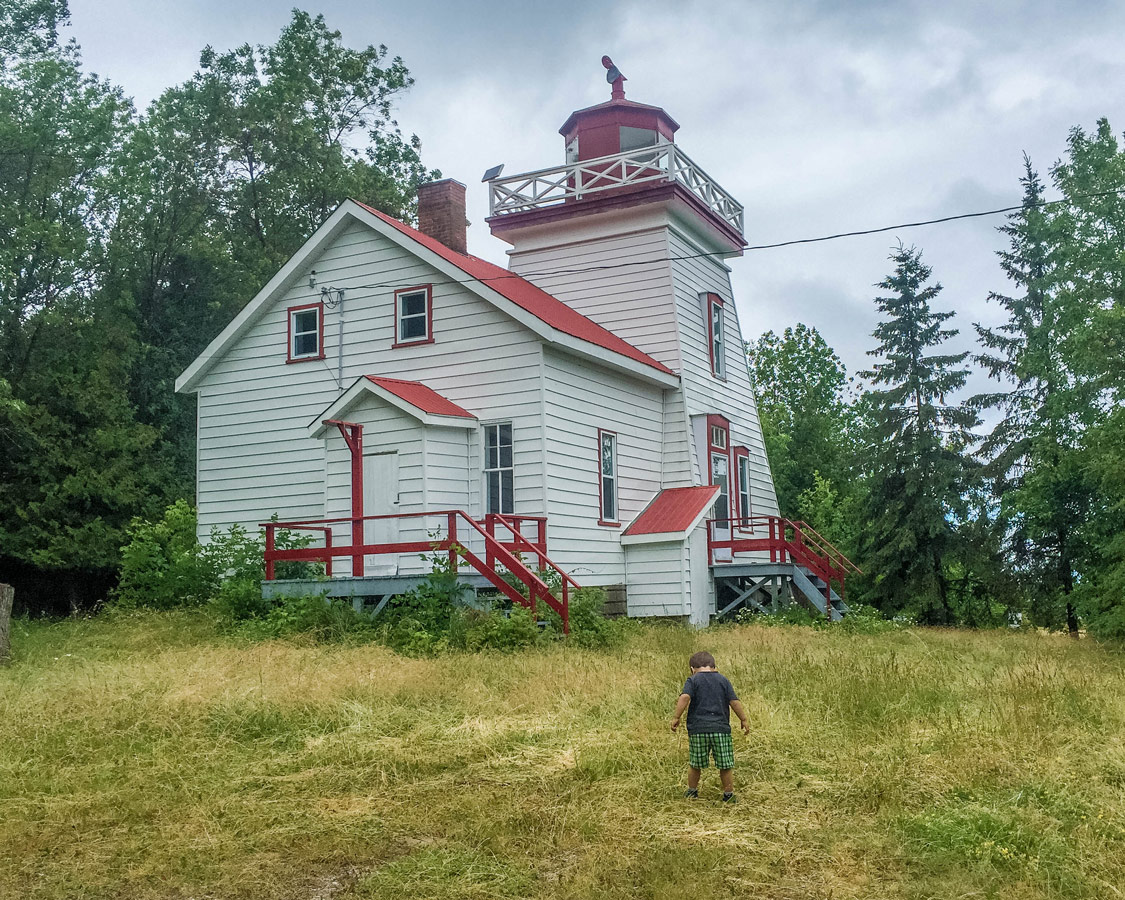 Explore Misery Bay, Provincial Park
The Misery Bay Nature Preserve is the only operating provincial park on Manitoulin Island. Misery Bay Provincial Park is known for having large areas of Alvar. An Alvar is a region of bare or nearly bare rock where little vegetation grows. This makes for some gorgeous hiking, especially in the fall when the lichen on the rocks begins to transform in color.
There are 4 hiking trails in Misery Bay Provincial Park. The terrain is relatively flat, so the Misery Bay hikes aren't particularly challenging, but they are quite pretty. There are guided hikes available, which you can register for by contacting the Misery Bay Visitor's Centre.
At the visitor's center, the kids had so much fun looking at the exhibits and hands-on displays we almost had to bribe them to go on the hike with us. We ended up doing a combination of the Coastal Trail to theLookout, walked a bit on the Misery Bay Trail, before heading back on the Inner Alvar tail. We were so glad we went as the views of the Bay were magnificent. And, as it was later on in the day, we had the entire beach at Misery Bay to ourselves.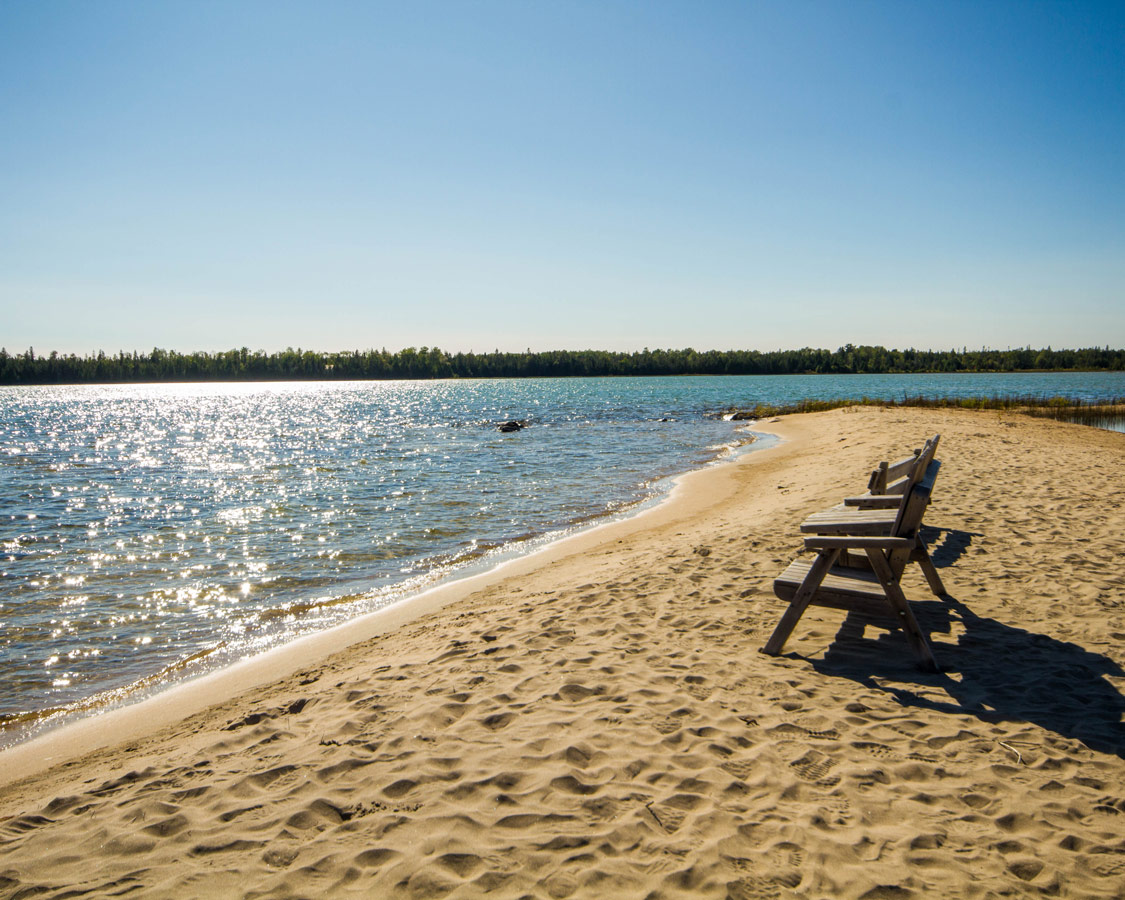 Experience a Royal Astronomical Society of Canada designated Dark Sky Preserve
Not all the fun things to do in Manitoulin Island are limited to the daytime. Because it is relatively far away from any major city, light pollution on the Island is at a minimum. However, it is so dark at Gordon's Eco Park that it has received the Dark Sky Preserve designation from the Royal Astronomical Society of Canada.
The park hosts Astronomy nights at a part of the park where no white light is allowed after sunset. Here, telescopes are set up and resident experts point out stars and constellations. And for those lucky ones, it is also possible to spot the Northern Lights when conditions are perfect!
We have camped at one of Gordon's Eco Park camping sites as well as enjoyed a night in one of their teepee accommodations. Gordon's Park also has small cabins available and serviced camping sites as well.
You can check out more incredible Manitoulin Island camping spots here.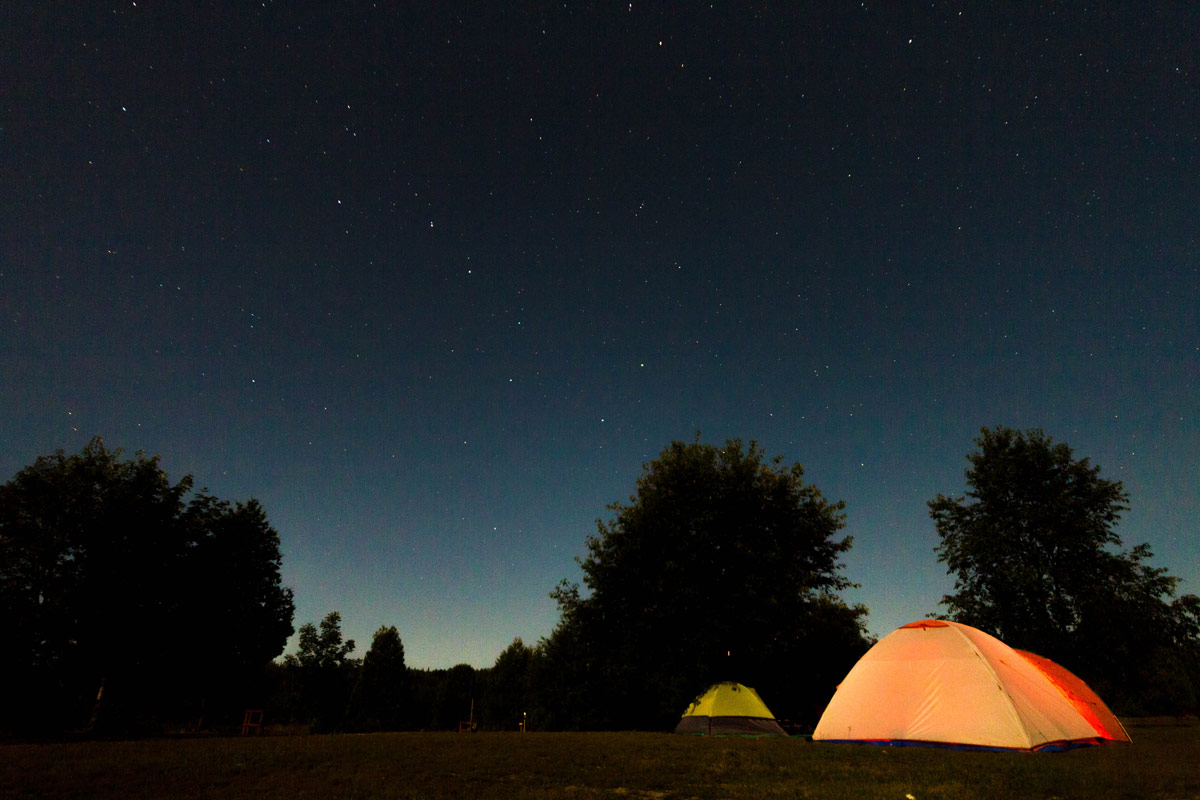 Learn About Aboriginal Culture on the Great Spirit Circle Trail
The Great Spirit Circle Trail experience is one of the best hands-on ways to learn about Aboriginal culture. We've enjoyed some amazing First Nations experiences in Ontario, but one of the most amazing of them all has been this collection of adventures on Manitoulin Island.
The highlight of our Great Spirit Circle Trail experience was the Voice of the Drum. For a few hours, our aboriginal guide taught C how to make his own drum from traditional materials. It started with a smudging ceremony (a First Nation ceremony involving cleansing your spirit of bad thoughts by wafting smoke from cedar, tobacco, and other items) and ended with C having a mini-performance with his teacher. This amazing adventure came full-circle when the boys had the chance to join the drum circle at a pow wow in Wendake Quebec.
Other experiences we had were learning about various medicinal plants while hiking the Cup and Saucer Trail and learning about it from an aboriginal perspective, eating bannock and berries, and canoeing on Lake Manitou. You can read more about our Great Spirit Circle Trail experience here. The Great Spirit Circle Trail was one of the most in-depth indigenous experiences we had prior to our incredible indigenous tour of Quebec.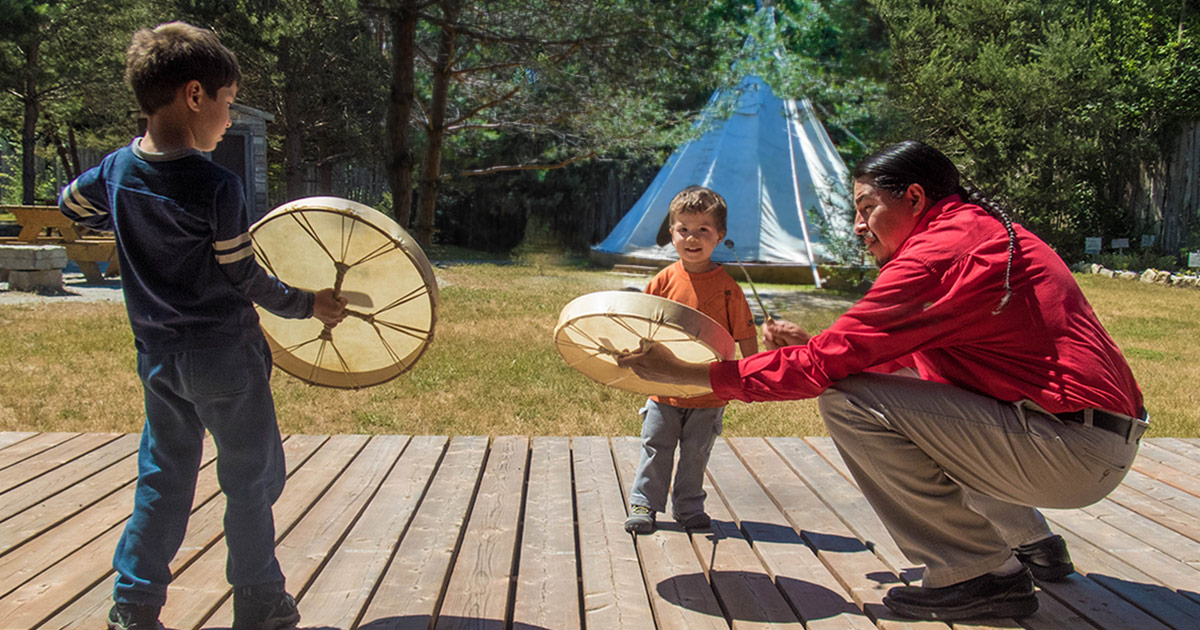 See the World's Largest Pow Wow Drum, Peace Pipe, and Dreamcatcher in Sheshegwaning
At the Western end of Manitoulin Island near Meldrum Bay is the town of Sheshegwaning, home of the Zhiibaahassing First Nations people. This Indigenous community is worth the detour on your drive around Manitoulin Island to see the World's largest peace pipe, biggest drum, and largest dreamcatcher.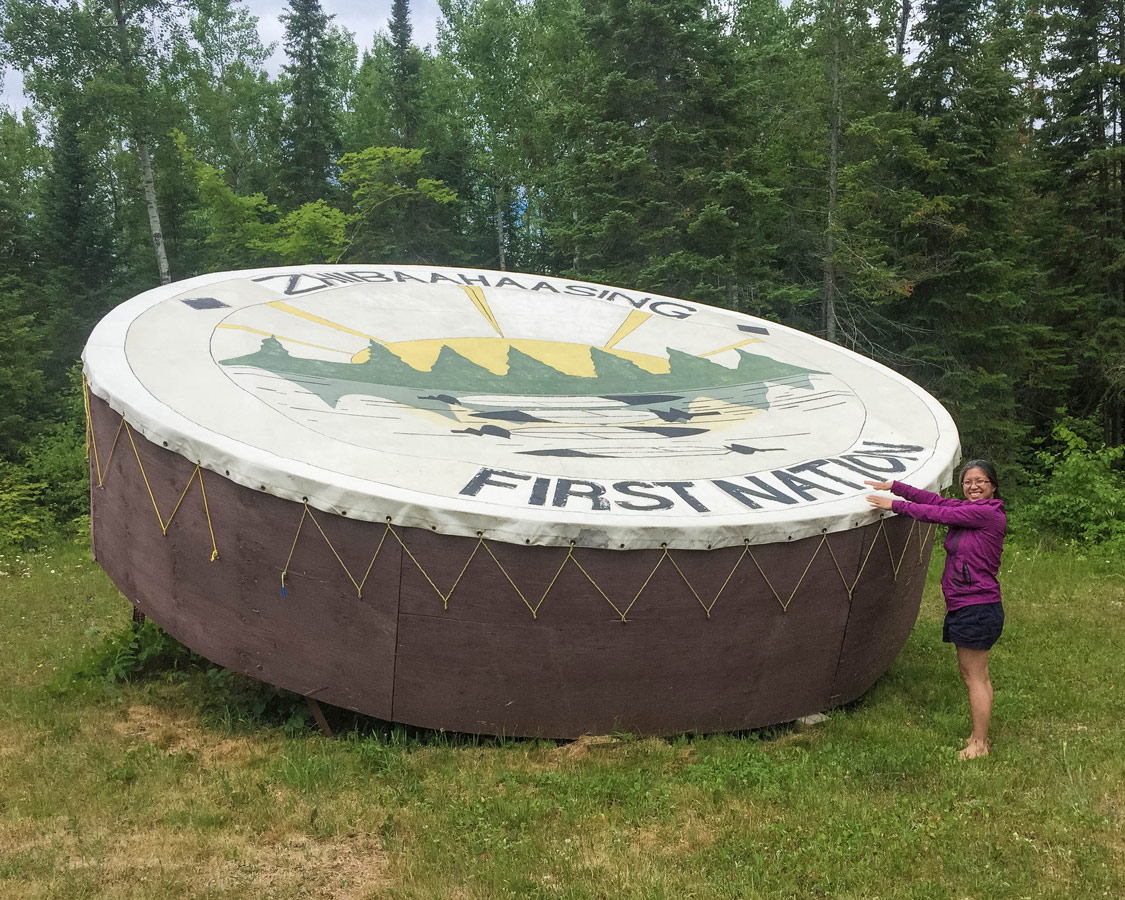 Swim Under a Manitoulin Island Waterfall at Bridal Veil Falls
Bridal Veil Falls is in Kagawong and is a very popular spot for both locals and those visiting Manitoulin Island. The Bridal Veil Falls is 11 m (35 ft) tall and you can swim in the small pool at the base of the falls. A walk behind the falls is also possible, although it can get slippery. Entry to the waterfalls is free and there is a small parking lot off of HWY 540 where you can park and head down the steel staircase to the waterfall.
For those that want to have a bit more of an adventure getting to the Bridal Veil Falls on Manitoulin Island, there is a hiking trail from the top of the falls. It follows both sides of the stream. Follow the trail down to the base of the falls for some great views.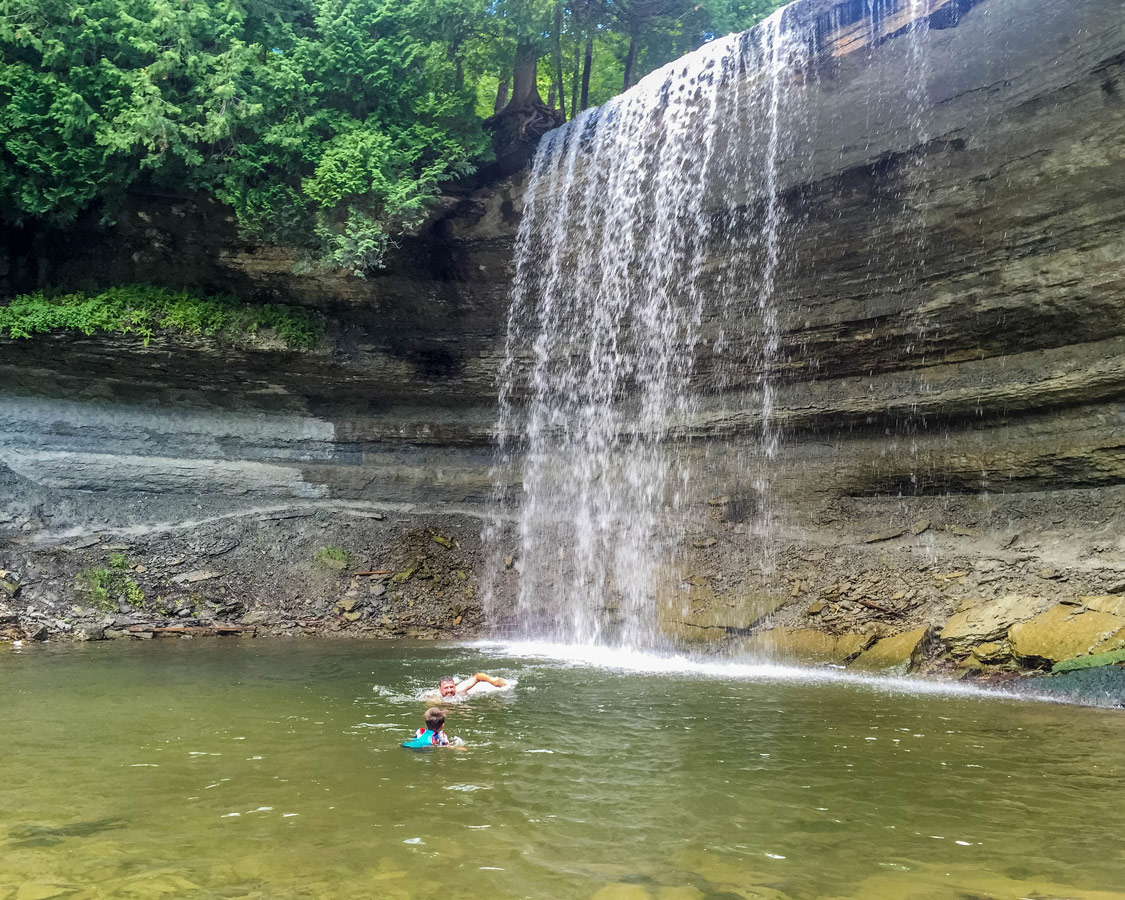 Spend a Day at the Beach in Providence Bay
Looking for a large expanse of sand surrounding the crystal-clear waters of Lake Huron? Then a day (or two) at Providence Bay on the south shore of Manitoulin Island is for you. The beach was originally called "Bebekodawangog", which means "where the beach curves around the water". Providence Bay is less than a 30-minute drive from the South Baymouth Ferry which makes it a popular day trip on Manitoulin Island. For those that don't like sand on their toes, there is also a boardwalk that winds along the shoreline.
If you are traveling to Manitoulin Island with kids, note that Providence Bay also has a nice playground and nature center (located at the start of the boardwalk). So, when they are done swimming, or making sandcastles, you can tire out your little ones on the nearby swing and slides. The area around Providence Bay is popular for Cottage rentals on Manitoulin Island as well. So if you're looking for a getaway, it's the perfect place to start.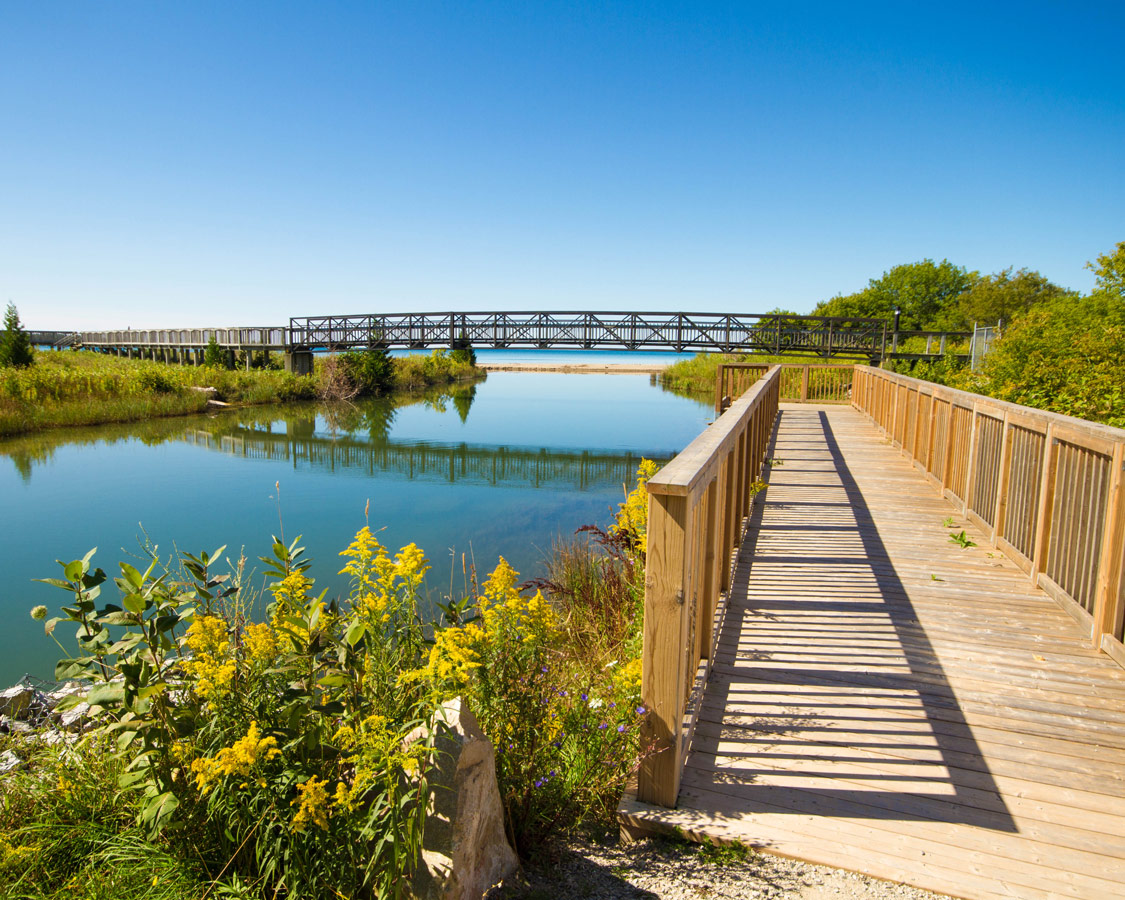 Enjoy a Sunset Canoe Ride on Lake Manitou
Manitoulin Island has over 100 lakes! And Lake Manitou is the largest lake within an island within a freshwater lake in the world. So, when we were looking to try out canoeing on Manitoulin Island, Lake Manitou sounded like a great option. We went on a guided expedition with the Great Spirit Circle Trail. The waters were a bit rough as we went out in the deeper water just before sunset, but the views were worth the waves!
For those that prefer calmer waters, it would be best to go out earlier in the morning. Joining a tour is not necessary. You can either bring your own canoe or rent from one of the many canoe outfitters on Manitoulin Island.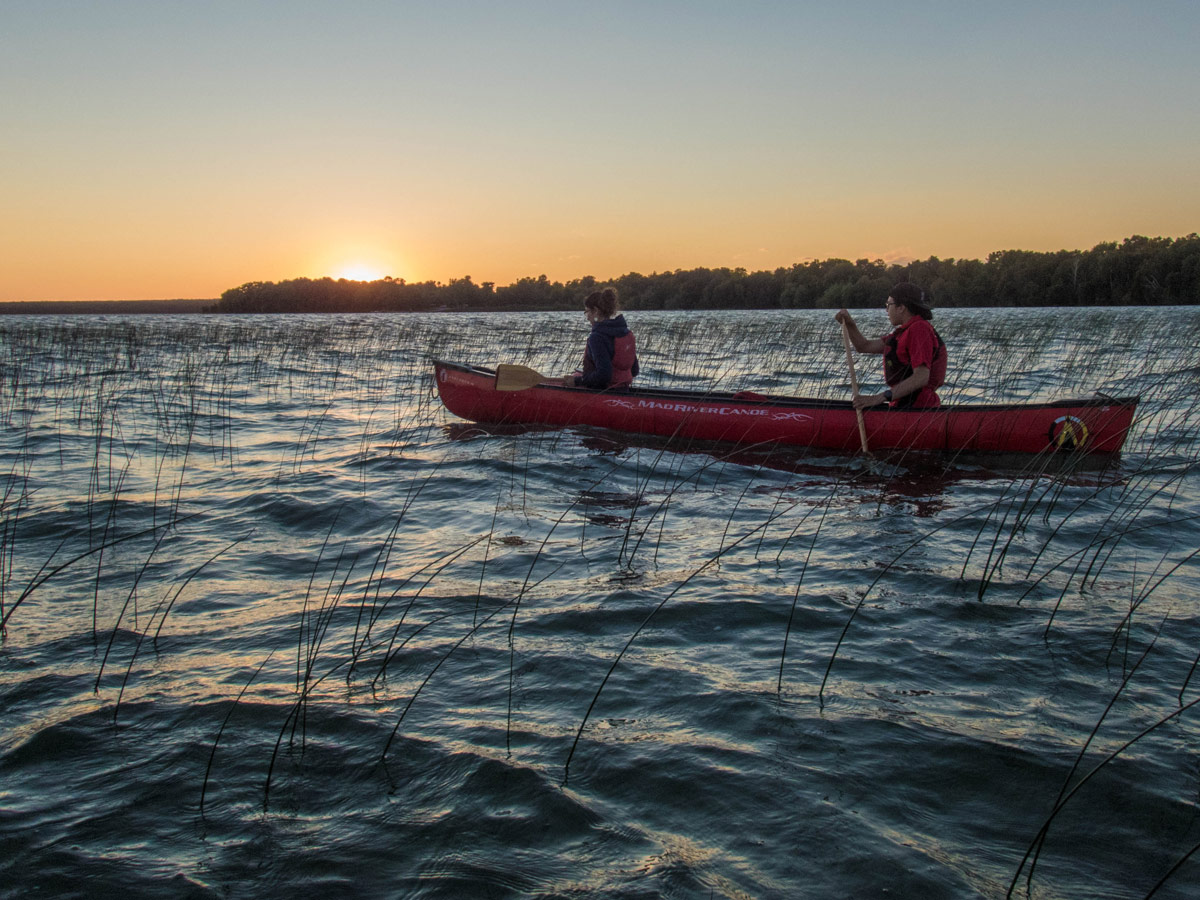 Do Some Manitoulin Island Fishing
With all those lakes, it is no wonder Manitoulin Island is a fishing destination. The waters of Meldrum Bay are said to have the best Chinook salmon fishing in Canada. Providence Bay is also a popular fishing spot, with a fall salmon run filling the waters just off the boardwalk. C loves fishing and kept asking to get a fishing guide to make sure we could land "land a big one!"
Manitoulin is a hugely popular destination for Rainbow Trout fishing. In fact, many locals say that there really isn't a bad place for fishing on Manitoulin Island. Some of the most popular spots are on Lake Manitou, Lake Kagawong, and on the shores of Georgian Bay. We also had a lot of luck with bass up at the docks in Little Current.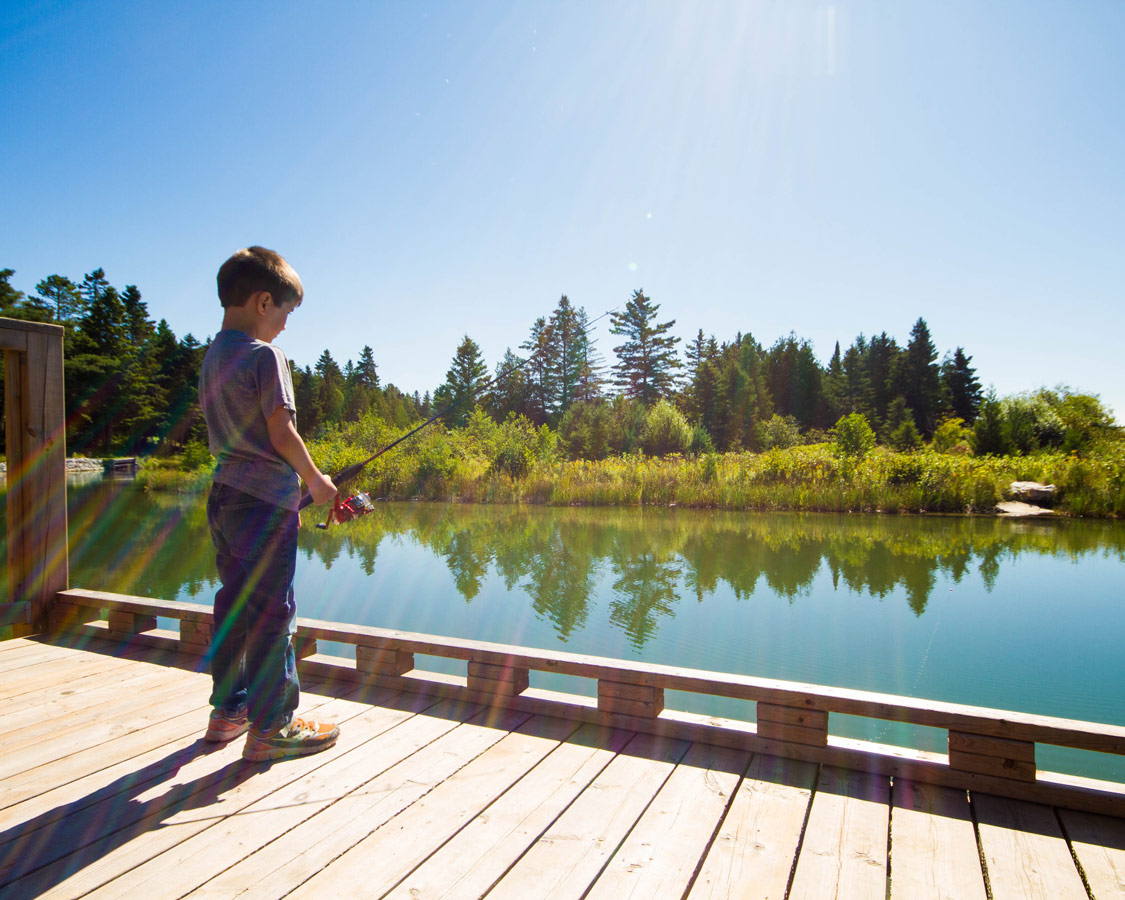 Take A Trip Back In Time In Meldrum Bay
Meldrum Bay is a village at the westernmost end of HWY 540. Settled in the 1870s the town is named after a town in Scotland. It used to be a fishing village but today, the dock is busy with non-commercial boats and summer folk enjoying the largely non-commercial way of life in the village. The Meldrum Bay Inn and Restaurant is one of Manitoulin Island's top Hotels. It is also famous for serving some of the best food on Manitoulin Island.
If you don't have time for a sit-down meal you can also grab a sausage, burger or pizza from the food stand next door at the Meldrum Bay General Store. The owners will entertain you with stories of spending summers growing on the Island (tell them we say hi!). During the summer season, kayak and paddleboard rentals are available. This is a great way to explore the Bay.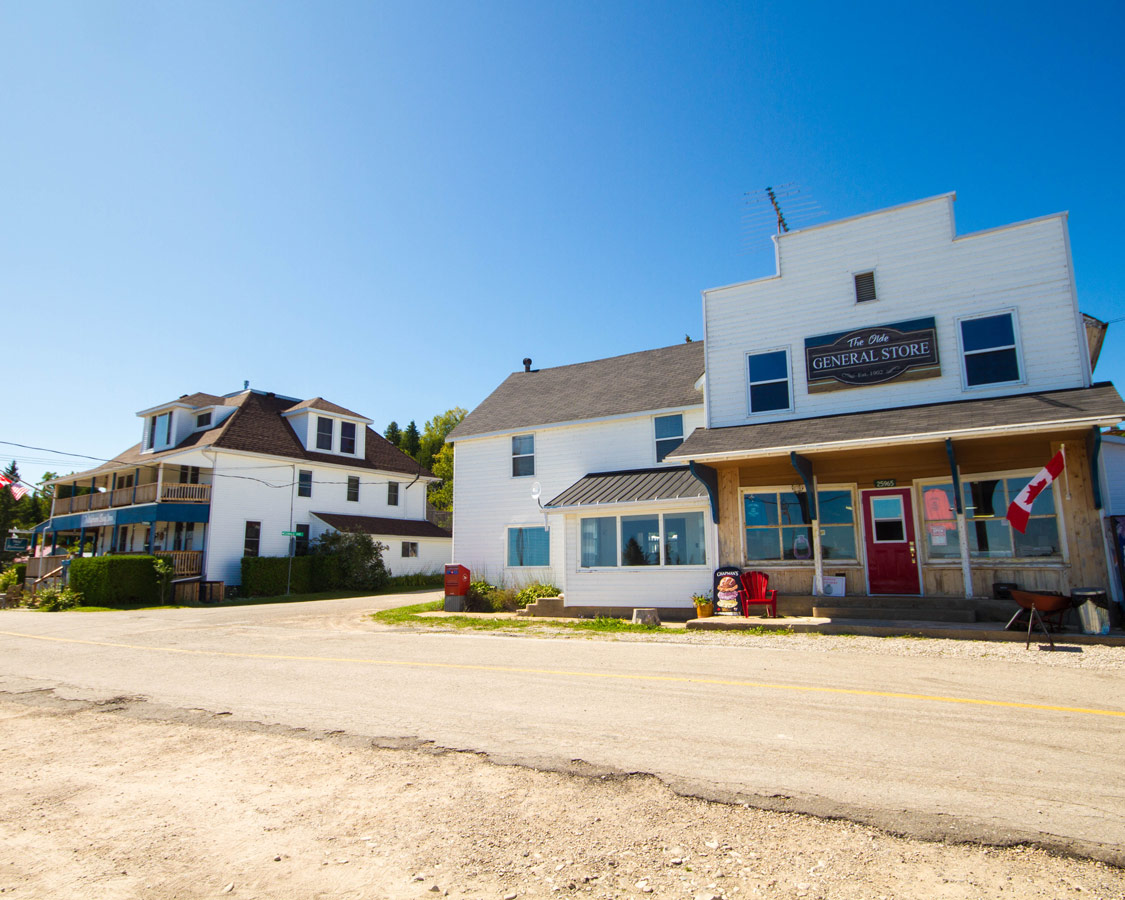 Dance at A Manitoulin Island Pow Wow
A pow wow is a gathering and celebration of First Nations People. They are full of song, dance, music, and food. If you can time your visit to Manitoulin Island during one of the annual pow-wows we strongly suggest you go. Experiencing a pow-wow on Manitoulin island is a perfect way to learn about, and get involved with Aboriginal culture in Ontario. You can read all about how to experience a pow-wow in Ontario here.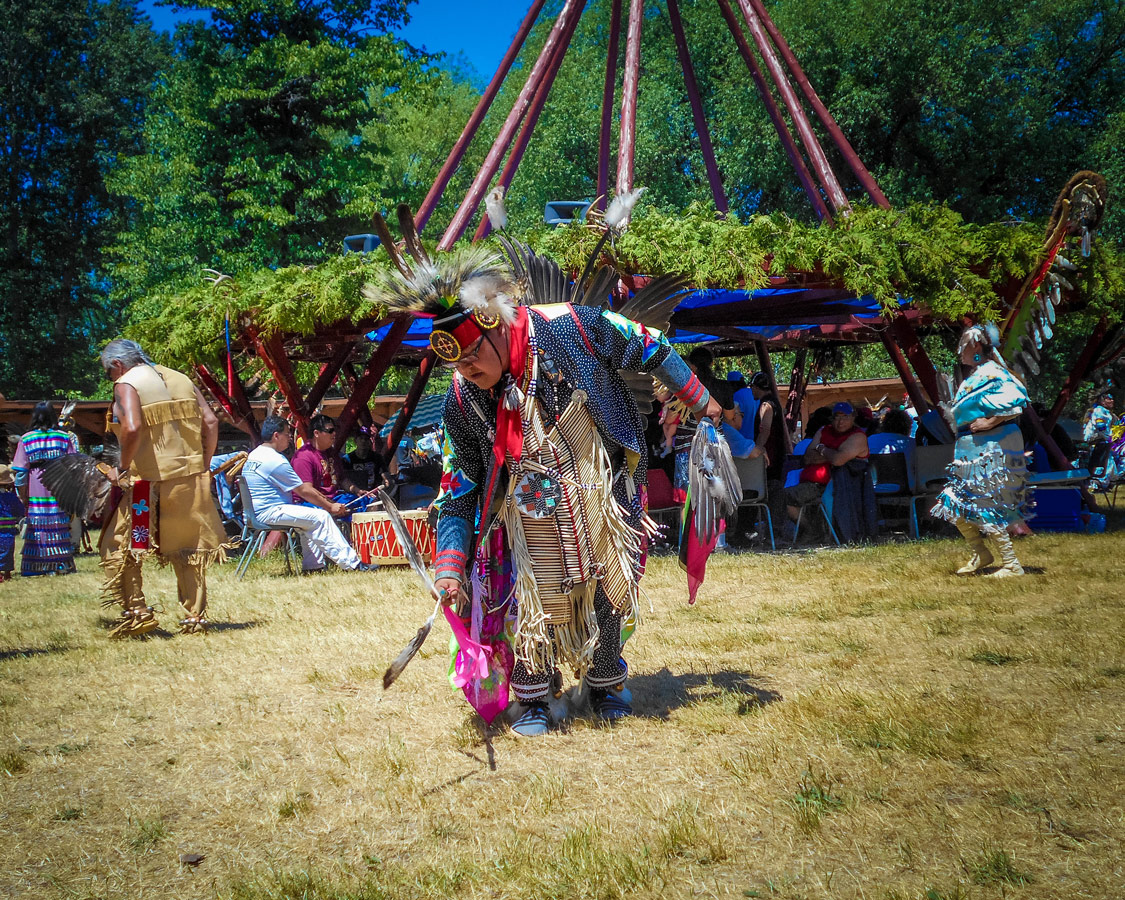 Best Places To Eat On Manitoulin Island
You don't have to look far to find great restaurants on Manitoulin Island. For all of the great things to do on Manitoulin Island, eating great food is always near the top. From great local restaurants to unique and flavorful food trucks, the food scene on Manitoulin is booming.
Indulge In Manitoulin Island Whitefish at Lake Huron Fish and Chips in Providence Bay
After swimming in Providence Bay, a walk to nearby Lake Huron Fish and Chips in Providence Bay makes for a perfect break. It is located on the corner of 551 and McNevin St. The line-up can be long during the busy summer season so try to get there early before the crowd shows up. But the wait is worth it! The freshly battered whitefish will leave a lasting impression.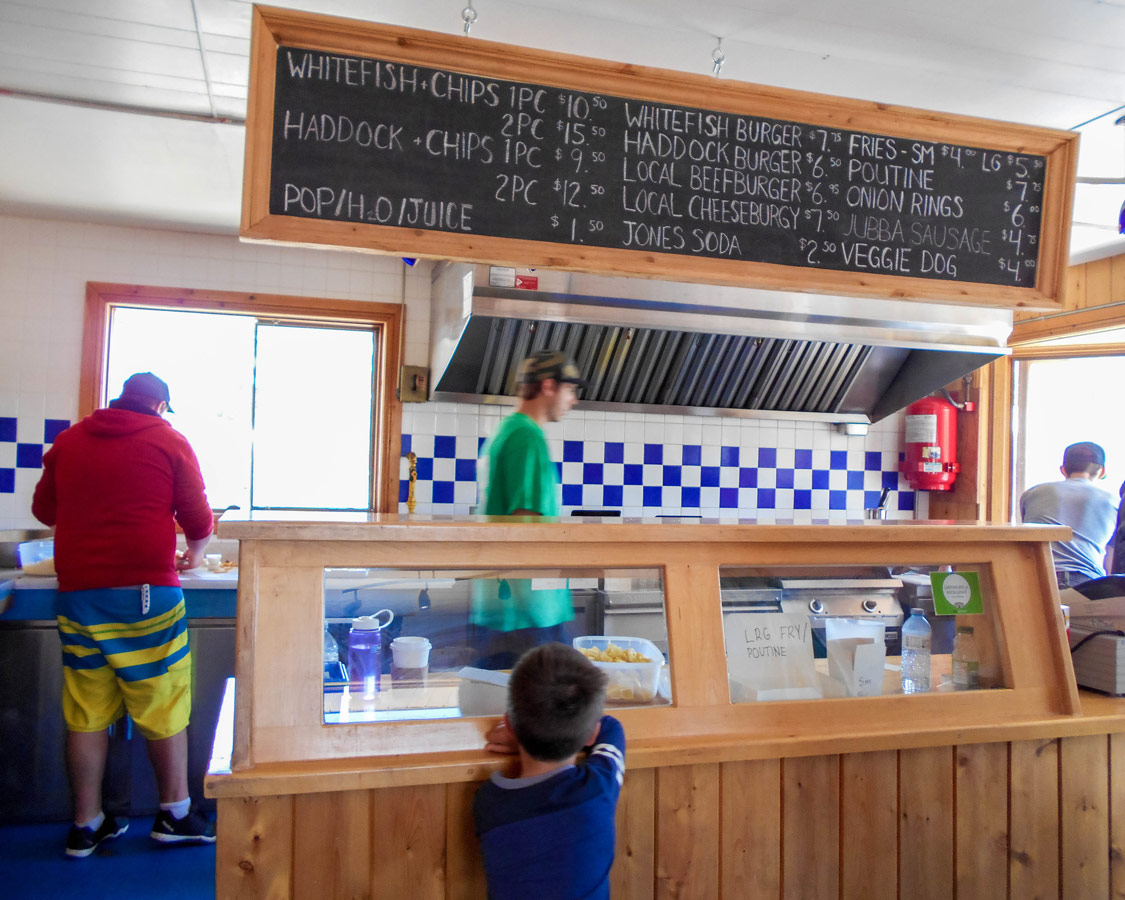 Treat Yourself To Ice Cream At Farquhar's Dairy Ice Cream
Manitoulin Island has delicious local Ice Cream from Farquhar's dairy. Farquhar Dairies Ltd is a family-owned Canadian business with origins in Manitoulin Island. You can find Farquhar's ice cream at many places within the island, but we couldn't find it at lower prices than at the gas station and restaurant between M'Chigeeng and Mindemoya.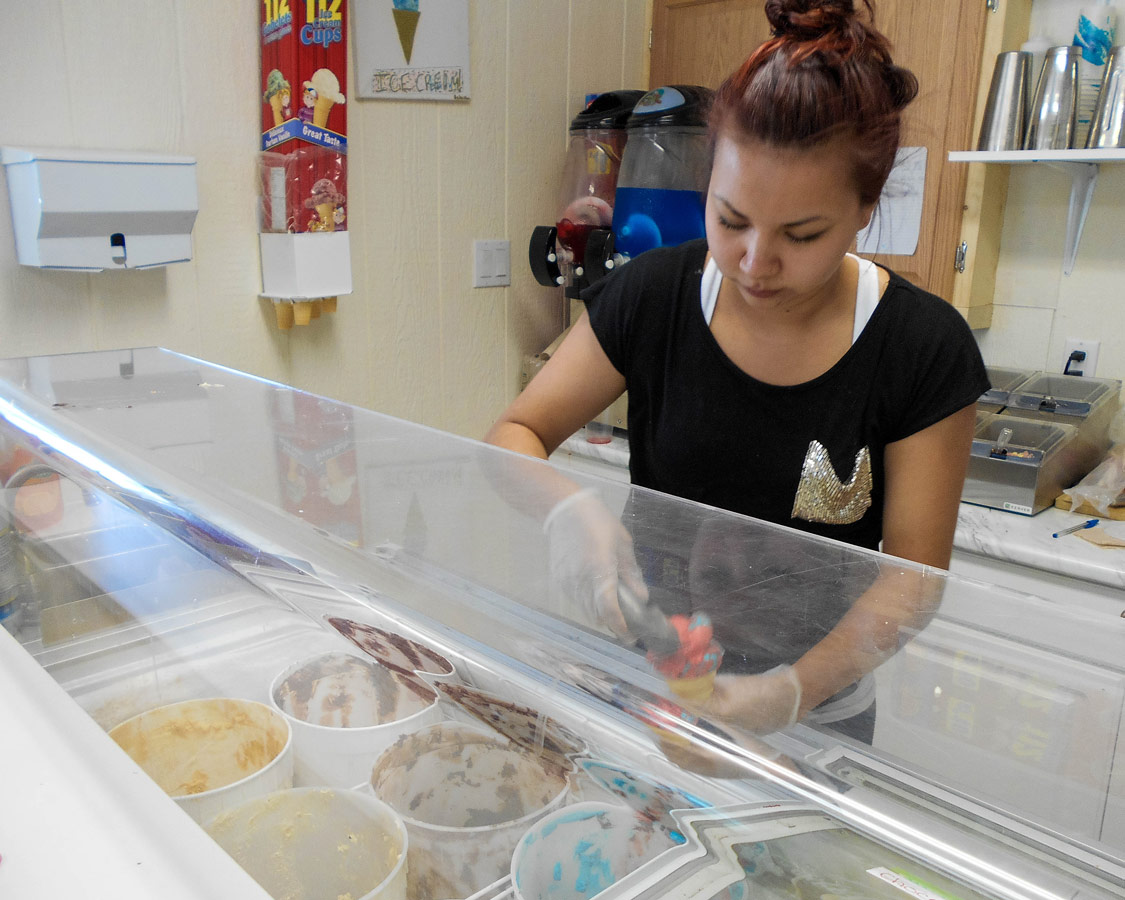 Enjoy Breakfast and an Apple Fritter at Mum's Bakery in Mindemoya
Through all of our things to do in Manitoulin Island, Ontario we rarely came upon any crowds. That is until we stopped at Mum's Bakery and Restaurant in Mindemoya. This popular breakfast and lunch spot has delicious baked treats. Do yourself a favor and take out a box of their amazing Apple Fritters.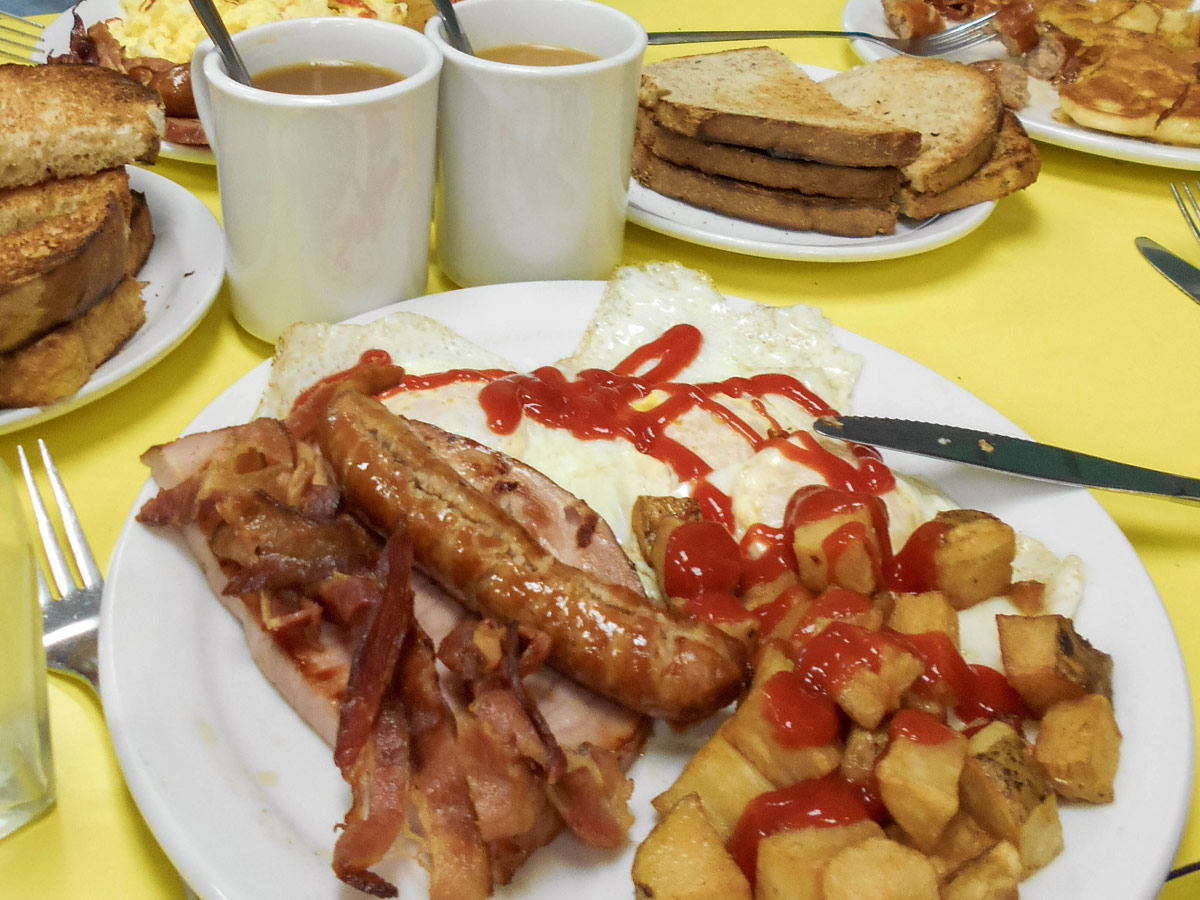 Taste Some Local Brews At Manitoulin Island Brewing Company
I find it very difficult to pass up a great local brewery when I travel. So when we were in Little Current recently, I made sure to stop at the Manitoulin Island Brewing Co. before heading to our overnight at Gordon's Eco Resort. You can pick up pints, cans, or even a flight of their different Canadiana and Manitoulin-themed beers and grab a case to bring back to your cottage or Manitoulin Island campground.
I'm a sucker for comedy, so when I saw their Mr. Canoehead lager, which is named after a sketch from the famed Canadian comedy group, the Frantics, I was sold. But to be honest, their whole lineup is fantastic. Swing Bridge is a light and flavorful blonde, and Bridal Veil is a pale ale that fits perfectly with the famous waterfall.
Manitoulin Island Brewing Co. doesn't serve food itself, but those enjoying their patio can get delivery from nearby Anchor Inn or indulge in the on-site food truck run by Chiblow.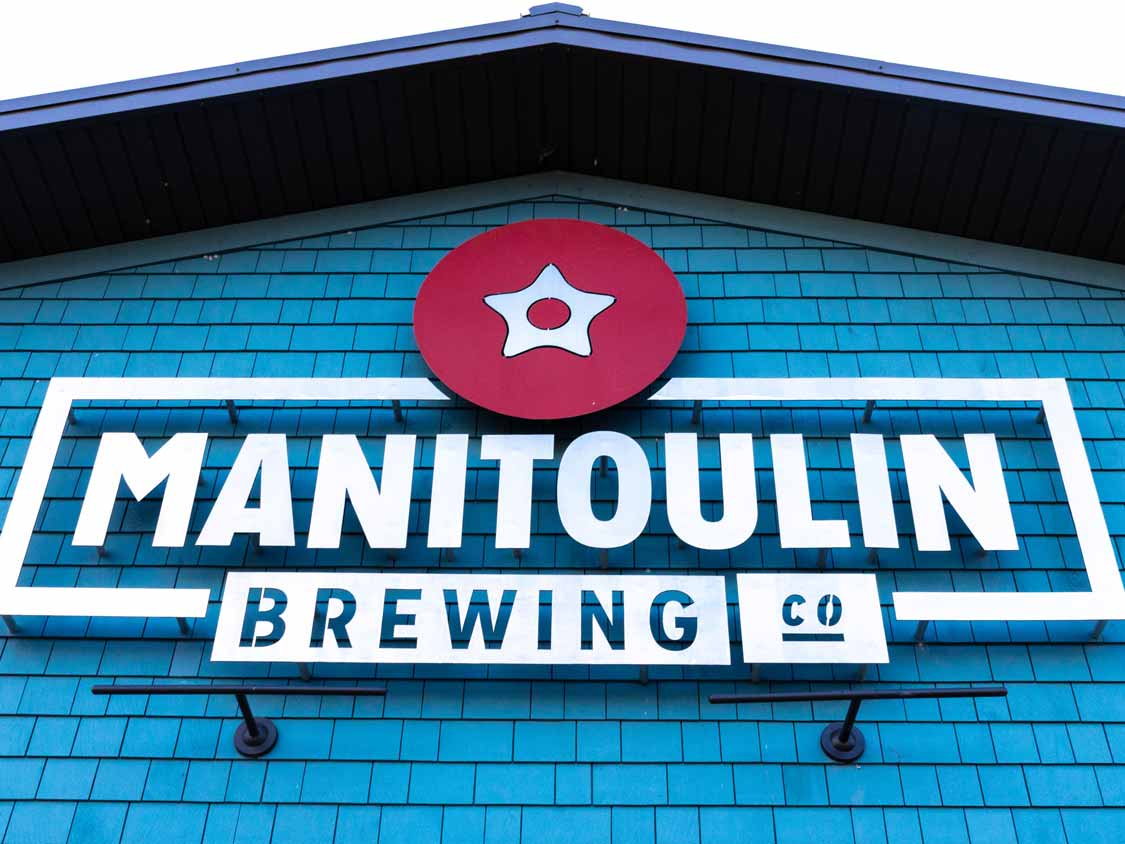 North46 Restaurant
You can't experience the best food on Manitoulin Island without a visit to North46. First Nations heritage runs deep through this island, and North46 is a First Nations-run restaurant located within the Manitoulin Island Hotel and Conference Centre in Little Current. North46 has a focus on Aboriginal-themed dining. It trends on locally-sourced ingredients served with a traditional Indigenous twist.
Our Manitoulin Island Video
Intrigued by these ideas of what to do on Manitoulin Island and thinking of making your own visit? You can get some further information by checking out our popular Manitoulin Island video on YouTube. Don't forget to like and subscribe to help us continue bringing fun and inspiring family-travel content to you.
Where To Stay On Manitoulin Island Ontario
Manitoulin Island is bursting with quaint bed and breakfasts, motels, and small inns. Outside of the big town of Little Current, you won't find many big hotels on Manitoulin Island. The largest of these is the First Nations-run Manitoulin Island Hotel and Conference Centre. This high-end Manitoulin Island hotel has large and spacious rooms overlooking the gorgeous North Channel. You can check out their prices and availability here.
Manitoulin Islands all about slowing down and enjoying the rural lifestyle. There are some great smaller accommodations on Manitoulin Island to consider including the Wayside Motel in Manitowaning. The Wayside Motel has a great beachside location and all the rooms have microwaves and coffee makers.
Another popular Manitoulin Island accommodation is the Huron Sands motel in Providence Bay. Huron Sands has a restaurant serving home-style meals, free WiFi, and a location that gives easy access to many of the things to do on Manitoulin Island.
What are your Favorite Things to do on Manitoulin Island?
By now I'm sure you can see why Manitoulin Island is one of our top places to visit with kids in Ontario. But did we miss anything? Do you have a favorite place on Manitoulin Island that didn't make the list? Let us know in the comments below so we can keep this updated for those wanting to visit Manitoulin Island with kids!
Disclosure: Our North Channel Cruise was hosted by North Channel Tours. As always, all opinions remain our own. Wandering Wagars is a participant in the Amazon Services LLC Associates Program, an affiliate advertising program designed to provide a means for sites to earn advertising fees by advertising and linking to amazon.com, amazon.co.uk, amazon.ca. Amazon and the Amazon logo are trademarks of Amazon.com, Inc. or its affiliates.
You May Also Like To Read: