These incredible things to do in Sudbury, Ontario, will have you booking your next family vacation in Northern Ontario.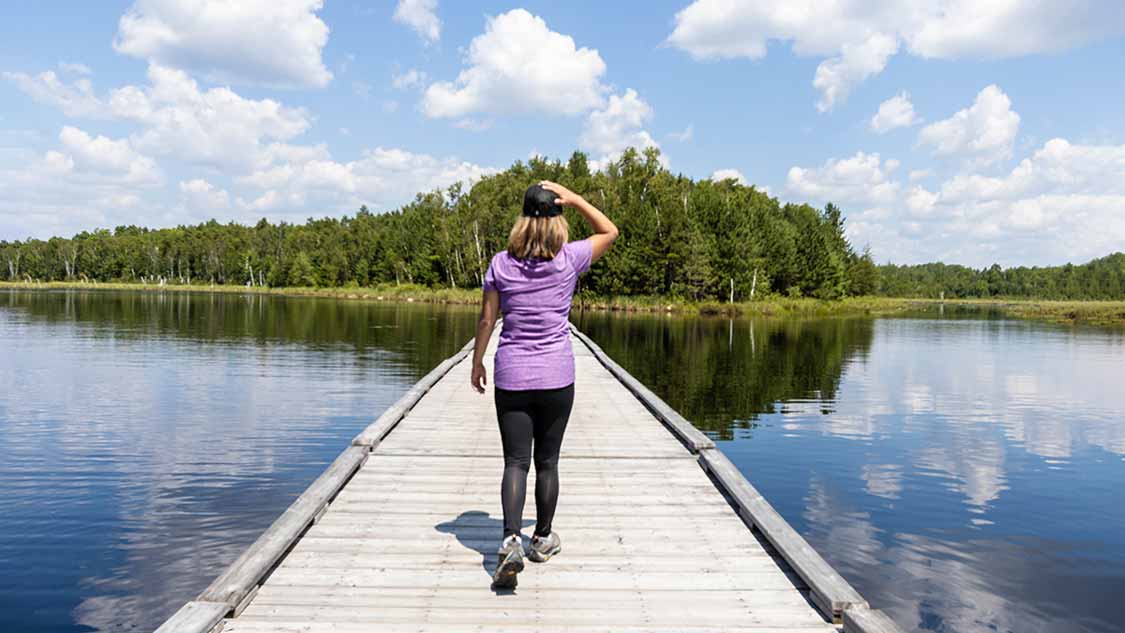 The more we explore our home province of Ontario, the more I'm astounded by how incredible it is. Northern Ontario has been our second home lately, with epic trips to Thunder Bay and Manitoulin Island. But Northern Ontario's largest city, the town of Sudbury, has been eluding us.
Well, we decided to change that with a trip north from our home in the GTA to explore all of the incredible things to do in Sudbury. So we set aside 4 days to explore this city. And I'll tell you now that four days wasn't enough!
The uncomfortable truth about Sudbury is that, in my youth, it had a bad reputation. The mining that helped Sudbury rise to power in Ontario's north also stripped much of its vegetation and left the city a sick, polluted mess. But my, how times have changed!
A re-greening effort began in the 1980s. As a result, the city, which was once a scattering of buildings on barren rock, has returned Sudbury to a natural paradise filled with grass, trees, and a landscape that ranks it among the most spectacular scenery in all of Canada. And the mines that once belched sulfur into the atmosphere are now among the fascinating places to visit in Sudbury.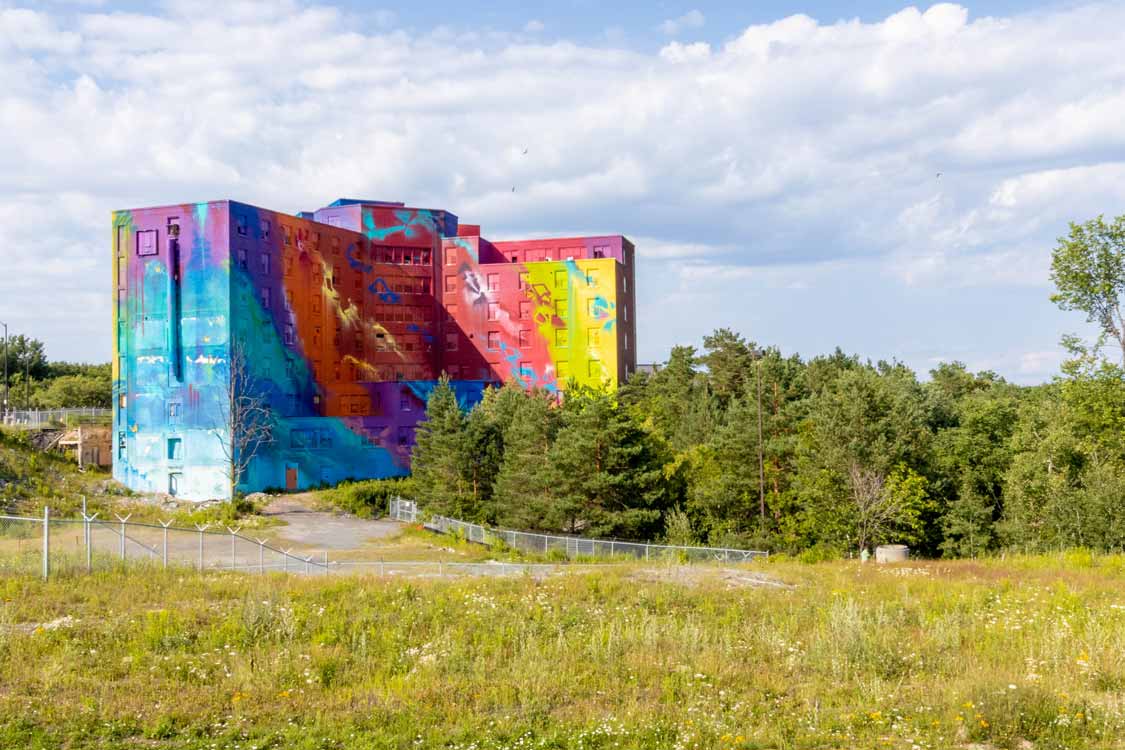 The Most Incredible Things To Do In Sudbury
When we first arrived in Sudbury, the only thing I really associated the city with was the Big Nickel. I remember standing underneath one of the (if not the) world's largest coins as a child and thinking, "whoah!"
Getting the chance to introduce my own kids to Sudbury like my parents had done with me really opened my eyes to just how awesome it is. So hang tight as we explore the best things to do in Sudbury, Ontario.
Take In The Up Here Festival and Sudbury Murals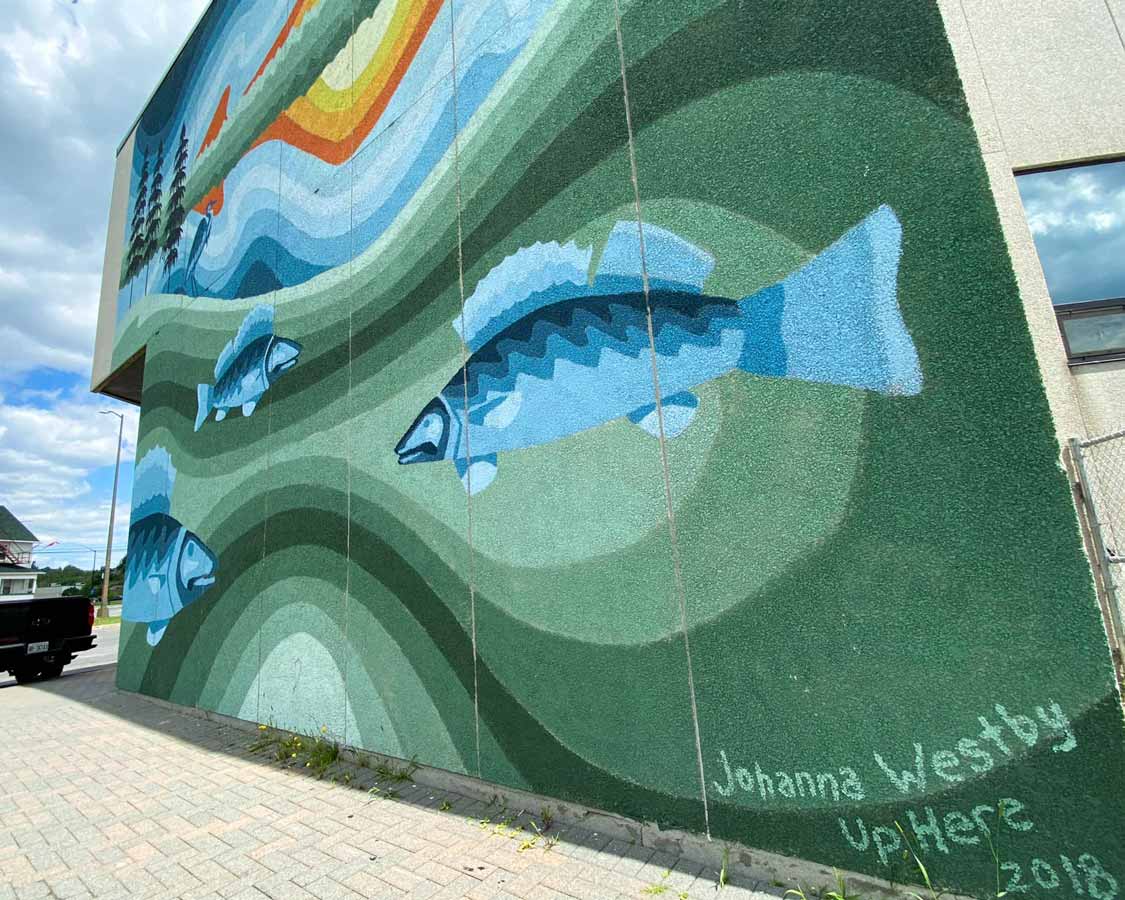 Art helps bring a city to light, and the Up Here Festival and urban art of Sudbury helps to celebrate everything weird and wonderful about Sudbury. And that's just the kind of festival that we can get behind!
The Up Here Festival itself takes place each summer near the end of August. However, the spectacular murals that dot the city can be viewed year-round. There are quite a few to note, but make sure to check out Canada's largest mural, which brightly covers the former St. Joseph's Hospital near Bell's Park.
More Sudbury murals keep popping up year after year, bringing even more vibrance to this already exciting city. You can check out all the details about those murals here.
Explore And Play In Kivi Park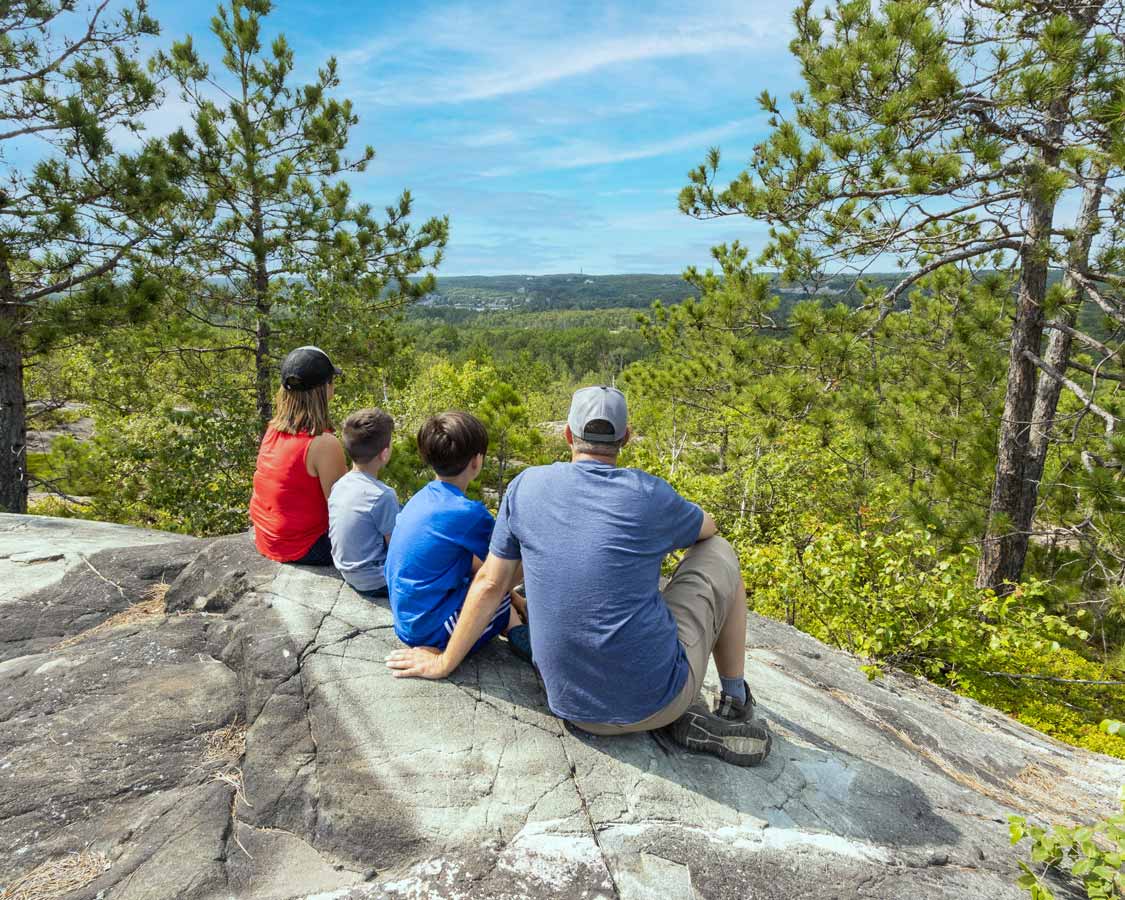 Imagine a park with a trail network that extends from Sudbury all the way down to Killarney Provincial Park. Well, imagine no longer because this 480+ acre multi-use park is well on its way to hitting that goal.
Kivi Park, which overlooks the picturesque Long Lake, features playgrounds and picnic facilities, a pump track, soccer fields, and a massive network of trails that wind through the Pre-Cambrian shield and allow ample opportunities for hiking, biking, and even blueberry picking.
The 'trails' network ranges from one km up to 10 km and will eventually reach Killarney and link up two of the greatest hiking destinations in the province.
At Kivi Park, you can rent bicycles to explore the trails or head down to Crowley Lake to rent kayaks, canoes, and SUPs for a day on the water.
Choo Choo On To The Northern Ontario Railroad Museum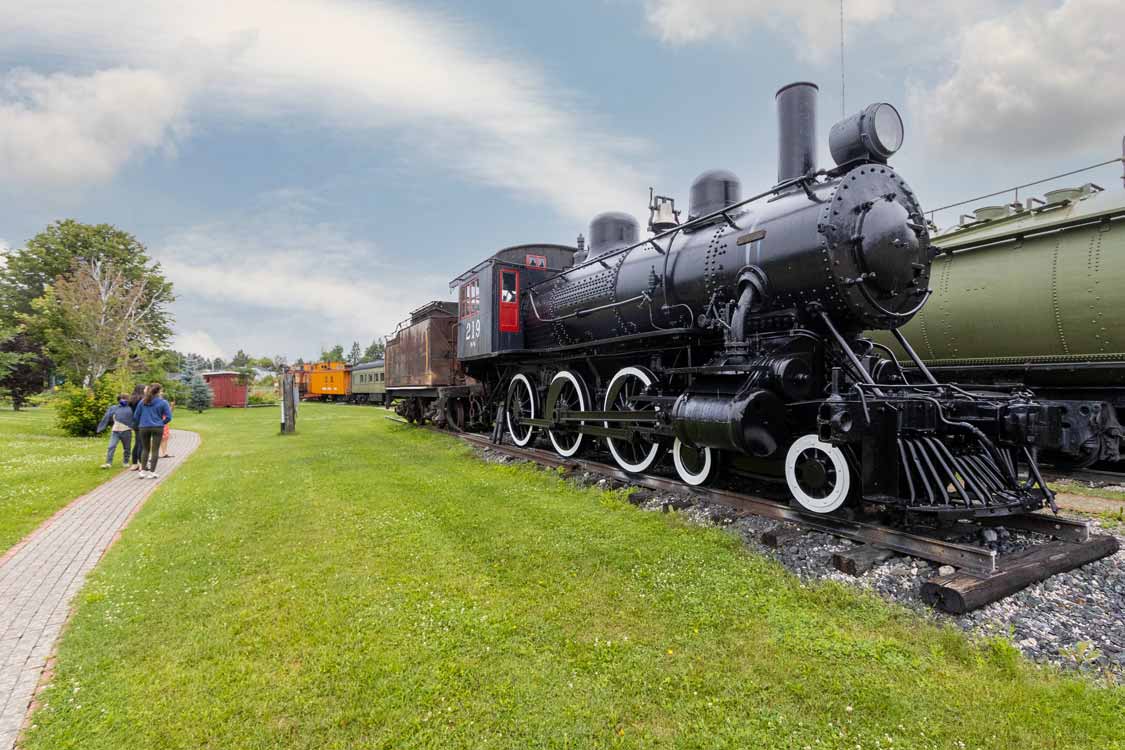 About 40-minutes from Sudbury in the town of Capreol is one of the unique places to visit in Sudbury. The Northern Ontario Railroad Museum and Heritage Centre offer a fascinating look back to the railroads that helped link Northern Ontario to the booming south.
Wander the antique locomotives, operate a simulator, and find out what life was really like for rail workers laying the nation's foundations.
We found it fascinating that car houses and the school car brought classrooms to remote communities that would otherwise not have access to them. It brought back some great memories of our time sleeping in a train car at the Smiths Falls train museum.
Throw On A Lab Coat At Science North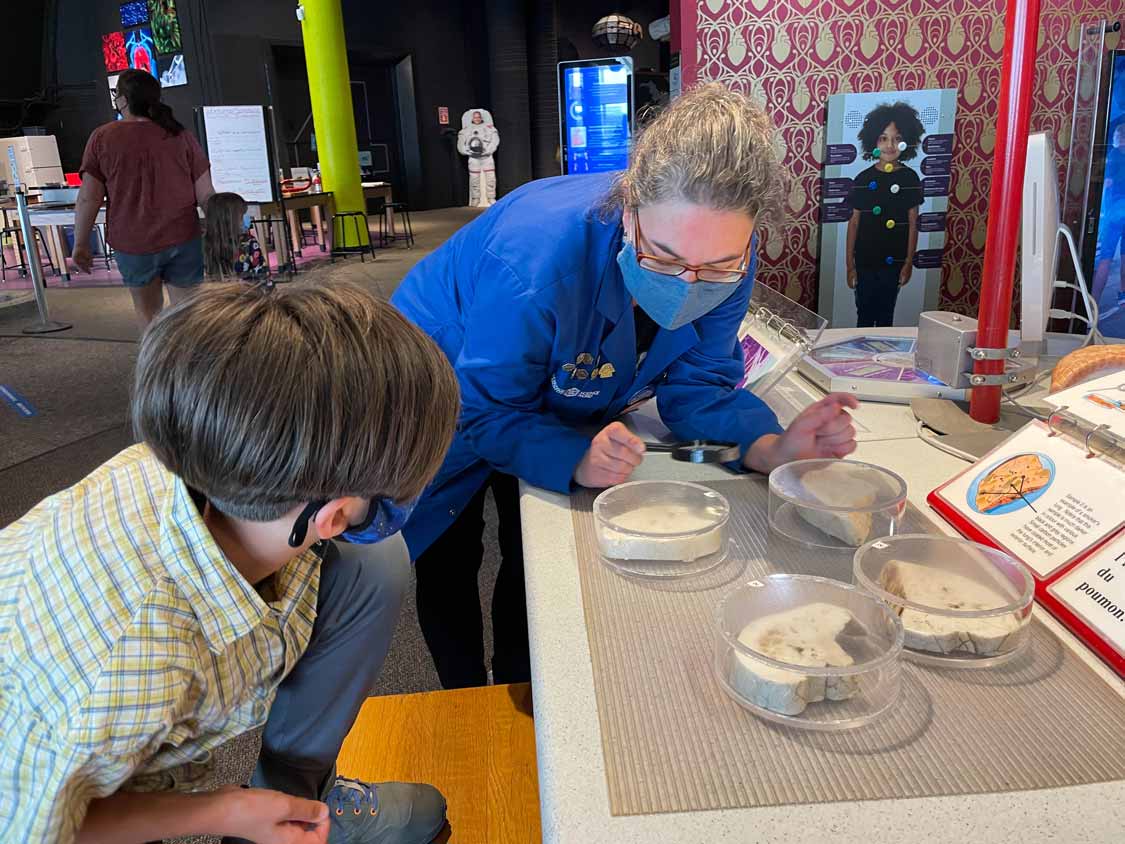 If you're looking for the most popular things to do in Sudbury, look no further than Science North. This is Canada's second-largest science center, and it rivals its big brother, the Ontario Science Centre.
This Sudbury science museum is packed full of engaging and interactive exhibits that are fun for the whole family. Wander through the floors and chat with the "Bluecoats." These genuine scientists are full of incredible information, and educational tips that will help kids and adults get even deeper into the awesome displays and attractions surrounding them.
Don't miss the local beaver and porcupine who enjoy meeting guests as they walk through the main floor. Give a whirl at the flight simulator, and try and hold your lunch as you spin round and round on the gyroscope.
You can book your tickets to Science North in Sudbury here.
Head Underground At Dynamic Earth
Technically Dynamic Earth is part of Science North, but they both have separate admissions, and you need to drive between them, so we'll treat them as separate experiences.
Dynamic Earth is located at one of the largest mines that ever operated in Sudbury, the Big Nickel Mine. It's hard to miss, as outside of the building, you'll find the epic Big Nickel that has been a Sudbury landmark for generations.
This geology-themed Sudbury attraction takes a big look at the rocks, minerals, and metals that propelled this city to fame, and at one point, had them supplying 96% of the world's supply of nickel.
Like Science North, you can stop a Blue Coat and pepper them with questions about rocks, geology, Sudbury history, or otherwise while traversing the incredible and engaging exhibits and shows.
Book ahead to take advantage of the thrilling mine experience that takes visitors on a 1.5-hour tour of the actual mine in operation for over a century.
Take A Swim At Bell Park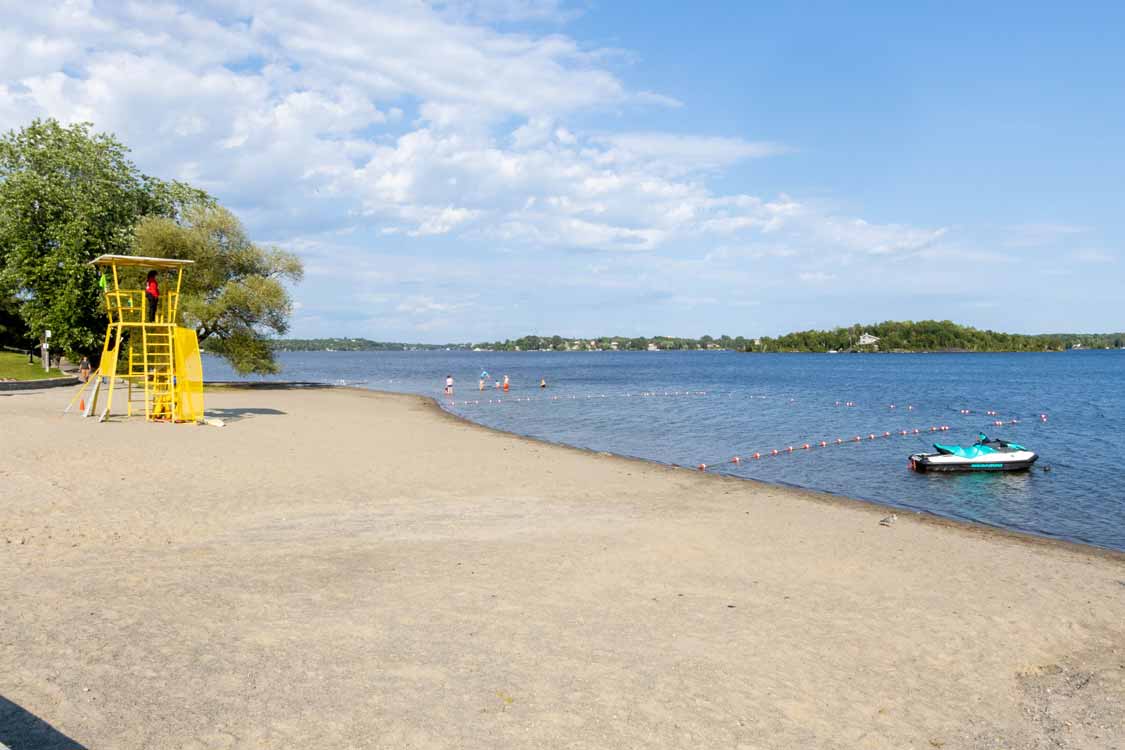 Grab a parking spot in the lot next to the giant tie-dyed building (you can't miss it), and enjoy some beach time at Bell Park in Sudbury. This sprawling urban park features playgrounds for those visiting Sudbury with kids, coveted Blue Flag beaches with lifeguards overseeing the action, and a network of casual trails that will take you along Ramsey Lake all the way to Science North.
Bell Park is a fabulous place to enjoy a picnic, dip your toes in the water, or watch the action as kayakers, sailboats, and swimmers enjoy the warm water of Ramsey Lake.
Hike and Paddle At Lake Laurentian Conservation Area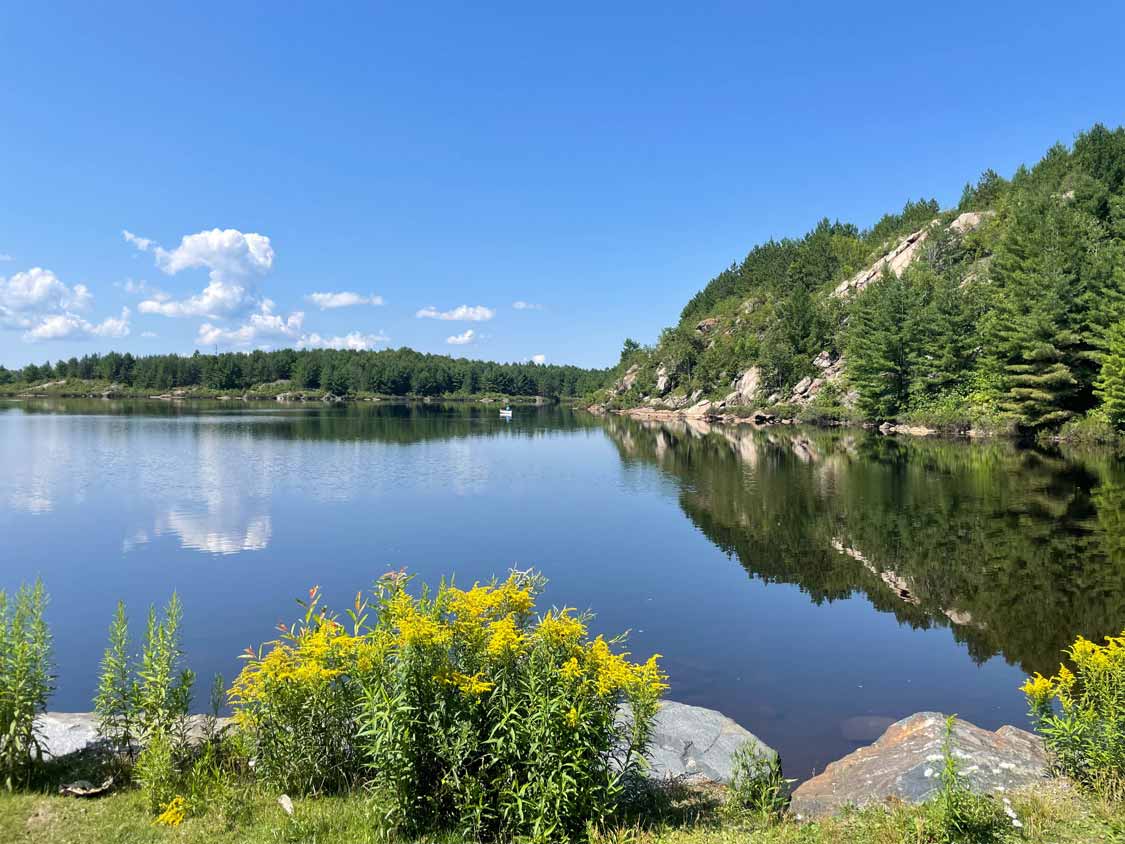 Lake Laurentian is my absolute favorite place to get outdoors in Sudbury. A huge network of hiking, biking, and cross-country ski trails skirt through this 2,415 acre protected green space.
Sparkling lakes are traversed by floating boardwalks that connect you to the more remote areas, and the trails are lined with copious amounts of blueberry and raspberry plants just ripe for the picking.
But if you want to experience the most scenic parts of Lake Laurentian Conservation Area, bring a canoe, kayak, or SUP and get out on the blue waters of Lake Laurentian. Paddle around, and you'll come face-to-face with beavers, turtles, Great Blue Herons, and loads of other creatures enjoying the forests, marshlands, and rocky cliffs of the Pre-Cambrian landscape.
Make A Visit To Windy Lake Provincial Park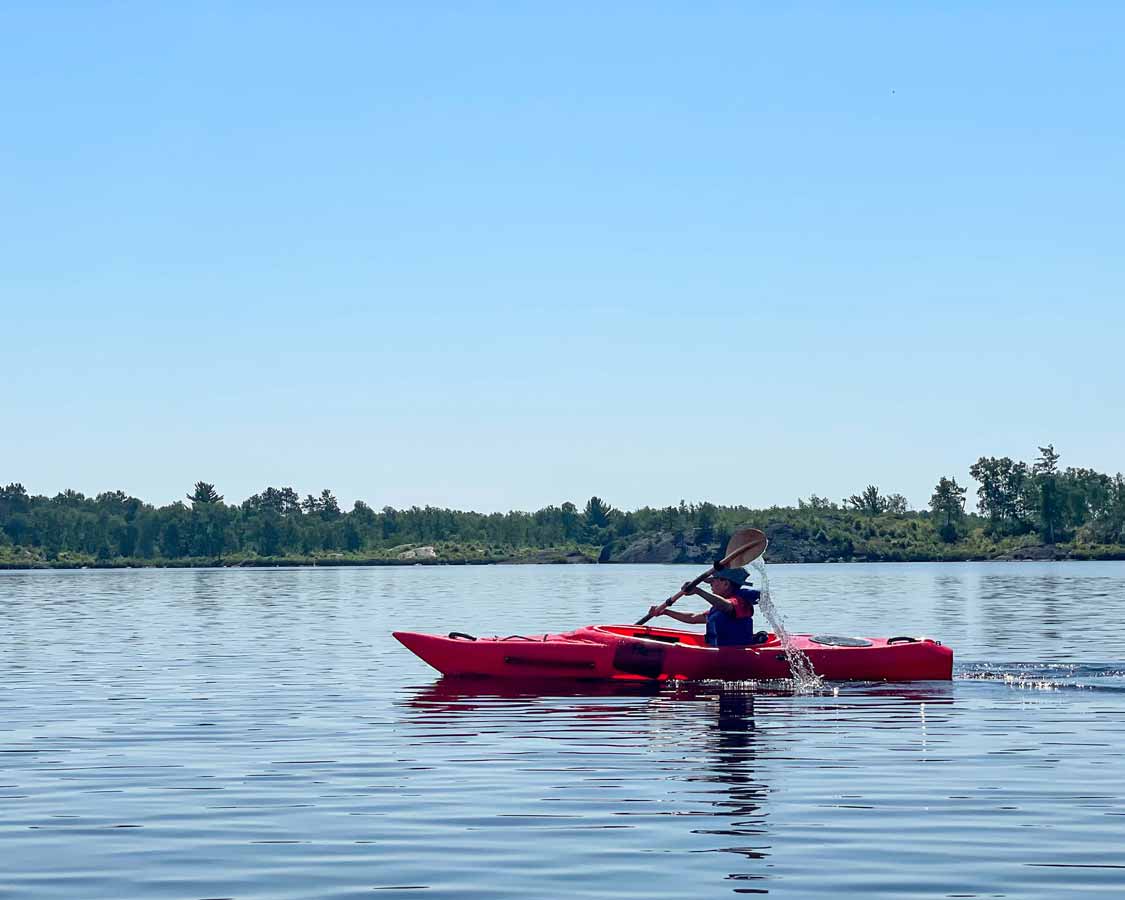 Situated just forty minutes from Sudbury is picturesque Windy Lake Provincial Park. This park is a popular day trip from Sudbury for locals who love to make the drive and spend a day enjoying the gorgeous beaches.
Windy Lake also features a fantastic campground and four on-site yurts that can be rented for a more "glamping-style" getaway. If you're interested in booking a spot at Windy Lake Provincial Park near Sudbury, you can find out more here.
Gaze Over Onaping Falls From The AY Jackson Lookout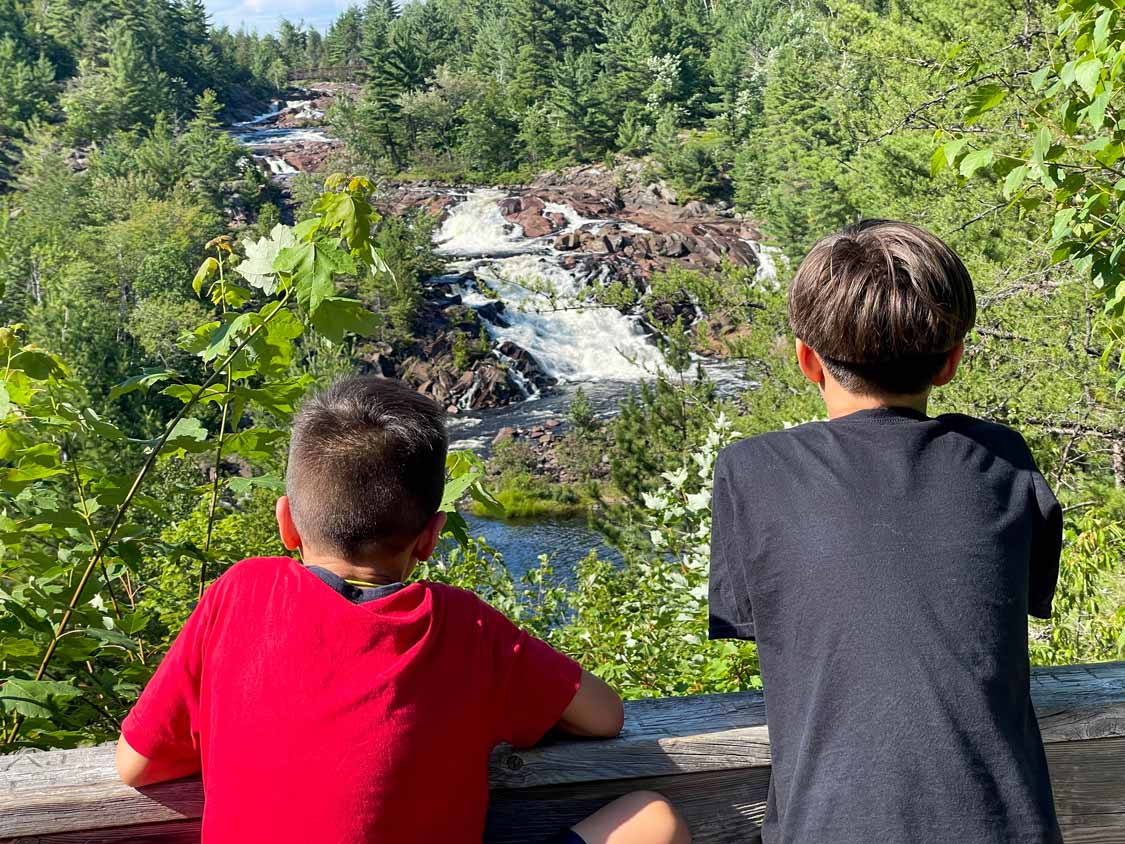 Just a 30-minute drive from downtown Sudbury is one of the prettiest waterfalls in Northern Ontario. Onaping Falls and the AY Jackson Lookout offer an awesome nature escape.
Onaping Falls cascades over rocks as it drops 150 feet to a basin below. You can opt for the easy view from the lookout, which will let you set eyes upon the whole Onaping waterfall. Or you can hike down along the waterfall to the scenic bridge that connects the waterfall trail to a nature trail.
If you want to get to the bridge and the nature trails, you can save yourself the treacherous hike along slippery rocks and park at the pull-off just after the bridge along RTE 144.
Our Weekend In Sudbury Video
If you're itching to discover Sudbury for yourself, check out the full video from our incredible weekend exploring every inch of northern Ontario's capital. Make sure to hit those like and subscribe buttons to help us out. We sincerely appreciate all of you who do.
Where To Eat In Sudbury
Sudbury has a pretty amazing food scene. And if you're looking for the best places to eat in Sudbury, you won't have to look very far. Whether you're looking for high-end cuisine, hidden gems, or the most dynamite breakfast spot, the kitchens of Sudbury are cooking up some absolute gems. Here are some of our favorite restaurants in Sudbury.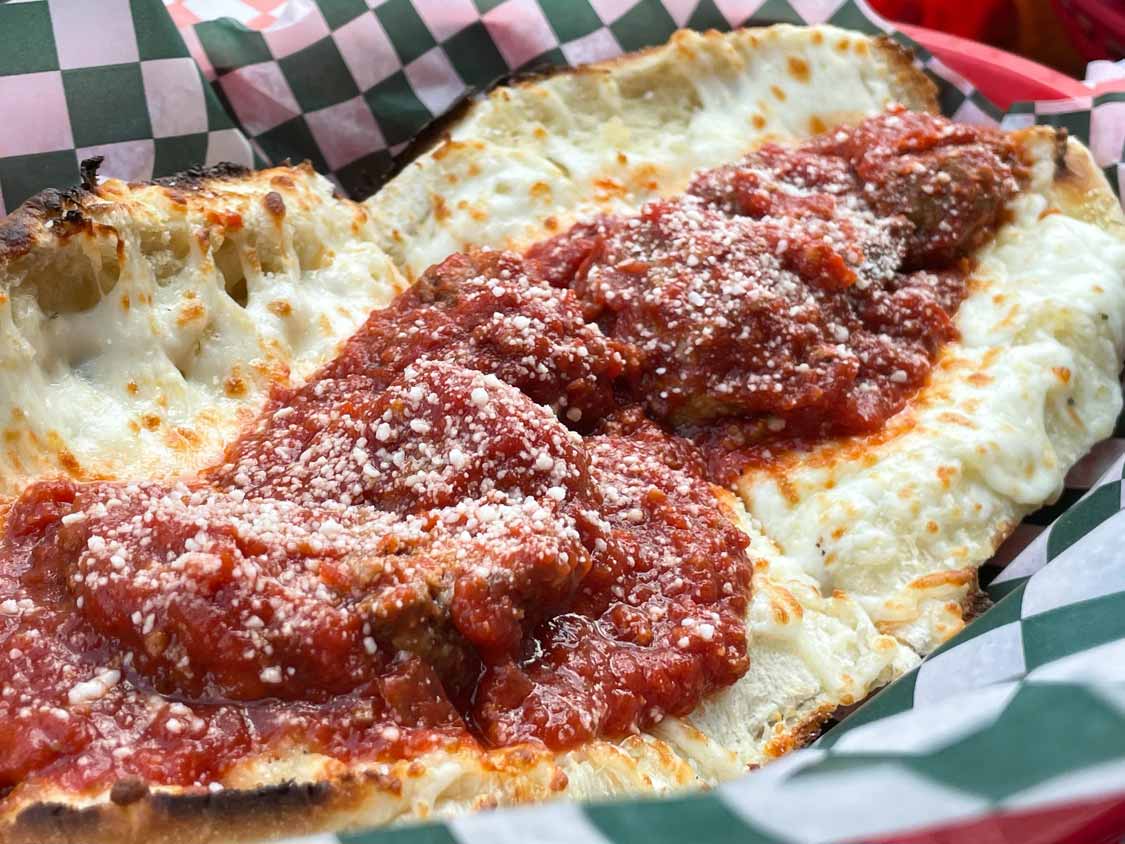 Ripe Restaurant
Located on Regent St. Ripe is one of the most excellent places to eat in Sudbury for those looking for high-end fare made with fresh, local ingredients.
Grab a spot on their patio, or for a more intimate experience, sit inside near their open kitchen and enjoy the sounds of food sizzling fresh-to-order. I highly recommend the whiskey bacon ravioli.
Pepi Pannini
Situated on the downtown strip surrounded by some of the coolest Up Here murals, Peppi Panini serves up epic hot sandwiches that will fuel you up for an afternoon of exploring.
They have an excellent patio where you can people-watch while you enjoy your chicken parm or meatball sub and indoor dining with a relaxed atmosphere and a pool table.
Cara's Convenience and Famous Deli
Someone did not teach Cara about portion control. This popular deli, located on Lorne St near the edge of town, has some of the biggest sandwiches I've ever seen. In fact, Christina, myself, and the boys all ordered our own sandwiches. We could have just shared one.
They have an awesome menu of hoagies, subs, paninis, and pressed sandwiches at Cara's, but the main attraction is the epic Paul Bunyon. This towering load of bread and meat consists of a paniotti bun loaded with ham, turkey, roast beef, pastrami, capicola, and salami. All that goodness is topped with lettuce, onions, and cheese. You'll be eating it for days.
Gloria's Restaurant
There is no doubt which of these Sudbury restaurants was my children's favorite. That title goes to Gloria's, a low-key diner on Regent St. that serves up massive breakfasts that offer up enough calories to power you through all of the things to do in Sudbury.
C dove into the epic french toast wrap, a huge piece of french toast wrapped in a delicious crepe and then topped with copious amounts of fruit, syrup, and whip cream. It's as delicious as it sounds. I opted for a generous portion of steak and eggs; Christina enjoyed a mouthwatering eggs benedict while D dove headlong into a towering stack of strawberry banana pancakes.
Flurple's
Before our visit to Flurple's, I had never tried vegan ice cream. But, it seems that I'm a convert! This fun and funky building on Kathleen St. has a walk-up window and serves all manner of delicious vegan ice cream treats. So, C had the rootbeer float, D opted for a birthday cake ice cream, Christina had the strawberry milkshake, and I indulged in a Smores sundae. Delish!
If you want to try more vegan food in Sudbury, head across the road to Tucos Tacos, which has a wide range of Mexican-themed vegan dishes. Our kids couldn't get enough of the nachos while the (vegan) carnitas tacos were to die for.
Where To Stay In Sudbury
If you're looking for great hotels in Sudbury, you'll be covered. While this town might not have a Ritz Carlton or a Chateau, there are still plenty of great places to stay in Sudbury to keep you rested enough to enjoy all of these attractions.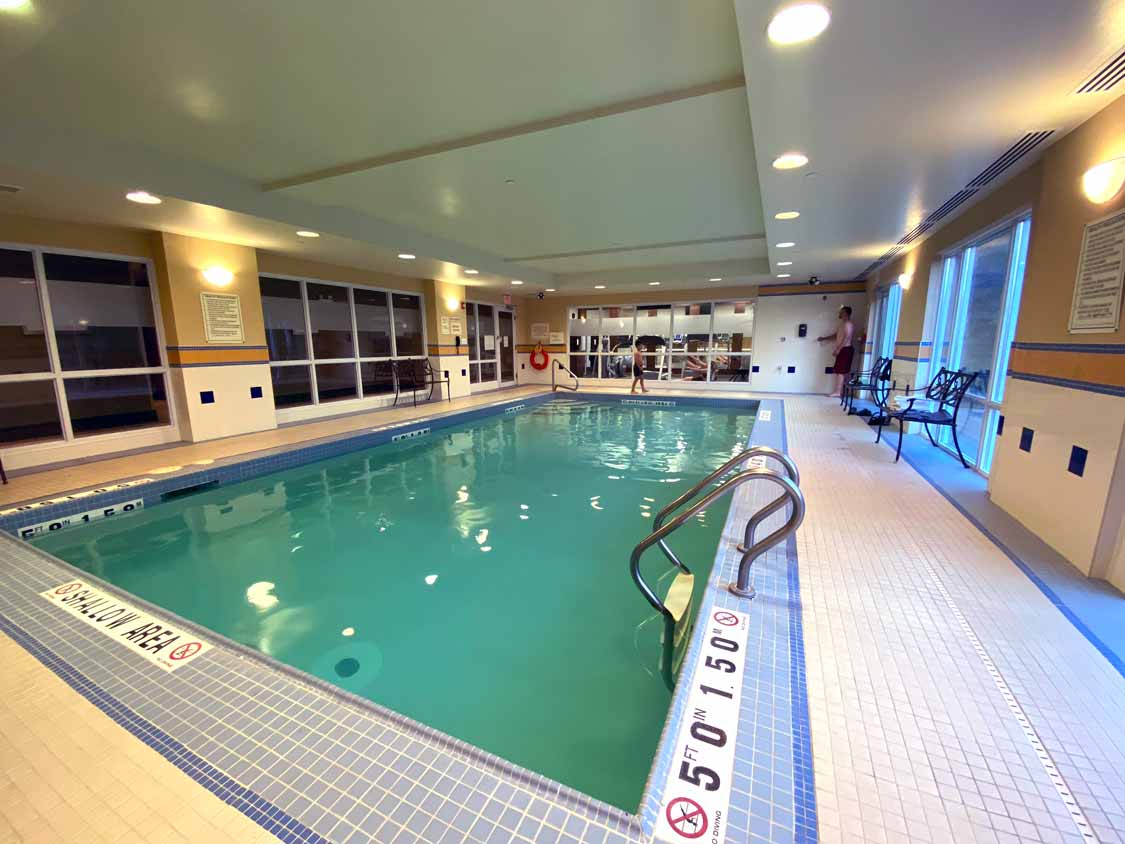 Hampton Inn Sudbury
Conveniently located right off HWY 17 as you enter the city, the Hampton Inn Sudbury is one of the best places to stay in Sudbury. This clean and casual Hilton property has an on-site pool, serves up a hot buffet breakfast, and offers the usual Hilton amenities that keep people coming back again and again.
This is where we based ourselves on our travels in Sudbury, and we weren't disappointed. This hotel books up fast, and they were already fully booked for the week when we arrived. You can check out their prices and availability here.
Travelodge Hotel by Wyndham Sudbury
Just a short 5-minute drive from downtown Sudbury, the Travelodge Hotel by Wyndham is one of the most popular places to stay in Sudbury. The hotel offers easy access to the great restaurants downtown and is less than 10-minutes from Science North, the Big Nickel, and Bell Park.
You can find their rates and availability here.
Hilton Garden Inn Sudbury
Located on the Kingsway, the Hilton Garden Inn Sudbury is another popular hotel in Sudbury. The property offers WiFi throughout and offers both an a la carte and American breakfast to guests.
You can find their prices and availability here.
Now It's Time To Plan Your Visit To Sudbury!
Sudbury offers some of the most incredible landscapes and urban attractions in Northern Ontario. So there's no surprise it's becoming one of the most popular local destinations for family travel. So if you're looking for things to do in Sudbury, I hope this has helped you out.
And feel free to drop any questions or comments below. I always answer them.
If you're passionate about family travel, head on over to our Family Travel Support Group on Facebook. It's a fantastic community of parents who love travel. We share experiences, knowledge, and the lessons learned along the way. You can also sign up for our newsletter to keep in the loop about new family travel adventures.
Disclosure: Our visit to Sudbury, Ontario was supported by Discover Sudbury. As always, all opinions remain our own. Wandering Wagars is a participant in the Amazon Services LLC Associates Program, an affiliate advertising program designed to provide a means for sites to earn advertising fees by advertising and linking to amazon.com, amazon.co.uk, amazon.ca. Amazon and the Amazon logo are trademarks of Amazon.com, Inc., or its affiliates.
You May Also Like To Read: