The Bluefin Cruise Inflatable Paddleboard Is the latest offering from Bluefin SUPs. Check out our complete review to see the good and bad.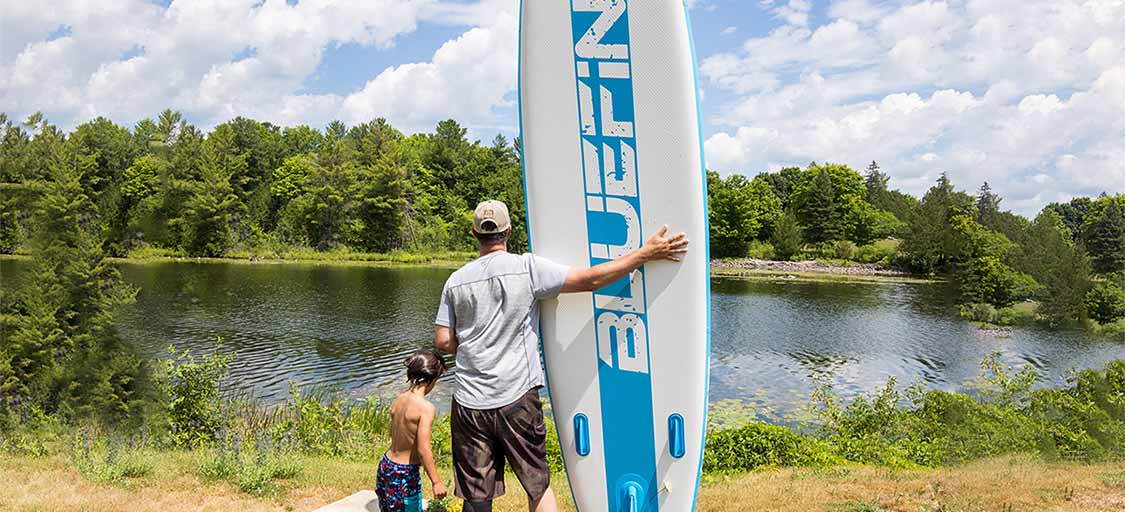 There is no better way to spend a day than out on the water. Where the hot air meets the freshwater, something special happens. As a way of experiencing more time on the water, my family has spent a lot of time on stand-up paddleboards and kayaks. So when I had the chance to test out one of the brand new Bluefin paddleboards, I jumped at the chance.
Conveniently, I was heading out of the Toronto area east to Peterborough at the time. There are some beautiful rivers and lakes to test this inflatable kayak and determine whether it was as high-quality as Bluefin states. I know the area well, and I had just spent time backcountry paddling through Kawartha Highland Provincial Park the previous summer. The weather was perfect, and I was pumped to hit the water for this inflatable stand-up paddleboard review.
If you're worried about bias on this stand-up paddleboard review, you can check out some of my other gear reviews. I only recommend products that I would use myself, and that is good for families. I have reviewed plenty of gear that hasn't fit the bill, and I'm open and honest.
About Bluefin SUP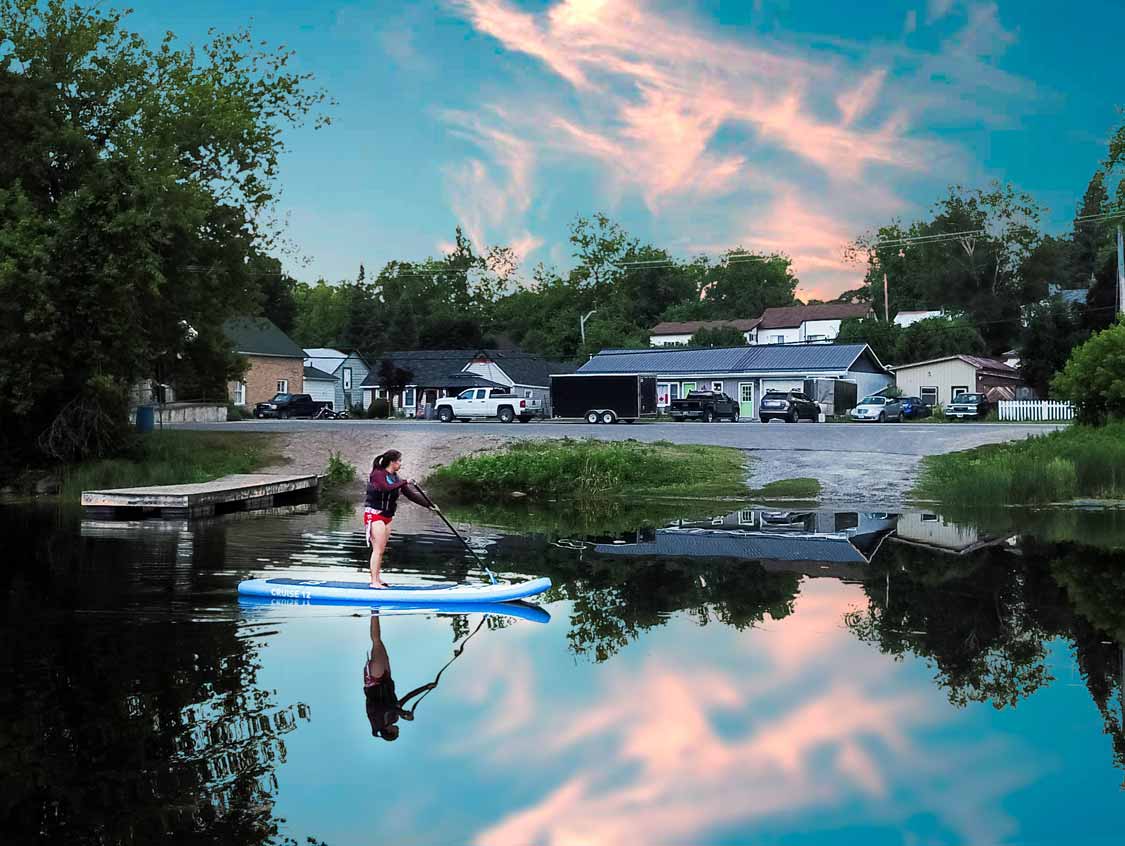 The inflatable stand-up paddleboard I am reviewing is the Cruise 12 from Bluefin. Bluefin is based in the United Kingdom. The company only sells direct to the consumer. No middle-man. No Amazon. The company has been running since 2013 and is beginning to make waves (pun intended) in the inflatable SUP market internationally due to its high-quality product and good value.
Bluefin SUP makes inflatable SUPs for the broad market. They have products suitable for families, solo, and amateur paddlers, up to the seasoned tourer.
Bluefin products are known for their high-quality and over-engineered features. This is a company of water nerds who love to build something that is up to their standards. And that's an excellent thing.
How I Reviewed The Bluefin 12 Cruise SUP
My Bluefin SUP review wasn't overly scientific. Instead, I brought the inflatable SUP to the Indian River near Peterborough, Ontario (I had other thoughts for reviewing a Brit company, such as London, Bristol, and Whitby, but Peterborough is famous for its waterways). Here, I put it together, tested it out for three days, let my kids, nieces, nephews, and in-laws ride it, and used all of that information to form a judgment. It was real-world testing at it's finest.
We had people out on the Bluefin stand up paddleboard from ages 6 through 65 with every level of comfort with SUPs. The general consensus from everyone is that the Bluefin Cruise 12 is sturdy, well-built, and incredibly easy to ride. Now, it wasn't without its issues, but I'll get to that further down. Check out my video review below to see the hands-on details.
What Comes In Your Brand New Bluefin Cruise 12 SUP?
One of the great things about Bluefin paddleboards is that they come ready to go with everything you need to enjoy them. The Cruise is one of three Bluefin stand-up paddleboard models. And it's the one that's designed for all-around general use. They have two other models, the Aura, which is designed for those who want something with a bit more balance and the Touring, which is focused more around speed. The Cruise series is packaged with these items:
Dual-action pump with PSI indicator for inflating the paddleboard (pushes air on both the upstroke and the downstroke)
Coiled ankle strap
4-piece paddle setup that includes both paddleboard and kayak attachments
Waterproof phone case
Detachable stabilizing fin
Detachable D-ring mounted kayak seat
Repair kit
Inflatable Cruise 12 stand up paddleboard
Instruction manual
Action camera mount
Bungee System for gear
Backpack carrying bag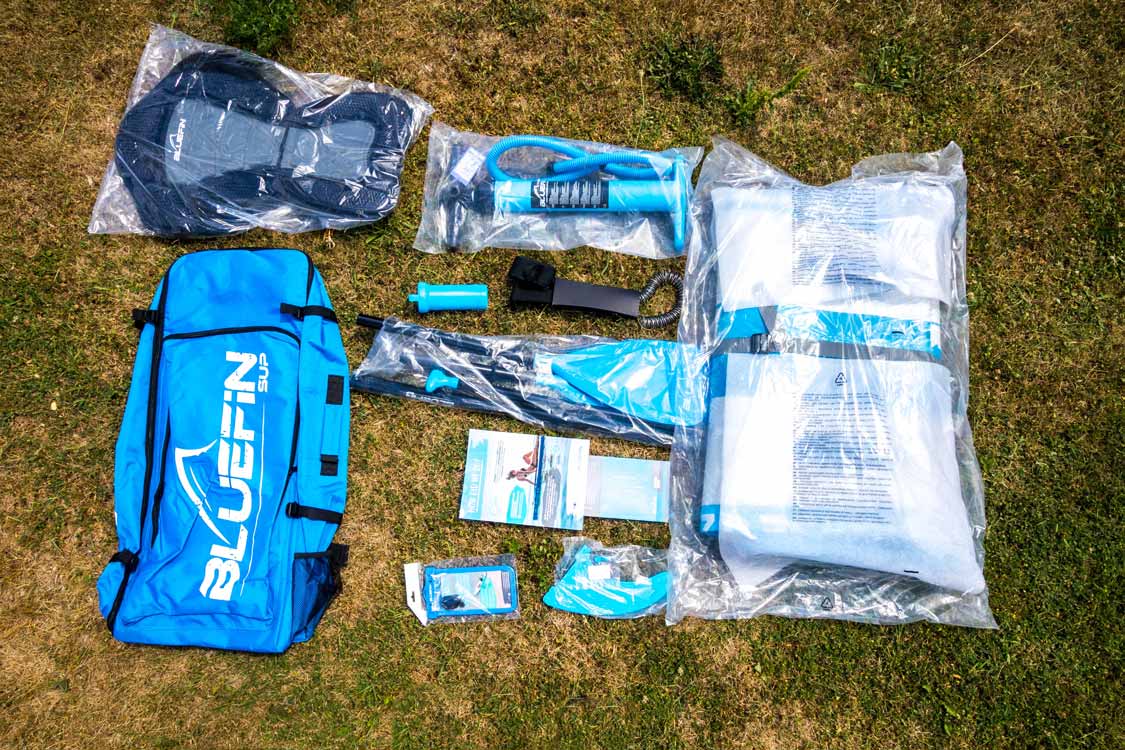 What Are The Options For The Bluefin Cruise 12?
The Bluefin Cruise comes in three different sizes and two different trims. The trims are set out as follows:
10'8″ (10.8′ L x 30 W x 6 T) that can hold up to 310 lbs.
12′ (12′ L x 30 W x 6 T) that can hold up to 410 lbs.
15′ (15′ L x 35 W x 6 T) that can hold up to 550 lbs.
These three size options ensure a Bluefin SUP that fits almost anyone who may wish to experience the water.
Bluefin Cruise Features
The Bluefin Cruise SUPs come loaded with everything you may need to enjoy a day on the water. After three days of testing it, I was never left wishing for something new. It's a very well-stocked paddleboard for families.
Deck Board
The crocodile grid on the deck pad is incredibly grippy. Whether we were paddling down the river or even when the kids were using the SUP as a diving platform, this thing wasn't the least bit slippery. It's padded and comfortable. Whether you'll be standing, sitting, or even using the SUP on your knees, the deck board is comfortable.
Storage
There are two D-Ring mounted bungee cords on the front of the Bluefin stand-up paddleboards. You'll find an additional 4 D-Rings designed to hold the Bluefin kayak seat attachment. Lastly, there's a 5th D-Ring at the back of the SUP intended for the coiled ankle strap.
Carrying
Even at 12 ft in length, the Bluefin SUP that I was reviewing was light and easy to carry. My 9-year-old had no problems moving the unit himself. Even D, my 6-year-old was able to lift it without any issues.
The SUP has two carrying handles. One is center-mounted on the deck board for single-person transport. The second is a rear-mounted handle that is good for a second-person or for manipulating the SUP when it's in the water. The handles are well-stitched and showed no signs of strain whatsoever during my testing.
Stabilization and Steering
The Cruise is the all-around stand-up paddleboard in the Bluefin collection. It's very steady, even when heavily loaded with multiple bodies on it. My kids were using it as a jumping dock for hours, and it never once tipped.
The tracking is handled via a 3-fin system. Two permanently mounted fins molded into the board and one removable central fin to provide maximum tracking. I did find that the Bluefin Cruise tracked a little differently than I'm used to when used as a SUP (it worked like a dream as a kayak). But after a short amount of usage, I was able to correct my paddling to track straight and true with little effort.
Inflation
The Bluefin SUPs come with a dual-action pump that allows air to be pumped on both the upstroke and the downstroke for fast inflation. Like most inflatable SUPs, it gets more challenging the closer you get to optimal PSI. If you have access to a compressor, it will save you a lot of time and energy.
But How Does The Bluefin Cruise Ride?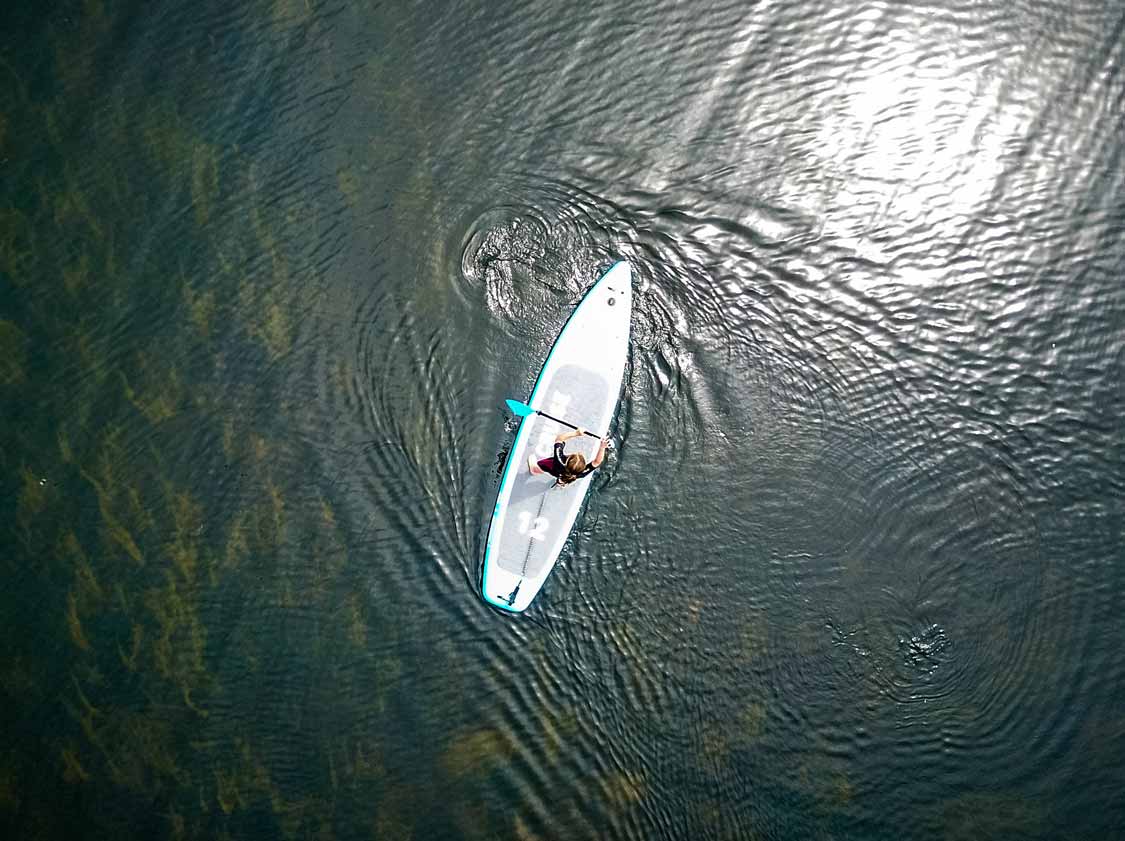 I tested the Bluefin Sup in both stand-up paddleboard setup and with the SUP kayak attachment. Both configurations worked very well. For an all-around family-friendly stand-up paddleboard, the Bluefin Cruise performed very well. It is quite fast, especially on smooth water. I was continually having to call my kids back since they were getting farther than I was comfortable due to the speed.
As I mentioned earlier, the tracking is different than I'm used to, and I found myself over-adjusting before I got used to it. But once I got used to the way it tracked, it was no trouble keeping the unit straight and true. It turns quickly, even for smaller paddlers.
Why Purchase an Inflatable SUP?
Final Thoughts on the Bluefin Cruise iSUP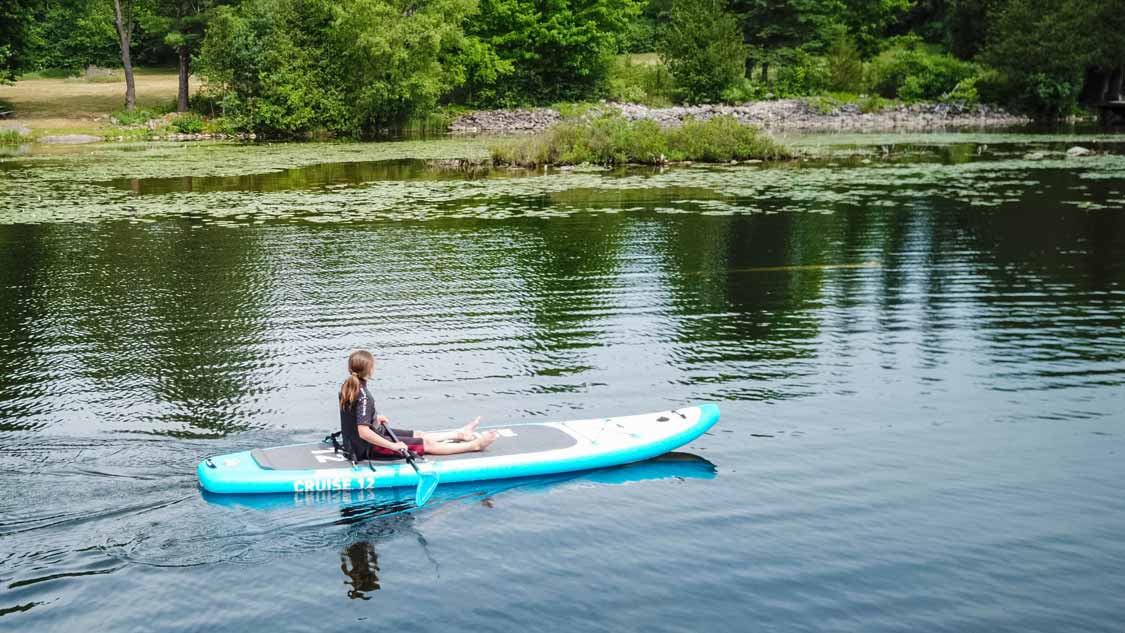 I am delighted with the Bluefin Cruise 12 stand up paddleboard. It's a well-built, reliable, and steady inflatable SUP that doesn't feel like an inflatable stand-up paddleboard. I like that it comes in three sizes and comes with everything that you need to enjoy a day on the water, no matter what your ability level.
It packs away nicely into the Bluefin carrying bag. This means it's easily transportable, which is super essential for a family-friend inflatable SUP. There is even room in the bag that could fit a life jacket or other water supplies.
If you're interested in checking out the Bluefin iSUP for yourself, you can head over to their website here to look through the models.
Do you have a favorite inflatable stand-up paddleboard? Tell us about it in the comment section below. Or tag our Instagram account in your photos. We would love to share in your travels.
Disclosure: We were sent a Cruise 12 standup paddleboard by Bluefin to review. We are members of the Bluefin affiliate program, and if you make a purchase through one of their links we may earn a percentage at no extra cost to you. All opinions remain our own. Wandering Wagars is a participant in the Amazon Services LLC Associates Program, an affiliate advertising program designed to provide a means for sites to earn advertising fees by advertising and linking to amazon.com, amazon.co.uk, amazon.ca. Amazon and the Amazon logo are trademarks of Amazon.com, Inc. or its affiliates.
Pin This For Later: