Manitoba has some of the best landscapes in all of Canada. From the bison to the beach, check out our complete guide to Riding Mountain National Park.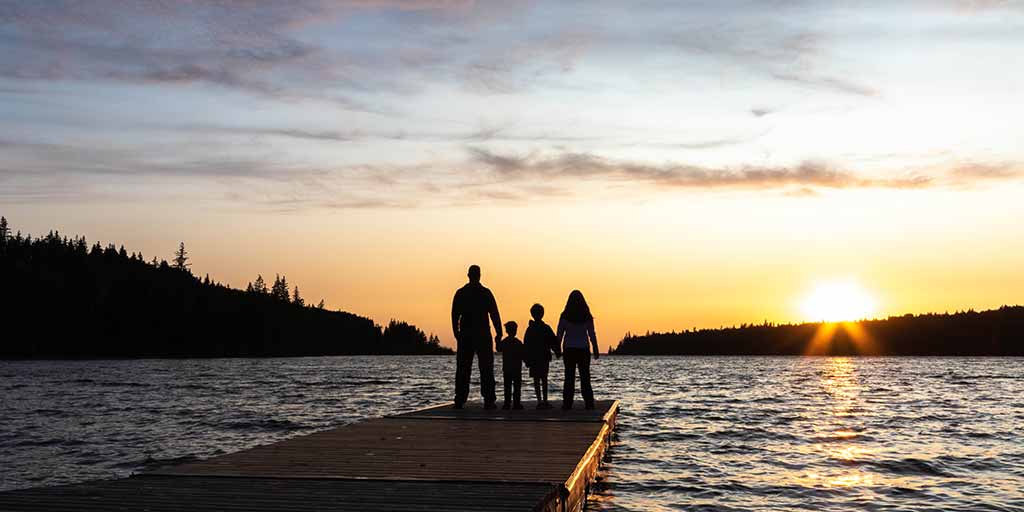 Anyone who has been following our adventures knows that we fell for Manitoba hard during our first visit to the province. And among all of our incredible experiences in Manitoba, our time exploring Riding Mountain National Park stood out among the most memorable.
This sprawling park is famous for its wildlife, including bison, bears, elk, and moose. But Riding Mountain National Park camping, hiking trails, and of course, the magical sunsets are what draw countless locals and visitors alike to the park year after year.
But in truth, there are many more things to do in Riding Mountain National Park than just the obvious. And I'll show you some of my favorites below. It's these reasons and more that made us rank Riding Mountain NP as one of the most awe-inspiring national parks in Canada.
About Riding Mountain National Park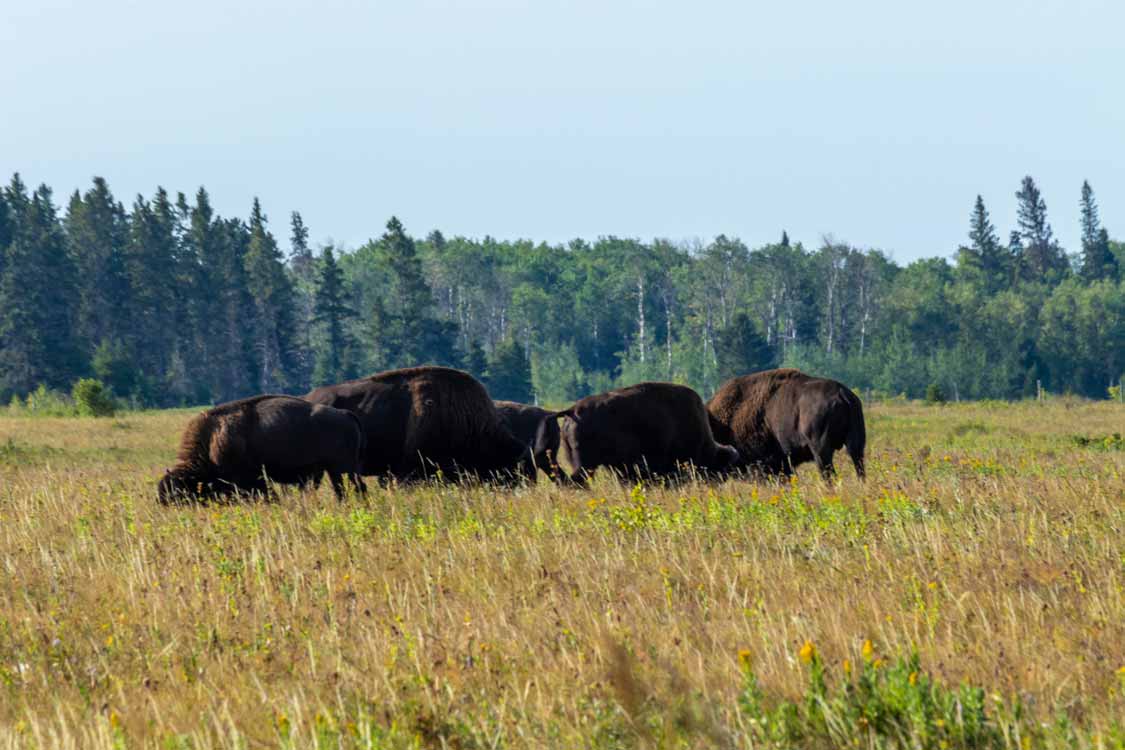 Riding Mountain National Park is one of just two National Parks in Manitoba. The other is Wapusk National Park, a sprawling tundra and polar bear habitat up near Churchill Manitoba. Riding Mountain park is about two and a half hours from the city of Winnipeg. The park sits at the confluence of three unique biospheres, grassland, upland boreal forest, and northern deciduous forest. It's this positioning that has made it such a crucial point for a vast array of Canadian wildlife.
The windswept grasslands and low-lying forest are home to the Riding Mountain National Park bison herd. These magnificent animals are a huge draw for visitors due to their accessible access. Deep in the forests of the park you can hear wolves howling in the night.
The land Riding Mountain sits on Anishinabe territory. For thousands of years, it was vital to agriculture, hunting, and trade. The park was an important region in the development of the fur trade and forestry that helped to establish Central Canada and led to the rise of the Hudson Bay Company.
Fun Things To Do In Riding Mountain National Park
If you're looking for what to do in Riding Mountain National Park, you'll be excited to know that you can fill a weekend, or even a week in Riding Mountain with enough things to do to ensure you aren't bored.
Explore The Town Of Wasagaming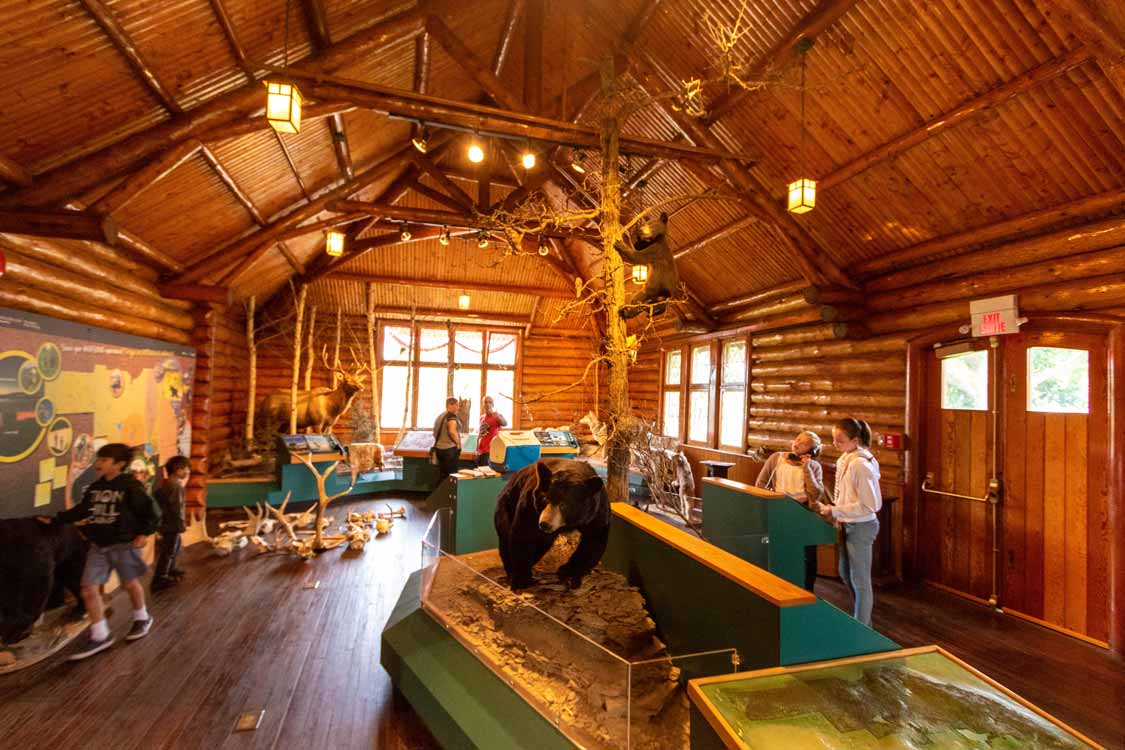 One of the things that really surprised us about the attractions in Riding Mountain National Park was that there was a town, complete with restaurants, accommodations, and more right inside the park borders. Growing up with the National Parks in Ontario, my family wasn't accustomed to seeing so many amenities in a National Park. But the town of Wasagaming in Riding Mountain park is a treat to explore, especially for families.
Wasagaming, also known as Clear Lake, is home to the Riding Mountain Visitor Centre, cafes and restaurants, and a pretty awesome ice cream spot. The town offers a full-service Riding Mountain camping ground with campsites, private cabins, and cottages. It's also the first stop for most of the 300,000 annual visitors to Riding Mountain National Park.
See The Riding Mountain Bison Along Lake Audy Rd.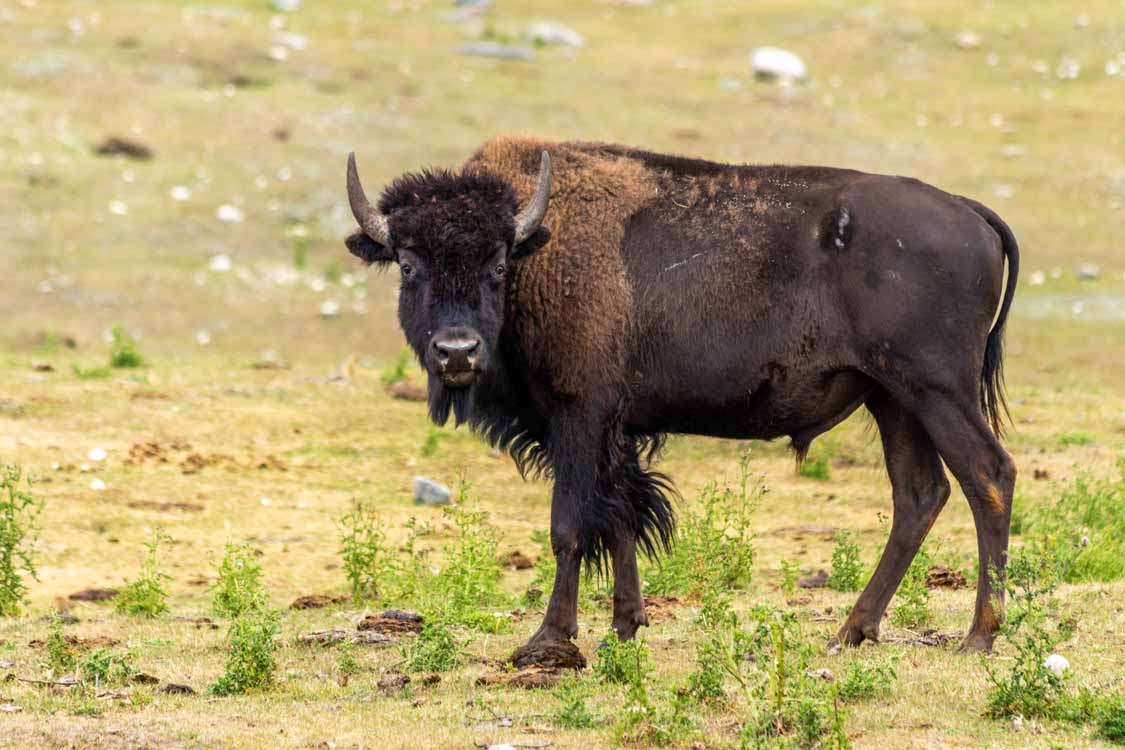 There is, perhaps, no more iconic attraction in Riding Mountain National Park than the local bison herd. These massive beasts used to roam in the millions across the Manitoba grasslands. Unfortunately, with the arrival of Europeans, the population of plains bison were decimated to the point of near-extinction. But re-integration initiatives starting in the 1930s have led to a resurgence and Riding Mountain National Park is now home to a herd of about 40 bison.
The Lake Audry bison enclosure is a 582-hectare (1438 acre) habitat that can be driven through in private vehicles. It's about a 20-30 minute drive to reach the Riding Mountain bison enclosure from Wasagaming. But beware, there is no guarantee that you'll see the bison in Riding Mountain. They are often sheltering from the heat in the forest. And, for a large animal, they can disappear very effectively!
A visit to see the bison is one of the prime things to do in Riding Mountain Manitoba. Just keep to the roads, and make sure that you give the bison space. These are wild animals, and approaching them for photos or curiosity is incredibly dangerous. On our visit, we were able to find them just off of a fork where Lake Audy Rd turns south and an unnamed rd heads north. And be warned, they can often be seen roaming the roads, so make sure to cover that brake.
Breathe In The Flowers Of The Wishing Well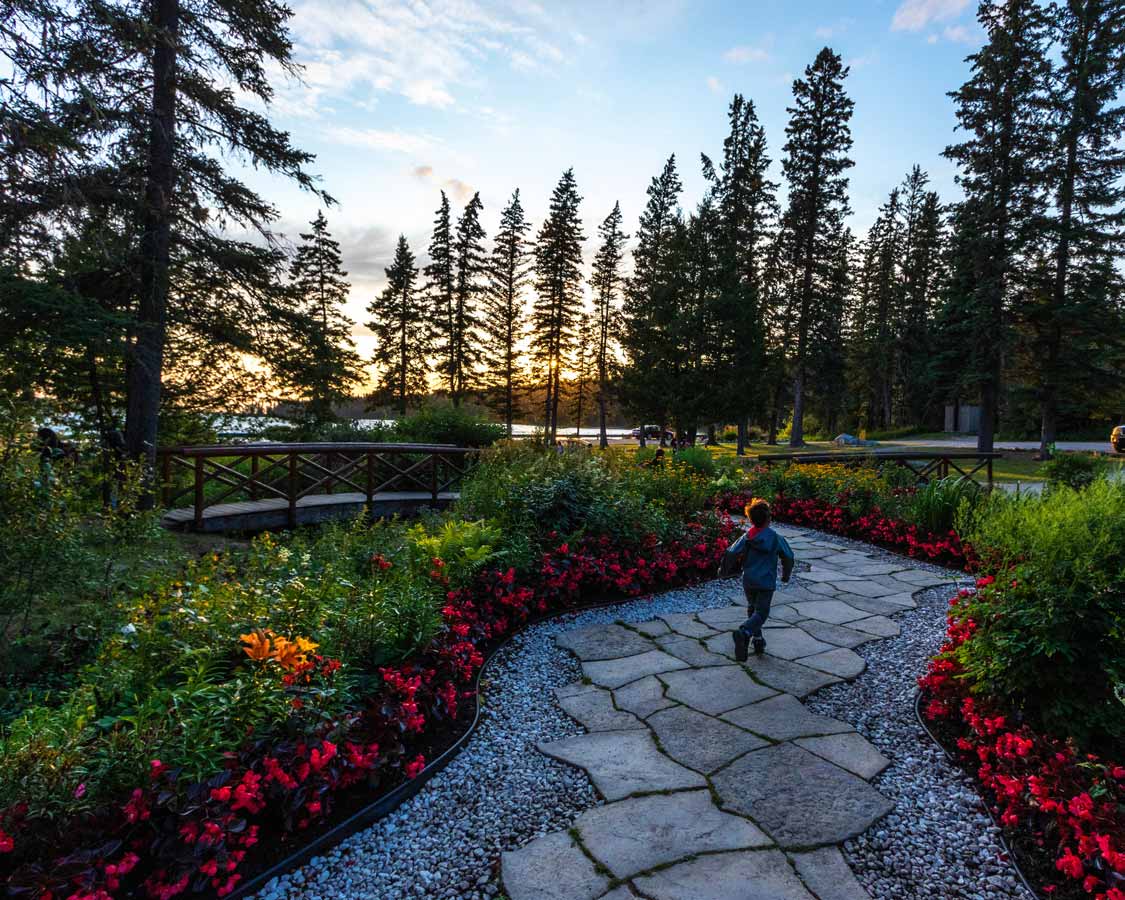 On The East End of Clear Lake near the Clear Lake Golf course is a wonderful garden that makes for a perfect spot to relax. There is a small selection of walking paths winding through the flowers and a stream and waterfall to explore. It's a very small area, and only takes about 5-10 minutes to explore completely, but it's a great place to kill some time before taking in the Riding Mountain National Park sunset.
You'll find a small parking lot right beside the garden that will give you access to the golf course, the wishing well garden, and the Clear Lake pier.
Catch The Sunset From The Clear Lake Golf Course Pier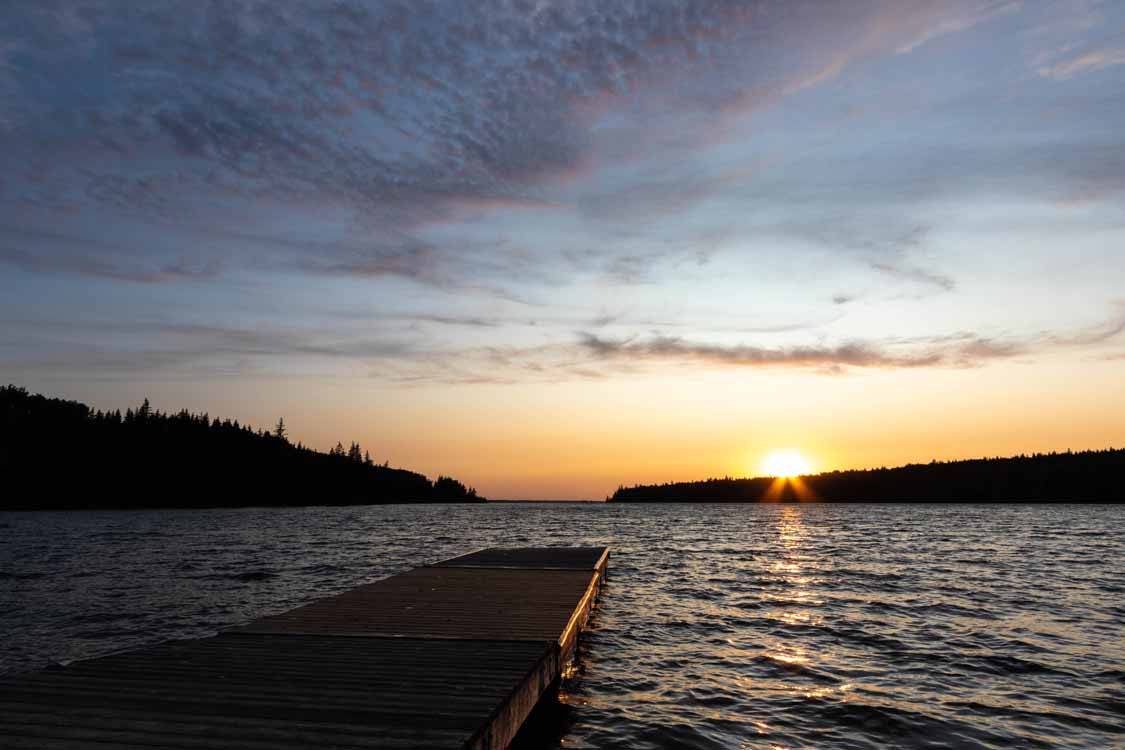 There is a brilliant show that takes place each night that there's a clear sky. Small crowds line up on the eastern shores of Clear Lake to take in one of the magnificent shows in Riding Mountain National Park. There are two piers located here that are perfectly situated for capturing one of the best views of the Manitoba sunset. You can combine your sunset views with a tour of the Wishing well garden very easily.
Take a Photo At The East Gate Historic Site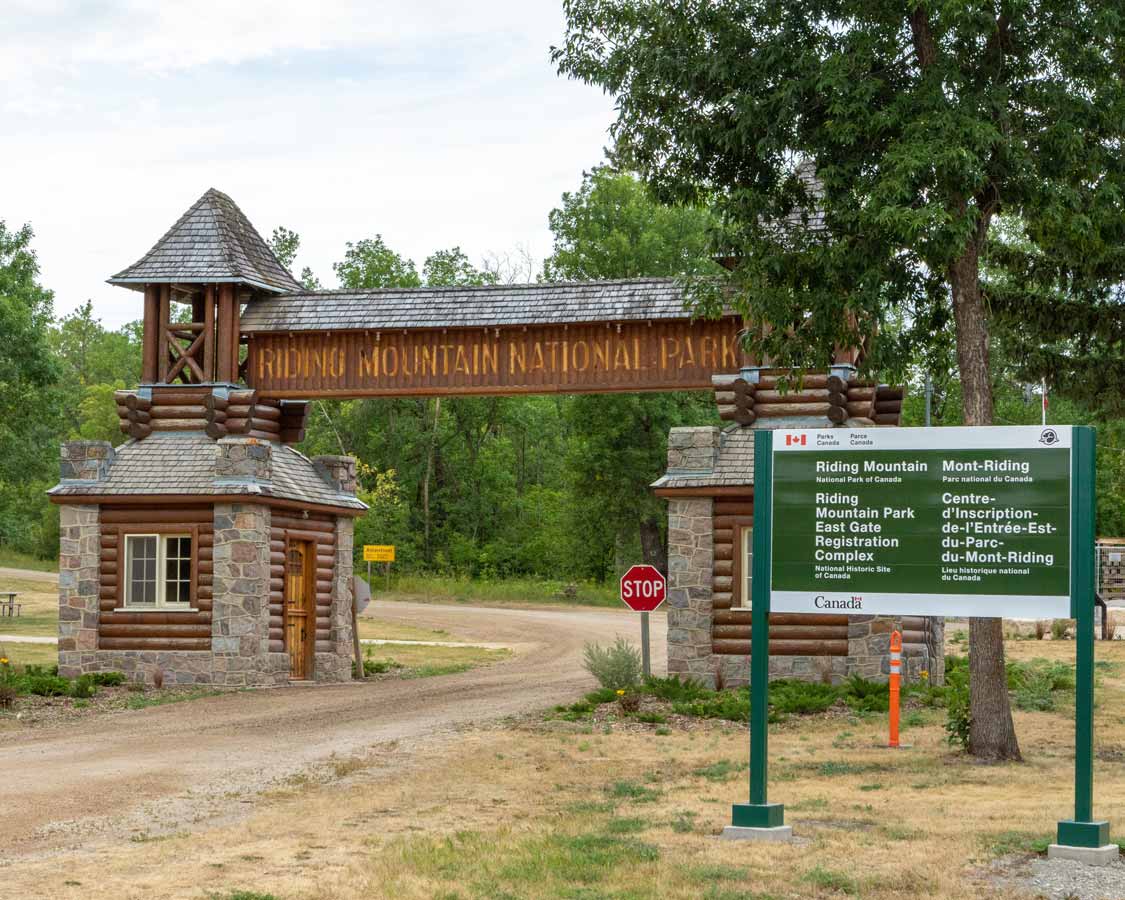 The East Gate Registration Complex in Riding Mountain National Park may not sound like much on paper, but this traditional twin-turret entranceway is the last remaining 1930s -style National Park gate in Canada. The log and stone architecture is classic Canadiana the likes of which is seldom seen anymore throughout the country. You can find the East Gate on the far east of the park along HWY 19.
Explore One Of The Riding Mountain Hiking Trails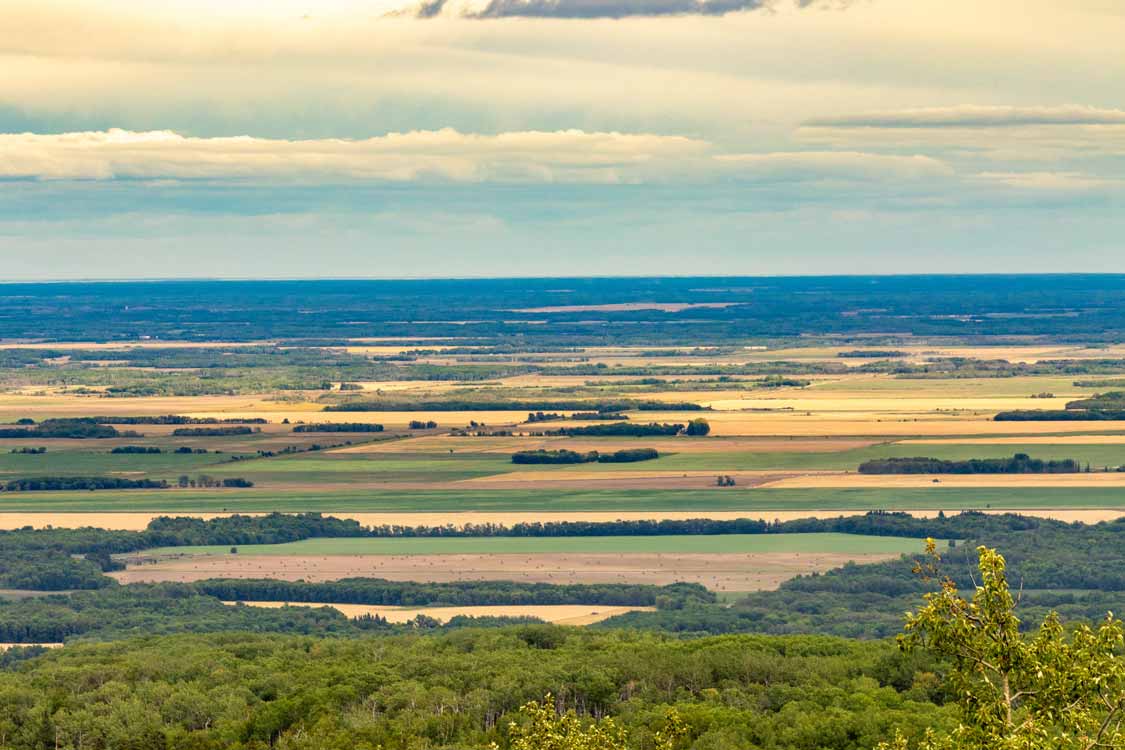 Hiking is one of the most popular activities in Riding Mountain National Park. As much as this sprawling Canadian National Park can be enjoyed from the car, there is no substitute for getting out and experiencing the hiking trails in Riding Mountain. And with over 400 km (250 miles) of trails, there is a Riding Mountain hiking trail for everyone.
One of my favorite family-friendly trails in the park is the Burls and Bittersweet trail. This 2.2 km (1.4 mile) loop snakes through the forest along the east side of the escarpment. You can access the trail near the East Gate.
If you're looking for something a little tougher, the Bald Hill hiking trail is a 9.5 km (6 mile) stretch along the escarpment. This difficult trek follows along HWY 19 and takes in some of the most magnificent views in the park.
Wander The Boardwalks Of Ominik Marsh
Whether you love the peaceful rustle of marshland grass in the wind, or just enjoy waterbugs and turtles, a visit to the Ominik Marsh is one of my favorite things to do in Riding Mountain National Park. Kids can rent a critter dipping kit from the Friends of Riding Mountain National Park office in Wasagaming for an experience similar to the one my son and I enjoyed at the Oak Hammock Marsh near Winnipeg. Pretty soon you'll be checking out all the cool critters you can find in the waters of Riding Mountain Manitoba.
The trail to Ominik Marsh is located just behind the Riding Mountain National Park Visitor Centre. The boardwalk makes for a nice, easy stroll. Just watch out for little ones as there are no rails on the edges of the boardwalk.
Build Sandcastles On The Clear Lake Beach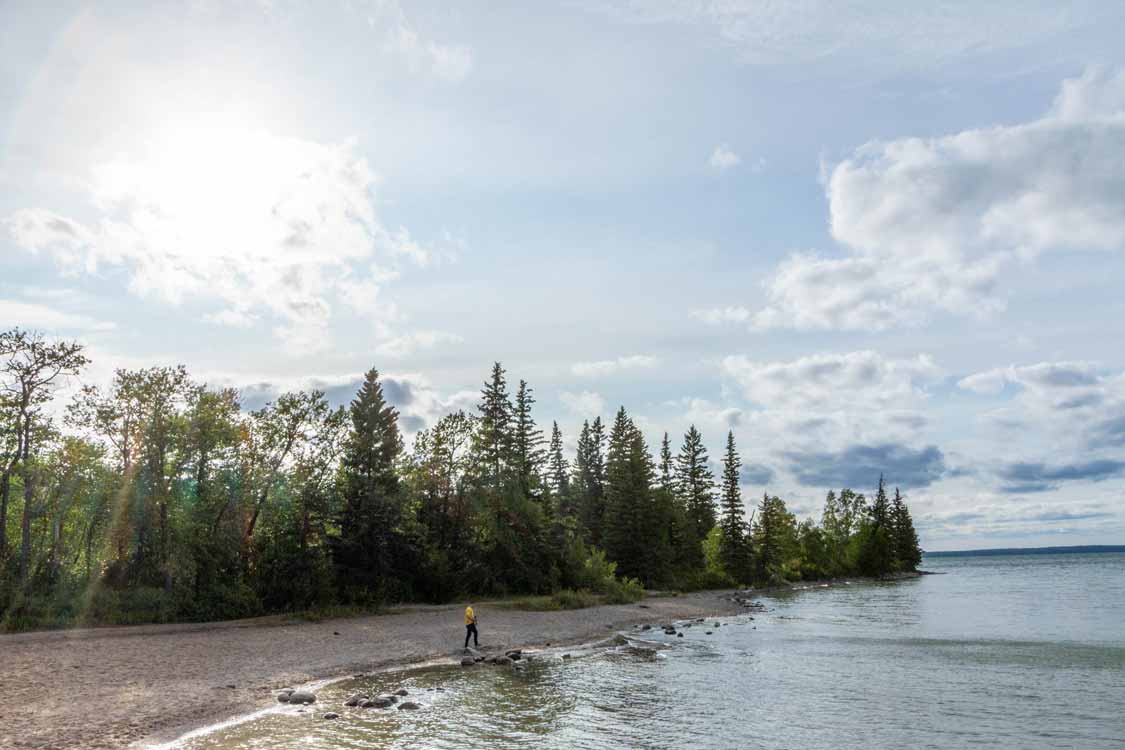 On the shores of Clear Lake near Wasagaming is Clear Lake Beach. This lovely little stretch of sand is perfect for catching some rays or for a quick splash in the cool waters. Just off the beach is the Clear Lake Marina where many locals and cottages park their boats. Be aware that the waters of Riding Mountain National Park can contain "Swimmers Itch," a small bacteria that can cause skin irritations. You can learn about precautions to take against Swimmers Itch here.
Visiting Riding Mountain Manitoba With Kids
Taking in what to do at Riding Mountain National Park with kids is a blast. This fun and easy-to-explore park is fun and family-friendly. From the amazing wildlife encounters to the magnificent views, kids in Riding Mountain will be well taken care of. To make the visit even more special, head to the Visitor Centre and take in the Parks Canada Explorer Program. These exciting scavenger hunts make for a wild way to explore the park.
Where To Stay In Riding Mountain
Riding Mountain National Park is deserving of a multi-day visit. There are just so many things to do in Riding Mountain National Park that you'll be hard-pressed to pack your visit into just one day. In fact, many cottages and campers spend a long weekend or even a week in Riding Mountain Park. If if you're looking for places to stay in Riding Mountain, this should help you plan your visit.
Riding Mountain National Park Camping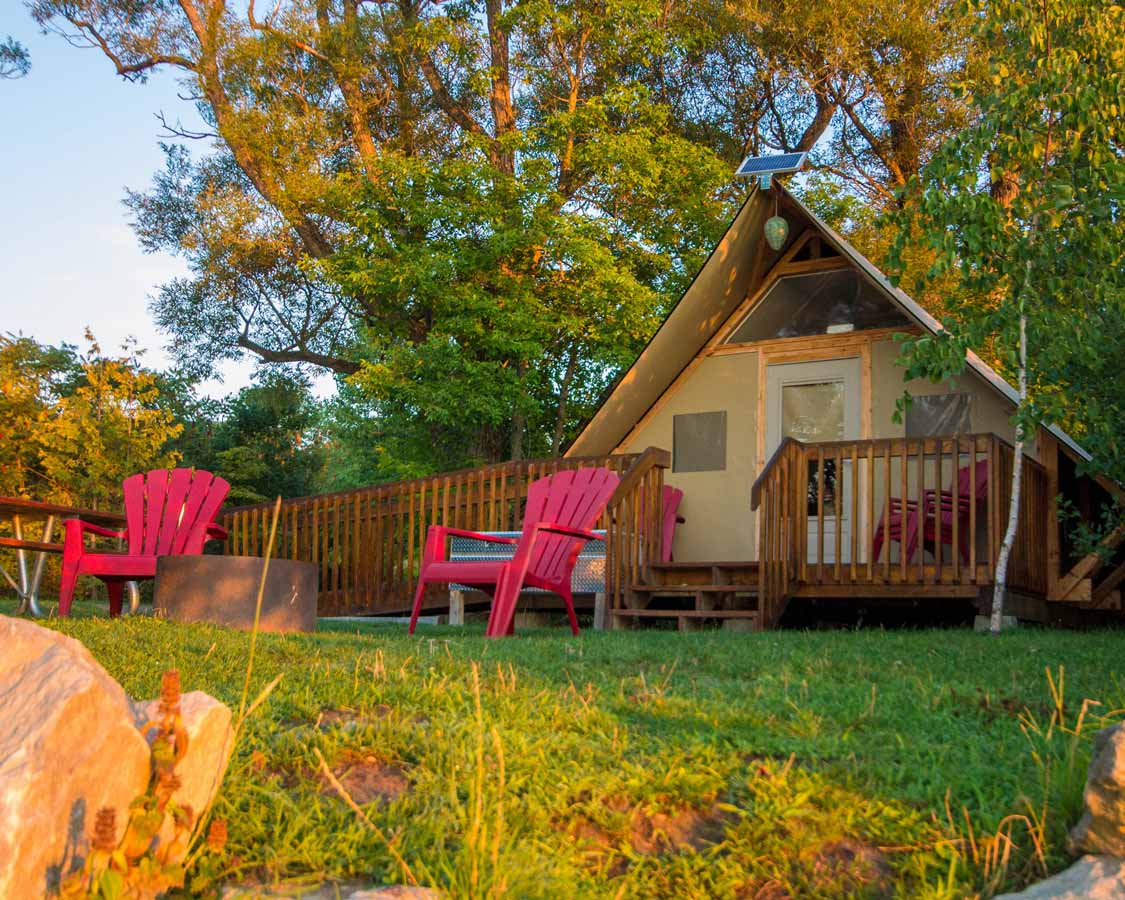 Camping in Riding Mountain National Park is fantastic. There are 4 campgrounds in Riding Mountain Manitoba spread throughout the park. The main Riding Mountain campground is Wasagaming campground which is located near the town. If you want easy access to amenities like restaurants, the pier, beach, and bike rentals, this is the Riding Mountain camping site for you. This is also where you'll find the classic Parks Canada oTENTiks. These permanent, roofed accommodations in Riding Mountain sleep up to 6 people and include access to a barbecue, cooking gear, and more. There are 427 campsites in this area and they have access to comfort stations with hot showers, washrooms, kitchen shelters, and a dumping station.
For rustic camping in Riding Mountain National Park, there are three unserviced Riding Mountain campgrounds. Whirlpool Campground on the edge of Whirlpool Lake has 14 campsites for tent camping only. This campsite is about 15 km (9.5 miles) from Wasagaming. The Moon Lake and Deep Lake campgrounds offer unserviced sites for either tent campers or RVs. Moon Lake, which is 35 km (22 miles) north of Wasagaming, has 29 sites and is close to the Moon Lake trails. Deep Lake campground, which is 110 km (69 miles) west of Wasagaming, has 12 sites and an RV dump station.
Riding Mountain National Park Cottages
If you're looking for a little more comfort than camping, there are plenty of cottages in Riding Mountain National Park that may be perfect for you. While there are loads of great cottages in Riding Mountain, consider some of the great places to stay near Riding Mountain National Park as well. For something truly unique, check out the nearby Crooked Mountain Cabins. These adorable Riding Mountain cabins feel completely off-the-grid, but for those who need it, it comes with access to WiFi. You can check out their website here.
Where To Eat In Riding Mountain National Park
For a small town, Wasagaming is brimming with amazing food. There is food here for every budget and taste. There are loads of food in Riding Mountain National Park, but I'll lay out my favorites here.
White House Bakery and Restaurant
If you're looking for the perfect way to start your day in Riding Mountain, this is the spot. For decent coffee paired with unreal cinnamon buns, you have to stop at the White House Bakery. Not only are the treats delicious, but the meals are huge. IF you stock up here at breakfast, you may not need to stop for lunch. You can check out their menu here.
TR McKoys
Nothing fills you up after a day of exploring the outdoors like a killer pasta. And for the best Italian in Wasagaming, you need to hit up TR McKoys. This busy Riding Mountain restaurant fills up fast. In fact, you're hard-pressed to get a table if you don't make a reservation. TR McCoys usually opens for the dinner rush at 5 pm. The specialties include their pizzas, calamari, and chicken penne. You can check out their menu here.
The Chocolate Fox
Nothing powers you through a day wandering Riding Mountain National Park than some amazing treats. To get that sugar rush head over to the Chocolate Fox for some of the best gelato in Manitoba. There are loads of flavors to choose from, so you're almost guaranteed to find one that you love.
Final Thoughts On Visiting Riding Mountain National Park
If you're in Manitoba and looking to explore Riding Mountain NP, you're going to have a blast. From the relaxed vibe of Wagamasing to the amazing nature and wildlife experiences in the park, there are more things to do in Riding Mountain National Park than you can fit into most schedules.
There are even more great Riding Mountain activities than I've listed here. things such as renting boats to explore Clear Lake, tearing up the mountain biking trails, and even taking in the sights and small towns of the areas near Riding Mountain could all be added here. But I'll save those for another post. In the meantime, you can always check out some of my other favorite places in Manitoba such as Whiteshell Provincial Park and the Icelandic town of Gimli.
Have you spent time in Riding Mountain National Park? Drop a comment below to tell us about your experience. Or tag our Instagram account in your photos. We would love to share in your travel
Disclosure: We were guests of Visit York Durham Headwaters during our visit to Stouffville Treetop Trekking. All opinions remain our own. Wandering Wagars is a participant in the Amazon Services LLC Associates Program, an affiliate advertising program designed to provide a means for sites to earn advertising fees by advertising and linking to amazon.com, amazon.co.uk, amazon.ca. Amazon and the Amazon logo are trademarks of Amazon.com, Inc. or its affiliates.
You May Also Like To Read:
Pin This For Later: