Discover what to do in Whiteshell Provincial Park. From the historic indigenous petroforms to the best waterfalls, lakes, and places to eat.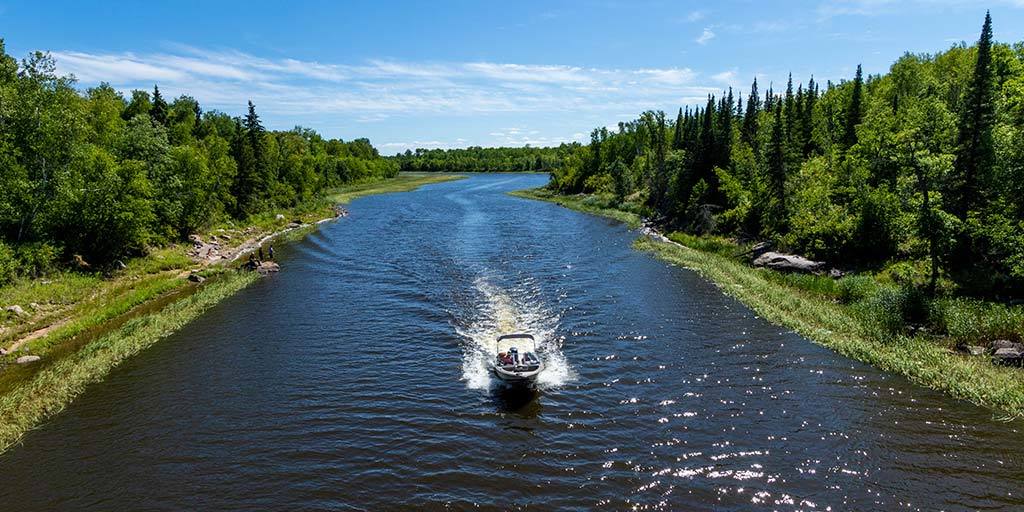 If there was one thing we learned about traveling in Manitoba, it's just how beautiful the park systems are in the province. Whiteshell Provincial Park, which sits on the eastern border of Manitoba may be one of the most spectacular provincial parks in Manitoba. After exploring all the things to do in Winnipeg, Whiteshell was the first place that we wanted to explore in southern Manitoba. And with all of the things to do in Whiteshell Provincial Park, it's no surprise that it's one of the most popular day trips from the capital.
Before we made the trip up to Churchill, with it's raw, sub-arctic tundra, Whiteshell was the perfect glimpse into the beautiful nature of southern Manitoba. Whiteshell Provincial Park is exploding with beautiful lakes, rivers, boreal forests, and the raw rock of the Canadian shield. It's easy to see why Whiteshell park is cherished by those in Manitoba and northern Ontario towns such as Thunder Bay. After experiencing crater lakes, indigenous petroforms, and gorgeous hiking trails, Whiteshell Park immediately became one of my family's favorite provincial parks in Canada.
Whiteshell is one of our favorite stops between Winnipeg and Thunder Bay. If you make the trip, it's a small detour, but worth the extra time.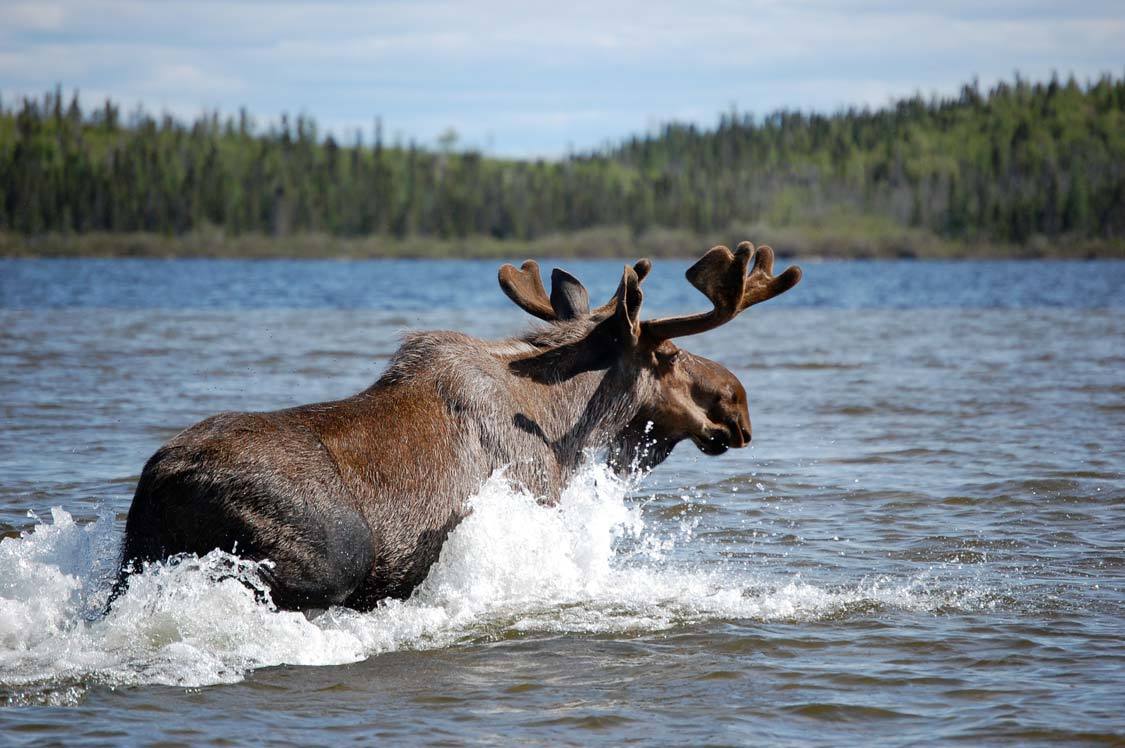 Where Is Whiteshell Provincial Park?
Whiteshell Provincial Park stretches north from the Trans-Canada HWY along the border with the province of Ontario. To get to from Winnipeg to Whiteshell Provincial Park simply take HWY 15 East two HWY 11, go north to HWY 44 and turn right until you reach the park. You can also take the Trans Canada HWY (HWY 1) East to Whiteshell. Or, my favorite route is HWY 59 to HWY 44. This way you can make a side trip to the beautiful Pinawa Dam and the Seven Sisters Waterfalls.
The trip from Winnipeg to Whiteshell is about one and a half hours. If you take the Pinawa route up, I recommend the gorgeous Trans Canada HWY route back. Then you can stop for a fun and cheesy selfie at the Centre of Canada Park on the north side of the highway.
The busiest areas of Whiteshell Provincial Park are down in the south end of the park near West Hawk Lake. Here the Whiteshell resort towns are booming. Personally, I like to start up north near the town of Pinawa, then make my way south so that I can cap off a day of exploration with an ice cream in West Hawk Lake.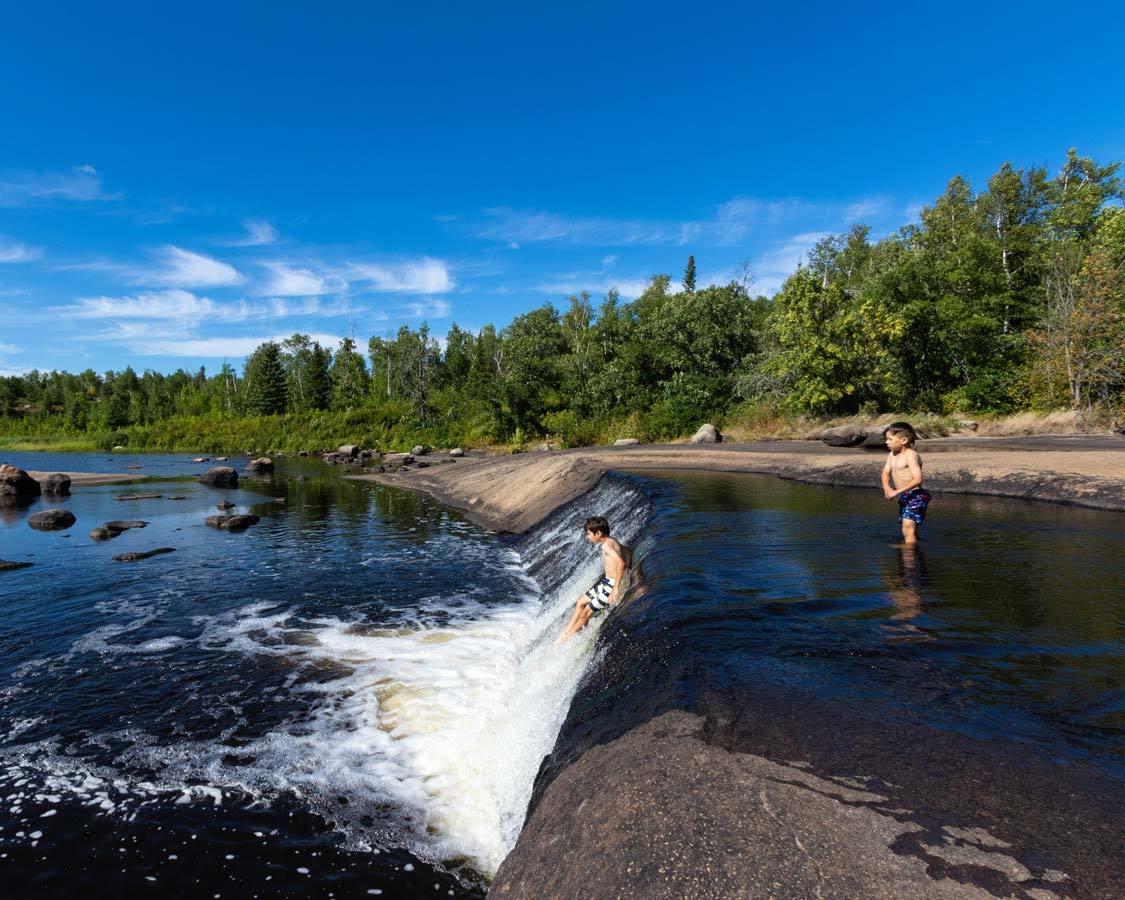 What To Do In Whiteshell Provincial Park
If you're looking for what to do in Whiteshell Provincial Park, you don't have to look far. No matter what entrance you begin your Whiteshell Manitoba tour at, you'll be struck with incredible scenery. You could easily spend a week or more in the park exploring all the things to do in Whiteshell Park. But to help narrow things down a little bit, here are a few of our favorite activities in Whiteshell Provincial Park.
1. Explore The Bannock Point Petroforms
Indigenous history in Manitoba runs deep. The area has been used for hunting, trade, and more for thousands of years. A visit to the Whiteshell Bannock Point petroforms will make it clear that the indigenous traditions of Manitoba are alive and well here. The Bannock Point Petroforms, which are referred to as Manitouabee by the Anishnaabe, is one of the best places to experience the rich indigenous history of Manitoba.
Bannock Point has a series of trails across the bedrock. Scattered in various locations of this sacred site are stones laid out in the shapes of snakes, turtles, people, and even a Thunderbird. These petroforms in Whiteshell are believed to have been created over centuries for teaching and healing ceremonies. The park staff offers guided tours of the Bannock Point petroforms as well. It's one of the best ways to experience and learn about why this is one of the best things to do in Whiteshell Provincial Park.
Tips For The Bannock Point Petroforms
When we were walking the trails, the trees were lined with red dresses in honor of Canada's missing and murdered indigenous women and girls #MMIWG. The flowing robes and dresses made a powerful statement in this sacred place. It brought up a lot of questions from my children along the way. Walking among the incredible and thought-provoking formations brought me back to when we were exploring Lake Superior Provincial Park and saw the beautiful Agawa Rock petroglyphs.
There are not many trail markings at the Bannock Point petroforms. Because this is an active sacred site for indigenous people, it important to practice "Leave No Trace" here. Treat the site as if you are a guest. Respect the offerings and prayer sites, and leave everything as you found it.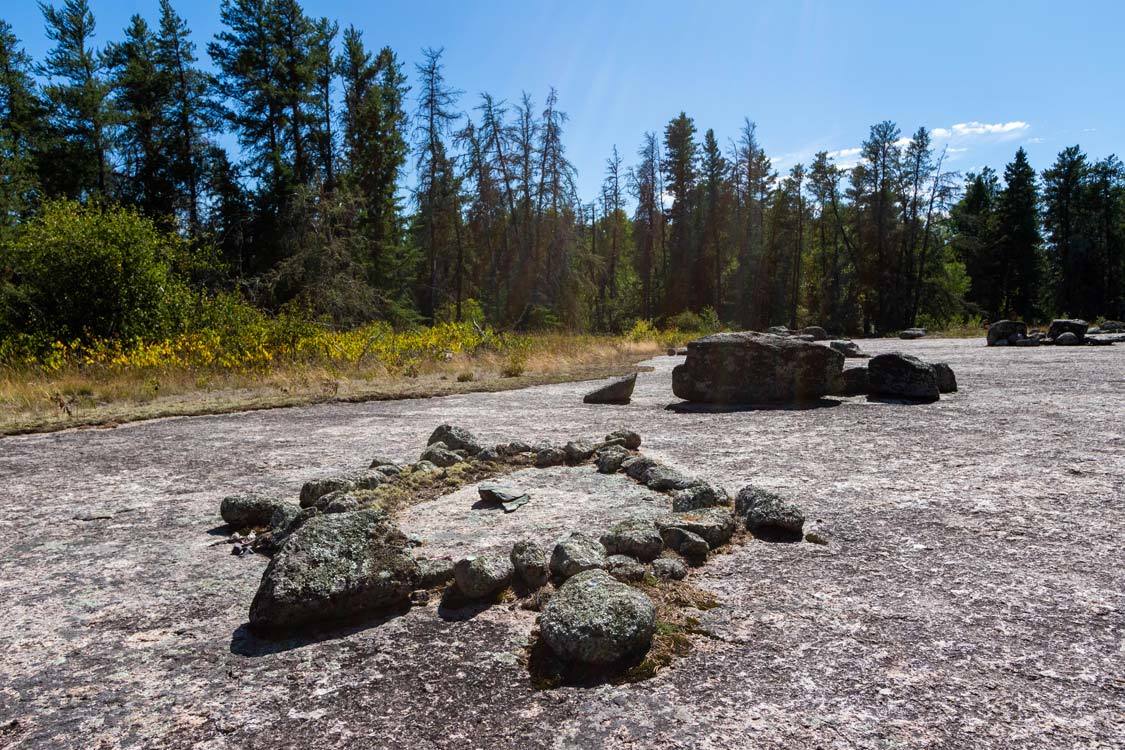 2. Hike The Whiteshell River Bridge Trail
The Whiteshell River Bridge Trail is one of the most popular hikes in Whiteshell Provincial Park. Located in the Nutimik campground, this 4.2 km, one-way trail takes about 2 hours to complete. The route takes you across the iconic Canadian Shield landscape and over the beautiful Whiteshell River suspension bridge. The 86-meter bridge was built in 2010 and offers amazing views of the Winnipeg River.
The Whiteshell River Bridge trail is a popular route for spotting some of Whiteshell Provincial Park's wildlife. Lucky hikers may have the chance to see black bear, moose, white-tailed deer, wolves and maybe even lynx. There are even higher chances of catching sight of otter, marten, fisher, red fox, mink, hares, beavers, and muskrats.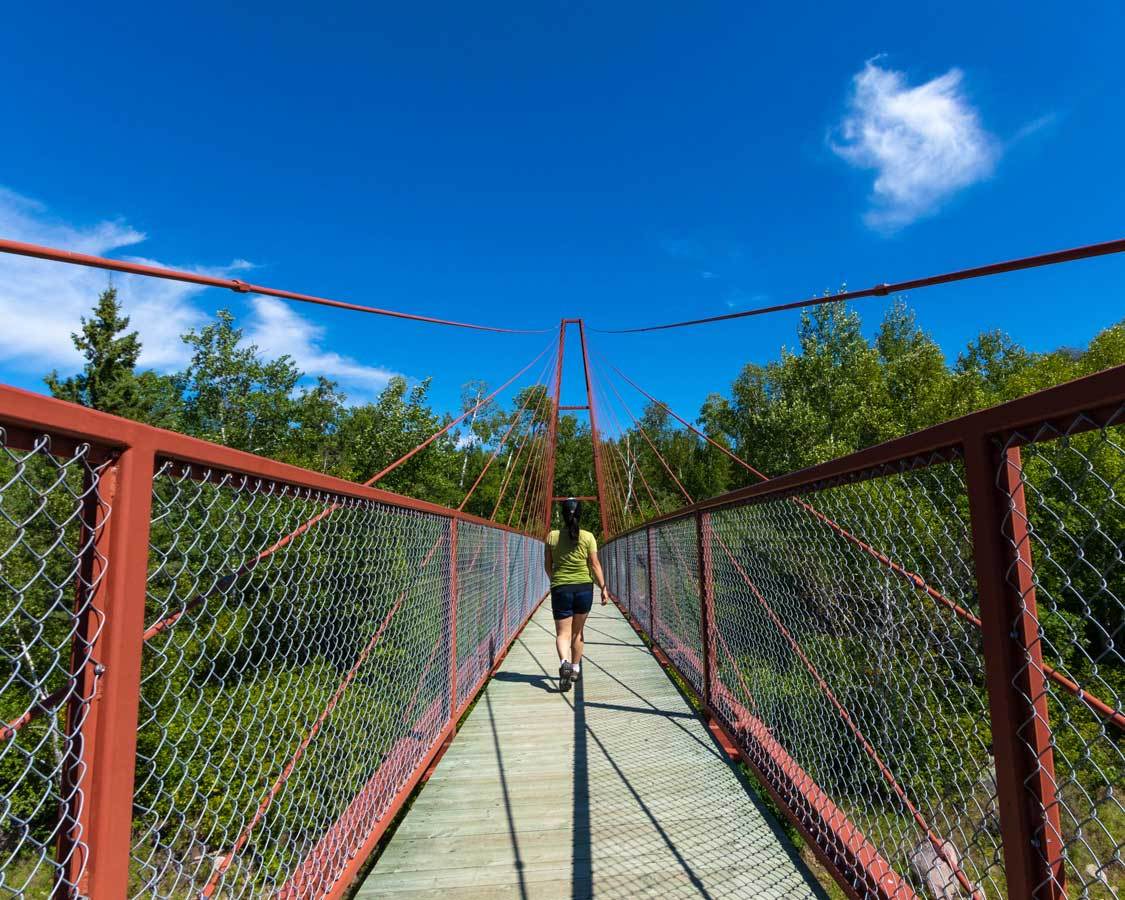 3. Caddy Lake Tunnels
One of the coolest canoeing routes in Whiteshell Provincial Park is the route from Caddy Lake to North Cross Lake and South Cross Lake. The lakes are connected via granite tunnels that make for an absolutely unforgettable Whiteshell canoe trip. The Caddy Lake rock tunnels were created during the construction of the railway. And the entrance to these tunnels isn't limited to canoes. Small motorboats can also fit through them. If you're looking for what to do in Whiteshell Provincial Park on the water, this should definitely be on your list. Motorboats can access the tunnels at the north end of Caddy Lake. If you didn't bring your own canoe or kayak, you can rent them from the Caddy Lake Resort.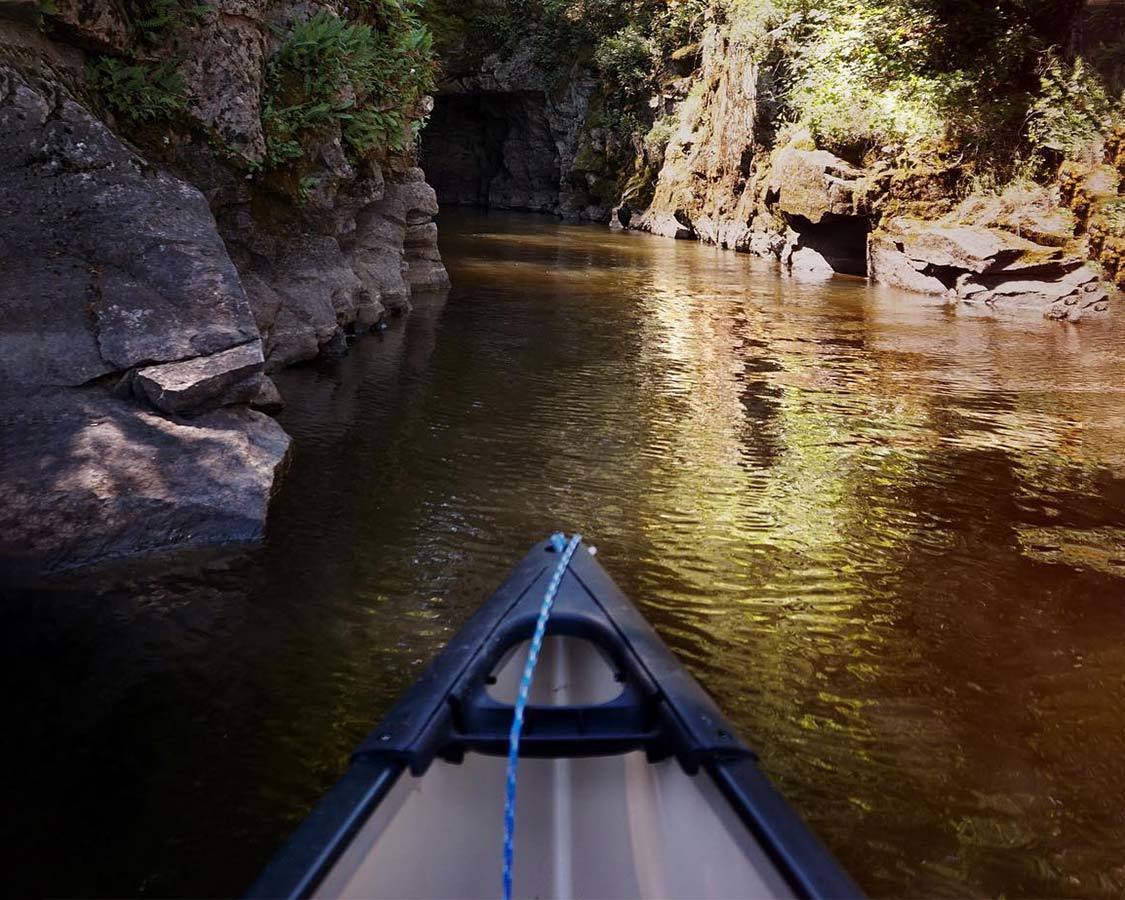 4. Rainbow Falls
Rainbow Falls was one of our favorite places to visit in Whiteshell Provincial Park. It's a great place to stop for a break if you're driving through the park. Rainbow Falls is reached via the White Lake Resort Access Rd. You can either park at the resort and hike to the falls or take the road on the left and drive to a lower parking lot right near the base of the falls.
Rainbow Falls is a popular stop for anglers, photographers, and those looking to cool off from a hot day. During the summer the falls are popular with kids who like to slide down the smooth rock face of Rainbow Falls. The surface makes it a perfect natural waterslide. Be aware that when the water is very high, the falls may not be safe for swimming.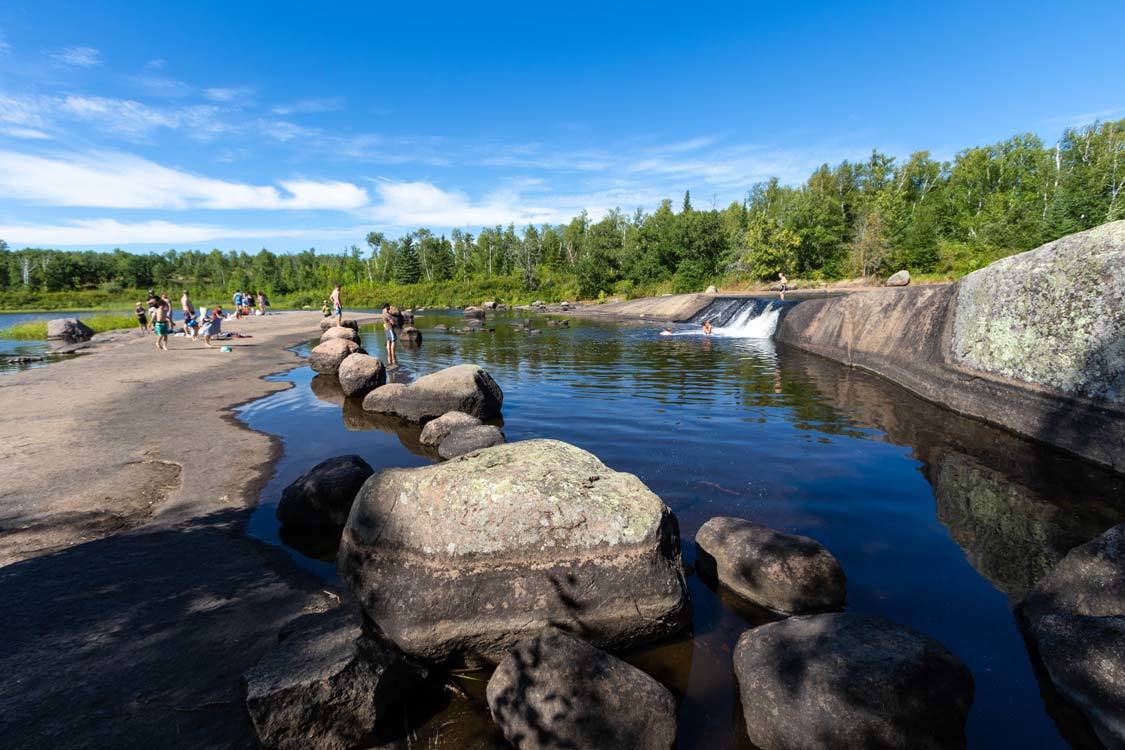 5. Top Of The World Hike
If you're looking for the best views in Whiteshell Provincial Park, look no further than the Top of the World hike near the Falcon Trails Resort. This 3.4 km hike links from the Falcon Creek Trail. It culminates in a gorgeous viewpoint out over Falcon Lake. The Top of the World hike starts at the High Lake Trail. It connects up at a small solar panel array. The trail here brings you up to the Top of the World in Whiteshell where you can drink in one of the best views in the province. This hike is also a popular Whiteshell hike in the winter. Although you'll want to bring snowshoes along for winter in Whiteshell.
6. West Hawk Lake
Did you know that West Hawk Lake is Manitoba's deepest at 115 meters Formed by a meteorite crashing into the Earth, the lake is a hotspot for scuba divers and swimmers. Around the lake are excellent campgrounds and the popular West Hawk Lake Resort. The area around West Hawk Lake is the most built-up area in the park. There are restaurants, hotels, motels, and stores to replenish your s'mores supply.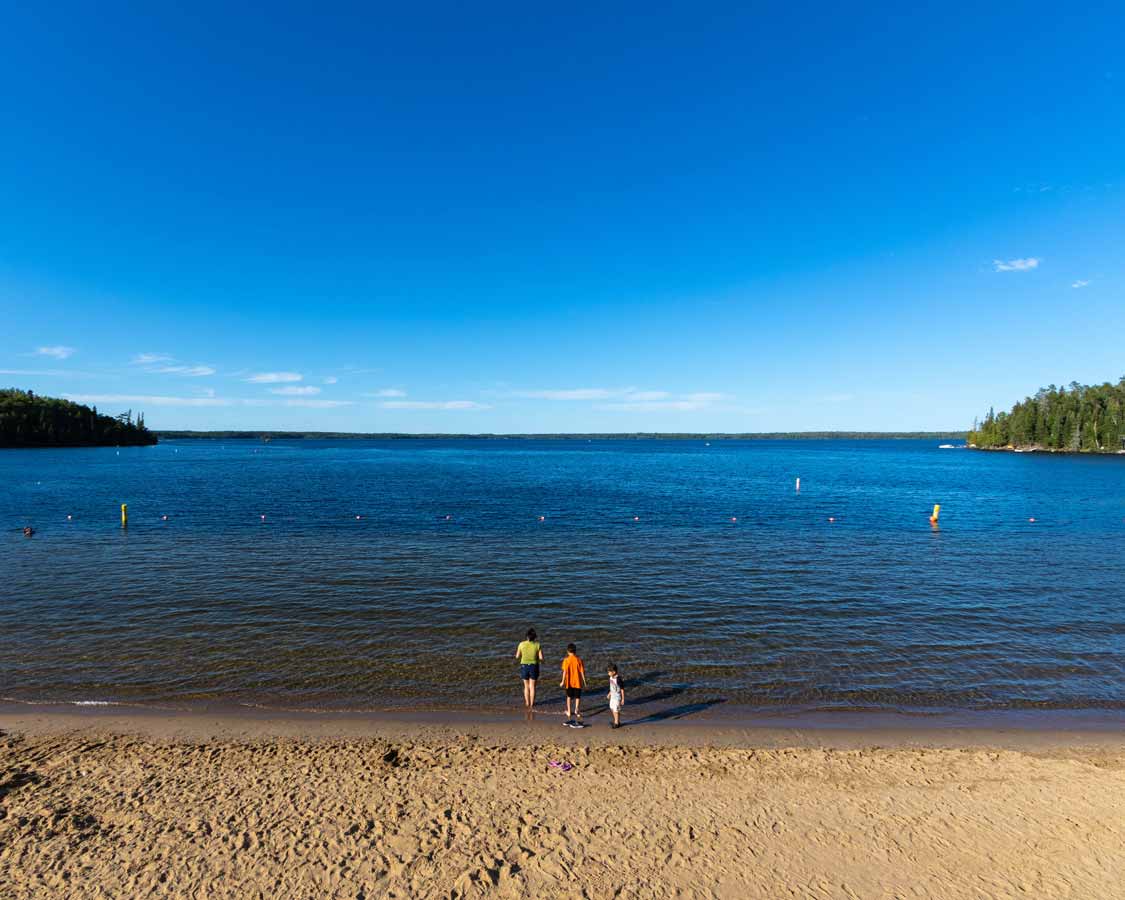 Things To Do Near Whiteshell Provincial Park
If you're looking to spend a weekend in Whiteshell Provincial Park, or maybe even a little longer, there are a few things to see near Whiteshell that are well worth your time.
Pinawa Dam Provincial Heritage Park
Pinawa Dam is a short 30-minute drive from the north entrance of Whiteshell Provincial Park. This beautiful Manitoba Provincial Park is on the grounds of a hydroelectric dam that was built in 1906. The original town of Pinawa was abandoned after the dam stopped generating electricity in 1951. Now the Romanesque ruins offer a stunning backdrop to roaring waterfalls and lush marshland.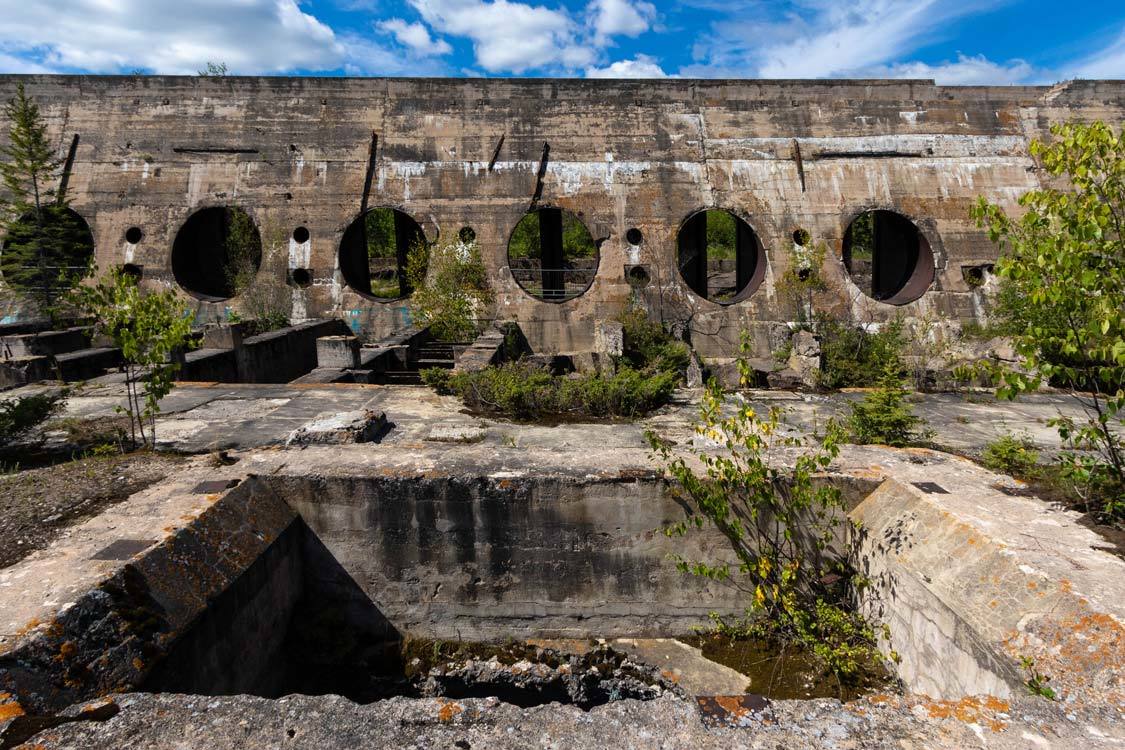 Whitemouth Falls Provincial Park
Whitemouth Falls can be easily accessed along Two Rivers Dr. It's about 10-minutes outside the north entrance of Whiteshell Provincial Park. At the end of the road are a good-sized parking lot and an easy trail down to the water. Along Two Rivers Dr. is a cool viewpoint for the Seven Sisters generating station. A walk out onto the rocks by the generating station is always nice. Whitemouth Falls is a beautiful spot for a picnic. The smooth rocks are a popular area for both fishing and photographers.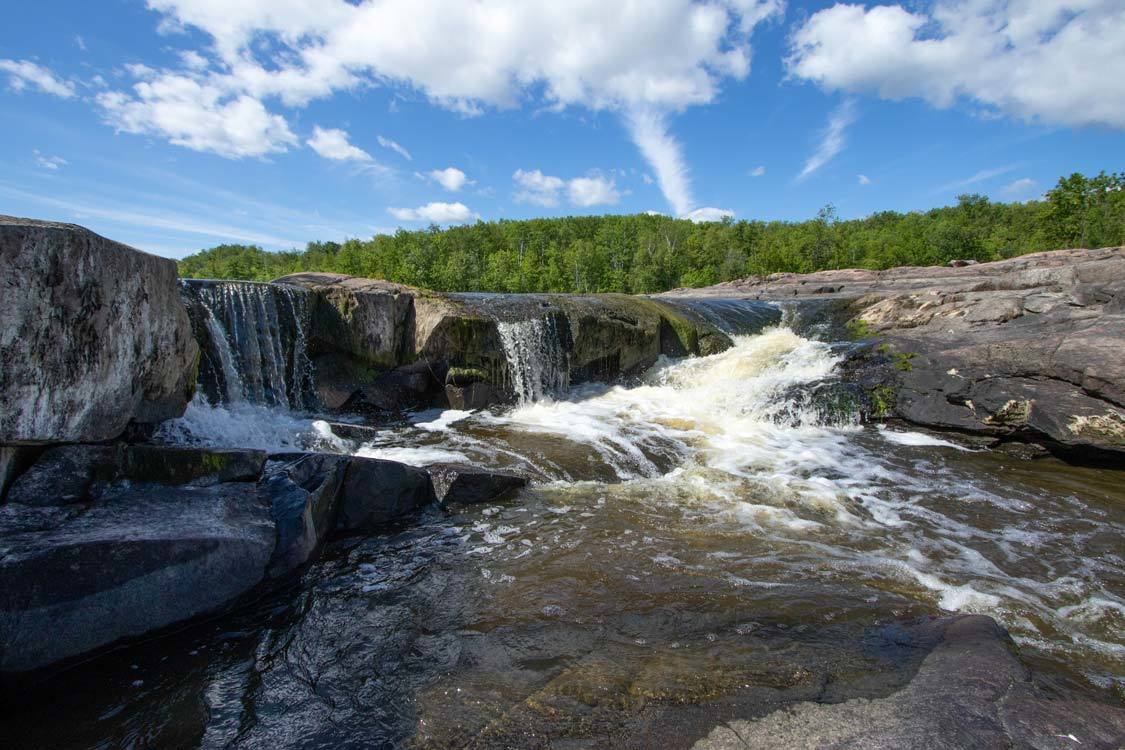 Tips To Experience What To Do In Whiteshell Provincial
Whiteshell Provincial Park covers a huge area. It can be done in a day, but if you really want to experience the beautiful Manitoba outdoors, I highly recommend spending a weekend in Whiteshell Provincial Park, or even longer if you can. Whiteshell Provincial Park has both remote wilderness and small-town conveniences depending on where you are exploring.
Where To Stay In And Around Whiteshell Provincial Park
There are a few resorts in Whiteshell Provincial Park offering up rentals and cabins. Most of these are privately run and may take some effort to find. In the south end of Whiteshell, you can find The Falcon Lake Motel. Falcon Lake Motel is pet-friendly and offers free wifi, tennis, a pool, and mini-golf.
In the nearby town of Whitemouth is the highly-rated Moon Gate Guesthouse. Moon Gate is a pretty and inviting set of private guesthouses. It even has its own private beach. It's a good spot for those who want easy access to the outdoors and a relaxed, community environment.
You can find more options for accommodations near Whiteshell Provincial Park using this tool.
Where To Eat In Whiteshell Provincial Park
If you're looking for where to eat in Whiteshell Provincial Park, you only have a few options. The vast majority of the park is dotted with small resorts. Most restaurants are located in the area near Falcon Lake and West Hawk Lake. High Point Restaurant & Lounge in Whiteshell and the Nite Hawk Cafe in West Hawk are particularly popular.
For those looking north for things to do in Whiteshell Provincial Park, head just outside the park and check out Jennifer's Restaurant-Picnic. This seasonal food-truck-style restaurant offers up amazing fusion and unique dishes. Jennifer's isn't just one of the best places to eat in Whiteshell Provincial Park, it's one of the best places to eat in Manitoba!
What To Pack For Whiteshell Provincial Park
No matter what your plans are for your Whiteshell Manitoba adventure, you need to pack right. Whether you're going to be enjoying some Whiteshell cabins, or just lounging on the beach, be prepared! Here are a few things we never leave home without. You can also check out our complete guide to family camping to learn all you need to know about camping with kids.
Tent – If you're camping in Whiteshell Park, make sure you have shelter. For family camping, I like to pack something like this.
Sleeping bags – Make sure you're comfortable with a sleeping bag meant for the temperatures you'll be camping in.
Bug spray – (something with DEET, especially during the early and late season to keep black flies and mosquitoes at bay)
Cooking supplies – I like to use a nesting cookset so that I can carry all the gear, but pack it easily. Don't forget your camping stove too.
Water bottles – It can get HOT on the Whiteshell beaches. Make sure you stay hydrated and don't create waste by bringing your own water bottles. You can refill them throughout the park
Swimsuits and towels – Whiteshell has some amazing swimming areas! Don't leave your swimwear at home.
Hiking Shoes – The Whiteshell hiking trails are well maintained. But make sure to bring some good hiking shoes with ankle support. I prefer Merrel hiking shoes myself, but use what works best for your feet.
First Aid Kit – Because stubbed toes can happen.
Have you ever explored Whiteshell Provincial Park? Tell us about your experience in the comments below. Or tag our Instagram account in your photos so we can share the adventure with you!
Disclosure: This post was made possible with the support of Travel Manitoba. All opinions remain our own. This post may contain compensated links. Find more info in our disclaimer. Wandering Wagars is a participant in the Amazon Services LLC Associates Program, an affiliate advertising program designed to provide a means for sites to earn advertising fees by advertising and linking to amazon.com, amazon.co.uk, amazon.ca. Amazon and the Amazon logo are trademarks of Amazon.com, Inc. or its affiliates.
You May Also Like To Read:
Pin This For Later: