Northern Ontario fishing at Mar Mac Lodge is one of the best ways for anglers to experience the beauty of the province. Here's everything you need to know.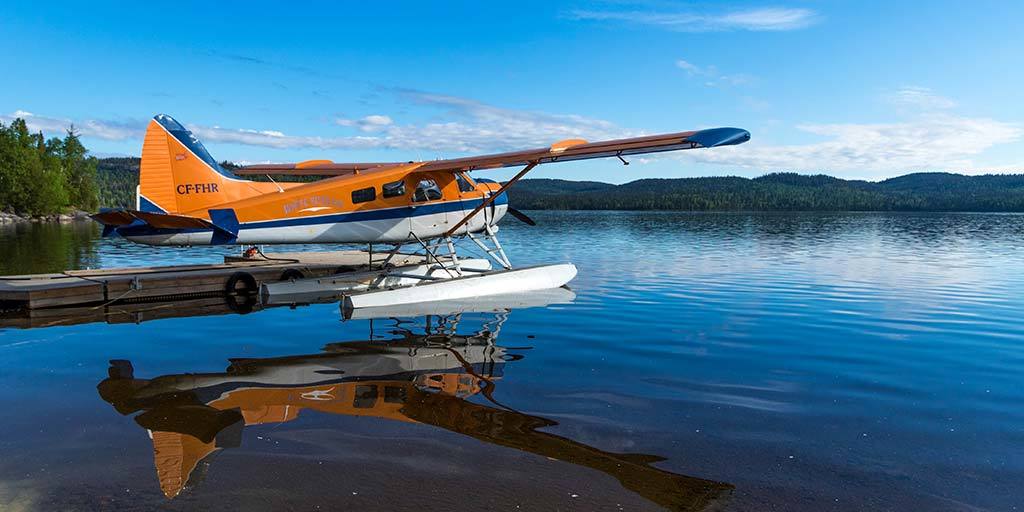 I'm sitting in a cedar strip canoe jigging my line and growing ever more impatient. Everyone in my boat has been pulling in Walleye and Pike in a near-constant stream. I, on the other hand, have seen my catch limited to sticks, seaweed, and rocks. I had reluctantly joined this Northern Ontario fishing adventure. It was fathers day, and here I was stuck deep in the wilderness of Northern Ontario at a fishing lodge where the only access is by boat or plane. And that is just the tip of the journey to get here. Welcome to Northern Ontario Fishing at Mar Mac Lodge.
A small waterfall babbles over some rocks behind me while a pair of loons and a family of red-headed Merganser ducks swim nearby. I take a deep breath as I start thinking about reeling my minnow bait in. "I'm not even a fisherman. How did I end up here in the first place?" I say to myself, quietly enough that the others in the boat can't hear me. And that is when I feel a jerk on my line. Something is down there waiting for me. And suddenly my attitude takes a 180-degree spin.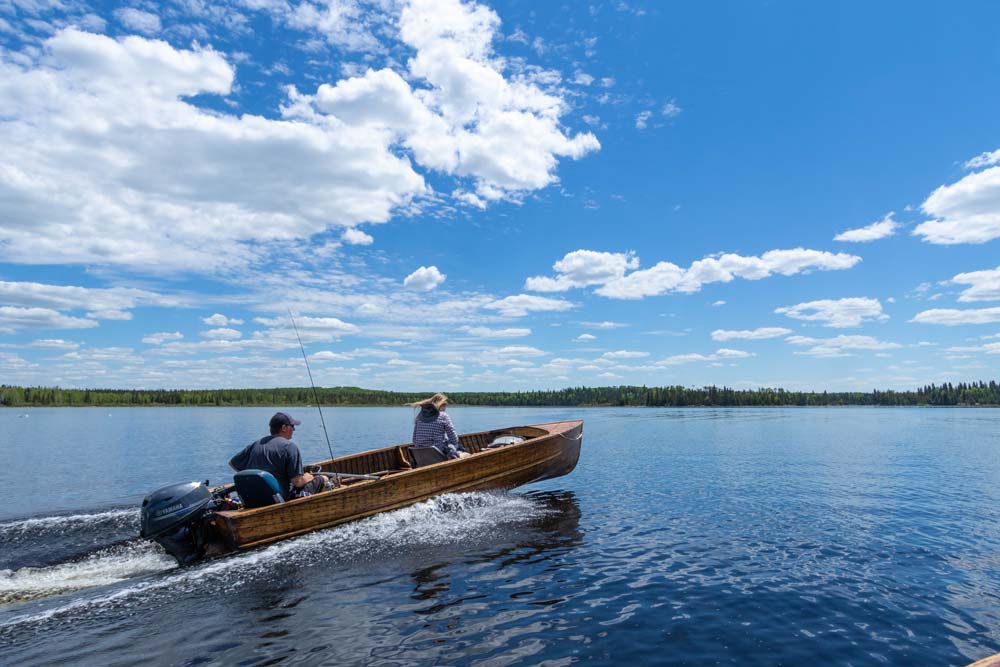 Fishing In Northern Ontario
Thousands of people flock north from Minnesota, Ohio, Michigan, and southern Ontario to experience fishing in the thousands of lakes of Northern Ontario, Canada. Many of the most popular Ontario fishing lodges are located deep in the wilderness, some so remote that they can only be reached via floatplane. I was spending 4 days at Mar Mac Lodge on Esnagi Lake just east of the town of White River, Ontario. I had arrived here as part of a conference, and I thought I was completely out of my element.
My kids had been annoyed when I told them that I would be heading north for some fishing on Father's Day. Normally our family makes a yearly trip to a Sauble Beach Ontario for some fun in the sun. My 8-year old, C, who is a bit of a fishing fanatic was even trying to find a way to smuggle himself into my suitcase so that he could come along. It took a lot of explaining to tell him that I couldn't bring him along for this one, especially after the 20 some-odd countries I had already taken him to during our family travels. But I had a surprise in store for him. We would be doing some remote fishing in Tadoussac Quebec in just a few weeks.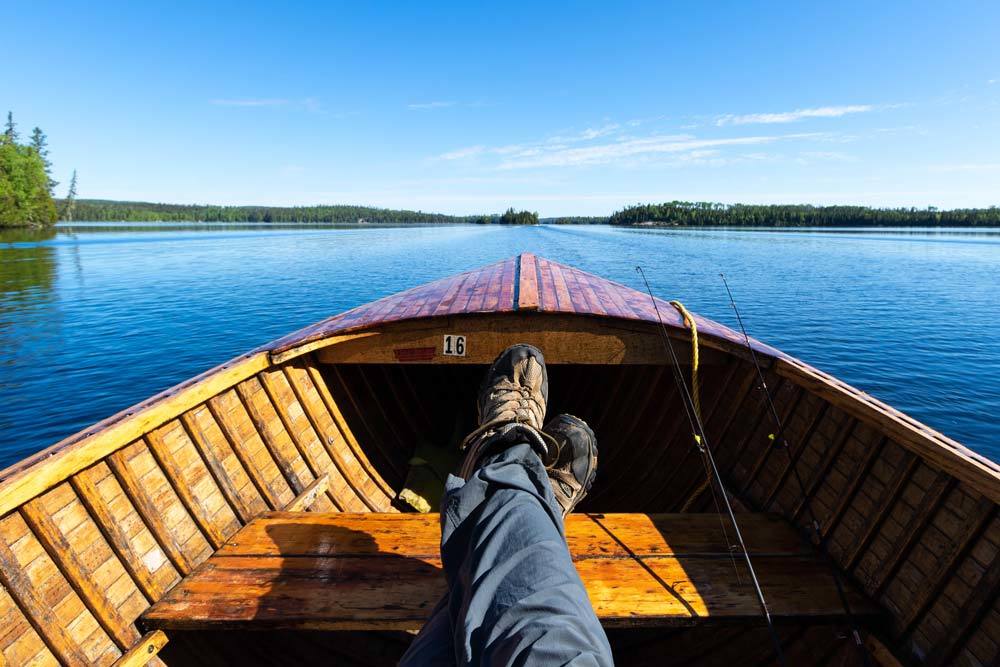 Getting To Mar Mac Lodge
I flew out of Toronto and landed in Sault Ste. Marie, which would otherwise be an 8-hour drive. In The Soo, as it is affectionately called by locals I met fellow travel writers Dave Finn of Golf Travel and Leisure, and Nadine Robinson of The Ink. We continued the trip together with a 3.5-hour drive from Sault Ste. Marie to White River. Along the way, we made a few stops, including a visit to one of my favorite parks, Lake Superior Provincial Park. The White River claim to fame is that it is the birthplace of the bear that inspired the Winnie-the-Pooh stories by author A.A. Milne.
Once we reached White River we needed to catch a VIA train an hour east towards Esnagi Lake where we were picked up by the Mar Mac lodge crew and transported 20-minutes to our lodge. The only way out of the lake is via a floatplane that would pick us up in 4 days. Dave and Nadine, who had about as much fishing experience as I did, looked at each other, sighed, and prepared for a long few days.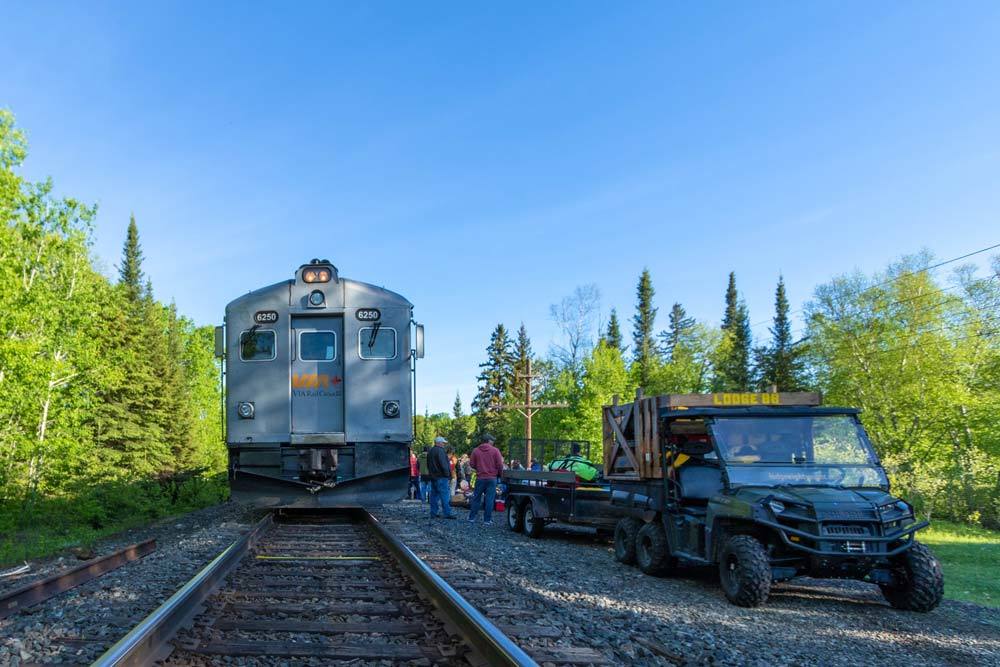 Fishing Traditions In Northern Ontario
When we finally arrived at Mar Mac we were greeted by the friendly and fishing tourists that would be sharing the space with us. Ken, one of the principals at Mar Mac is a soft-spoken man with an easy smile. He introduced us to the lodge before offering us some breakfast to help settle our stomachs after the long journey.
As we sat, a large group of men, most of whom were named Mike or Tony, piled into the lodge laughing and all wearing the same hat. We all quickly introduced ourselves before learning that the group had all grown up together and regularly made the pilgrimage north from their homes across the USA to Mar Mac and its neighbor, Lodge 88.
For 15 years, these home-town boys have kept their bond alive by making a yearly trip here. This epic trip helps them share a bond that even moving across the country from each other can't break. They have created a club, and each year, the one who catches the largest fish get's a pin to add to their hat. You can tell the ones with luck, a few have multiple pins, and many have none. But their easy laughs and boisterous attitude (helped in part by a round of 9 am beers) are infectious, and pretty soon we are invited to join their fishing rush that afternoon.
Esnagi Lake
Mar Mac Lodge shares Esnagi lake with two other lodges. They have created a microcosm of industry on this out of the way patch of water. But lodge life has been a staple here for nearly 70 years. The lodges themselves passed down from one generation to another just as those who use them pass down their visits from parent to child.
Esnagi Lake is 27 miles of the pristine Canadian landscape. The southern portion of the lake is low and flat with deep, long bays. While in the northern end the landscape gets truly dramatic. Rock cliffs tower over the blue waters while spruce and pine trees cling to any inch of soil that they can dig their roots into.
The views here are classic Canadian shield. In the lower areas, greens of every shade create a kaleidoscope of color that adds to the natural beauty. These evergreen's mix with towering birch tree's to create a scene that would be right at home in a Tom Thomson painting.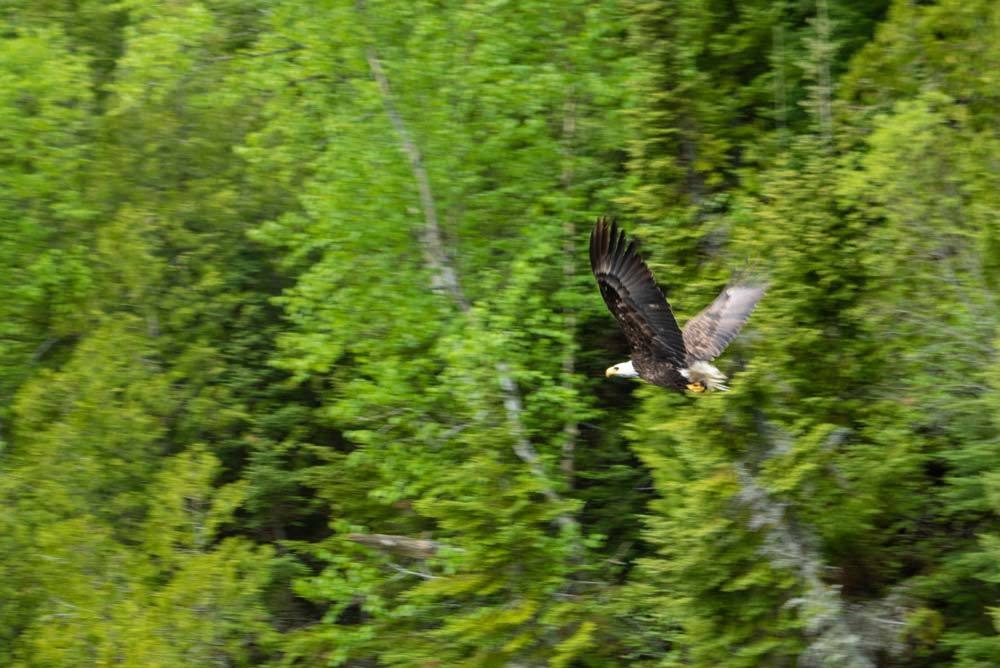 Reeling Them In
One by one Dave and Nadine reeled in their catches while I came up zilch. My misfortune became a running joke. But these things tend to run in groups. It was our second day at Mar Mac Lodge, and my luck was about to change. It all started with the scenery. The waterfall, the narrow bay, a dragonfly landing on my rod. And that's when I felt the tug.
My rod bent sharply and was nearly pulled from my all-to-relaxed and unprepared fingers. I quickly seized the pole and began reeling it in. My exhaustion was forgotten as adrenaline pumped through my body. I wrestled the line back and forth as the fish swam to get away from me. And as it finally tired and came to the surface, I finally understood the thrill of these northern Ontario fishing vacations.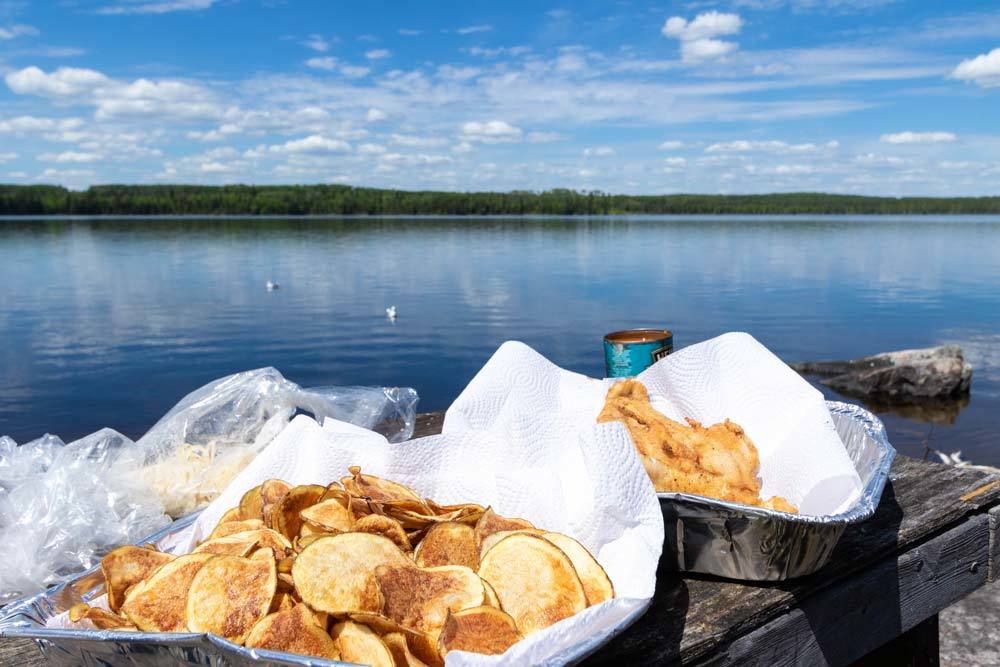 I reeled the fish in and netted it. A 26-inch pike with razor-sharp teeth and a slimy polished sheen. I pulled the hook and posed for a couple of photos before it slipped out of my grip and dove over the edge and into the water. From there, things were on fire. I pulled in a second, smaller pike, and three Walleye, two of which were perfect for eating.
We packed the fish up and made our way to shore. At Mar Mac Lodge, the shore lunch is a tradition. We found one of the many shore kitchens, which consist of a rough wooden table, a fire pit, and a flock of waiting seagulls, and made for shore. A heated frying pan, some oil, breading, and a side dish of fresh-made chips and beans went down like heaven. The rest of our fish were brought back to the lodge to be cleaned and prepped by the skilled crew at the lodge.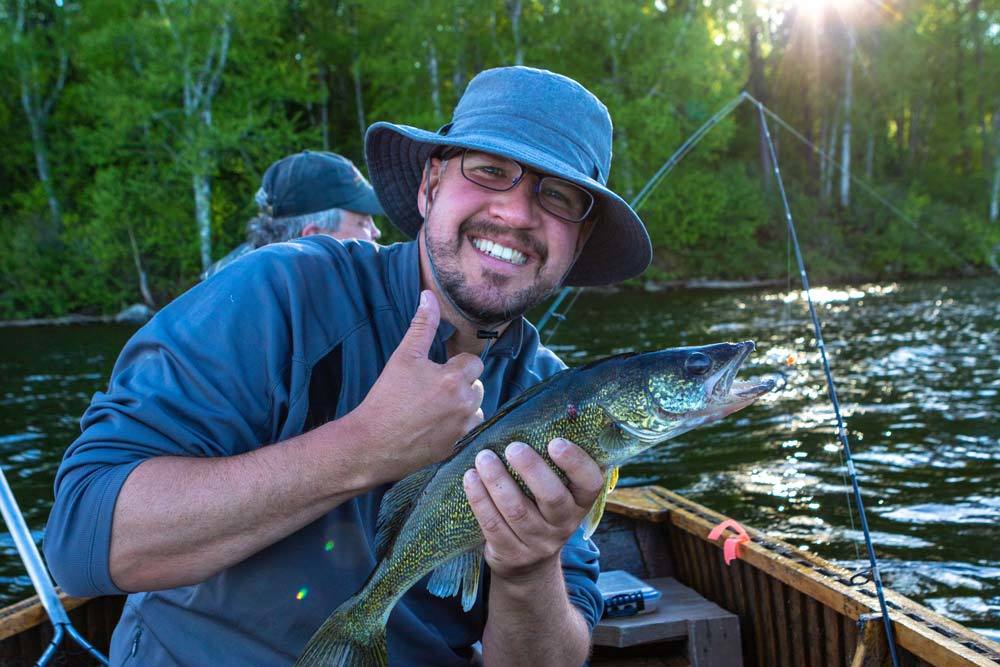 Food At Mar Mac Lodge
The shore lunch is just part of the food experience at Mar Mac Lodge. A part of what makes this place so special is that you can really have it any way that you like it. Some groups come up and get a full board of meals. Others choose specific meals or just a continental breakfast. If you're truly hardcore, you can even opt to visit the Northern Lodge at the end of the lake where you are left completely to your own skills. Although the Mar Mac team does come and check on you every couple of days.
Back at the main lodge, lunch usually consists of sandwiches and wraps. Food that can be easily boxed for those who would rather eat their meals on the water. Dinners though are served promptly at six o'clock. And the ladies that run the kitchen know what they're doing. From Thanksgiving-style turkey dinners to pork chops and more, the food at Mar Mac lodge is enough to replenish you after a long day outside. And, if you had a late lunch, your dinner will be boxed, prepped, and delivered to your cabin for you to enjoy.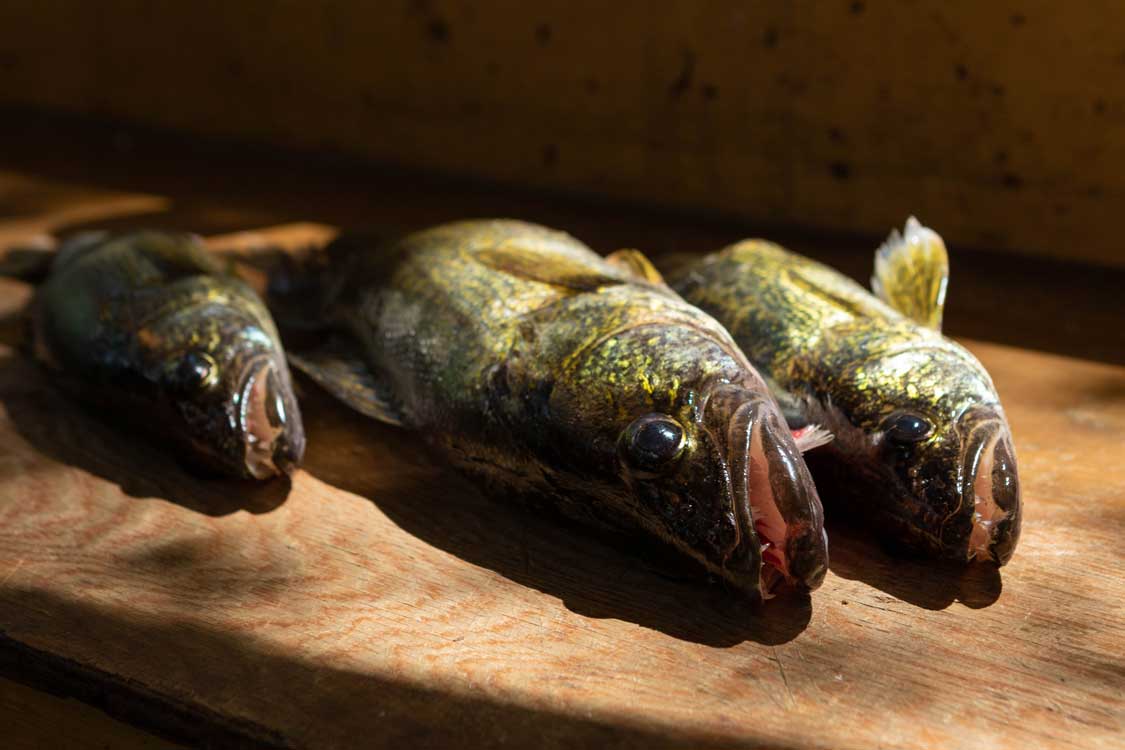 Accommodations At Mar Mac Lodge
I was very surprised at the great accommodations at Mar Mac Lodge. For a remote northern Ontario fishing outpost, it was equipped for all sorts of visitors. There are family-friendly lodges with king-sized beds and group-style lodges that slept up to 12 people in single beds. Each of the lodges has a full kitchen and a BBQ for those who want to be their own chefs. The cabins are relatively simple. But the beds are comfortable and have between one and two bathrooms with on-demand hot water.
For those who need to stay connected, the main lodge at Mar Mac has high-speed WiFi. There is also a big-screen TV that is always crowded during the big sports games. The lodge also has a pool table and a store where you can pick up any mix of fishing lures and snacks that you may not have brought with you.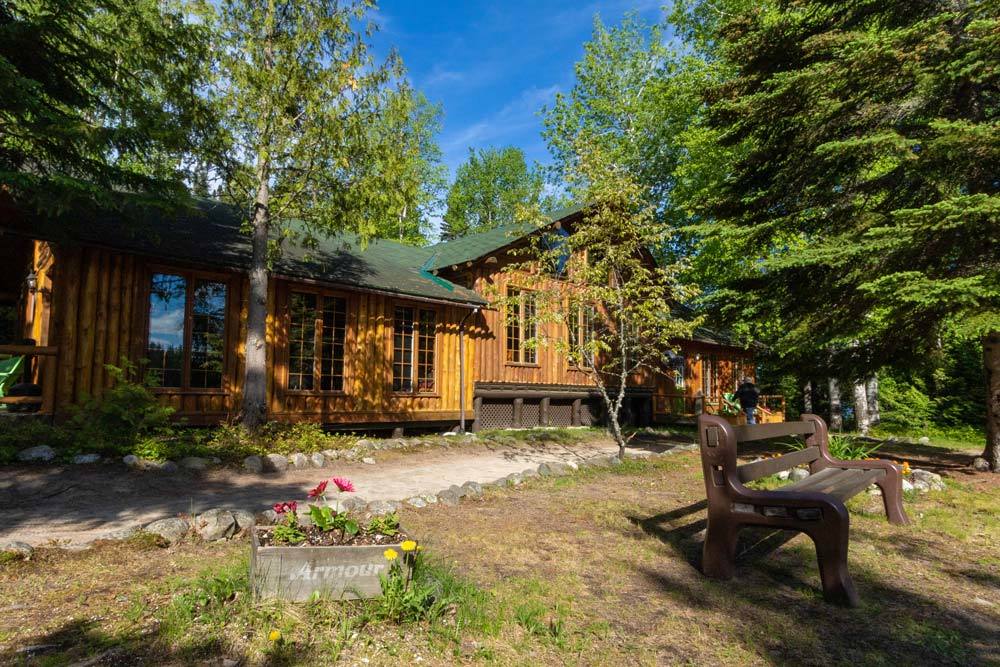 Family Fishing Adventures In Northern Ontario
I came to northern Ontario apprehensive about the value that a place like Mar Mac had to offer me. After meeting the team at Mar Mac Lodge and talking with the regulars who make the epic trip north to White River and beyond for a few days to a week, or more on the water, I began to get an appreciation for the tradition and bonding that a family fishing holiday has to offer.
Sure, I caught some fish, ate some amazing food, and had plenty of naps. But it was the people and the time away from civilization that really brought everyone together. I made friends that I know I'll keep in touch with. I've experienced the bonding of families and friends that make a tradition out of fishing vacations in Ontario. And I think that next year, maybe I'll bring my family up here. Because every family could use some time away from the city. And I can't think of a better place to do that.
Have you ever gone on a northern Ontario fishing adventure? Tell us about your experience in the comments below. Or swing over to our Facebook page and share a photo. We would love to share in your travels.
Disclosure: This article was made possible with the support of Tourism Sault Ste. Marie. All opinions remain our own. Wandering Wagars is a participant in the Amazon Services LLC Associates Program, an affiliate advertising program designed to provide a means for sites to earn advertising fees by advertising and linking to amazon.com, amazon.co.uk, amazon.ca. Amazon and the Amazon logo are trademarks of Amazon.com, Inc. or its affiliates.
Pin This Post For Later: