Just a three-hour drive north of Toronto sits one of Ontario's hidden gems. Read on to discover what to do in Sauble Beach Ontario!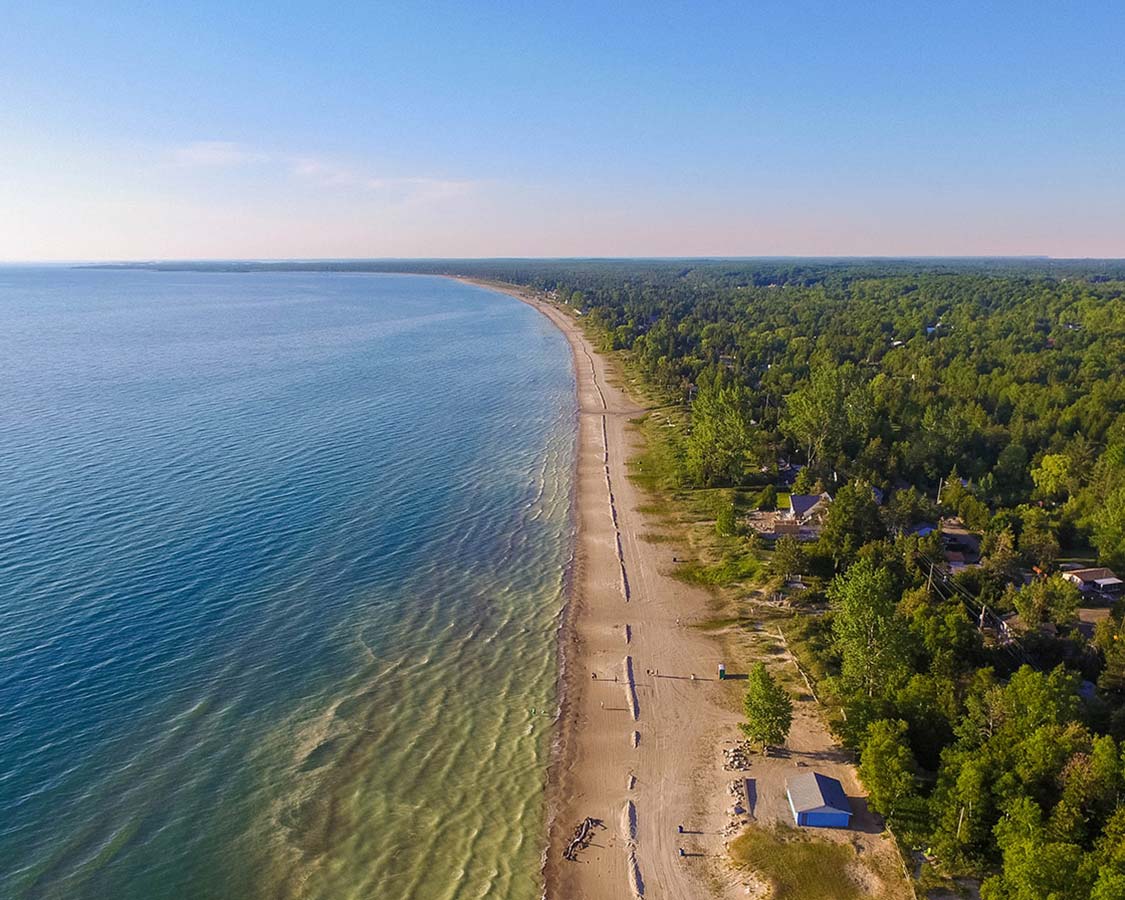 Whether we are traveling internationally or domestically we love to explore new places. We hardly ever go back to the same destination twice. There are just so many new places to see and experience. But there are a few places that keep drawing us back. One of our favorite local beaches is just a few hours north of Toronto. And if you're looking for what to do in Sauble Beach Ontario, you've come to the right place. My family makes a visit here nearly every summer. And we love to share our top tips for Sauble Beach and the surrounding area.
This post may contain compensated links. For more information please read our disclaimer.
There are a handful of summer travel destinations that keep drawing us back in. For instance, we love every visit to the Adirondacks in Upstate New York and the America Southwest. Domestically, we love to feel the mist of Niagara Falls at least once a year. But our go-to summer family destination is always exploring what to do in Sauble Beach Ontario, Canada.
Check out our video for all the action. Subscribe to see all our latest videos!
Where is Sauble Beach?
Most people in Ontario look to Wasaga Beach as their go-to getaway. But just an hour north, on the shores of Lake Huron in Bruce County, the rowdy crowds and noise disappear and all that is left is beautiful sand and relaxing waves.
Sauble Beach is the second longest freshwater beach in the world at just over 11 km long. The title for 1st is held by Wasaga Beach. It is also known as Retro beach as it has been retrofitted to match the decor it once had during the 1950s.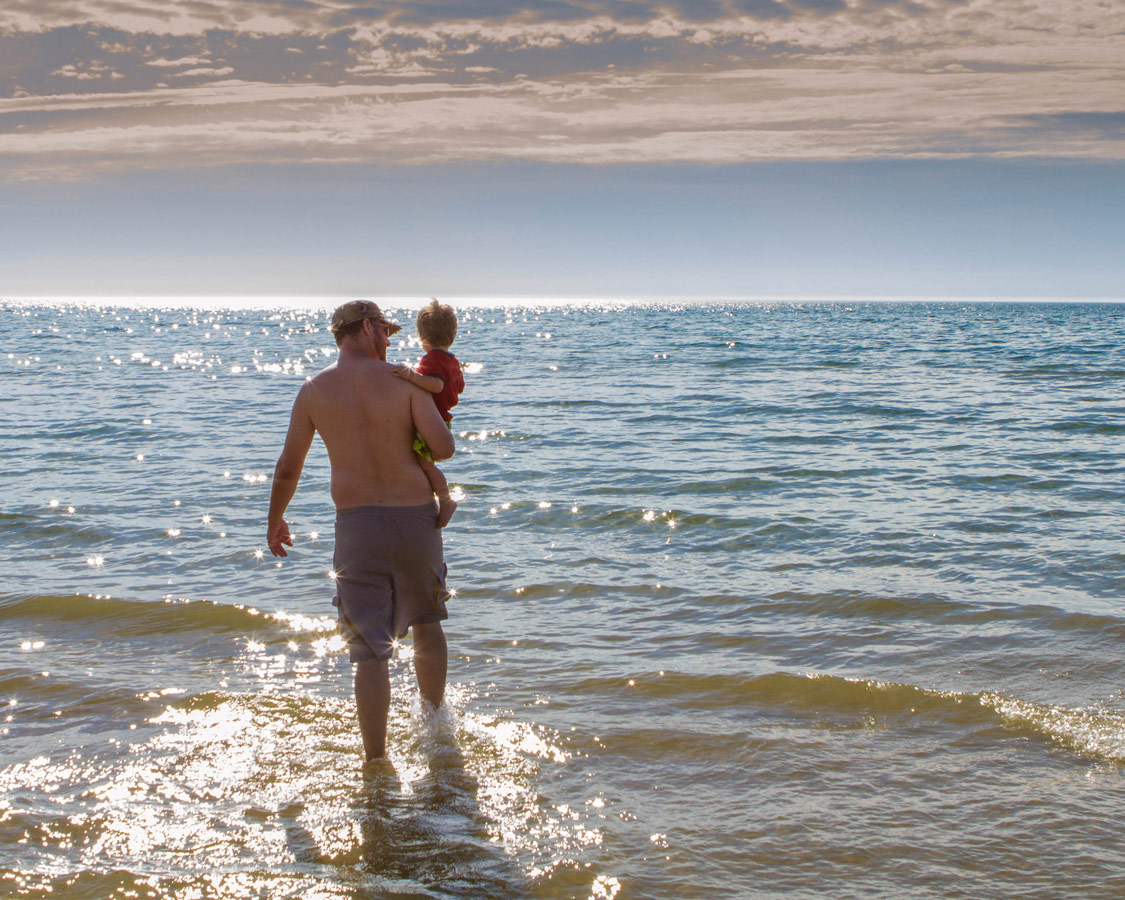 Sauble Beach is a public beach made up of a combination of indigenous land (Saugeen First Nations), private land, and municipal land. This means although it is free to use the beach, you must pay for parking during the summer season (June – August).
The beach is a 230 km drive from Toronto. During off-peak times, we can get from the city to the beach in about 3 hours. However, during the busy summer weekends, the highways heading north can be very busy so you will need to plan accordingly.
What to do in Sauble Beach Ontario
What we love most about Sauble beach is that even though the secret is out and a lot of people know about this awesome beach, the large size means it is still possible to find your own spot to relax. As you enter via the sign off of Main St., you can turn left to enjoy the beach on the land of the Saugeen First Nations or turn right for the municipal portion.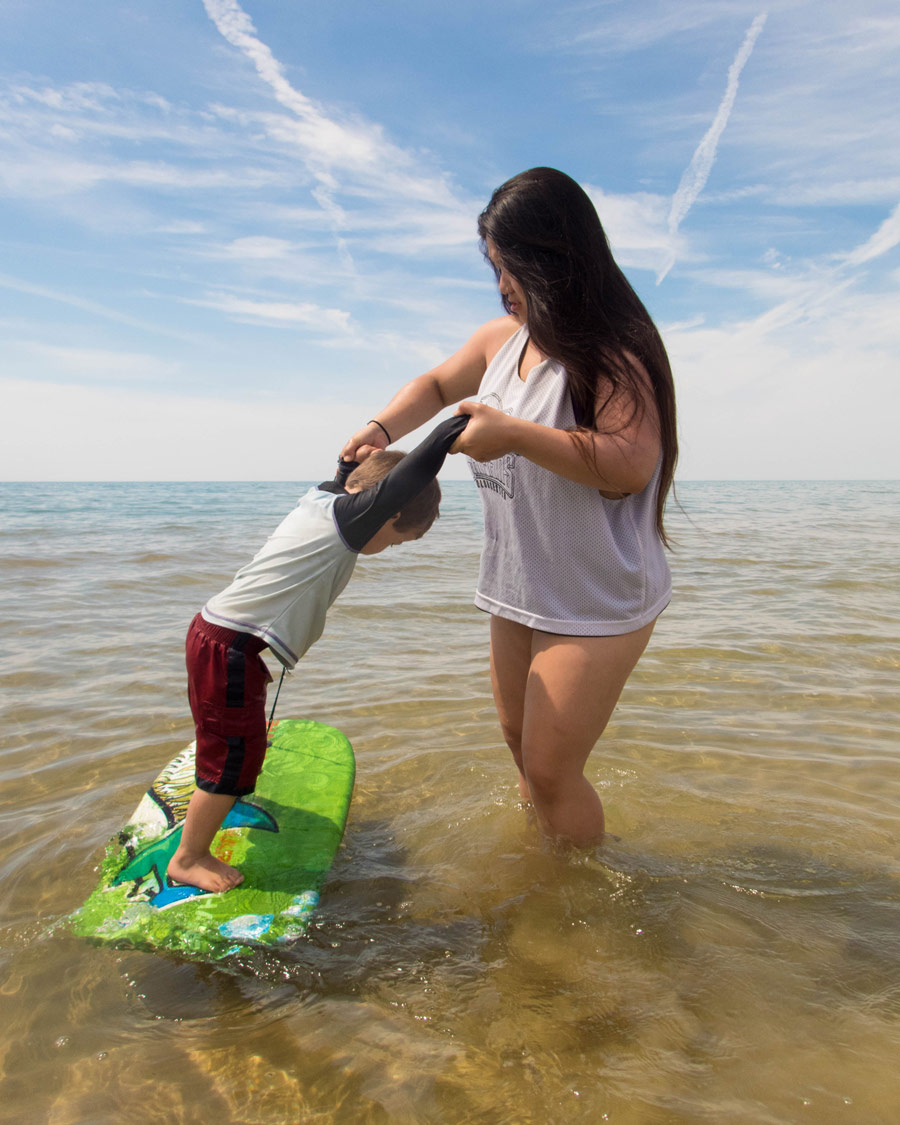 Whichever we choose, our two boys love to spend hours building sandcastles using the golden powder. And everybody enjoys swimming in the crystal clear blue waters. The shallow shores of Lake Huron mean that the children can walk and splash around quite far into the waters, about 12 m actually before it gets very deep. And for the first time last year, D even tried to go out on his boogie board.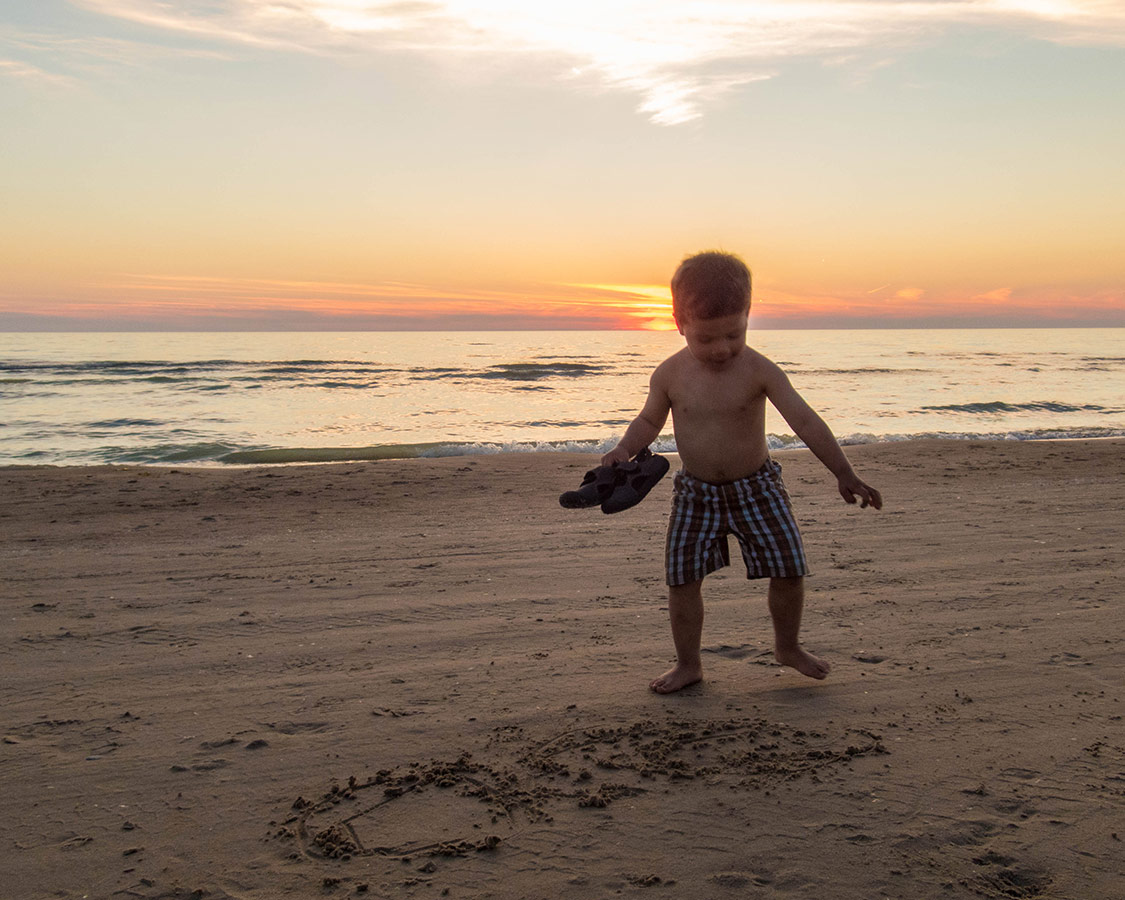 Pro-Tip: Bring along a baby sun tent to help give the kids some shade from the hot sun.
From the beach, we always make the walk into the town. During the off-season, the town has a population of around 2000 locals. But come summer, the numbers easily reach 60,000 people, especially on long weekends. If you are looking for what to do in Sauble Beach Ontario, heading into town is the perfect place to start.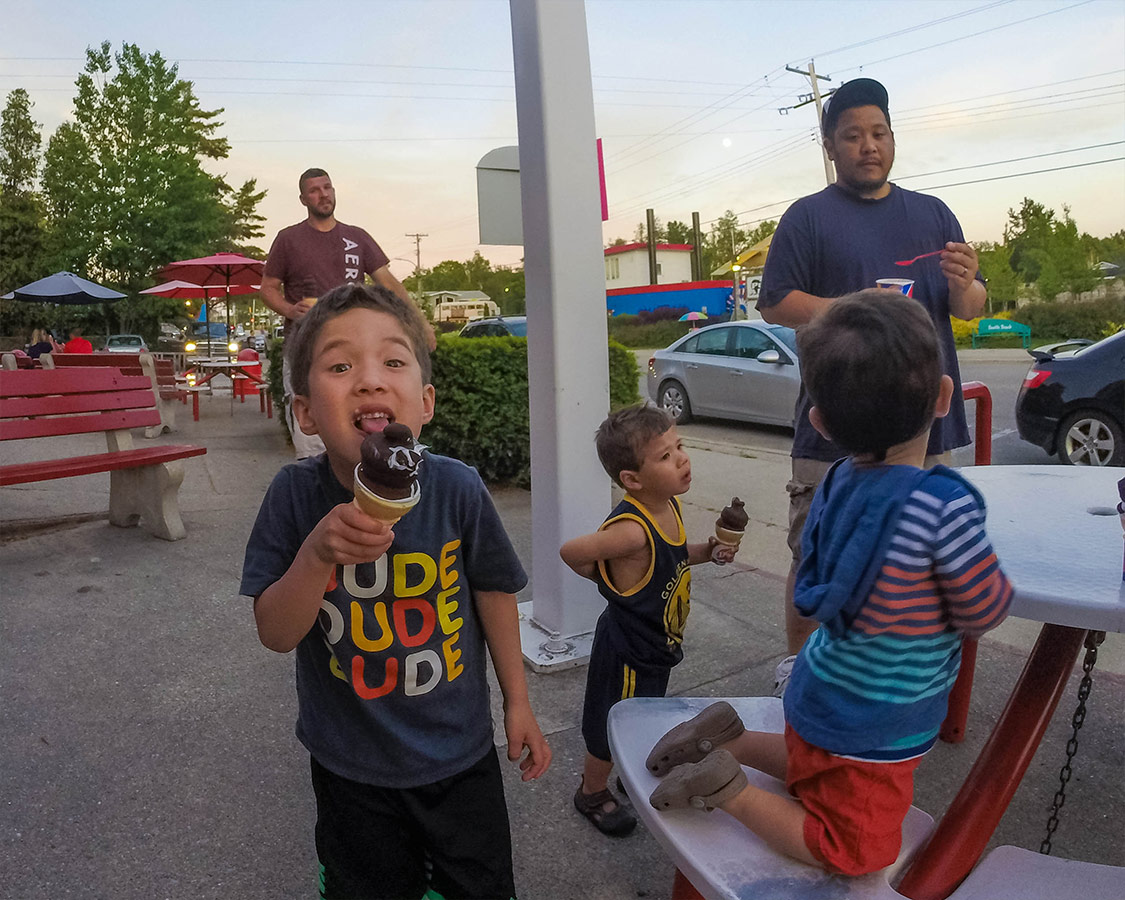 Sauble beach town retains the vibe of small-town Ontario, Canada. For those that want to go shopping, there are loads of fun shops and arcades to pick up typical beach fare, cottage items, and other trinkets at reasonable prices.
There are fantastic antique and vintage clothing stores, and you can also rent kayaks, paddleboards, boogie boards and other gear not far from the beach. Oh, and of course, there is also ice cream!

Where to Eat In Sauble Beach
There are several options for beach fare at Sauble Beach. But you won't find any fine dining options here, which is just fine by us! Our all-time favorite spot to eat in Sauble Beach is Casero Taco Bar.
The flavorful Mexican fare is served from a double-decker van turned kitchen on wheels. The food is fresh and the homemade guacamole is definitely worth leaving the beach for. There is limited seating with a few picnic tables on the property.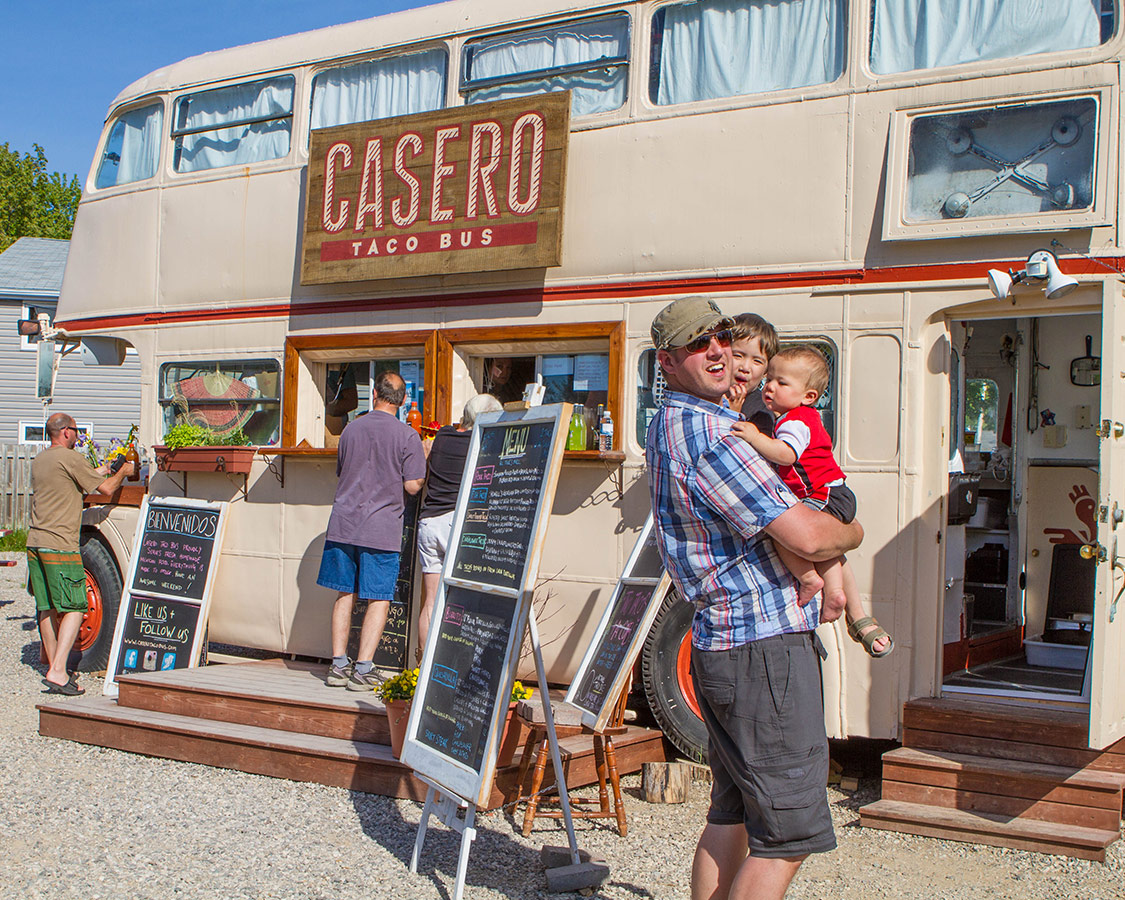 Other great places to eat in Sauble Beach Ontario include Amici's coffee bar for the best coffee in Sauble Beach. Beach Burger serves up killer hamburgers and fries, and Sola's Grill offers a great selection of lunch eats that is sure to satisfy the whole family.
Where to Stay In Sauble Beach Ontario
There are several options for accommodation in Sauble Beach depending on your budget. In town, there are inns, motels, and cottages for rent. There are also several cottages on the beach that are for rent. This is normally what we do as it means the beach is only a few minutes away and we don't have to worry about parking. Unfortunately, overnight camping is not allowed at Sauble Beach, but it is allowed at nearby Sauble Falls Provincial Park.
The Kit Wat Motel and Restaurant is right on the waterfront. It features an on-site restaurant and free use of the canoes and kayaks. The Knights Inn Motel is just a short walk to the beach and is very close to the shopping area. The Knights Inn Motel offers free WiFi, coffee, and tea. You can find even more great places to stay in Sauble Beach here.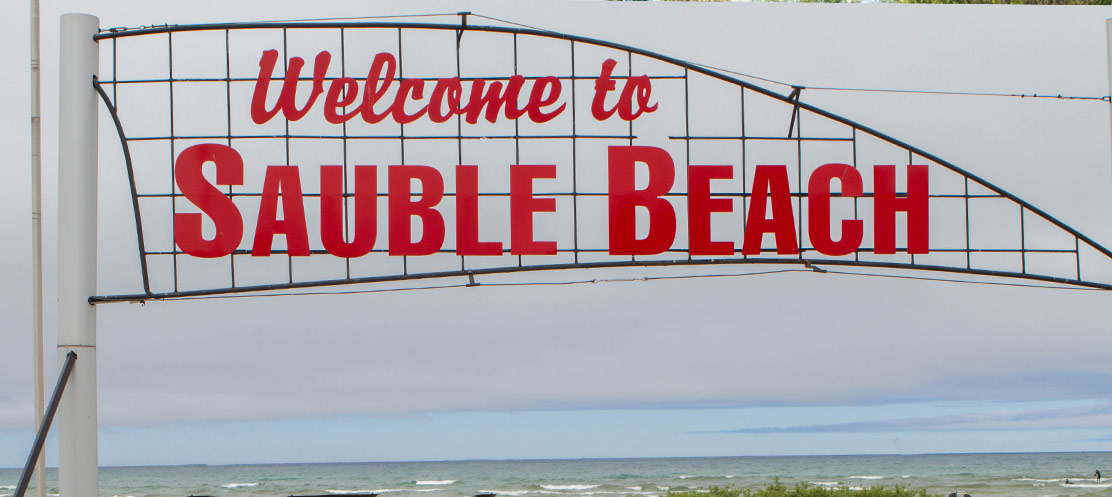 Sauble Falls Provincial Park
Just outside of the town of Sauble Beach is Sauble Falls, Provincial Park. When looking for what to do in Sauble Beach Ontario, this spot should definitely be on your radar. The park is one of the best day trips in Bruce-Grey county if you can manage to tear yourself away from the beach for a few hours.
The falls used to power a timber mill and generating station. Today, Sauble Falls makes for a fantastic place to splash in the shallow waters and sit under the series of small falls that cascade among the surrounding young forest.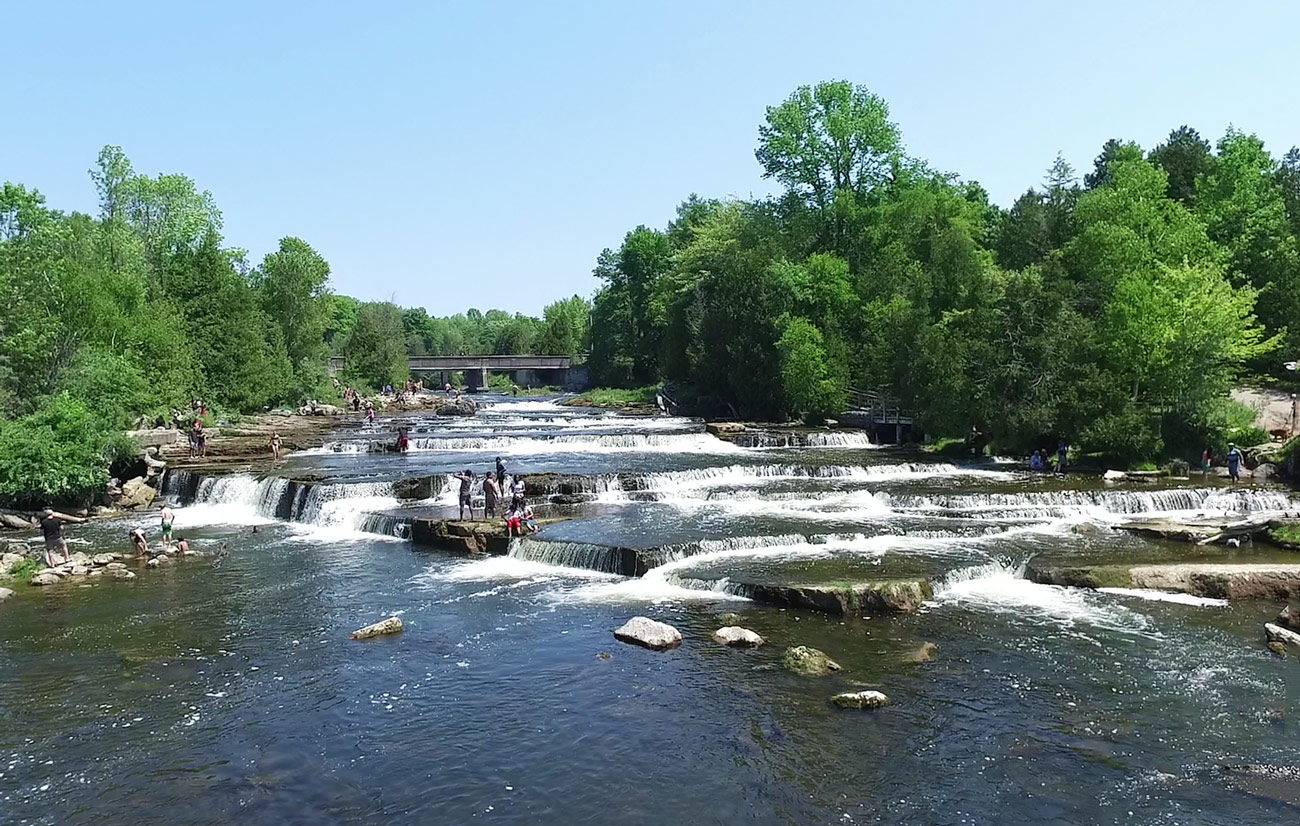 Also, Sauble Falls has great picnicking areas, a short 2.5km hiking trail and in the spring and fall, feature Chinook and Salmon runs. Fishing is not allowed at the Falls itself.
But, a spot adjacent to the park allows for angling during the fishing season. Additionally, the shores of the river make for the boy's favorite spots to meet the local wildlife.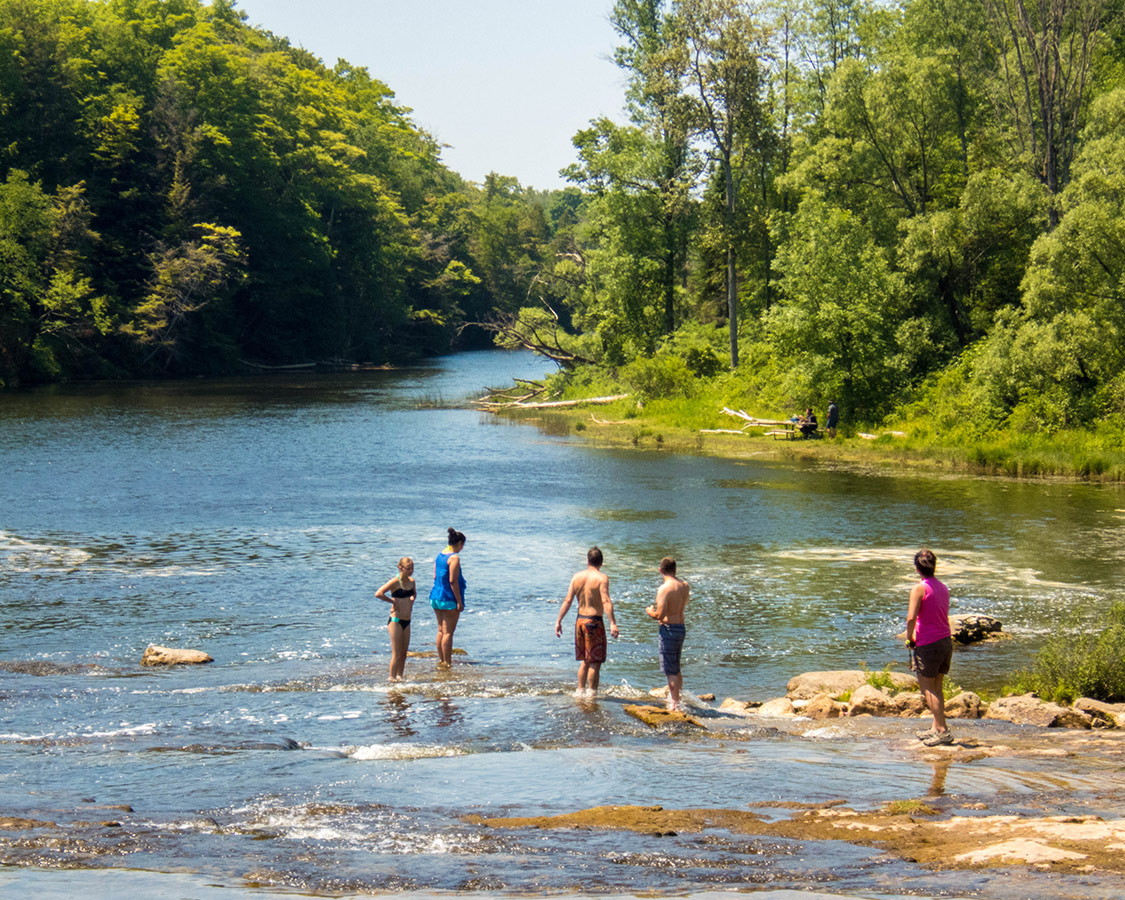 Although we have not yet done it, another way to experience Sauble Falls Provincial Park is by canoe with rentals on site. We have canoed at several other Ontario Provincial Parks, including Bon Echo and Killarney.

Tips For Visiting Sauble Beach Ontario
Plan ahead – Sauble beach has a lot to offer. In fact, you can find almost anything you need for a beach vacation in town. But choosing where you're going to stay in Sauble Beach, and which area of the beach you want to stake a claim to is good to plan ahead of time.
Parking – There is parking available on both the Saugeen First Nation and Sauble Beach side of this Lake Huron beach. The Sauble Falls beach parking can fill up very quickly. In the past cars have been allowed to drive on the beach on the Saugeen First Nation side, however, in 2019 rules have changed and now there is no more Sauble beach driving. Parking is available near most of the entrances. There is street parking available in the town as well. Things near the beach fill up quickly.
Safety – Sauble Beach is quite a safe beach. There are no riptides or dangerous currents. Waves can be high during windy weather. The shallows stretch out a long way giving children plenty of room to play. There have been thefts on the beach. Please watch your gear and practice proper beach safety.
Canoeing with kids is an amazing way to explore Ontario parks. So, we are definitely going to tick canoeing of our what to do in Sauble Beach Ontario list this year!
Wandering Wagars is a participant in the Amazon Services LLC Associates Program, an affiliate advertising program designed to provide a means for sites to earn advertising fees by advertising and linking to amazon.com, amazon.co.uk, amazon.ca. Amazon and the Amazon logo are trademarks of Amazon.com, Inc. or its affiliates.
You May Also Like To Read: