From the swimming and canoeing to the epic cliffs and the petroglyphs. We layout all of the top things to do in Bon Echo Provincial Park!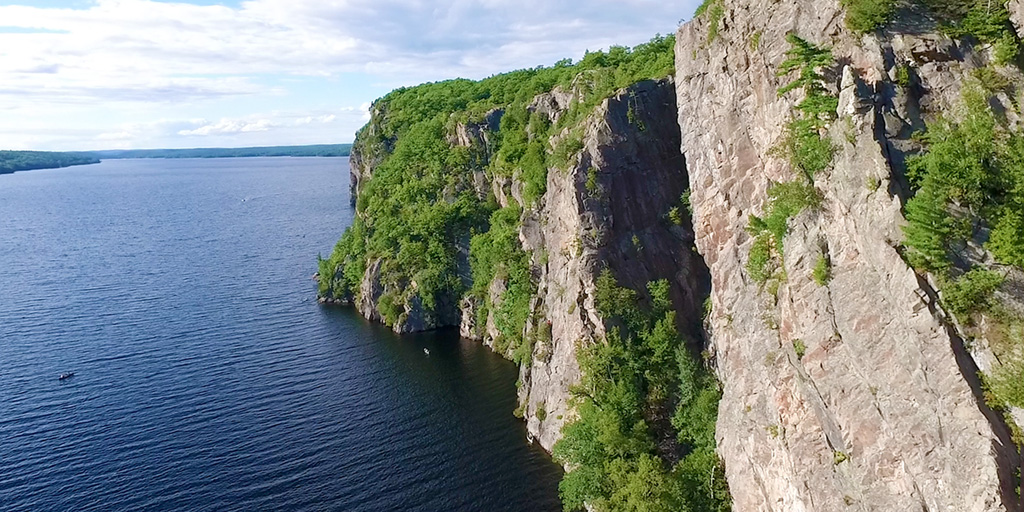 With the summer whizzing past us, we realized that we hadn't been camping yet. After the previous summer camping at Mara Provincial Park, and later hiking through Killarney Provincial Park with kids, we were anxious to visit one of our favorite Ontario parks. Bon Echo Provincial Park. We booked one of the few remaining car camping sites and we were anxious to find the top things to do in Bon Echo Provincial Park.
What is Bon Echo, Provincial Park
Bon Echo is an Ontario Provincial Park in South Eastern, Ontario. Bon Echo is located about an hour-and-a-half north-east of the city of Kingston and 6 km north of the town of Cloyne. The Bon Echo contains several lakes, the most famous of which is Mazinaw Lake. Mazinaw Lake is the second deepest lake in Ontario and features the stunning Mazinaw Rock, home to the largest collection of native pictographs in Ontario.
These indigenous pictographs, rock paintings are found on the escarpment cliffs. Bon Echo has been consistently rated as one of the top Ontario Provincial Parks. And for a small park, it packs in a tremendous amount of excitement. Mazinaw Rock alone stands over 100 meters high. This massive cliff dominates the landscape of Bon Echo. And although it is home to some of the park's best attractions, it is by no means all that Bon Echo has to offer!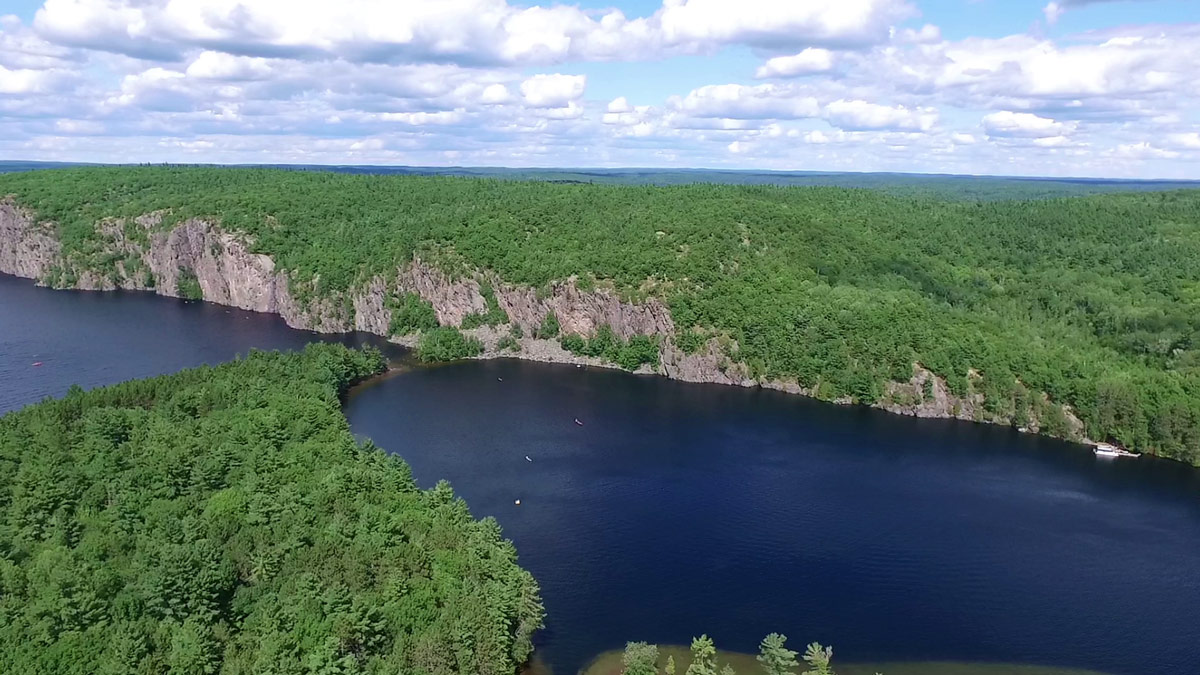 We arrived in Bon Echo mid-morning on a 3-hour drive from Toronto. The weather was absolutely gorgeous. And we quickly got about setting up our tent and campsite for our visit before heading to the Bon Echo Lagoon to see everything that Bon Echo had to offer.
Before you head out, make sure you check out our tips for Ontario Parks camping so that these parks are here to enjoy for generations to come.
Top things to do in Bon Echo Provincial Park
The Bon Echo Lagoon
Our campsite was in the Hardwood Hills section, a short 5-minute drive to the Lagoon in Bon Echo. If you're looking for the top things to do in Bon Echo Provincial Park, the Lagoon is the center of all the action. This calm bay is where the boat rentals take place as well as where the Mugwump Ferry boards.
During the weekends, the local volunteer group Friends of Bon Echo host a bbq where you can grab some food and save yourself some cooking. The land surrounding the lagoon wraps in a crescent moon shape and has an easy path to explore. One of our favorite spots is just past the beach where the path wraps back towards the entrance of the lagoon. It's a great shallow swimming spot for kids. And it offers great views of the cliffs as well.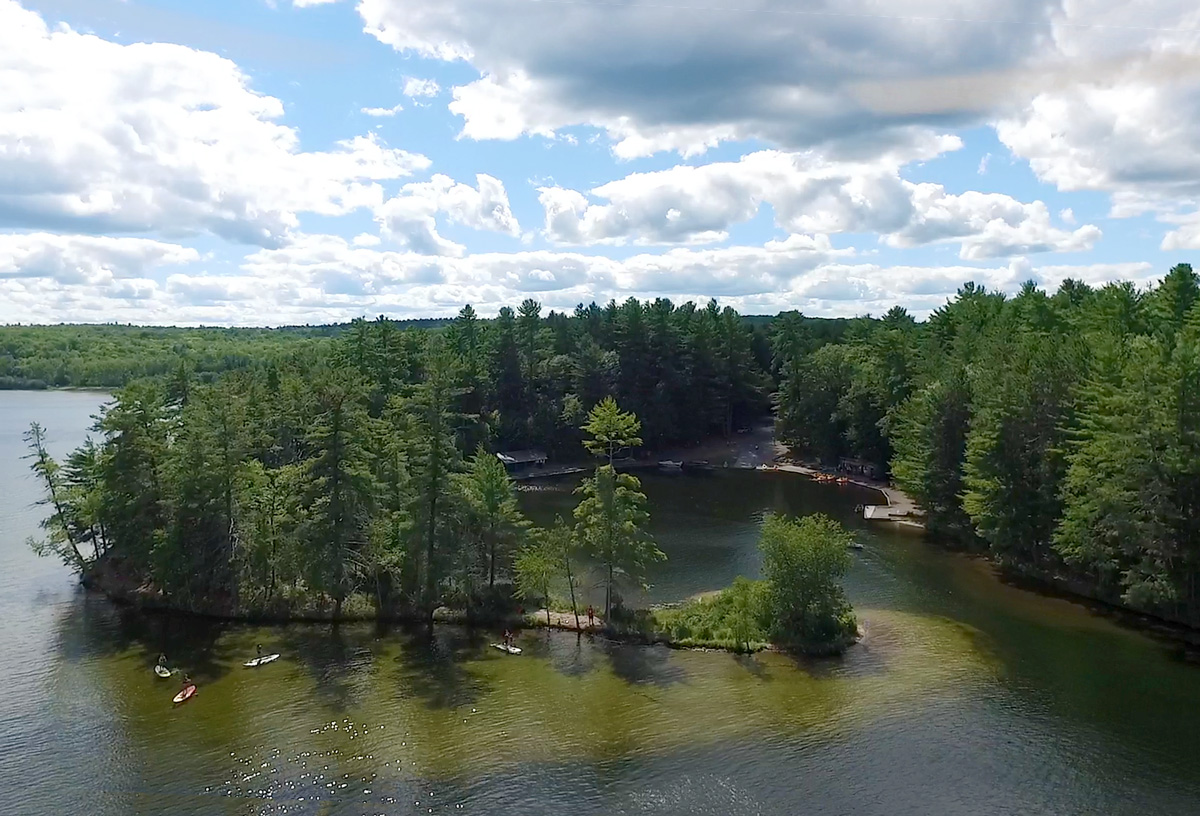 Canoeing, Kayaking or Paddle Boarding
We had reserved a canoe for our visit to Bon Echo prior to our arrival. We wandered from the parking lot to Bon Echo Outfitters, located right at the Lagoon and filled out our paperwork for a 24-hour rental. Canoes or Kayaks are, in my opinion, the best way to experience beautiful Bon Echo, Provincial Park. As you visit the lagoon, there is no hiding that it's one of the most popular activities.
The only way to see the famous petroglyphs in Bon Echo Provincial Park is by boat. You can either join the boat tour or canoe, kayak, or SUP your way along Mazinaw Rock to find them drawn just above the waterline. Please do not touch them as they are considered sacred to local Indigenous People and are important relics of the history of Canada. Two other incredible places where you can see petroglyphs in the province are Agawa Rock in Lake Superior Provincial Park and Petroglyphs Provincial Park near Peterborough, Ontario.
Canoes, Kayaks, and paddleboards are everywhere, and the calm waters make paddling along the spectacular Mazinaw Rock a treat. These small, nimble boats also offer a great way to experience the incredible native pictographs up close. The boys absolutely loved the treasure hunt of trying to find the pictographs and even spent some time hanging off the side of the canoe in the cool waters.
If you are looking for a challenge, there is a 21 km canoe route in Bon Echo called the Kishkebus Canoe Route. The Kishkebus canoe route takes you past the pictographs and beyond. The route includes a 1.5 km portage, so beware of how much gear you are carrying with you. Mazinaw lake can get quite crowded with motorboats and paddle boats. If you are looking for something a little quieter, Joe Perry Lake has some beautiful areas to explore. It also has a nice sandy beach that is far less crowded than the one near the Bon Echo Lagoon.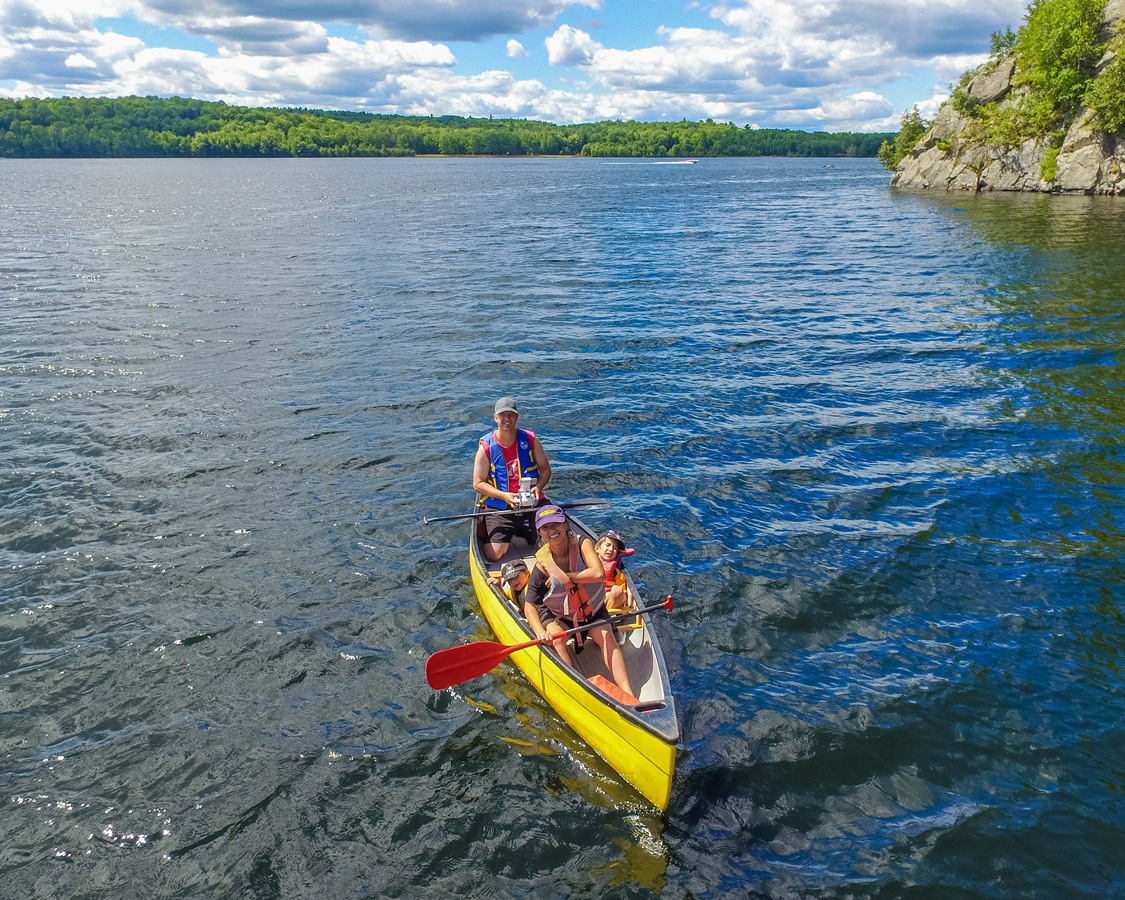 Hiking in Bon Echo Provincial Park
Bon Echo is packed with amazing hiking trails. There are some great family-friendly hikes, including the Bon Echo Creek Trail or the High Pines Trail. But the most famous hiking trail in Bon Echo Provincial Park is the Mazinaw Cliff Top Trail. We docked our canoe at the busy ferry dock at the base of Mazinaw cliff. The Mazinaw cliff hike starts with a climb up some stairs where you'll find the only toilet on the hike.
The hike is a short 2.5 km walk over rocky paths and features gorgeous well-maintained lookouts. The boys absolutely loved scrambling over the rocks and racing along the paths. Outside of the lookouts, a few visitors took to the edges to do some sunbathing and relaxing. The beautiful weather and amazing skies made for some truly spectacular views.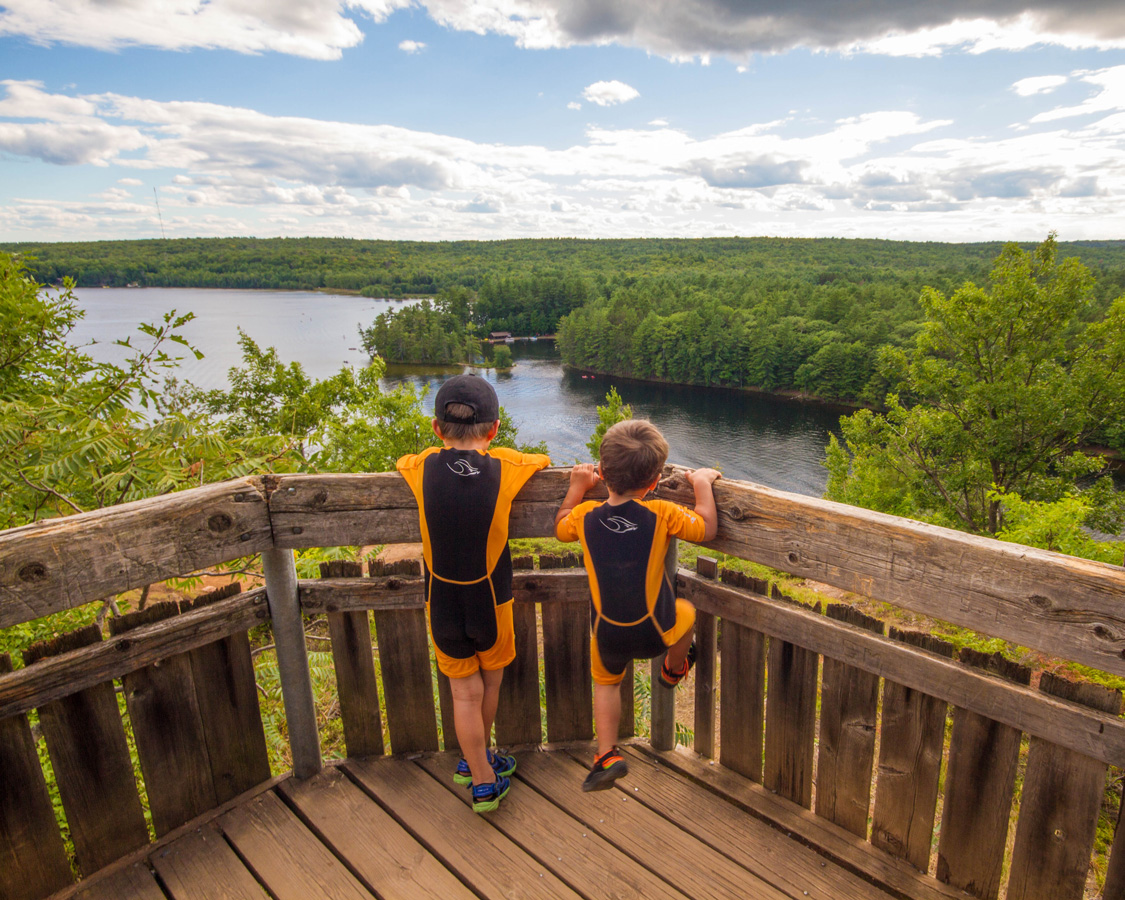 Pro-Tip: There is only one portable toilet on the Mazinaw Cliff Hike. It is located just off the main trail near the dock.
Swimming at Bon Echo Beach
After returning from our canoe ride, we wandered over to the far side of the Lagoon to experience the boys favorite part of our Bon Echo visit, the beach. Bon Echo has a nice, sandy beach that is divided into two roped off sections. Right off the beach is a toddler depth area perfectly suitable for D to splash around in, and the deeper area that reaches a depth of 1.2 meters. C's favorite was the deeper area. It is there where he spent his time practicing his swimming and diving. The sandy bottom makes the beach area perfect for splashing.
The sandy bottom of Bon Echo beach is great. It gets a little weedy further out. But I don't recommend going out too far anyways as there are a lot of boats that like to zip through the calm waters of Lower Mazinaw Lake. The area surrounding the beach is busy on weekends and features a number of picnic tables and charcoal bbq pits for cooking, so the beach alone is a whole day destination for many visitors to Bon Echo Provincial Park.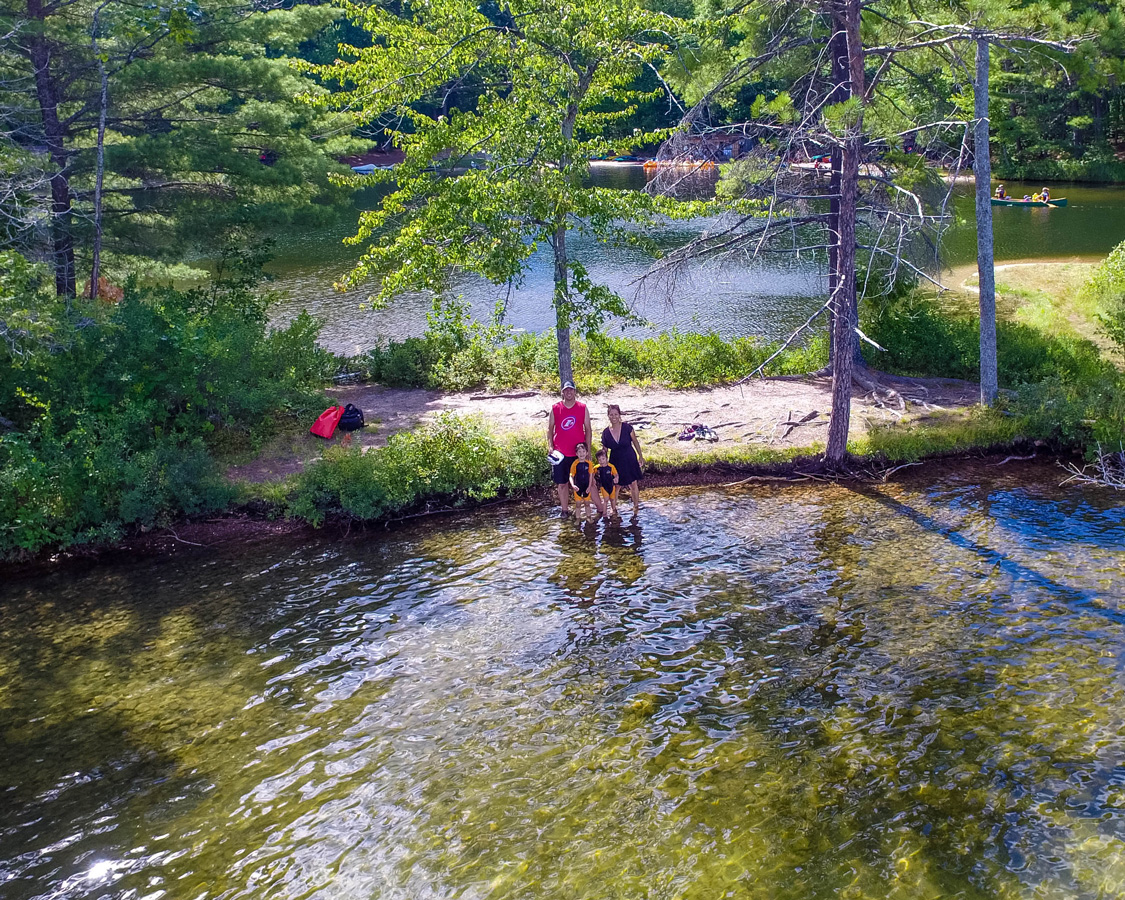 Pro-Tip: The beach area and picnic tables can fill up fast. If you plan on spending the day there, arrive early to ensure you get a good spot.
Camping in Bon Echo Provincial Park Family Campground
One of the first things that appear when researching the top things to do at Bon Echo Provincial Park is camping. Bon Echo Provincial Park camping is excellent. The campsites in the park are a bit close in some spots. But the sites are large, relatively flat, and offer great coverage. After drying off, we headed back to our Bon Echo campground for dinner. You can access the Ontario Parks reservation tool here.
Unfortunately, the area was suffering from a drought, so a fire ban was on. But with a portable bbq, we were able to cook up some spaghetti and sausages and topped it off with some uncooked smores before calling it a night. Our campsite was large and relatively secluded from the other campsites. We stayed in a non-electric, radio-free zone. But some campsites in Bon Echo Provincial Park have electrical access and allow music.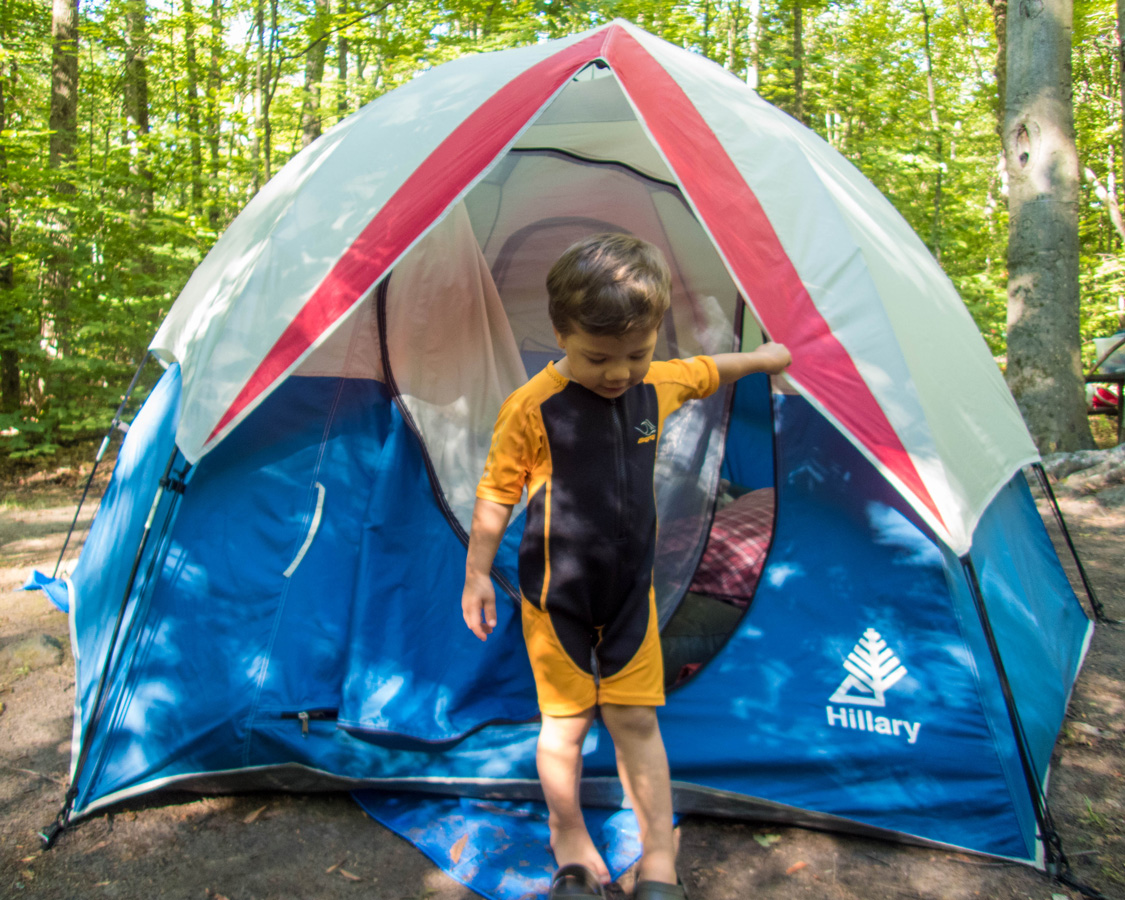 Pro-Tip: When camping, be prepared to bring your own cooking stove. A fire ban means that no fires of any kind are allowed in the park
Bon Echo Provincial Park has car camping, as well as 30 backcountry campsites. The backcountry campsites in Bon Echo include both hike-in and canoe-in campsites. These backcountry campsites in Bon Echo are found on Joe Perry and Pearson Lake. Some of them are even located on sandy beaches. There are also 5 backcountry sites located along the Abes and Essens Lake Trail on the cliffside of the park. For those looking to camp on Pearson Lake, canoe access may be difficult in low water.
Bon Echo also has both cabins and yurts for those looking for a more comfortable nature experience. Bon Echo also offers cabins and permanent tents for those looking for something a little less down-to-earth. Before you head camping, Campsites in Bon Echo book VERY quickly. I recommend booking early, even for the backcountry sites to make sure you don't lose your chance. It's a great idea to check to see if you have all the best family travel gear. From backpacks to kid-carriers, you can check out our favorite travel gear here. Or you can check out some of the best camping gear below.
Other Top things to do in Bon Echo Provincial Park
While Bon Echo Provincial Park is not as large as many Provincial and National Parks in Canada, it packs a tremendous amount of beauty into a small area. A weekend visit makes it tough to take all of the top things to do in Bon Echo. If you're looking for the top things to do in Bon Echo Provincial Park, here are a few more things you can check off.
Mugwump Ferry Ride
The Mugwump Ferry is a 12 passenger pontoon boat offering a quick trip across the narrow Mazinaw Lake. It docks at Mazinaw Rock, the starting point for the Mazinaw Rock cliff hike. The ferry is small, but the boat rides in Bon Echo run regularly throughout the high season. The Mugwump Ferry is run by the Friends of Bon Echo Provincial Park. And it includes a knowledgeable guide who can help to prepare for the hike along the Bon Echo Cliffs.
Mazinaw Lake & Mazinaw Cliffs Boat Tour
The Friends of Bon Echo also offer a guided boat tour of Upper Mazinaw Lake. The Mazinaw Lake & Cliffs Boat Tour takes place on a larger 26 passenger pontoon boat. The pontoon boat for the Bon Echo Boat Tour is covered. That helps to keep the hot summer sun off of your head for a while. The Mazinaw boat cruise is led by a well-spoken guide who will point out and explain the various sites of Bon Echo. It's a great opportunity to learn about Mazinaw Rock, the 1000-year-old native pictographs, and the nature surrounding the park.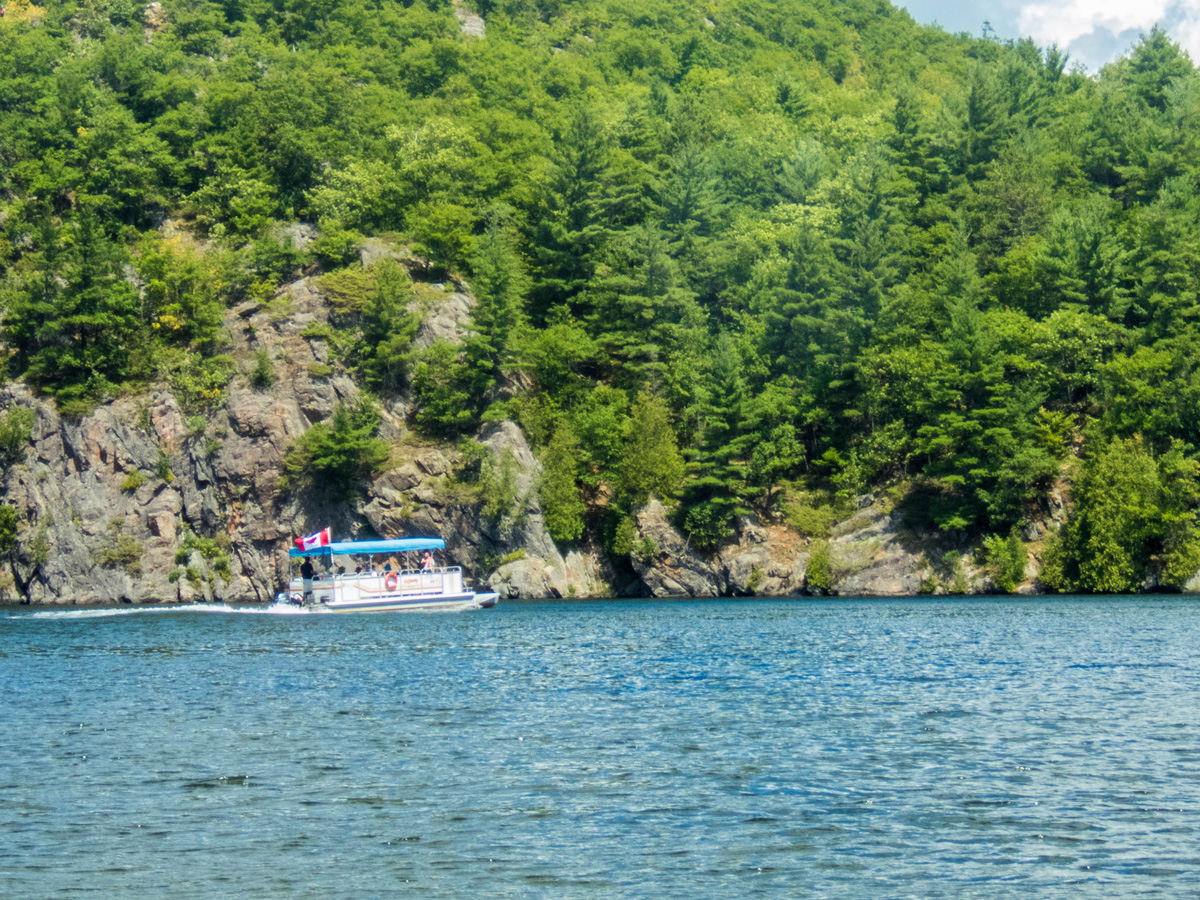 Hotels Near Bon Echo Provincial Park
Camping in Bon Echo isn't for everyone. So, if you're looking for some great hotels near Bon Echo Provincial Park to use as a home-base for your day trips, there are a few options. The Mazinaw Residence Inn is the closest hotel near Bon Echo. Each of the rooms has both a fridge and a microwave. Another option is Limerick Lake Lodge and Marina in Gilmour. Each cabin has a full kitchen.
Kayak and Canoe Rentals in the Lagoon
If you don't have your own boat, paddleboats, canoe's, stand up paddleboards, and kayaks can be rented from Bon Echo Outfitters right at the Bon Echo lagoon. They have a great selection of boats. And they are offered on a first-come, first-serve basis. The canoes are light Life jackets, paddles, and safety gear are all included in your rental. Bon Echo Outfitters has life jackets and paddles for both children and adults. So it's easy to get the whole family out on the water.
Our experience earlier in the summer of glamping on Manitoulin Island was incredible and cultural. Bon Echo Provincial Park, which offers a much different experience of Ontario's beauty, is also a great way to spend a weekend or long weekend when in Ontario. The top things to do in Bon Echo Provincial Park include activities for all ability levels from beach bums to adrenaline junkies and everything in between. You may also be interested in checking out the 5 National Parks in Ontario. You can read about those here.
Make sure to subscribe to our YouTube channel see all our latest videos!
Bon Echo Provincial Park is one of the best family campgrounds in Ontario. And with all these great activities, it's not hard to understand why. If your favorite activities include hiking, camping, fishing, or boating, Bon Echo has exactly what you're after. And it all comes in a package that makes camping with kids incredibly easy. If you are looking for great family camping in Ontario, Bon Echo should be right near the top of your list.
Have you ever been to Bon Echo Provincial Park? Tell us your favorite part of the park in the comments below. Or swing by our Facebook page and share a photo. We'd love to know more about your journey!
Wandering Wagars is a participant in the Amazon Services LLC Associates Program, an affiliate advertising program designed to provide a means for sites to earn advertising fees by advertising and linking to amazon.com, amazon.co.uk, amazon.ca. Amazon and the Amazon logo are trademarks of Amazon.com, Inc. or its affiliates.
You May Also Like To Read: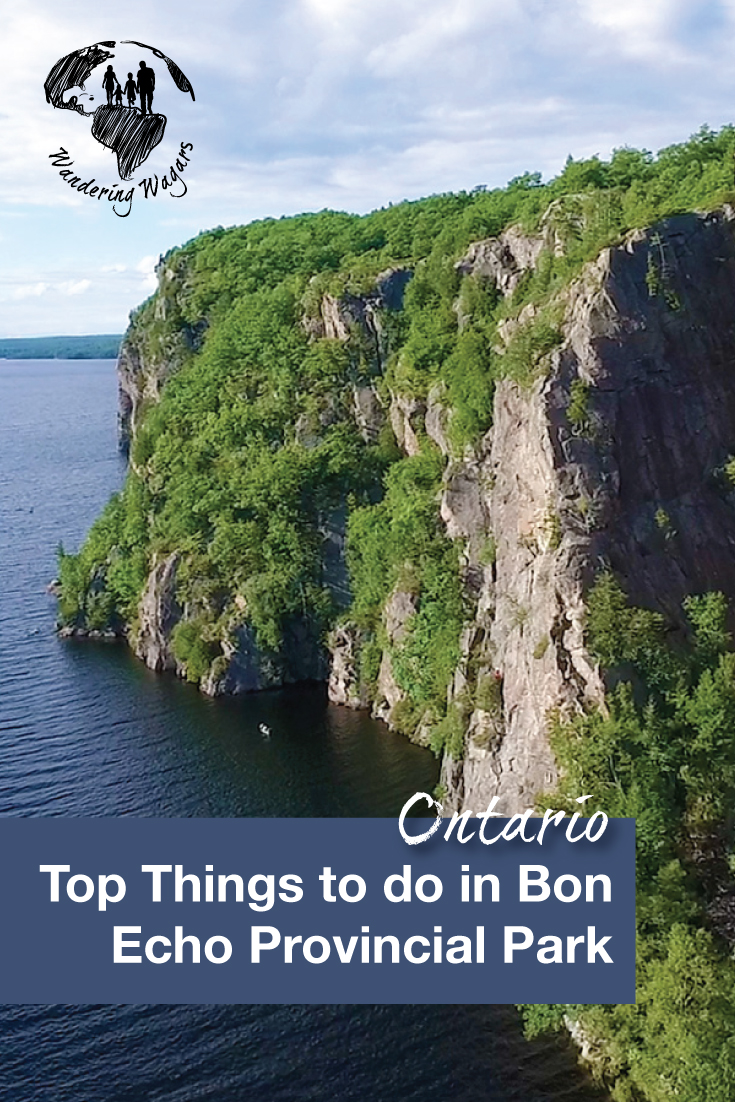 [divider style="shadow" margin_top="30px" margin_bottom="30px"]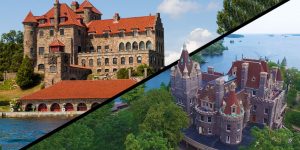 Click Here To Read: Thousand Islands: A Tale Of Two Castles
[divider style="shadow" margin_top="30px" margin_bottom="30px"]
[divider style="shadow" margin_top="30px" margin_bottom="30px"]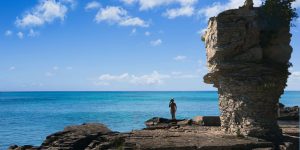 Click Here To Read: 5 Stunning Ontario National Parks To Visit This Year
[divider style="shadow" margin_top="30px" margin_bottom="30px"]
[divider style="shadow" margin_top="30px" margin_bottom="30px"]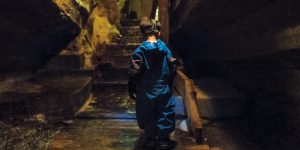 Click Here To Read: Explore Bonnechere Caves, one of Ontario's Top Underground Adventures
[divider style="shadow" margin_top="30px" margin_bottom="30px"]
[divider style="shadow" margin_top="30px" margin_bottom="30px"]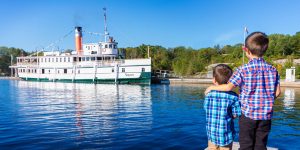 Click Here To Read: Enjoy a Lake Muskoka Steamship Adventure This Season
[divider style="shadow" margin_top="30px" margin_bottom="30px"]
[ezcol_1half]You May Also Enjoy Reading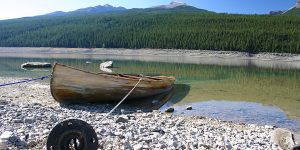 Read: 10 Bucket List Destinations In Canada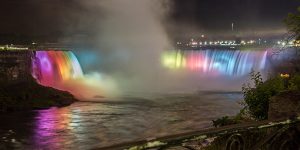 Read: Great Reasons To Visit Niagara Falls This Winter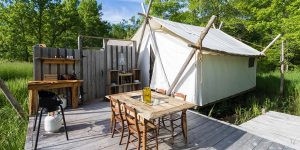 Read: Experience Prince Edward County Glamping at Fronterra Farm
[/ezcol_1half] [ezcol_1half_end]Pin This Post For Later
[/ezcol_1half_end]