Check out our tips for planning the perfect family-friendly fall itinerary in Peterborough, Ontario. From the amazing restaurants to the incredible attractions, here's all you need to know.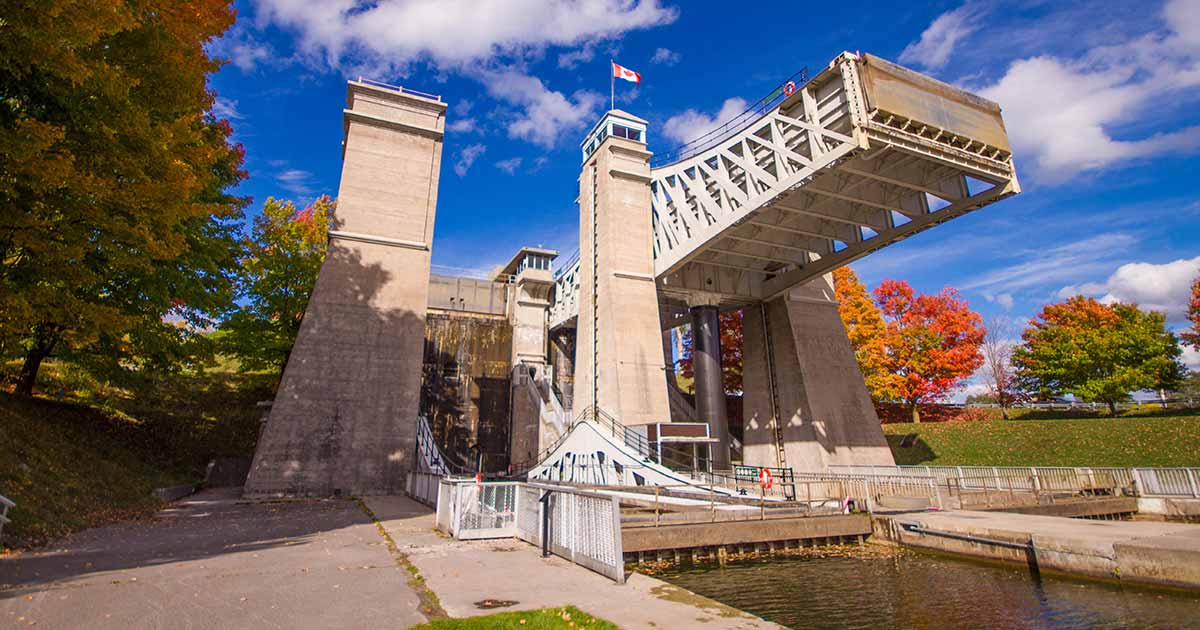 I'll never hide my love for Peterborough and the Kawarthas.
Peterborough is the city that I was born and raised in before moving to the Toronto area, and in truth, it will always be the place I refer to as "home."
And each time I return to "The Patch," as many locals refer to it, I'm always amazed at how many incredible experiences there are to be had.
Peterborough, which sits about an hour and a half east of Toronto, offers that perfect mix of small-town charm and large-city amenities. And its access to the gorgeous outdoor experiences in the Kawarthas makes it one of the most popular summer destinations in the province.
Within an hour of Peterborough, you'll find magical spots, including Silent Lake Provincial Park, Emily Provincial Park, Kawartha Highlands Provincial Park, Burleigh Falls, and Petroglyphs Provincial Park.
The fun doesn't end when the summer ends, however. Many of the top Peterborough attractions continue to roll as the trees change color. And the fun continues as the leaves fall to the ground and winter approaches.
I've spoken previously about where to find the best fall colors near Peterborough, but this time I'm focusing on how to plan that perfect family-friendly weekend in Peterborough.
The Perfect Peterborough Weekend Itinerary For Families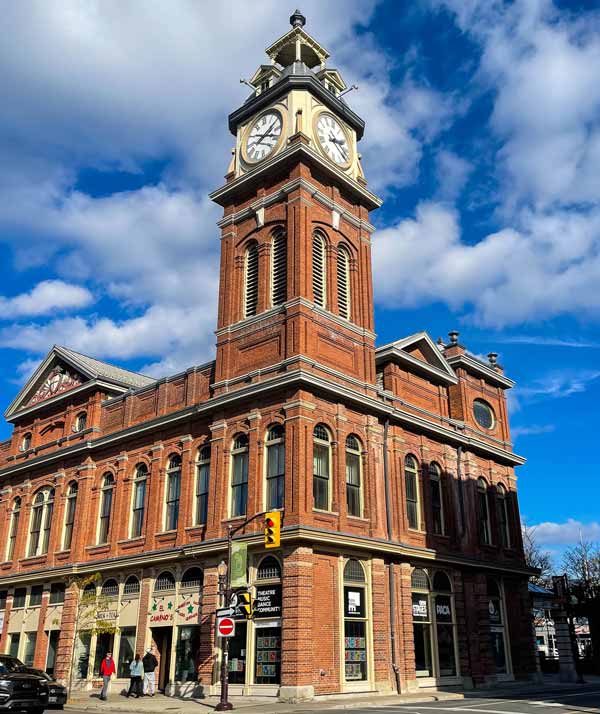 I've spent a lot of weekends in Peterborough. Since I moved from the city more than 20-years ago, I return regularly to visit family and friends or enjoy the incredible outdoors and easy access to cottage-country.
After our recent visit to Peterborough, though, I plan on stepping up my future trips because I had one of the most fun and exciting Peterborough weekends that I've ever had.
Friday Evening Boardgames and Cookies
Depending on where you're traveling from, your journey to Peterborough might be a long or short one. But, assuming that you're not traveling for more than a few hours, your Peterborough itinerary could start on Friday evening.
My family rolled into town around 7-o'clock in the evening, just as the sun was dipping to the horizon. Our first step for our perfect weekend in Peterborough was to get ourselves checked into our hotel.
Choose Your Peterborough Accommodations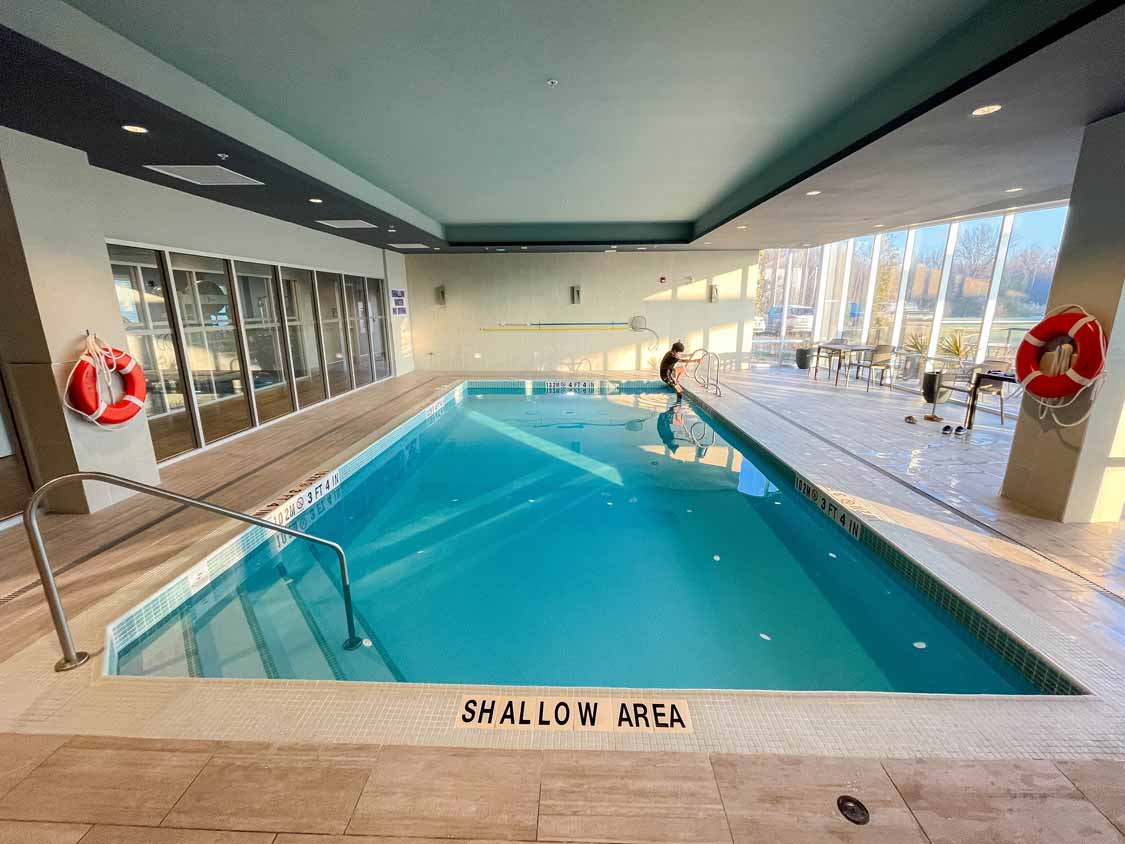 While there are some great places to stay in Peterborough, a few stand out as particularly significant for families. We opted to stay in the hotel for our family weekend in Peterborough was the brand new Hampton Inn located right near HWY 115. This hotel has excellent family rooms, a pool, and breakfast is always included.
Another excellent option for a family-friendly hotel in Peterborough is the Holiday Inn Waterfront. This hotel is located right on the edge of downtown on the shores of Little Lake. Pick a room on the backside, and you'll wake up to beautiful views of the lake and the Ottonabee River. You'll also have excellent access to the downtown core.
A third option is Peterborough Inn and Suites, one of the highest-rated Peterborough hotels. This hotel is conveniently located right in the downtown core on George St. The hotel has large, beautiful rooms and an on-site fitness center and sauna.
Dinner and Games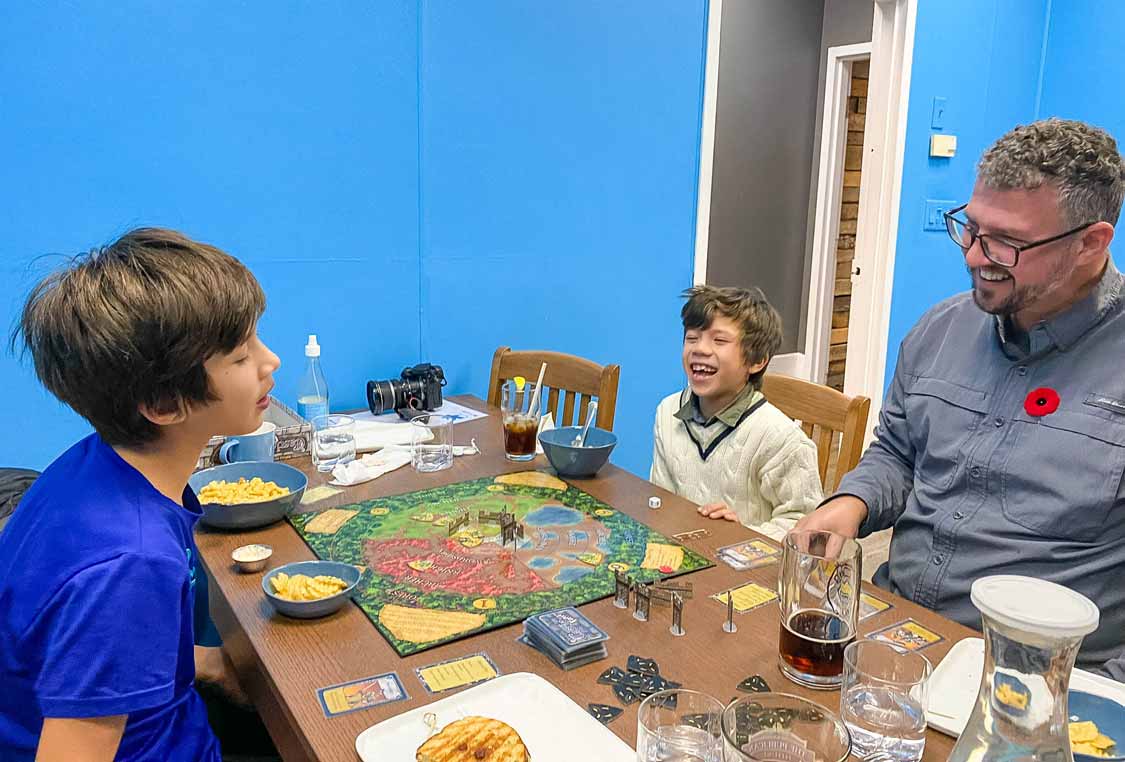 Friday's are hectic and crazy on the best of days, so we couldn't think of a better way to start our weekend in Peterborough than by enjoying a quiet evening of board games paired with delicious food. There is simply no better place to pair these two experiences than at the Boardwalk Lounge on George St.
Owners Connor and Dylan are brothers with their eyes on the Peterborough scene. Connor, a chef with a passion for mac & cheese and chocolate chip cookies, while Dylan is a self-professed board game nerd. They brought their passions together into one of the coolest dining experiences in the city.
Boardwalk cafe has over 400 different board games to play, and the best part of the whole experience is that Dylan knows the rules to almost all of them, so you can spend more time playing and less time reading the instructions.
As you can imagine, it wouldn't be much of a board game cafe without the food. The restaurant serves a beautiful range of comfort food crafted from local ingredients. One of their most popular dishes is their mac & cheese, which brings memories of classic Kraft Dinner, but is made entirely of fresh, locally-sourced ingredients.
You don't want to leave without enjoying one of Connor's signature chocolate chip cookies. These shareable treats come with a side of Kawartha Dairy ice cream. We made sure to pick up a few extra to enjoy as snacks throughout the weekend.
You can read more about this Peterborough board game cafe right here.
Saturday Culture and Cutting Blades
Saturday's are always our biggest adventure days, so we decided to hit the ground running on our weekend in Peterborough itinerary.
Farmer's Markets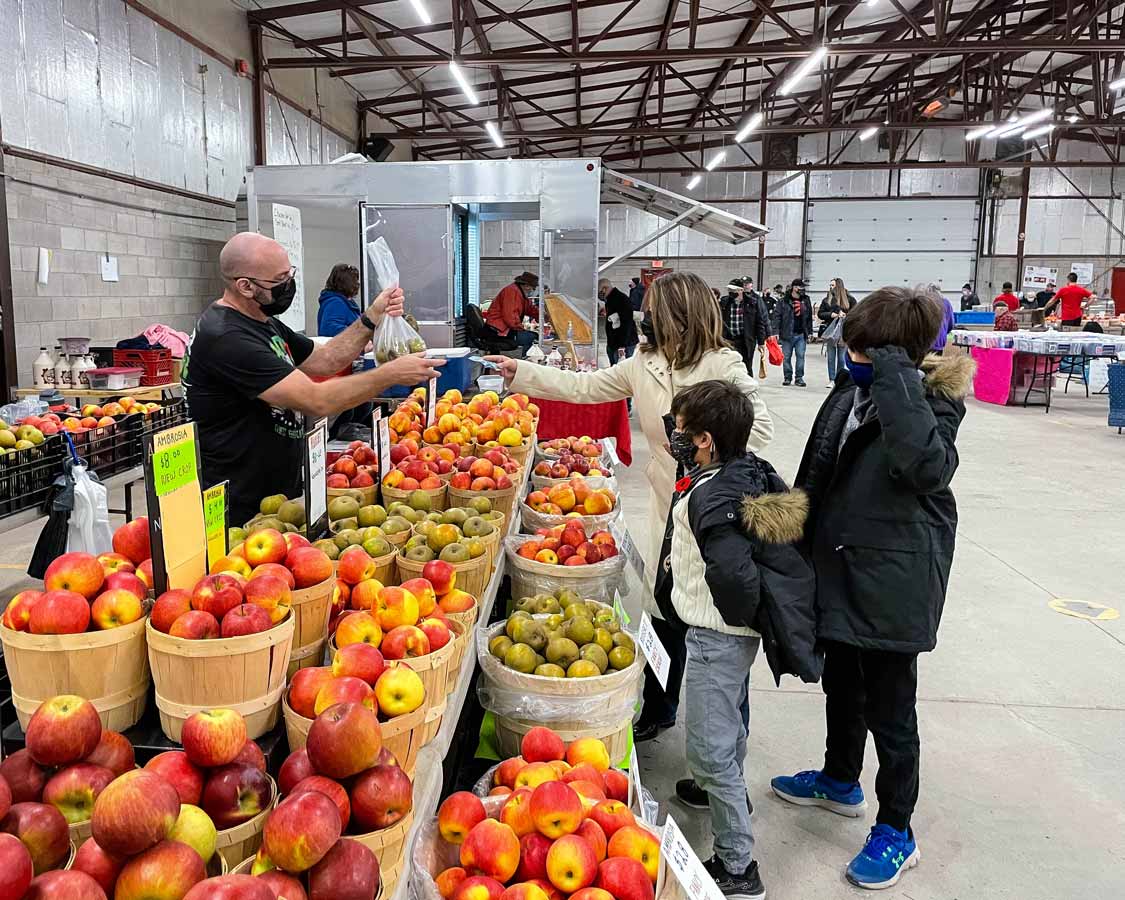 Peterborough has a long history of farmer's markets. The tradition in the city dates back long before Canada was even a country, 200-years. And the city is home to not just one but two unique farm markets.
The oldest is at the Memorial Centre where George St. meets Lansdowne St. The second and more recent upstart is the Peterborough Regional Farmers Market, located on the lower floor of Peterborough Square downtown. Both offer a wealth of local food and produce. It's an ideal place to pick up some snacks and nicknacks to enjoy over the weekend.
We ended up leaving with some donuts from Two Dishes, one of the best restaurants in Peterborough, along with some russet apples, or as my kids like to call them, "plapples," which are a sort of pear/apple hybrid. Also, D fell in love with an oddly shaped potato he spotted at a farm stand!
Our next stop was a place I'd wanted to visit for years, but I had never had the opportunity to go.
Paddle On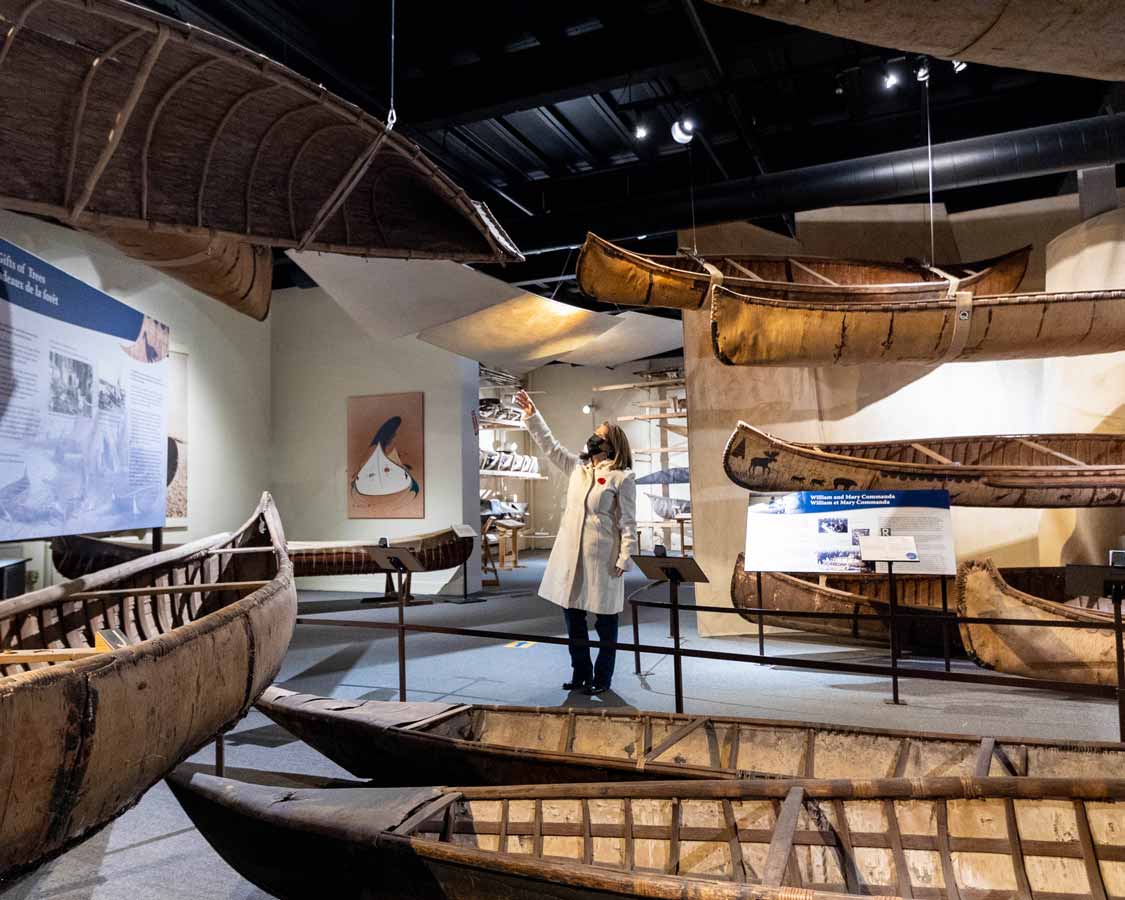 The Canadian Canoe Museum combines our passion for paddling and the outdoors with culture and history. The museum is spectacularly laid out into an immersive and wonderful experience that visitors of all ages will love.
Honestly, my kids love this place. The museum has a thousand years of canoe culture on display. We explored Indigenous traditions, learned about traditional and modern canoe design, and met Russ Parker, a local craftsman. He combines his love of paddling with his love of guitars to create exceptional boats. When he's not volunteering at the museum building magnificent boats, he's making and selling his unique brand of RGP instruments.
The museum, which also runs paddle tours along the Ottonabee River along with children's sleepover events and scavenger hunts, will soon be moving to a new location near the Peterborough Lift Lock. We're excited to check that out once it opens in 2023.
Lunch In East City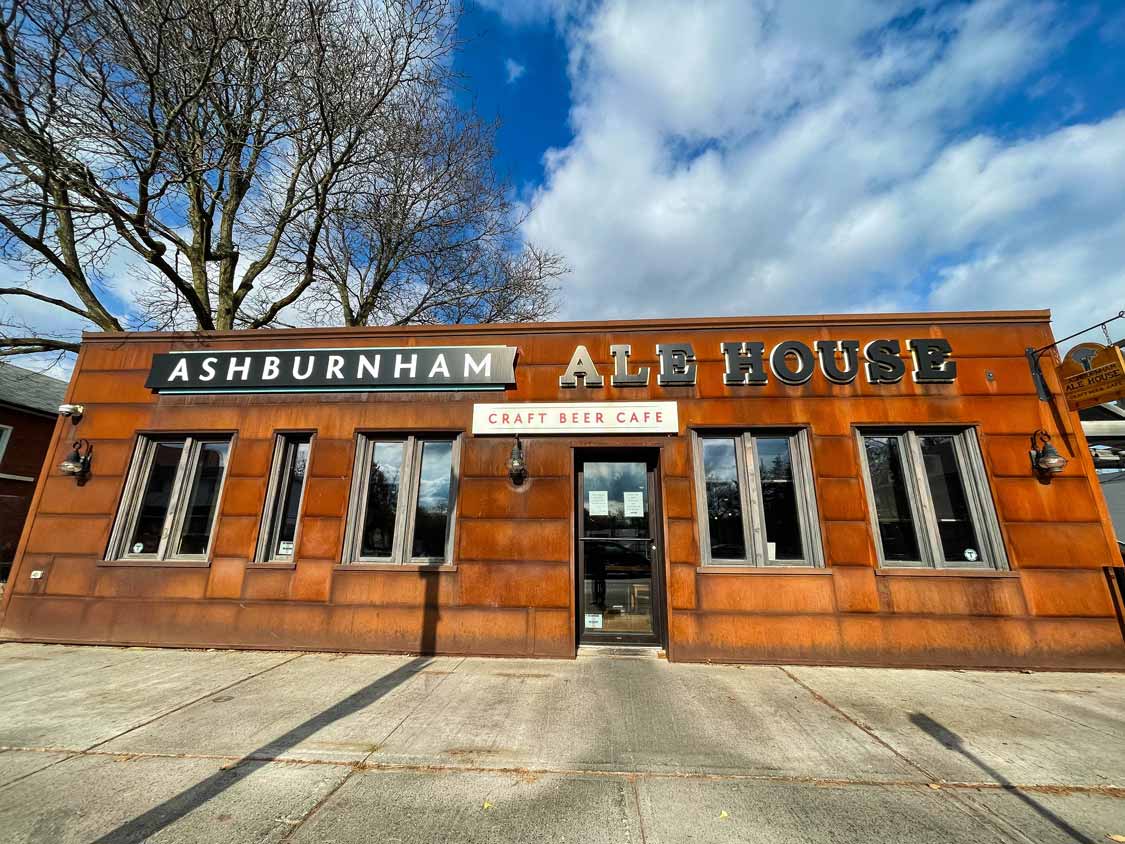 Museums work up an appetite. So, after finishing up at the museum, we made our way across the Hunter St. Bridge to East City and the Ashburnham Ale House.
Unmistakeable with its rustic veneer, the Ashburnham Ale House, which sits on the east side of the Ottonabee River in what was once the town of Ashburnham, is one of my favorite places to eat in the city. The restaurant has local culture at its core. And you can find the walls adorned with artwork created by local artists.
They're all for sale in case you fall in love with one.
The restaurant has a variety of dining options. They serve everything from pizza and burgers to spanakopita pie and pork belly ribs. But, the Ale House is particularly proud of their sandwiches. You'll find a great range of everything from vegetarian to meat-lovers. But if there's one that stands out as a personal craving, it's the Cheezler, a grill cheese sandwich filled with gouda, cheddar, and brie grilled with caramelized onions and granny smith apples. Get it with bacon if you want to make it even more impressive.
Throw Sharp Thing (Not At Each Other)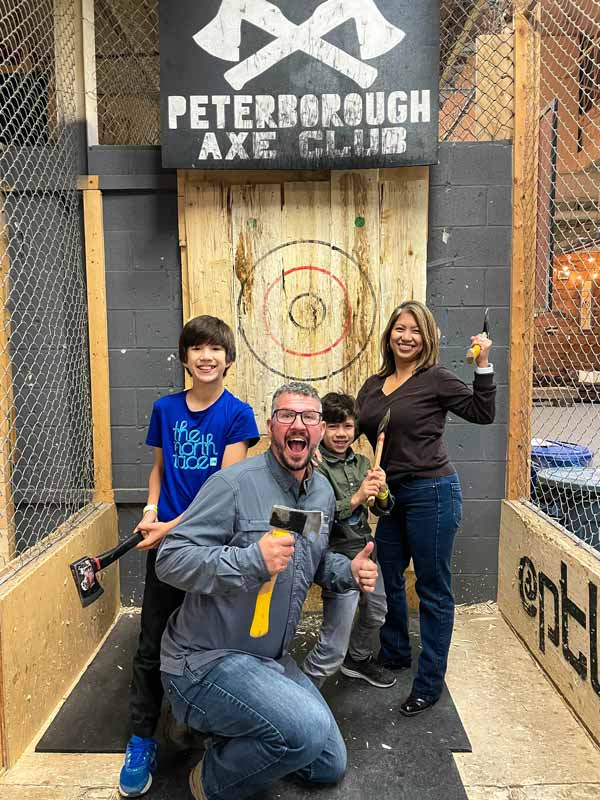 The meal at Ashburnham gave us all the energy we needed for our next adventure, axe throwing at the Peterborough Axe Club.
Now, bringing an 8-year-old axe throwing in Peterborough might seem like a dangerous idea. I'll be honest. I had my doubts for a moment as he grabbed the sharpened cleaver and smiled a little 'too' enthusiastically. But honestly, the environment at Peterborough Axe Club is super controlled, so as long as we were keeping a watch on him, there wasn't much room for him to cause damage, except for the wooden target board, which he broke apart with enthusiasm.
Peterborough's axe club is as much a casual lounge as it is for throwing sharpened blades at wooden boards. You'll find an on-site bar serving both local beer and snacks, a wood stove with couches and chairs for relaxing between rounds, and, of course, several lanes for your axe-throwing fun.
The talented staff will give you safety lessons and teach guests everything they need to know for a fun (and safe) axe throwing experience. And then you're left on your own to enjoy the fun.
Axe throwing rules are pretty much like bowling, so it's simple enough for even kids to understand. And then there's the thrill of the throw, which will get your inner lumberjack revving.
BBQ At Its Best
If you're anything like us, axe-throwing will have worked up quite an appetite. And there are few better places to wrap up a day of living like a lumberjack than with some great BBQ.
Muddy's Pit BBQ in Keene serves up the best bbq in Peterborough and the Kawarthas. With a super casual atmosphere, and a "field of dreams" approach to business, where "if you build it, they will come," Muddy's knocked it out of the park with a business that leans as much on their BBQ shack dine in experience as it does on takeaway meals. You can learn more about Muddy's Pitt BBQ here.
Sunday Escapes
Everyone has their own unique Sunday morning rituals. For us, it usually starts with a great breakfast. Many of the hotels in Peterborough include breakfast. However, if you're looking to try something new and dive a bit deeper into the city's restaurant scene, this would be the day to do it.
If you can get a seat, I recommend making a stop at either Blackhoney Cafe on Hunter St. W or Two Dishes Cookshop on Charlotte St. Both restaurants offer incredible, cooked fresh food in a casual atmosphere.
Understanding The City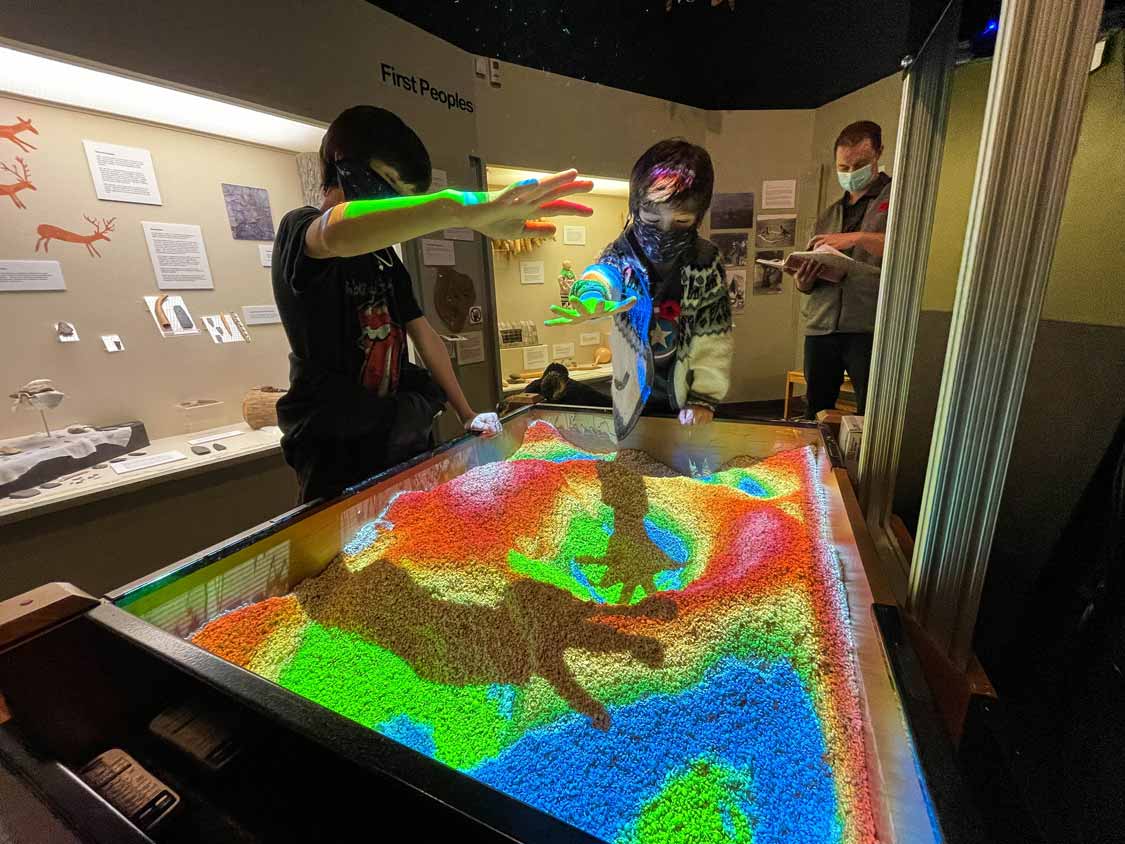 Then it's off to East City for a stroll along the Trent Canal and the Peterborough Lift Lock. If you're lucky enough to be visiting Peterborough in the fall when the colors are at their peak, you'll be treated to an extra special show. The Lift Lock might not be operating at this time of year, but you'll still get some fantastic views from the top viewing deck.
Within walking distance of the Lift Lock are the Peterborough Museum and Archives. This small local museum contains 10,000 years of Peterborough history and fun interactive exhibits that are lots of fun for younger children. You can also learn about the Indigenous history of the region that might make you interested in following our Indigenous-themed road trip through Ontario.
The museum explores the European settlement of the region and the arrival of significant figures, including Adam Scott, Peter Robinson (for whom the city was named), and, of course, Sir Sandford Fleming, the man who brought us modern time zones.
Escape!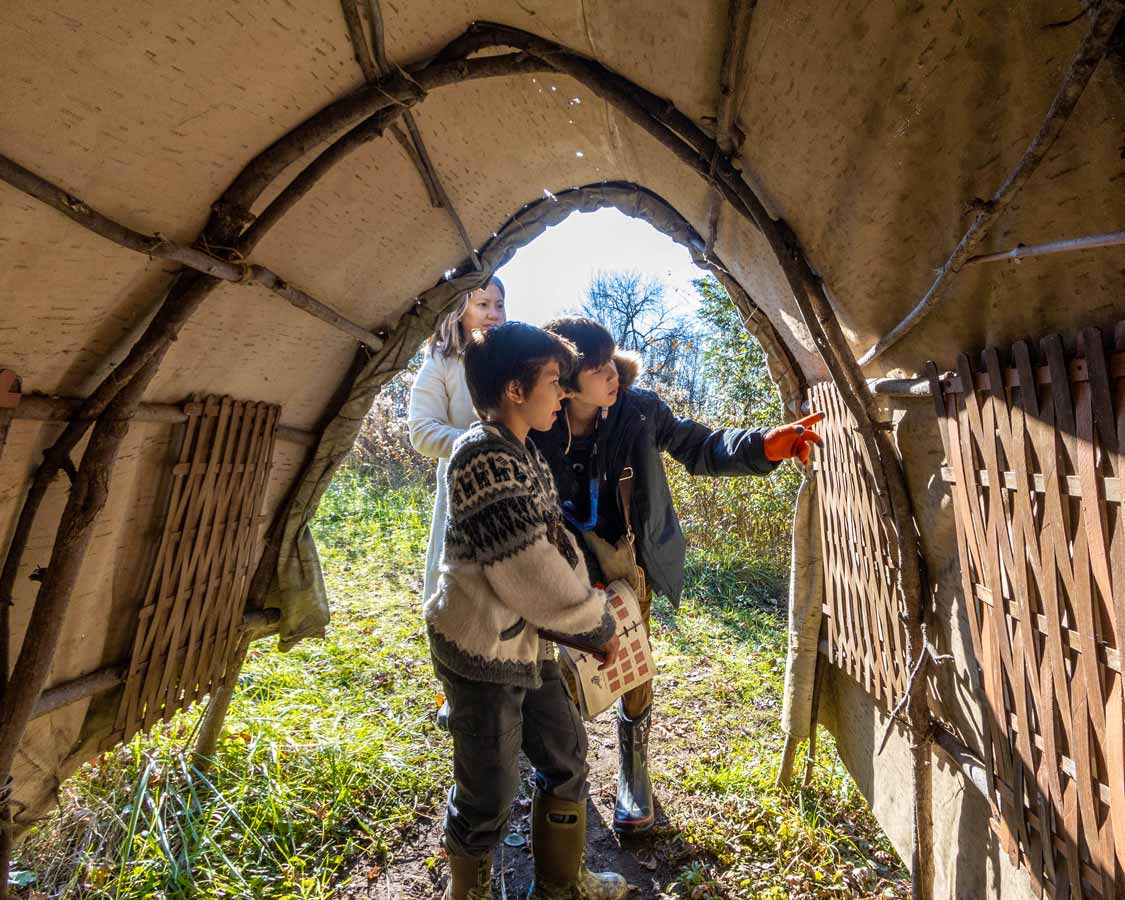 Before ending our family weekend in Peterborough, there was one last adventure to be had. And it's something that I highly recommend that everyone adds to their Peterborough itinerary.
Escape Maze is an engaging and collection of experiences located on the Preddy Farm, just 10 minutes from downtown. Their legendary escape room experiences were launched back in 2014 and combine local history with Indigenous culture to create one of the most immersive experiences in the city.
Escape Room has three indoor escape rooms and five outdoor adventure trails. There are also seasonal events such as haunted walks around Halloween. The great thing about the haunted walks is that they have a daytime event that offers a "less scary" experience and a nighttime event perfect for thrill-seekers. You can read all about our experience at Escape Maze Peterborough here.
Watch Our Fall For Peterborough Video
Interested in seeing more about our amazing fall weekend in Peterborough? You can follow the entire itinerary on our YouTube channel. If you love what you see, please like the video and subscribe to our channel.
How Would You Plan Your Peterborough Itinerary?
Spending a weekend in Peterborough offers a great chance to enjoy fun, family, and food. There is truly something for everyone here, whether you're visiting with kids or just enjoying some weekend warrior adventures. I hope that these tips for planning your Peterborough itinerary have been helpful.
And feel free to drop any questions or comments below. I always answer them.
If you're passionate about family travel, head on over to our Family Travel Support Group on Facebook. It's a fantastic community of parents who love travel. We share experiences, knowledge, and the lessons learned along the way. You can also sign up for our newsletter to keep in the loop about new family travel adventures.
Disclosure: We were guests of Peterborough and the Kawarthas tourism. All opinions remain our own. To learn about more great Peterborough activities and ongoing events, please visit their website.
Wandering Wagars is a participant in the Amazon Services LLC Associates Program, an affiliate advertising program designed to provide a means for sites to earn advertising fees by advertising and linking to amazon.com, amazon.co.uk, amazon.ca. Amazon and the Amazon logo are trademarks of Amazon.com, Inc., or its affiliates.
You May Also Like To Read: