Camping Kawartha Highlands Provincial Park offers an amazing alternative to Algonquin Park. It has all the beauty but without the crowds.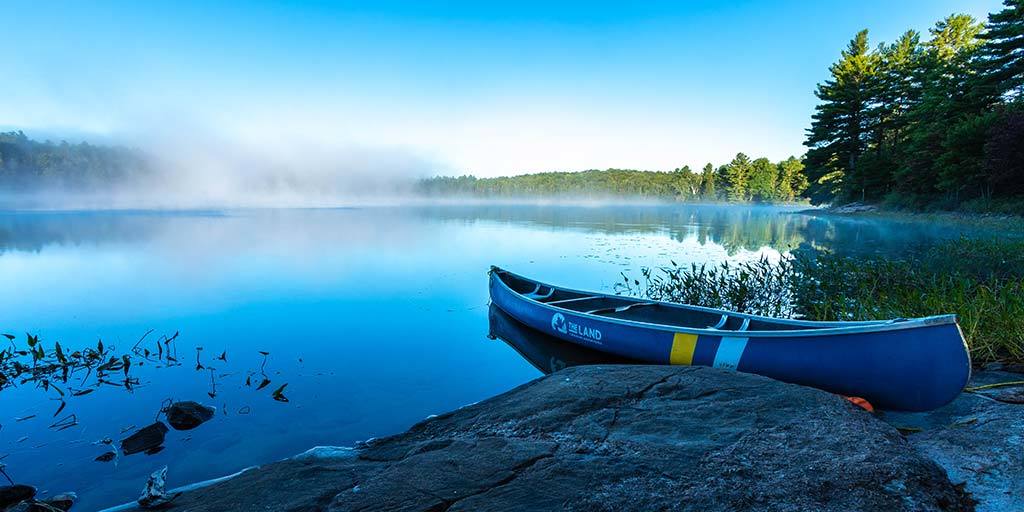 Peterborough and the Kawarthas in Ontario is where I grew up. I was born in Peterborough and spent my youth paddling the rivers and lakes surrounding the gateway to Ontario's cottage country. I still love exploring the parks in Ontario.
Whether it is nearby Silent Lake Provincial Park, or paddling along the majestic cliffs of Bon Echo. So when I was invited back to Peterborough to spend 3 days backcountry camping Kawartha with some fellow travel writers, I jumped at the chance.
I don't often travel without my children. Family camping is something I love, but I haven't done any backcountry with my kids. This would be a great opportunity to test out this Peterborough area provincial park prior to getting them involved.
The 5 of us, including Chris Mitchel of Traveling Mitch, Kathryn Dickson of Kathryn Anywhere, Kimberly Erin Davies of A Walkaboot, and Ryan Thomas Woods of Out with Ryan, packed up and made the journey to Apsley Ontario. There we joined the tripping company The Land – Canadian Adventures who would be guiding us on our camping in Kawartha Highlands Provincial Park adventure.
Before you head out, make sure you check out our tips for Ontario Parks camping so that these parks are here to enjoy for generations to come.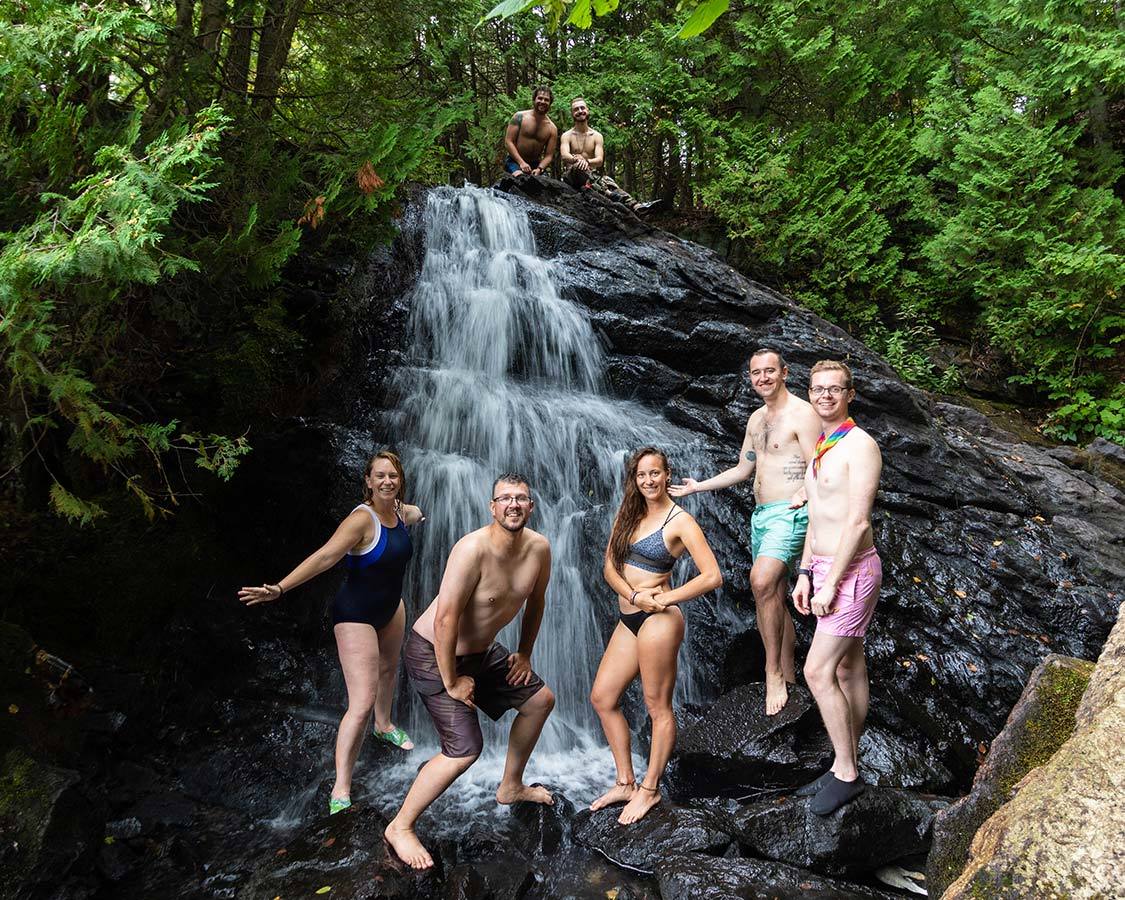 About Kawartha Highlands Provincial Park
As soon as we arrived at Anstruther Lake in the Kawartha Highlands, it was clear that this park was something special. Kawartha Highlands Provincial Park was established in 2011. This makes it one of the youngest provincial parks in Canada.
At 375 square kilometres, it is also the second-largest park in southern Ontario. It is second only to Algonquin Provincial Park. Kawartha Highland Provincial Park is entirely located within the boundaries of Peterborough County. This made the introduction of the park a huge point of pride for those in the city.
Kawartha Highlands Provincial Park As An Alternative to Algonquin Provincial Park
Kawartha Highlands Provincial Park is quickly catching on in popularity with paddle and camping enthusiasts. The close proximity and similar natural beauty to Algonquin Provincial Park make Kawartha Highlands Provincial Park canoeing and camping here a popular alternative to Algonquin Park.
Those looking to avoid the crowded and often difficult-to-book Algonquin are realizing that Kawartha Highlands offers all of the beauty with less of the frustration of Ontario's most popular provincial park. And as someone who loves fall in Ontario, I find that the colors of the Kawartha Highlands are even better than those of the Muskoka region.
Kawartha Highlands Provincial Park is about two hours from the Toronto Area, about the same as Algonquin Provincial Park. Although the traffic heading east towards Peterborough rather than north to Muskoka is a bit lighter. If you're looking for backcountry camping in Ontario, Kawartha Highlands is just as accessible, wild, and beautiful as its big brother to the north.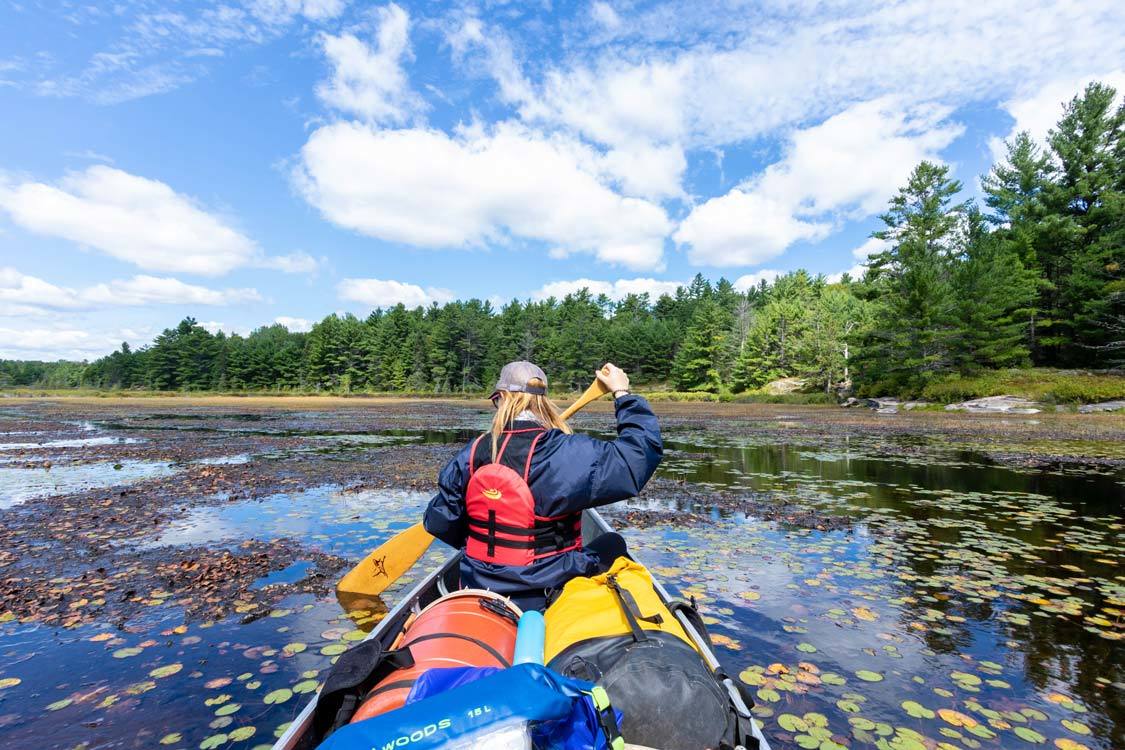 What You Need To Know Before Visiting Kawartha Highlands Provincial Park
Kawartha Highlands Provincial Park has very limited services compared to many provincial parks in Ontario. There are a number of backcountry and unserviced campsites spread throughout the many lakes within the park. But Kawartha Highlands Provincial Park has no official visitor center.
There are no serviced campsites, and there are no car camping sites. If you plan on camping at Kawartha Highlands Provincial Park, be prepared to canoe to one of the over 100 campsites within the park.
There are six recommended Kawartha Highlands Provincial Park canoe loops. The loops range from easy to moderate in difficulty. Campsites need to be reserved ahead of time. Unlike Algonquin Park, it's much easier to book Kawartha Highlands Provincial Park camping sites.
Amplified audio devices are not allowed on campsites within the park. And after a taste of the serene nature, I can completely understand why. You can check out the Ontario Provincial Parks brand new reservation system here.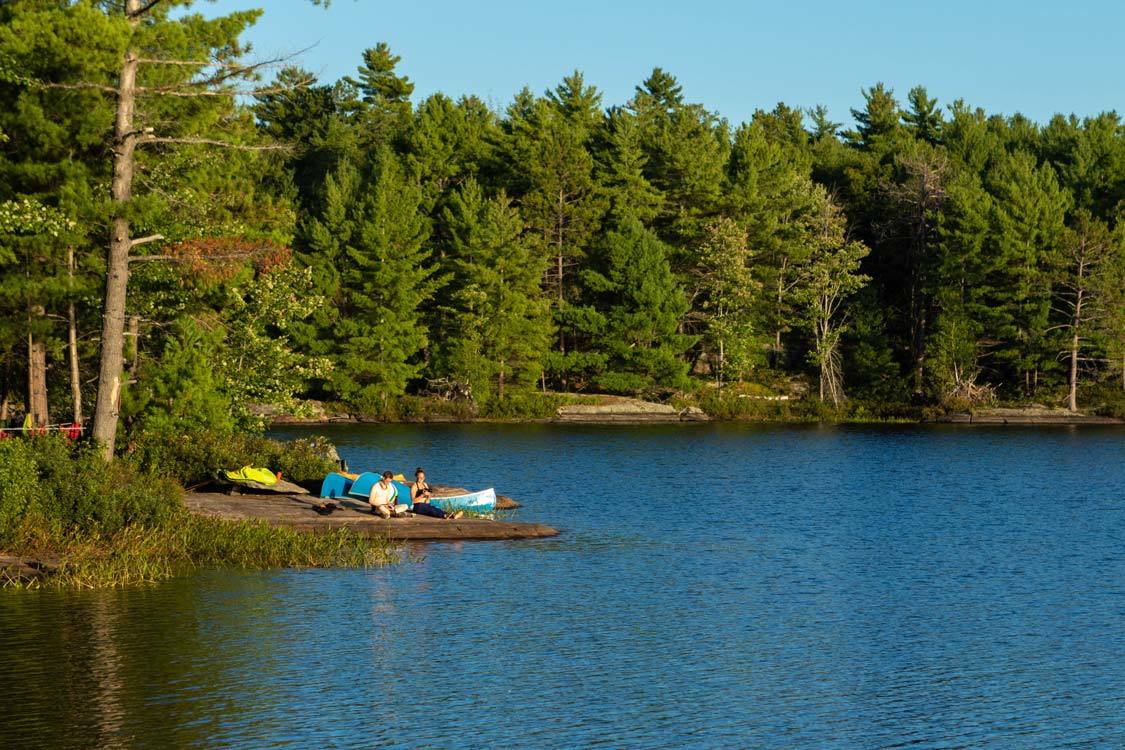 About The Land Canadian Adventures
The Land Canadian Adventures is a young tripping company based in Apsley. The company is run by Briagh Hoskins-Hasbury and her partner Bretton Clark. These two are absolutely wonderful people who have a deep passion for canoeing, the outdoors, and the Kawartha region.
The Land runs an amazing combination of outdoor experiences. They range from multi-day backcountry adventures to small yoga, photography, and forest therapy retreats. And if those aren't exciting enough, you can always join one of their "Paddle to the Pub" trips to the Canoe and Paddle Pub along the Trent River in Lakefield, Ontario. You can find out more about The Land Canadian Adventures here.
The crew at The Land served us absolutely amazing camp food, set us up with gear, and took care of a lot of the camp duties that helped the rest of us focus on experiencing the amazing nature that surrounded us. Without them, I would not have had a chance to capture so many great photos of this beautiful provincial park.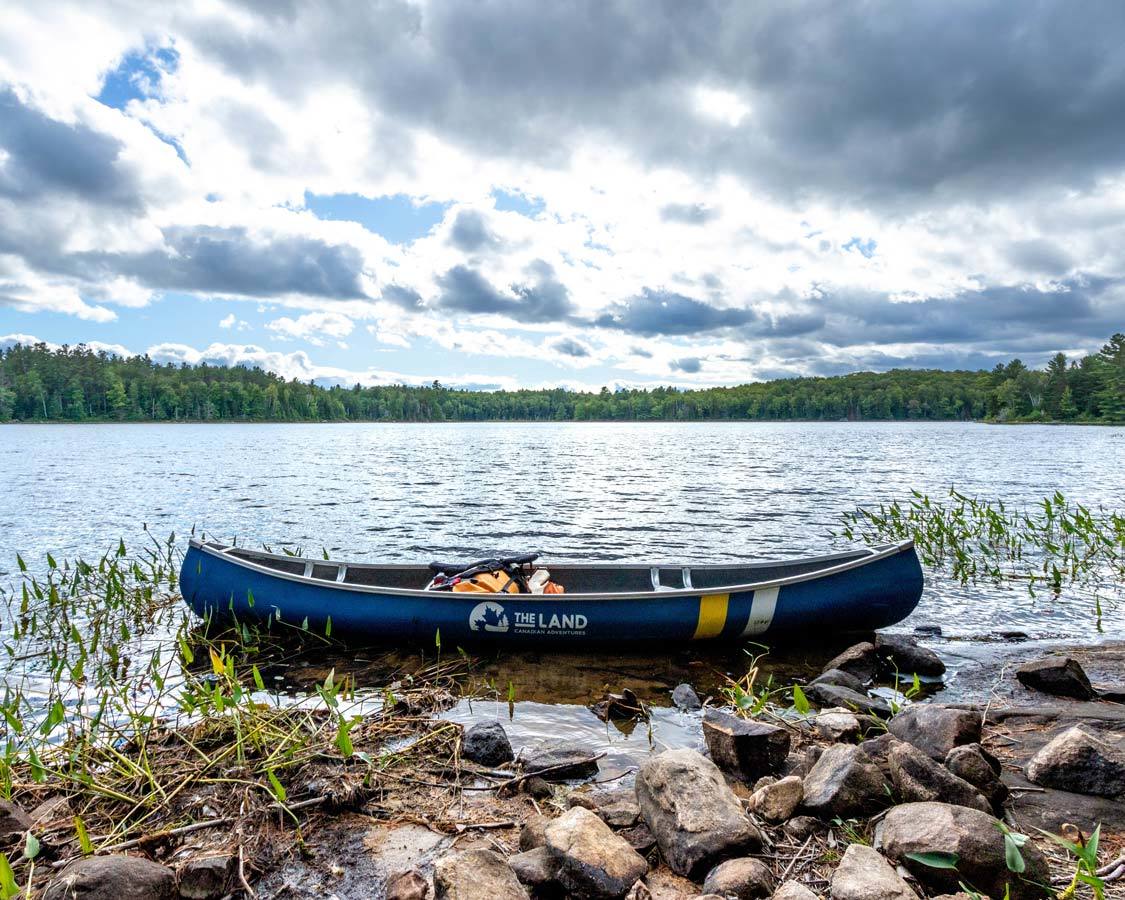 Canoeing And Camping Kawartha Highlands Provincial Park
Briagh and Bretton met us at their tripping cabin in Apsley. There we were introduced to our backcountry guides, Noah and Andrew. These two young men clearly had as much of a passion for the outdoors as the company founders. Our crew was outfitted with canoes, tents, sleeping bags, cooking gear, and food. We packed up the gear and made the short drive to the Anstruther Lake put-in to begin our Kawartha Highlands camping adventure.
Even though I was doing this Ontario backcountry camping trip without my kids, leaving parenthood behind was hard. Kathryn and I, who are the only parents in the group, and about a decade older than the younger members of our camping trip, were quickly labeled Mom and Dad by the rest of our crew. It seems that even when you leave the kids behind, the family adventure travel doesn't stop.
Kawartha Highlands Serpentine Loop
The route that Noah and Andrew were guiding us through is called the Kawartha Highlands Provincial Park Serpentine Loop. The Serpentine Route is a 2-3 day loop that explores some of the most beautiful lakes in Ontario. Our paddle of the Kawartha Lakes Serpentine Loop started out rough.
We had cold rain and high wind that made our initial paddle tough. But after circling the first bend towards Rathbun Lake, the wind began to die down, and the rain came to an end. The weather for the rest of our trip through Kawartha Highlands Provincial Park was nothing short of magic.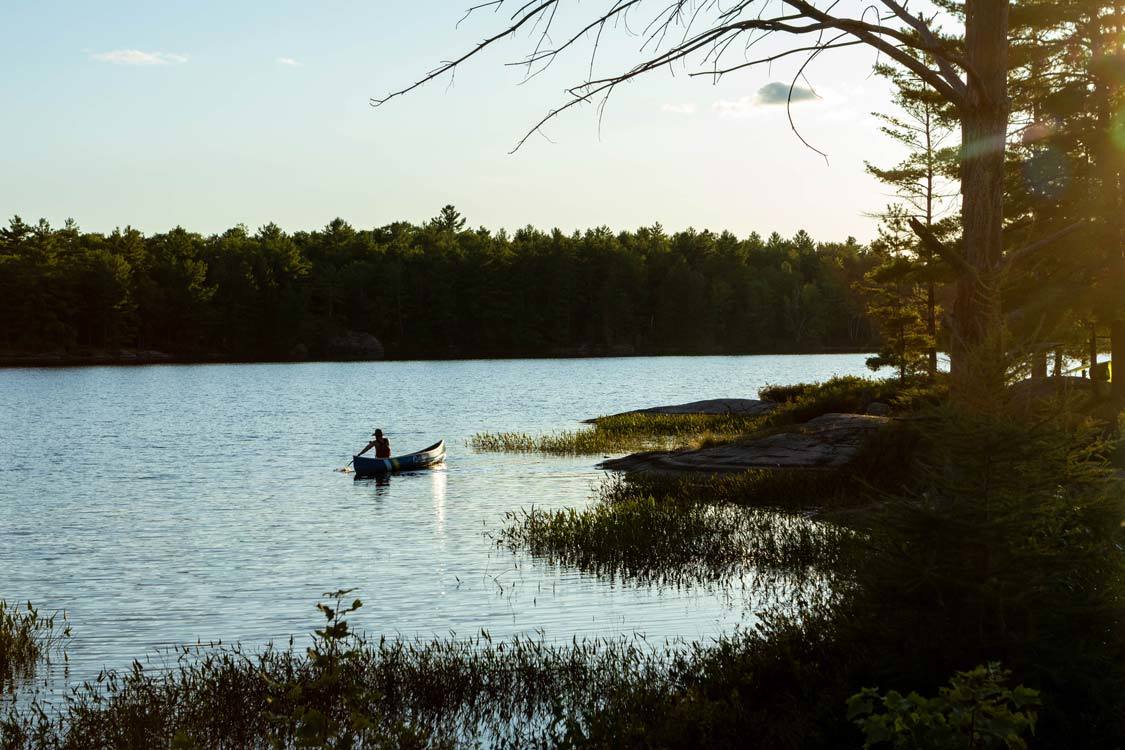 Anstruther Lake To Rathbun Lake To North Rathbun Lake
Because Kawartha Highlands Provincial Park is so young, there are still cottages dotted throughout many of the lakes. Anstruther Lake, being one of the park's main lakes with road access, has quite a few. Anstruther Lake can be a pretty busy lake during the high season.
It's also one of the park's biggest lakes, so it is known for being windy and wavy. Kathryn and I shared a boat for the duration of the trip. This was great, except when you get two content creators in a canoe, sometimes we forget that someone still needs to paddle!
The portage from Anstruther Lake to Rathbun Lake is an easy 200m stretch. It had been a long time since I had portaged, so it was nice to get myself warmed up with something easy. There is no fishing allowed on Anstruther Lake, so the put-in for Rathbun is often littered with boats left by anglers.
Once we got the canoes in the water again, it was clear that the Kawartha Highlands lakes were getting better and better. We were pretty excited about leaving the world behind at this point. There were far fewer cottages on Rathbun Lake, and we made our way along the relatively short stretch until the 164m portage to North Rathbun Lake.
North Rathbun Lake is very pretty. There were almost no cottages or cabins here, and we began to feel like we were getting into the park. We slowed down our paddling and began to relax as the sun broke through the clouds and bathed us in the warmth of late summer. The color of the rocks began to pop with beige, copper, and gold.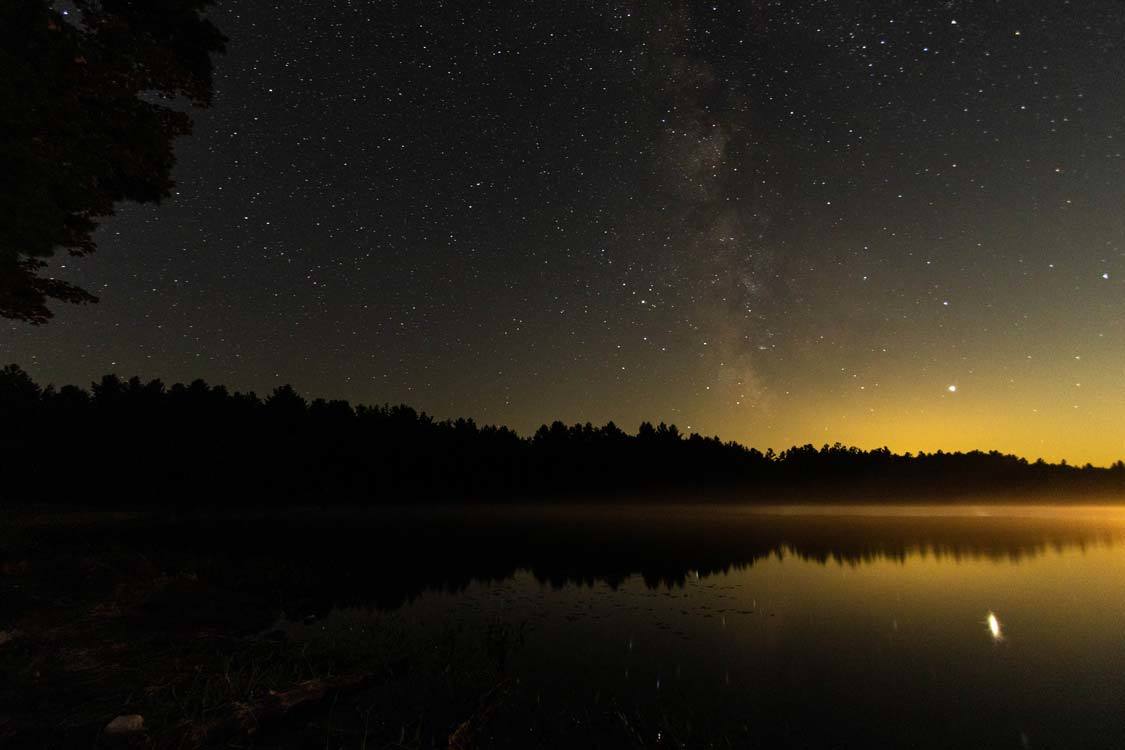 Camping On North Rathbun Lake
We set up camp at site #212. This site is located next to the long portage that we would be undertaking the next morning. But beyond convenience, Site 212 on North Rathbun Lake also has one of the best sunset views on the lake. Noah and Andrew set us up a feast of butter chicken and rice while the rest of us set up our tent for the night. The sky was clear, and we even got to see the milky way stretching across the sky.
Noah and Andrew also spent some time teaching us some safe foraging practices. We learned about getting vitamin C from sumac flowers, making wintergreen tea, and foraging for various fungi from within the park.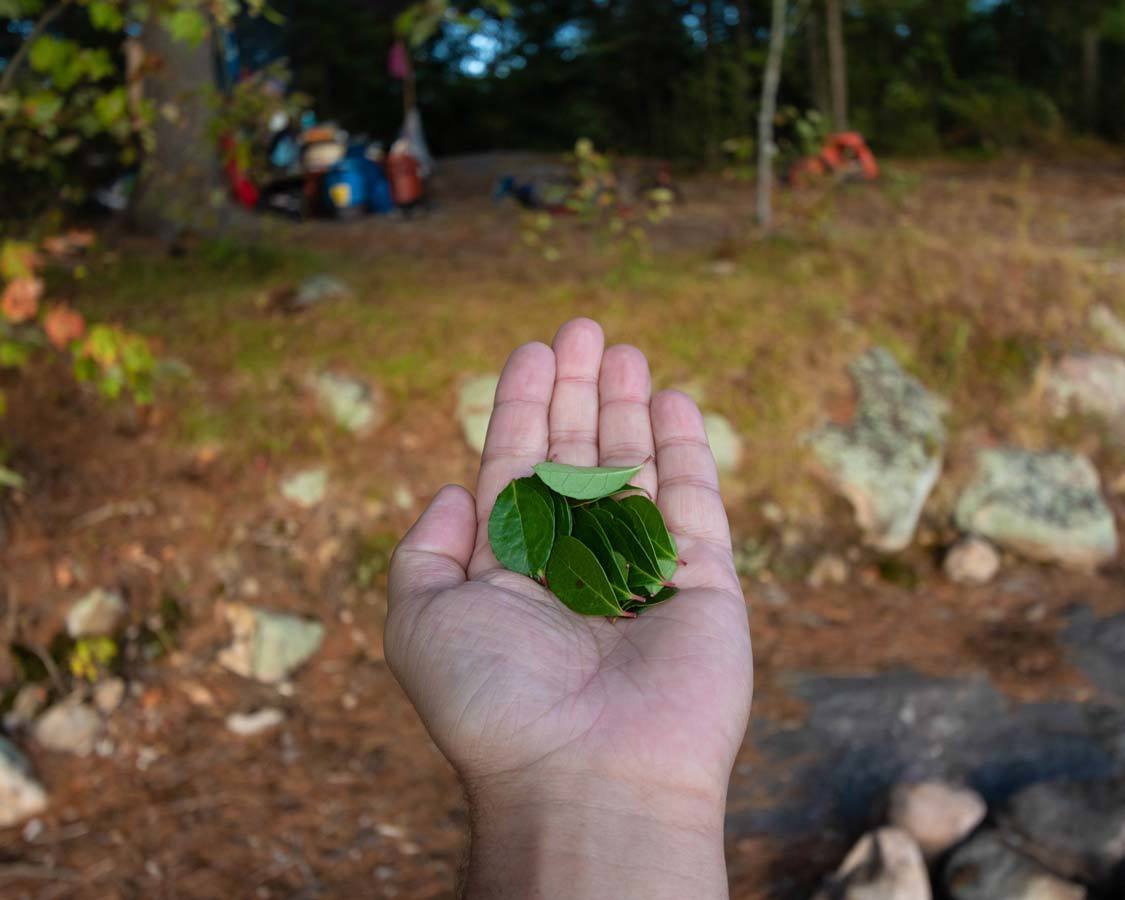 North Rathbun Lake To Serpentine Lake To Copper Lake
The next morning I woke early. There was a blue mist rolling onto the lake. I sat for a while watching the view as my fellow campers rose for the day one by one. We started with a heavy breakfast and packed up. Our morning would be starting with a 1,500-meter portage from North Rathbun Lake to Serpentine Lake.
The portage is not complicated, but it's long, and our canoes were heavy. Once we had made two trips with the gear, we stopped for a snack on the far side and put-in on a pretty narrow creek connecting to Serpentine Lake.
Once we entered Serpentine Lake, it was pretty clear why the Kawartha Highlands Provincial Park canoe route was named after it. Serpentine Lake is gorgeous. A winding, shallow, rocky body of water that looks like it would be right at home in Group of 7 paintings.
I was reminded of the landscapes of Killarney Provincial Park as we paddled towards the portage for Copper Lake. When we reached it, I had a yearning to stretch the trip by a day just so that we could camp one night on Serpentine Lake.
The Serpentine to Copper Lake Portage is a short and easy 220 meters.
The clouds rolled in as we set up camp, so we didn't get a sunset or stars that night. Instead, we sat by the campfire and sang along while Noah played guitar. We were lucky that there were no other campers on the island. Otherwise, our butchered rendition of Brown Eyed Squirrel might have had them calling in the park warden.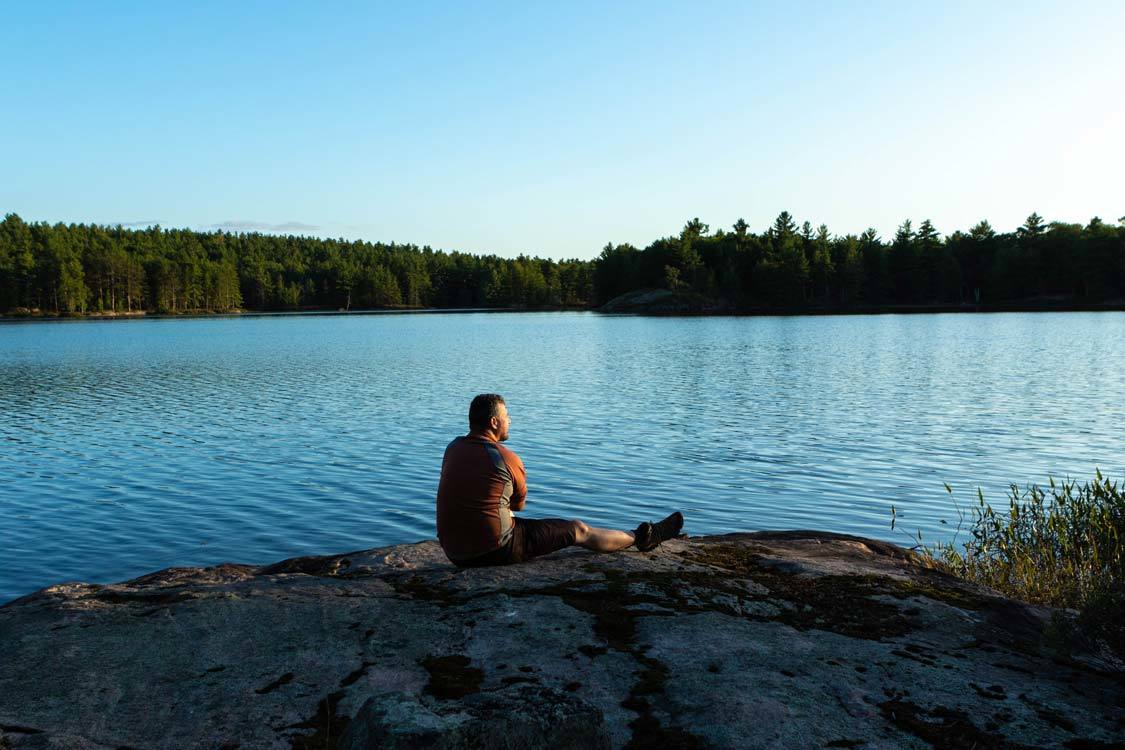 Copper Lake To Rathbun Lake To Anstruther Lake
We woke early the next morning for our pull-out at Anstruther Lake. We wanted to make sure that we had some extra time for a visit to one of the Kawartha Highlands Provincial Park waterfalls. The paddle to the Rathbun Lake portage was beautiful. The water was perfectly calm. The sun broke free of the clouds, and temperatures rose. When we reached the portage into Rathbun, we were sweaty and more than ready for a shower.
Between the Copper and Rathbun Lake is a beautiful waterfall running off a small gorge. It's a bit of a steep climb to get into and out of. And what happened here is what you would expect to see when 5 content creators who haven't showered in three days find a waterfall. We took photos. The waterfall was cool and refreshing and exactly what the doctor ordered after camping at Kawartha Highlands Provincial Park.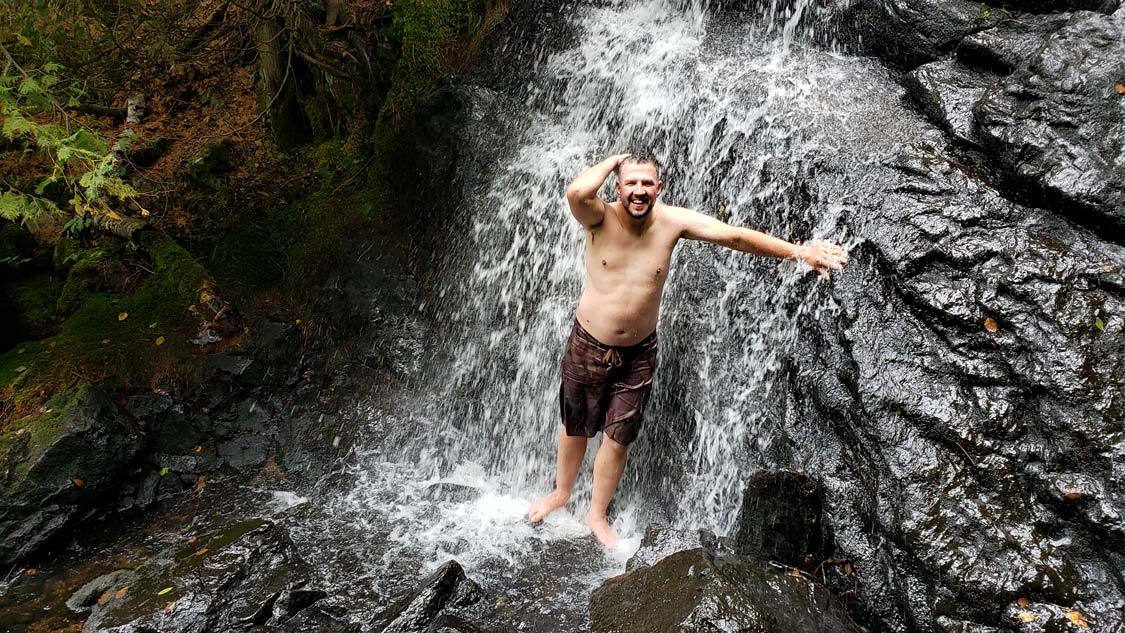 The portage ends in a beautiful and serene winding marshland. It may be one of the most peaceful places in the park. So, of course, Kathryn and I decided to challenge Kim and Chris to a race. It was the perfect way to test out the new paddling skills that Noah and Andrew had taught us the day before. Nothing breaks up serene beauty like a NASCAR 500 with paddles.
Our group made our final portage back to Anstruther Lake. The experience was a far cry from the wind and rain of our first day. The big lake was glassy smooth, and absolutely perfect for paddling. There was barely any traffic on the lake, and it seemed like we may have been the only ones on it for a while. With the calm water, we reached the pull-out in no time. Our Kawartha Highlands Provincial Park canoe adventure was at an end.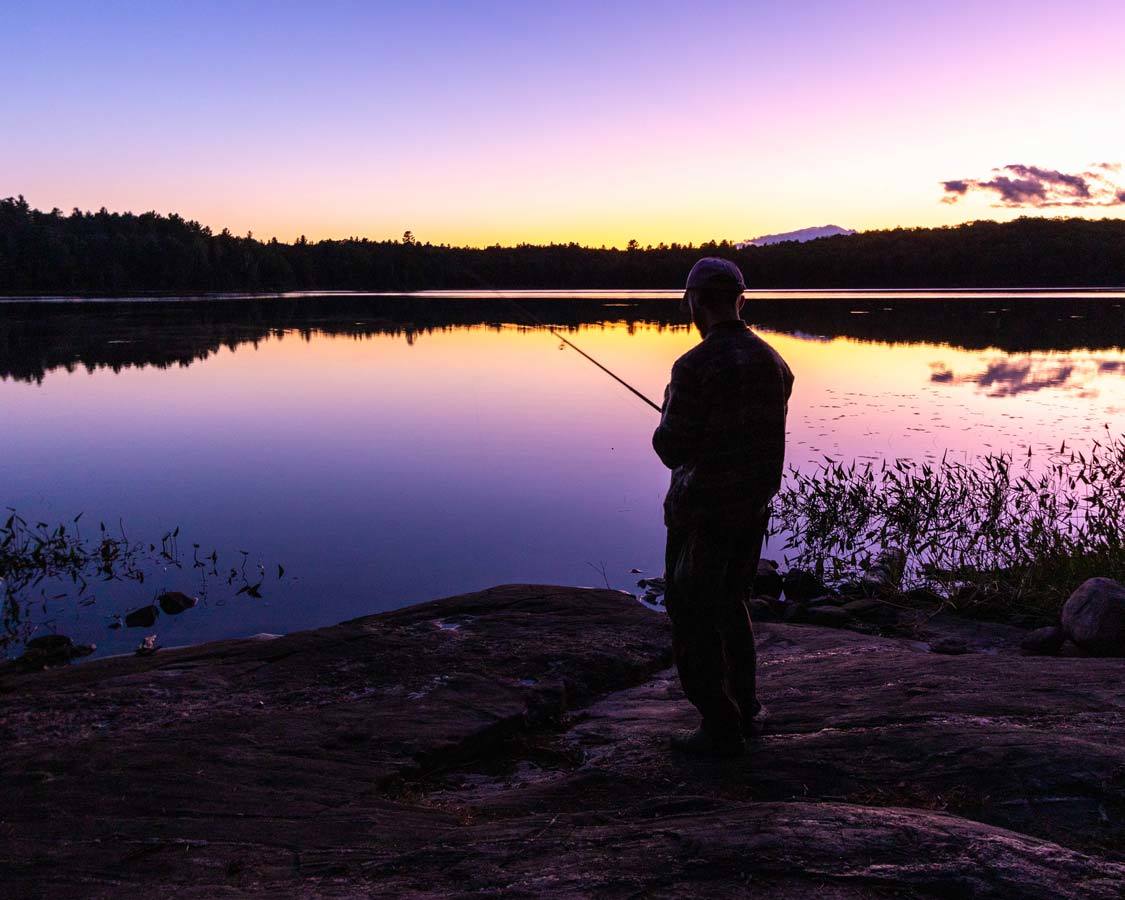 Saying Thank You To Kawartha Highlands Provincial Park
One of the most powerful parts of our Kawartha Lakes camping adventure was the appreciation that The Land Canadian Adventures team paid to the indigenous history of the land that we were visiting. I had spent a good part of the summer taking part in indigenous tourism experiences in Quebec.
Paying tribute to the stewards of the land is always an important part of appreciating the blessings that surround us within Canada. Noah led us in a simple thank you at the edge of the water. We dipped our hands in and focused on our appreciation of the park's beauty and giving thanks for our chance to experience the nature that surrounded us.
Have you ever done a camp or canoe trip in Kawartha Highlands Provincial Park? Drop a comment about it below or swing over to our Facebook Page and share a photo of your experience. We would love to share in your adventures.
Disclosure: Our Kawartha Highlands Provincial Park camping experience was made possible with the support of Peterborough and the Kawartha's Tourism. All opinions remain our own. Wandering Wagars is a participant in the Amazon Services LLC Associates Program, an affiliate advertising program designed to provide a means for sites to earn advertising fees by advertising and linking to amazon.com, amazon.co.uk, amazon.ca. Amazon and the Amazon logo are trademarks of Amazon.com, Inc. or its affiliates.
You May Also Like To Read:
Pin This For Later: