Quebec indigenous tourism is exploding in popularity. Check out these incredible aboriginal tourism experiences in Quebec this summer.
Canada is awesome. This is our home country and with its massive size, even locals can find it hard to participate in the wide variety of travel experiences in Canada. Aboriginal tourism experiences are among some of the Canadian experiences that are often overlooked by locals, yet pursued by those coming from overseas. But a recent upsurge in aboriginal tourism experiences in Quebec has helped open the doors for those wanting to learn more about the incredible people who called Canada home long before the Europeans arrived. We made the drive from Toronto to Quebec City to tour some of the best Quebec indigenous experiences available, and our eyes were opened wide.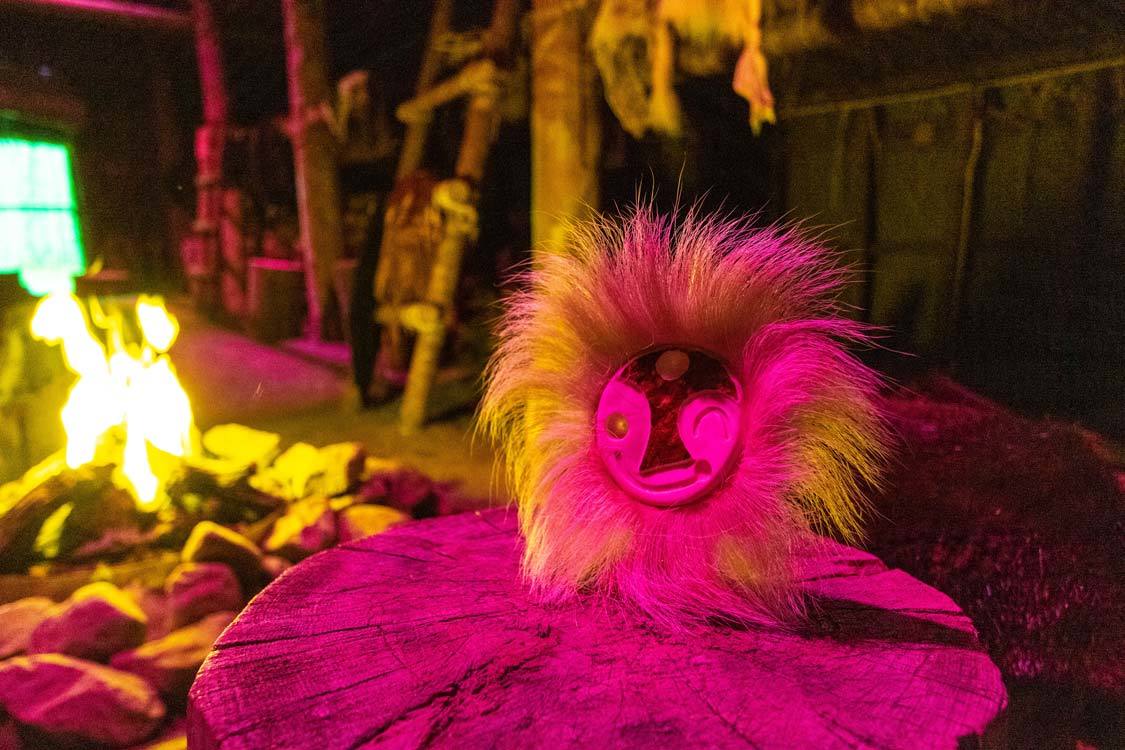 The Nuances Of Indigenous Tourism In Canada
Understanding indigenous tourism in Canada can be complicated. In the past few decades, there has been a huge sway in the way that Canadian indigenous cultures have been perceived. Languages and terminology are seemingly always changing. And there has been a push to help the First Nations gain back the land and rights that were once taken away. When our family experienced our first pow wow on Manitoulin Island in Ontario, I felt like a fish out of water. I didn't know the rules, and I was terrified of saying or doing something that might offend someone.
But since then I've made a point to engage with as many First Nations in Canada and indigenous people around the world in order to gain a better understanding of culture, heritage, and history. And by encouraging families to take part in First Nations tourism in Quebec and all of Canada, I hope that more families will learn to appreciate and love the inspiring cultures that helped shape this amazing nation.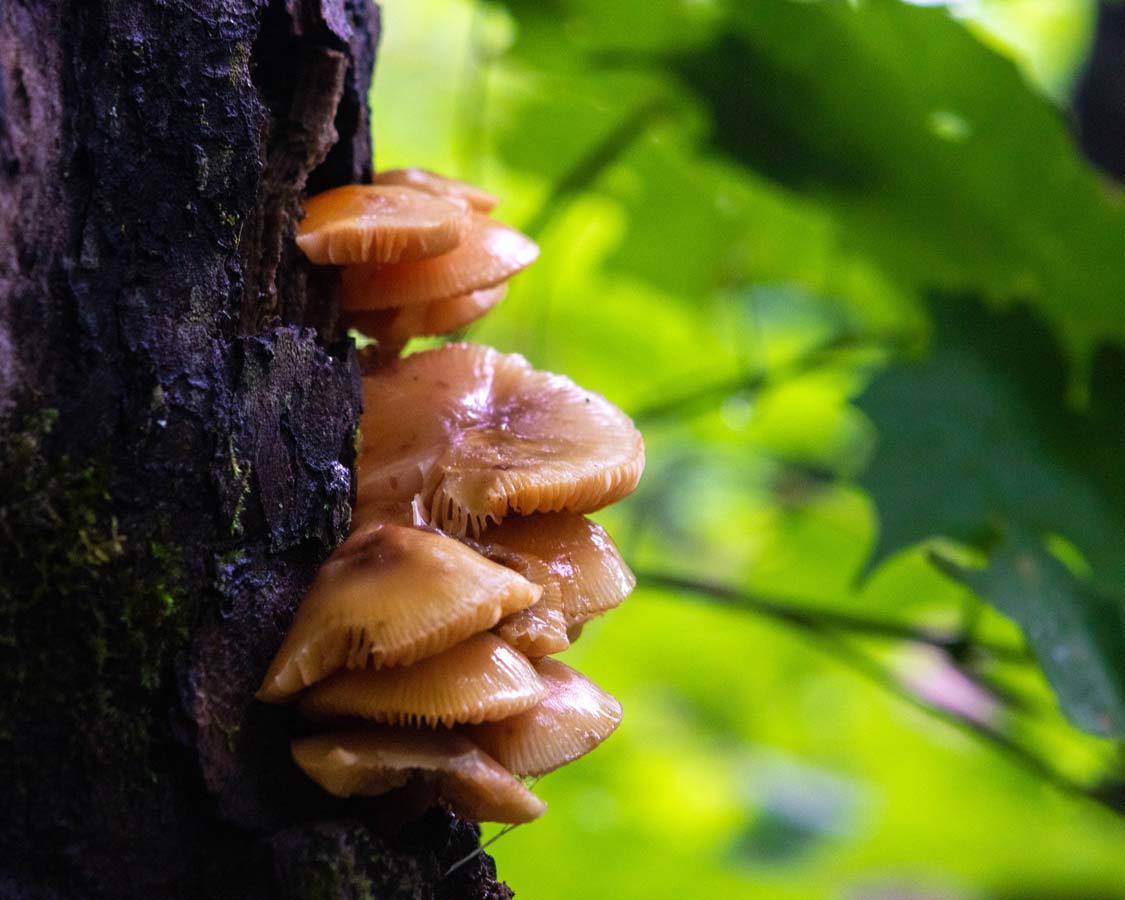 Amazing Aboriginal Tourism Experiences In Quebec
Quebec indigenous tourism is absolutely exploding. There are 11 First Nations spread throughout dozens of communities across the province. Because of this, Quebec offers one of the most diverse glimpses into the culture of Canada's First Nations. In fact, with the exception of British Columbia, Quebec offers one of the largest collections of indigenous tourism experiences of any of the Canadian provinces.
The nations that make up the distinct ethnic groups within Quebec include the Abenakis, Atikamekw, Cree, Malecite, Mi'kmaq, Innu, Naskapi, Wendat, and Mohawk. Each nation has it's own unique stories, traditions, and culture. And one of the most fascinating parts of indigenous tourism in Quebec is seeing how they all inter-relate with each other. You can learn about some of these memorable aboriginal experiences in Quebec below.
1. Take Part In The Largest Pow Wow in Eastern Canada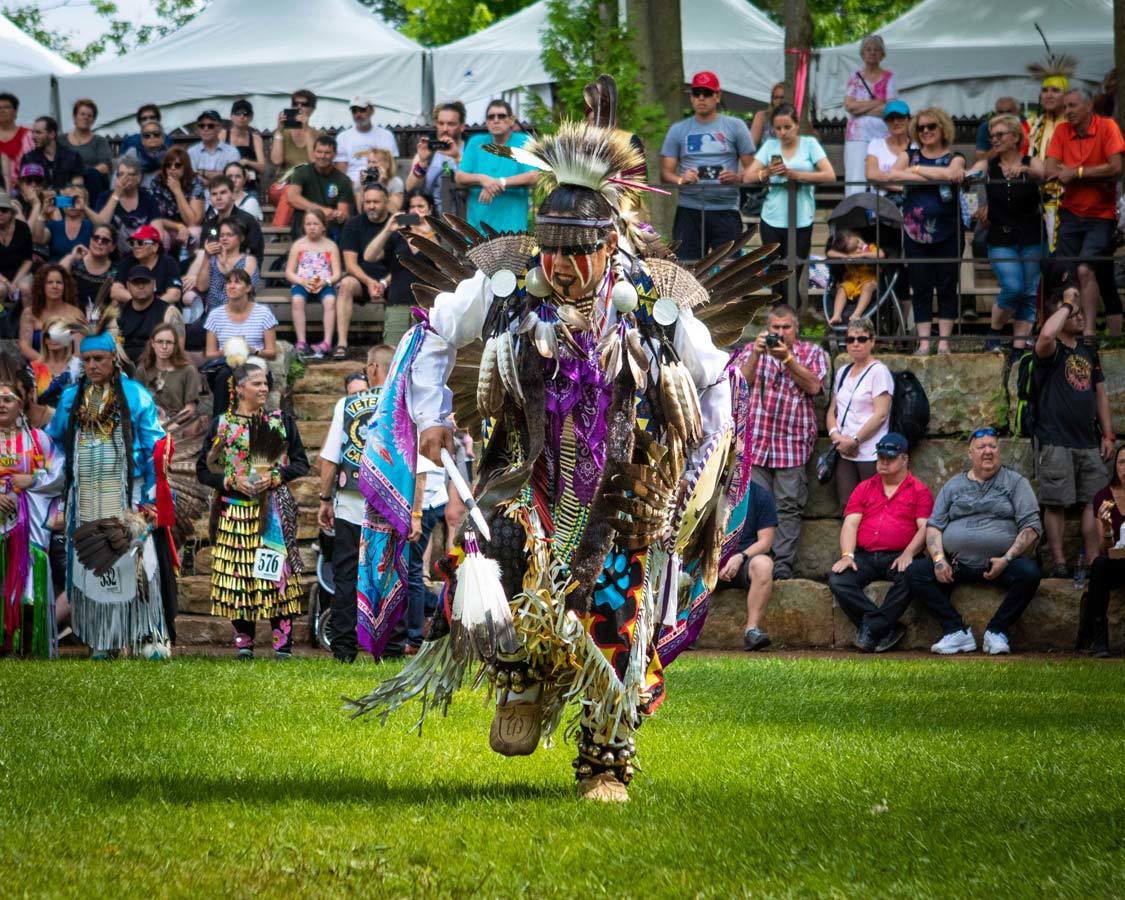 A pow wow is an incredible celebration of First Nations culture. We took part in a few pow wows in Ontario, but the Wendake pow wow is on an entirely different level. The town of Wendake is run by the Wendat nation and is a suburb of Quebec City. This makes it one of the most accessible indigenous destinations in Quebec. Because if it's close proximity to Quebec City, Wendake sees over 250,000 visitors a year. Visitors to the Wendake pow wow often number over 20,000. The pow wow in Wendake takes place on the last weekend in June. It combines drumming, dancing, Indigenous food, art, and entertainment. This event is fun for everyone. In fact, over 90% of attendees aren't from First Nations but are the curious or passionate who come to Wendake for one of the greatest parties in Quebec.
The Wendake pow wow often pairs traditional dancing and regalia competitions with first nations entertainment in the evening. These include DJs, live music, and more. For the kids, there are game zones to keep them busy. And of course, there is the legendary First Nations food. Both local restaurants such as La Traite and Saga, and visiting food trucks offer their most creative dishes to the thousands of guests on hand. You can experience some of these at home with our list of easy Indigenous-inspired recipes.
2. Combine Luxury Accommodations And Education At The Hotel Musee Premieres Nations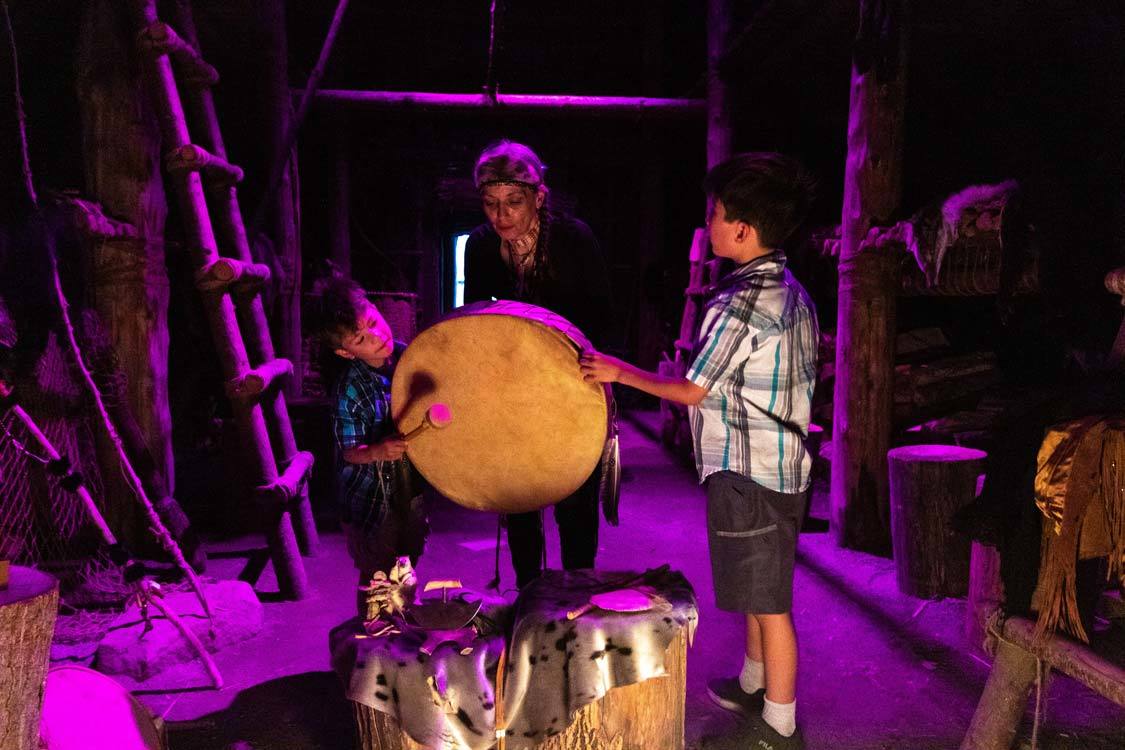 Also located in Wendake is one of the premier experiential hotels in Quebec, the Hotel Musee Premieres Nations. This gorgeous hotel is Wendat run and combines high-end accommodations with an indigenous museum housing crucial and valuable items of the First Nations history. The museum itself is small but well-stocked and offers a fascinating retrospective on Wendat and First Nations history.
One of the best ways to feel in-tune with First Nations culture is on the water. So much of the country's history involved canoeing for trade, travel, and fishing. The Akiawenrahk river which runs along the border of Wendake is a sacred river to the Wendat people. The Hotel-Musee Premieres Nations also offers a package where you can canoe along the sacred river followed by a hike into town. This takes you to the Huron/Wendat traditional site. A recreation village where you can learn more about the Wendat and First Nations through buildings and interactive exhibits.
The hotel is also a destination for those doing a day trip from Quebec City. Often these day trips involve taking part in the longhouse storytelling experience, or just enjoying the highly rated Nature Spa that is on the lower floors of the hotel. Whether you are looking for luxury accommodations, unique experiences, or incredible storytelling by captivating people, Hotel Musee Premieres Nations should be on your list. You can read all about our experiences in Wendake here.
3. Go Whale Watching Near Essipit Quebec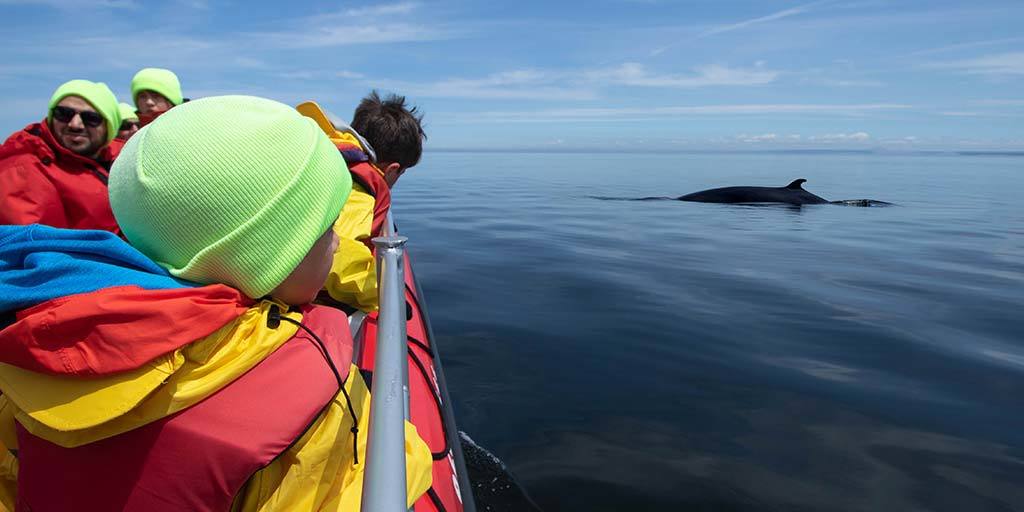 Essipit is a community of the Innu nation located just north-east of the city of Tadoussac along the St. Lawrence River. They offer a stunning indigenous-run whale watching experience that is not to be missed. While you won't be learning about Innu culture on this trip, you will be supporting indigenous-run businesses and promoting the growth and prosperity of the nations.
The Vacances Essipit whale watching takes visitors by zodiac boat deep into the St. Lawrence. During our St. Lawrence whale-watching adventure we saw Minke and Fin whales. And we didn't just see a few. We saw so many whales that we almost didn't know which direction to look. At times our small boat was literally surrounded by dozens of whales.
4. Experience Backcountry Fishing At Pourvoirie Lac A Jimmy Near Tadoussac
Another Essipit-run experience is Pourvoirie Lac A Jimmy. This series of backcountry fishing lodges near Tadoussac is an absolute must for those who are looking for a rugged back-to-nature experience. Pourvoirie Lac a Jimmy conducts black bear viewing and guided fishing expeditions. The property itself contains more than a dozen lakes!
These indigenous-run lodges are perfect for families. There is solar power, screened porches, full kitchens and more. Each lodge has access to paddleboats, kayaks, and rowboats. You can also borrow electric boat motors if you don't feel like rowing the boat yourself. Whether you want to spend your time fishing for trout and salmon, or just sit on the porch and watch the sunset, Pourvoirie Lac A Jimmy is a great place to relax.
5. Commune With Nature At Hebergement Aux Cinq Sens In Piopolis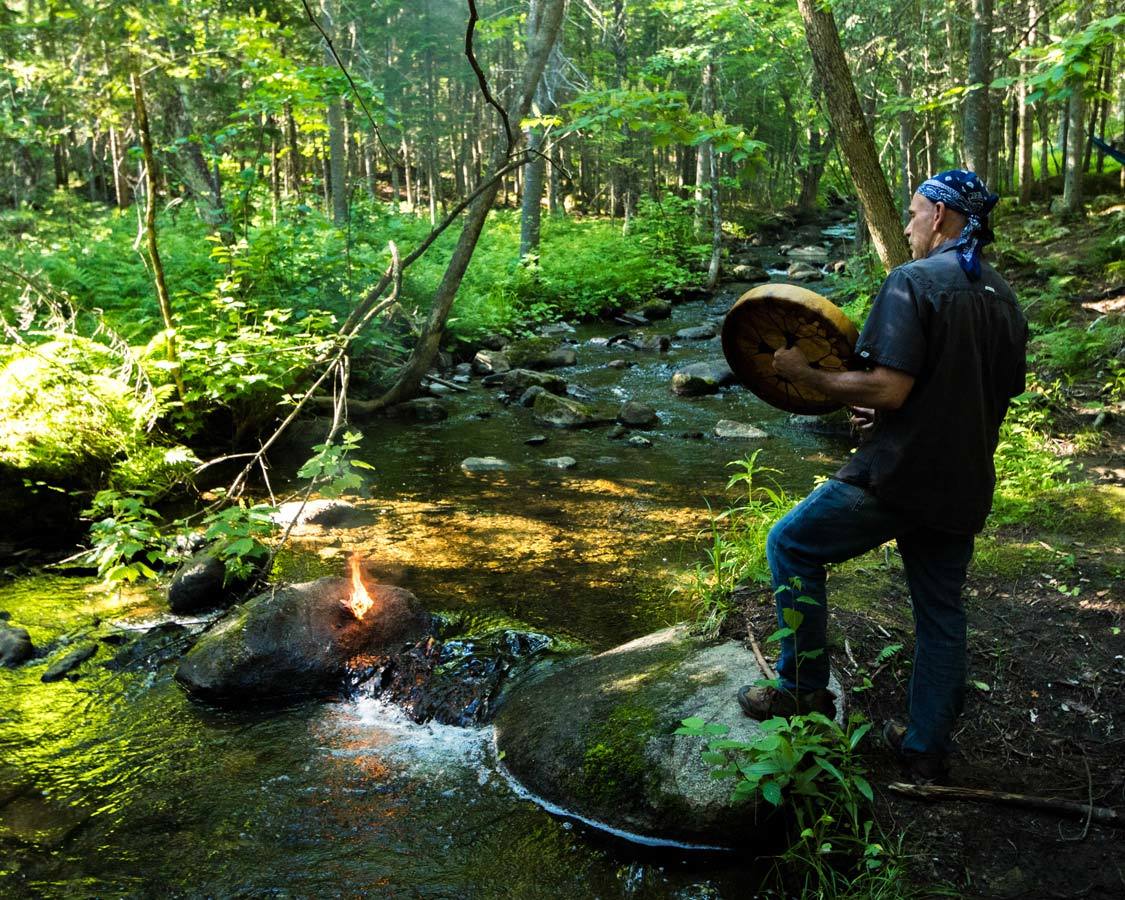 On the edge of the small town of Piopolis in Quebec's Eastern Townships is one of our favorite places for aboriginal tourism experiences in Quebec. For those looking to commune with nature, Hebergement aux Cinq Sens is for you. Hebergement aux Cinq Sens is run by Wendat owner Paule Rochette and her partner Benoit Paquette. These two share an absolute love for nature and have built their retreat as a place where couples, groups, and even families can learn about First Nations history through storytelling and guided walks.
Benoit is a magical storyteller who seems to have had his life perfectly shaped to share experiences, music, and the sciences. All of these aspects come together through the entire experience at Hebergement aux Cinq Sens. When visitors arrive at Aux Cinq sens, they are brought to their Mongolian-style yurts among the beautiful forest. There is a communal fire pit to promote conversation and interactivity. While there is easily room for more accommodations on the property, the numbers have been limited to ensure that there is a balance on the property and that visitors use no more resources than the property can sustain.
6. Walk Through The Seasons At The Musee De Abenakis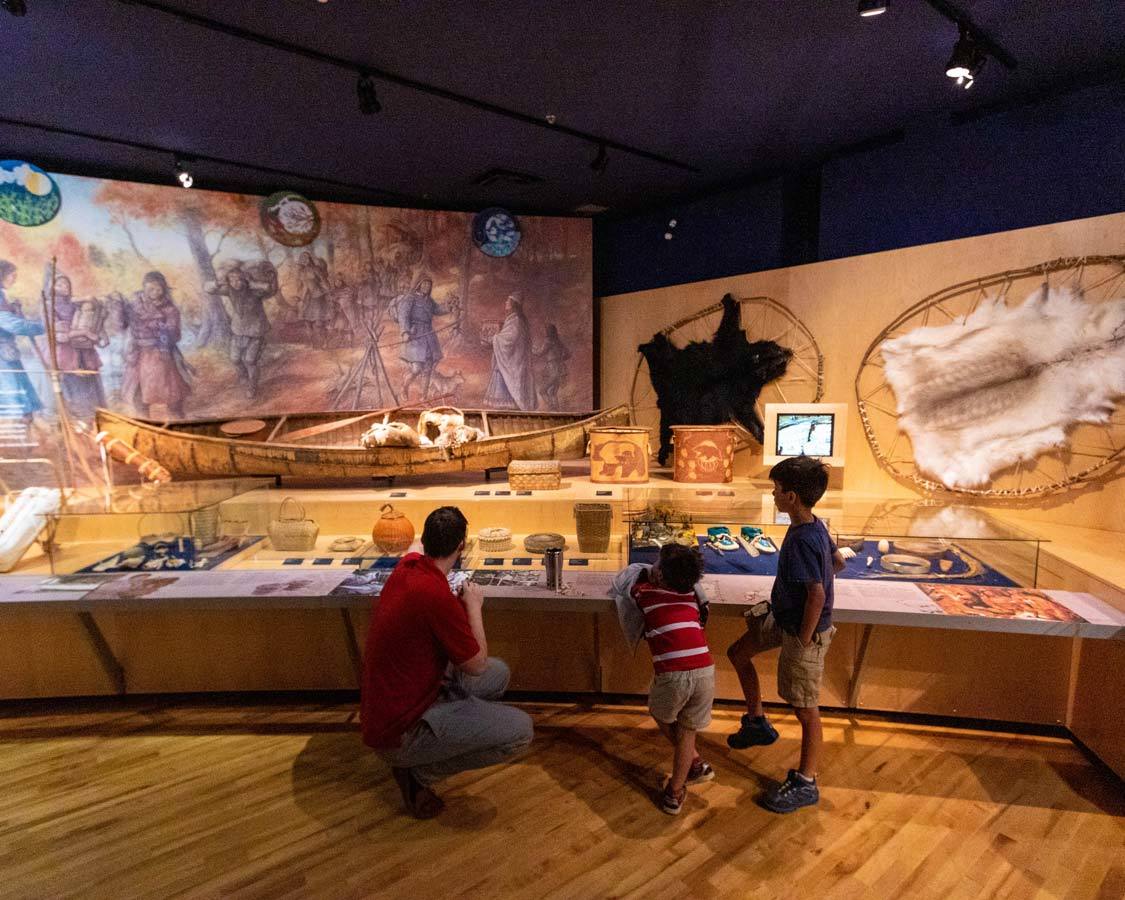 The Musee de Abenakis in Odenake, Quebec offers one of the best new media storytelling experiences among the aboriginal tourism experiences in Quebec. The museum is small but packed full of fascinating displays. These displays walk through the seasons of the Abenakis Nation. The seasons are each dictated by the full-moon cycles. Each full-moon tells the people which activity the season calls for. Hunting, fishing, harvesting, and more are laid out in beautiful dioramas. The creation story of the Abenakis is told through a visually stunning presentation on the second floor of the museum. Offered in both English and French, this experience alone makes the museum worthy of a visit.
For visiting families it is also possible to participate in a craft making activity. C and D very much enjoyed making their own toys using corn husks similar to what many aboriginal children of the area would have done historically.
7. Combine Luxury With Rustic Nature At Amishk Adventures In The Lanaudiere region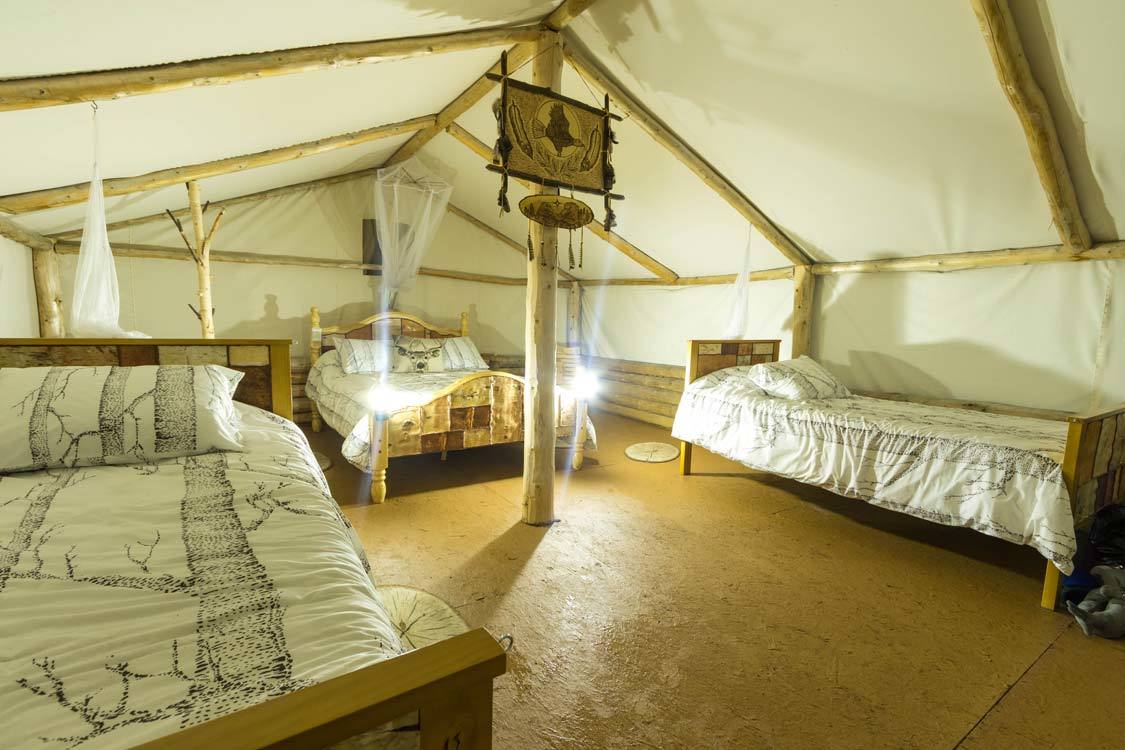 If you love the idea of experiencing raw Canadian nature but love sleeping in blissful comfort at night, the Amishk Adventures experience north of Saint-Calixte might be for you. Amishk Adventures is located deep in the forests of the Lanaudire region. The adventure starts right away when visitors are brought in by All-Terrain-Vehicles for one to two-night indigenous experience packages. The Amishk Adventures packages included all meals, canoeing, beaver watching, art and craft making, and storytelling.
The landscape of the Amishk camp is rough, akin to what one would find backcountry camping, especially when it has been raining. The lakes are gorgeous with trees poking from the water and mist often rising from the surface during the summer humidity. Visitors have a choice of accommodations. You can choose the teepees, which have sleeping bags on top of mattresses and spruce beds, or the frontier tents which have luxurious beds and porches with a view.
Why You Should Participate in Aboriginal Tourism Experiences
Aboriginal tourism experiences in Quebec are a great way to open up your mind and take in the rich heritage of Canada. There are indigenous experiences in Quebec for every travel style. So whether you are looking to soak in luxury, or head into the woods in search of wild animals, you can find something here that is perfect for you. These adventures are sure to leave you with a greater appreciation of Canada's first people and a richer knowledge of the culture of this great nation.
Disclosure: This post was made with the support of Quebec Aboriginal Tourism This post may contain compensated links. Find more info in our disclaimer. Wandering Wagars is a participant in the Amazon Services LLC Associates Program, an affiliate advertising program designed to provide a means for sites to earn advertising fees by advertising and linking to amazon.com, amazon.co.uk, amazon.ca. Amazon and the Amazon logo are trademarks of Amazon.com, Inc. or its affiliates.
You May Also Like To Read:
Pin This Post For Later: