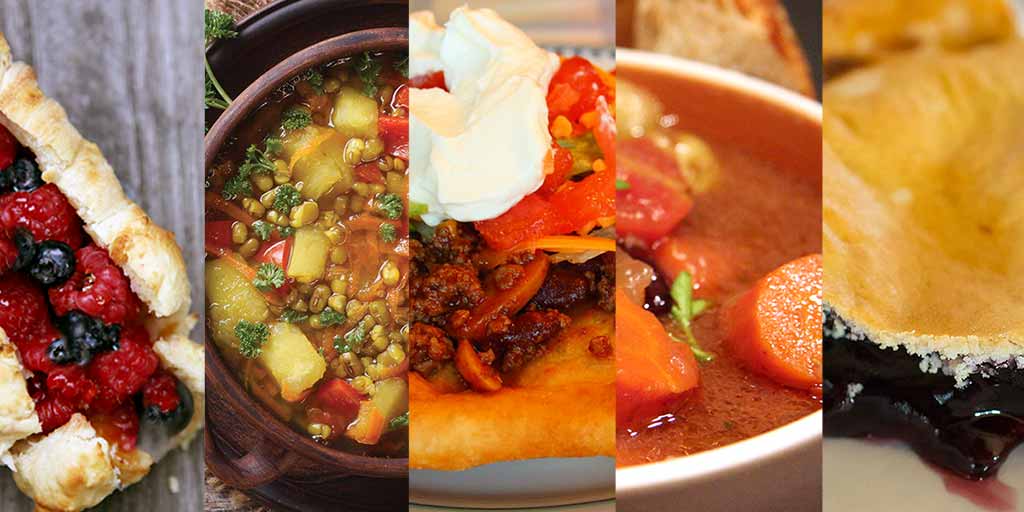 Canada is rich in Indigenous history. Thousands of years before Europeans arrived, Indigenous people thrived across the land. Many Indigenous traditions still thrive among the Indigenous communities. My family and I have been lucky enough to have taken part in incredible celebrations and traditions during our Aboriginal road trip through Quebec as well as amazing Indigenous experiences right here in Ontario. To celebrate these experiences, I wanted to share some of my favorite Indigenous recipes and Indigenous-inspired recipes that you can make at home.
Indigenous experiences in Canada should be a part of everyone's travels in the country, whether they are local or from abroad. Whether you're experiencing a pow wow for the first time or taking part in an Indigenous storytelling experience, you'll gain a much richer sense of what it means to be Canadian.
Nowadays, Indigenous fusion restaurants have begun springing up across the country. Places like the Hotel Musee Premiere Nations in Wendake Quebec are examples of traditional Indigenous-inspired recipes being used in high-end restaurants. And from Vancouver to Toronto, more and more Indigenous restaurants have popped up as a greater audience recognizes the amazing flavors and health benefits of traditional Indigenous foods.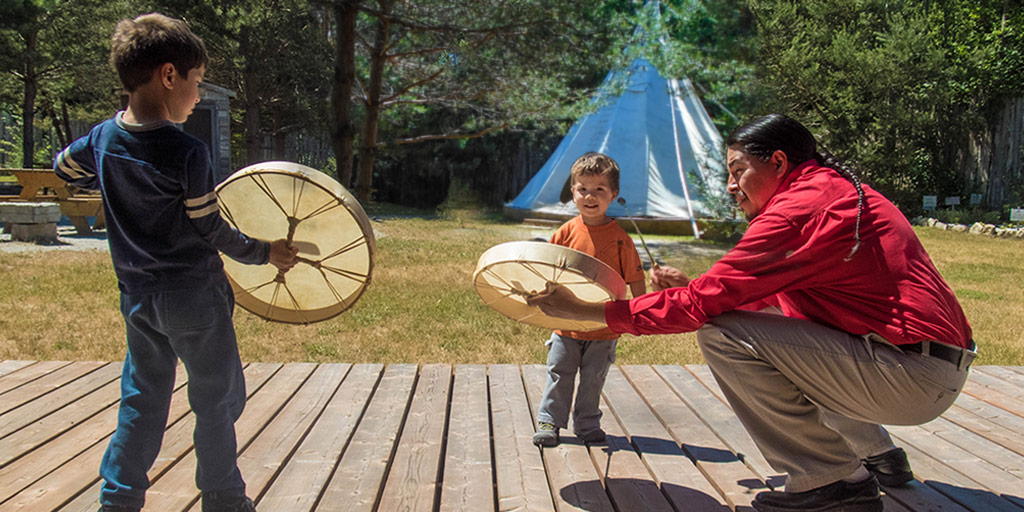 What Is Indigenous Food Like?
Indigenous recipes are often based on traditional ingredients. This often means combining the three sisters or the three staples that make up much of the traditional Indigenous diet in North America. The three sisters consist of corn, squash, and beans. The story behind the tradition of the three sisters is one worth knowing before you begin.
Many Indigenous meals begin with a base of plants and meat that can be harvested from the land and sea around us. Many traditional Indigenous recipes use moose, caribou, elk, seal, buffalo, rabbit, salmon, and more. Plants such as corn, squash, fiddleheads, wild rice, nuts, and berries were used as well
Food was, and still is a very important part of Indigenous life. And traditionally, every part of the animal was used for either food, clothing, tools, or shelter. Eating traditional isn't just delicious, there are loads of health benefits to eating fresh Indigenous cuisine as well. By sticking to food that isn't processed, you ensure that you know exactly what you're eating.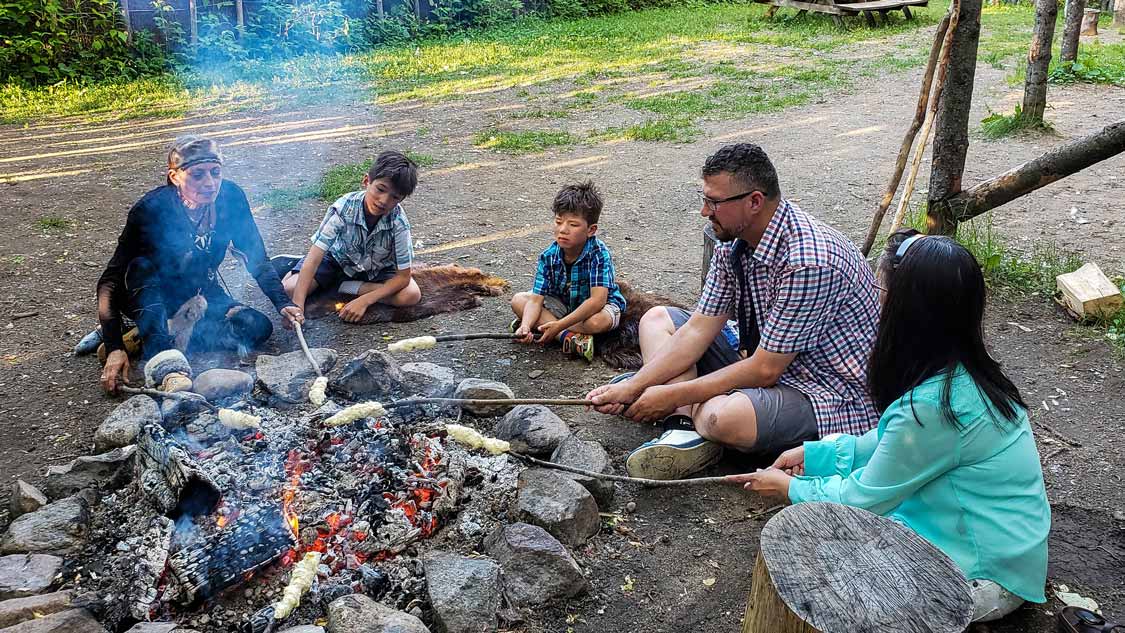 Here Are My Favorite Indigenous-Inspired Recipes To Make At Home
My family absolutely loves attending pow wows. The dancing and revelry is a big part of that. But another huge part of the fun of attending a pow wow is the mouthwatering food you find everywhere. Often when we come home from one of the local celebrations we'll whip up some of our favorite Indigenous-inspired meals so we can re-live the experience.
We're always looking for new Indigenous experiences in Canada, but while we spend our time exploring we'll continue to try new Indigenous foods at home and on our travels. And to help you enjoy them as well, I've created this list of my favorite Indigenous recipes that you can make at home.
Easy Bannock And Berries Recipe
There are few foods that I associate more with Indigenous recipes than bannock and berries. I grew up eating this tasty treat at childhood camps before learning of its aboriginal origins. Bannock and berries are as much a comfort food as they are a staple among the first people of Turtle Island.
My family has gone on to make this dish at the Great Spirit Circle Trail on Manitoulin Island in Ontario as well as on a Wendake storytelling experience in Montreal, Quebec. And I think we've got the recipe and the technique squared off!
Bannock is a super easy Indigenous recipe. But it can be varied in the way its served. Traditionally it's a simple combination of flour and water. It can be deep-fried, baked, or, as is traditional, cooked on a stick over an open flame. You can serve bannock with meat, with stew, or, my favorite, enjoy bannock with wild berries.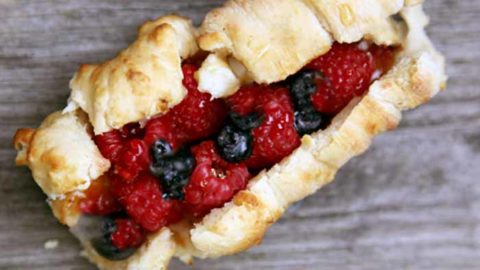 Traditional Bannock And Berries Recipe
This fast and easy bannock and berries recipes is one of the easiest and most delicious ways to experience a traditional indigenous recipe at home. It's also a perfect treat for the camp site.
Ingredients
Bannock
3 cups flour
1 1/2 cups water
3 tbsp baking powder
1/2 cup sugar
1 tsp salt
Vegetable oil for frying
Raspberry compote
2 cups raspberries
1/2 cup white sugar
1/2 lemon. Juiced and rind
1 pinch salt
Instructions
Preheat vegetable oil in a deep frying pan to 350 degrees Fahrenheit. (It's also possible to bake or cook the bannock over an open flame).
Mix flour, sugar, baking powder, and salt together in a medium-sized bowl.
Add water and mix until dough becomes thick and sticky. Do not over mix or the dough will become tough.
Roll the dough into a large ball and slice into 12 equal pieces.
Flatten each ball of dough with your hands.
Drop dough into the oil and fry until it is golden brown on both sides and soft, but cooked inside.
For the raspberry compote cook the berries in a saucepan over medium heat until soft.
Add sugar, lemon juice, rind, and salt.
Continue cooking until the sugar is dissolved.
Serve bannock drizzled with compote.
Three Sisters Soup
There are few foods that are more steeped in lore among the Indigenous people in Canada than the three sisters. Corn, squash, and beans can be found at the center of many traditional Indigenous recipes. These were three vegetables that were in abundance and the various nations would build their agriculture systems with them at the core.
Three Sisters soup was a dish that my family first tasted on our Amishk Adventures glamping experience in Quebec. The soup was hearty and tasty, and we were all asking for seconds before our bowls were nearly empty. It may have been from a hunger built from hiking and canoeing in search of massive beaver dams. But even now we can't seem to make enough of this Three Sisters soup.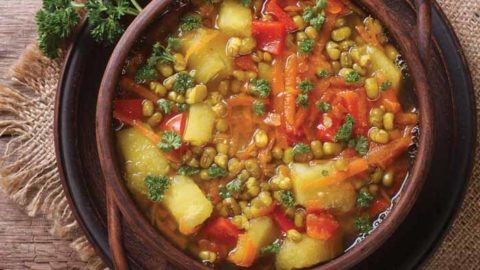 Yield:

6 servings
Three Sisters Soup Recipe
Three sisters soup is a classic Indigenous recipe stooped in the folklore of the three staples of Indigenous cultures of North America. Corn, squash, and beans set the base for this hearty and delicious recipe.
Ingredients
2 cups canned white or yellow hominy corn. Drained (can be substituted with regular corn).
2 cups fresh green beans. Trimmed and snapped.
2 cups butternut squash. Peeled and cubed.
1 1/2 cups white or yellow potatoes. Peeled and diced (for something sweeter you can use sweet potatoes).
5 cups water.
1 1/2 tbsp chicken bouillon granules.
2 tbsp butter. Melted.
2 tbsp all-purpose flour.
1/4 tsp pepper.
Instructions
In a large pot combine the hominy, green beans, squash, and potatoes.
Add water and chicken bouillon.
Bring to a boil. Then reduce heat to low and simmer until vegetables are soft (approx. 10 minutes).
Melt butter and blend it with the flour. Stir mixture into the soup.
Increase heat to medium and cook until soup thickens (approx. 5 minutes).
Season with salt and pepper and serve.
Barbecue Chicken FryBread Tacos (Indian Tacos or Navajo Tacos)
Frybread tacos are one of the classic pow wow fares. This delicious dish caused me a lot of concern when I went to my first pow wow. That's because, at most Indigenous events, it's listed as an "Indian Taco," in the north, and "Navajo Taco" further south. And I'll be honest, I just wasn't comfortable saying it. I fumbled over the right words to use and finally muttered "uhh, I'll have an, um, number 6 please." The lady behind me in line laughed heartily and clapped me on the back in pity.
These tacos are crispy on the outside and soft and moist on the inside. They're normally topped with ground beef or chicken. These Indigenous tacos are then layered with shredded lettuce, salsa, sour cream, tomatoes, and corn. Although you can top them to your taste really.
Frybread tacos are by no means one of the traditional Indigenous recipes. They take various elements of cultures throughout the Americas, both ancient and modern. But the result is one of my family's all-time favorite Indigenous dishes.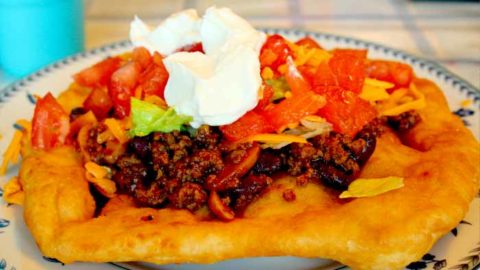 Yield:

8 servings
Fry Bread Taco Recipe (Indian Tacos or Navajo Tacos)
Additional Time:
5 minutes
Frybread tacos combine delicious fry bread, which is crispy on the outside and soft and fluffy on the inside with your favorite taco toppings to create a unique Indigenous twist on a classic recipe. They're fast and easy to make and make a great substitute for taco tuesday.
Ingredients
Fry Bread
3 cups flour
2 tbsp baking powder
1tsp salt
1/2 cup sugar
3 cups milk (or water
Salsa
2 cups field tomatoes. Diced.
1/2 cup red onion. Finely diced.
1/2 bunch cilantro. Finely diced.
3 tbsp canola oil
1/2 tbsp freshly squeezed lime juice (approx. 1/2 lime).
1 clove garlic. Finely diced.
1 pinch salt.
BBQ chicken breasts. (Can be omitted for vegetarian or substituted for a meat of your choice).
5 5oz chicken breasts.
3 tbsp butter for cooking.
1 cup BBQ sauce.
Toppings
1 head iceberg lettuce. Shredded.
8 oz sour cream
1 cup cheddar cheese. Shredded
Instructions
Fry Bread
In a large bowl, mix the dry ingredients together.
In the center of the mix make a well. Add milk or water to the well and fold the mixture until dough is slightly sticky.
Let dough rest for 15 minutes.
Add cooking oil to a large pan and heat to 350º.
Dust a rolling surface with flour and coat the dough until the dry flour has been absorbed.
Roll the dough into a ball and cut into 8 even pieces.
Roll each into a ball and stretch and flatten into patties that are approx. 4 inches in diameter and about 1/2 inch thick.
Place the flattened dough gently into the hot oil. Cook until golden brown on both sides (approx 1-1 1/2 minutes per side).
Salsa
In a large bowl, mix together all ingredients and let rest for the flavors to meld.
Barbecue Chicken
In a large pan heat butter over medium heat.
Add chicken to the heated butter. Season with salt and pepper.
Cook chicken thoroughly through.
Remove chicken and place on a cutting board.
Thinly slice the cooked chicken breast and brush with your favorite bbq sauce.
Return to heat and cook until the bbq sauce begins to caramelize.
Putting your Frybread Taco Together
Place frybread on your plate
Later a handful of shredded lettuce on the bread.
Add chicken
Top with sour cream, shredded cheese
Layer with a tablespoon of salsa.
Moose Stew (Can Be Substituted With Beef)
Nothing is better on a cold day than a rich and hearty bowl of stew. For those who enjoy the fall hunt and bring back fresh game meat to share with friends and family, this moose stew recipe is a perfect way to prepare and celebrate the animal that will nourish you through the winter months.
This is based on Indigenous recipes for moose. However, those who don't hunt or cook with game meat can easily substitute the moose meat with beef, bison, or any high-quality red meat. Personally, I love combining this Indigenous-inspired recipe with bannock or frybread for dipping into the hearty gravy.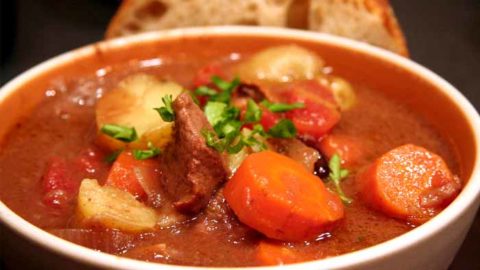 Yield:

8-10 servings
Indigenous Moose Stew Recipe (Also Beef or Bison Stew)
Cook Time:
1 hour
45 minutes
Total Time:
2 hours
15 minutes
Moose stew is a tradition for many after the fall hunt. This rich and hearty Indigenous-inspired recipe is packed with flavor and offers a great way to shake off the cold.
Ingredients
2-4 lbs moose shoulder or rump. Can be substituted with beef or bison. Cubed.
1 cup flour. Plus 3 tbsp. flour.
Salt and pepper to taste.
6 tbsp cooking oil.
1 large onion. Chopped.
2 cloves garlic. Finely chopped.
1/2 cup canned whole tomatoes.
2-3 large carrots. Diced.
2-3 celery stalks. Diced.
3-4 medium potatoes. Cubed.
2 cups sliced mushrooms or button mushrooms.
4 cups moose or beef broth.
Instructions
Combine 1 cup of flour, 1 tsp. salt, and 1/2 tsp pepper in a large bowl.
Coat the meat cubes with flour mixture and shake off excess,
In a large frying pan heat 3 tbsp of cooking oil on medium-high heat.
Add meat and brown on all sides. Make sure the meat is separated and not touching during the cooking. Remove and place in a large stockpot. Ensure that the oil remains in the frying pan.
Lower heat to low.
Fry chopped onion and garlic until softened. Add to the stockpot.
Add enough broth to the pot to just cover the meat.
Add tomatoes and simmer over low-medium heat with the lid on for 1-hour or until meat is fork-tender.
Add vegetables and cook for another 30 minutes or until the vegetables can be easily pierced with a fork.
combine 3 tbsp of flour with cold water until it achieves a paste-like consistency. Add the flour-water mixture to the stew pot and cook for another 10 minutes or until the gravy thickens.
Season with salt and pepper to taste.
Indigenous-Style Blueberry Pie
Wild berries have always been a major part of the harvest. Berry picking is one of my family's all-time best summer activities. This blueberry pie recipe is based on an Indigenous recipe that I learned while my son and I were traveling in Winnipeg, Manitoba. They were serving it at a local festival we went to which featured loads of great storytelling and dancing. It was so delicious that I cornered the woman who made it and wouldn't stop complimenting her until she finally relented and gave me the recipe.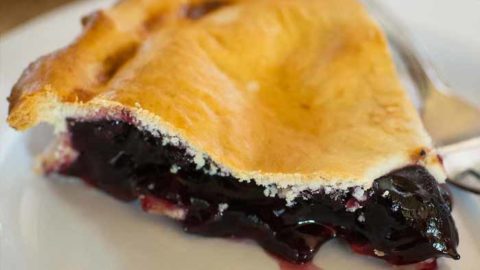 Yield:

8 servings
Indigenous-Style Blueberry Pie Recipe
Blueberries are a huge part of the indigenous harvest. This light, fluffy, and delicious Indigenous-style blueberry pie was taught to me by an elder woman at a storytelling event in Winnipeg, Manitoba and it's still one of my favorite blueberry pie recipes of all time. It's simple and delicious.
Ingredients
Pie Crust
2 cups flour
1 tsp salt
1 cup shortening
1/2 cup water
Blueberry Pie Filling
4 1/2 cups blueberries
1 cup sugar
1 cup water
Instructions
Crust
In a large bowl combine flour and salt.
Add the shortening and fold until the mixture achieves a crumbly texture.
Knead the dough adding a little bit of water at a time. You may not need to use all of the water.
Roll the dough into a ball and cut in half. Roll each half into a ball. Cover and let stand in the refrigerator for 4-hours to overnight.
Flatten the dough for the bottom crust with a rolling pin until it is roughly an even circle about 1/4 inch thick. Don't over roll the dough, or it will become tough.
Layer the bottom of a pie pan so that the dough is just over the edges. Ensure that there are no holes in the bottom of the dough or the filling may leak out.
Fill the dough crust nearly complete with the blueberry pie filling (see below).
For the top of the pie crust, cut and roll out the dough until it is even and roughly circular. Fold the dough in half, and then in half once more, and cut your vent pattern with scissors.
Place the top of the pie crust over the filling and shape to the edges of the crust. (Optional, use a milk wash or egg whites to brush the top of the pie to achieve a nice golden-brown color).
Set the oven to 350 degrees Fahrenheit and bake for 15-20 minutes until the edges are browned.

Blueberry Pie Filling
In a small pot, bring the water to a boil and whisk in the sugar until dissolved.
Add blueberries to the water and sugar mix. Cook over medium heat, frequently stirring until thickened.
Remove from heat and cool. Use as desired. It stores tightly covered in the fridge for up to one week.

What do you think of these easy Indigenous recipes? Do they make for a simple First Nations meal, or would you substitute for something else? Let me know your thoughts in the comments below. Or swing over to our Facebook page and say hello!
Wandering Wagars is a participant in the Amazon Services LLC Associates Program, an affiliate advertising program designed to provide a means for sites to earn advertising fees by advertising and linking to amazon.com, amazon.co.uk, amazon.ca. Amazon and the Amazon logo are trademarks of Amazon.com, Inc. or its affiliates.
You May Also Like To Read:
Pin This Post For Later: