If you are looking for amazing things to do in Wendake Quebec, we have you covered! From the beautiful Wendake hotel to incredible day trips.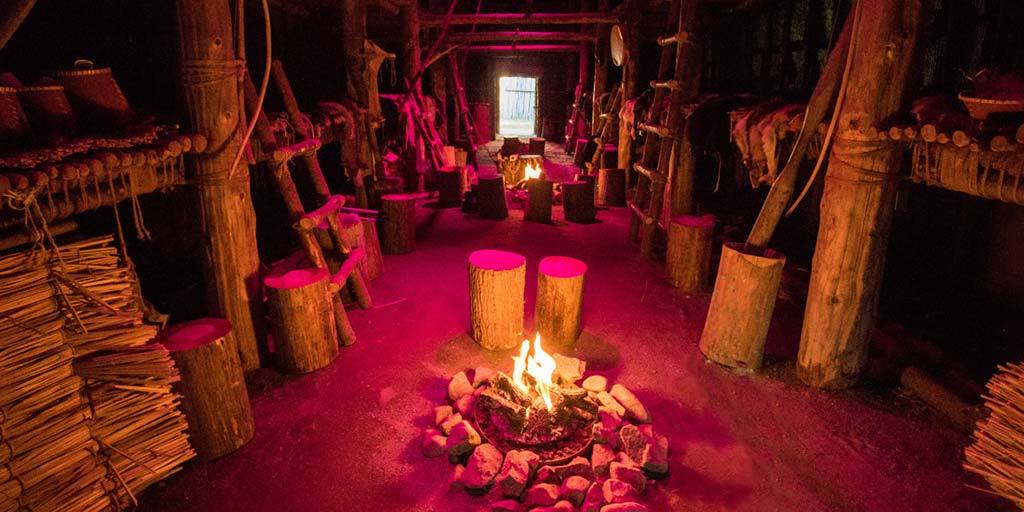 Wendake Quebec is one of the most unique and accessible First Nations communities in Canada. This small town located on the northern edge of Quebec City has been the official home of the Wendat Nation since the mid-1600s, but its place in their history extended long before that. Although it seems like a sleepy borough at first glance, there are a shocking number of incredible things to do in Wendake Quebec. In fact, it has gone on to become a popular day trip from Quebec City for its combination of history, culture, and nature. All of these are packed into a package small enough to visit during a day. But for a true Quebec indigenous experience, a few days in Wendake are worth your time.
A visit to Wendake is an absolute must for those looking for unique experiences in the province of Quebec. And if you are lucky enough to time your trip to Wendake at the end of June, you can pair your visit with the Wendake pow wow. This is the largest pow wow in Eastern Canada.
We attended the Wendake pow wow with my good friend Mikkel, a wonderful travel blogger from New York. This was her first pow wow and we had a blast sharing what the experience was like for both of us.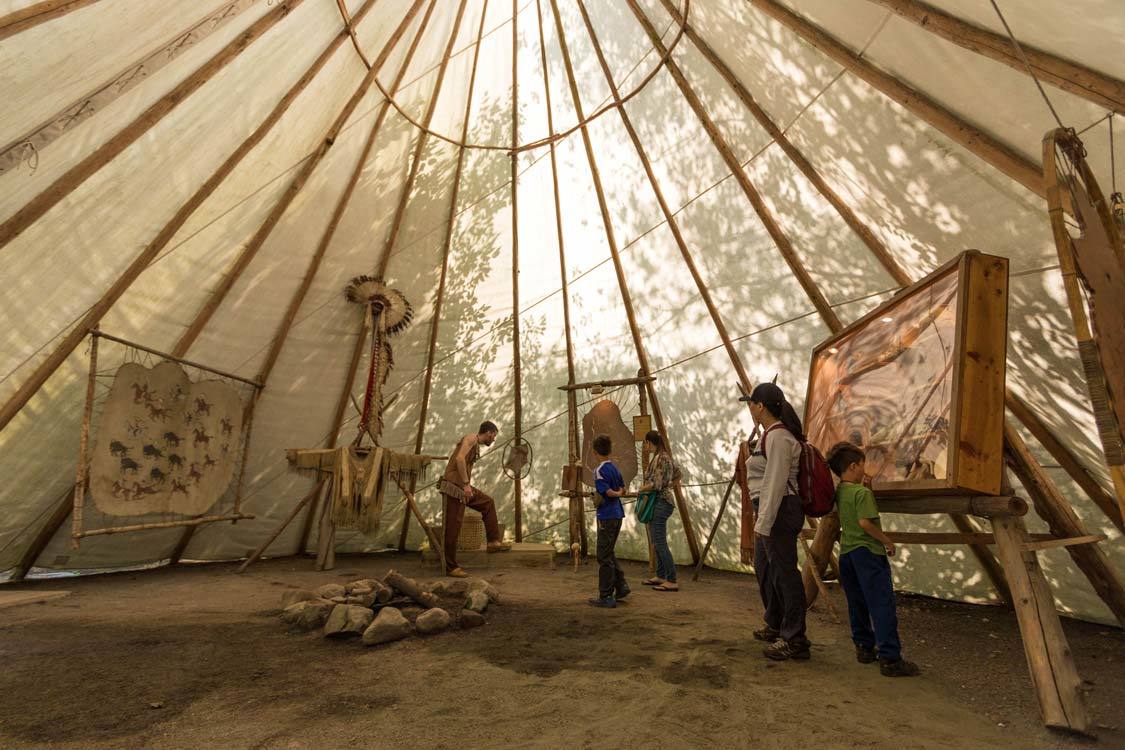 About Wendake And The Wendat People
Wendake Quebec is the modern home of the Huron-Wendat nation. What makes Wendake such a unique destination is that it is one of the few First Nations communities located near a major urban center. The Wendat people, once referred to as the Huron by European settlers, were absolutely decimated by disease, war, and famine after the arrival of Europeans. At one time the nation, that once numbered over 30,000, dwindled to as few as three hundred survivors. Their language was nearly lost, and the struggle to retain the Wendat culture seemed a losing battle.
But the proximity to the economic power of Quebec City offered some major advantages. The numbers of the Wendat nation increased and now exceed 4,000. The town of Wendake itself has become one of the most prosperous First Nation communities in Canada. And, with help from nearby nations, the Wendat people have worked diligently at reviving their language, culture, and heritage.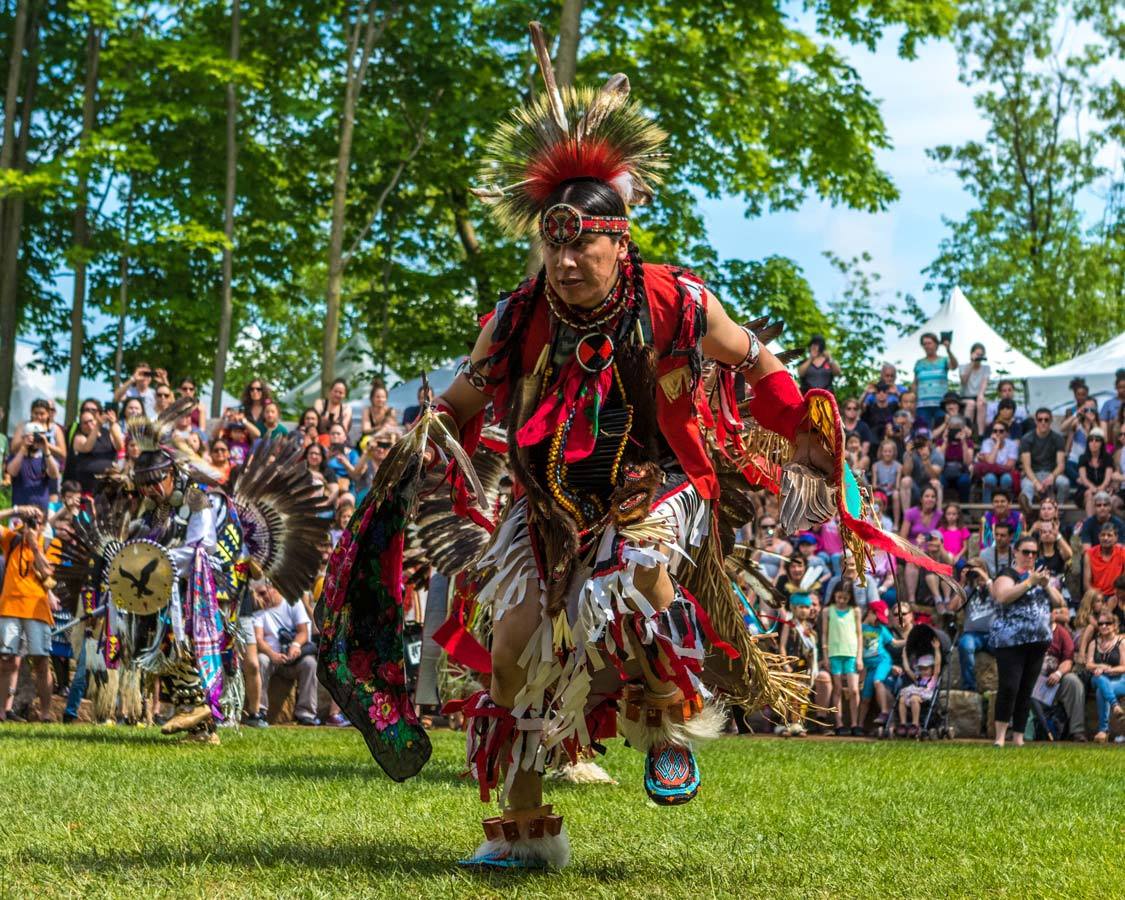 The Most Popular Things To Do In Wendake Quebec
Wendake Hotel Musee Premieres Nations
The Hotel Musee Premieres Nations isn't just the best hotel in Wendake, it's one of the coolest experiential accommodations in Canada. This hotel run by the Wendat Nation combines a museum, that houses historic First Nations history, and a luxury hotel, spa, and restaurant that will please even the most discerning travelers. The decor of the Hotel Wendake is modern with a First Nations twist. Beds are lined with crisp sheets adorned with a variety of animal furs. Walls are open with splashes of color from indigenous artwork including dreamcatchers, paintings, crafts, and beadwork.
The Hotel Musee Wendake museum features priceless and historic pieces of artwork and cultural items from the first nation including wampum belts, hand-carved canoes, pottery, and hunting tools. On the bottom floor of the hotel is a pool that is perfect for families, an exercise room, and the Nature Spa where you can receive a relaxing massage. You can also experience First Nations fusion dining at La Traite Restaurant, one of the top two restaurants in Wendake.
For a truly immersive experience take part in some of the traditional experiences at the Hotel Premieres Nations Wendake. The longhouse storytelling takes you back to pre-contact where you'll hear fascinating stories that have been told through the ages since before the time of written word in North America. You can also participate in canoeing and even fishing adventures all run by your Wendat hosts.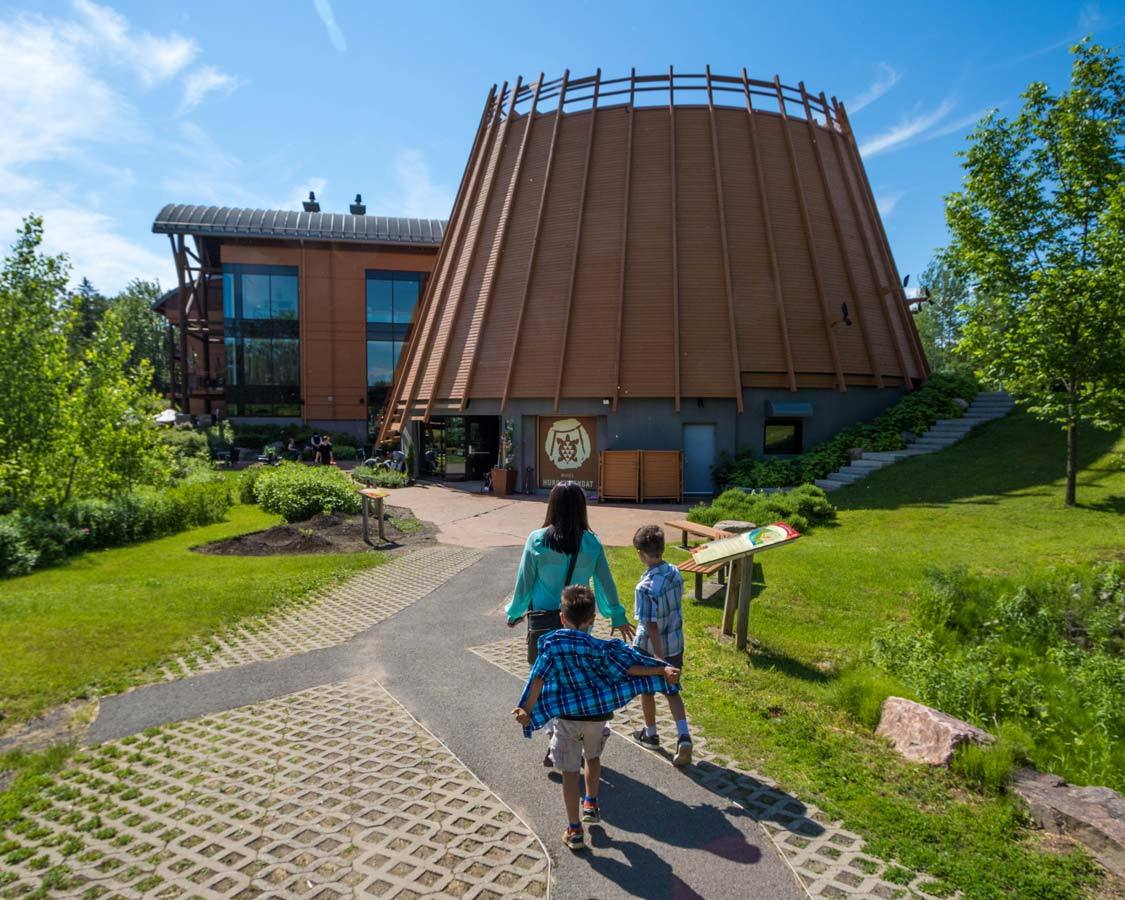 Huron-Wendat Traditional Village
One of the most popular things to do in Wendake Quebec is a visit to the Huron-Wendat Traditional Site. This site is a recreation of a traditional Wendat village. It features a longhouse and exhibits on shamanism, history, and culture. Each exhibit is set in a traditional Wendat structure. The Huron-Wendat Traditional Site also features an excellent store. At the First Nations gift shop you can purchase locally crafted art, clothing, and food products. Nearly all of these are tax-free due to it being sold within a First Nations community.
Staff within the Wendake traditional site dress in period costume. This helps to give the feeling of being transported back to pre-colonial times. Crafts are being created by the fireside, stories are being told in the longhouse, and masks are guarding over the shaman hut. You can even opt to begin your visit with a canoe and forest walk, which you can read about further on. For those who love to be active, the Huron-Wendat Traditional site can be visited as a cycling day trip from Quebec City.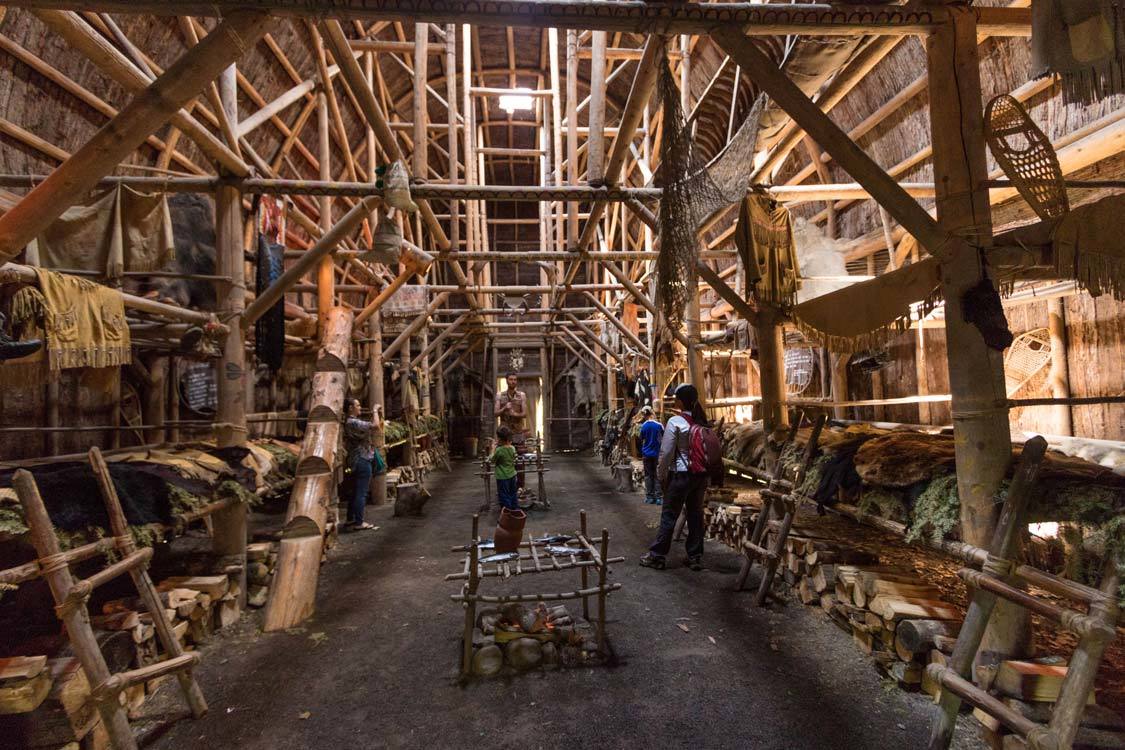 Other Things To Do In Wendake Quebec
Kabir Kouba Waterfall
Chute Kabir Kouba or the Kabir Kouba waterfall is a popular destination for those visiting Wendake Quebec. The falls are accessed via a wooden stairway near Parc de Nations across from Notre-Dame-de-Lorette Mission. The Kabir Kouba falls are at the base of a series of rapids. Kabir Kouba means "River of a thousand bends" in the Montagnais indigenous language. Kabir Kouba falls drop 28-meters along smooth sloping rocks. There is a boardwalk trail and interpretive plaques along the route by the falls. Along the canyon are a huge variety of plants and fossils to be discovered.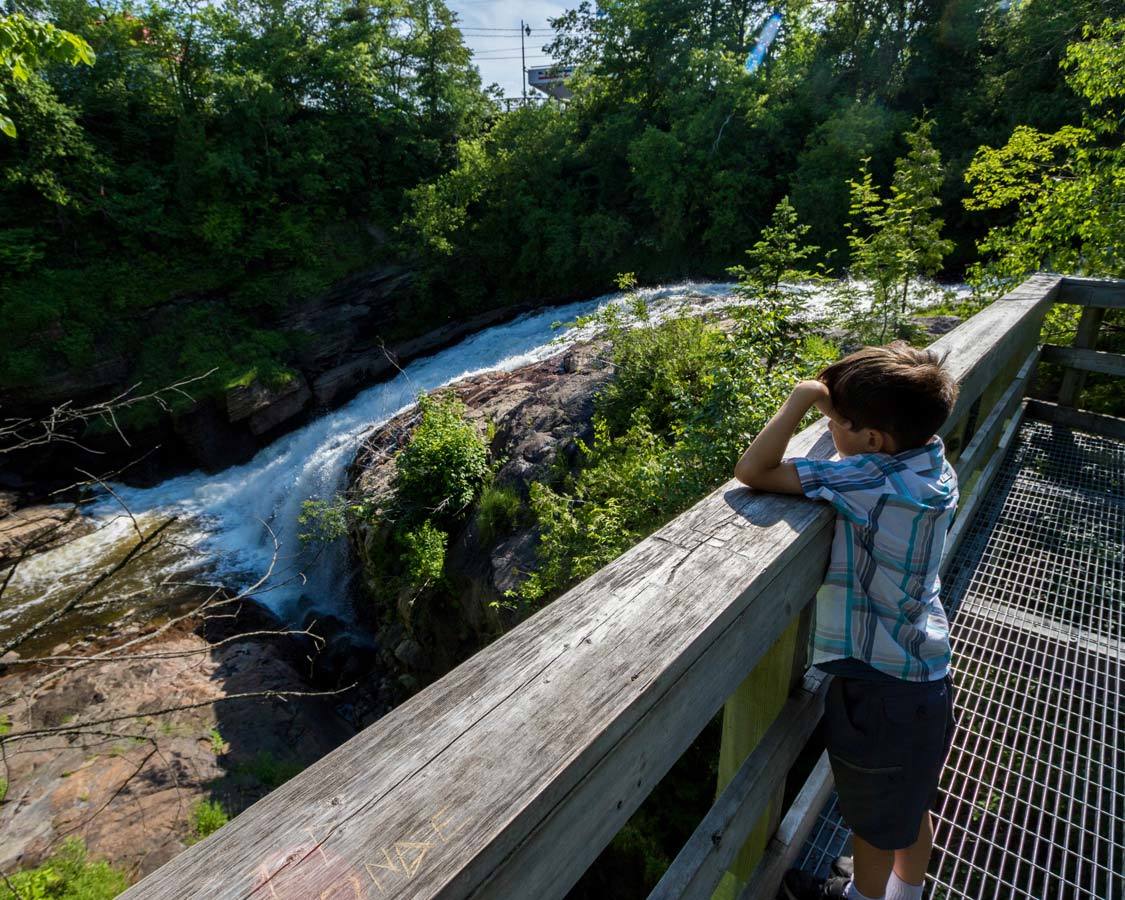 Canoe Along The St. Charles River
A day on the water is always a great day. And a trip down the St. Charles River, which runs along the western edge of town is one of the best things to do in Wendake Quebec. The St. Charles River, also called Akiawenrahk in the Wendat language, snakes through gorgeous forests and past a few lucky cottages that were built before construction near the river was prohibited.
Akiawenrahk is considered sacred by the Wendat. It is also the primary source of water for the town. As such, there is no swimming or motorized boats allowed in the river. However, canoeing, kayaking, and stand-up paddleboarding are both popular ways to experience this peaceful stretch of water. There are a few places in Wendake to rent canoes and kayaks including Canots Legare on Blvd Valcartier and Christian Picard Canots on Rue Chef Alphonse-Picard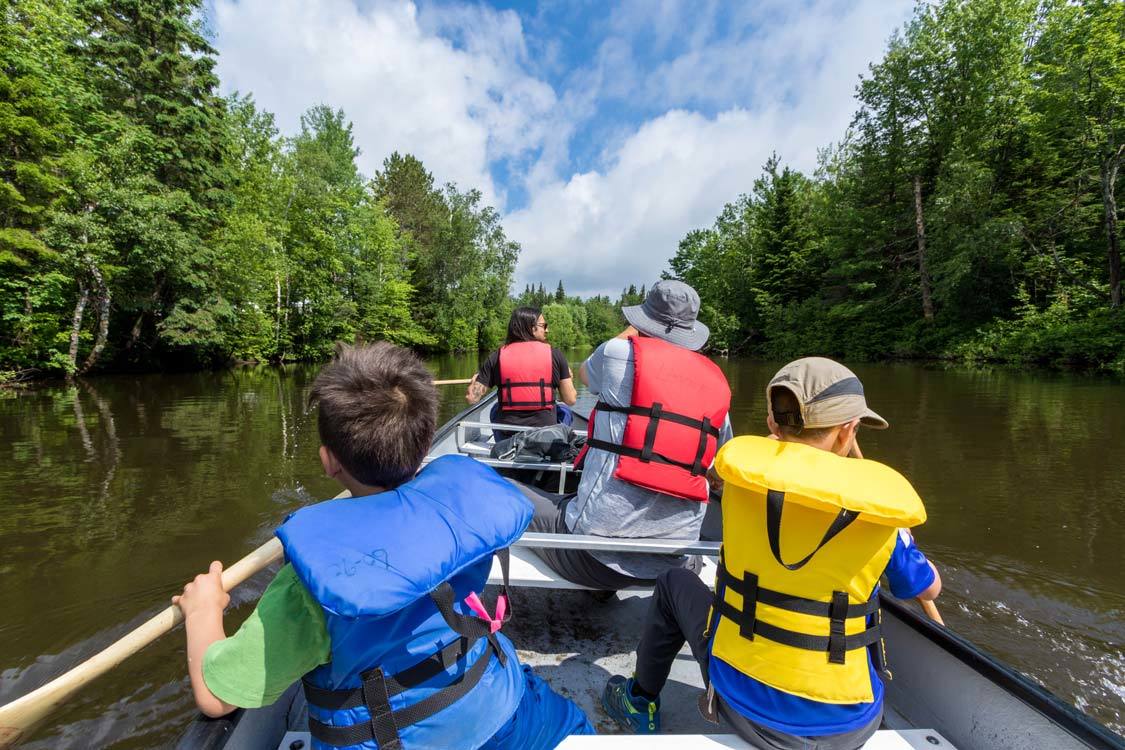 Wendake Pow Wow
The Wendake pow wow is the largest pow wow in Eastern Canada. This event draws 20-25,000 visitors from across the world. The Wendake pow wow combines traditional drumming and dancing with amazing food and incredible artisans. The pow wow in Wendake, which is held on the last weekend in June, is a perfect activity for those visiting Wendake with kids. Those who have never been to a pow wow before will love the welcoming atmosphere and the visual sensation that surrounds them. And those who have experienced these indigenous celebrations before will be wowed by the spectacle.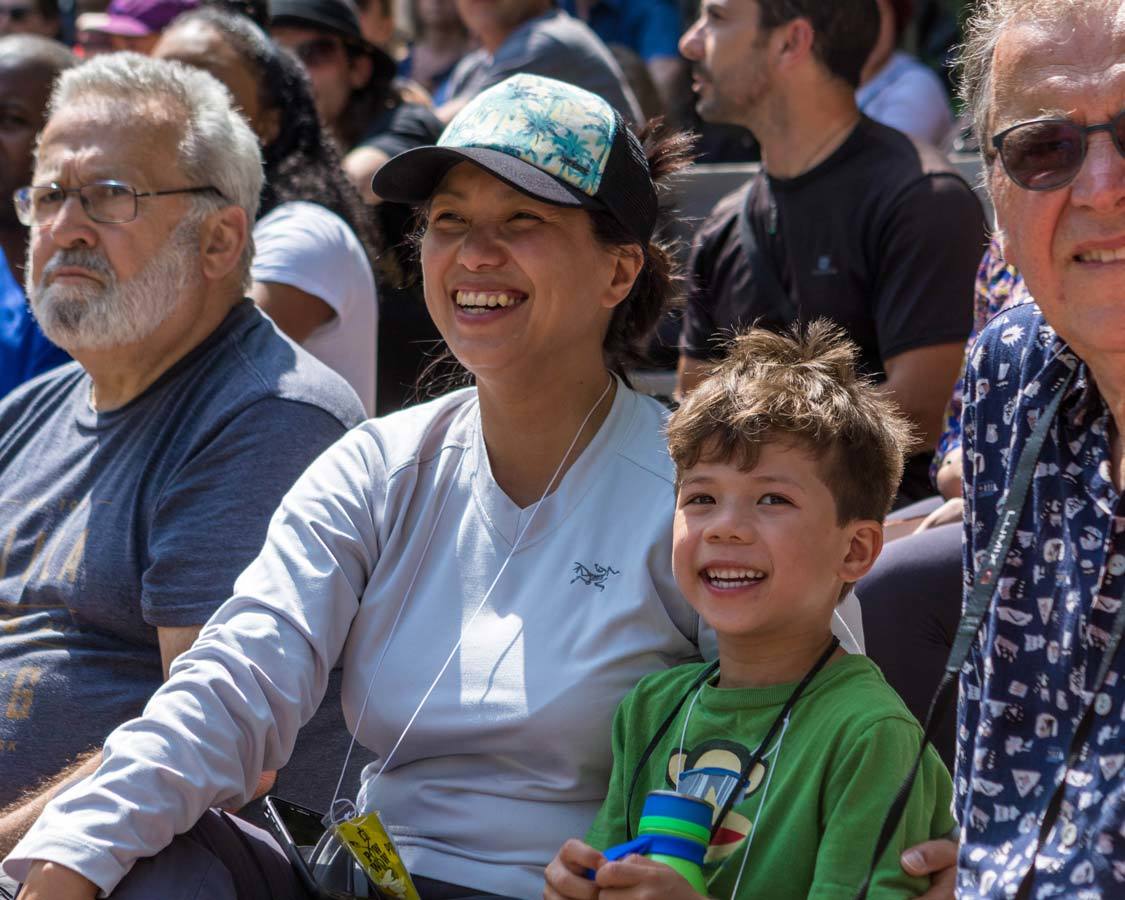 Notre-Dame-de-Lorette Mission
Located at the corner of Saranhes (HWy 369) and Chef Nicholas Vincent is one of the oldest historic monuments in Quebec. Notre-Dame-de-Lorette Mission was built around 1722 by Jesuit missionaries. In 1981 it was declared a National Historic Site. The church hours vary, however tours are included in some packages at the Hotel Musee Premieres Nations. The gleaming metallic roof and bell tower of the Wendake church stand out, especially on bright days. The grassy lot on which the church stands makes a wonderful spot for picnics.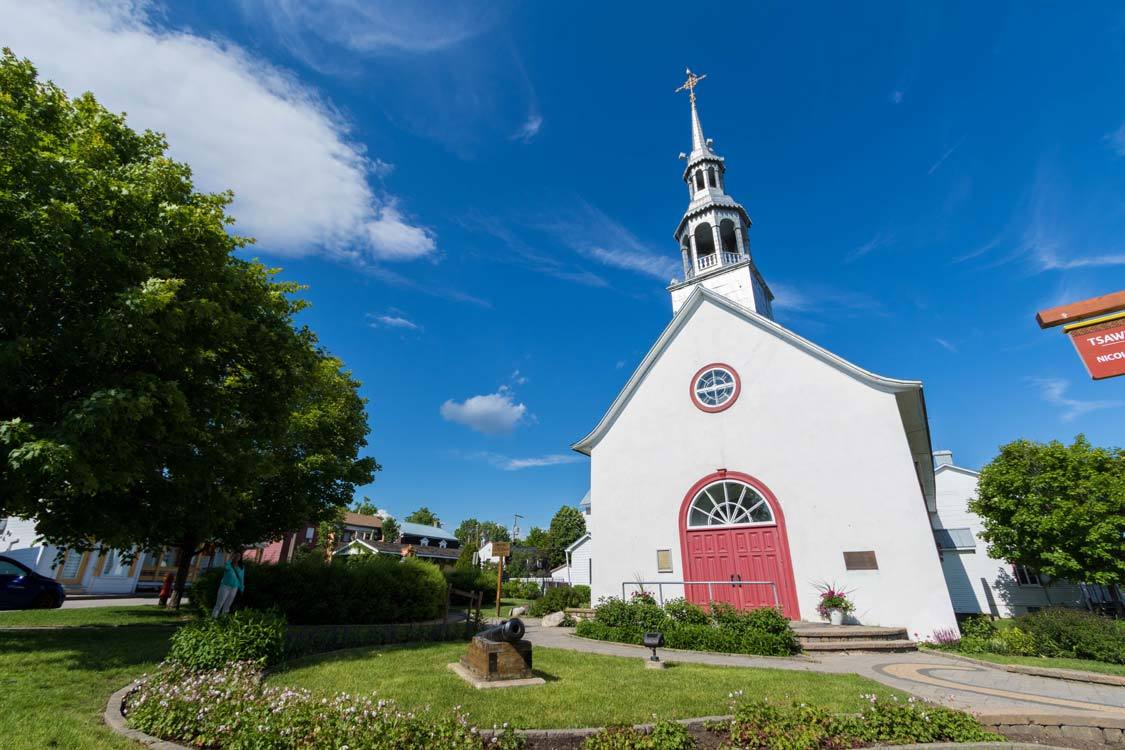 Where To Eat In Wendake Quebec
Wendake is a small town, but this small town packs quite a punch for those looking for an indigenous culinary experience. La Traite restaurant within the Hotel Musee Premieres Nations serves First Nation inspired cuisine. Diners can taste local fish, harvest fruits and vegetables, game meat, and delicious desserts. The food here was amazing and helped inspire our list of Indigenous-inspired recipes.
Nek8arre restaurant is located at the traditional Huron-Wendat site on Rue Chef Stanslav Koska. This restaurant offers a family-friendly dining experience. Visitors will be treated to indigenous-inspired dishes including duck, buffalo, wapiti, and sunflower seeds soup.
For something on the casual side, swing by L'usine a frites on Chef Max Gros Luis. This traditional food truck serves up burgers, smoked meat, sandwiches and fries. There is a nearby playground to keep the kids busy while you're waiting for your order too. L'usine a frites is open only during the summer months.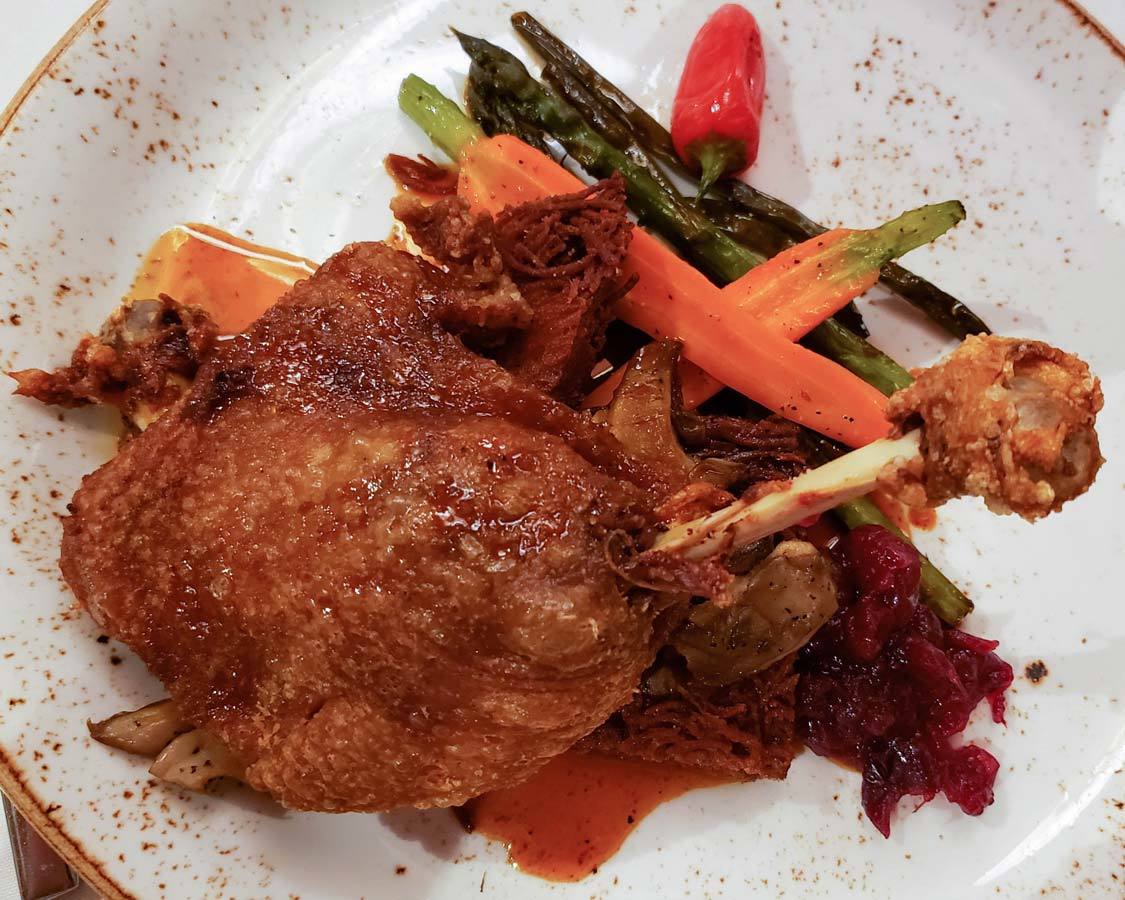 Where To Stay In Wendake Quebec
If you want to spend a night or a few days in Wendake Quebec, your best option for accommodations is the Hotel Musee Premieres Nations. This hotel is as much of an experience as it is a great hotel. And those who follow our adventures closely know that we love hotels with an engaging twist!
In the core of Wendake, you can stay at another immersive Wendake accommodation, La Huronniere. Combining home-style accommodations with an art gallery twist, La Huronniere features indigenous paintings, sculptures, and antiques. La Huronniere is located on Rue Chef Maurice Sébastien. You can find other great hotels in nearby Quebec City here.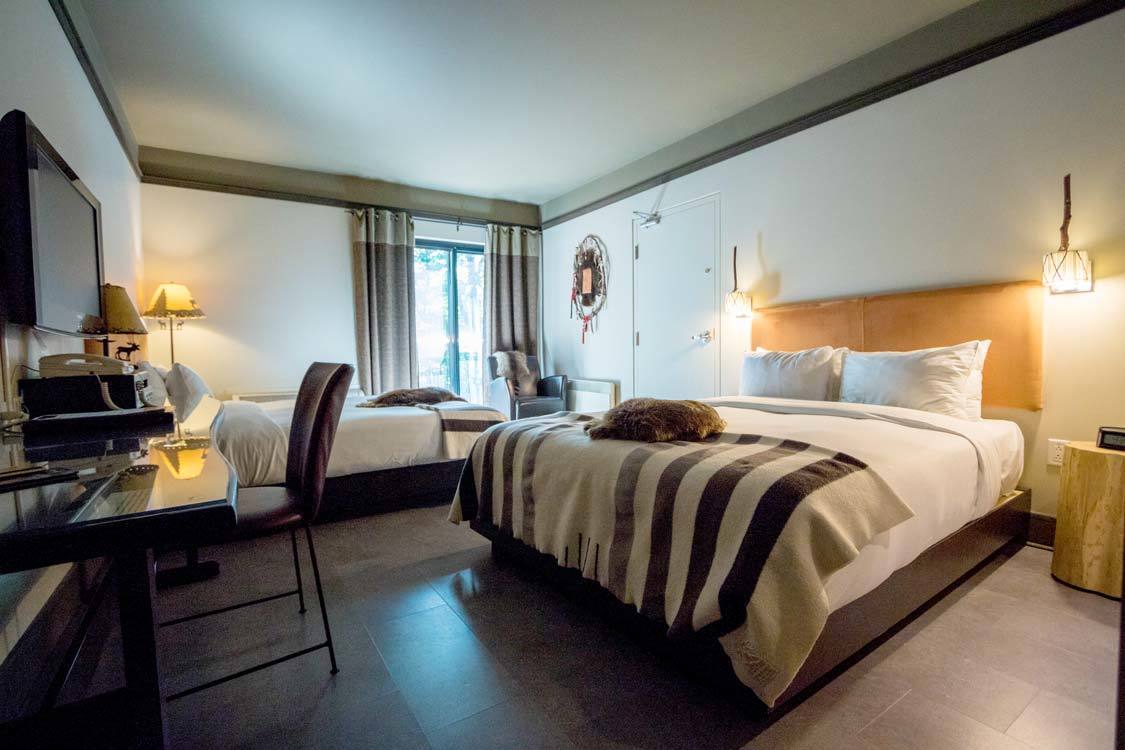 Our Wendake Travel Video
Our time exploring all the things to do in Wendake Quebec was magic. So much so that it inspired our Indigenous road trip through Ontario where we visited areas such as Ottawa and the Iroquois community of Six Nations. I'd love to say that photos could capture it all, but there's just too much culture and history to sum it up that way. So if you want to check out a little bit more about Wendake Quebec, check out our Wendake travel video on YouTube.
Don't forget to like and subscribe so that we can keep bringing you more great family travel content.
How To Get To Wendake From Quebec City
If you are visiting Wendake as a day trip from Quebec City or looking to spend a few days exploring the home of the Wendat Nation, getting to Wendake is easy. From Old Quebec City follow HWY 973 N to Rue de la Faune. Hang a left and follow Rue de la Faune to Chef Max Gros Louis and turn right. The whole trip takes about 25 minutes depending on traffic.
Have you ever visited Wendake Quebec? Leave a comment about your experience. Or swing by our Facebook page and share a photo of your travels. We would love to share in your visit.
Disclosure: This post was made possible with the support of Tourisme Autochtone Quebec. All opinions remain our own. This post may contain compensated links. Find more info in our disclaimer. Wandering Wagars is a participant in the Amazon Services LLC Associates Program, an affiliate advertising program designed to provide a means for sites to earn advertising fees by advertising and linking to amazon.com, amazon.co.uk, amazon.ca. Amazon and the Amazon logo are trademarks of Amazon.com, Inc. or its affiliates.
You May Also Like To Read:
Pin This For Later: