If you're looking for things to do in Six Nations, Ontario, we have you covered. From glamping, history, culture, and where to eat, you'll find it here.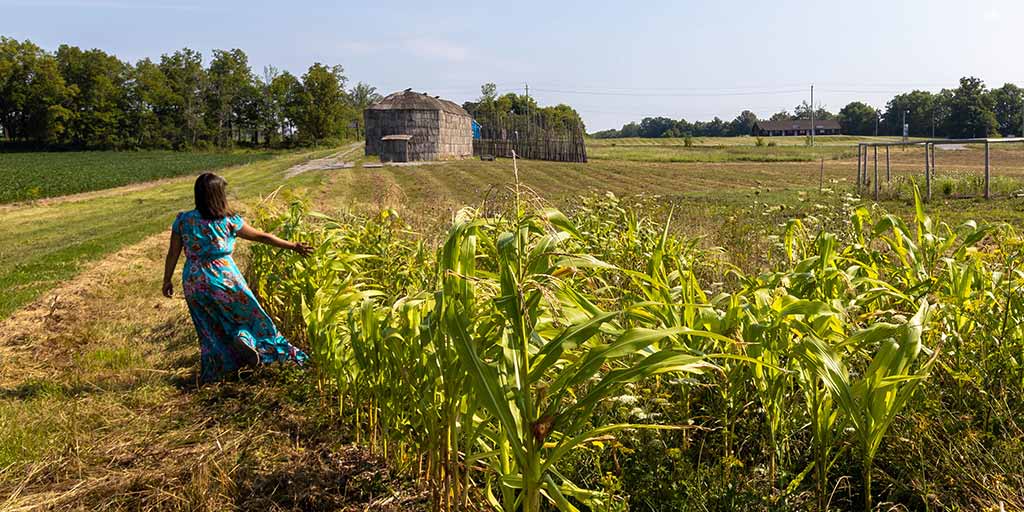 The community of Six Nations, Ontario is a truly special place in Ontario. Six Nations, which is just outside of the city of Brantford, about an hour from Toronto, is home to six Iroquois Nations and makes up the largest Indigenous community in all of Canada. Since the Six Nations region is so close to Canada's largest city, it's no surprise that there are loads of great attractions for those who are looking to escape the bustle of the big city and experience the rich history, culture, and adventure that this First Nations community has to offer. And if you're looking for things to do in Six Nations of the Grand River, you won't be disappointed. Read on for some of our favorite attractions in this vibrant community.
Where Is Six Nations of the Grand River Ontario?
My family has taken part in some pretty incredible Indigenous experiences in Ontario. From pow wows to glamping and beyond. But I had no idea that there were so many things to do in Six Nations, just an hour from our home. It wasn't until our recent Indigenous-themed road trip through Ontario that my eyes were finally opened. And I'm so glad that they were.
Often referred to as the Six Nations reserve, this First Nations community is located adjacent to the city of Brantford and borders Norfolk County and Haldimand County. At 46,000 acres, this is the largest First Nations reserve in Canada. Although it's current size represents just a meager 5% of the land that was entitled to them from the 1784 Haldimand Treaty.
Six Nations is made up of several villages including Beavers Corner, Longboat Corners, Medina Corners, Millers Corner, Ohsweken, St. Johns, Smith Corners, Smoothtown, Sour Spring, and Stoneridge. These are populated by members of all six Iroquois Nations including the Mohawk, Cayuga, Onondaga, Seneca, Oneida, and Tuscarora Nations.
Six Nations is just an hour and 20 minutes from the city of Toronto, and a quick jaunt from towns such as Hamilton, Kitchener, and Guelph. Its position along the banks of the Grand River makes it a popular spot for boaters, cottagers, and those seeking the perfect Ontario staycation.
Things To Do In Six Nations Ontario
Honestly, I was not prepared for all the great things to do in Six Nations. We had planned to spend a day in the community, but we could have easily spent an entire weekend or long-weekend in Six Nations of the Grand River. From glamping to hiking, boating, kayaking, and more, Six Nations is packed with amazing experiences that are perfect for the whole family. So without further ado, here are my favorite things to do in Six Nations Ontario.
Visit The Oldest Church In Ontario: Her Majesty's Royal Chapel of the Mohawks
At 235 years young, the Mohawk Chapel in Brantford, Ontario is a spring chicken compared to some of the ancient churches in European countries such as Portugal. But those cathedrals are often made of stone and are built to withstand millennia of wear. Her Majesty's Royal Chapel of the Mohawks, though, is a classic wooden structure, built with traditional small-town Canadian style. And this historic structure has been witness to much of the modern history of Ontario and its First Nations.
This Protestant chapel is the only remaining building from the original Six Nations community. It's bright white facade belies the incredible stories painted into the 8 intricately designed stained-glass windows within. If you're looking for things to do in Six Nations Ontario that will teach you about the rich history of Six Nations communities, this is a great place to begin.
The stained glass tells the story of the local Iroquois Nations. It begins in a time unrecorded when the Peacemaker, a Huron man, brought the Nations to peace and had them bury their weapons together beneath a White Spruce Tree. The stories continue through the ages of Joseph Brant and the settlement of the Grand River shores. It doesn't gloss over issues such as the oppression of settlers or the infamous residential school system.
The workmanship of the chapel is beautiful. At the front of the church are three large plaques in the phonetic languages of some of the Nations. And at the rear of the church is a magnificent coat of arms intricately carved from a single block of wood. It's easy to miss if you're exploring the Mohawks' chapel, but it's one of the most important pieces inside.
Visits to the Mohawk Chapel are currently by appointment only. If you would like to check out this wonder of Ontario for yourself, you can connect with them here.
Take A Walk Through The OSTTC Longhouse
The Six Nations of the Grand River refer to themselves as "the Haudenosaunee," or "The People of the Longhouse." These wood and bark homes were the home of most of the Iroquois people prior to the arrival of western people. We had had an amazing chance to visit a longhouse during our visit to Wendake, Quebec the summer before, and we were really excited to see that there was a beautiful Longhouse near Toronto that we could visit.
The Six Nations longhouse is run by Ogwehoweh Skills and Trades Training Centre or OSTTC. A local organization designed to raise the skills of locals while promoting awareness of the community's rich heritage through cultural and ecotourism developments.
The massive OSTTC property is centered by a large greenhouse where native Carolinian plants are grown and cultivated. Local plants are for sale for natural gardens or eco-projects. We had to buy one of the local wild strawberry plants when the boys tasted just how incredibly sweet the tiny berries were.
The Longhouse Ganǫsa'ǫ: weh, or "The Real House" is a brand new development. This full-sized replica of a 17th-century Longhouse is as impressive to behold as it is educational and inspiring to explore. The sheer size of the Longhouse is breathtaking. And the stories of how family units worked together to maintain and thrive comfortably inside is just as amazing.
Currently Longhouse Ganǫsa'ǫ: weh is only doing self-guided tours due to COVID, but there is someone on hand to answer questions. If you've ever wanted to learn about the traditional lifestyle of the Iroquois people during the 17th century, this is the place. Our children were full of questions about the different tools and artistic handicrafts that were on display.
To book your tour of the Longhouse Ganǫsa'ǫ: weh in Six Nations, you can check out their website here.
Relax In Luxury At The Grand River Spa
If you're looking for a little pampering, consider adding some time at the Grand River Spa to your list of things to do in the Six Nations community. This intimate spa retreat is designed with the healing powers of nature at hand. The spa is surrounded by beautiful nature offering a relaxing escape from the city.
The Grand River Spa features hot stone massages, facials, body wraps, nail care, and other treatments that will leave you relaxed and refreshed. You can find out more about the accommodations and services at Grand River Spa here.
Explore The Home Of Legendary Poet E. Pauline Johson
Six Nations is the home of some of the most notable people in the history of Canada these include distance runner Tom Longboat, actor Jay Silverheels, and many more. To learn more about some of the modern history of Six Nations, we stopped at Chiefswood Park National Historic Site. Chiefswood Park is home to the childhood house of legendary poetess E. Pauline Johnson. This powerful woman of mixed Mohawk and British descent lived an extraordinary life that saw her become one of the most influential writers and historical figures in Canada.
The Life of Pauline Johnson is as fascinating as her work. And a walk through her childhood home was an excellent introduction to this creative powerhouse. Her mother was a proud woman who bucked tradition by marrying a Mohawk man, George, who became the Chief of the Mohawk Territory. The couple raised their children to be fiercely proud of their Mohawk heritage.
As Pauline Johnson began her poetry career at the age of 10, the pride in her heritage followed her. Eventually, she went on to become one of the most celebrated writers in all of 19th-century Canada. Her work often included readings where she would begin dressed in conservative British-style before finishing in her traditional Mohawk regalia.
The home of E. Pauline Johnson is one of Canada's National Historic Sites, and should definitely be on every history-buffs list of places to visit.
Cabin Glamping In Chiefswood Park
If you're looking to explore the best things to do in Six Nations Ontario, you'll need a place to stay. While there are some great accommodations in Six Nations, the one that stands out, especially for families, are the glamping cabins in Chiefswood Park.
My family loves glamping. From the incredible Fronterra Farms in Prince Edward County to the hanging spheres in Saguenay, Quebec, we've stayed at some pretty amazing glamping spots. But these Chiefswood Park cabins really caught our attention. These two-storey cabins come complete with a kitchen, bathrooms, and separate bedrooms. The amount of usable space they squeeze into these small cabins is pretty outstanding. There are two different cabin sizes available, the small can comfortably fit six people while the large can hold up to 8 people.
Visitor can spend their time wandering the flower gardens, paddling the Grand River, picnicking on the grounds, or enjoying the family playgrounds. You can check out their website here.
SUP Or Kayak On The Grand River
If you're looking for some outdoor fun, consider adding a day paddling along the gorgeous Grand River to your list of things to do in the Six Nations Ontario community. This popular river is as packed with history as the shores that border it. But it's easy to get wrapped up in the natural beauty as you paddle the mocha-colored waters for the Grand River.
Personally I love paddling our new inflatable Bluefin SUP anywhere I can arrange it. But if you didn't bring your own paddle gear, there are plenty of kayaks, SUPs, and canoes available for rent at Chiefswood Park. If you'd prefer a guide, you can arrange paddling tours that include the history of the community along with your outdoor fun. You can find out more about that here.
Our Indigenous Road Trip Video
Inspired to plan an Indigenous road trip through Ontario for yourself? You can get more inspiration from our Indigenous road trip YouTube video. Don't forget to like and subscribe if you want to see more fun and inspiring family travel content.
Where To Eat In Six Nations Ontario
For a small series of villages, Six Nations of the Grand River has some excellent dining options, including what may be one of the best burger joints in all of Ontario. Here are a few of the great places to eat in Six Nations Ontario.
Burger Barn
Great restaurants know how to adapt, and Burger Barn sure fits that bill. They offer takeout and patio access for those wanting to wrap their mouths around the delicious local fare.
The Burger Barn menu takes traditional favorites and adds a personal twist that makes for a near-limitless list of offerings. The massive menu is loaded with great appetizers and diner delights that all retain that enjoyable home-cooking feel. Without a doubt, these are among the best burgers I've tasted in Ontario. You can check out the Burger Barn menu here.
Village Pizza & Wings
I travel with kids, so whenever I ask "what do you guys feel like eating?" Pizza is almost always on the list. Well, you'll be happy to know that Village Pizza and Wings in Ohsweken is up to the task. They're known for generous servings and great service. While the pizza often gets the spotlight, it's the jumbo chicken wings where this little restaurant truly shines. You can check out their website here.
Have you ever visited Six Nations, Ontario? Drop a comment below to tell us about your experience. Or tag our Instagram account in your photos. We would love to share in your travel
Disclosure: We partnered with Destination Indigenous to showcase these Indigenous attractions in Ontario. As always, our opinions remain our own. Wandering Wagars is a participant in the Amazon Services LLC Associates Program, an affiliate advertising program designed to provide a means for sites to earn advertising fees by advertising and linking to amazon.com, amazon.co.uk, amazon.ca. Amazon and the Amazon logo are trademarks of Amazon.com, Inc. or its affiliates.
You May Also Like To Read:
Pin This For Later: