Find out why there's no better way to experience Ontario's wineries and culinary delights than by glamping Prince Edward County at Fronterra Farm and Camp.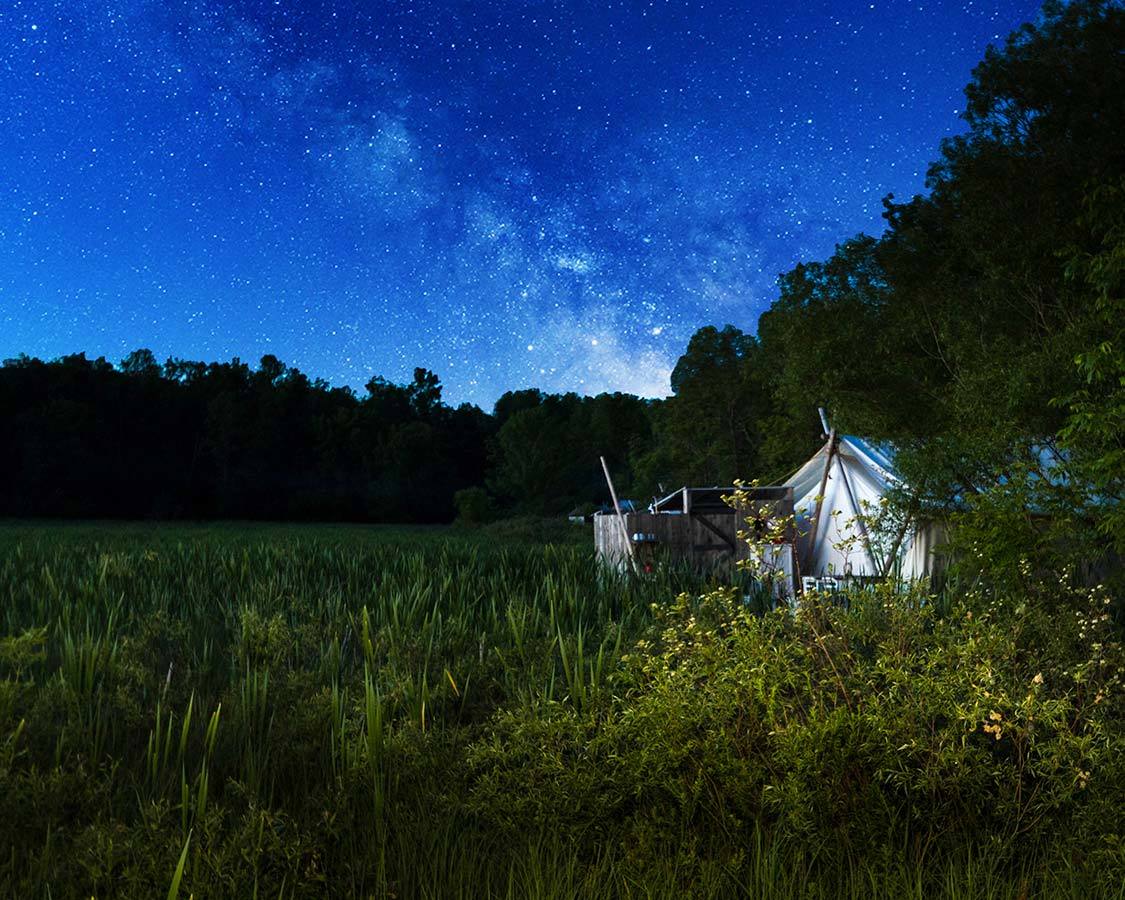 We aren't new to glamping. In addition to taking in some of the "fancy" accommodations in Ontario Parks like Georgian Bay Islands and Thousand Islands, we've stayed in cabins in Upstate New York and even had a luxury camping experience in the Wadi Rum Desert of Jordan. But these experiences never fail to get us excited. So when we had the opportunity to stay at the eco and agro-tourism focused Fronterra farm, camp, and brewery for a chance at glamping Prince Edward County, our excitement started growing. We were so excited about our experience at Fronterra Farm that we included it in our list of the best places to stay in Prince Edward County.
This post may contain compensated links. For more information please read our disclaimer.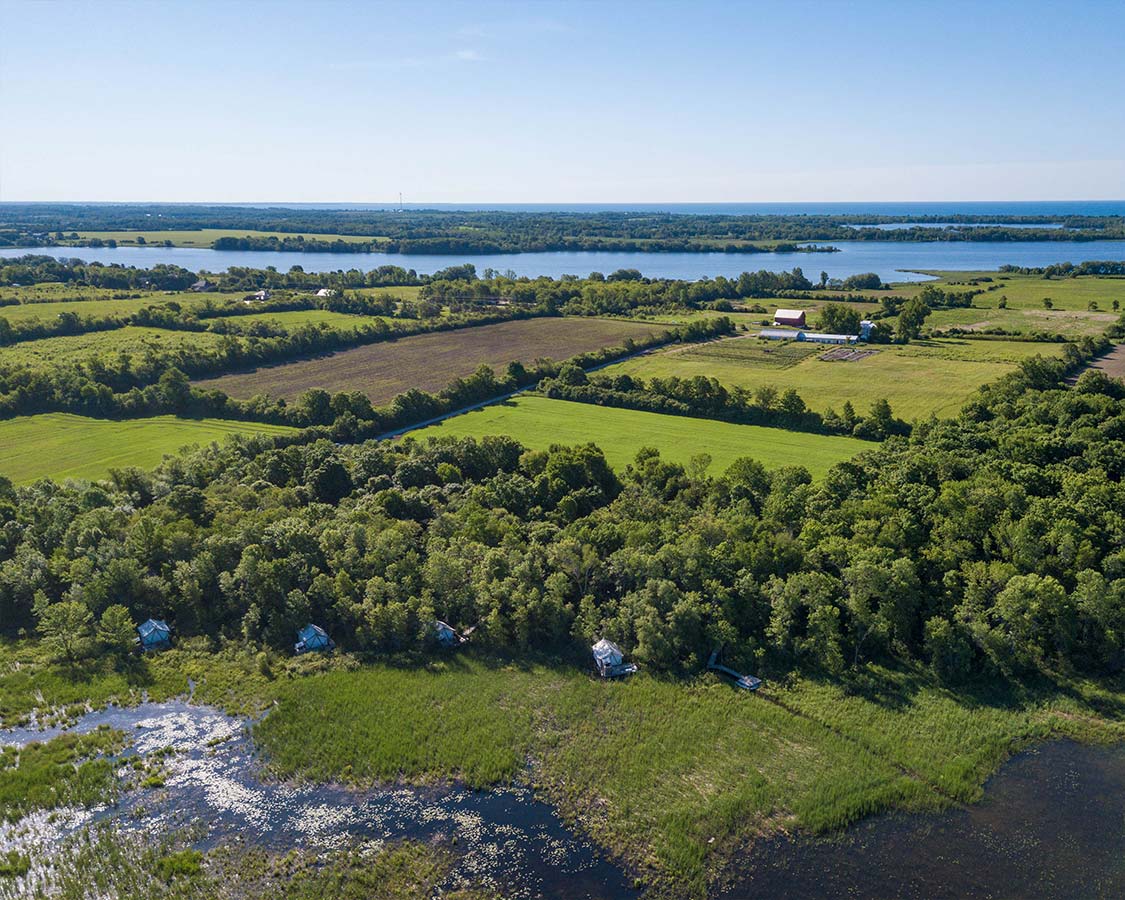 What is Fronterra Farm And Brewery?
Run through the perpetual energy of founders Jens and Inge Burgen, Fronterra Farm is an ever-evolving real-life painting displaying the passion that this couple has for agriculture, tourism, and creating the perfect craft beer.
Fronterra Farm has evolved from being Prince Edward County's first luxury glamping experience to encompass agro-tourism through their 58-acre organic farm and in the fall of 2018 they plan to launch their Fronterra craft brewery.
To top all of this off, Jens and Inge have taken on a Waldorf-style school in their farmhouse. This added structure makes the destination truly enticing for families looking for a summer getaway in the region.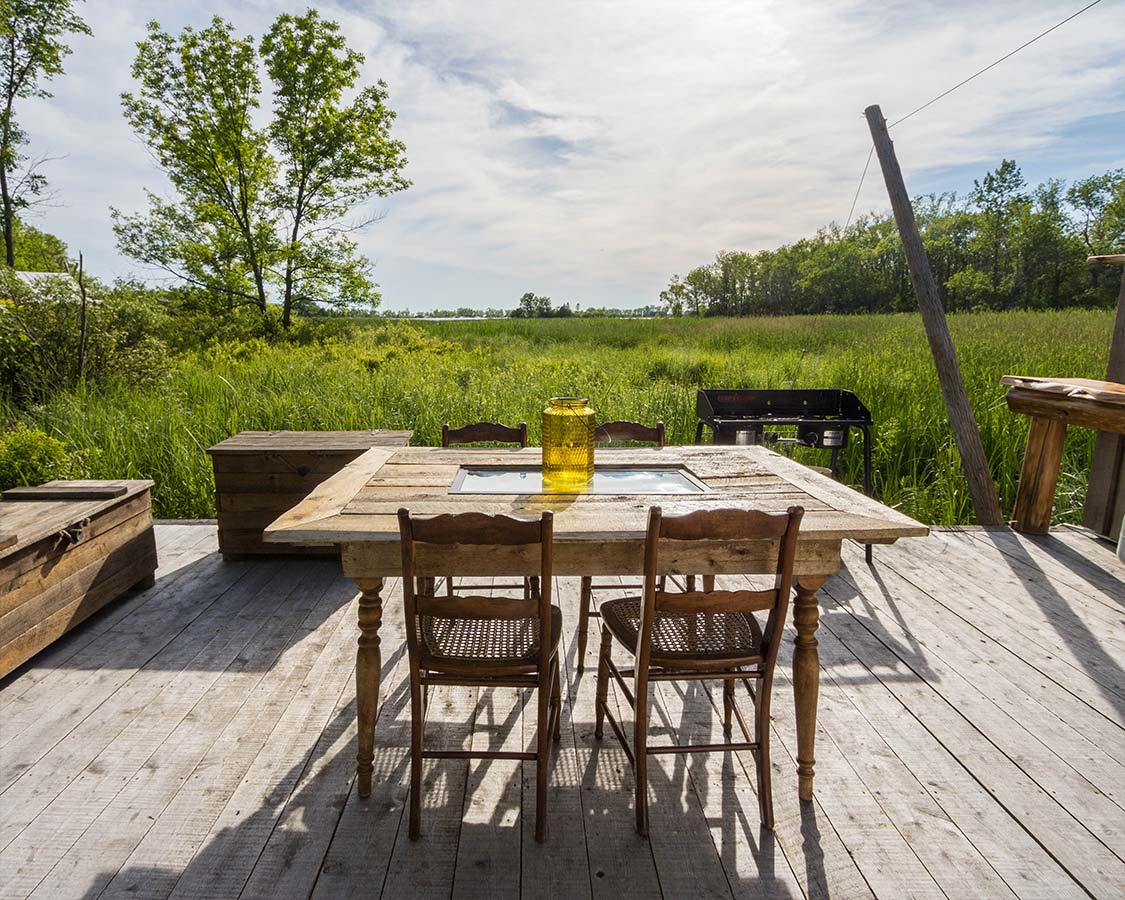 Agro-Tourism in Prince Edward County
Jens and Inge have a deep passion for the agricultural history of Prince Edward County. Their passion shines through with their organic farm and their push for farm-to-table culinary experiences in the region. They believe that agro-tourism in Ontario offers an experience that connects people to their food while offering a positive impact on the environment.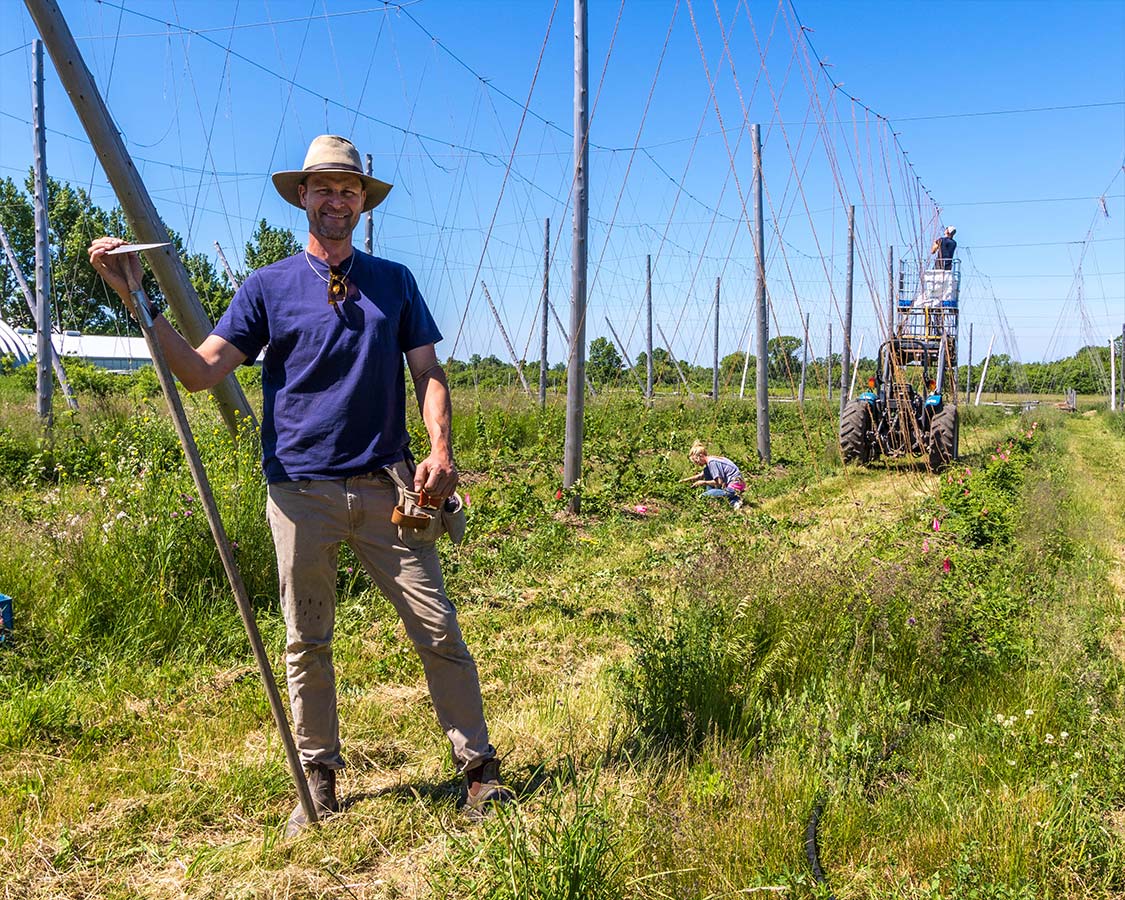 Where is Fronterra Farm Camp and Brewery?
Fronterra Farm Camp and Brewery is located in Prince Edward County, Ontario. This popular Ontario getaway is about 3-hours east of Toronto and about 2-hours south-west of Ottawa. The property is placed perfectly amidst a mix of farms, vineyards, lakes, and parks.
Prince Edward County itself is a wonderful area for a long-weekend getaway. Its manageable size makes it easy to explore via day trips from a single home-base. And the small towns dotting the landscape give visitors lots of great options to explore.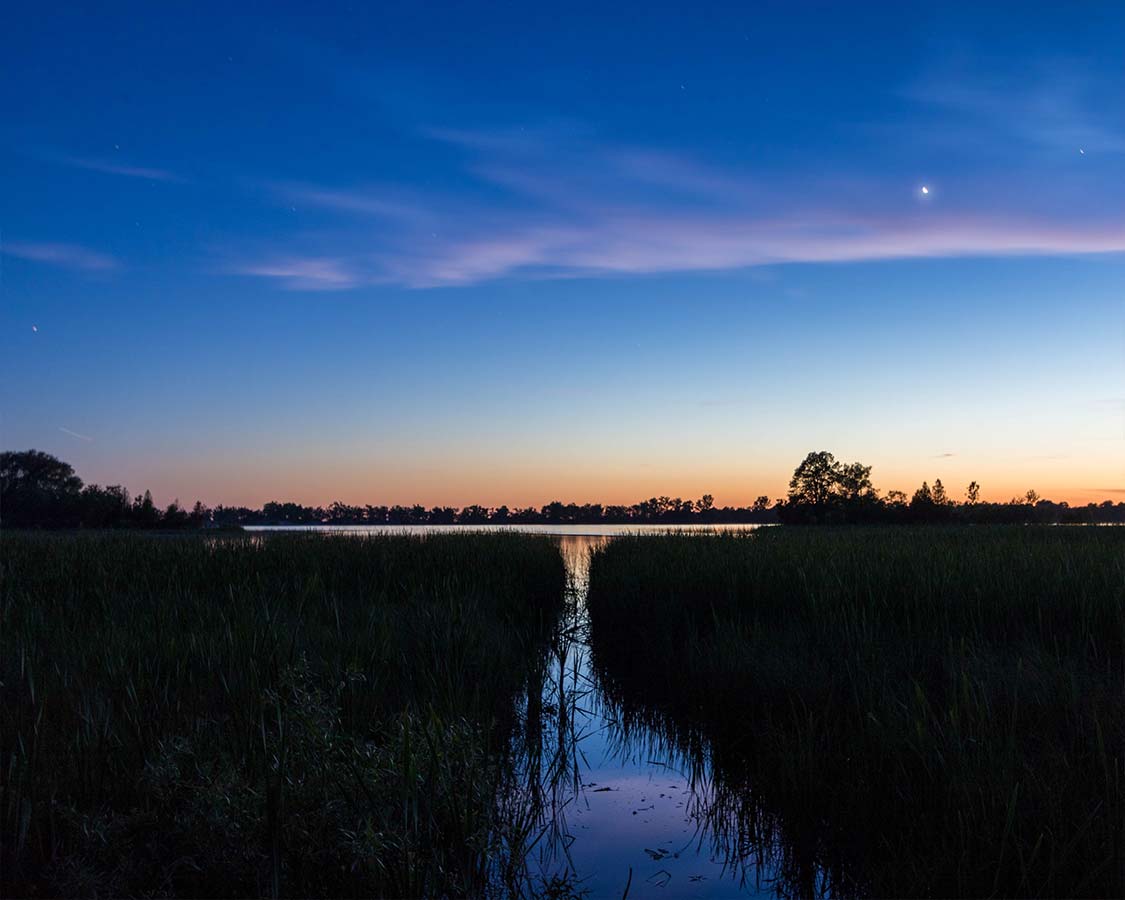 The Glamping Prince Edward County Experience
Our experience glamping Prince Edward County began when we saw an opening for a family tent stay on their website. But the fun began when we arrived at the Fronterra farm.
The Fronterra camp is located at the end of a long drive located next to the Burgens farm. We were met by Inge who helped us bring our gear to our tent before proudly taking us on a tour of their property.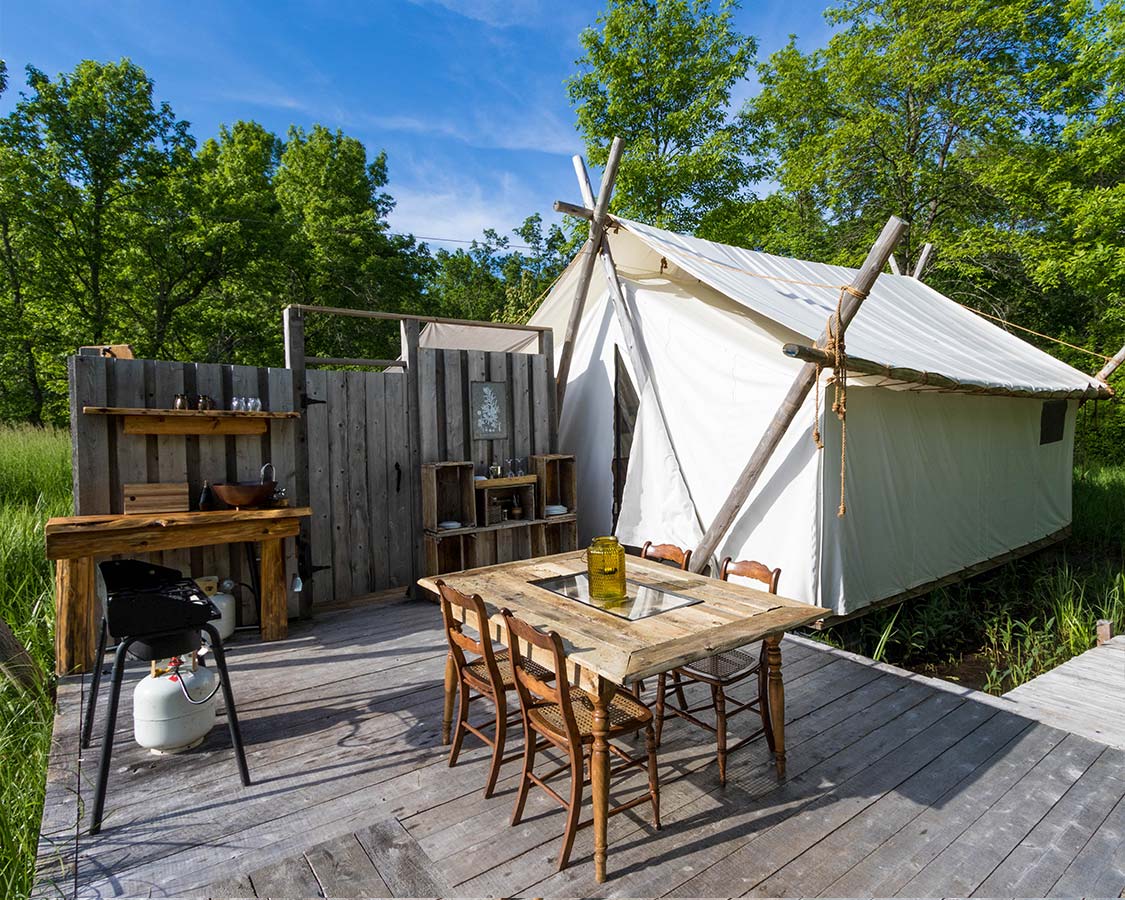 The Fronterra Campground
The Fronterra campground is the epitome of luxury glamping in Ontario. There are 10 canvas prospector tents sprinkled along two paths. The first path runs deeper inside the surrounding forests, while the second offers waterfront views of the North Bay marsh.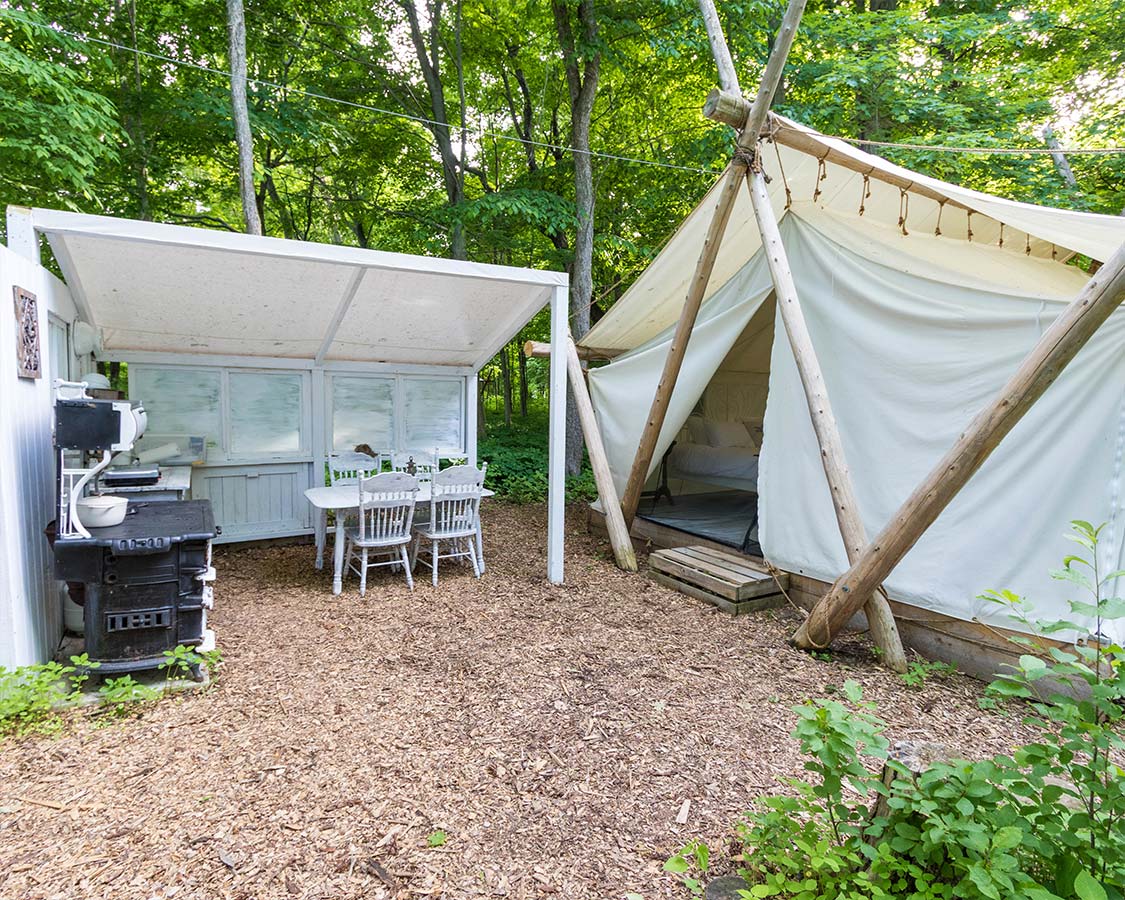 The Tents
Each of the luxury glamping accommodations in Fronterra camp comes with a king-sized bed, outdoor bathroom, kitchen, and fire pit. There is no electricity at the campsites, so it's best to use Fronterra as a chance to unplug and recharge.
The luxury canvas tents framed with logs come with hardwood floors. The outdoor summer kitchen is equipped with a gas grill, dishes, table, and cookware.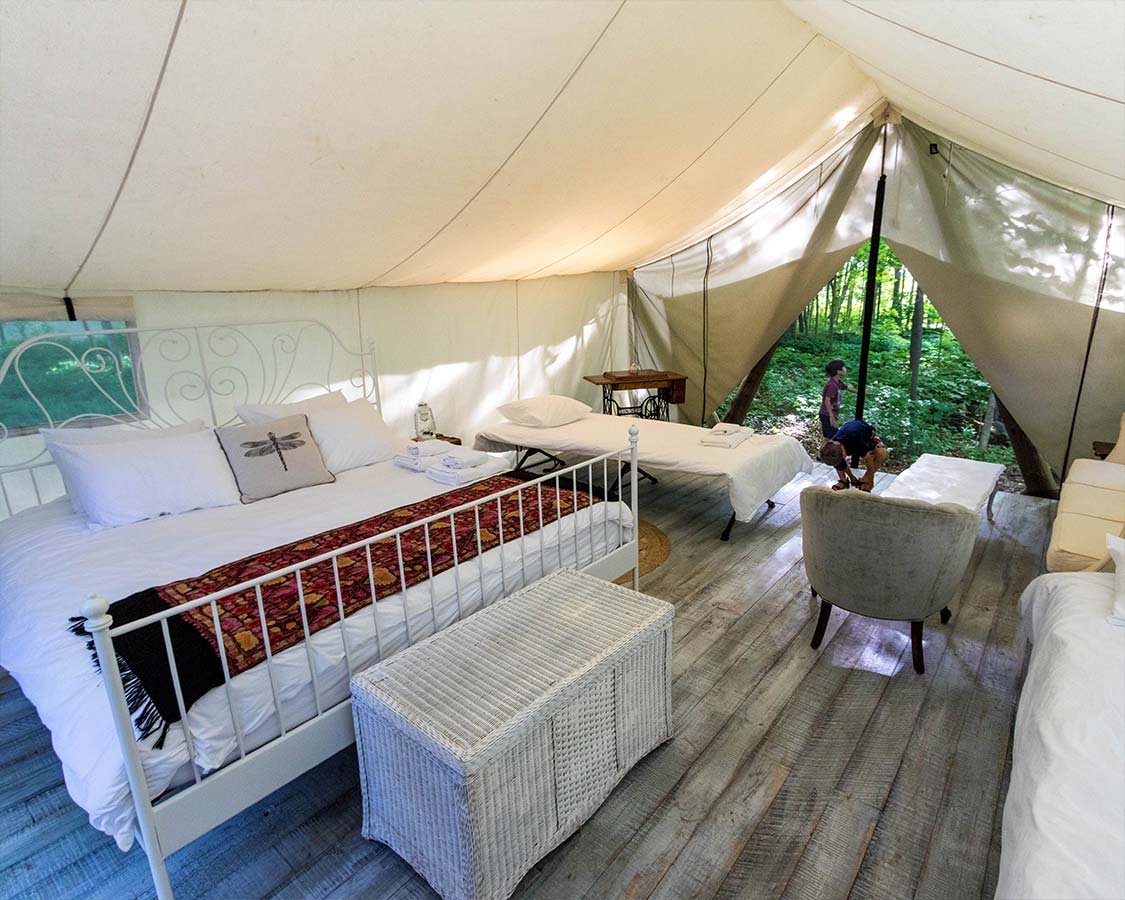 The Farm
The Prince Edward County glamping experience isn't limited to beautiful and comfortable accommodations. Fronterra is also a working organic farm with agro-tourism at its core.
Jens and Inge include farm fresh eggs picked either from an egg basket. Or, if you're feeling adventurous, directly from under the chickens in the hen house.
Fronterra also hosts farm-to-table dinners throughout the summer directly in their garden. To find out when these unique dining experiences are taking place, it's best to get in touch with them directly.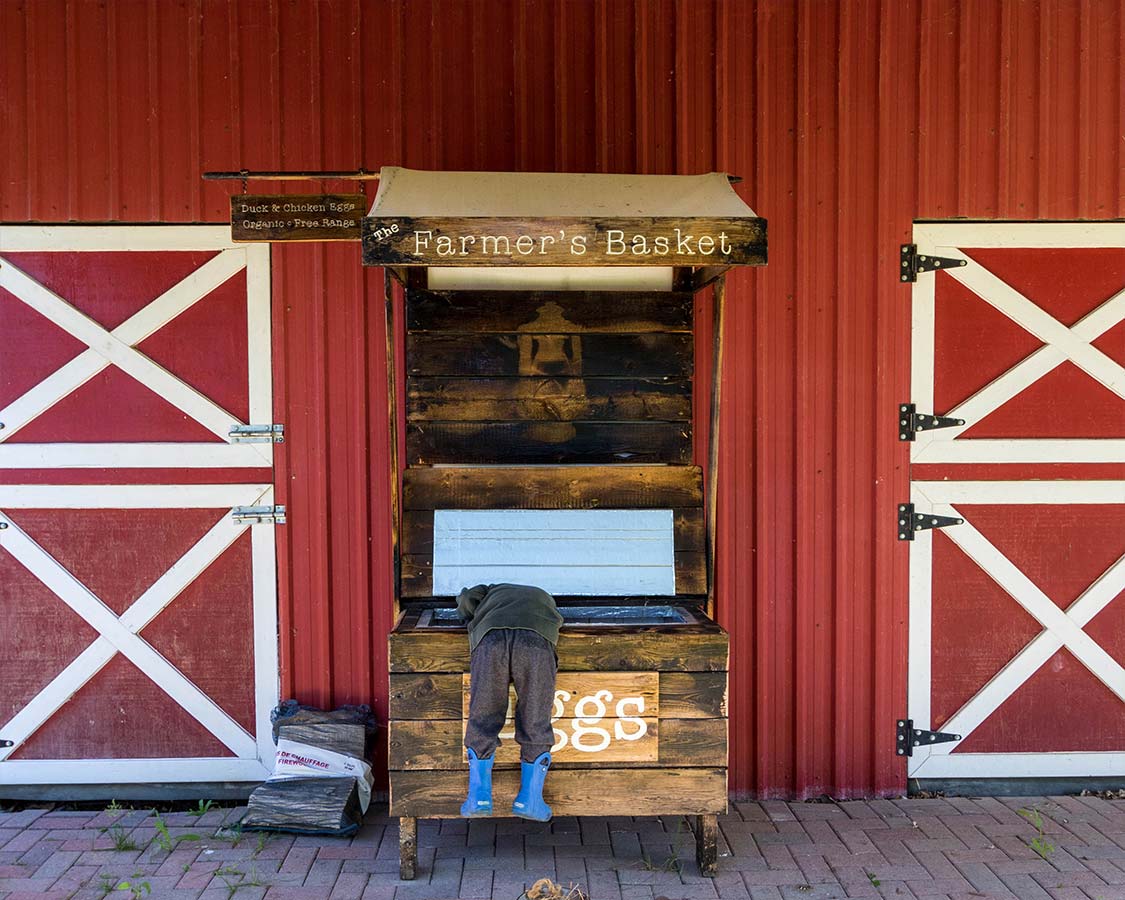 The Brewery
The Fronterra craft brewery was still in development when we visited. Jens has a goal of fall 2018 to see his store ready for display. They did show us around the site where they are working to build the tasting room and cellars for the Fronterra brewery. And the energy they have for the project was definitely infectious.
All the ingredients of the Fronterra brewery will be grown locally. Much of it, including the hops, will be grown right on the Fronterra farm. We look forward to experiencing the brewery once it has launched.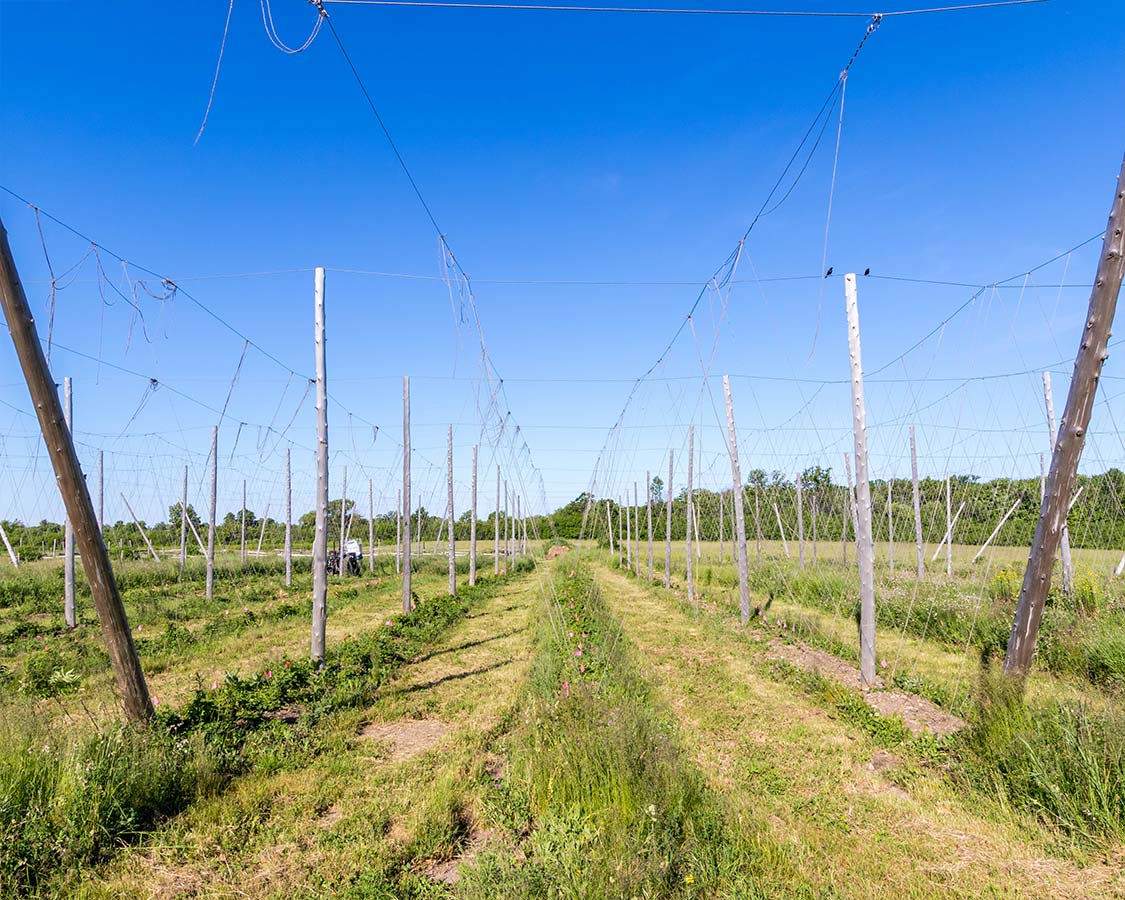 Things To Do Near Fronterra Camp
It's easy to spend a weekend or longer glamping, Prince Edward County, at Fronterra camp. But, if you're like us, you have a need to explore a little further. Luckily, there are many things to do in Prince Edward County, and many of them are very close to Fronterra camp.
Canoe To North Beach Provincial Park
One of the most accessible excursions from Fronterra is a canoe ride across North Bay to North Beach Provincial Park. This thin strip of sand is the start of the great sand dunes that stretch across to Sandbanks Provincial Park. You can rent canoes and other equipment directly from the camp.
It's easy to spend a few hours enjoying the sun and sand of North Beach Provincial Park. The warm waters of North Bay are a stark contrast to the waters on the other side where the sheer size of Lake Ontario keeps the water cool.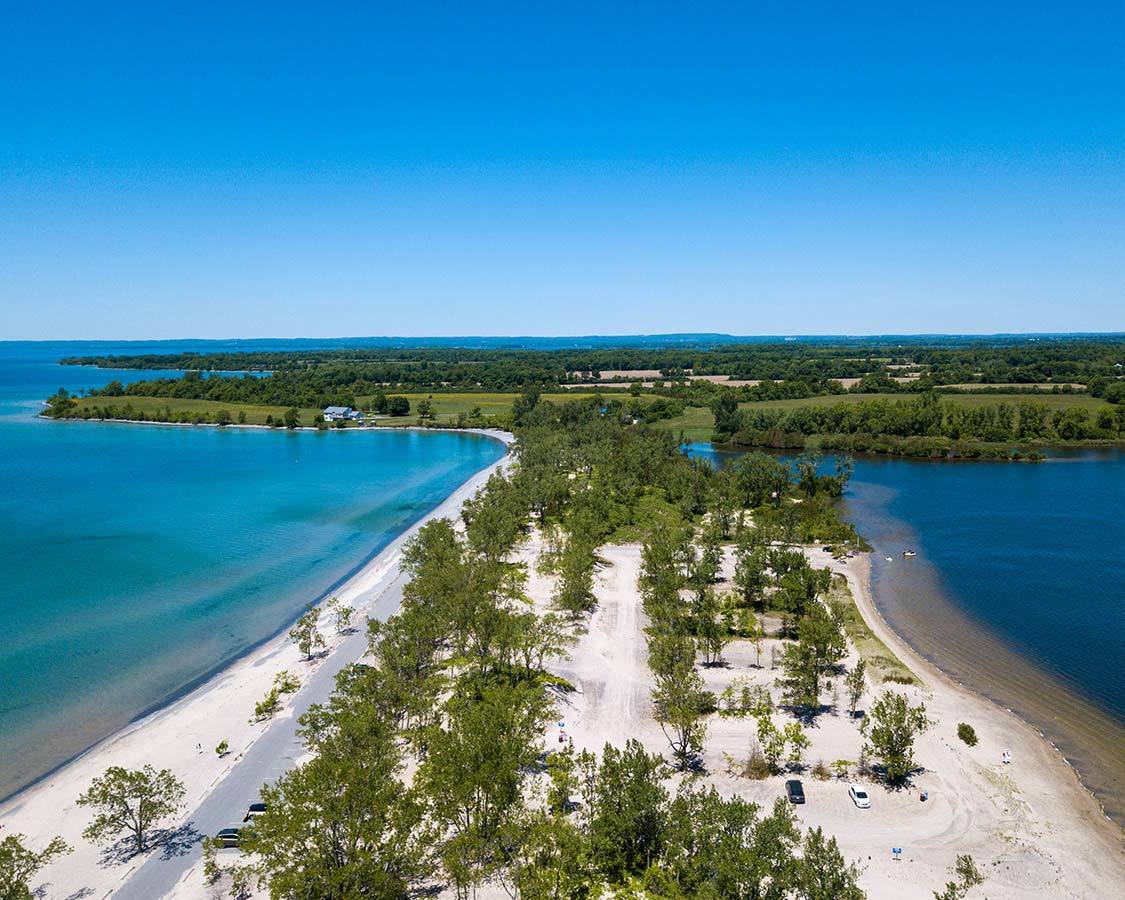 Explore some of Prince Edward County's Wineries
Glamping Prince Edward County is best done with a glass of wine in your hand. Luckily, there are around 40 wineries and restaurants in Prince Edward County to experience. Bring a bottle (or more) back to your tent to enjoy by the fire.
Prince Edward County is a very bike-friendly area. This is made even better by how flat the terrain is. A bicycle wine tour is a great way to enjoy Prince Edward County.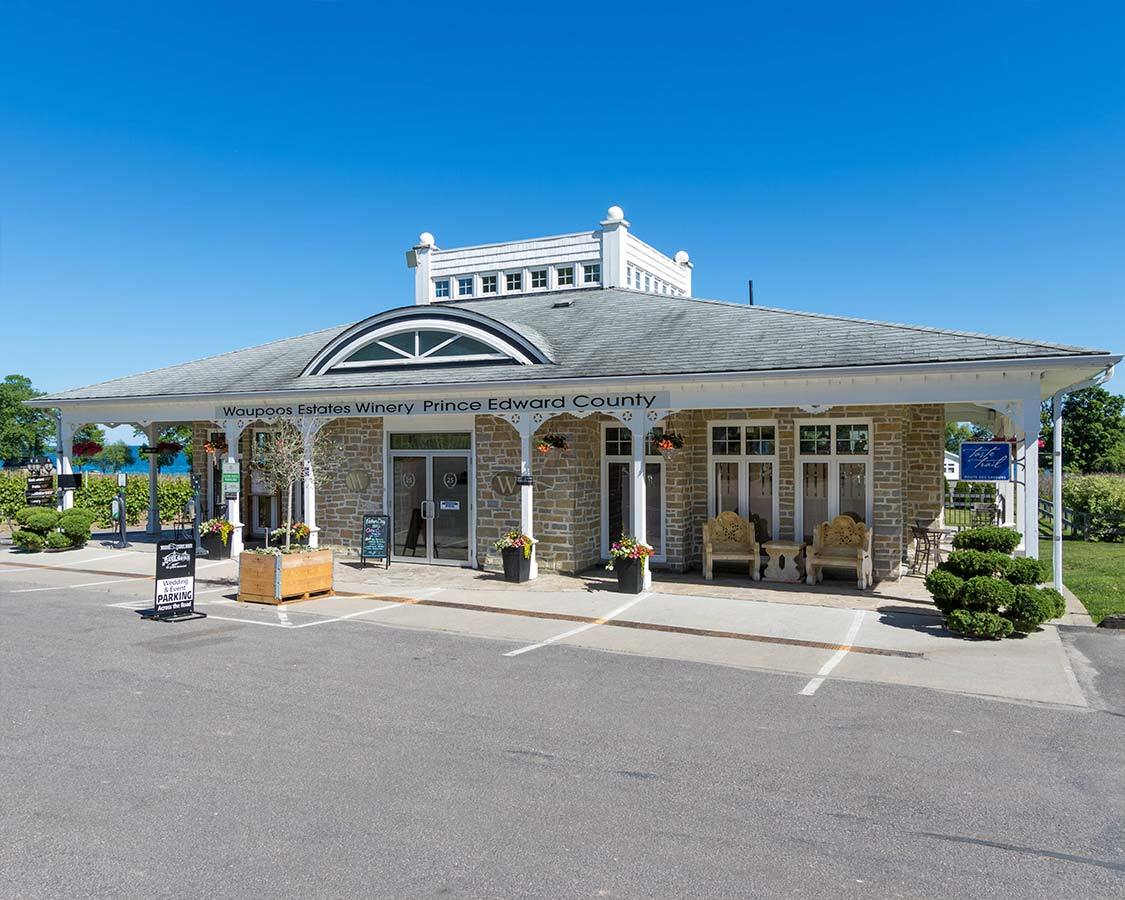 Explore Sandbanks Provincial Park
Sandbanks Provincial Park is one of the most popular Provincial Parks in Ontario. It's definitely worth a visit if you haven't been there before. Come and explore the world's largest baymouth barrier dune formation.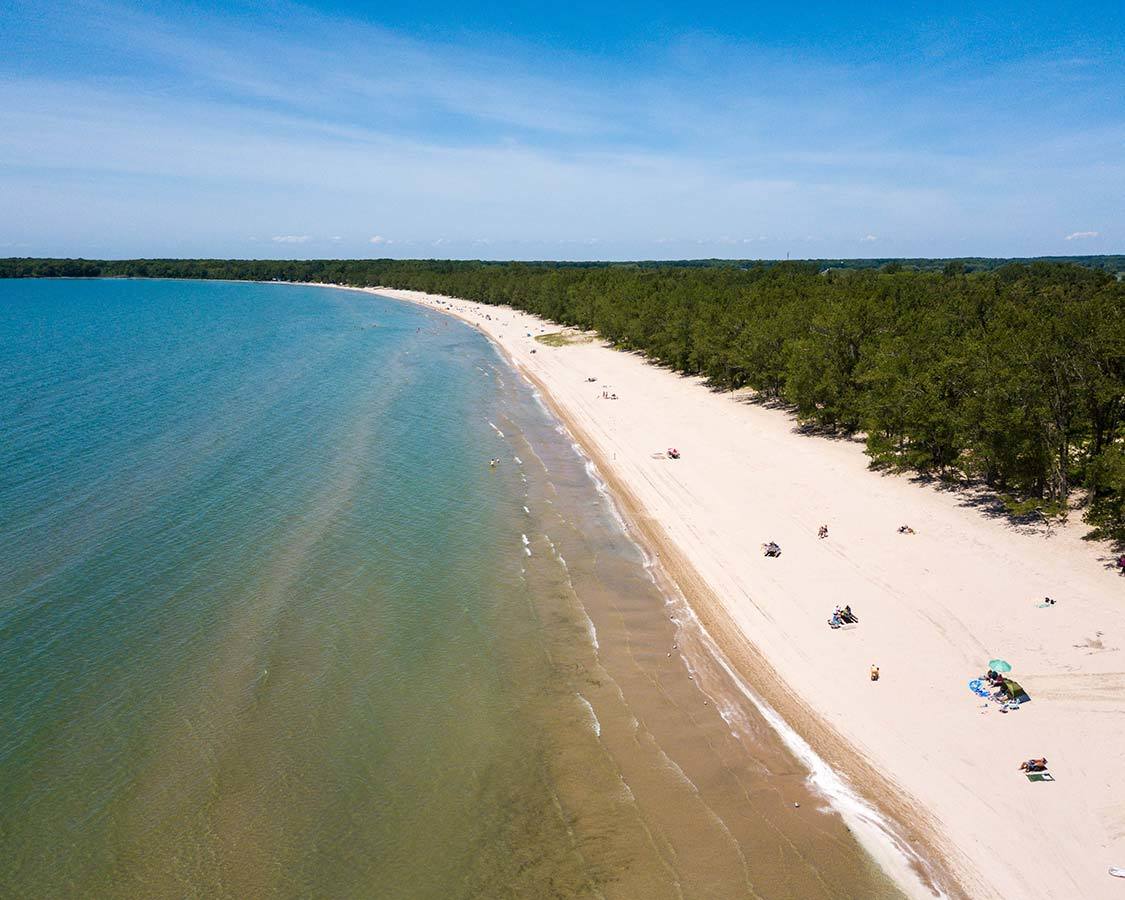 Have Some Delicious Ice Cream at Slickers in Bloomfield
Bloomfield is a short drive from the Fronterra campground, but a visit here will have your taste buds tingling. The Fronterra campground doesn't have electricity so there is no way to keep things cold during your Prince Edward County glamping experience. Cooling down with an ice cream is a must!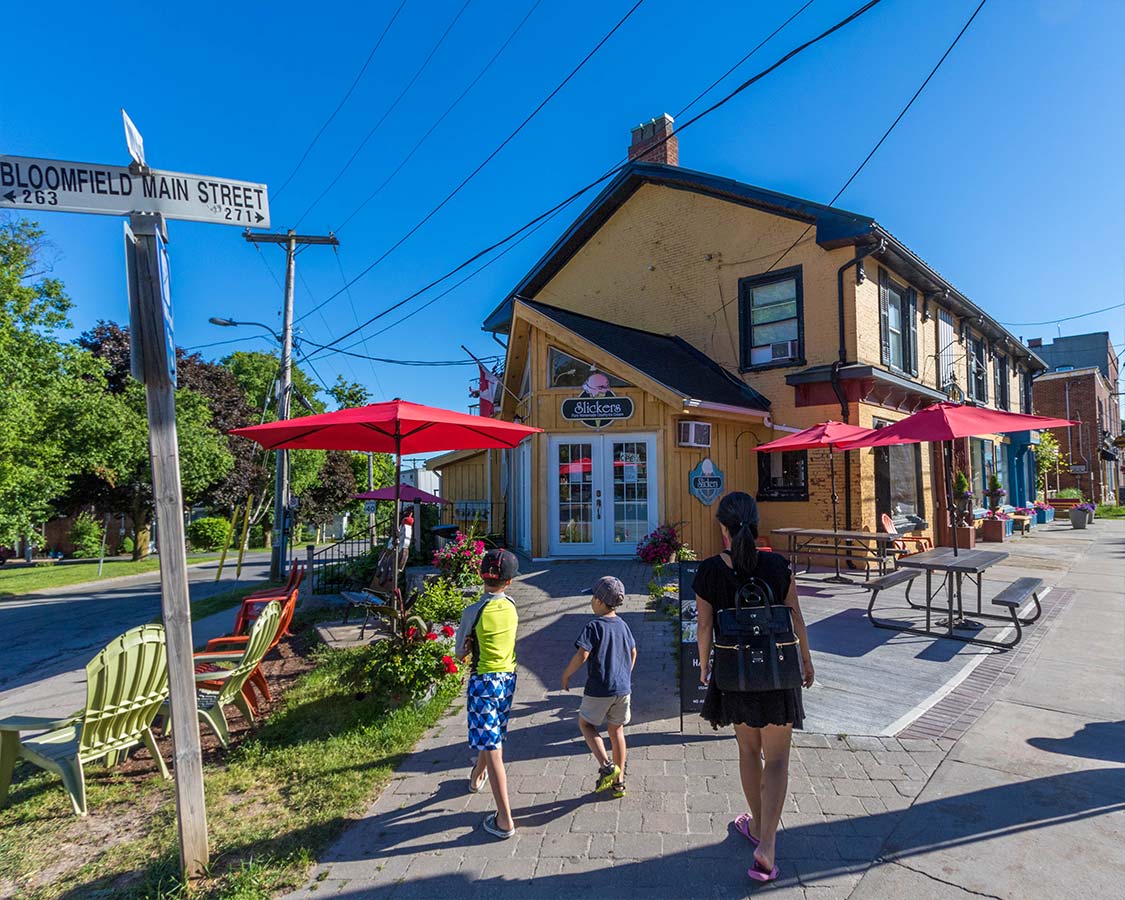 Go Antiquing
Prince Edward County and Antiquing go hand-in-hand. It seems that every town has at least a few antique shops to explore. Fronterra camp itself gets most of their furnishings for the glamping spots from the uniquely-named Dead People's Stuff in Bloomfield.
Do We Recommend Prince Edward County Glamping at Fronterra Farm Camp with Kids?
Fronterra Farm, Camp, and Brewery is an ever-developing business. Jens and Inge are bursting with ideas, and all of them are destined to bring bigger, better things to the glamping experience at Fronterra. As their business evolves, it will be exciting to see how the camp grows.
Glamping at Fronterra camp was a treat. As far as accommodations go, the luxury prospector tents offered a perfect combination of rustic elegance and authentic nature experiences. The beds were incredibly comfortable, the views were amazing, and the atmosphere was fantastic.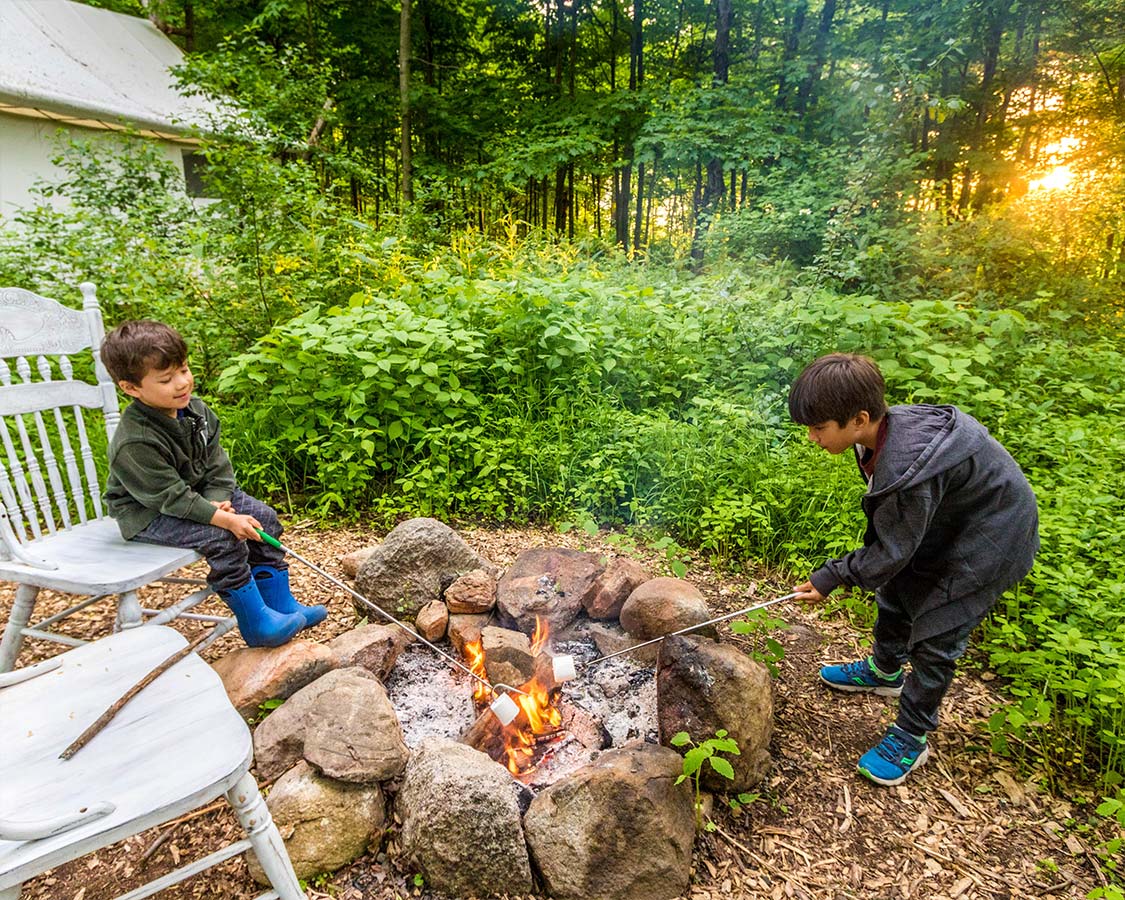 Fronterra was very accommodating for our family. They were able to fit a king-sized bed and two single beds into the prospector tent with plenty of room to spare. The walking paths were easy to manage and well-maintained, and the attention of Jens and Inge along with the energy of their two beautiful children was a real treat.
It would have been great to see the Fronterra store open but it was too early in the season. The Fronterra store makes camp supplies and products more easily accessible. But otherwise, our experience at Fronterra was a blast. We highly recommend Fronterra for a family glamping experience in Prince Edward County.
Disclaimer: We were guests of Fronterra Camp during our visit in Prince Edward County. Our views remain our own. Wandering Wagars is a participant in the Amazon Services LLC Associates Program, an affiliate advertising program designed to provide a means for sites to earn advertising fees by advertising and linking to amazon.com, amazon.co.uk, amazon.ca. Amazon and the Amazon logo are trademarks of Amazon.com, Inc. or its affiliates.
You May Also Like To Read:
Pin This Post For Later: