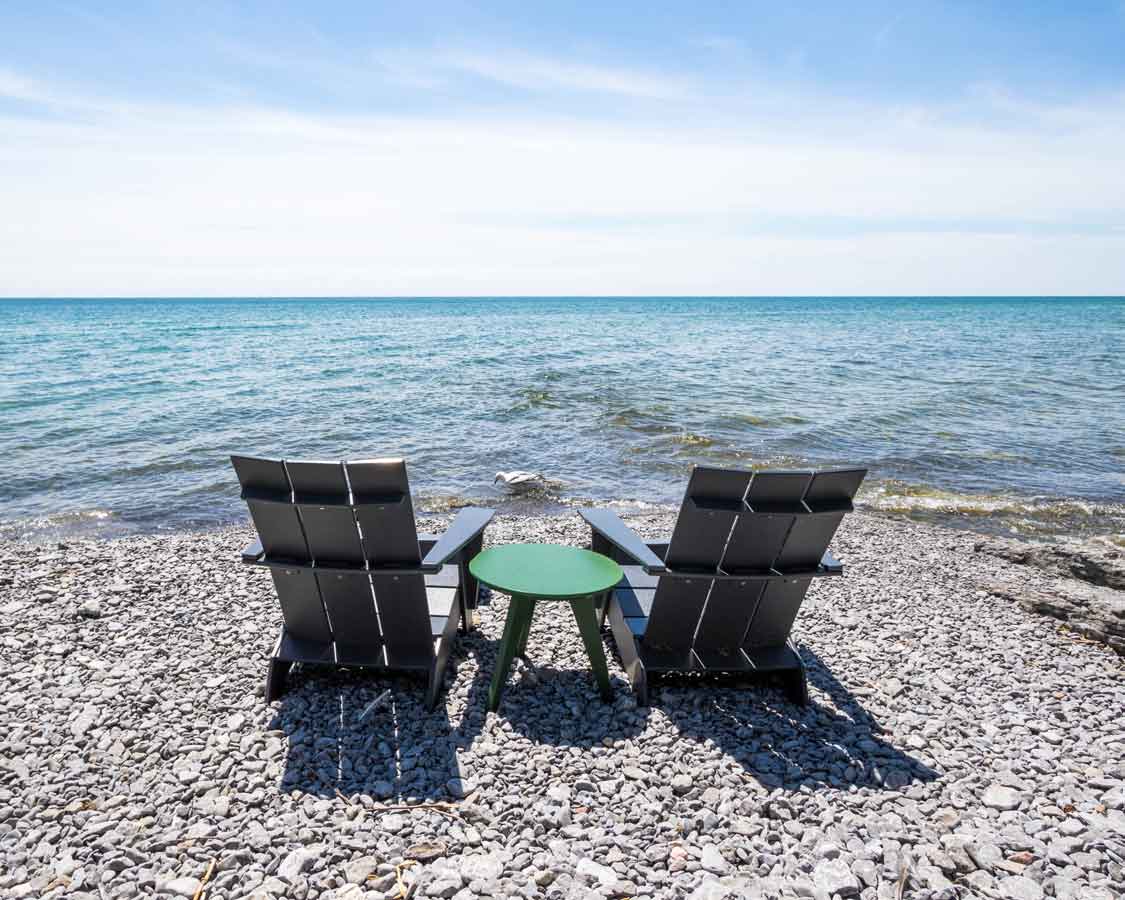 Whether you're planning to spend your time enjoying fine wines or incredible beaches, a weekend in Prince Edward County makes for the perfect getaway from the every day. To meet that demand, there has been an influx of incredible Prince Edward County hotels and resorts. Many of these places to stay in Prince Edward County are scattered throughout the most spectacular things to do in "The County". Whether you're looking for Prince Edward County hotels, Bed & Breakfasts, or even luxury resorts, you'll be able to find the type of accommodations that will fit your PEC getaway to a tee. So pop a cork and pour a glass, we're going to explore some of the best places to stay in Prince Edward County.
The Top Prince Edward County Hotels For Luxury Stays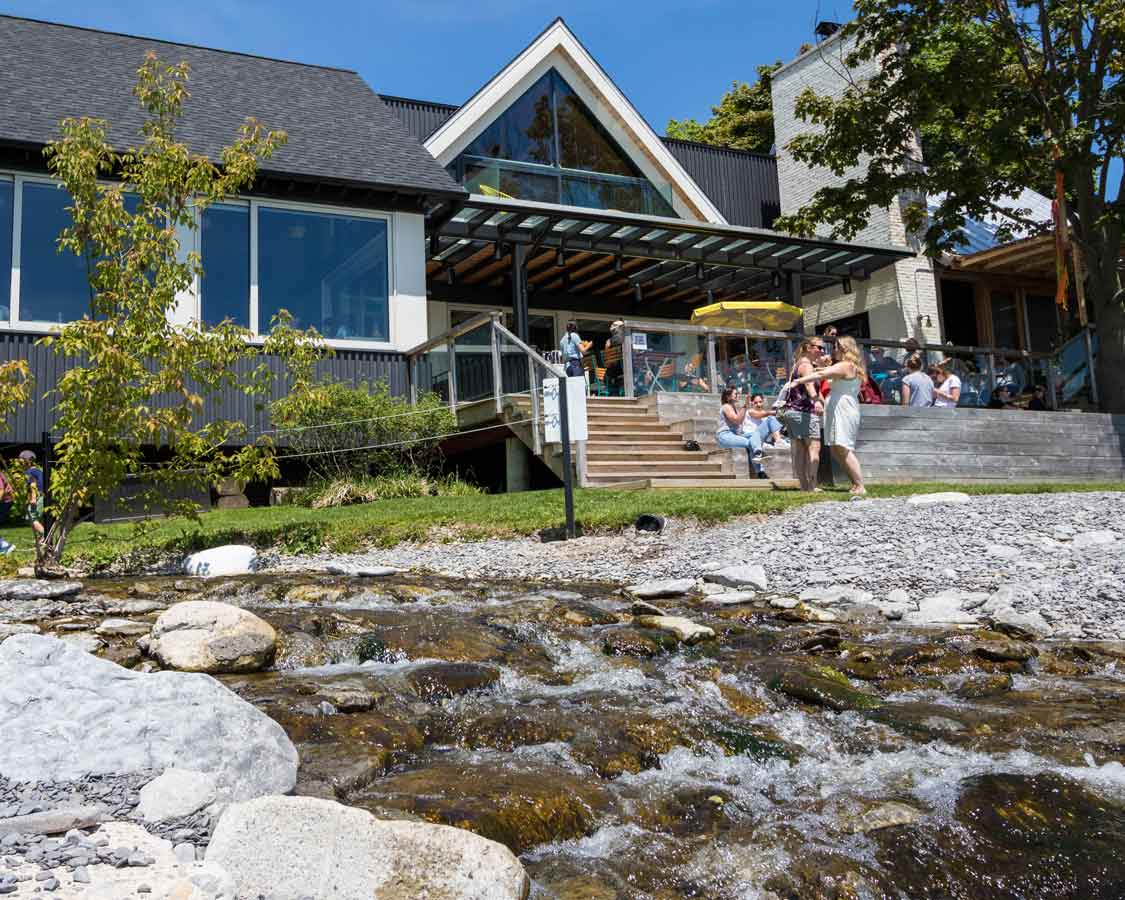 Drake Devonshire
4 Wharf Street, Wellington, ON K0K 3L0
The Drake Devonshire in the town of Wellington is one of the most iconic hotels in Prince Edward County. This not only is the Drake Devonshire one of the most popular luxury hotels in Prince Edward County, but it also houses one of the most popular restaurants. When you combine those two great features with the spectacular piece of waterfront on which the Drake Devonshire is perched, you've got a recipe for one of the best hotels in Ontario.
The rooms at the Drake Devonshire are beautiful. And the restaurant often features live music and special events. But, those looking to stay at the Drake Devonshire would be advised to book early. There are only 11 rooms and two suites. And the hotel gets booked up very early. The popularity of the Devonshires sister property, The Drake, in Toronto has made this a very popular destination for those coming to Prince Edward County from Toronto.
The Waring House
395 Sandy Hook Rd, Picton, ON K0K 2T0
There are few hotels in Prince Edward County that capture the mood of this special part of Ontario better than the Waring House Inn near Picton. Set in a classic 1860s limestone farmhouse, The Waring House has a charming feel that has made it one of the most popular Prince Edward County hotels for weddings and special events.
The Waring House Inn not only has an amazing county vibe but its on-site pub, The Barley Room features excellent pub fare and regularly features live entertainment from local favorites. Guests at the Waring House can expect great food mixed with old-fashioned hospitality that befits the atmosphere of this luxury Prince Edward County hotel. You can pair this comfort with activities such as the on-site cooking school led by Chef Michael Hoy or one of his guest chefs.
Montrose Inn
1725 Old Highway #2 Quinte West, K8N 4Z2
Montrose Inn is one of the few Prince Edward County hotels located off of the peninsula. Situated just minutes from Belleville and Trenton, The Montrose Inn retains much of the style of the Loyalist days. The Inn was built in 1916 and gives off an upscale, historic atmosphere while still being approachable and modern. The Inn features both WiFi and private parking for guest comfort.
The Montrose Inn features incredible views over Lake Ontario and Prince Edward County. Visitors can take advantage of the lounge, garden, and terrace. Each room also features a balcony with garden views. The Montrose Inn is also one of the most popular hotels in Prince Edward County for afternoon tea. Montrose Inn has one of the best afternoon tea experiences in Ontario. And they even have a child-friendly afternoon tea experience for a reduced price.
The Best Prince Edward County Hotels For Families
Isaiah Tubbs Resort
1642 County Rd 12, Prince Edward, ON K0K 2T0
On the shores of West Lake just outside of Sandbanks Provincial Park is one of the most popular Prince Edward County resorts for families. Isaiah Tubbs offers a combination of private cottages and hotel-style rooms for those exploring Sandbanks and the rest of The County. Isaiah Tubbs Resort also has an on-site restaurant that features an incredible selection of Ontario wines, many of those directly sourced from Prince Edward County wineries.
Families at this Prince Edward County hotel will love the private sandy beach, wine tastings, and access to the resort's canoes and kayaks. Kids will love swimming in the outdoor pool during the summer month. And if you plan on taking in all the things to do in Sandbanks Provincial Park, there is no better location to beat the rush of those heading to Dunes Beach.
The Drake Motor Inn
43 Wharf St, Wellington, ON K0K 3L0
Nothing brings back the vibe of the classic Ontario road triplike a good ol' motor inn. The owners of the Drake Devonshire recognized the value of this dying trend and decided to revive it with a twist. Located in the city of Wellington, the Drake Motor Inn adds some class to the classic Prince Edward County accommodation. The Inn caters to families with both family suites and inter-connected rooms. There is also free WiFi available throughout the property.
The Drake Motor Inn is one of the newest Prince Edward County hotels. But it's bound to make a splash with its family-friendly atmosphere and authentic motor inn vibe. Guests will love the available bicycles and fire pit. And for those visiting Prince Edward County in the winter, there is an on-site skating rink.
Angeline's
433 Main Street (Hwy 33) P.O. Box 16, Bloomfield, Ontario K0K 1G0
Angeline's is one of the Prince Edward County hotels that are most beloved by the locals. This small, family-run inn has been locally owned and run for over 30-years. Angeline's has 17 custom-designed rooms that each offer a unique flare. Angeline's is located in the town of Bloomfield near some of our favorite Prince Edward County businesses.
Families will love how close Angeline's is to many great Prince Edward County attractions. And the selection of comfy cottages and quirky suites is sure to satisfy parents. If that doesn't sell you on Angelines, it has also been the choice of Prince Edward County hotels for Prime Ministers and their families during their holidays in The County.
Amazing Prince Edward County Hotels For Unique Stays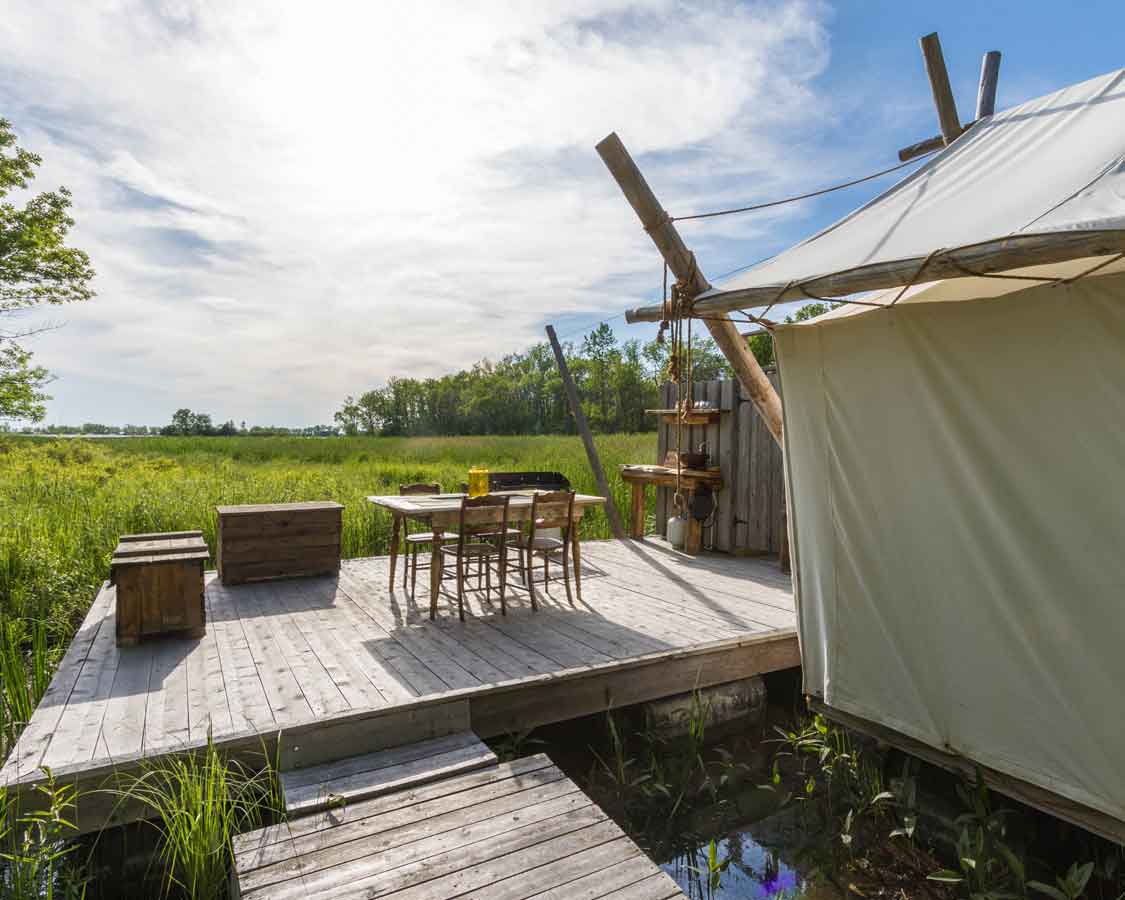 The June Motel
12351 Loyalist Pkwy, Picton, ON K0K 2T0
For those looking for a hip vibe among their places to stay in Prince Edward County, The June Motel should be near the top of the list. This 16-room hotel in Picton is among the top hotels in Prince Edward County for those looking to bump-up their Instagram feed. The property is beautifully decorated across its 16 rooms.
Guests at the June Motel can enjoy the Saturday morning Yoga sessions and the wine o'clock happy hour in the afternoons. This hotel offers a Palm Springs vibe right in the heart of Prince Edward County. It's especially popular for bachelorettes and girls weekend.
Fronterra Farms Glamping
242 County Rd 27, Consecon, ON K0K 1T0
Fronterra Farms located near North Beach Provincial Park may just be one of the most unique places to stay in Prince Edward County. This working hop farm offers the whole rural package including chicken coops and even an on-site Waldorf school. And the accommodations at Fronterra are unlike any other in The County.
Visitors at Fronterra Farms stay in one of several frontier-style tents. These luxury glamping accommodations feature large, comfortable beds and beautiful classic furniture. The glamping tents also feature gorgeous outdoor kitchens and even a comfortable outdoor shower. There are available canoes and kayaks to make the short trip to beautiful North Beach Provincial Park as well, which might just be the most underrated beach in Ontario. You can check out our entire review of Glamping Prince Edward County here.
Stone Carriage House
The Stone Carriage House in Picton is a vintage home with gorgeous facilities. Each unit within this Prince Edward County hotel comes with a kitchen and dining area. This makes the Stone Carriage house a great accommodation in Prince Edward County for longer stays. Guests can also take advantage of the on-site BBQ facilities, garden, and free WiFi. The Stone Carriage House is a home-style destination. Guests will love the comfortable atmosphere and personal service.
Best Prince Edward County Bed & Breakfasts
Merrill House
343 Main St E, Picton, ON K0K 2T0
The Merrill House in Picton is one of the most popular Prince Edward County Bed & Breakfasts. But there is a lot more to this great accommodation than meets the eye. The bed & breakfast was built in 1878 and has been spectacularly restored to its original glory. The Victorian-era house is laden with artwork and unique architectural surprises.
Each room of the Merrill House has been uniquely designed and decorated. This makes for a unique experience for those who come back to this classic B&B year-after-year. Visitors also come from afar to enjoy the upscale French cuisine paired with one of The County's best wine collections. Head Chef Michael Sullivan creates classic fare that will delight even the most well-traveled guest.
The Edward
662 County Road 7 Prince Edward, ON K0K
The Edward is one of the newest Prince Edward County bed & breakfasts. It has hit the ground running though, becoming one of the most impressive luxury b&bs in The County. Much of its popularity has come from The Edwards beautiful suites and it's 75 acres of peaceful Prince Edward County property. If you love their granola and breakfast bars, be sure to ask for the recipe.
Those looking to stay at the Edward are advised to book early. With only three cozy and peaceful suites, this B&B can be tough to get into. Those lucky enough to get in will love the east-coast feel of the property. Those looking for something a little more can take part in their forest walks and sound bathing experiences.
Magnolia North (Adults Only)
RR2 134, Prince Edward County Rd 16, Milford, ON K0K 2P0
Situated just 10 minutes from Picton, the Magnolia North bed & breakfast in Prince Edward County is a popular destination for those looking for a peaceful retreat. Magnolia North is located right on the shores of the Black River. The property features individually curated rooms with WiFi and skylights. Guests even have the choice of two locations for their breakfast. Both the comfortable sunroom or the scenic back deck.
This Prince Edward County Bed and Breakfast isn't for families though. Magnolia North is an adults-only destination. So it's wonderful for that couples getaway. Guests can take advantage of the shared bathroom and living areas. Magnolia is a great destination for enjoying the urban settings of Picton while remaining just 30-minutes from Sandbanks Provincial Park.
This post may contain compensated links. Any purchases made may earn us a small commission at no extra cost to you. For more information please read our disclaimer. Wandering Wagars is a participant in the Amazon Services LLC Associates Program, an affiliate advertising program designed to provide a means for sites to earn advertising fees by advertising and linking to amazon.com, amazon.co.uk, amazon.ca. Amazon and the Amazon logo are trademarks of Amazon.com, Inc. or its affiliates.
You May Also Like To Read: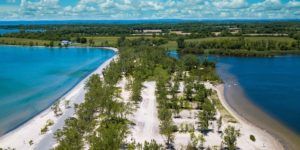 Don't Miss These Things To Do In Prince Edward County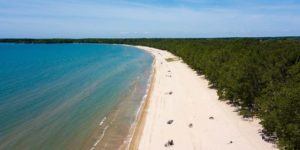 The Ultimate Guide To Sandbanks Provincial Park
Pin This Post For Later: