Driving up Pikes Peak Colorado is one of the most thrilling experiences in the state. Check out all the tips for making the Pikes Peak drive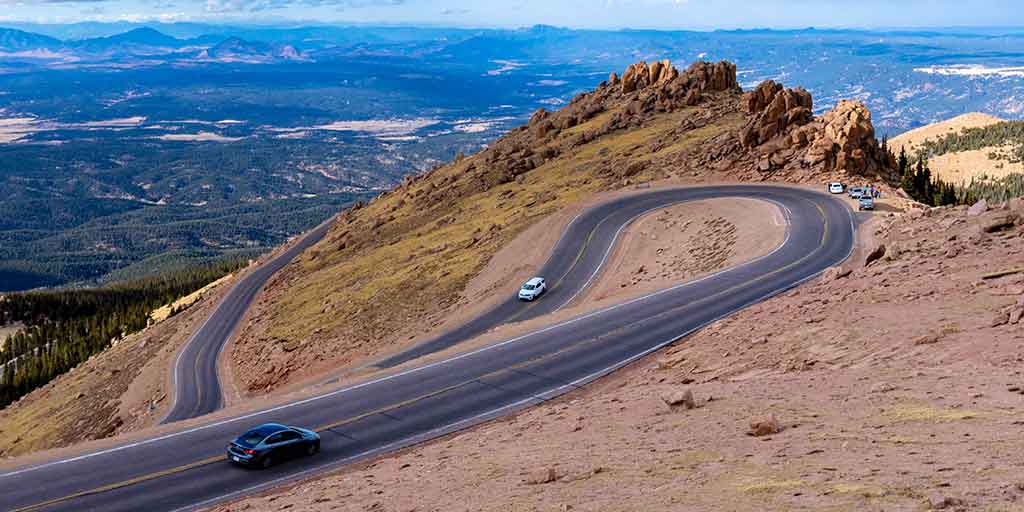 One of the most iconic Colorado experiences is driving up Pikes Peak HighwayThe experience of driving up Pikes Peak. Whether you're exploring Pikes Peak Colorado for the views from the top or the experiences along the way, you're bound to have some unforgettable experiences. There's a lot more to the Pikes Peak drive than meets the eye. And after making the trip with my kids this past fall, and experiencing every type of weather along the way, I'm here to share the best things to do when driving up Pikes Peak Colorado with you.
Driving up Pikes Peak was an amazing family road trip in Colorado. My boys, aged 6 & 8 were thrilled at the exciting drive and all of the amazing stops along the way. They were used to high altitude travel after our family travel in Peru. But the views from Pikes Peak were such a different experience for us. The journey up really put a cap on our amazing experiences in Colorado, and it was such a different road trip than our drive from Denver to Estes Park.
About Pikes Peak Colorado
Rising from the surrounding Colorado landscape to an astounding 14,115 ft, Pikes Peak is among more than 50 "Fourteeners" in the state. A Fourteener is a name given to mountains that rise above 14,000 ft (4,267 meters) above sea level. And while being ranked among 50 in a state may not seem so dramatic, Pikes Peak is one of the few Fourteeners that are easily accessible to the general public. Not only is Pikes Peak situated just a few minutes from the town of Colorado Springs, but there is a paved road that makes driving up Pikes Peak to the summit possible. Be warned, this drive is not for the faint of heart!
A visit to Pikes Peak made it to our list of the top things to do in Colorado with kids. It's breathtaking views and otherworldly landscape make it a truly unique experience. But you won't be alone when doing the Pikes Peak drive. Every year nearly 500,000 people make a trip to "America's Mountain".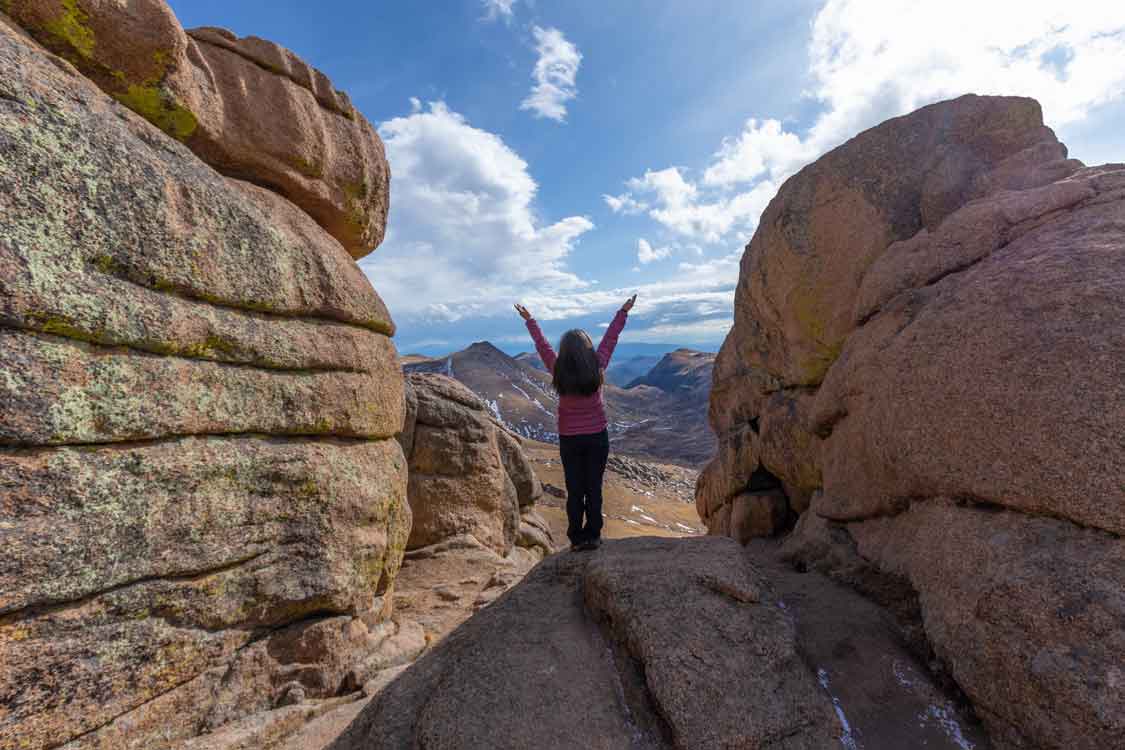 Why Is Pikes Peak Called America's Mountain?
Even before European arrival Pikes Peak was a site of importance for indigenous people. The Ute communities who called the region home referred to themselves as Tabeguache, or "People of Sun Mountain". The mountain was renamed several times over the centuries before finally being crowned "Pikes Peak" in honor of American explorer Zebulon Pike in 1890.
But Pikes Peak really came into fame two years later after the singer/songwriter Katharine Lee Bates took in the views from the top of Pikes Peak. The view of the valleys below inspired to pen the song "America the Beautiful". The song was published in 1910 and quickly became one of America's most popular and patriotic pieces of music. There is a plaque located outside the Pikes Peak Summit Visitors Center with the words to the song emblazoned upon it.
Tips For Visiting Pikes Peak Colorado
Visiting Pikes Peak is an incredible experience that every local and visitor to Colorado should experience. But if you want to make the most of your Pikes Peak drive there are a few things you should know before you go.
What Are The Pikes Peak Hours?
Pikes Peak is open year-round. But accessibility is weather-dependent. There are frequent storms and squalls that can limit access, especially for those looking at driving up Pikes Peak. But if the weather is good, here are the Pikes Peak hours of operation:
May 26 – Sept 4

Uphill Gate: 7:30 AM – 6:00 PM
Summit Closes: 7:00 PM
Downhill Gate Closes: 8:00 PM

Sept 5 – Sept 30

Uphill Gate: 7:30 AM – 5:00 PM
Summit Closes: 6:00 PM
Downhill Gate Closes 7:00 PM

Oct 1 – May 25

Uphill Gate: 9:00 AM – 3:00 PM
Summit Closes: 4:00 PM
Downhill Gate Closes: 5:00 PM
How Much Does It Cost To Drive Up Pikes Peak?
Driving up Pikes Peak isn't a cheap Colorado activity. But it's worth the admission fee to keep visitor numbers sustainable and to maintain the quality of the Pikes Peak Highway. As of our visit, the costs for driving up Pikes Peak are below. These rates could change. To confirm the current Pike Peak entry cost please check their website here.
May 1 – November 30:
Adults (16+): $15
Children (6-15): $5
Full Car (Up to 5 passengers): $50 +$10 per additional adult
December 1 – April 30
Adults (16+): $10
Children (6-15): $5
Full Car (Up to 5 passengers): $35 + $7 per additional adult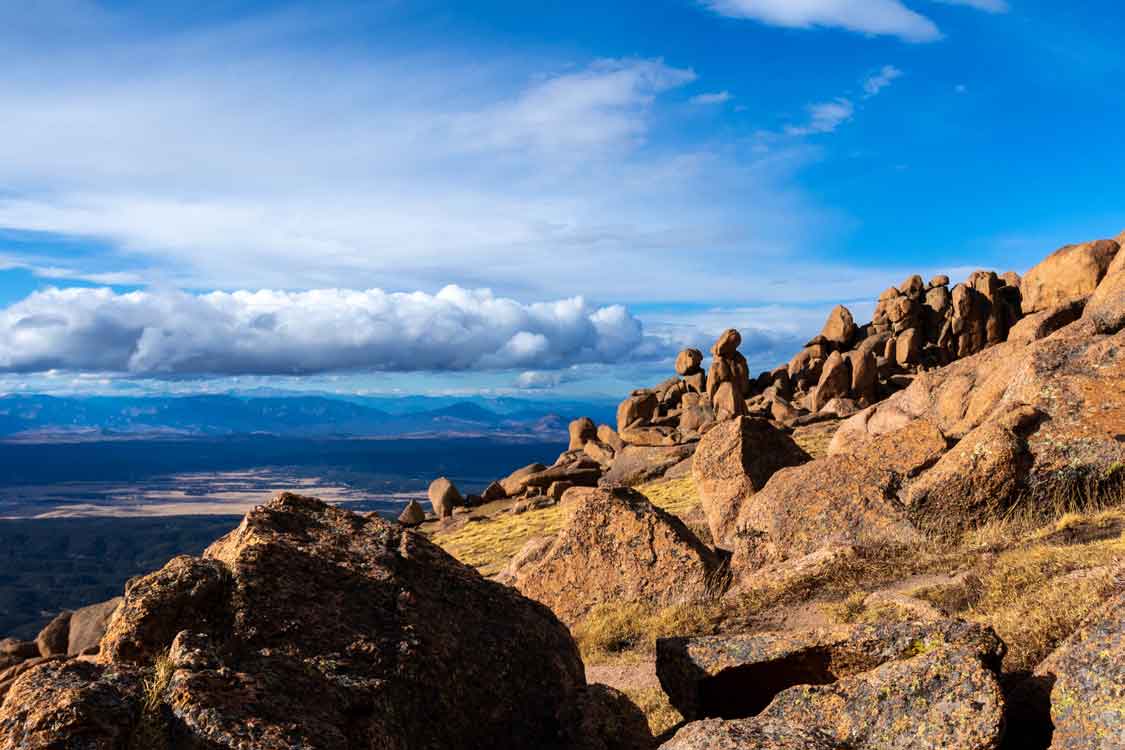 Pikes Peak Car Tips
Car maintenance is important for those looking at driving up Pikes Peak. There are no gas stations in Pikes Peak State Park and there are very few near the park. You also need to make sure that your brakes are in good condition. The drive up Pikes Peak is windy. But the drive down is slow, steep, and requires a lot of braking. You'll need to use low gear nearly the entire way down. And don't be surprised if you are pulled over by a park ranger to check your brakes. If they are found to be too hot you'll be made to wait until they cool down before continuing.
How To Dress For The Drive Up Pikes Peak
No matter what time of year you plan on driving up Pikes Peak Highway it's important to dress properly. Both temperature and weather can vary dramatically between the bottom and the summit of Pikes Peak mountain. I recommend dressing in layers that you can either put on or remove depending on the weather of the minute.
At the very least, I recommend bringing a packable down jacket like this one. They can easily fit into any bag and will help keep the cold and wind out. I also recommend bringing a hat and gloves. It can get cold up there. Just scroll down the page and see our photo a the summit!
Driving Up Pikes Peak With Kids
If you're like us and decide that you want to take your kids to Pikes Peak, know that it's an amazing family-friendly activity. A Pikes Peak road trip is fun for families who love to take in the views from the window. And even better for those who like stopping along the way to explore. Do watch for signs of altitude sickness as you near the summit. Altitude sickness can be especially hard to notice in young children who aren't able to clearly communicate their symptoms.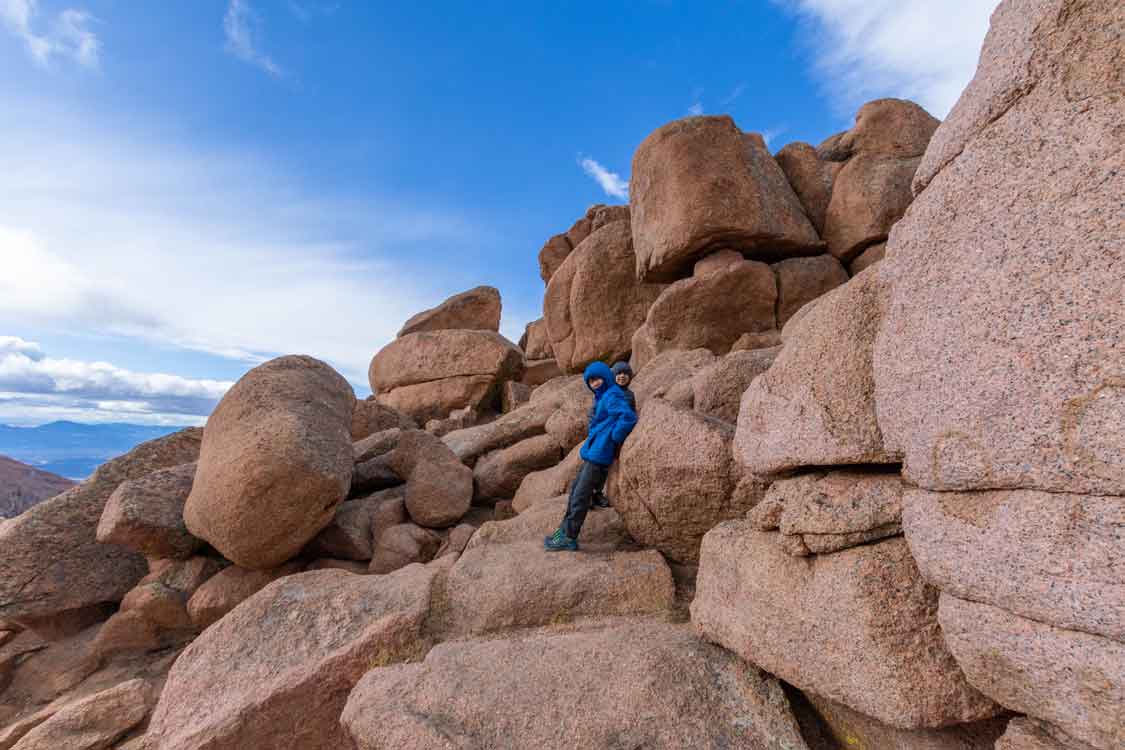 How Can You Get To The Pikes Peak Summit
The journey to the summit doesn't have to be about the Pikes Peak drive. There are quite a few ways of making it to the top. But no matter how you reach the summit, the journey to the top is what makes it so incredible.
Driving Up Pikes Peak
There are a few different ways to get to the Pikes Peak summit. Driving up Pikes Peak is one of the most popular routes. But because summit access can be limited by weather, it's not always possible. You may find that you are told to park and take one of the alternate methods for getting to the Pikes Peak summit instead. For example, when we arrived, we knew a storm was blowing in. The Pikes Peak gate attendant asked about our comfort driving in bad weather, assessed our vehicle (a 2019 Toyota 4Runner), and saw that we had children using car seats. From this, she gave us a pass that allowed us to drive up Pikes Peak while others were required to take another way. The drive takes about 60 minutes without stopping.
Pikes Peak Cog Railway
The Pikes Peak Cog Railway is another popular way to get up to the summit. This route to the summit of Pikes Peak lets you sit back and enjoy the ride. It's the most popular way for people to reach the top of Pikes Peak who don't want to drive. The price for the Pikes Peak Cog railway is about $40/adult and $22/child. The Pikes Peak train operates from 8:00 AM to 4:30 PM daily.
The Pikes Peak Cog Railway recently re-opened for rides up Pike's Peak in June 2021 after years of being closed for maintenance. This stunning route passes by 2,0000 year-old BristleconePine trees and offers some glorious views of the mountain and the surrounding area, all without the stress of having to drive the winding route yourself.
the entire Pike's Peak cog railway is brand new from the rail to the trains. If you would like, you can always join a tour that combines both Pikes Peak and nearby Garden of the Gods.
Summit Shuttle
Because of limited parking available at the summit, especially these days with the new Summit Visitors Center being built, many visitors are asked to park at Mile 16. From here there is a free shuttle that runs all day to and from the summit. This is also a great option for those who want to drive Pikes Peak, but avoid the gnarliest switchbacks near the top.
Hiking Up Pikes Peak
And for those who want to summit Pikes Peak the old fashioned way, you can always make the climb! This route is an epic hike from Barrs Trail near Manitou Springs. The Pikes Peak hike is 13 miles (21 km) each way with a vertical climb of 7,400 ft to the 14,114 ft summit. Although the Pikes Peak climb is considered among the easiest Fourteeners, it's definitely not for the faint of heart.
Biking Up Pikes Peak
For those with the stamina, it's also possible to bike up Pikes Peak Colorado. The Pikes Peak Highway is a bike trail as well. But, if the idea of biking up to the summit sounds a little intimidating, you can always bring your bike to the top and ride it down. Just make sure your brakes are in good shape!
[button color="default" font_color="#ffffff" link="https://www.partner.viator.com/en/70280/tours/Denver/The-Ultimate-Colorado-Springs-Private-Full-Day-Tour-with-Pikes-Peak/d4837-132798P4″ size="large" target="_blank"] Check Out Pikes Peak Tours [/button]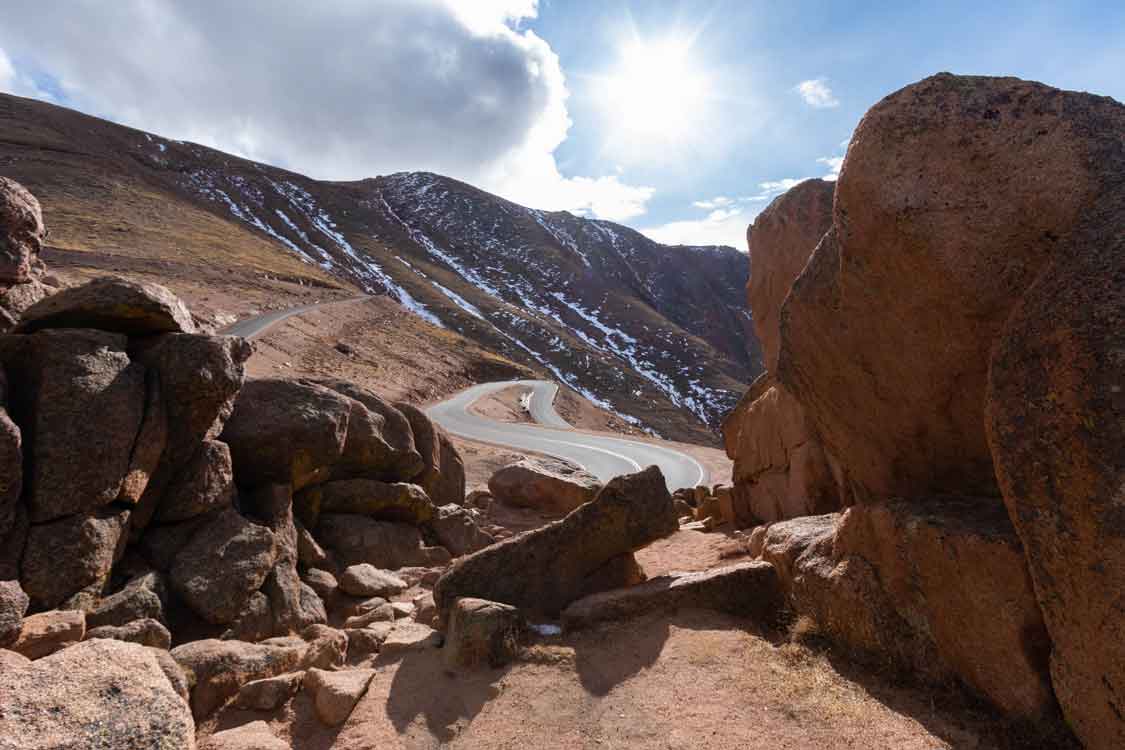 What To See On The Drive Up Pikes Peak Colorado
Any visitor to Pikes Peak can tell you that this Colorado road trip is not about the destination, it's about the journey. That's one of the reasons that I highly recommend driving up Pikes Peak vs taking the Pikes Peak Cog Railway. Our visit to the Pikes Peak summit was filled with blinding snow and whipping winds. But everything below the summit was clear skies and beautiful views. By making the Pikes Peak drive you give yourself the ability to stop along the way. Because there are so many amazing things to see on Pikes Peak
Crystal Reservoir Visitor Center
After passing the Pikes Peak gate, you'll make your way up through some gorgeous forests and picnic areas. One of the first dramatic stops along the Pikes Peak Highway is the Crystal Reservoir. The Crystal River dam is actually part of the Pikes Peak Highway and you'll pass over it as you make your way up the mountain.
The Crystal Reservoir is a great place to stop for food. You can also rent gear for exploring deeper in Pikes Peak State Park. Items such as non-motorized boats, fishing equipment, and more are available for rent.
Half Way Picnic Area
The aptly named "Half Way Picnic Area" is a great place to stop for a break and some views when driving up Pikes Peak. There are a number of relatively private picnic spots here, each with their own Hibachi grill. There are also comfort stations for those who may wish to use the bathrooms along the Pikes Peak Highway. I recommend getting one of the outside picnic spots. These offer the best views of the surrounding scenery.
Pikes Peak Ski Area
Yes, there is a ski resort in Pikes Peak State Park! The Pikes Peak ski area closed in 1984, but backcountry skiing is still available for those who wish to partake. Just know that the ski lifts won't take you back up to the top anymore. You can find out more about skiing at Pikes Peak here.
Devil's Playground
One of the most popular places for stretching your legs on the drive up Pikes Peak is Devil's Playground. There is a massive parking lot here for those wanting to explore the cool rock formations or make the last stretch of the Pikes Peak summit hike on foot. You can get some incredible views by hiking up the short path to the large rocks at the top of the hill. Continue up around the bend for some great views of the highway and the valley below.
Pikes Peak Summit
The summit of Pikes Peak is where your hands can get a break. After gripping fiercely at your steering wheel, it's time to get out and take in those epic Pikes Peak views. Head into the Pikes Peak Summit House and taste one of the famous high-altitude donuts. It's not easy to get the dough to rise at 14,000 ft, but the chefs at the Summit House have mastered the art. But don't ask them what the secret is, they keep that close to their chest.
Head out the back of the Summit House to take in the spectacular views of valleys and countryside. Currently, there is a LOT of construction going on at the Pikes Peak summit. This is due to a massive expansion of the Summit House and summit Visitors Center. But you can still navigate along some of the trails to get some amazing views. Unless, of course, the snow comes in and you end up not seeing anything at all.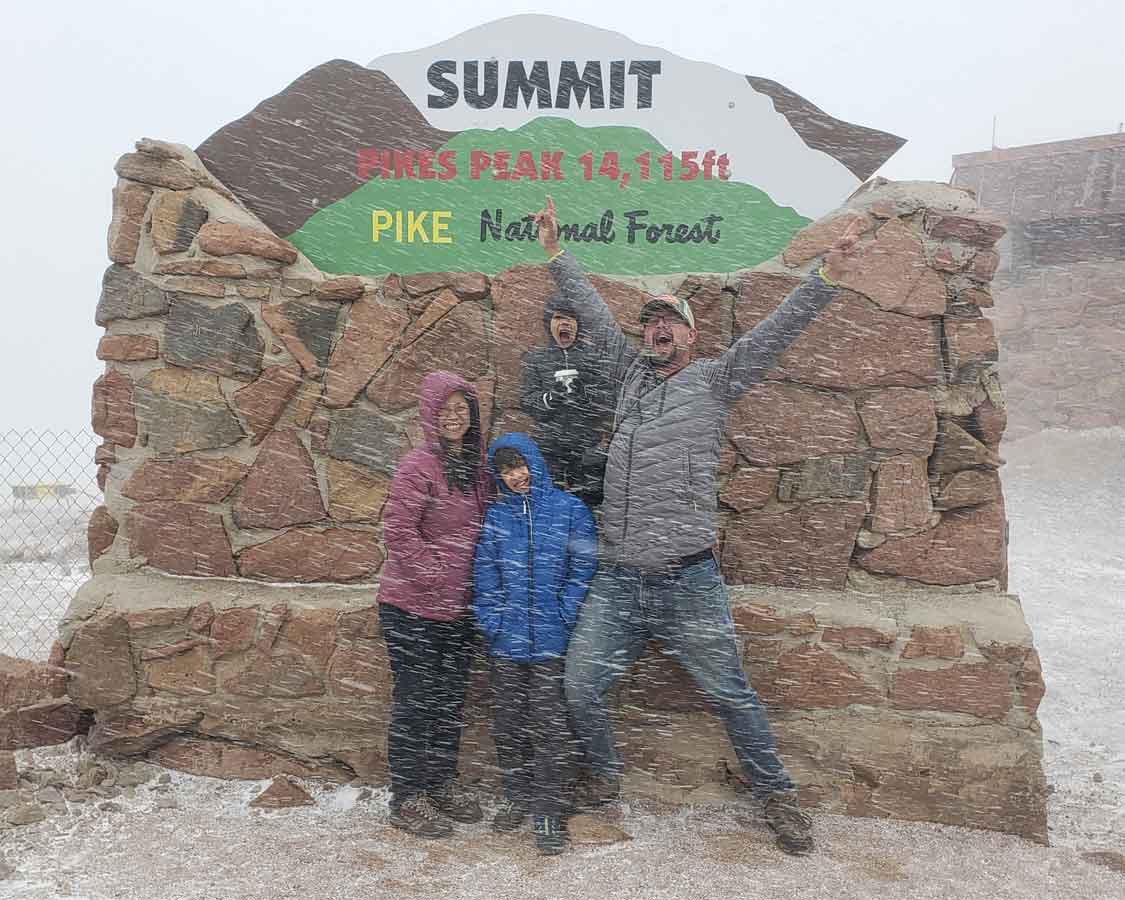 What To Do Near Pikes Peak Colorado
A drive up Pikes Peak usually takes around 3-4 hours depending on how many stops you make along the way. So after making the Pikes Peak drive you should have loads of time to explore some of the amazing things to do near Pikes Peak State Park. Here is a list of some of my favorite activities.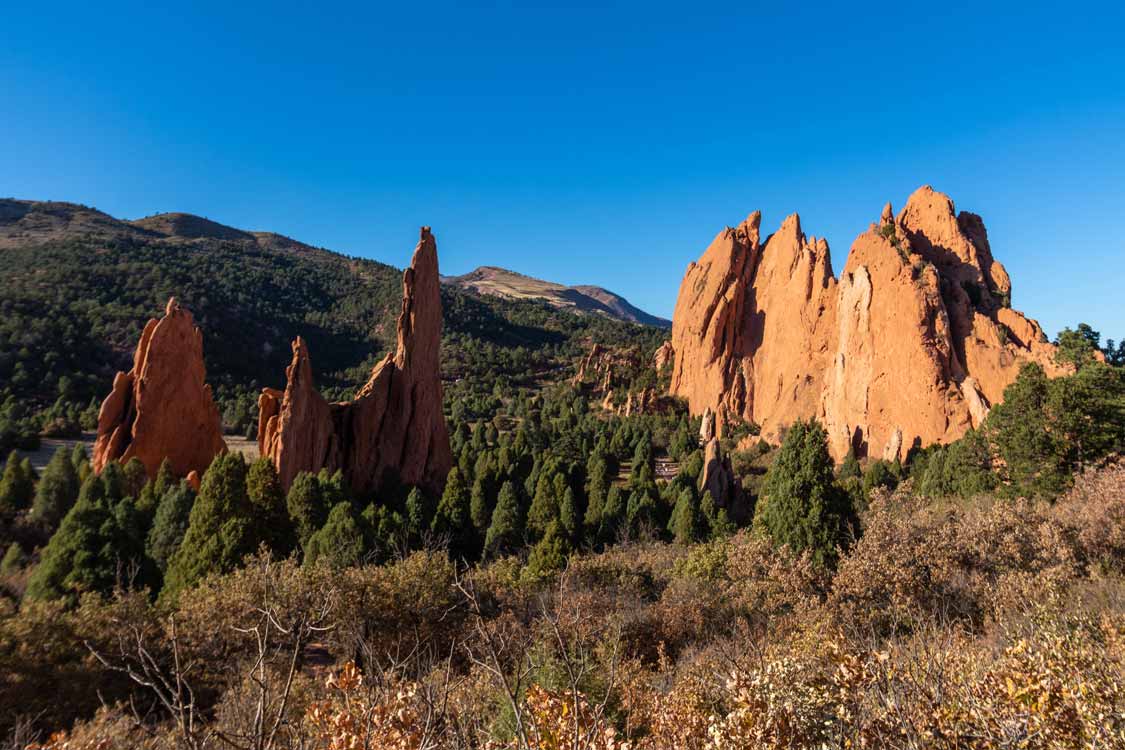 Cave of the Winds Mountain Park
Just a short drive towards Colorado Springs is the popular Cave of the Winds Mountain Park. Cave of the Winds offers a series of cave tours ranging from 45-minute explorations to immersive spelunking expeditions through some of the cave's more remote sections. Cave of the Winds also has challenge courses, zip-lines, and the Bat-a-Pult. This wild canyon swing drops visitors deep across a gorge on a thrilling ride. Cave of the Winds is a great experience for those visiting Pikes Peak with kids. You can learn more about it here.
Garden Of The Gods
If you didn't get enough of the amazing landscapes while driving up Pikes Peak, head over to Garden of the Gods in Colorado Springs and prepare to have your minds blown. Garden of the Gods is a sprawling park with some of the most mind-blowing rock formations in the state. Bring your hiking shoes and prepare to explore. It's easy to spend the rest of the day after Pikes Peak wandering this completely free Colorado attraction. You can read more about the Garden of the Gods here. It's also possible to sign up for a day tour that combines both Pikes Peak and Garden of the Gods. You can learn more about that trip here.
Where To Stay Near The Pikes Peak Highway
If you're planning on making the Pikes Peak drive and you're visiting from out-of-town, you might want to consider some of these amazing hotels near the park to complete your Colorado Springs experience.
Cliff House At Pikes Peak
Located just 1.6 miles from Pikes Peak and 6 miles from Garden of the Gods, The Cliff House at Pikes Peak offers a combination of local history and luxury. The hotel is part of the National Register of Historic Places, which is befitting as it's older than the state of Colorado itself. The Victorian-style hotel has 54 guest rooms and offers a complimentary buffet breakfast. Each room has a small fridge and en-suite bathrooms are fitted with heated toilet seats. You can check out their prices and availability here.
Cheyenne Mountain Resort
If you're looking to make your accommodations near Garden of the Gods part of your experience, consider a stay at the Cheyenne Mountain Resort. This hotel includes indoor/outdoor pools, tennis courts, a spa, and a wellness retreat. And all of this is paired with an 18-hole golf course. The local accessibility with a remote feel also makes for a great escape. You can even enjoy a complimentary boat rental to use on the resorts 35-acre lake. You can check out their prices and availability here.
Have you ever made the drive up Pikes Peak Mountain in Colorado? Tell us about your experience in the comments below. Or, visit our Facebook page and share a photo of your experience.
This post may contain compensated links. Any purchases made may earn us a small commission at no extra cost to you. For more information please read our disclaimer. Wandering Wagars is a participant in the Amazon Services LLC Associates Program, an affiliate advertising program designed to provide a means for sites to earn advertising fees by advertising and linking to amazon.com, amazon.co.uk, amazon.ca. Amazon and the Amazon logo are trademarks of Amazon.com, Inc. or its affiliates.