Visiting Denver with kids unlocks a world of adventure. From trains to dinosaurs and everything in between, these are our favorite things to do in Denver with kids!
---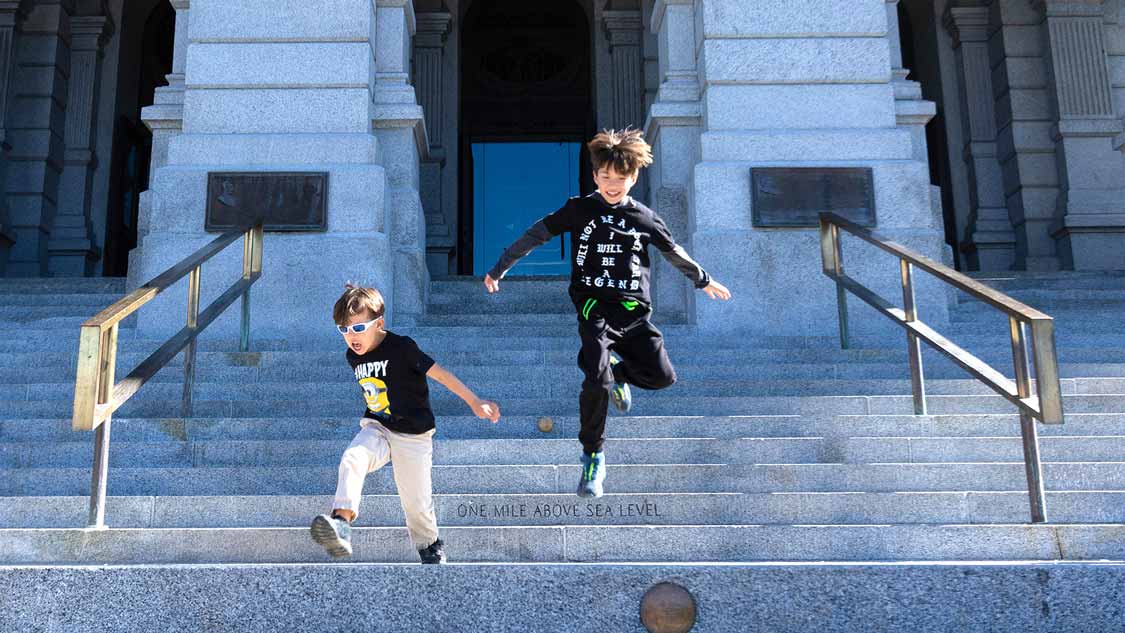 The Colorado capital of Denver is one of the most thrilling and exciting cities for family travel in the United States. The Mile-High City features incredible restaurants, museums, parks, natural beauty, dinosaurs, trains, and so much more!
So to help you plan your visit, I've put together my list of the best things to do in Denver with kids so that you can experience the magic of Colorado's capital for yourself.
If you're looking to spend a few days in Denver with kids, check out our list of the best family-friendly Denver hotels right here.
A Little About Denver Colorado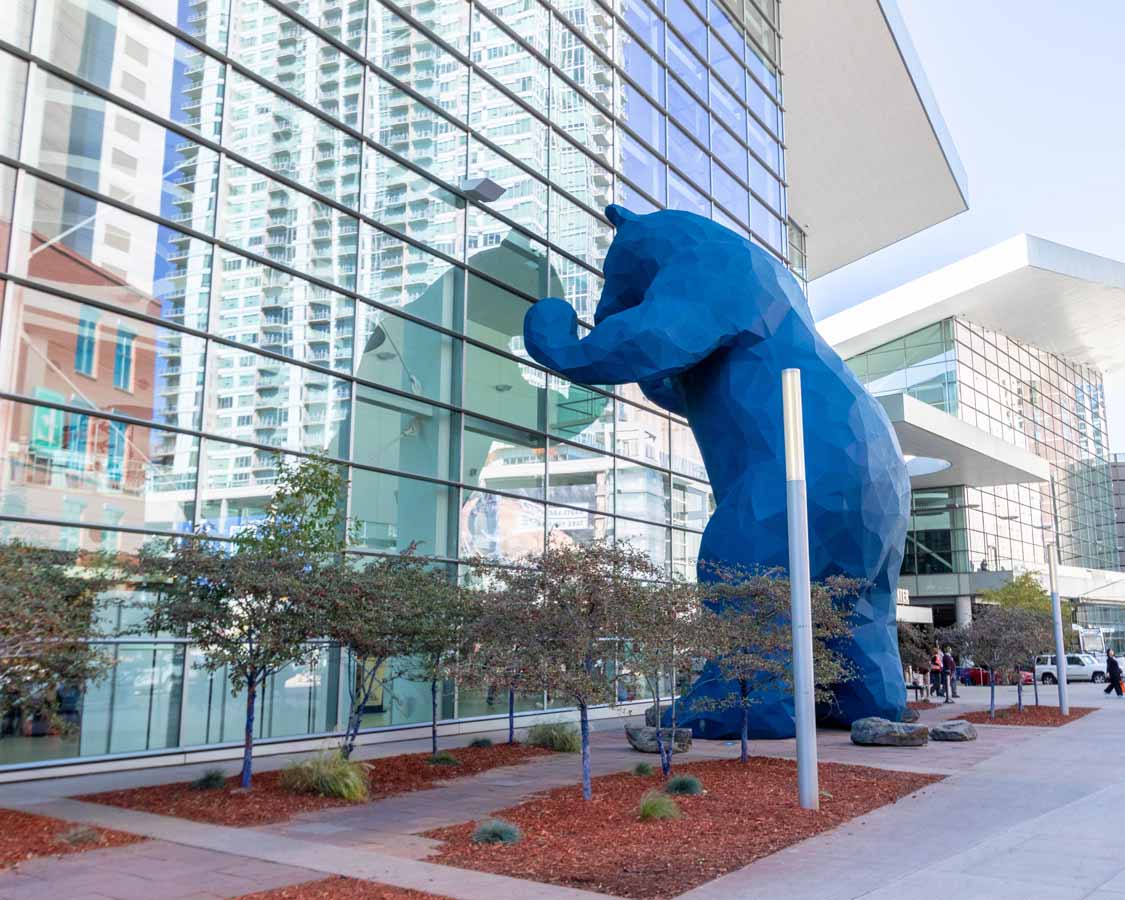 Denver is the biggest city in Colorado. The city towers up at an altitude of 5,280 feet (1609 meters), which led to it being dubbed the Mile-High City, as it truly sits almost exactly one mile above sea level.
Denver is home to more than 200 parks, and its altitude gives it sweeping views of the nearby Rocky Mountains. This and more make it one of our favorite places to visit in Colorado.
The city began its boom back in the summer of 1858 during the Pikes Peak gold rush. Denver's humble beginnings as a frontier town servicing local miners with gambling, saloons, livestock, and goods trading quickly led the city to outgrow its roots into the regional capital.
Denver exploded in popularity when it was connected to the national rail network. Soon, it became a destination for millionaire investors.
Those investments saw the city grow into what is now the 18th most populous city in the United States.
Nowadays, Denver is rated as one of the best places to live in the United States. And, in our opinion, one of the best places to visit with kids.
Location is a big part of Denver's charm as well. It's situated near incredible Colorado destinations such as Rocky Mountain National Park and Cave of the Winds.
What To Do In Denver With Kids
There are almost too many things to do in Denver for kids. But I'm going to take this time to focus on those things that make a family trip to Denver so unique.
Denver is one of my favorite cities to visit. It's full of incredible attractions and places to visit. So hang on tight, here is our list of Denver things to do.
Hammond's Candy Factory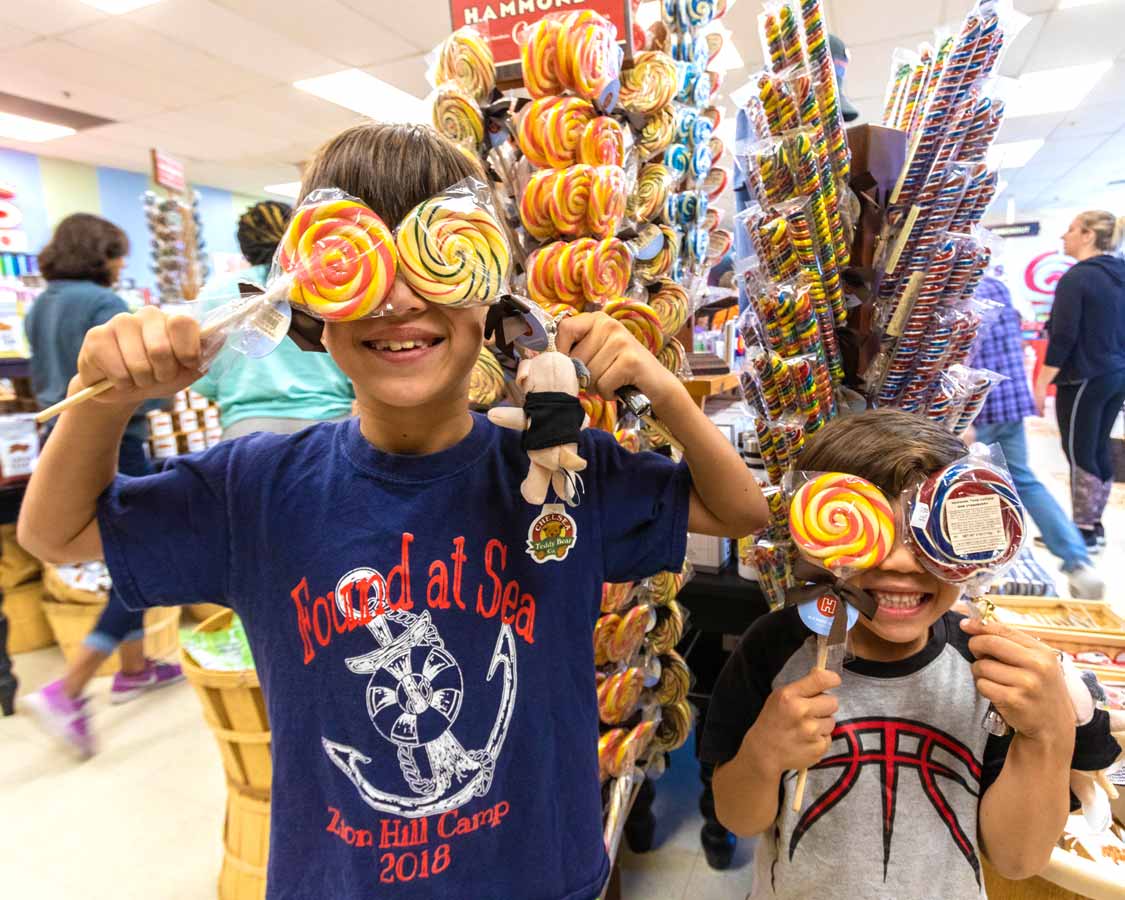 Yep, I'm jumping right to the treats! Found in an industrial district on Washington St. This might seem an odd place to bring kids to in Denver. But, the moment you walk through the door, you'll understand why.
Hammond's Candy Factory doesn't just make candy. They manufacture the treats in the same classic style from a century ago. A free tour through the factory will bring you face to face with delectable hand-pulled lollipops and ribbon candies that are hand-shaped and glorious to behold.
Tours of Hammond's Candy Factory run every half hour from Monday to Saturday. You can book those here.
City Park
Denver's City Park is one of the best places to visit in Denver with kids. This sprawling green space is home to some of Denver's most popular attractions, including the Denver Museum of Nature and Science, as well as the Denver Zoo.
The park was built in the late 1800s and is one of the oldest public spaces in Denver.
Throughout the park, you'll find lush green lawns, playgrounds, bike rentals, and trails. You can even rent a swan-shaped boat for one of those Instagramable moments on Ferril Lake.
Denver Zoo
Located at the eastern edge of City Park, the Denver Zoo is one of the most popular things to do in Denver for families. The zoo is home to over 3,000 animals, including elephants, giraffes, orangutans, and lions.
Visitors also love riding some of the Denver Zoo attractions, such as the Conservation Carousel and the Denver Zoo Railroad. You can find out more here.
Denver Museum of Nature & Science
Situated right next to the Denver Zoo is the Denver Museum of Nature & Science. This fun and educational attraction lets families experience the universe from the age of the dinosaurs, through the Egyptian mummies, all the way up to modern space travel.
Kids go nuts over the space experiences at the Gates Planetarium. And the archaeological sandpits and moving water features offer a hands-on experience that is sure to thrill.
You can book your tickets to the museum in advance here.
Children's Museum of Denver
The Children's Museum of Denver is a popular place to visit for those visiting Denver with younger kids, with a focus on children aged 4 to 8.
This fun and engaging museum is a play-focused attraction full of water features, play spaces, make-believe grocery stores, fire departments, art studios, and even a DIY space for little makers. Kids can even take a cooking workshop at the Teaching Kitchen.
You can book your time at the Children's Museum of Denver here.
Colorado State Capitol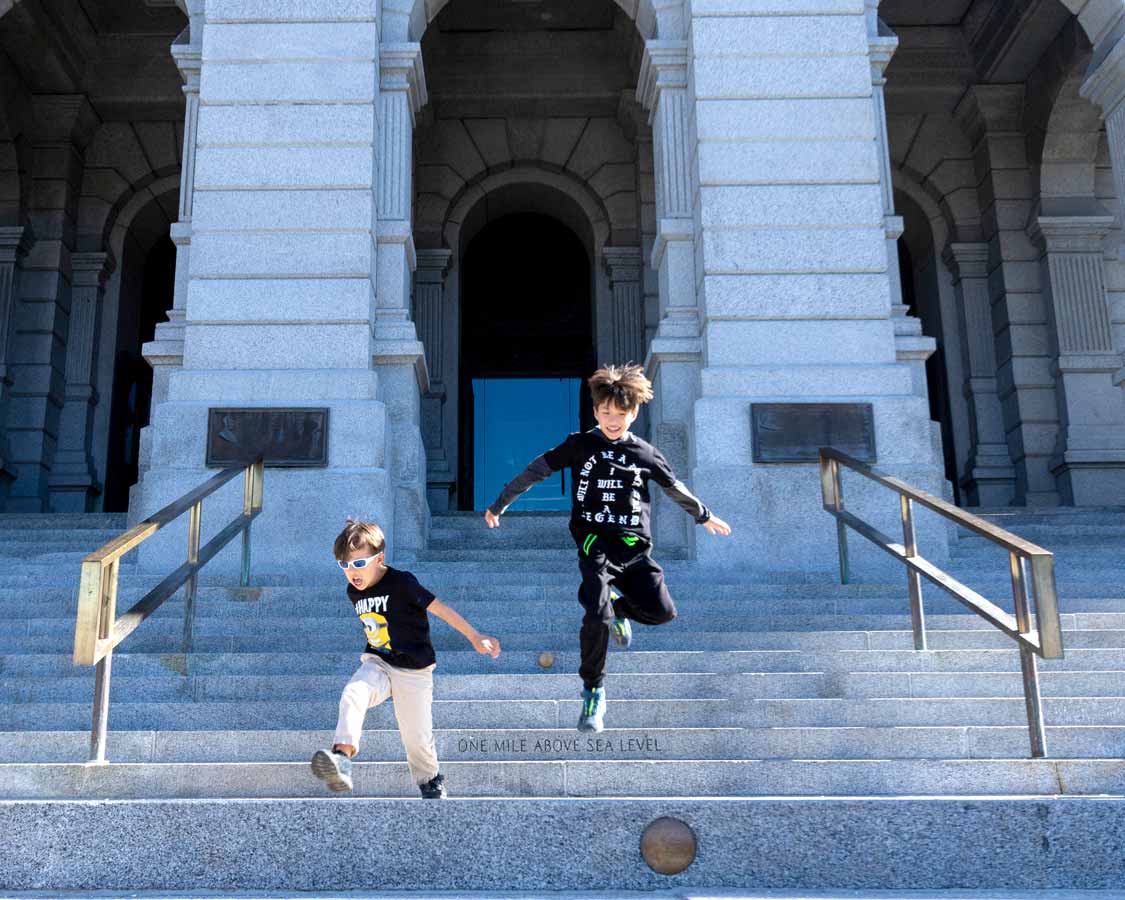 Maybe a capital building doesn't sound too exciting for a family trip to Denver, but the Colorado State Capital is a blast, even with young kids.
There are free walk-in tours offered from Monday to Friday. Parties over 10 should make a reservation in advance. The tour covers all sorts of fun details about the building and both Denver and Colorado's history. There's even a fun children's play space.
The grounds themselves are also gorgeous. And a stop at the Mile-High Step near the front entrance makes for a great photo op.
Rocky Mountain Arsenal Wildlife Refuge
The Rocky Mountain Arsenal National Wildlife Refuge is just a short drive from the Denver International Airport. This wildlife hotspot is one of the coolest things to do in Denver for free.
The park features an 11-mile wildlife loop where visitors can explore the various animals in the preserve including bison, deer, coyotes, prairie dogs, and much more.
The park offers an awesome opportunity for some up-close and personal experiences of some of Colorado's incredible wildlife. You can find out more here.
Red Rocks Park & Amphitheater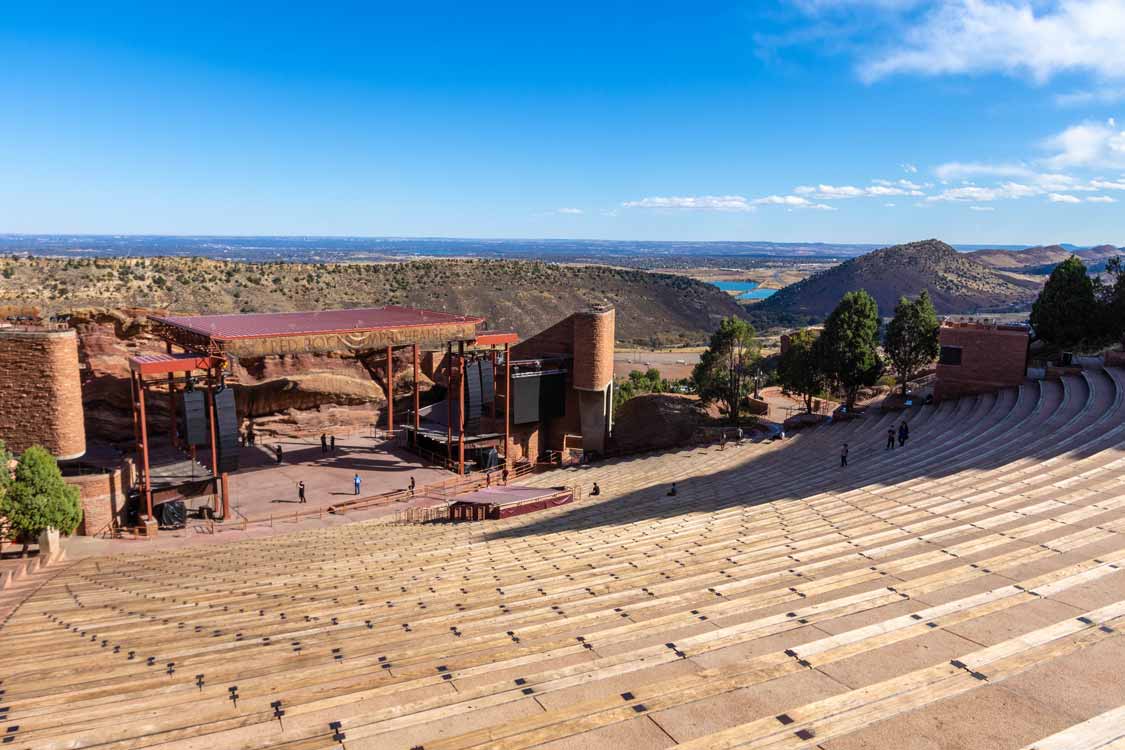 Standing in one of the world's most unique and beautiful outdoor concert venues is an experience that is hard to forget. And you can time your visit to one of the world-class musical acts that play the Red Rocks Amphitheater.
Even if you aren't able to score tickets to your favorite band, Red Rocks Park is still a fascinating place to explore. Our kids loved running up and down the stone bleaches. Also, there are dozens of gorgeous trails for hiking, biking, or even horseback riding.
Dinosaur Ridge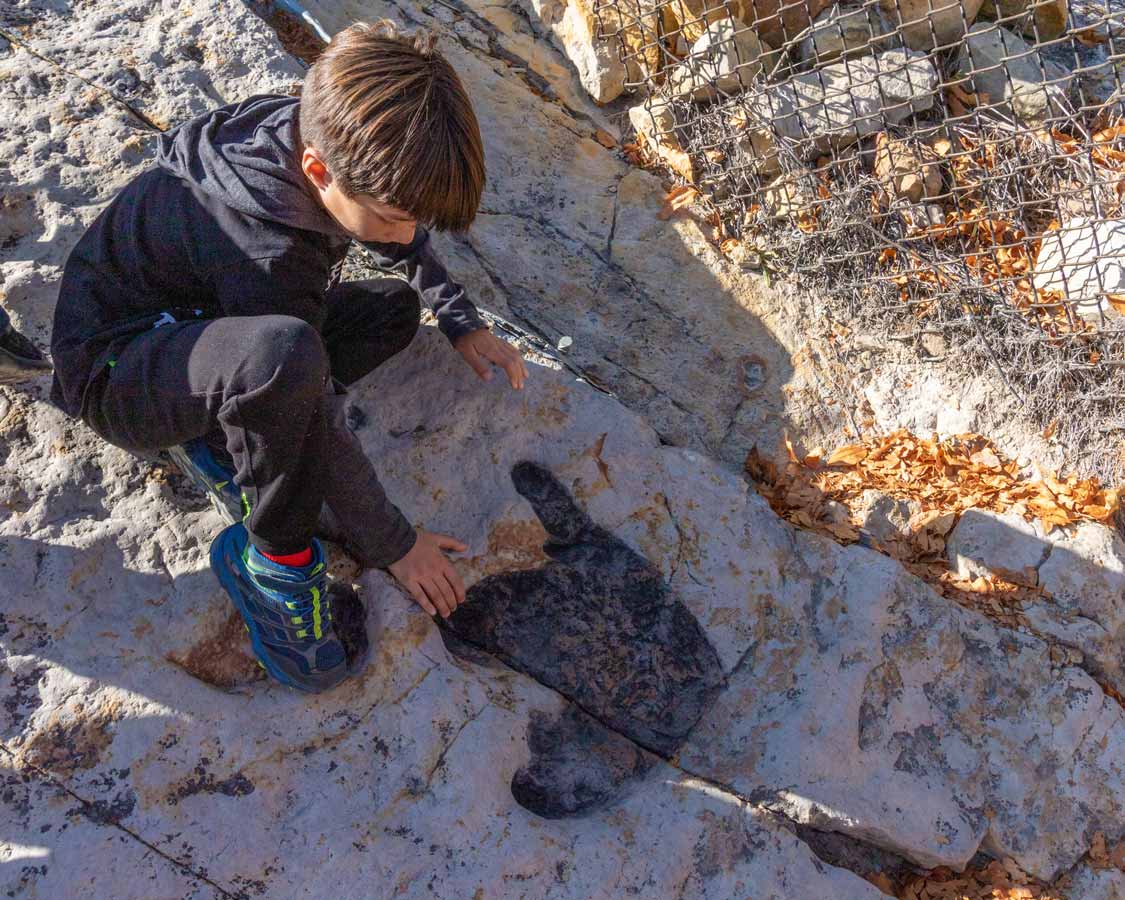 Make the short, 20-minute drive from downtown Denver to Morrison and Dinosaur Ridge and you'll find yourself walking in the footsteps of dinosaurs. Literally!
This world-famous archaeological site was first unearthed back in 1877. And since then, hundreds of footprints have been uncovered from dozens of dinosaur species that walked through what was once a mangrove swamp.
You'll find the footprints of Allosaurus, Stegosaurus, Apatosaurus, and others. You can find out more here.
Colorado Railroad Museum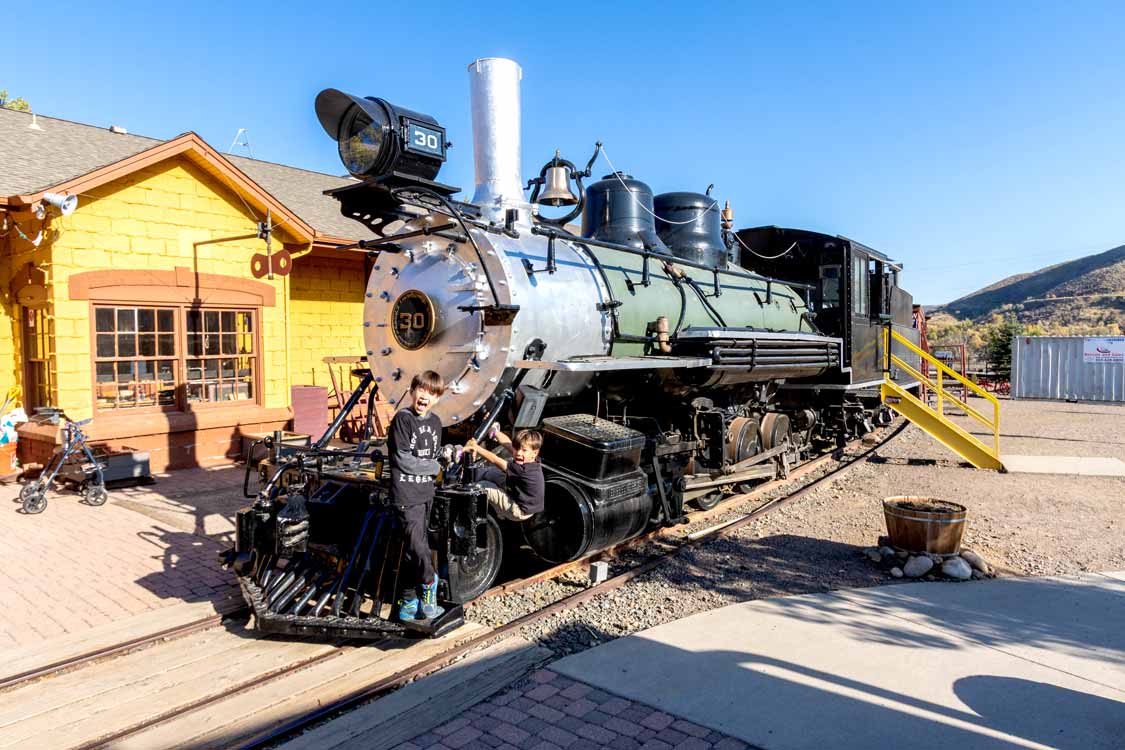 Just a few minutes down the road from Dinosaur Ridge is the enjoyable and adventurous Colorado Railroad Museum.
This fun and exciting train museum has vintage locomotives dating back one hundred years. All are on display in a train yard built to reflect an 1880s train station from the beginning of the Colorado rail connection.
You can even sign up for an open-air train ride through the Colorado countryside pulled by a vintage diesel engine for an additional treat. You can find out more here.
Denver Theme Parks
There are three fantastic theme parks that make exploring Denver with kids a blast.
The most popular theme park in Denver is Elitch Gardens, which is right in downtown Denver and features fun rides and water parks.
Lakeside Amusement Park, which is one of the few remaining family-owned theme parks in the US, opened way back in 1908. You can find it in Northwest Denver.
Water World is located just outside of the north end of the city in Federal Heights. It features some fun wave pools and white water rapids.
Denver Botanic Gardens
Situated just 10-minutes east of downtown, the Denver Botanic Gardens is one of the most relaxed and beautiful things to do in Denver with children.
The peaceful paths that meander through gardens make for a gentle urban escape. They're some of the nicest trails on this side of the Garden of the Gods. And the 3-acre Mordecai Children's Garden is a fun place for little ones to get dirty by digging, exploring, and playing.
Denver Mint
The Denver Mint is one of just four active coin-producing mints in the United States. In fact, if you find a little "D" on the head-side of one of your coins, then it was born at the Denver Mint.
The 45-minute tours offered at the mint are one of the free things to do in Denver with kids. You'll learn about the history of the mint and how US coins are produced and put into the hands of the public.
Westminster Butterfly Pavilion
There are few things that my kids love more than the flying artwork of butterflies. And just a few minutes outside of Denver in Westminster, the Butterfly Pavilion is one of the best.
The pavilion features thousands of butterflies, insect gardens, and an aquarium that includes touch tanks and more.
The gardens are immaculately cared for and it's a beautiful place to spend a few hours or an entire day. You can check that out here.
Downtown Aquarium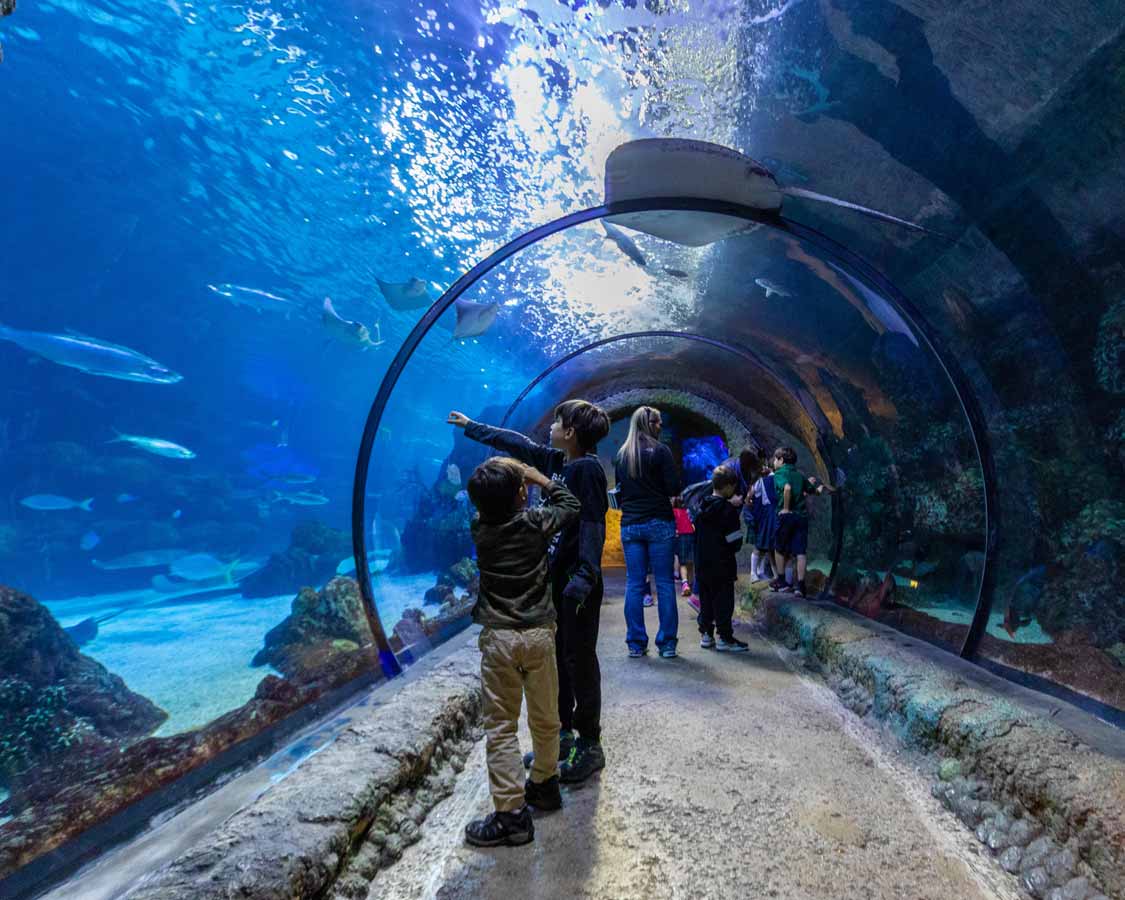 Before I recommend this attraction, I'm going to be totally honest and say that there are some things that I absolutely HATE about it.
The Denver Downtown Aquarium is well laid out and features some fun and exciting ways to explore marine life. There are touch tanks and displays that kids will love.
There are also cheesy and ridiculous experiences such as poorly made animatronic animals and for some reason a lone, lonely tiger who sits as the main attraction. The tiger display takes up a huge portion of the exit area. It's out of place, awkward, and the tiger just looks sad.
In my opinion, this Denver attraction should focus on marine life and embrace its identity. That being said, where the aquarium shines is where its focus is; The well-laid-out marine displays. And it's worth a visit for those attractions.
Tips For Visiting Denver With Kids
Visiting Denver with kids is a blast. The city is well laid out and chock full of amazing things to do. There are fantastic restaurants with funky vibes serving delicious food that will suit just about any taste. And the city's youthful energy is on full display.
That being said, there are always a few things to know before taking the family to a new town. So here are a few Denver travel tips to help you plan your visit.
The Denver Airport is about 25-miles from downtown. There are many free shuttles offered by hotels. There is also an Amtrak train that will take you from the airport to the historic Union Station in downtown Denver.
Denver's public transportation system is excellent. You'll find buses, light rail, and trains that can whisk you almost anywhere that you need to go. Bus drivers don't carry change, so you'll need the exact fare or you'll be tipping.
Parking in downtown Denver can be fairly expensive. If you're staying in a central location it might be less expensive to walk to locations such as the 16th street Mall.
For those exploring the 16th Street Mall, there is a free trolly that rolls up and down the 15-blocks that make up the area. It's easy to hop on and off to explore.
It's Time To Start Exploring Denver With Kids Yourself!
Denver is such a great city for families. And there are more than enough things to do in Denver with kids to keep you busy for a long time. We hope you have fun. And I hope that you'll share your experiences with us.
If you're new to family travel, head over to our tips for international family travel post, or to our family travel gear guide to make sure that you have everything that you need to explore Denver comfortably. It is a very stroller-safe city, but I recommend bringing a travel-friendly stroller that will make your experience much easier.
And feel free to drop any questions, or comments below. I always answer them.
If you're passionate about family travel, head on over to our Family Travel Support Group on Facebook. It's a fantastic community of parents who love travel. We share experiences, knowledge, and the lessons learned along the way. You can also sign up for our newsletter to keep in the loop about new family travel adventures
Wandering Wagars is a participant in the Amazon Services LLC Associates Program, an affiliate advertising program designed to provide a means for sites to earn advertising fees by advertising and linking to amazon.com, amazon.co.uk, amazon.ca. Amazon and the Amazon logo are trademarks of Amazon.com, Inc., or its affiliates.
You May Also Like To Read:
Pin This Post For Later