Choosing the best compact stroller for travel in 2022 means looking at factors such as size, accessories, weight, and style. We dove into the best strollers for travel to come up with this list of our favorite models.
---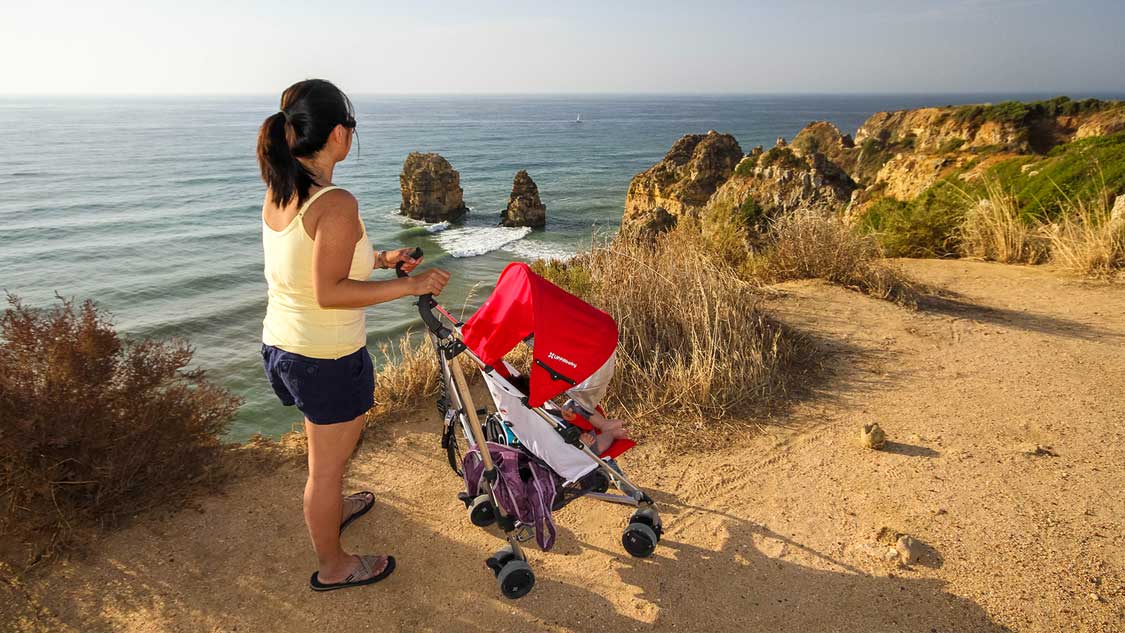 Lightweight, compact, and durable, the new generation of compact travel strollers continues to expand their offerings for travel-loving families. The growth of families that are looking to expand their adventures beyond local exploration has given rise to innovative designs. It seems that finding the best compact travel stroller in 2022 comes down to lifestyle choice more than which model is simply the best.
Travel strollers have become an essential item for families looking for international family vacations. Standard strollers are often too bulky and heavy for convenient family travel, whether that be by airplane or road trip. Heck, we've had strollers that took up most of our trunk space. So finding small strollers for travel opened up a lot of luggage space when packing for our family adventures.
Modern travel strollers have the minimalist at heart. Many offer the modern luxuries of high-end strollers but are engineered to be compact, lightweight, and easy to pack away for family vacations. Some can fit in overhead storage on an airplane. Others can be tucked right under your seat.
If you want to jump to our favorite overall travel stroller, you can find that here.
For families on the go, a lightweight travel stroller isn't just a luxury item, it's a necessity. Until you have one, it's really tough to conceptualize just how much freedom they can offer.
There are plenty of cheap strollers for travel, but choosing lightweight strollers based solely on price alone often leads to a frustrating experience due to poor durability, clunky operation, or an uncomfortable ride for your child.
Whenever we do our gear reviews we extensively test and compare products to ensure that we aren't recommending gear that doesn't live up to the needs and lifestyle of active families.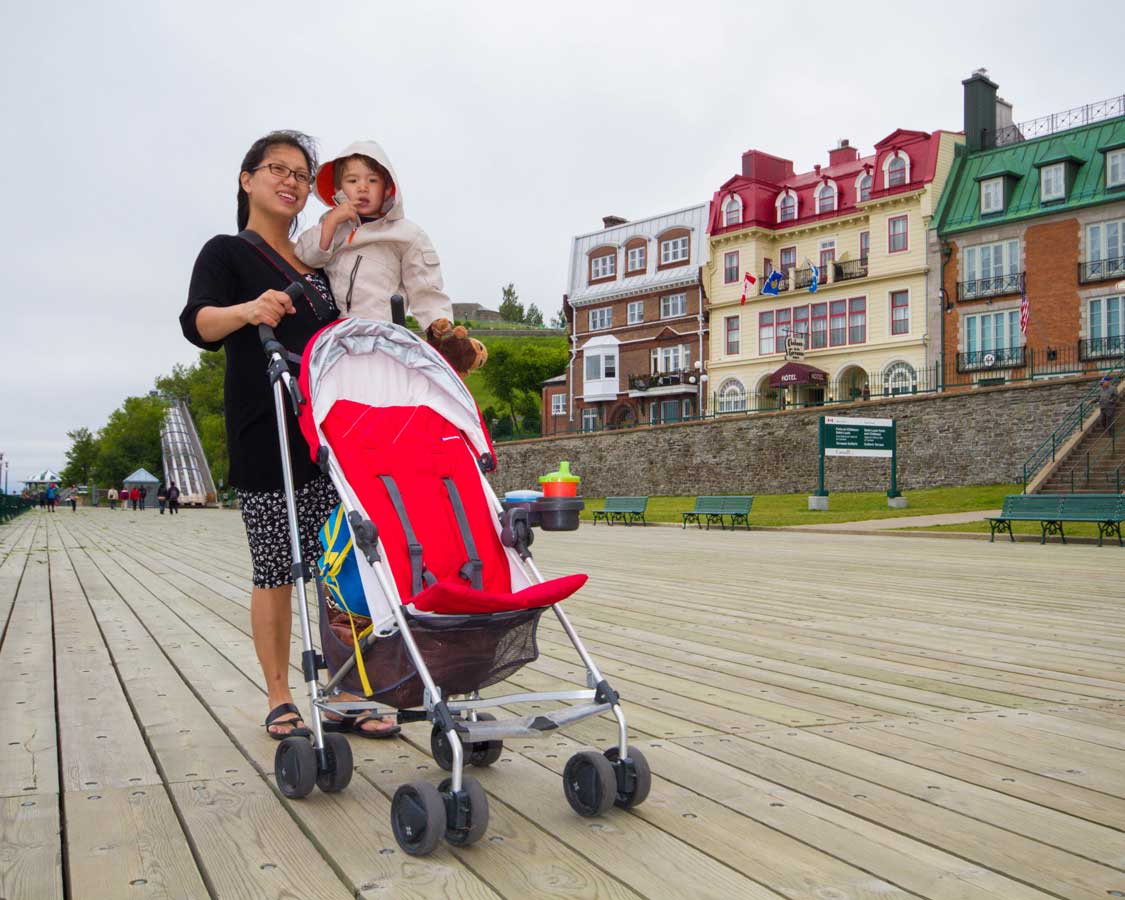 We analyzed the best travel system strollers, the best compact strollers, the best lightweight strollers, and the strollers that fold up the smallest to find the models that offer the most convenient, durable, and safe models for families who travel with young kids. We'll take a close look at what features make for the best travel strollers to
This post contains affiliate links. Booking or purchasing using one of these links may result in a small commission for us at no extra cost to you.
Our Top Compact Travel Strollers For 2022
Uppababy Minu
Maclaren Mark II
Zoe The Traveler XLC
GB Pockit
Weight: 11.8 lbs
Weight: 8.6 lbs
Weight: 11 lbs
Weight: 9.5 lbs
Folded Dimensions: 18″ x 12″ x 34″
Folded Dimensions: 11.7 x 10.4″ x 45.5″
Folded Dimensions: 22″ x 17.5″ x 6″
Folded Dimensions: 12″ x 7″ x 14″
Weight Limit: 40 lbs
Weight Limit: 55 lbs
Weight Limit: 50 lbs
Weight Limit: 55 lbs
Durability: 4/5
Durability: 4/5
Durability: 4/5
Durability: 5/5
Ease of Use: 5/5
Ease of Use: 3/5
Ease of Use: 5/5
Ease of Use: 5/5
Features:
Fits in overhead storage
Smooth ride
Folds with one hand
Features:
Lightest travel stroller
Easy to carry
Reclines
Features:
One-handed folding
Large canopy
Rubberized wheels
Features:
Smallest travel stroller
No-frills design
Very easy to use
Buy Now
Buy Now
Buy Now
Buy Now
What Features Make Good Lightweight Travel Strollers?
Choosing the best lightweight travel stroller can seem very complicated at first. There are many factors that go into determining a high-quality product that will fit your needs and perform, even under the strains and stresses of family travel.
A good travel stroller should be something that is easy to pack. It either needs to fit snugly inside the trunk of your vehicle or be able to tuck under the seat or in the overhead bin of an airplane to avoid the damage that could come with stowing it as baggage.
The best travel strollers are easy to use. You don't want to be in an airport or train station and have to spend ten minutes fiddling with your equipment trying to set up or stow away your stroller.
And importantly, strollers for travel should be comfortable. Often, when we travel, our children spend more time on the go than when we are at home. You'll want to make sure that your little one is comfortable enough that long hours exploring are as pleasant as possible.
With these things in mind, the categories that we rate strollers for travel are as follows:
Weight: How much does the stroller weigh?
Easy of use: How complicated is the setup and takedown of the stroller?
Folded dimensions: How small does the stroller collapse to for stowing?
Features: All strollers are different. What are the special features such as cupholders, folding canopy, rubberized wheels, snack tray, etc?
Weight limit: How large can your child be before they outgrow the stroller?
Portability: Does the stroller come with a carrying case or strap?
The Smallest Folding Travel Stroller – GB Pockit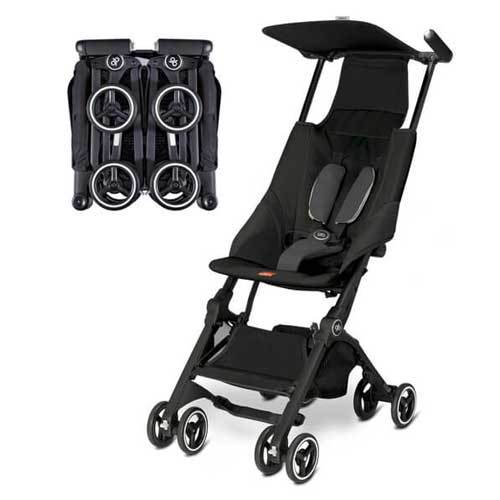 If a compact travel stroller is your mission, look no further than the GB Pockit. Although this product is a no-frills unit, its compact design and durability make the GB Pockit my favorite stroller for travel. You can find out more about it here.
The GB Pockit isn't the lightest stroller on the list. That award goes to the Maclaren Mark II. But, it is close. And when it comes to a compact design, this travel stroller beats all others. In fact, this unit is so small that it's a stroller you can fit in your carry-on bag.
Frequent flyers and those with tiny car trunks will love this model. And while it doesn't come with its own travel bag, it is so small that it can easily fit into a shopping bag or large diaper bag.
The GB Pockit is durable, lightweight, and easy to use. And, to top it all off, it is not nearly as expensive as some of the other travel strollers on this list.
Some cons to consider when choosing the GB Pockit as your traveling stroller would be that the storage basket is not very large. The sun/rain canopy is even smaller. If you are heading to a destination with a lot of sun or rain, you may need to keep that in mind.
The GB Pockit is very easy to use, although its design is not completely intuitive. It takes a few times to master it completely.
If you're looking for a super lightweight and compact travel stroller, consider the GB Pockit. If you're looking for something with a few more bells and whistles, you may want to consider the GB Pockit+.
You can check out their prices here.
The Lightest Stroller For Travel – Maclaren Mark II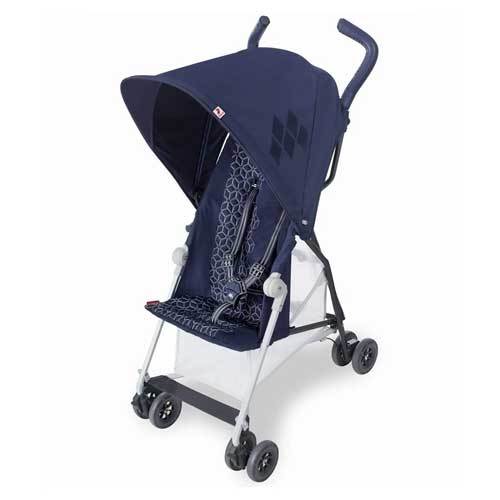 If you're looking for the lightest stroller for travel, the Maclaren Mark II is one that you'll want to consider. It is, by far, the most lightweight stroller on the market. At a featherweight 8.6 lbs, it beats all-comers by nearly a full pound. In fact, if you remove the basket and canopy, you can drop the weight as low as 7.3 lbs! You can find out more here.
The Maclaren Mark II includes a full-reclining seat and a well-proportioned canopy and storage basket. However, its features pretty much end there. The lack of accessories helps to keep the weight down.
This diminutive size does come at a cost, however. The Maclaren Mark II had the lowest scores on our ease-of-use test. The setup and takedown require two hands and can take some time to master. For those with young children who aren't walking on their own, it can be frustrating at first.
You can check out their pricing here.
The Easiest To Use Travel Stroller – Zoe Traveler XLC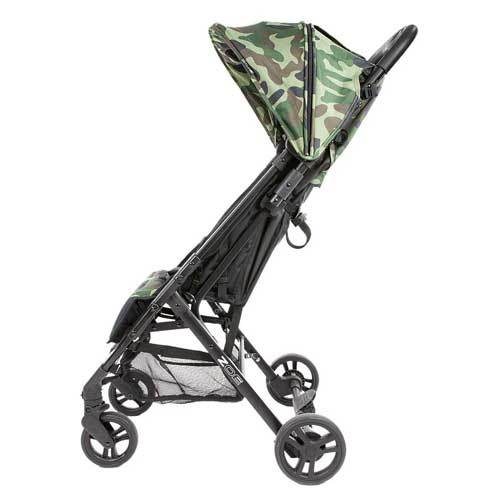 Not every traveler has to be all business – no pleasure. Enter the Zoe Traveler XLC, a travel stroller that is, dare I say it, "fun." You can find out more here.
The aluminum frame of the Zoe Traveler XLS keeps the weight down to a comfortable 11 lbs. This makes this travel stroller light enough to sling over your shoulder for those times when you're not using it. It also means that this stroller is tough enough to withstand the bumps and grinds of regular use.
Part of what makes the Zoe Traveler XLC one of our favorite travel strollers is its excellent ease-of-use score. The unit has a very simple, one-handed folding system. And it folds down to a size small enough to fit into most overhead storage bins. It also has an oversized canopy and can fully-recline for sleeping.
There are loads of accessories available for this model as well such as an organizer, an entertainment holder, a stroller backpack, and more. And they are all designed with the same attention-to-detail as the unit itself.
You can check out their prices here.
The Best Travel Stroller For Infants – Mountain Buggy Nano V3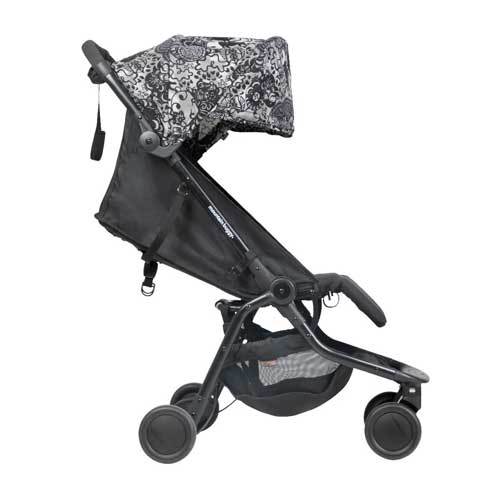 Many travel strollers are only safe for children aged 3-4 months and up. But if you're traveling with an infant, you're not out of luck. The Mountain Buggy Nano may not be the smallest or most lightweight travel stroller, but it packs in a lot of features and it is safe for even newborns.
This cleverly-built stroller for travel includes a universal car seat adapter, making for one less thing that you need to carry with you on your travels. The design also offers full-recline for older children and has a ventilated backrest, very nice for hot destinations. If you prefer, you can even pair it with a Carrycot Cocoon for a bassinet-style setup.
While it's not the most lightweight and compact travel stroller, it still comes in at a comfortable 13 lbs, which is excellent considering all of the features. It's also narrow for easy maneuverability.
The Best Overall Stroller For For Travel – Uppababy Minu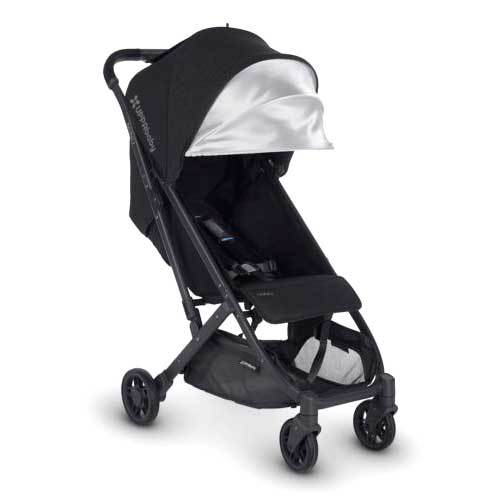 If you're looking for the best travel stroller that meets all of the needs of the modern parent and guardian, the Uppababy Minu is for you. This lightweight and compact stroller for travel ticks almost every button that a lightweight travel system should. Find out more here.
The Uppababy Minu is compact, durable, easy-to-use, excellent on most terrain, has a fantastic canopy system, and it's one of the most comfortable travel strollers for kids. However, this does come at a cost. The Uppababy Minu is fantastic, but it's also the most expensive travel stroller on our list. The Uppababy even has a large storage basket which makes urban exploring a breeze.
One of the big perks of the Uppababy Minu is that it is one of the few models on this list that remains lightweight while still having an onboard suspension system. This means that the ride stays comfortable even on rough terrain.
You can check out the latest price here.
Our Tips For Flying With A Stroller
Many adults avoid air travel. One of the big drivers for avoiding traveling with kids is that parents and guardians don't want to have to deal with the stresses of strollers at airports. And while traveling with a stroller can introduce its own unique complications, it can also make things much easier.
Can You Check In A Stroller For Travel?
Flying with a travel stroller offers many options for family travelers. A stroller does not generally count towards your baggage allowance. This means that parents can either check their travel stroller in with their luggage OR check it at the gate for those who feel more comfortable keeping their child secure while they navigate the airport.
Checking your stroller in with baggage means unloading your stroller during your regular check-in. Many parents might switch to a baby or toddler-carrier at this point or carry, or even have older toddlers walk on their own if they're able. Some adults may not like to have a stroller with them in the airport as it free's up their hands for carry-on luggage as you will not usually have access to luggage carts past the check-in gate.
Gate checking your stroller allows you to navigate the airport with your stroller. The stroller can then either be carried on the plane as carry-on luggage (if it fits the dimensions for the overhead bin or under-seat stowage) or checked in at the gate. Checking in at the gate involves getting a luggage tag at check-in and then leaving your stroller on the gangway just before boarding the plane. The stroller is then loaded into stowage and then removed when the plane lands. It is usually brought to the de-boarding gangway for you to pick up when you get off the plane (sometimes this means having to wait a few minutes). But this is not always the case. It's best to ask the flight attendants prior to deboarding.
Tips For Travelling With A Stroller
There are a few things to keep in mind when traveling with a stroller. Keep these tips in mind when you are planning your trip:
You can choose to gate check or check-in your stroller with your baggage. If you have a compact stroller for travel, you may be able to keep it as carry-on baggage.
Checking in a stroller (either at the gate or with baggage) runs the risk of damage. Using a stroller carrying case can help limit stresses, bends, scratches, and dents. If your stroller doesn't include a traveling case, consider something like this one.
If you are gate-checking or carrying-on your stroller it will need to be folded prior to going through the x-ray machine. Children are not allowed through security while in a stroller.
If your stroller doesn't come out on the normal luggage belt, it may be in the oversize luggage area. Sometimes you may need to check a large stroller separately as oversized luggage.
Wandering Wagars is a participant in the Amazon Services LLC Associates Program, an affiliate advertising program designed to provide a means for sites to earn advertising fees by advertising and linking to amazon.com, amazon.co.uk, amazon.ca. Amazon and the Amazon logo are trademarks of Amazon.com, Inc., or its affiliates.
You May Also Like To Read:
Pin This Post For Later: