With 43 ski regions, New York State boasts more skiing than any other US state. From the Adirondacks to the Catskills and Finger Lakes, discover the best Upstate New York ski resorts for your next family ski vacation.
---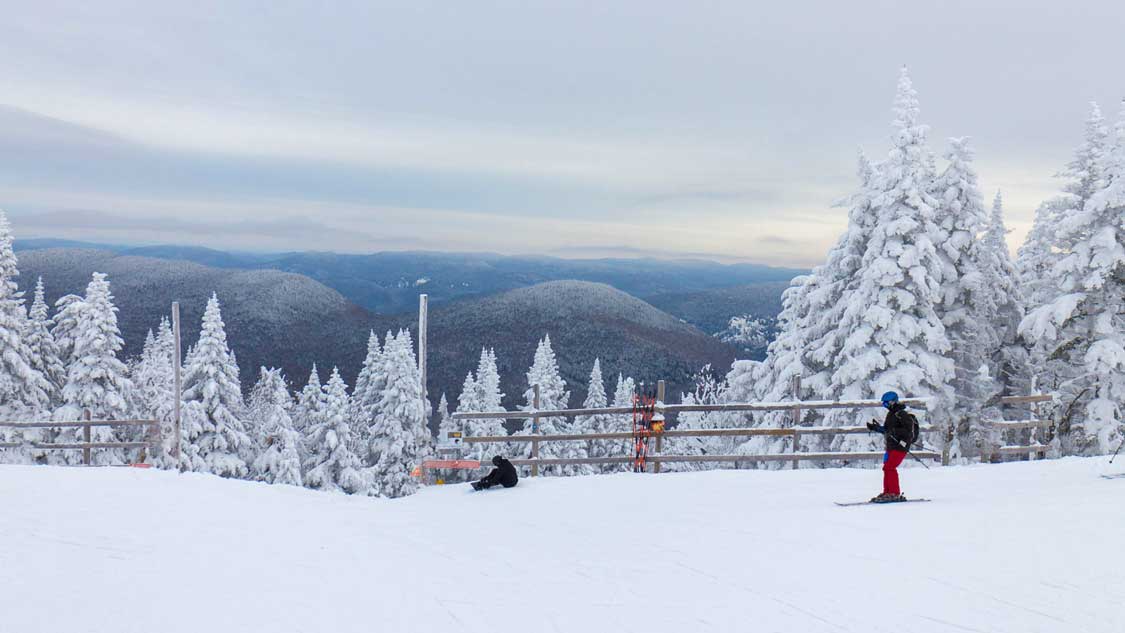 The traditional family ski vacation is one of the best ways to get outside and experience just how magical winter in New York can be. These Upstate New York ski resorts offer some of the best skiing in New York State paired with all the wonderful things that make for the perfect family ski holiday.
My family has experienced some of the best places for family skiing around the world, but we are always drawn back to skiing in Upstate New York, not just by the convenience and location, but also because of the awesome hills, great powder, and exciting family-friendly ski villages that are sprinkled throughout the state.
You can find more amazing things to do in New York State on our New York Family Travel Blog.
The Best Ski Resorts In Upstate New York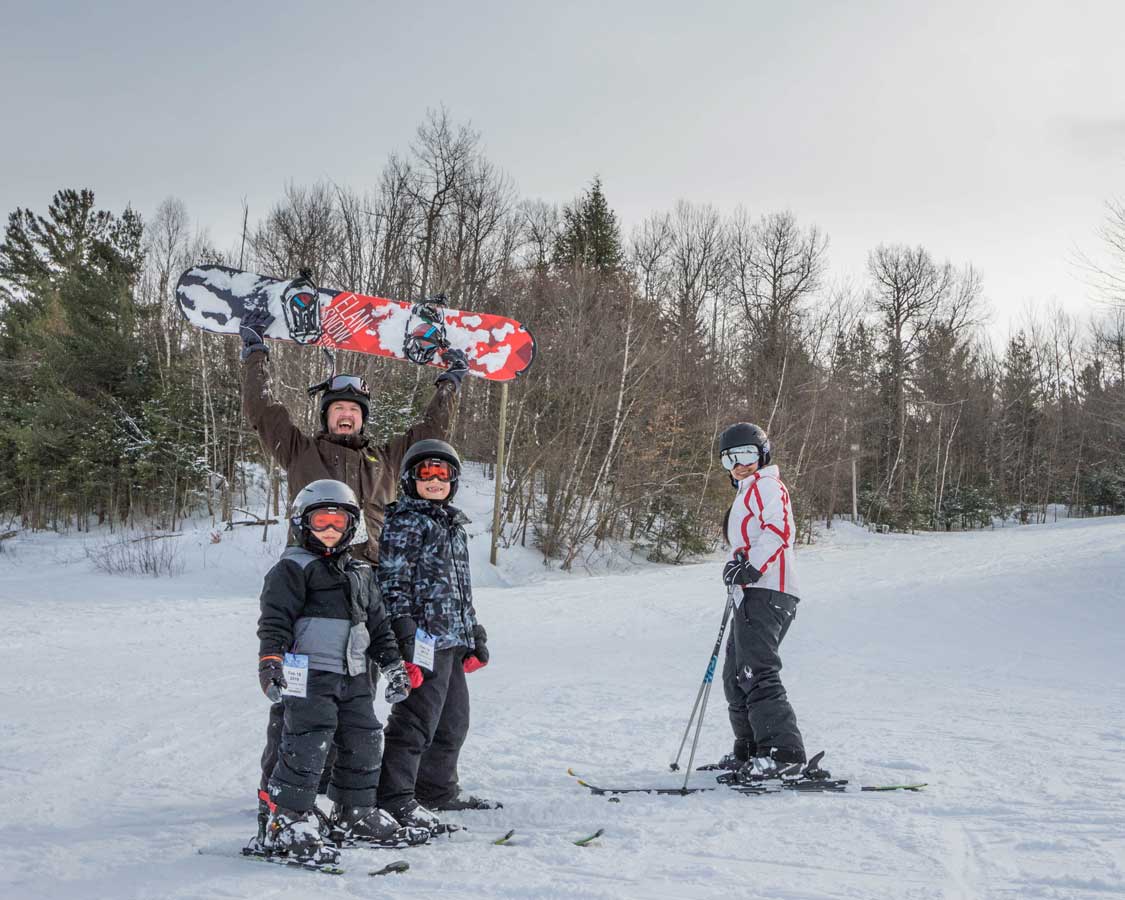 Skiing in Upstate New York is magical. There are two major mountain ranges that dominate much of the landscape, the Catskill Mountains and the Adirondack Mountains. But the best Upstate New York ski resorts aren't limited to just these two regions. The Finger Lakes region also has some popular New York State ski resorts that many families rave about.
Each of the New York State ski regions offers something special for your family ski vacation. Here is a quick breakdown of what makes each one unique.
Adirondacks Ski Region In Upstate New York
Famous for its steep descents and fabulous views, winter in the Adirondack region is one of the best places for skiing in New York State. The heart of skiing in the Adirondacks of Upstate New York is Lake Placid, but, with the Adirondacks being the largest protected natural area in the lower 48 states, there are many great places to ski in the Adirondacks. Here are our picks for the top family-friendly Upstate New York ski resorts in the Adirondacks.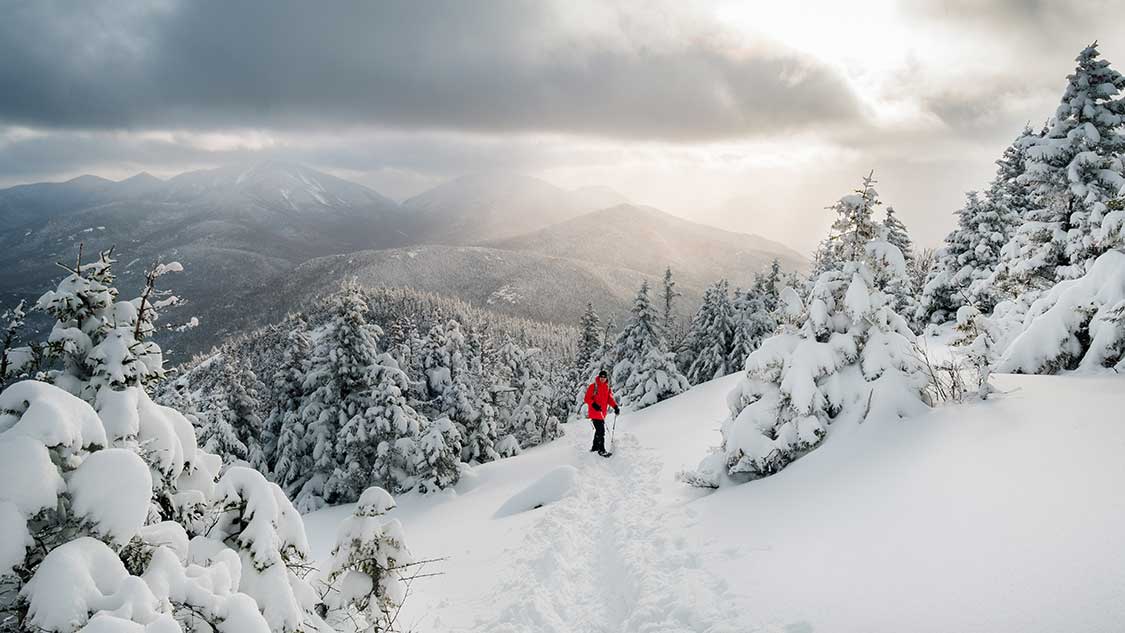 Whiteface Mountain in Lake Placid
Without a doubt, Whiteface Mountain, which sits just outside of the charming town of Lake Placid is one of the premier ski resorts in Upstate New York. Winter in Lake Placid alone makes this destination worthwhile but combining the magic of one of Upstate New York's most popular escapes, just up the ante.
With a 3,430 foot drop, Whiteface Mountain has the steepest verticals east of the Rocky Mountains, and the hills here have been tested during the 1980 winter games. Visit Lake Placid in the summertime and you can still take a ride down the Olympic bobsled run at nearby Mount Van Hoevenberg.
Whiteface Mountain isn't just about advanced skiing though. It has a wonderful village with restaurants and attractions for the whole family. You'll also find many hills that are perfect for both beginner and intermediate skiers. But, when you're ready for a challenge, you'll definitely find your fair share.
The Whiteface Mountain ski resort is pretty bare. The steep slopes don't welcome many trees. This makes for awesome, wide-open skiing, but it also means that conditions can be windy, so dress appropriately.
Enjoy some apres-ski right in the quaint Whiteface Mountain Resort, or head down to the main stretch in Lake Placid for some hot cocoa, enjoyed, maybe, with a shot of brandy.
Where To Stay At Whiteface Mountain
Whiteface Mountain Lodge is one of the best places to stay for skiing the resort. It's incredibly family-friendly, has fantastic restaurants and amenities, and you'll be super close to the ski hills. If you're looking to stay in town, my top Lake Placid hotel is Golden Arrow, which sits right on the shores of Mirror Lake in downtown. Or you can check out these fantastic Lake Placid Airbnb rentals.
Gore Mountain in North Creek
Just 30 minutes outside of historic Lake George is the largest of all of the Upstate New York ski resorts, Gore Mountain. This stunning mountain features an epic, 2,500 ft descent that is paired with over 100 trails that offer a mix of beginner, intermediate, and advanced ski slopes.
One thing that draws Upstate New York skiers to Gore Mountain is the amazing variety of ski terrain on offer. The resort is spread across four mountains. And with that kind of territory, you'll find some of New York's best downhill skiing. Whether you like steep descents, well-groomed hills, or wild backcountry, you'll find something that suits you.
For families, Gore Mountain ski resort has excellent lessons taught by well-trained instructors. The resort is definitely remote but well worth the journey. And if you make a visit to Gore Mountain during the summer, you must check out nearby Revolution Rail, which offers rail biking tours along the Hudson River.
There are plenty of taverns and bars in the area that you can retreat to at the end of the day. So, take advantage of them! Take your boots off and let your body relax.
Where To Stay at Gore Mountain
North Creek is a tiny town, and in the winter months, it seems even smaller. But the Gore Mountain Village offers some amazing amenities and a great apres-ski atmosphere. Check in at Gore Mountain Lodge to stay close to the hills for those long ski days.
For something nearby, but offering a perfect family-friendly escape, this North Creek cabin rental has everything you need to apres-ski in privacy with the family. Or you could always make the short commute to Lake George itself. The town is quiet in the winter, but you'll still find plenty of great restaurants. For something luxurious, enjoy the views, food, and service at Inn at Erlowest just outside of town.
Oak Mountain in Speculator
With 22 trails, Oak Mountain is one of the smaller Adirondack ski resorts in Upstate New York, but this beautiful resort, about an hour and a half south of Tupper Lake, receives about 120 inches of snowfall each year across its 2,400 foot vertical.
Oak Mountain is one of the best resorts for family-friendly skiing in Upstate New York. It boasts wicked snow tubing runs, fluffy snowshoe trails, beautiful winter hiking, and offers stunning views of the legendary Adirondack scenery.
What Oak Mountain lacks in size, it more than makes up for in atmosphere and accessibility for families.
Where To Stay For Oak Mountain Skiing
Because Oak Mountain is a small ski resort, it doesn't feature any on-site lodging. But you will find some cozy places to stay nearby. This cozy cabin is very close to the ski resort and offers easy access to town and early-morning skiing. This lakeside cabin offers a great escape for families as well.
Catskills Upstate New York Skiing
The Northern Catskills Mountains are one of the greatest destinations for downhill skiing in Upstate New York. While this New York mountain range doesn't reach the verticals of the Adirondacks, it's still home to some amazing descents and some of the best snow for skiing in New York State.
If you're heading for an Upstate New York family ski holiday in the Catskills, here are the ski resorts that I recommend checking out.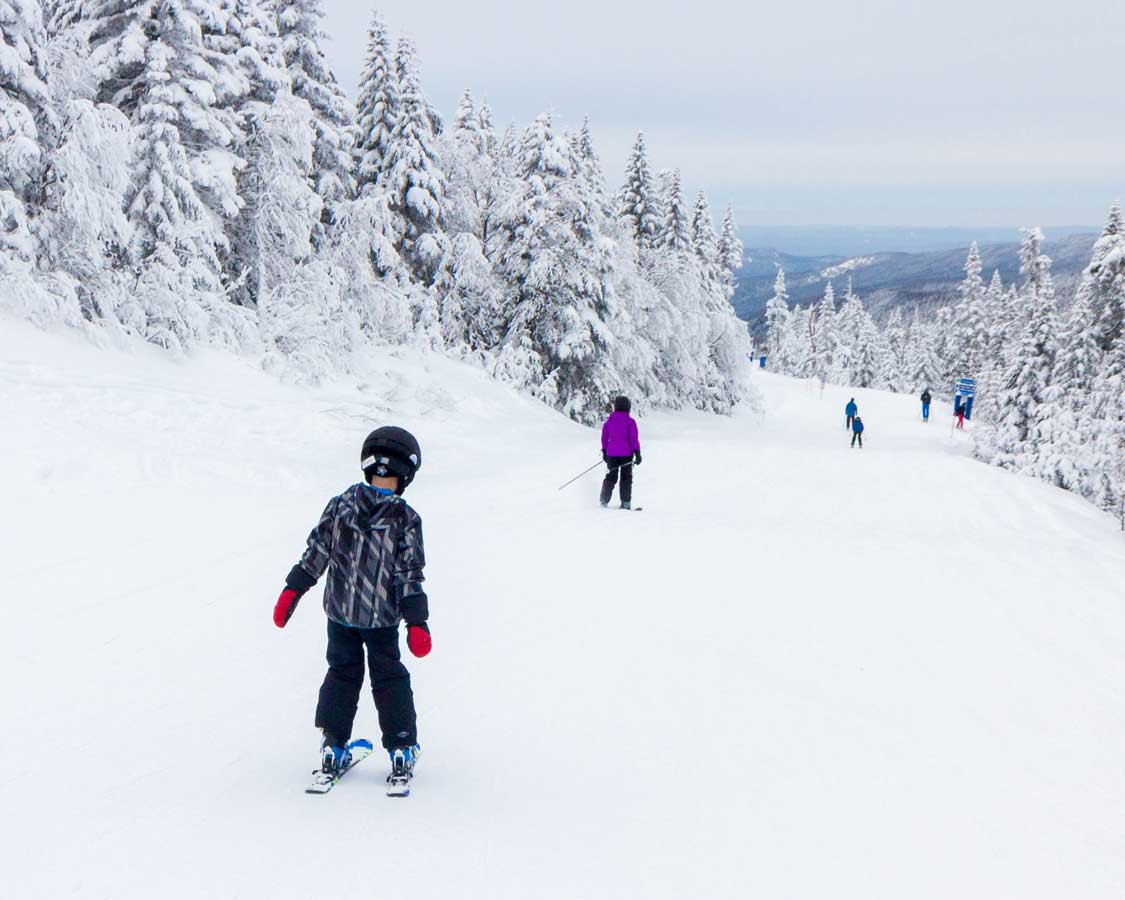 Hunter Mountain In Hunter
One of the best Upstate New York ski resorts is, without a doubt, Hunter Mountain. A big reason for it's popularity is that this is one of the closest major ski resorts to New York City and is just over two hours away from Manhattan.
Hunter Mountain is famous for it's long descents. It's 1,600 foot drop might not stack up with Whiteface, but the amazing trails, constant snowmaking, and one of the best apres-ski scenes make this one of the best ski resorts in Upstate New York. These factors also make this one of the busiest New York ski resorts.
Hunter Mountain, which sprawls across four peaks in the Catskills is one of the more challenging ski resorts in the state. But, there are plenty of options for families with beginner and intermediate ski-lovers as well. It's known for having one of the best ski schools east of the Rocky Mountains.
Where To Stay For Hunter Mountain Skiing
Staying close to the mountain in Hunter is a great idea. The skiing is awesome but busy, so you'll find the most space on the hills during the weekdays, in the morning, or in the evening. Renting a nearby cabin is a great way to stay close and still be able to beat the rush. It doesn't get much closer, or more comfortable than this beautiful home rental.
Windham Mountain in Windham
Where Hunter Mountain dwarfs a lot of young weekend warriors from New York City, Windham Mountain leans much more towards the family-friendly atmosphere that we love to experience. Like Hunter Mountain though, Windham also has an amazing ski school and introductory lessons for kids, teens and adults alike.
This Upstate New York ski resort stretches across two peaks, both of which have nearly unmatched views. It's a ski resort that's all about the experience. You'll find everything from great restaurants, fantastic shops, and some of the best selections of coffee outside of the city.
For thrill-seekers, Windham has six terrain parks, loads of advanced slopes, half pipes, rails, and more. And families will love the Adventure Park which includes snow tubing, snowmobile rentals, and skating.
The mountain is a little more removed from civilisation than some ski hills in New York, but there is plenty nearby to keep you occupied and entertained.
Where To Stay Near Windham Ski Resort
We love to make a weekend of Windham skiing, and one of the best places to stay at the resort is the Winwood Condominiums. They're about a mile from the hill, but there is a free shuttle offered so you don't have to worry about parking. If you want to be even closer, this chic home comes complete with a hot tub and is within walking distance from the slopes.
Belleayre Ski Resort in Highmount
Belleayre is another amazing Upstate New York ski resort for families. This beautiful resort is definitely focused on families, boasting mostly beginner and intermediate runs. It's also the largest ski resort in the Catskills region of Upstate New York.
Throughout the resort, you'll find amazing trails and ski routes that, while lacking in major challenges, are still beautiful and fun to explore. The resort also offers Nordic skiing along a wide variety of forest trails.
Although the resort has a lot of terrains, the village itself is definitely minimalist. You won't find much beyond the basics for food. For better dining and accommodations you'll need to head down the road to the town of Highmount.
Where To Stay Near Belleayre Ski Resort
Although you'll need to venture about 10-15 miles from Belleayre to find great accommodations, it's worth it for the easy skiing and lack of crowds at the resort. Margaretville Inn & Bed and Breakfast in nearby Margaretville is one of the most popular places to stay in the area.
Skiing In The Finger Lakes
The Finger Lakes of New York State is more popularly known as a wine region than a ski destination. But, not only are the Finger Lakes gorgeous, boasting jaw-dropping landscapes such as the Watkins Glen Gorge, it is also home to some fantastic Upstate New York skiing.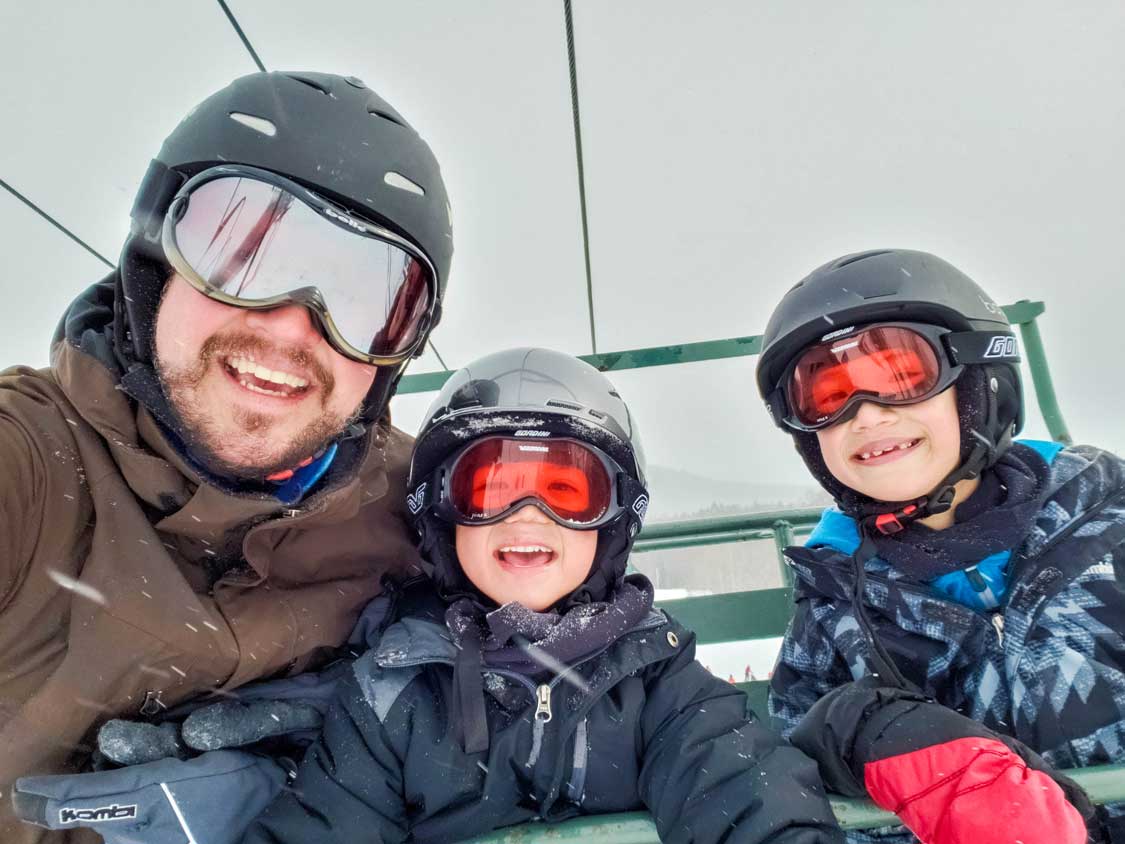 Bristol Mountain Ski Resort in Canandaigua
Boasting 1,200 feet of vertical, Bristol Mountain in Canandaigua is one of the best places for Upstate New York skiing. The resort has top-of-the-line snowmaking that covers every inch of the mountain and features a glorious 138 acres of groomed terrain complete with 34 trails.
This family-friendly resort is warm and inviting. It even features some of the best night skiing in New York State. Adrenaline junkies will love the terrain parks that were made famous during the 2020 and 2021 Aerial Freestyle competitions.
Where To Stay Near Bristol Mountain
Bristol Mountain ski resort features a great selection of restaurants and lodges nearby. Our go-to is usually the Holiday Inn Express in Canandaigua. It's cozy and close to many of the great things to do in the area. For something a little more upscale, the Hotel Canandaigua by Hilton is beautiful and close to the hill.
Labrador Mountain in Truxton
Labrador Mountain is definitely small and more quaint than Bristol Mountain. But it still holds its own as a great family-friendly ski deestination. What Labrador Mountain lacks in vertical, it makes up for in variety. The mountain features 23 trails from beginner to advanced. And due to the lack of crowds, you'll be able to hit the hills again and again.
Labrador is the perfect New York ski resort for families that love simple escapes where the focus is all about skiing and not so much on the village life. It's this type of atmosphere that made us fall in love with Titus Mountain in the Adirondacks.
How Many Ski Resorts Does New York Have?
New York State has a total of 43 ski areas, 10 of those are destination resorts. This is more than any other US state. Most of these are scattered throughout the Adirondack Mountains, the Catskills Mountains, and the Finger Lakes region. Some of the premier ski resorts in New York state include Whiteface Mountain, Gore Mountain, Windham, Hunter Mountain, Belleayre, and Bristol Mountain.
What Is The Biggest Ski Mountain In New York State?
Sprawling across four mountain peaks, Gore Mountain, in North Creek NY, holds the title of the largest ski resort in New York State. The resort has over 100 trails and features an epic 2,500 foot vertical with a nice mixture of beginner, intermediate, and advanced trails.
What Is Your Favorite Ski Resort in Upstate New York?
No matter how you choose to spend your family ski vacation in Upstate New York, you're bound to have an amazing time. It's literally a winter wonderland. But, did I miss a resort that you love in the state? If so, drop a comment below and let me know.
If you're passionate about family travel, head on over to our Family Travel Support Group on Facebook. It's a fantastic community of parents who love travel. We share experiences, knowledge, and the lessons learned along the way. You can also sign up for our newsletter to keep in the loop about new family travel adventures
Wandering Wagars is a participant in the Amazon Services LLC Associates Program, an affiliate advertising program designed to provide a means for sites to earn advertising fees by advertising and linking to amazon.com, amazon.co.uk, amazon.ca. Amazon and the Amazon logo are trademarks of Amazon.com, Inc., or its affiliates.
You May Also Like To Read:
Pin This Post For Later