Looking to spend a weekend at Blue Mountain resort in Collingwood? Discover why Blue is a great weekend family destination with more than skiing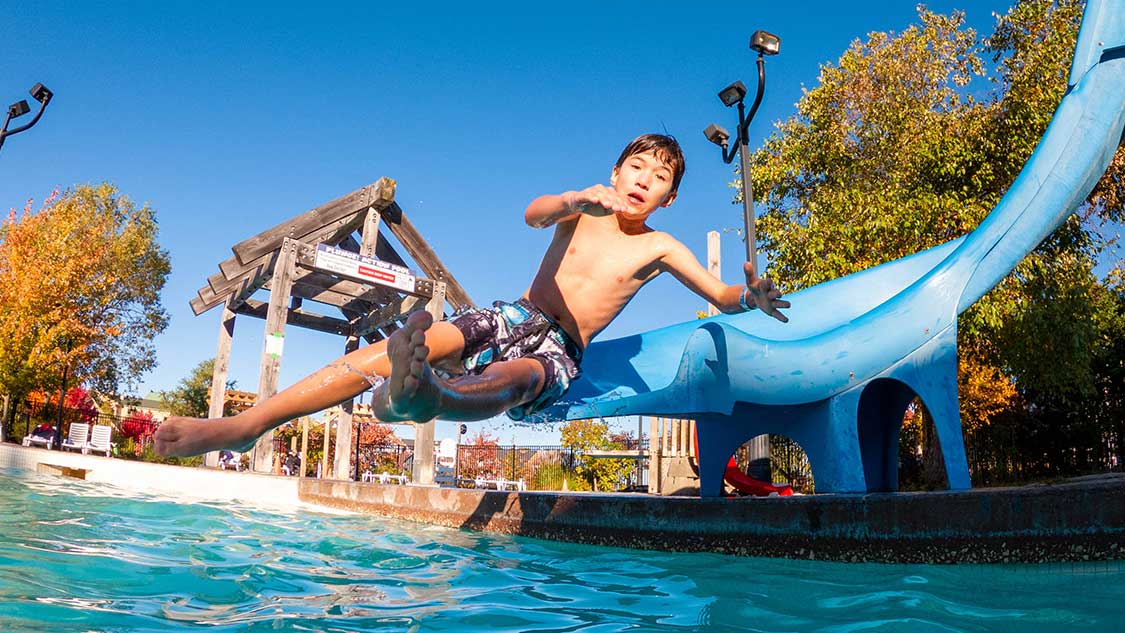 Blue Mountain Mountain resort in Collingwood, Ontario has evolved.
Once known as Ontario's shiny ski town, Blue Mountain is now a four-season resort, drawing visitors from across Canada to its sparkling streets. The vibrant music echoing down cobblestone lanes lined with bright shops selling all manner of handicrafts, souvenirs, and Canadian's favorite vacation treat, the Beavertail, would make even Ebeneezer Scrooge tap his feet.
I've spent many a weekend in Blue Mountain Resort, soaking up the atmosphere in all four seasons, most recently was a fall getaway in the region full of hiking, mini-golf, and family fun. But I've been skiing in Blue Mountain and enjoyed this Ontario resort during the summer months as well.
The resort is one of Ontario's easiest weekend getaways. They have everything that you need to "get away from it all" without being too far away at all. Blue is accessible, open, and packed with great things to do, excellent restaurants, and loads of beautiful scenery.
So if you're wondering how to plan a weekend in Blue Mountain Resort, I have all of the information to help you plan a memorable one.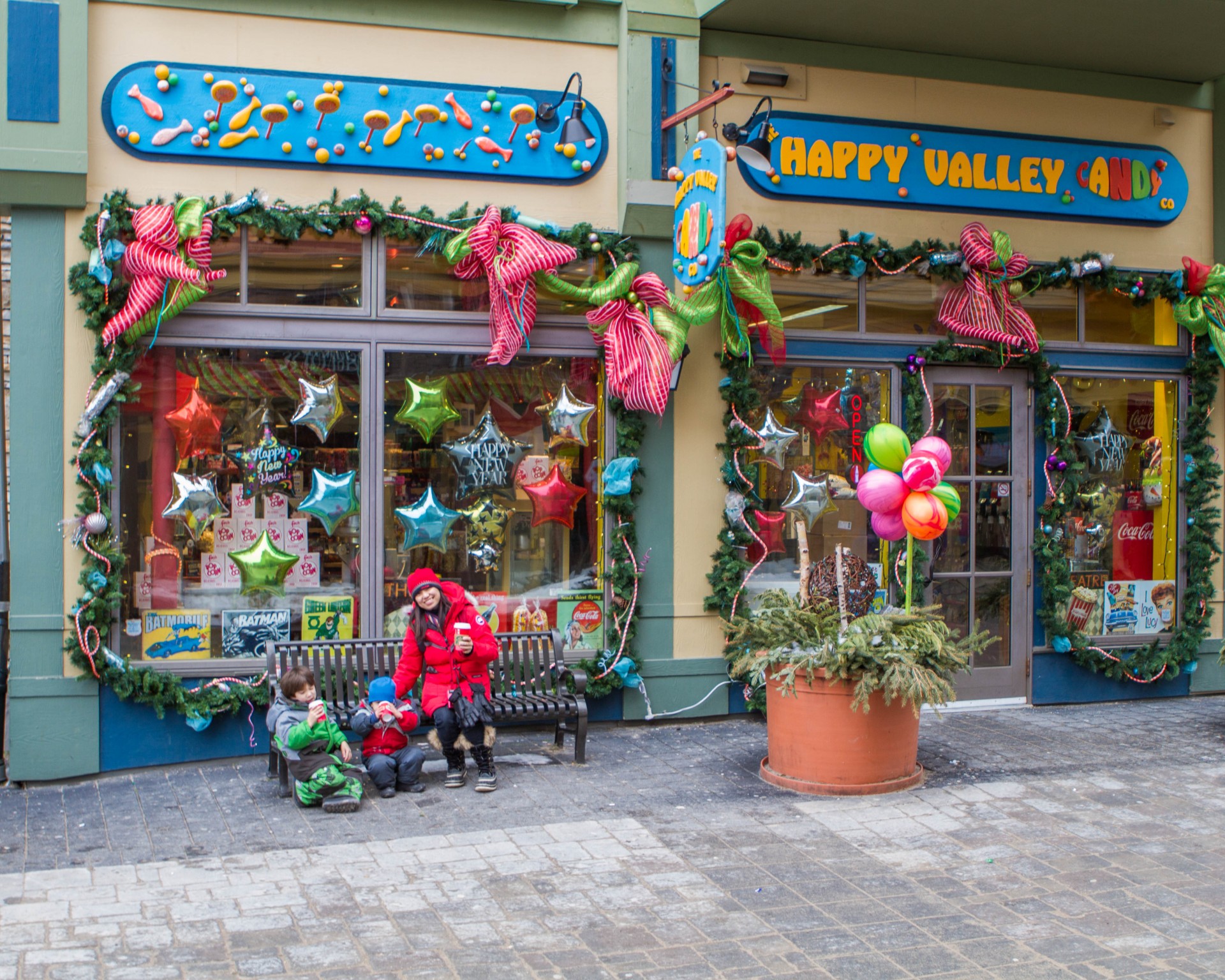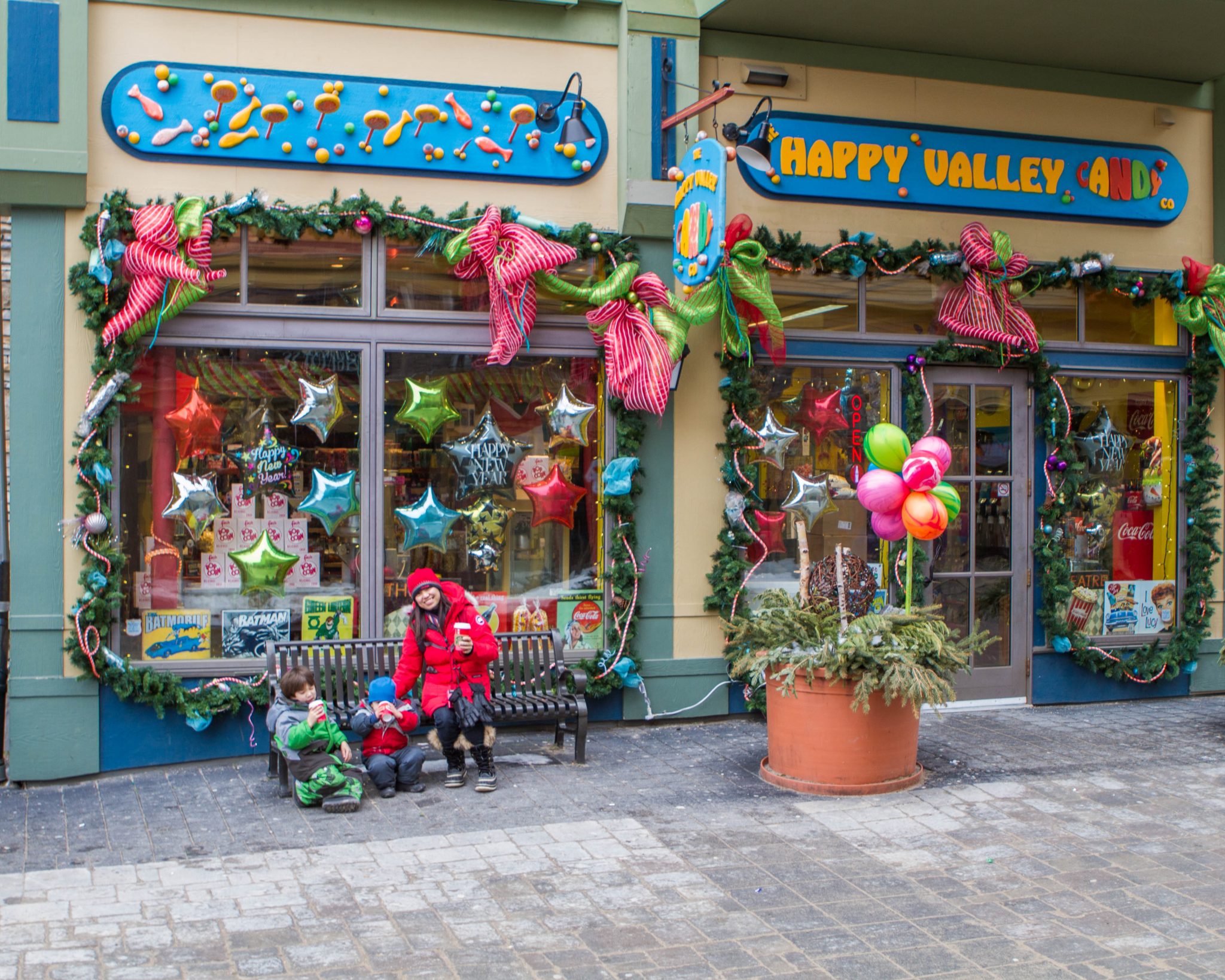 What is Blue Mountain Resort?
The Blue Mountains Ontario is an area of Collingwood, Ontario on the scenic south shores of Georgian Bay.
Now, there isn't any real "Blue Mountain." In fact, the area is really a series of rolling hills and escarpments where Blue Mountain Ski Resort was established back in 1989. The success of Blue Mountain Ski Resort grew to the point where "The Blue Mountains" was established as an independent village in 2001. The combination of natural beauty, mountain-style village life, and outdoor adventure activities have made the Blue Mountains one of the most popular places to visit in Ontario.
The focal point of The Blue Mountains is none other than Blue Mountain Resort. If you make the visit to the resort and feel like you've stumbled into the Rockies, that's because this alpine-style resort is owned by Alterra Mountain Company. Alterra is the same company that owns some of the most popular ski resorts in North America such as Mont Tremblant, Mammoth Mountain, and Crystal Mountain.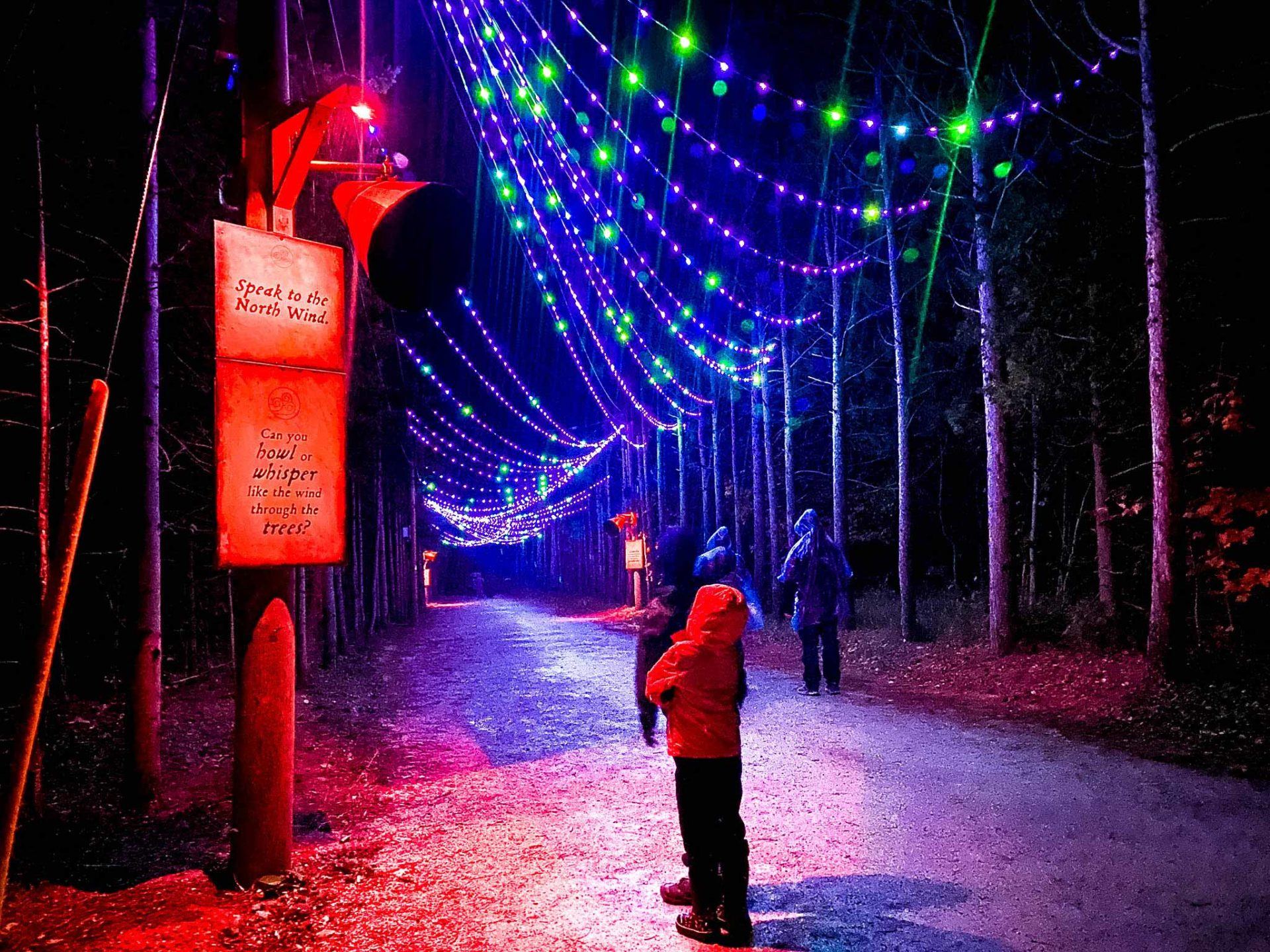 How to Get to Blue Mountain Resort
The Blue Mountains, about 160 km (100 miles) north of Toronto, in Southern Georgian Bay is a great weekend getaway from Toronto and one of the most popular family getaways in Ontario.
There is plenty of parking, including some underground parking at Blue, although if you have a tall vehicle (or a rooftop tent as we do), you won't be able to fit underground and may have to park your vehicle in one of the farther parking lots away from the Blue Mountain hotels.
Blue Mountain Resort is located just north of the town of Collingwood. To enjoy your weekend at Blue Mountain Resort from Toronto, simply follow HWY 400 north passed Barrie, then take HWY 26 to Stayner and on to Collingwood. From there you'll follow HWY 19 and follow the signs for Blue Mountain Resort.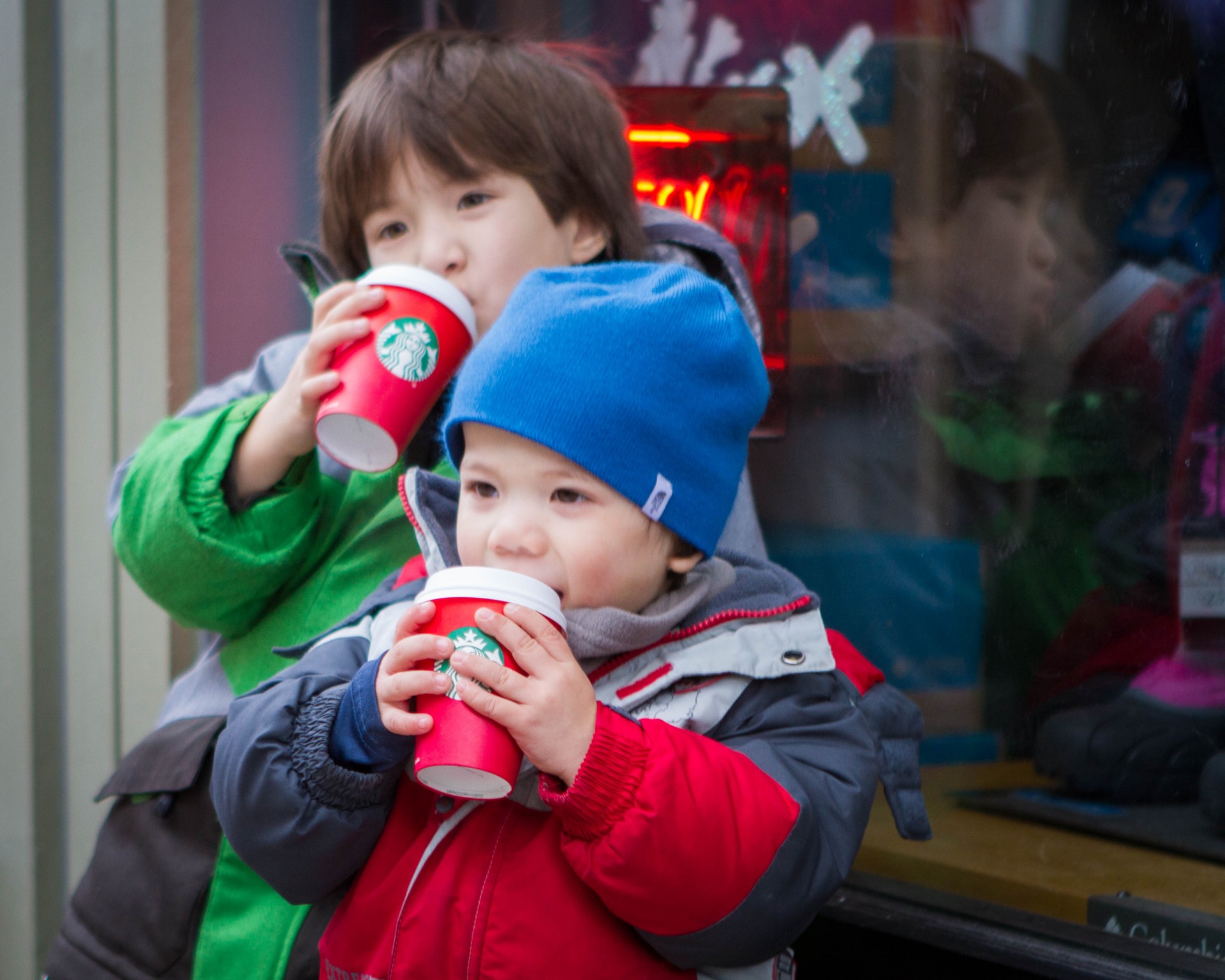 How To Get Around in Blue Mountain
If you want to make the most of your weekend at Blue Mountain Resort, you might not want to walk everywhere. Luckily, Blue Mountain resort offers free shuttles that include regularly serviced routes that bring resort guests to various stops in the Village.
There are also on-demand routes that will take you directly to the various hills and attractions. One free activity that we took advantage of was the MJ Byrne's wagon ride around the Village.
The ride is offered for a couple of hours during the day and Blue Mountain visitors can hop into a covered wagon that is pulled by two very beautiful horses for a tour around the Village. The lineup is located in front of MJ Byrne's pub. The wagon windows are pretty tough to see out of, so it's mostly about the experience than the view. Although it was a short ride, the children really enjoyed it.
How To Plan for a Weekend Getaway at Blue Mountain Resort
A weekend getaway in Blue Mountain Resort is perfect for families. The resort offers a spectacular mix of luxury, adventure, broad cuisine, and excellent accommodations. In the area around Blue Mountain Resort, you'll discover incredible hiking trails, beaches, adventure trails, family-friendly entertainment, and much more.
There are 9 lodging sites and 1 hotel located across Blue Mountain Resort. The lodge-style accommodations truly cater to families. Most rooms include kitchenettes, bedrooms, pullout couches, and fireplaces. The Westin Trillium House hotel is right at the heart of the resort and is one of the top stays for a weekend at Blue Mountain in Collingwood.
Check-in times are at 4:00 pm and check-out is at 11:00 am.
Blue Mountain Resort is one of the most popular getaways for long weekends in Ontario. This incredible Collingwood resort might be at its most popular during the winter ski season, but there are so many things to do at Blue Mountain that it's a hot destination year-round. After all, skiing and snowboarding aren't all that Blue Mountain has to offer.
In the past few years, Weekend getaways at Blue Mountain have transformed the resort from a ski-bum paradise to a four-season adventure family getaway.
Let's take a look at some fun things to do at Blue Mountain Resort that your family can enjoy over a weekend, whether it's Winter, Spring, Fall, or Summer.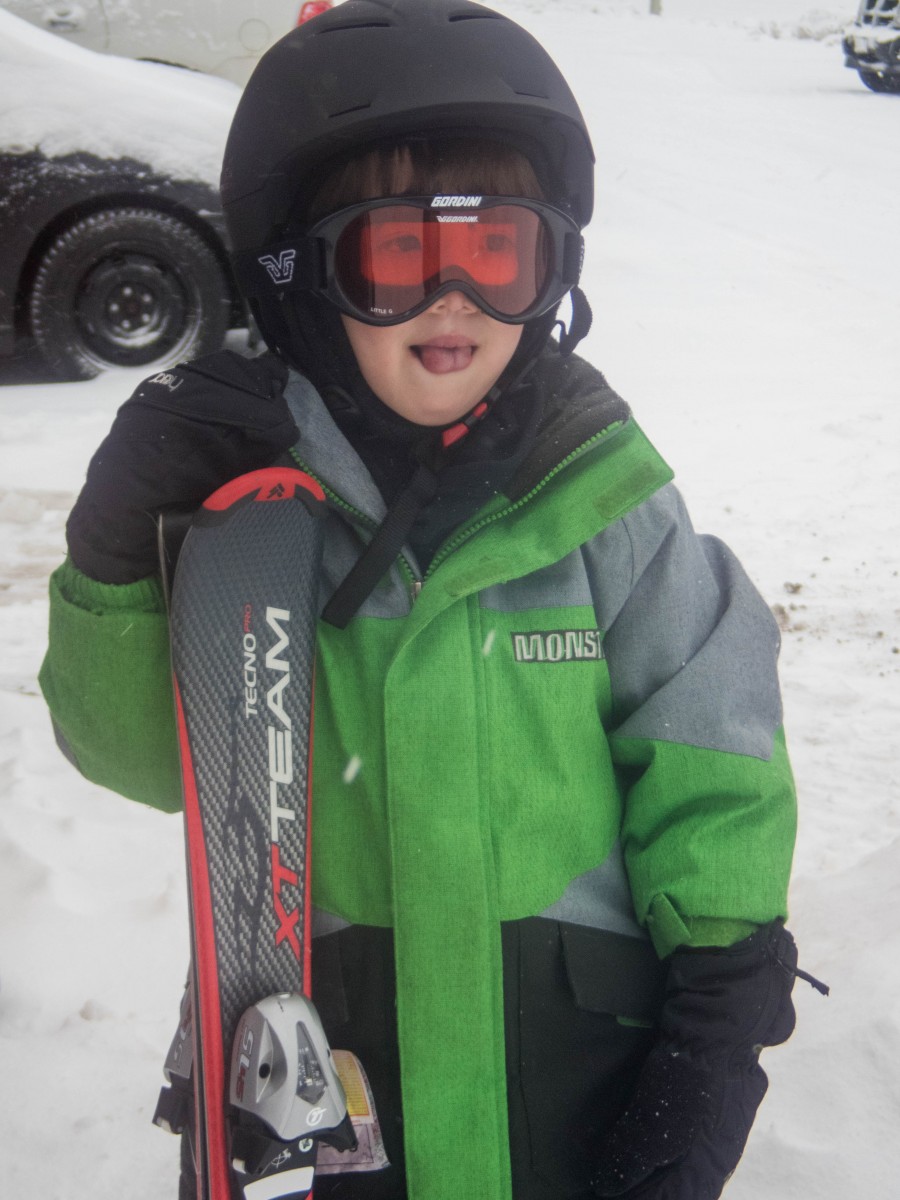 Winter Weekends at Blue Mountain
Skiing & Snowboarding are abundant at Blue Mountain. Boasting a 220-meter (720 feet) elevation and 365 skiable acres, Blue Mountain contains 42 trails with 30 that are lit up for a little nighttime skiing.
Enjoy a leisurely family skate at Woodview Mountain top Skating. This 1.1 km skating loop guides you along the beautiful Niagara escarpment. Did you forget your skates? Blue Mountain has you covered with rental availability.
Let's go on a stroll! What a great way to get those steps in. Winter hiking and snowshoeing trails lead you across picturesque views of the Niagara escarpment. Rental for snow shoes is also available.
Not a skier? Hike N' Tube snow tube park is fun for all ages. The family is sure to enjoy going down those slopes without the need for skis or snowboards. This Single rider tube park provides hours of fun.
Don't forget to bring your bathing suit either. There is a fantastic indoor/outdoor swim park in Blue Mountain that is fun for the whole family. Splash away in the heated interior, or throw on your toque for some fun in the heated waters outside.
Spring Weekends at Blue Mountain
Mountaintop Bike tours offer 12 cross-country mountain bike trails ranging from beginner routes like 'Sunny Side Up' to advanced trails like the 'Outer Limits.' Bike rentals are available for both you and the kids. Would you like another great experience touring on 2 wheels?
Blue Mountain offers a guided Segway tour along the top of the Niagara escarpment. The tour guides are experts and will train you on how to properly use those Segways.
Little Rollers Bike Playground is a great way to introduce the kiddies to cross-country cycling. The playground has everything from teeter totters and dirt tracks to wooden bridges. Before you know it, they will be begging to take the Mountain top Bike tours.
Some of the best views of Blue Mountain Village come from above. Sure, life inside the alpine-style town is sweet. But it's not until you get a birds-eye view that the scope of Blue Mountain in the fall really becomes apparent.
While you can, take a drive up the mountain to some of the viewing platforms looking out over the town, you can also hop on the Blue Mountain Gondola for a scenic ride up the ski hill.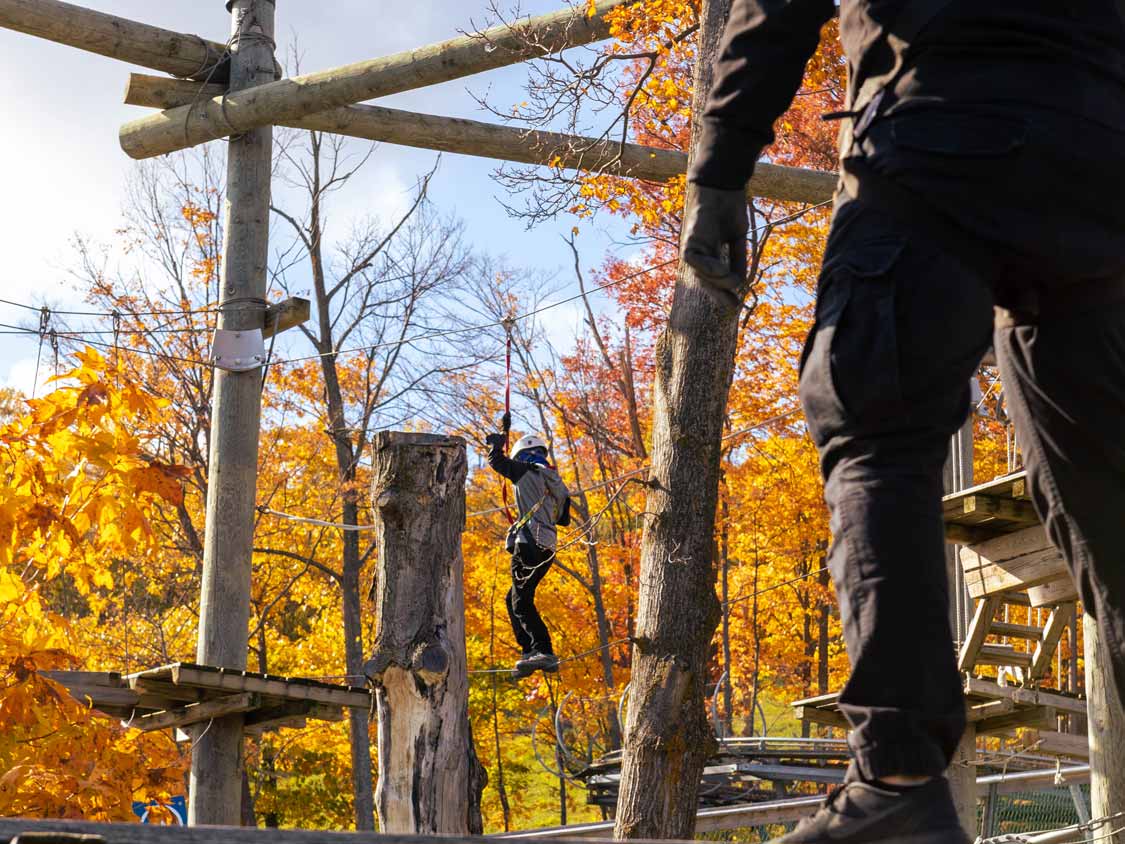 Fall at Blue Mountains Resort
Mountain roller coasters or mountain coasters have been popping up at ski resorts around the world as a thrilling way to add some 4-season excitement. And since it opened in 2011, the Ridge Runner Mountain Coaster has been one of the top Blue Mountain attractions.
This twisty-turny wooden adventure ride starts with a slow pull up to the top of the Blue Mountain Ski Hill before sending you soaring down a series of dips, dives, turns, and twists to the waiting crowds at the bottom. The entire experience sends you down 1,085 meters (3,560 ft) of trail. But if the idea of an uncontrolled descent concerns you, don't worry. You control the brake the entire way.
Children under 12 must ride with an adult, so for our Ridge Runner ride, C came with me and D went with Christina. At the end of the first ride, D had had enough of a thrill. C, on the other hand, wanted to go down again.
This time he asked me to floor it and it was pedal to the metal the whole way down. The Ridge Runner Mountain Coaster is open all year, so if you want to experience the fall colors of Blue Mountain, this is a super fun way.
Treetop Trekking is something we have had a blast experiencing, C and I rocked some wild ropes courses in Saguenay, Quebec, and at the beginning of the summer, D got his first taste when we went treetop trekking in Stouffville, Ontario.
This multi-level ropes and adventure course at Blue Mountain has something for all ages and skill levels. The low ropes course has two tiers, an introductory course, and a high course. For those wanting to push their comfort levels, there's a high ropes course as well that snakes among the trees and include the widely popular zip lines.
Although the boys were too young to partake in the high zip lines, they loved the thrill of the low ropes course and it was a great way to experience Blue Mountain in the fall.
Summer Weekends at Blue Mountain Resort
To say that my family is bad at mini-golf might be an understatement. But, we still love the quirky and fun mini-golf course at Blue Mountain in the fall. The Cascades course is right at the edge of the village and features a winding 18 holes of some of the twistiest mini-golf holes we've ever experienced.
The Blue Mountain water park, Plunge! is a great little attraction for families at Blue Mountain. Featuring an indoor/outdoor pool, splash pad, waterslides, and more, Plunge! offers a fun place to soak away the day.
My kids could have spent the entire day shooting hoops and ducking under the dump bucket. But there were just too many things to do at Blue Mountain to explore.
Something my family loves experiencing are the spectacular light trails that wander through unique locations or spectacular nature. The Blue Mountains has the Agora Light Trail at the top of the Blue Mountain trails near Scenic Caves.
Now I'll admit, the Agora Trail isn't as spectacular or engaging as the Lumina experiences we've had in Sherbrooke, Quebec, and Kingston, Ontario. But the Blue Mountain light show is also significantly less expensive. And, when combined with the scenic ride up the Blue Mountain gondola, it makes for a fun night out for families in the Blue Mountains.
Where To Eat At Blue Mountain Resort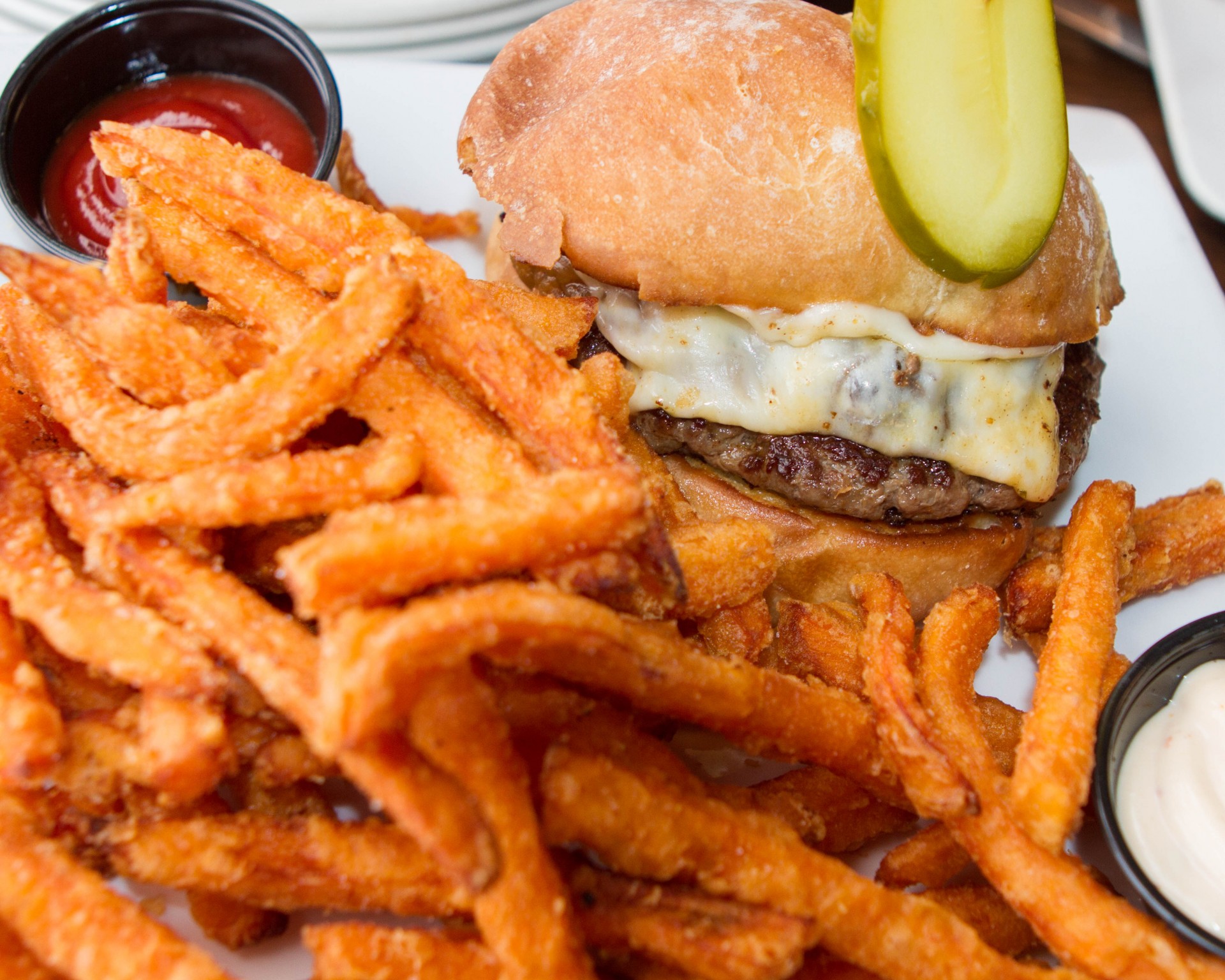 Blue Mountain resort boasts 40 mouth-watering restaurants and eateries. With so many awesome choices sprawled around the resort, The Blue caters to every type of palate.
Firehall Pizza Co
Margherita, Meat Lovers, Hawaiin, Garden Party (Vegetarian), or build your own. Firehall PIzza's versatile menu has your pizza coming hot and exactly to your liking. The choices don't stop at pizza either. Firehall Pizza Co also serves juicy burgers, delicious sandwiches, and scrumptious plates of pasta.
Without reservations, the wait time was about 30 minutes. The boys decided that this was the only possible place to eat so we put our names down and gave our phone numbers. We were told that we would get a text when our table was ready. I loved that service, it's so much better than waiting in a crowded entranceway
Cheezed
Life is Gouda! Brand new to the Blue, Cheezed offers a wide array of ooey-gooey grilled cheese sandwiches created and inspired by a team of local chefs. The wide range of menu items ensures Cheezed is a great Blue Mountain restaurant to choose from morning to night.
Breakfast has a bacon and egg sandwich with a yummy maple sauce. For lunch give the Big Smoke or Veggie Lover a try. For dinner, take it old school and order the OG, a classic grilled cheese loaded with cheddar and mozzarella.
Beavertails
Proudly Canadian, Beavertails is the original Canuck tradition. This fried dough treat is a must-have on a weekend getaway at Blue Mountain Resort. With toppings such as oreo, whip cream, and hazelnut chocolate, you can try a new one every day.
Happy Valley Candy Company
What's better than buying candy? Buying candy in bulk.
Stop in at Happy Valley Candy Company to satisfy your sweet tooth. It's never a bad idea to have a few candy treats in your pockets or bag in case the kids need a little treat break while hiking, biking, snowshoeing, or skiing during your Blue Mountain weekend getaway.
Things To Do Near The Blue Mountains
Things don't end at the edge of the Blue Mountain Resort. From Collingwood to the shores of Georgian Bay, and the nearby waterfalls and hiking trails, there are so many things to do near the Blue Mountains that you could literally spend a lifetime taking it all in.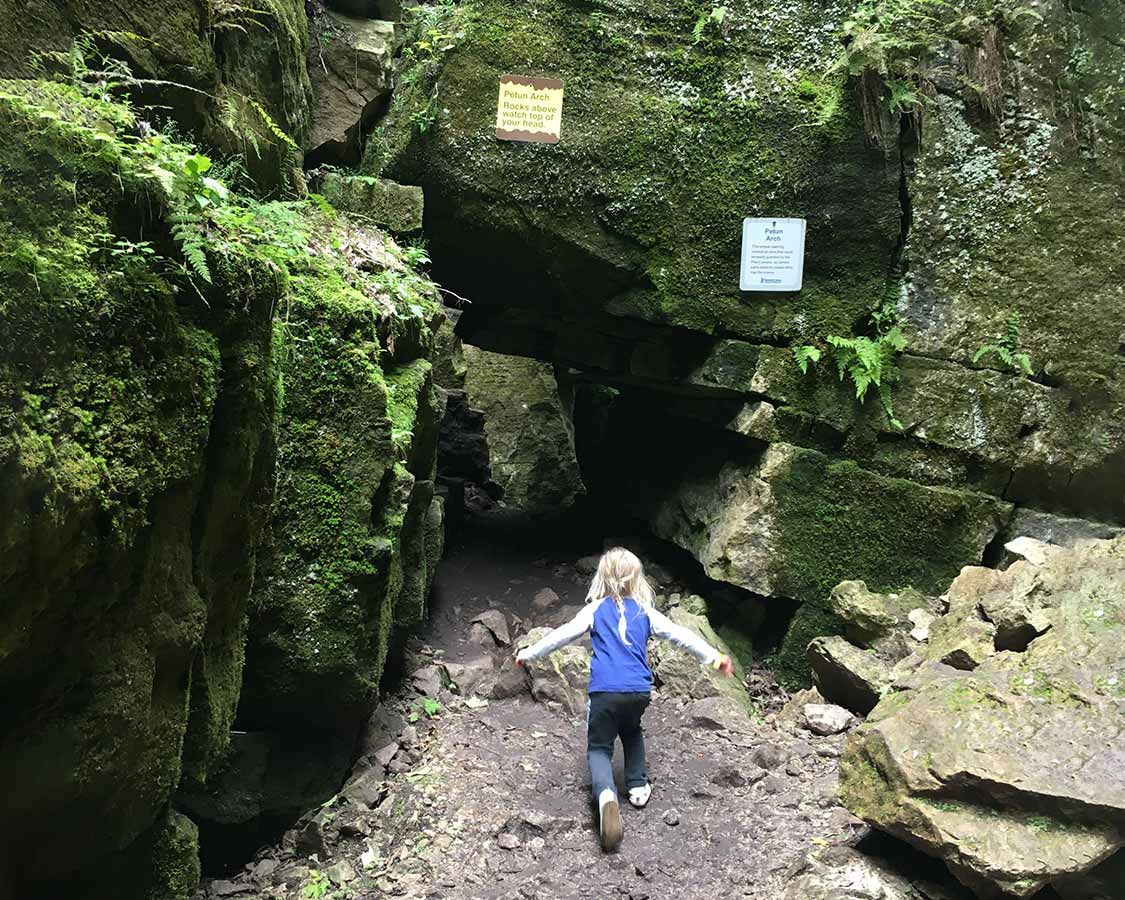 Scenic Caves Nature Adventures
Just a short drive from Blue Mountain Resort (you can even make the walk from the top of the gondola quite easily), is Scenic Caves Nature Adventures. This is one of the coolest places to visit in the Blue Mountains.
Scenic Caves is an adventure park that combines gorgeous walking trails, scenic suspension bridges, and playgrounds. The views from the Scenic Caves viewpoints are probably the most spectacular in the region. And this is a perfect destination for families experiencing the Blue Mountains.
Apple Pie Trail
The area is surrounded by apple orchards. You can spend an entire weekend touring the surrounding area, picking apples, and discovering the Apple Pie Trail. And while apple pie can be bought any time of the year, the freshest season for apples in the Blue Mountains is the fall.
The Apple Pie Trail is a culinary adventure that explores the restaurants, farms, bakeries, cideries, and distilleries that surround the Blue Mountains. Many of these places offer tasting menus and flavor experiences that are fun for the whole family.
Metcalf Rock
The landscape of the Blue Mountains, Ontario is wild. But few places stand out as dramatically as Metcalfe Rock. This popular spot is a haven for hikers, rock climbers, and nature enthusiasts.
Whether you're looking for caves, awesome hiking trails, or more edge-of-your-seat adventure, Metcalfe Rock truly delivers. There are two outfitters that cater to those looking to experience the land a little more intimately. Free Spirit Tours and On The Rocks both offer climbing and nature adventures.
But, if you're just looking at hiking or exploring, it's also possible to spend the day exploring without a guide. Metcalfe Rock is just a 25-minute drive from the Blue Mountains and makes a great stop for those enjoying the Apple Pie Trail.
Most people look at the most dramatic waterfalls in Ontario and lump them into either Hamilton waterfalls, or Northern Ontario waterfalls. But there are three breathtaking waterfalls near the Blue Mountains that are worth a side trip from the resort.
Waterfalls Near Blue Mountain Resort
Eugenia Falls Conservation Area is a short 23-minute drive from the Blue Mountains and combines gorgeous canyon trails with stunning waterfall views.
Walters Falls Conservation Area is near Eugenia Falls and just a 31-minute drive from the Blue Mountains. The old mill and rough trails make it a fun place to explore.
These Blue Mountains waterfalls tend to be packed in the summer, but during the fall season the crowds taper off and you'll have much better access.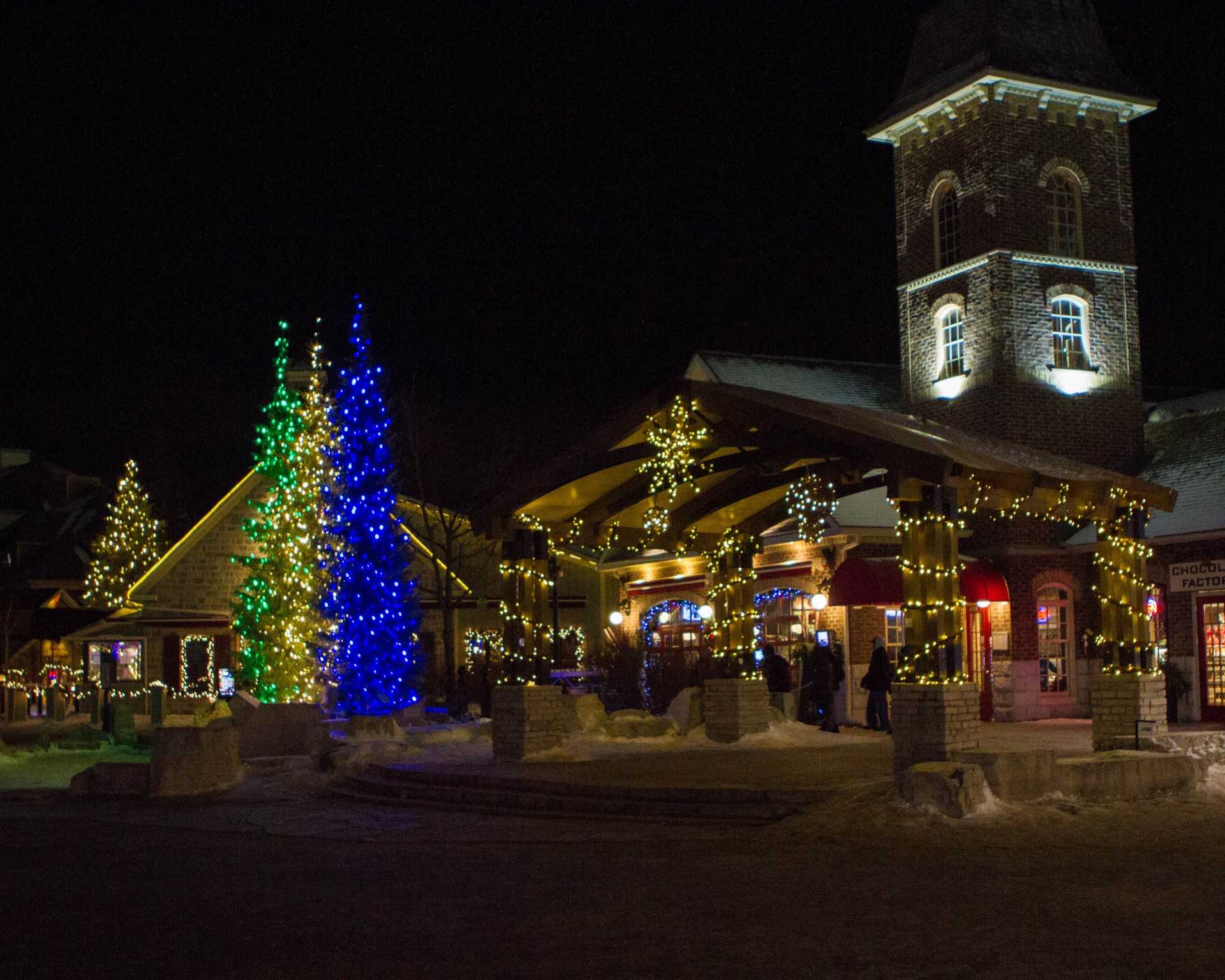 Weekend Skiing at Blue Mountain Resort
Blue Mountain Ski Resort has 42 trails ranging from beginner to double black diamond, 2 terrain parks, 1 superpipe, and 13 lifts. Children can have lessons as young as 2 years old. Blue Mountain Village has 3 lodges located right at the base of the hills for those that want ski-in / ski-out access.
Don't forget to apres-ski with some much-deserved hot chocolate before packing up the car and heading back to reality. Blue Mountain is a great place to spend a weekend or longer. There are tons of activities for people of all ages and it's wonderful being in a place that celebrates outdoor living, even in the middle of winter!
For some of the highlights from our trip check out our first Wandering Wagars video segment below.
Enjoy Your Weekend Getaway In The Blue Mountains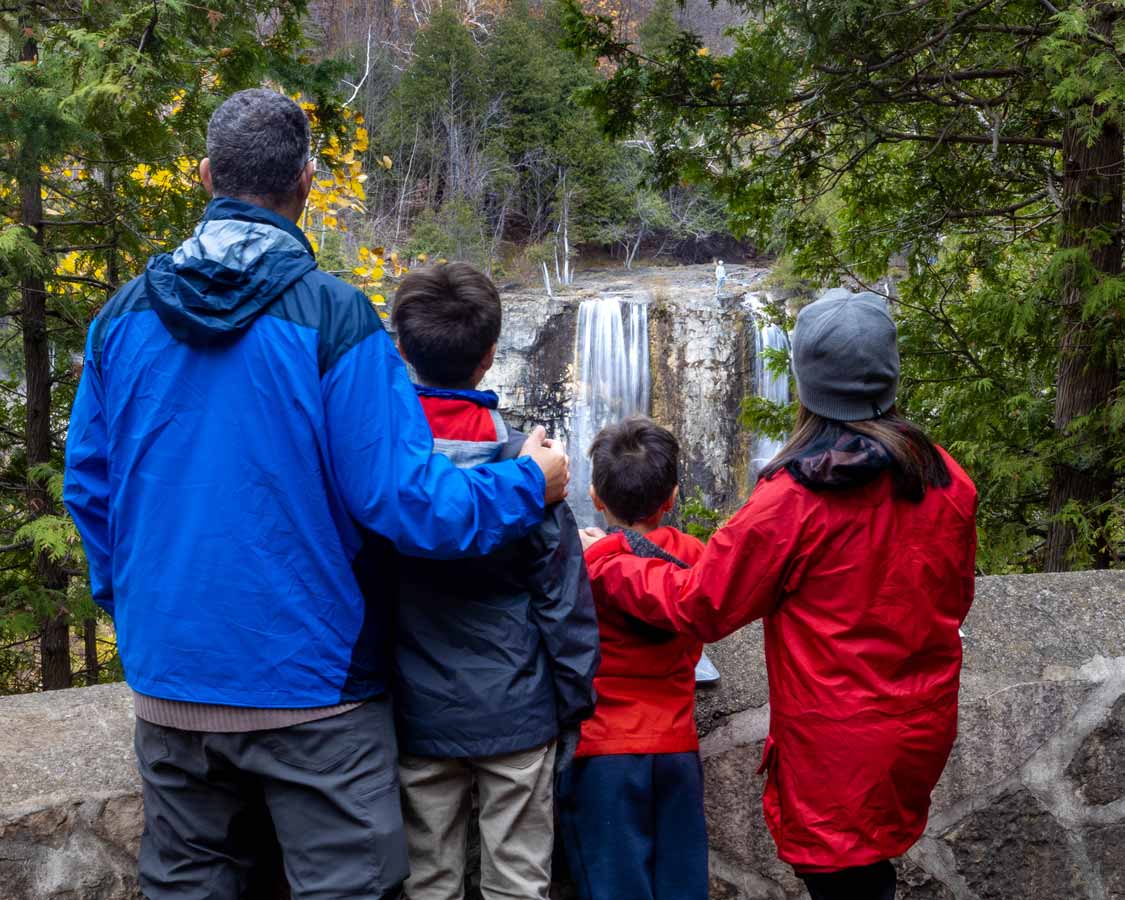 I hope that these tips for how to spend a weekend in Blue Mountain Resort have helped you out. Travel is awesome, and I firmly believe that everyone who has a chance to experience family travel, both locally, and around the world, will live a life of inspiration. To follow our adventures through 25 countries and counting, visit our adventure family travel blog, or sign up for our newsletter.
If you love family travel as much as we do, please join our Family Travel Support Group on Facebook. You can connect with more family travelers just like you who love to explore the world.
This post may contain compensated links. For more information please read our disclaimer. Wandering Wagars is a participant in the Amazon Services LLC Associates Program, an affiliate advertising program designed to provide a means for sites to earn advertising fees by advertising and linking to amazon.com, amazon.co.uk, amazon.ca. Amazon and the Amazon logo are trademarks of Amazon.com, Inc. or its affiliates.
You May Also Like To Read:
Pin This Post For Later: