Blue Mountain ski resort in Collingwood, Ontario is a great family destination with way more than just skiing! Join us as we explore!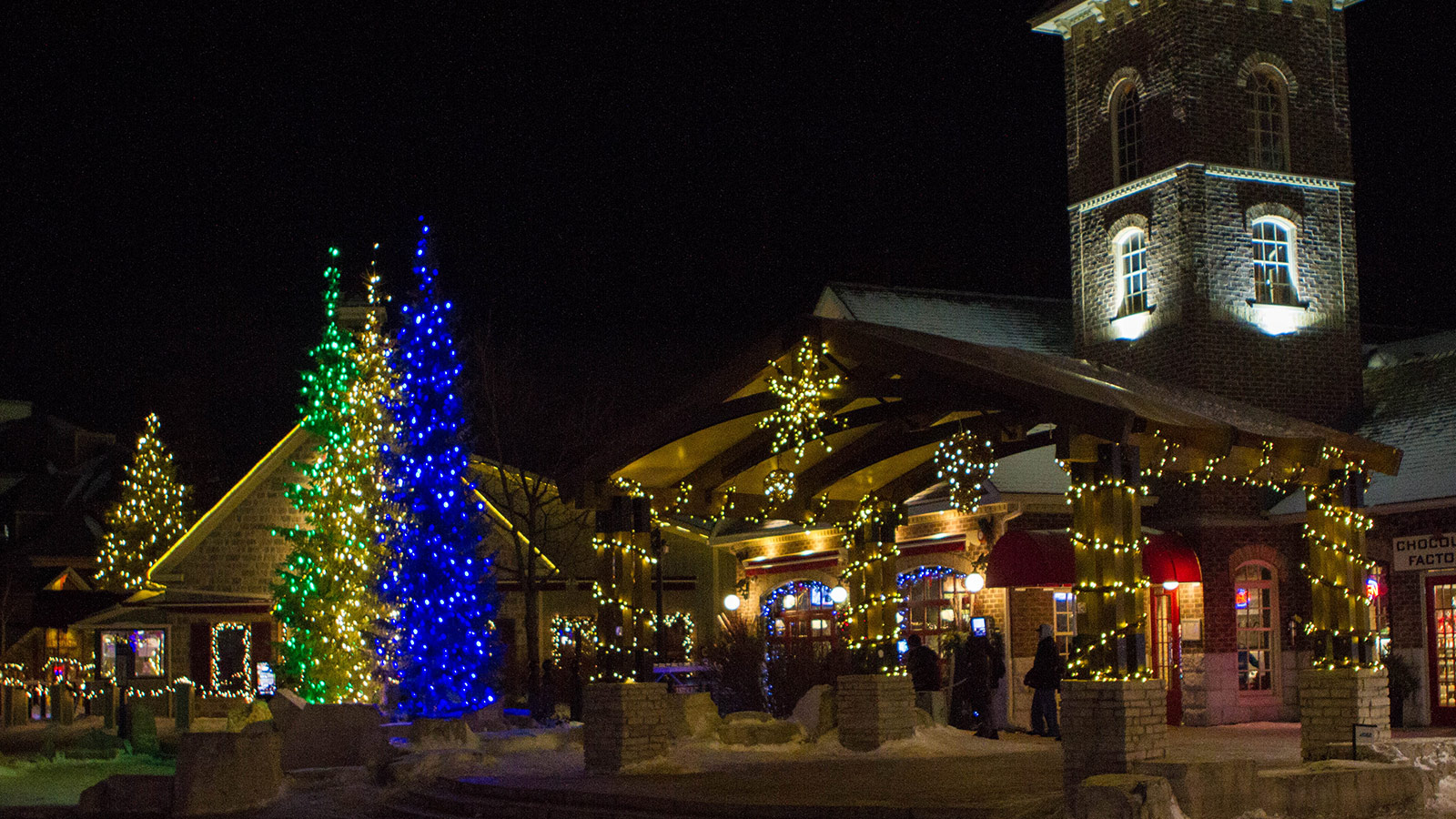 Christmas this year had come and gone with nary a snowflake to be seen. A white Christmas was just a fading thought when, a few days later, snow finally began to fall. Could this be the start of the ever-elusive winter?
The children were desperate to build a snowman or create snow angels so we dressed them up in their snowsuits, jackets, hats, mittens, neck warmers…and off they headed to the backyard. Kevin and I smiled at each other. With the children in the backyard, the house was quiet, the aroma of freshly brewed coffee was filling the air and we toasted our mugs. Suddenly we heard an urgent and very loud banging. C and D were knocking on the glass door desperately trying to get our attention.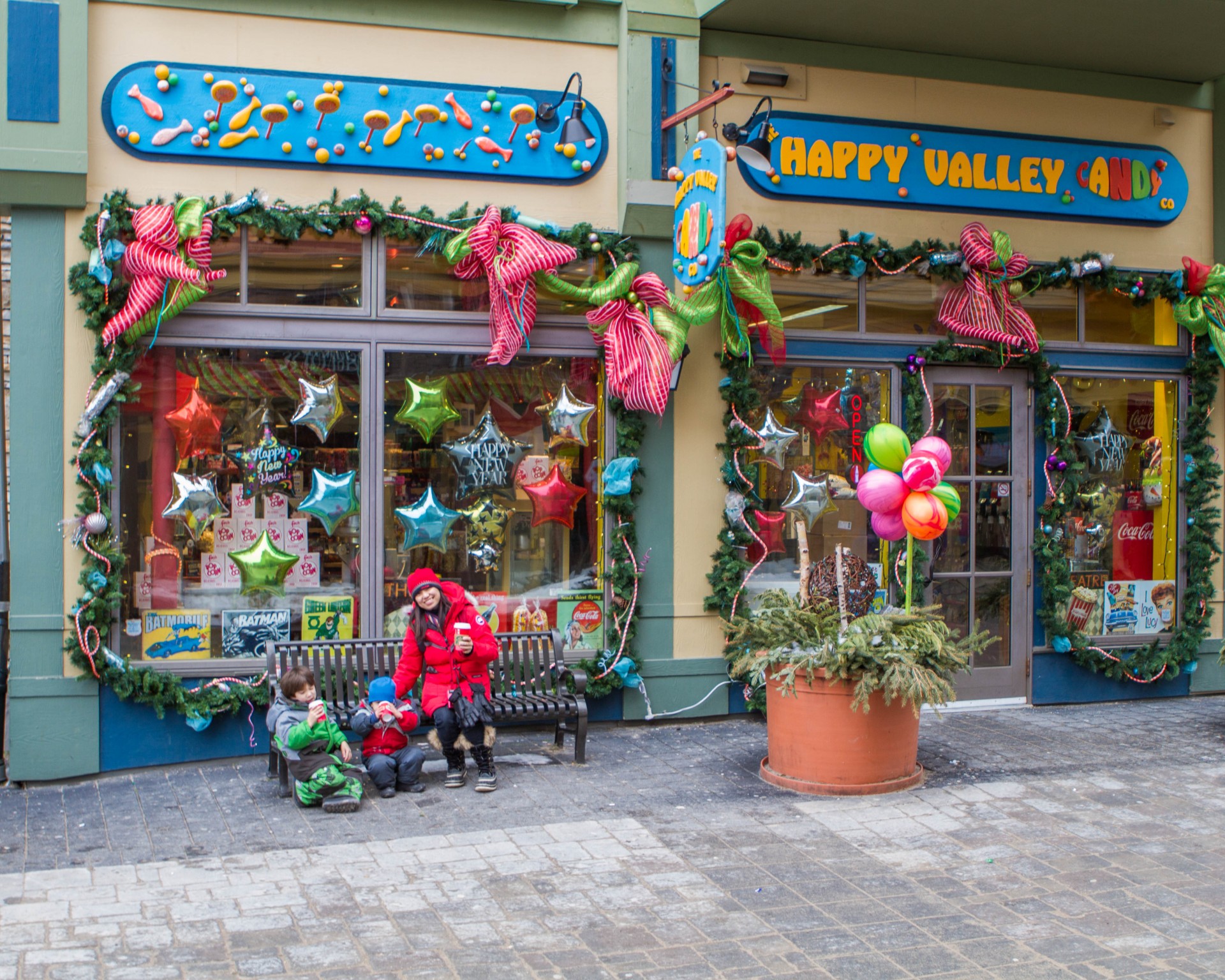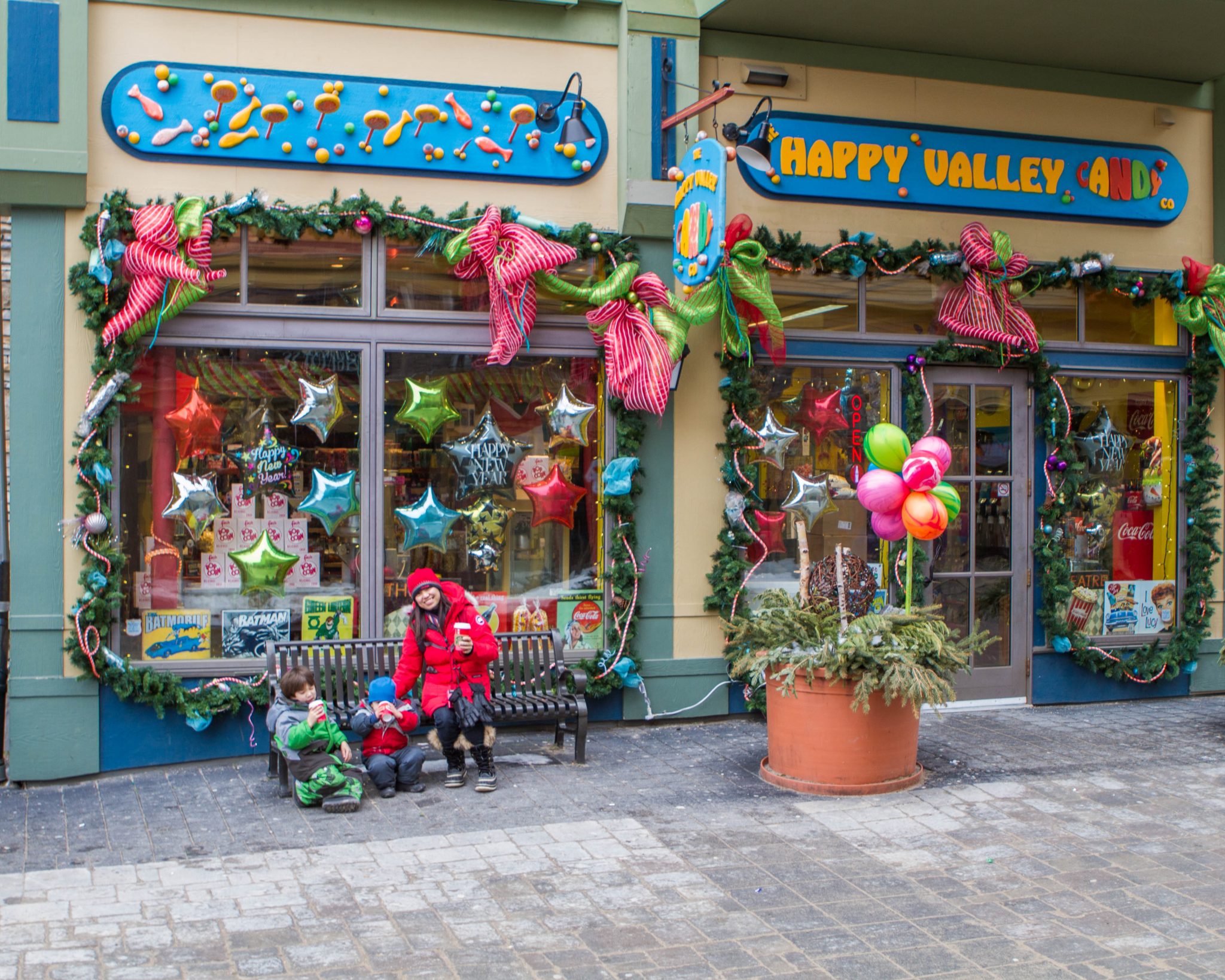 They were talking at the same time so we could barely make out their excited rumblings. After getting them to take some deep breaths to calm themselves, C demanded that we call somebody, anybody, to order more snow as there wasn't enough to make snow angels much less a snowman! Kevin and I started laughing. Both kids were covered in mud and the small pile of snow they had gathered was melting fast. C asked if he could put it in the freezer for later. Kevin and I looked at each other and at the same time said: "If the sky won't give us snow, we'll go somewhere where they make it!"
We packed up our gear, piled in the car and headed north towards Collingwood, Ontario where we would visit Blue Mountain Ski Resort, the largest ski resort in Ontario!
Blue Mountain Village
Blue Mountain Resort is located 175 km north or about a 2-hour drive from the city of Toronto. The resort features a quaint, northern European-style village with many shops, restaurants, and even a market where we were able to purchase milk for the kids. Blue Mountain Village offers a range of accommodations from houses and cabins to inn and luxury hotel rooms. We chose to stay at the Blue Mountain Inn which is on the outskirts of the village near the conference center.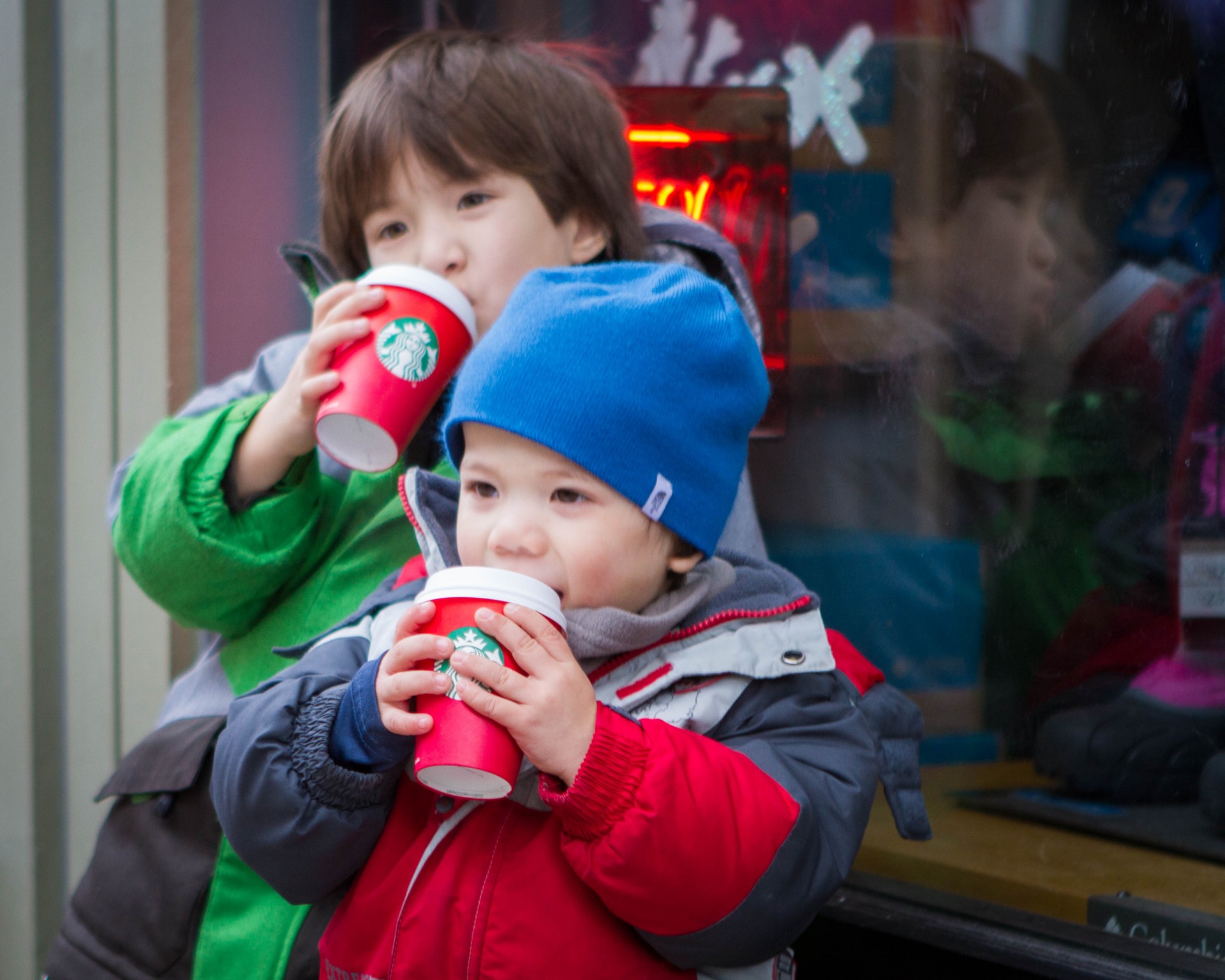 Blue Mountain offers free shuttles that include regularly serviced routes that bring resort guests to various stops in the Village and on-demand routes that will take you directly to the various hills and attractions. One free activity that we took advantage of was the MJ Byrne's wagon ride around the Village.
The ride is offered for a couple of hours during the day and Blue Mountain visitors can hop into a covered wagon which is pulled by two very beautiful horses for a tour around the Village. The line up is located in front of MJ Byrne's pub. The wagon windows are pretty tough to see out of, so it's mostly about the experience than the view; Although it was a short ride, the children really enjoyed it.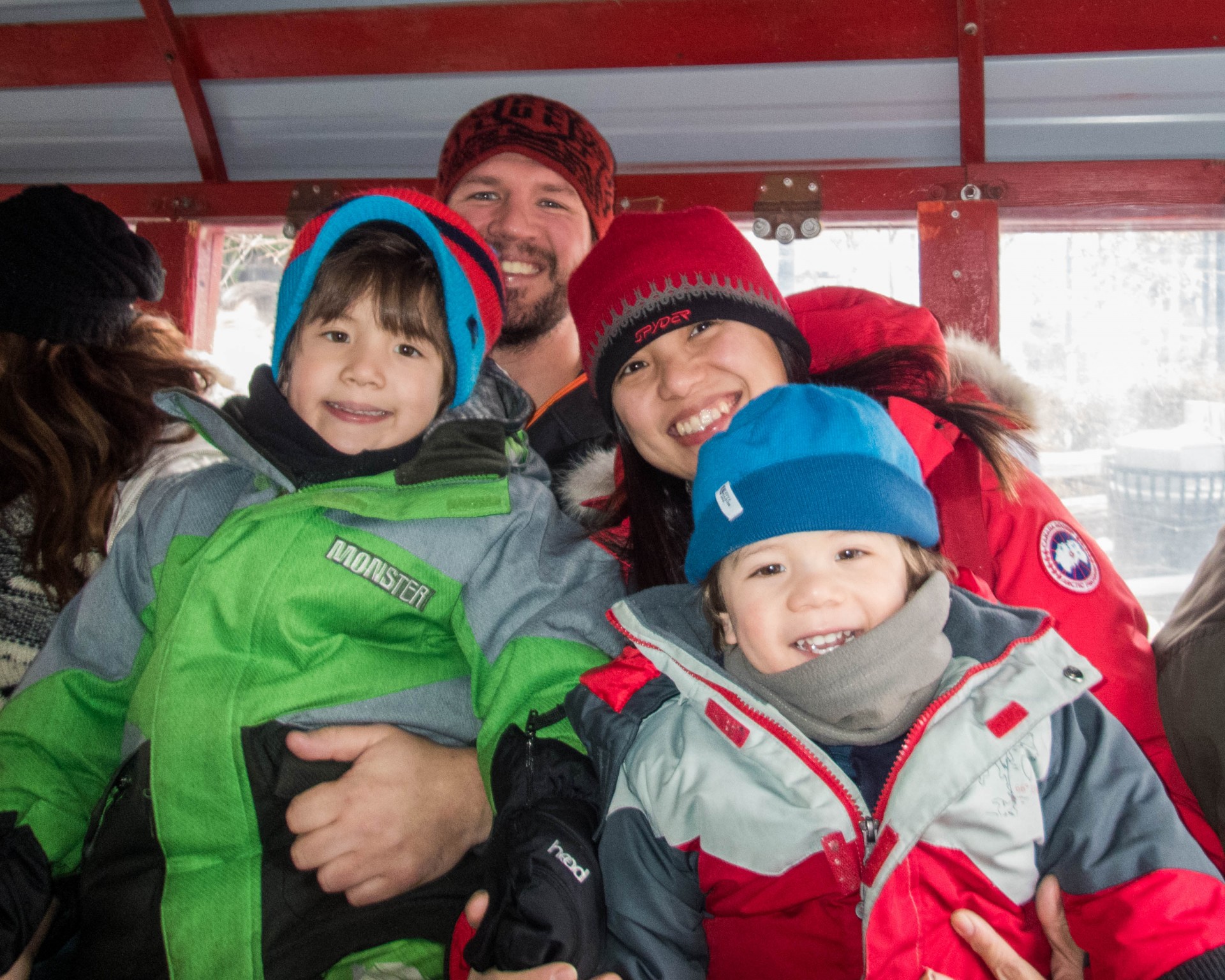 Firehall Pizza Co.
After exploring the town it was time to take a break for some lunch. C is a huge fan of firemen, fire trucks and fire houses, so it made perfect sense for us to eat at the Firehall Pizza Co. and from the look of the crowd and the wait time, apparently, so did a lot of other people! Without reservations, the wait time was about 30 minutes. The boys decided that this was the only possible place to eat so we put our name down and gave our phone number. We were told that we would get a text when our table was ready.
I loved that service, it's so much better than waiting in a crowded entranceway. With our newfound freedom, we stepped outside and passed the time by having a snowball fight outside the restaurant. Our wait was even shorter than expected, as after about 15 minutes we were told that they had a cancellation and we headed in and got settled for lunch. The service at the restaurant was quick and friendly and the pub fare did not disappoint. Kevin dined on a Holy Cow burger while I enjoyed a delicious spaghetti and meatballs that I shared with the kids.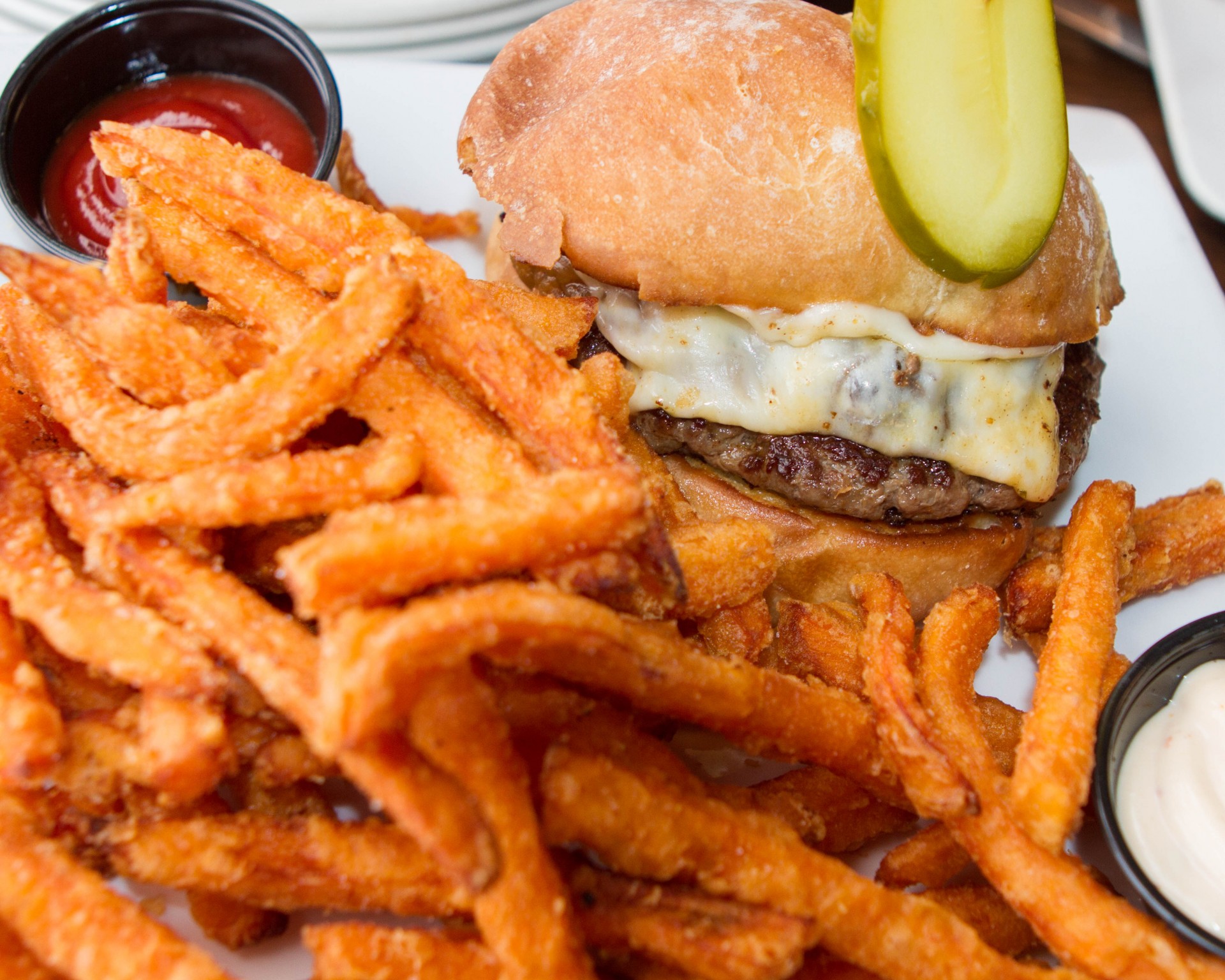 Plunge! Aquatic Centre
As part of our hotel package we had access to the village's water park, Plunge! Aquatic Centre. Plunge! passes can be purchased directly from the aquatic centre and you don't have to be staying at one of the Village hotels to purchase an entrance ticket. Plunge! is located just behind the Firehall Pizza Co. in the main village. The water park is small but includes an indoor/outdoor pool, indoor and outdoor Jacuzzis, an indoor splash pad and play area and an outdoor water slide and swing rope.
Conveniently, Plunge! offers life vests and other flotation devices for kids so that's one less thing you need to bring from home. We were also able to purchase swim diapers at the front desk for about $2. The children found the indoor pool to be cold at first and actually preferred being in the outdoor pool! It was amazing experience swimming outside while the snow fell and watching skiers race down the nearby hill.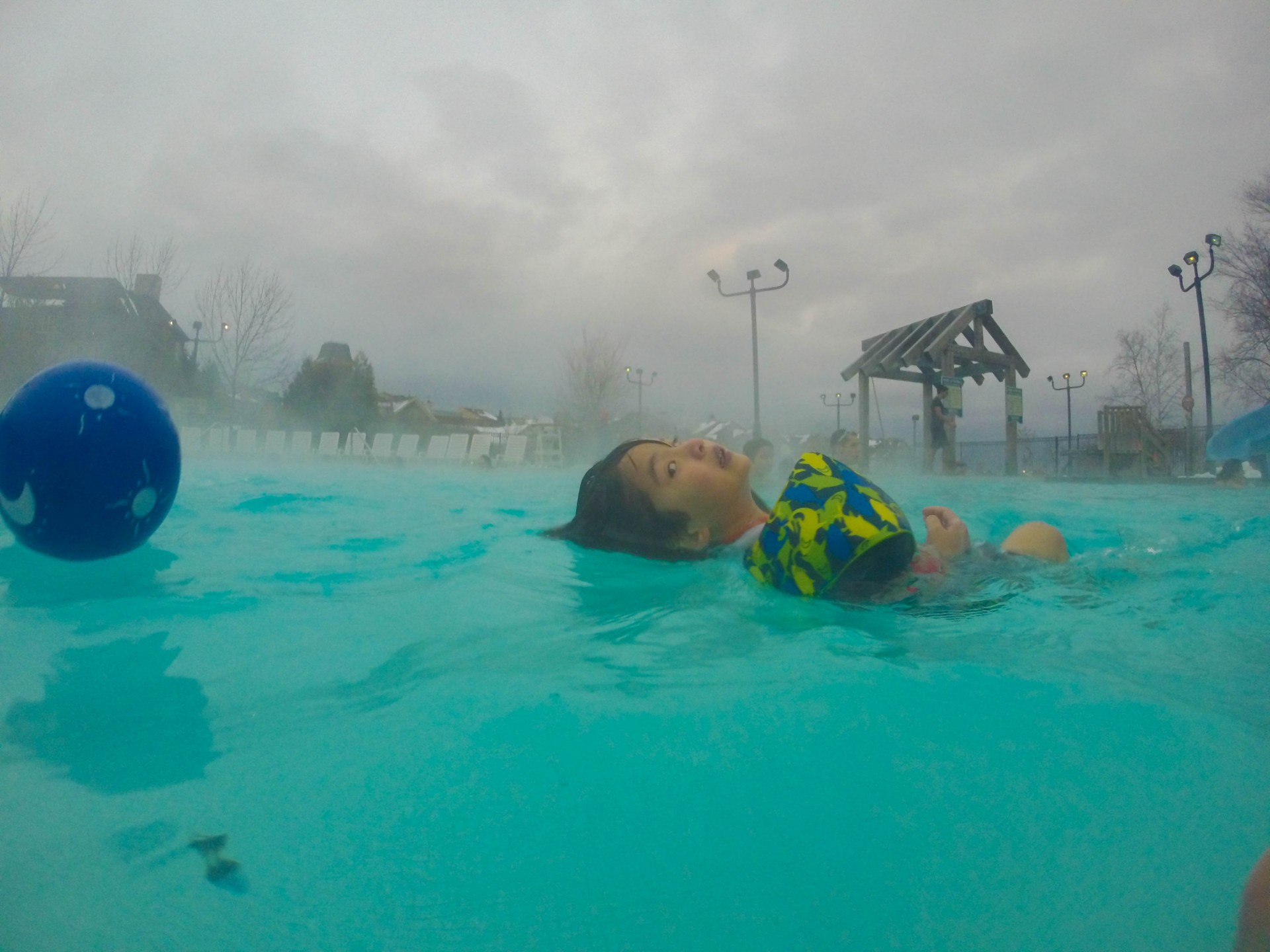 The Village at Night
With our fingers and toes very wrinkly, it was time to draw a close to our first day at Blue Mountain. The kids were exhausted after a long day of running around in the cold so we dialed it in and ordered a pizza from the Firehall Pizza Co. which we picked up after an awesome couple of hours in the water park. We took the shuttle back to our hotel and vegged out for a bit before crashing for the night. Tomorrow is the big day, C's first time hitting the hills!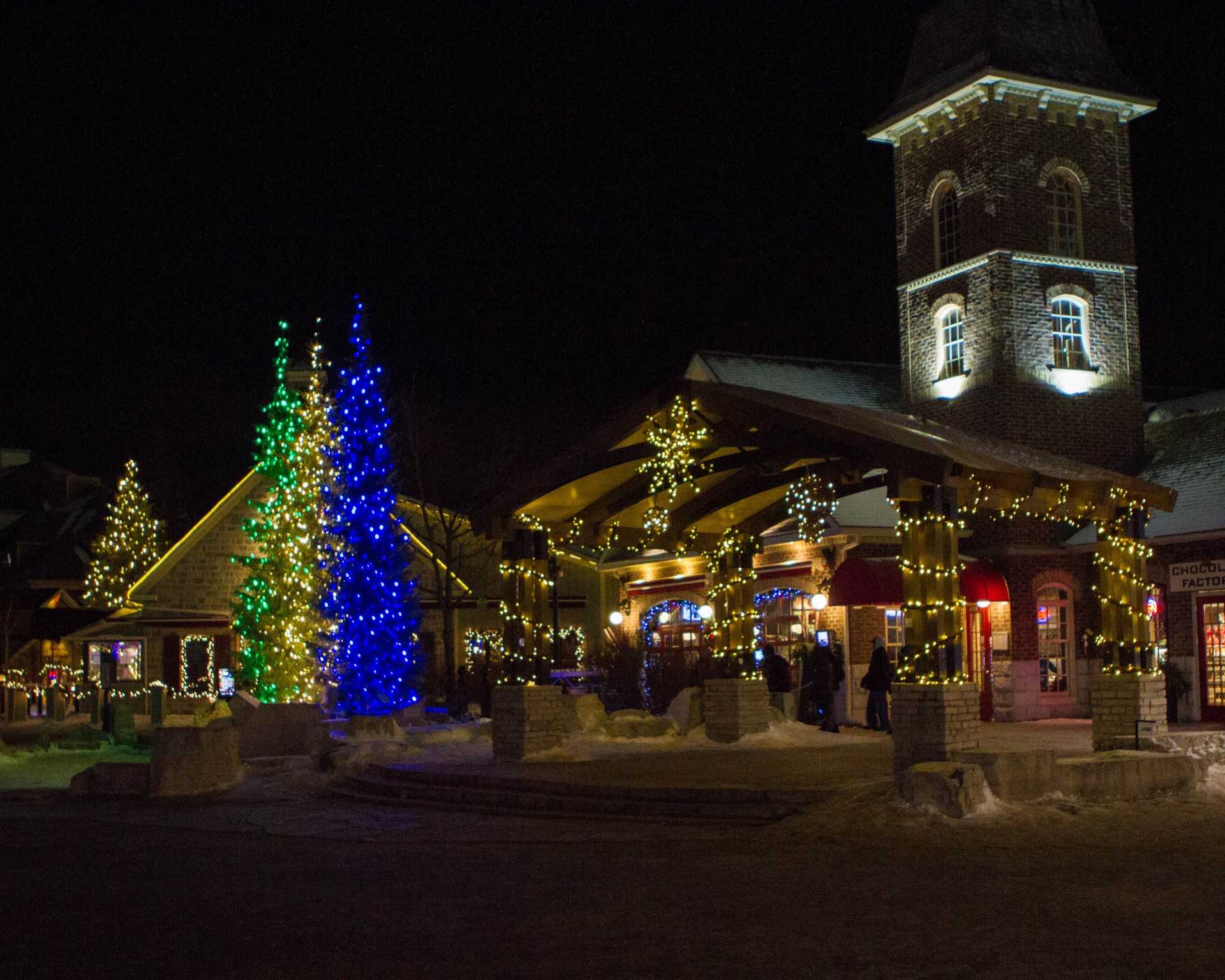 Ski Time
Blue Mountain Ski Resort has 42 trails ranging from beginner to double black diamond, 2 terrain parks, 1 superpipe, and 13 lifts. Lessons can be had by children as young as 2 years old. However, as D was a little bit under the weather he and I opted to spend time in the hotel while Kevin and C hit the slopes. After a bit of a wait, they were able to take the shuttle to the hills. Blue Mountain Village does have 3 lodges located right at the base of the hills for those that want ski-in / ski-out access.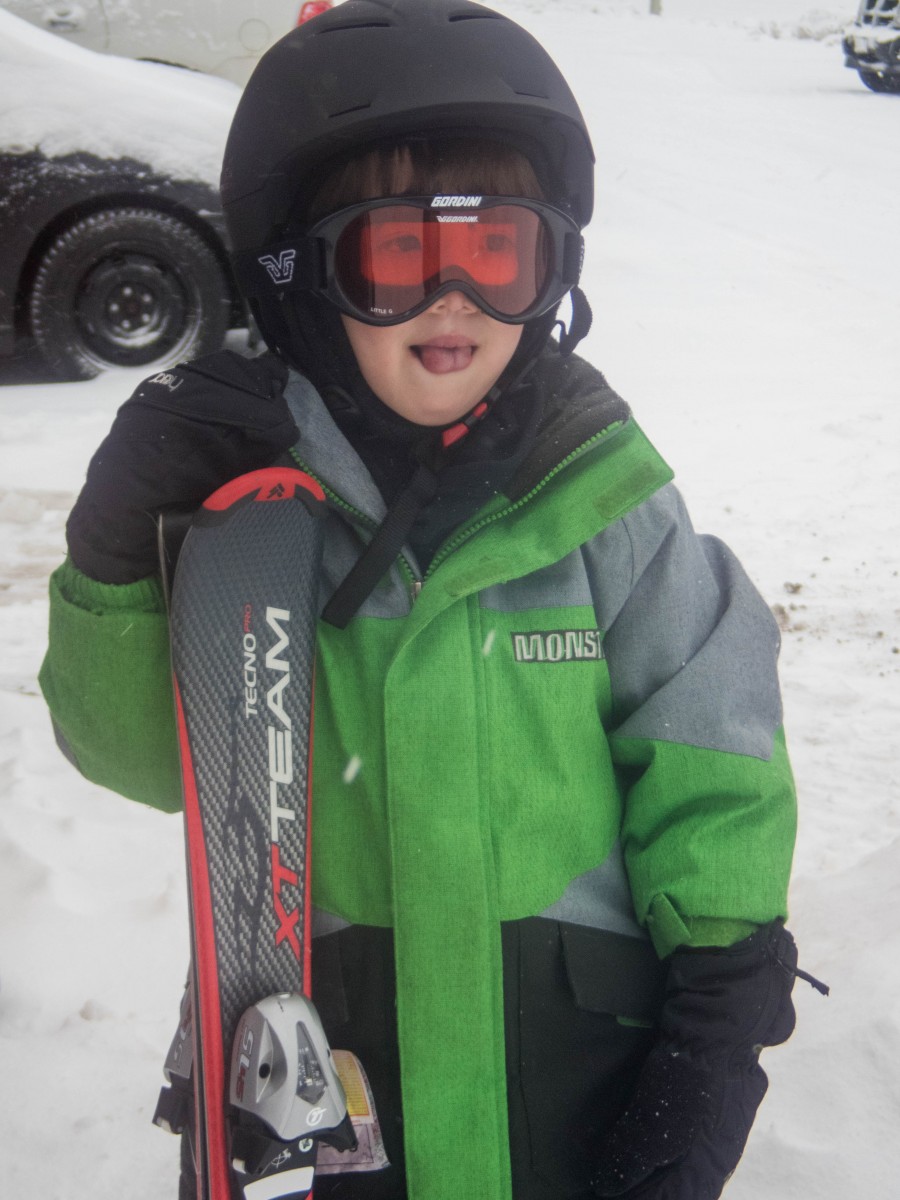 C was impatient to get started and after getting his gear on, Kevin got him started on the basics of skiing, balance, feet positioning, stopping and turning. After a few runs down a training bump, C just couldn't wait anymore so we headed to the bunny hill. Blue has three beginner hills of various steepness. Two of them have moving walkways so kids don't have to jump straight into the world of chair-lifts. When his big moment came he did fantastic! C tore down the hill like Scot Schmidt leaving his Dad still strapping on his snowboard bindings. When Kevin finally caught up to him at the bottom he had a giant smile on his face, which he followed up with "I forgot how to stop Daddy."
After the hills, we stopped for some much deserved hot chocolate before packing up the car and heading back to reality. Blue Mountain is a great place to spend a weekend or longer. There are tons of activities for people of all ages and it's wonderful being in a place that celebrates outdoor living, even in the middle of winter!
For some of the highlights from our trip check out our first Wandering Wagar's video segment below.
This post may contain compensated links. For more information please read our disclaimer. Wandering Wagars is a participant in the Amazon Services LLC Associates Program, an affiliate advertising program designed to provide a means for sites to earn advertising fees by advertising and linking to amazon.com, amazon.co.uk, amazon.ca. Amazon and the Amazon logo are trademarks of Amazon.com, Inc. or its affiliates.
You May Also Like To Read:
Pin This Post For Later: