Update: Lumina Borealis in Kingston has been discontinued. We will keep you informed of changes to their schedule.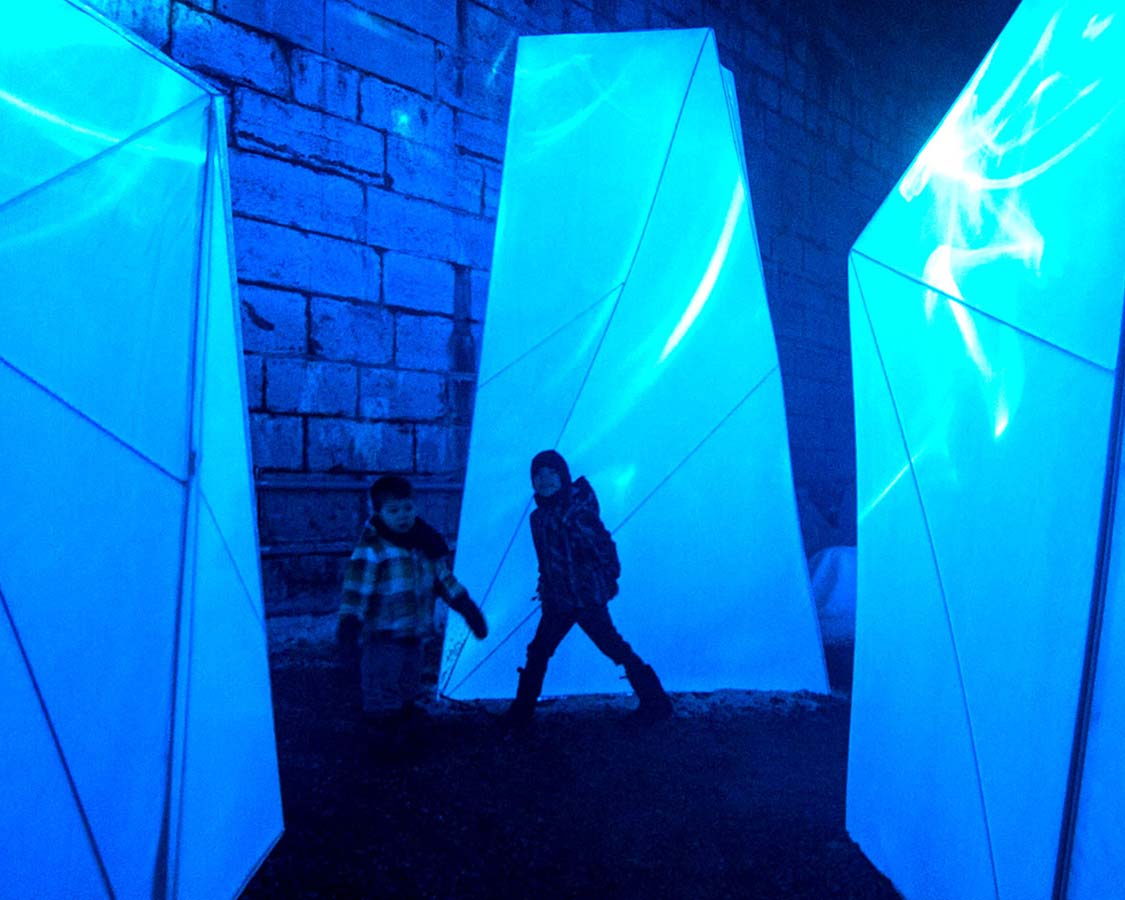 Lumina Borealis is an outdoor interactive light show at Fort Henry in Kingston, Ontario Canada. When we bought our tickets for the 2017 winter event we had no idea what to expect. All we knew was that Lumina Borealis Kingston was one of the things to do in the city, and we couldn't wait to learn more!
Tickets for Lumina Borealis Kingston 2017/2018
We purchased tickets for the timed entry through the site's website. You can check that out here. For Lumina Borealis 2017/2018, tickets are $16 for adults and $12 for children ages 6-12. Children under 6 are free. At these prices, visiting Lumina Borealis with kids makes it one of the affordable things to do in Kingston, Ontario.
Make sure to subscribe to our YouTube channel see all our latest videos!
This post may contain compensated links. Find more info in ourdisclaimer
What You Need to Know Before Going to Lumina Borealis Kingston
Buying Tickets for Lumina Borealis
Lumina Borealis Kingston runs from December 1, until February 19, 2018. The event takes place on weekends and long-weekends, except during the school holidays when Lumina Borealis runs every day. When we went to the website to purchase our tickets, one of the things that struck us immediately was that there is a timed entrance. The first show starts at 5:00 pm. Since we were going to see Lumina Borealis with kids we picked 5:45 pm so it would be darker and wouldn't be too late of a night for the boys. Though tickets can be purchased at the Fort, we recommend purchasing tickets ahead of time if you want to be able to control when you get to enter the show. The last entrance varies between 8:15 pm and 8:45 pm depending on the day.
Parking for Lumina Borealis Kingston
We got to the Fort an hour before our scheduled time as we wanted to walk around and explore. Because of this, we were able to park at the Fort parking lot. The parking lot fills up quickly and unless you plan to be at the Fort before the start of the first show, I suggest parking elsewhere and taking the free shuttle to the Fort.
How to Get to Fort Henry Kingston
There is a short walk from the Fort Henry parking lot (which is where the shuttle drops off people) to the entrance of the event. Near the entrance, there are shops set up that local handicrafts and hot chocolate. There is also a restaurant. Most important for families with kids, the only washrooms are located here!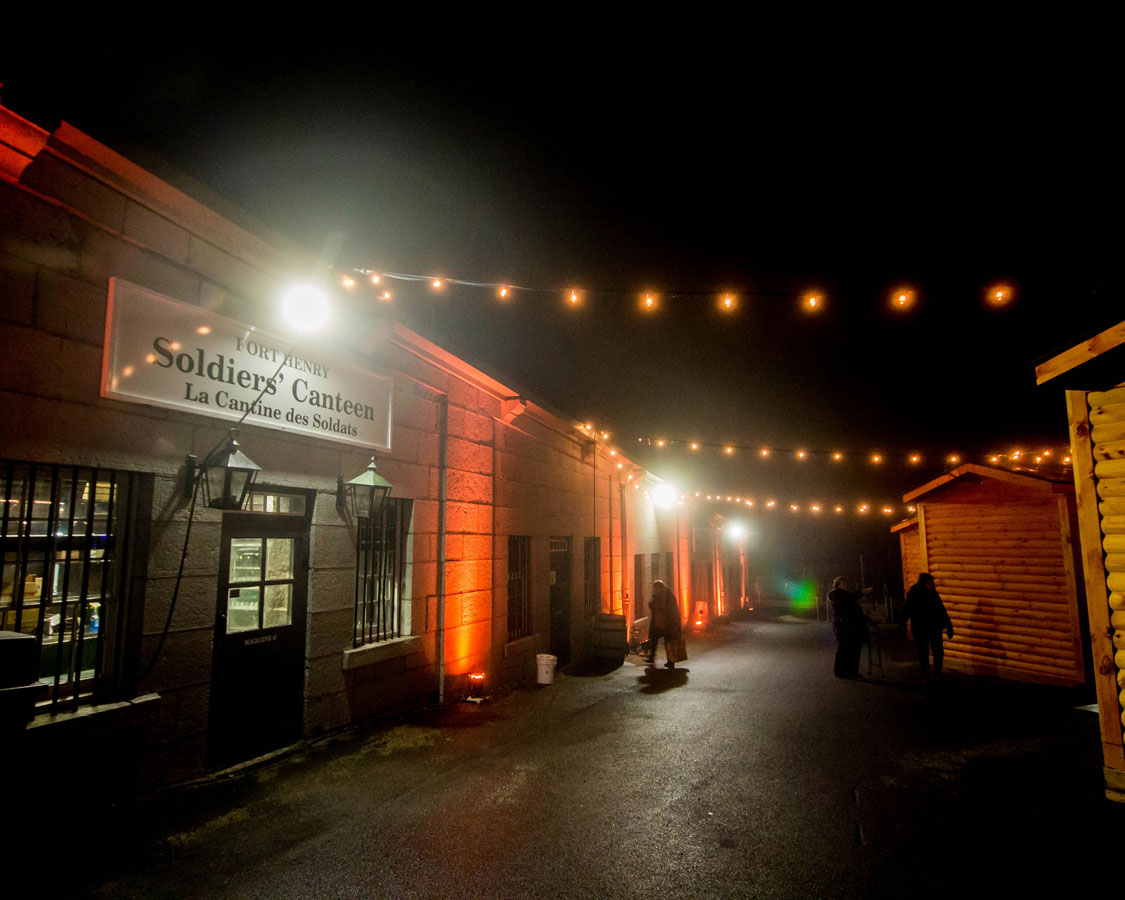 Pro-Tip: There is a restaurant at Fort Henry for those that want to eat immediately before or after the show. Reservations are highly recommended.
We were in line by 5:30 pm as requested but were not let into the actual experience until our scheduled time of 5:45 pm. We were told the timed entrances were to ensure the Fort did not get too crowded making the experience more enjoyable for everyone.
Accessibility
The entire Lumina Borealis experience takes place over a 1 km trail. The path is not paved but a stroller with large wheels would have no problem navigating the grounds. We also saw people in wheelchairs who seemed able to get around without any issues.
What to See at Lumina Borealis Kingston
Welcome Hearth and Frost Arcade
After having our tickets checked we proceeded to the Fort entrance and was greeted with this intricate illumination. We could already feel the magic. As we walked along, we noticed there was poetry on the walls about finding the beauty in winter. Additions to the poem could be found along the walls of each section.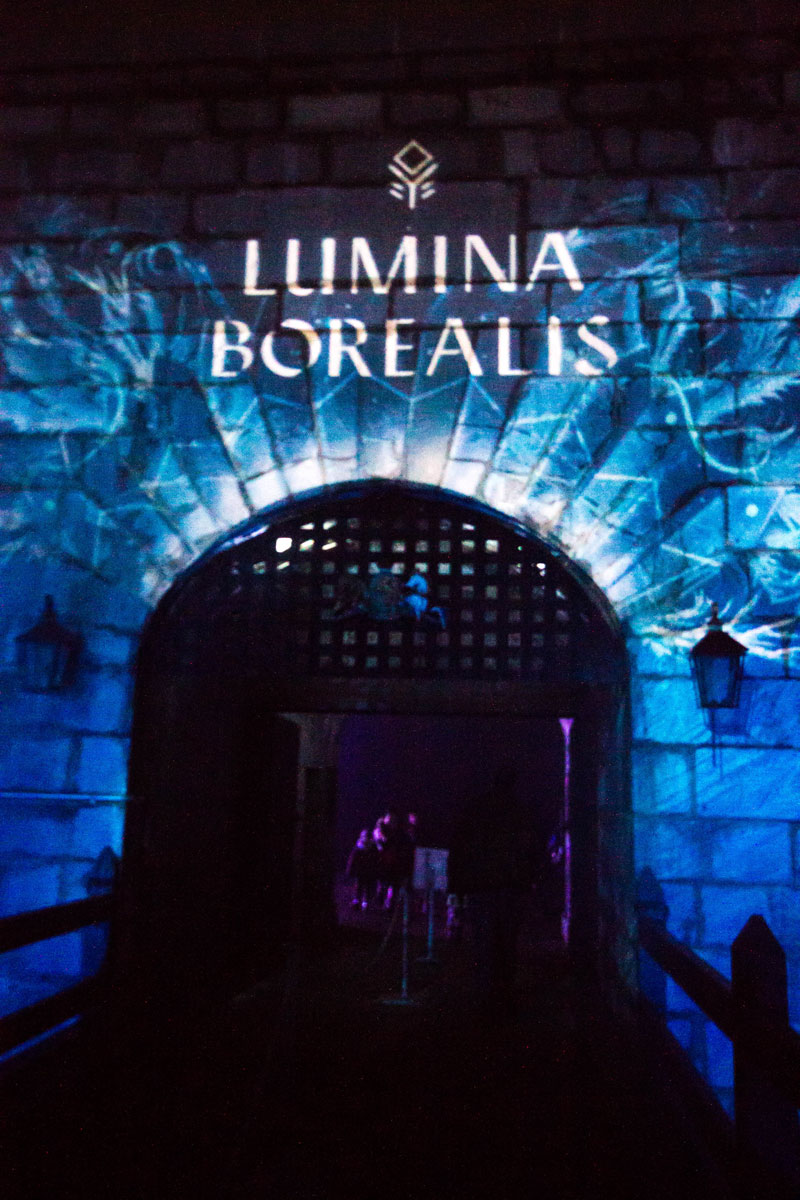 Iceberg Alley
The first of the art installations we saw was in Iceberg Alley. The installations were of various sizes and shapes made to look like icebergs. The kids were a bit apprehensive at first not knowing exactly what they had to do in this section. But soon enough they were exploring and running around the icebergs with glee.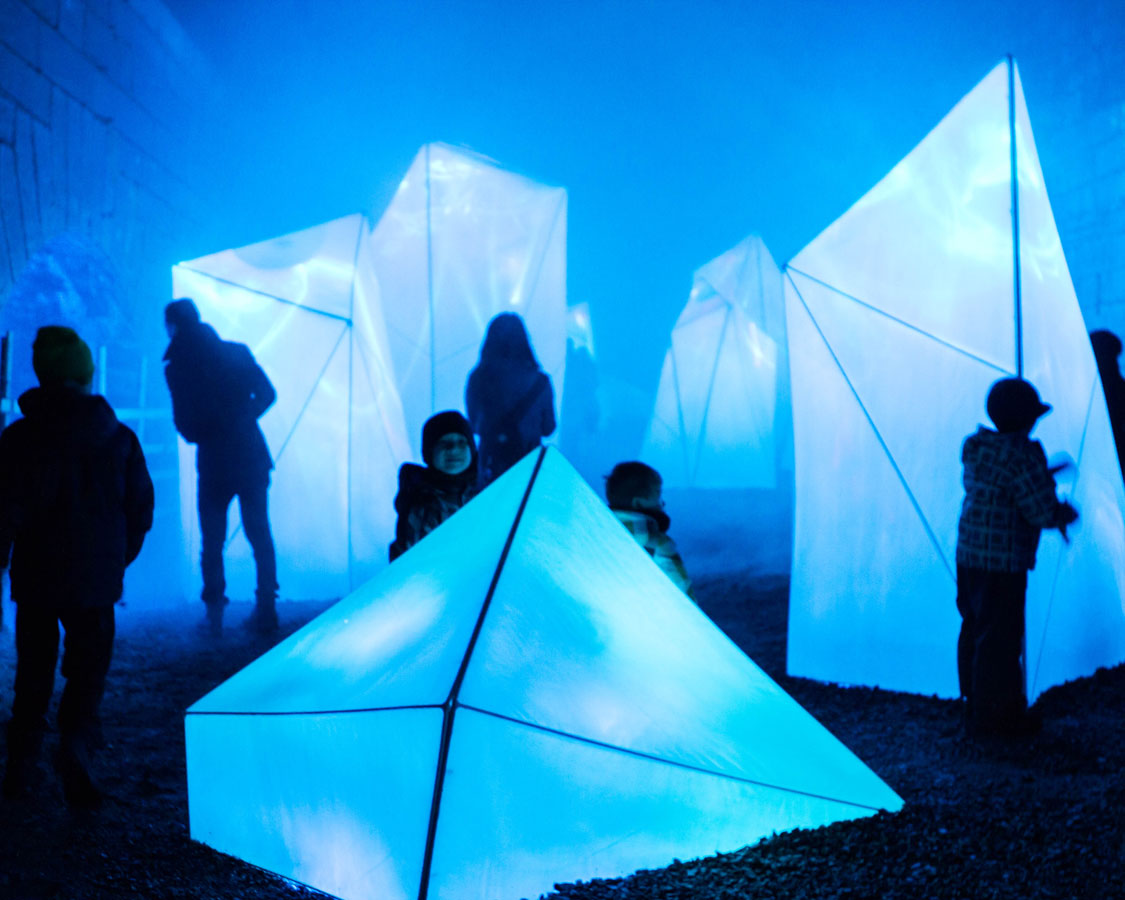 Sleeping Woods
In the next section, Sleeping Woods, evergreen trees were set up to resemble a forest. They were also decorated with lights that looked like icicles. The lights lit up in time with the music. The projections on the walls of the Fort were of various animals that can be spotted in different parts of Canada during wintertime. The boys ran between the trees pretending to chase down the animals that were projected onto the walls.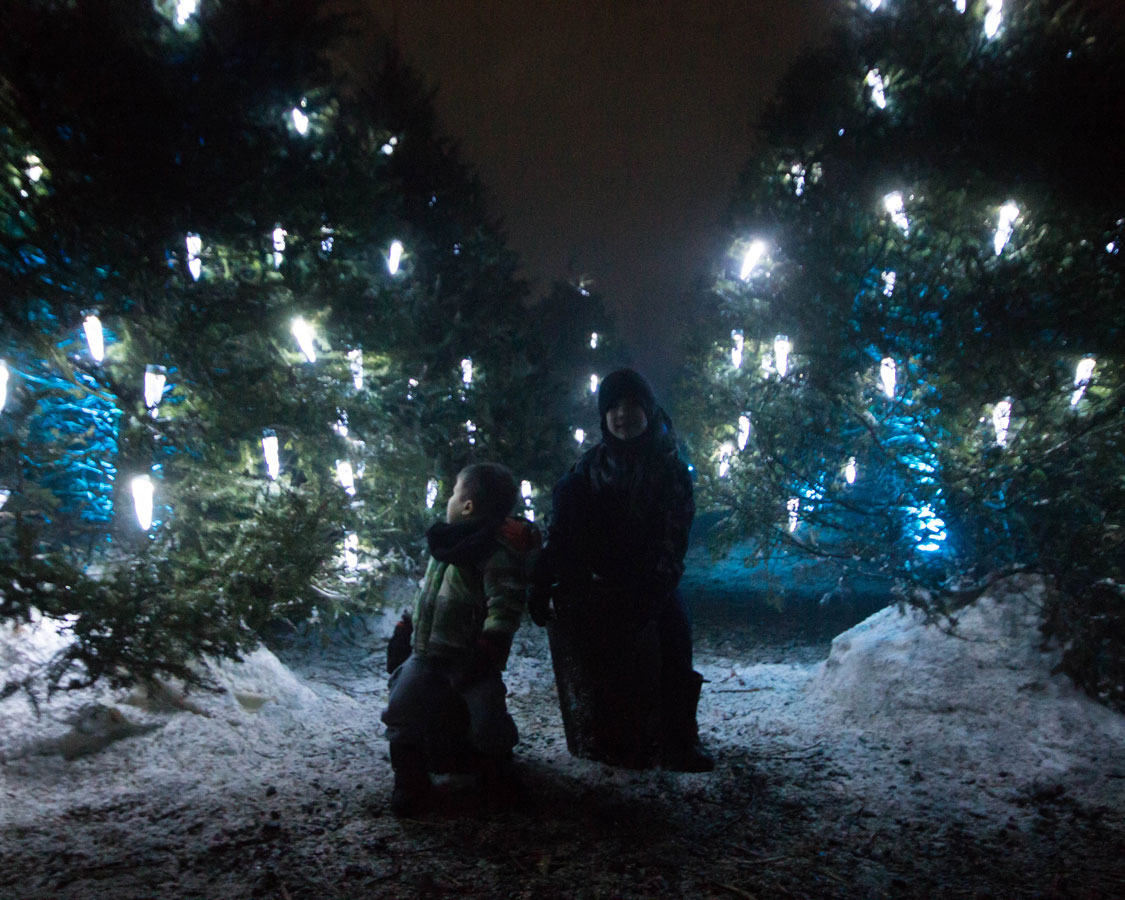 Fireteller
The light display in the Fireteller section of the experience was truly inspiring! As you enter you see there are three large fire pits that have been set up to provide not only heat but also added a lot to the entire ambiance. The light display was much larger and more detailed in this section. Both kids and also us adults were left in awe.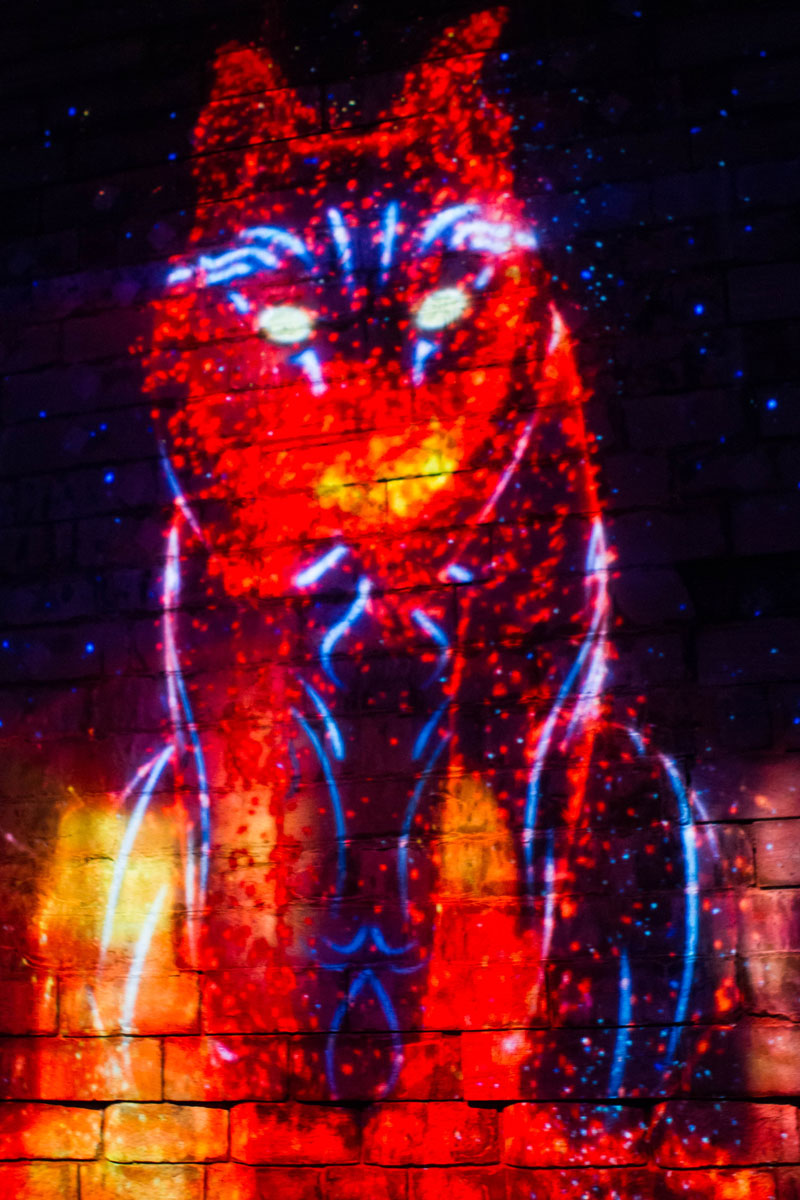 Singing Aurora
This was another interactive portion of the show. Colored and lit up microphones were set up in front of the wall. As you spoke or sang into them, the colors on the screen reacted by dancing around like the aurora borealis. C had a fantastic time but D was a bit frustrated as he was too short to reach the mic by himself. And even when we lifted him up, he couldn't get the color swirling the same way that his older brother could.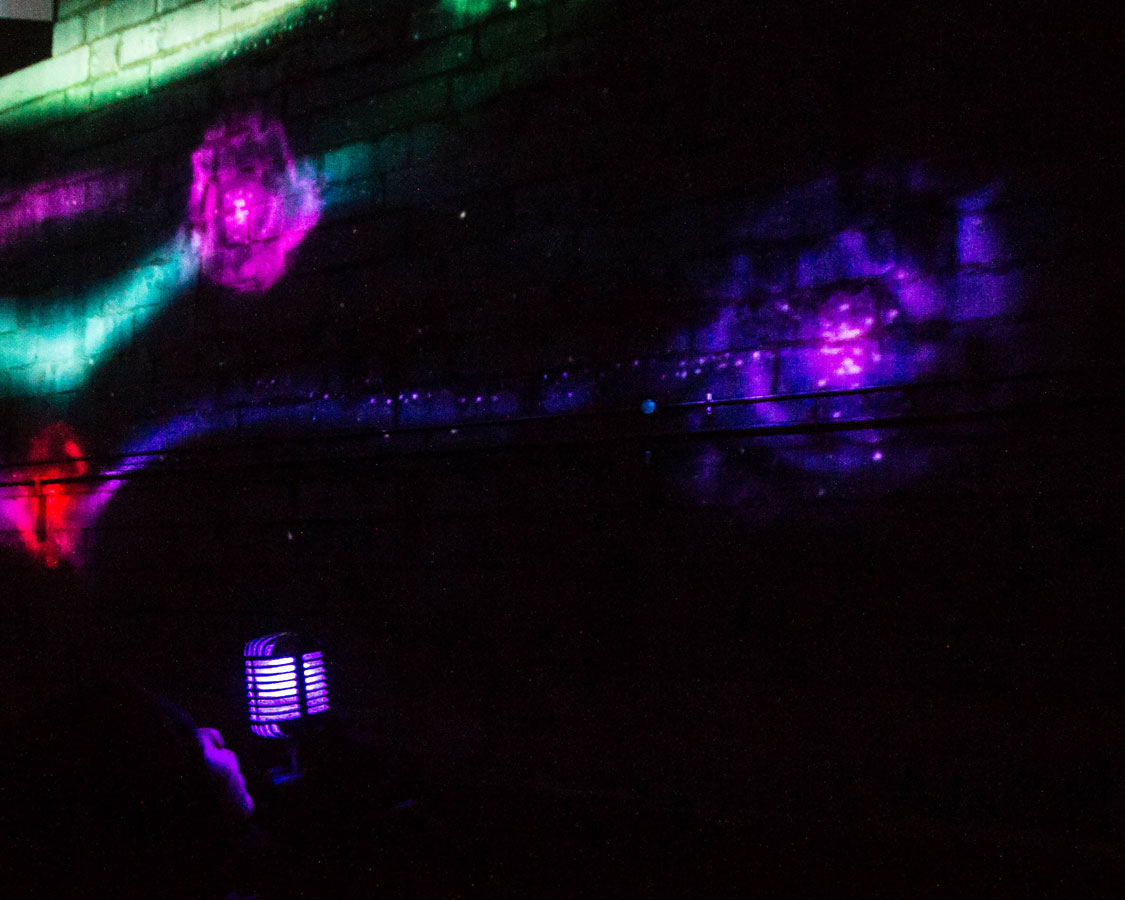 Frozinator
The children were starting to get tired as we were walking to this section. But all exhaustion soon disappeared as a virtual playground was laid out in front of them. Without explanation, they knew they had to pick up the balls and hit the picture in front of them. A direct hit caused that portion of the picture to disappear. The hits counted up the power bar, that when full, triggered the grand finale. We easily spent more time in this section than any other section of Lumina Borealis.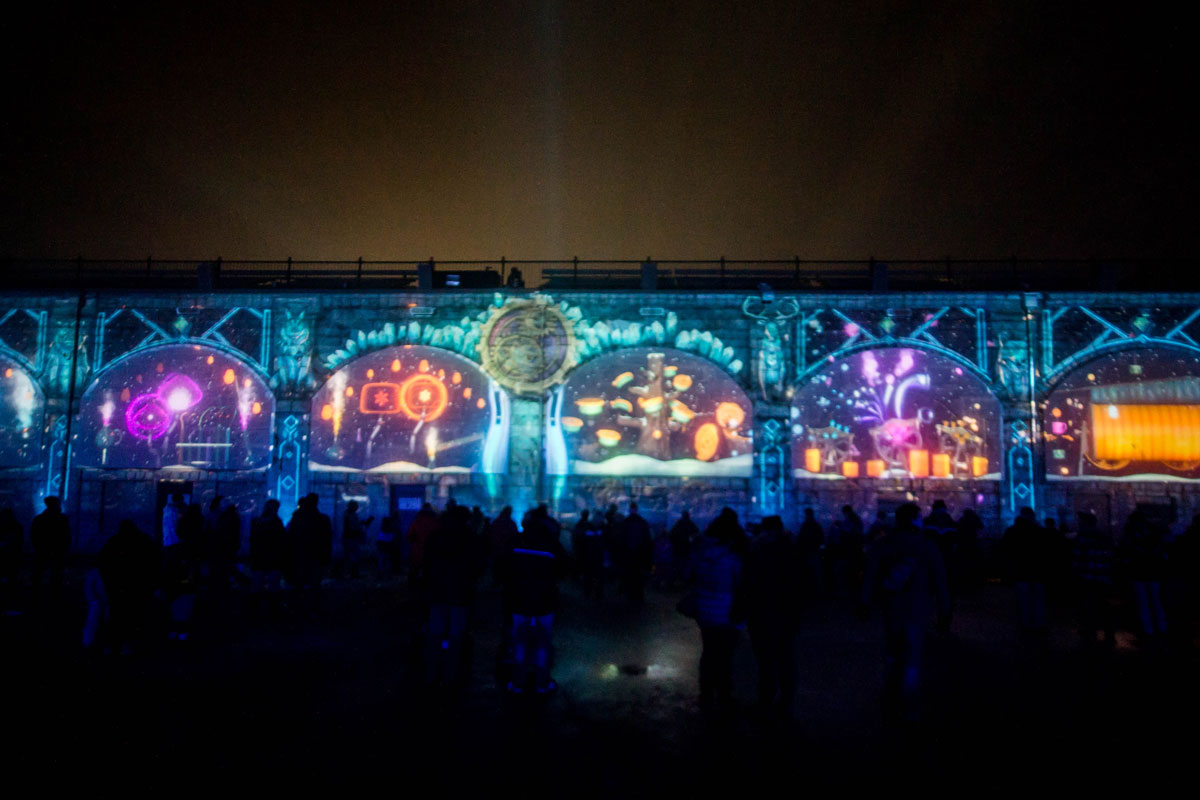 Should You Go to Lumina Borealis?
Yes! The event runs from December 1 until Feb 19. We highly recommend attending this wonderful experience. One thing we were apprehensive about was being on a timed ticket. We hate nothing more than being rushed through an experience, especially when it means telling the kids to hurry up when they are obviously enjoying themselves. We are happy to report that this was not the case at all. The timed entry is meant to control overcrowding, but once you are inside, you can enjoy the show at your own pace.
Both the boys gave it two thumbs up! C even commented that it was better than the light show in San Ignacio Mini, Argentina and he enjoyed it more than Petra by Night in Jordan. So, there you have it. What are you waiting for? Buy your ticket now and enjoy Lumina Borealis Kingston this winter!
You may also be interested in reading about
Wandering Wagars is a participant in the Amazon Services LLC Associates Program, an affiliate advertising program designed to provide a means for sites to earn advertising fees by advertising and linking to amazon.com, amazon.co.uk, amazon.ca. Amazon and the Amazon logo are trademarks of Amazon.com, Inc. or its affiliates.