Our Jordan family travel blog shares everything that you need to know to visit Jordan with kids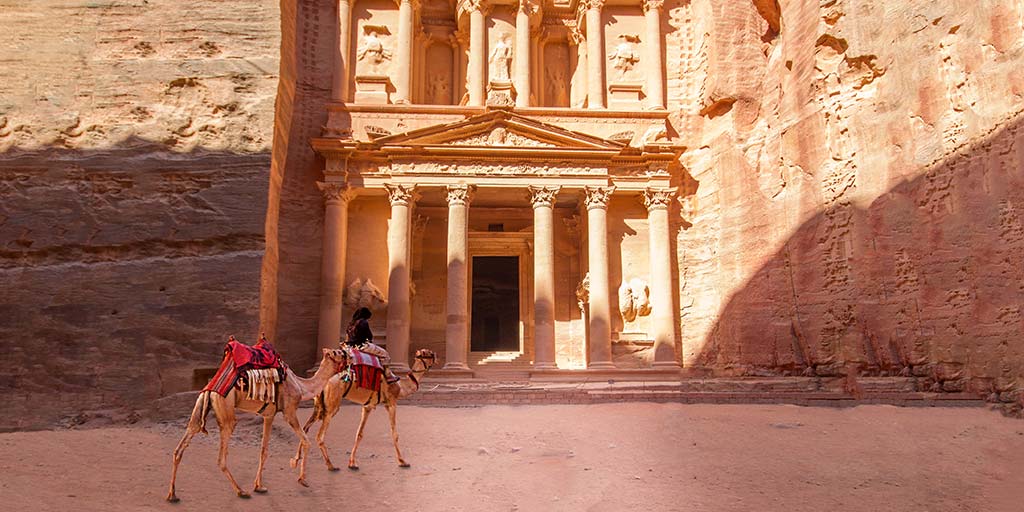 Discover Our Family Travel To Jordan Guide
Jordan packs an incredible amount of awesomeness into a small package. This oasis of peace in the Middle-East borders the countries of Syria and Iraq as well as Israel, Egypt and Palestine. But the politics of Jordan are far different than many of their neighbors.
There are incredible places to visit in Jordan. It's full if incredible castles and the oldest Roman ruins outside of Italy. Jordanian people are some of the friendliest we have ever encountered, and the food in Jordan is to die for.
Our Jordan guide for families takes you through the country from the Petra Mountains to the Dead Sea where you'll discover why we think Jordan is one of our top countries for family travel.
Jordan is also not just dry desert. The country borders the Red Sea, which offers incredible snorkeling and SCUBA diving as well as amazing resorts. And the famous Dead Sea, where visitors flock to float and experience the magical healing powers of the Dead Sea mud.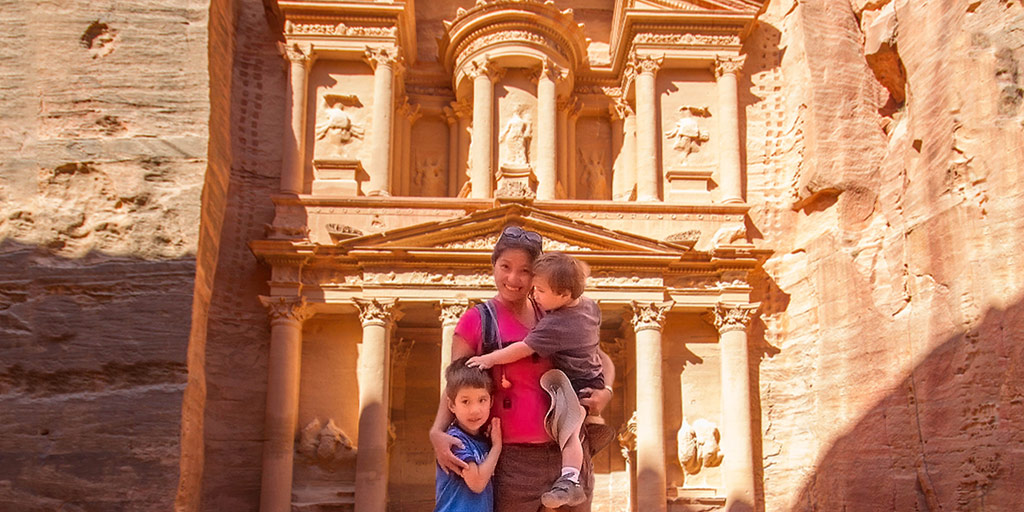 Jordan is on the bucket list of so many travelers. But can you visit Petra with kids? Check out how we explored the famous lost city with children!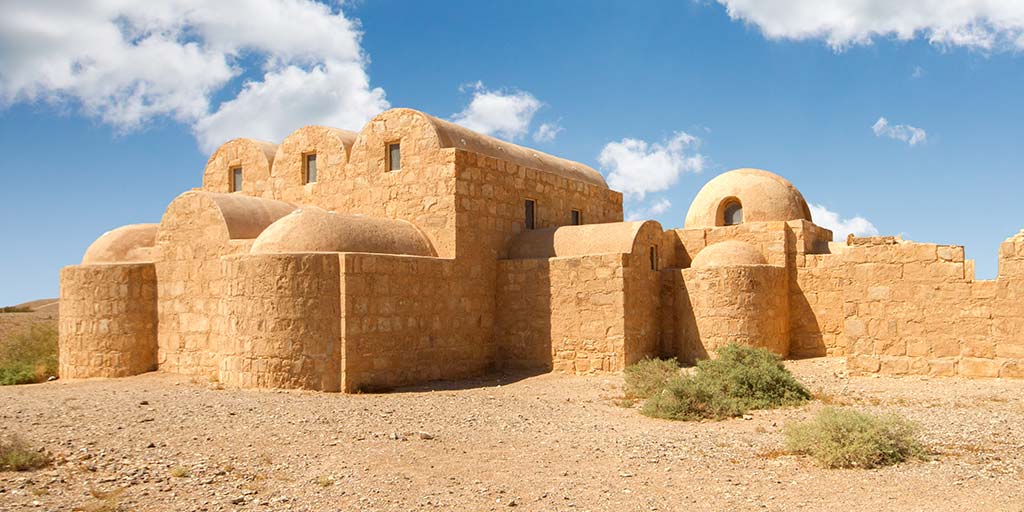 From the Desert Highway to the Amman Palaces, these Jordan castles will have you walking through thousands of years of history.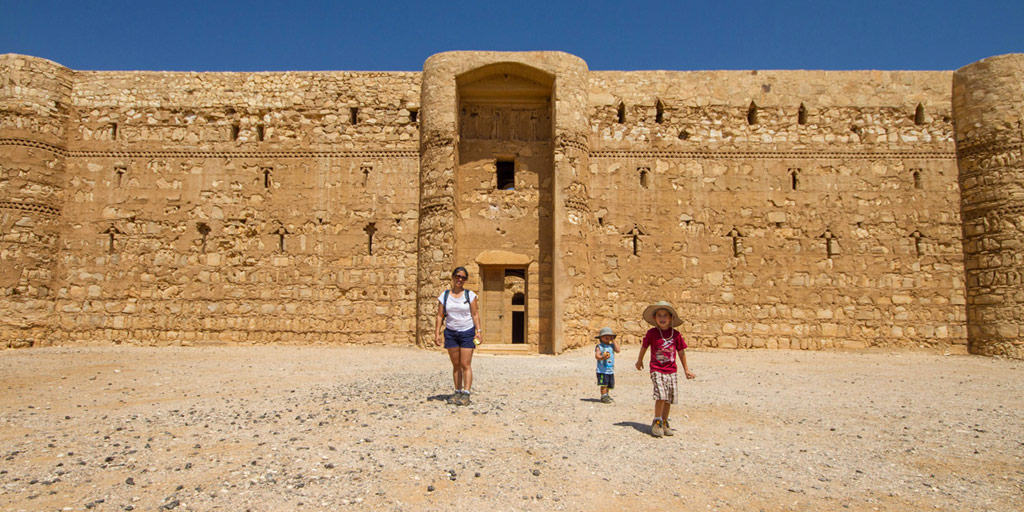 From the rose walls of Petra to the star-filled skies of Wadi Rum, this one-week Jordan itinerary is perfect for families that want to discover Jordan.
Tips For Family Travel in Jordan
Jordan is one of the most family-friendly countries on earth. This peaceful nation that borders Syria, Iraq, and Palestine is a bastion of peace in the middle-east. Jordan is known for it's safety and the locals have a fondness for children that is almost unmatched among the countries we have traveled to. Our Jordan guide will tell you the best destinations for Jordan travel and give you some tips along the way.
Before you book your travel to Jordan, here are a few things to know before you go.
Currency

Jordan uses the Jordanian dinar. The average value is approximately $1.35 USD. You can check the current exchange rate here.

Capital

The Capital of Jordan is Amman. This dense metropolis is home to over 4 million people. It is also the home of the King and Queen of Jordan. And the Amman Citadel, one of the oldest continually occupied places in the world.

Electricity

Jordan uses C, D, F, G and J type sockets. The standard voltage is 230 V and the standard frequency is 50 Hz.

Cellular Phone Service

Cell phone service is readily available in over 90% of Jordan.

Roads, Driving and Public Transit

Roads and highways in Jordan are well-maintained.
Jordan is a small country, and hiring a car is a great way to see the remote areas. Be advised that traffic laws are followed "loosely" in Jordan. It is also not uncommon to find yourself sharing the road with camels and livestock such as sheep.

Jordan with Kids

We highly recommend family travel in Jordan. There are many amazing things to experience. And the people of Jordan are very warm and inviting, especially towards children and families. Touching of childrens faces and hair is common in Jordan.
Important Words And Phrases To Know For Family Travel In Jordan
Like many countries in the Middle East, the primary language is Arabic. Which is great, in a way, because it means that you can know a few phrases in Arabic and manage quite well in a number of countries. However, Arabic is also a complicated language for those who haven't grown up around it, so pronunciation can be challenging. can be complicated.
There are also three different Arabic dialects that are spoken in Jordan, so for those with a good ear, you might notice some difference. The three Jordanian dialects are "Urban", "Rural", and "Bedouin".
With that in mind, the Kingdom of Jordan is quite small, so even among the different communities, dialects remain relatively consistent. And if you know these key words, you should be able to get around just fine.
Important ArabicWords To Know:
Yes: Nem
No: La
Thank You: Shukraan
Thank You Very Much: Eelaa alrahab walsaea
You're Welcome: Marhabaan bik
Please: law samahat
Excuse Me: aedhirni
Hello: Marhabaan
Goodbye: mae alsalama
Bathroom: Hamam
Read Our Latest Jordan Family Travel Blog Posts