These incredible places to visit in Jordan will make you re-think this tiny Middle-East Kingdom. Discover the best things to do in Jordan right here.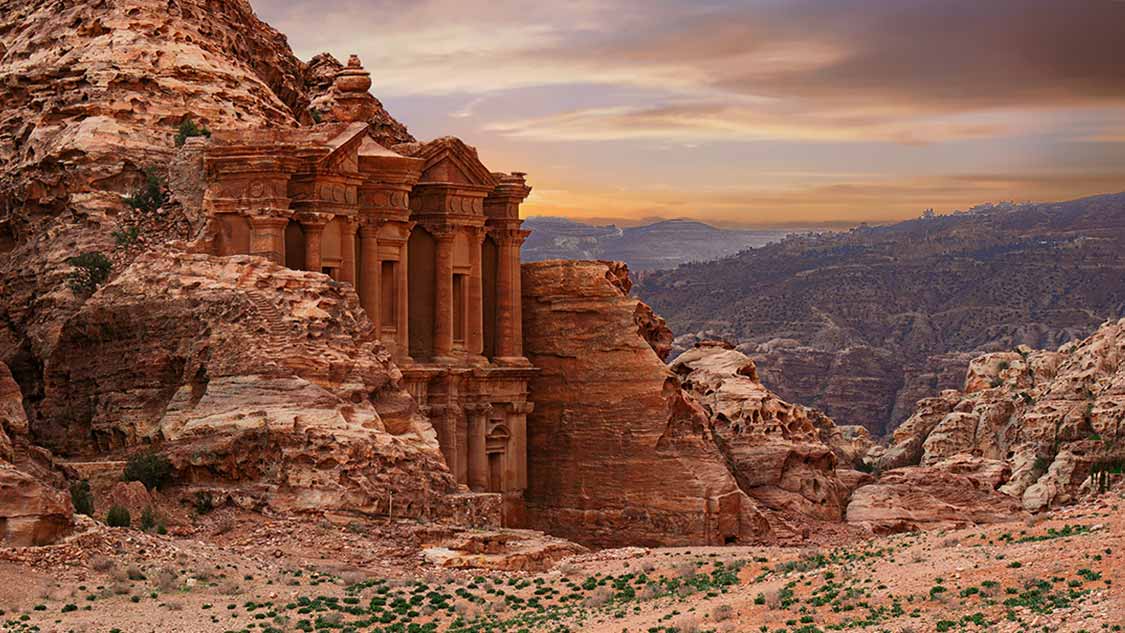 Travel in Jordan was eye-opening. There have been few countries that have made me fall so quickly head-over-heels in love with a destination. Perhaps it's the tiny size of this Middle-Eastern country. Perhaps it's the kindness and generosity of the people. Perhaps it was all of the breathtaking places to visit in Jordan that captured my heart. Or, more likely, it was the combination of everything from food to history, culture to beauty that made Jordan one of my favorite places in the world to travel.
Each day of our road trip through Jordan introduced us to something that took our breath away. From the billion-star nights while glamping in Wadi Rum to our introduction to the rose city of Petra, there was a non-stop influx of unforgettable things to do in Jordan.
Although Jordan is a small country, it's so packed with incredible attractions that it can be difficult to plan your visit. We've laid out the best attractions in Jordan along with some amazing experiences that often fall under the radar of many visitors. Whether you're visiting Jordan with kids like us, traveling with a tour group, or road-tripping through the country, these places to visit in Jordan should definitely be on your list.
If you're looking for more information on Jordan, check out our complete Jordan family travel blog here.
Our Favorite Places To Visit In Jordan
Whether it's the Jordanian food or the incredible history that brought you here, it's a sure thing that you will want to extend your stay in Jordan.
The Roman Ruins of Jerash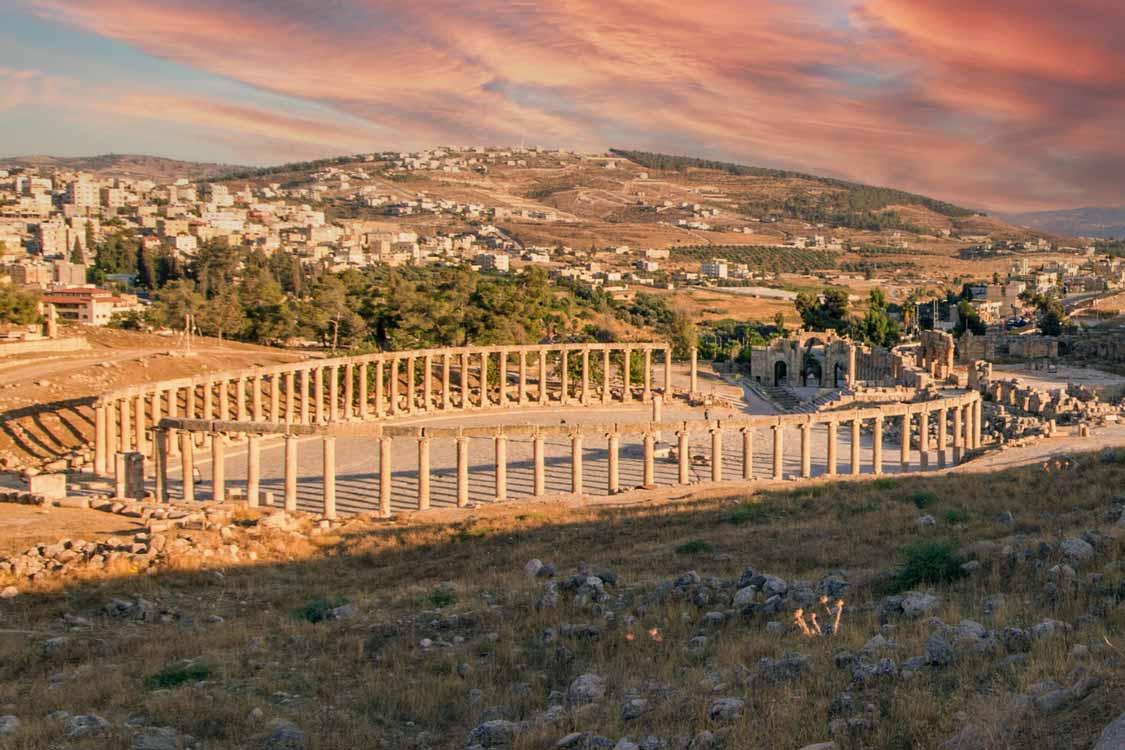 Traveling through Jordan offers incredible insight into just how far outwards from Italy the Roman empire expanded. And there are no better places to experience this than the ancient city of Jerash. In fact, the ruins of Jerash in Northwest Jordan are considered to be the best-preserved Roman ruins in the world.
Exploring Jerash is an easy day trip from the capital city of Amman. This sprawling Roman city boasts a hippodrome, whose chariot races could draw crowds of up to 15,000 spectators.
Although Jerash was built 2,200-year-old, the incredible condition of this city can easily make you feel like you have stepped back in time. Hire an official guide from outside of the city walls and learn about the incredible history.
Make sure to check out Hadrian's Arch, which was built to commemorate a visit by Emperor Hadrian, the Nymphaeum, and try your hand at finding the perfect singing spot at the South Theater. You can read all about our time in Jerash here.
Umm Qais
The sprawling ruins of Umm Qais lie near the crowded borders of Israel, Palestine, and Syria. As such, you might find that there is an increased police presence and occasional military checkpoints nearby. Travel to the area is sometimes closed due to border issues. Check the travel advisories before visiting.
Umm Qais, with its breathtaking views over the Sea of Galilee and Golan Heights, is one of the best places to visit in Jordan. The ruins of this beautiful Greek and Roman town might not be as pristine as Jerash, but it offers an opportunity to explore a far more intimate hillside town.
Mount Nebo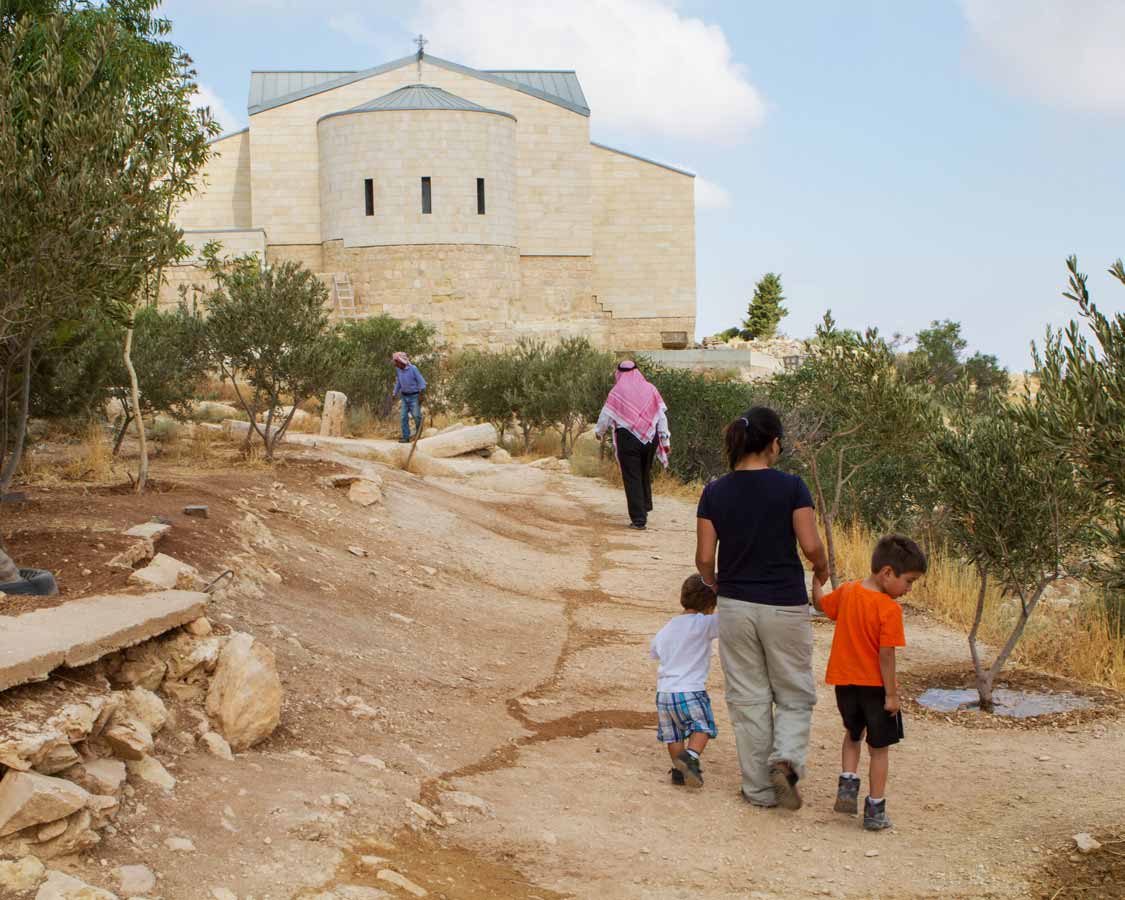 Mount Nebo took our breath away during our travels in Jordan. Not only does it offer magical views across the Jordan Valley as far as Israel, but it is packed with incredible mosaics, some of which are still being uncovered. These mosaics date back thousands of years.
Mount Nebo is an important spiritual pilgrimage as well. This mountaintop is said to be where Moses first laid eyes upon the Promised Land before his death. Some believe his body was buried on the mountain itself.
At around 1,000 meters tall, Mount Nebo sits just 7 miles from Madaba. It houses an active monastery and a Byzantium church. This was one of the most powerful stops for Christina on our 8-day tour through Jordan.
The Dana Biosphere Reserve
Cutting through the Rift Valley that leads down through the heart of Africa, the Dana Biosphere Reserve is one of the best wildlife preserves in Jordan. Visitors can experience multi-day hikes along rivers and Wadi's to experience the wildest places to visit in Jordan.
On the edge of the reserve is the town of Dana, which is a 15th century stone village that overlooks the valley and gives visitors a chance to see the greener side of this desert country.
When hiking the Dana Biosphere Reserve visitors might have the chance to see some of the elusive Jordanian wildlife including the Syrian Serin, the Blanford's fox, and the Nubian Ibex. You can read more about this attraction here.
Ajloun Castle
One of the coolest castles in Jordan is Aljoun Castle, which is just a short drive from Amman. Although getting to this hilltop castle requires driving up a winding route along some narrow roads, it's well worth the effort.
This site sits between Jerash and Umm Qais and offers visitors the chance to experience one of the country's best-preserved castles. Wander the winding staircases, battlements, and take in the stunning views of the Jordan Valley.
Aqaba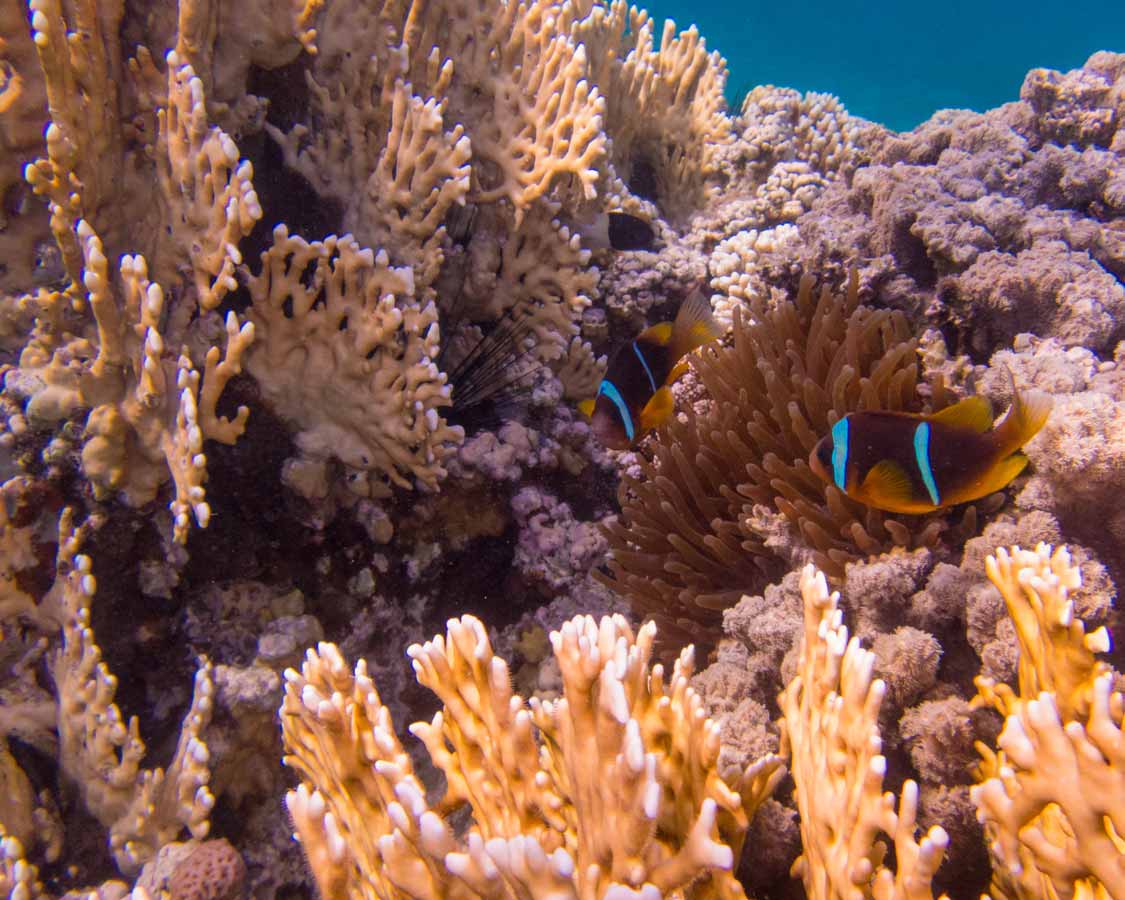 The luxury resort town of Aqaba offers the perfect escape from the dry climate of Jordan. Wide, palm-tree lined avenues border the sparkling waters of the Red Sea. The coast is lined with mega-resorts that offer a popular escape for locals as well as visitors from nearby Egypt and Israel.
You can experience snorkeling or SCUBA diving in the clear waters of the Red Sea or just laze on white-sand beaches and enjoy a cocktail.
If you're thinking about SCUBA diving, connect with the great folks at Sinbad's Dive Club We enjoyed a great day of diving while our kids relaxed at our Aqaba resort. You can read about our SCUBA in Jordan experience here.
Wadi Rum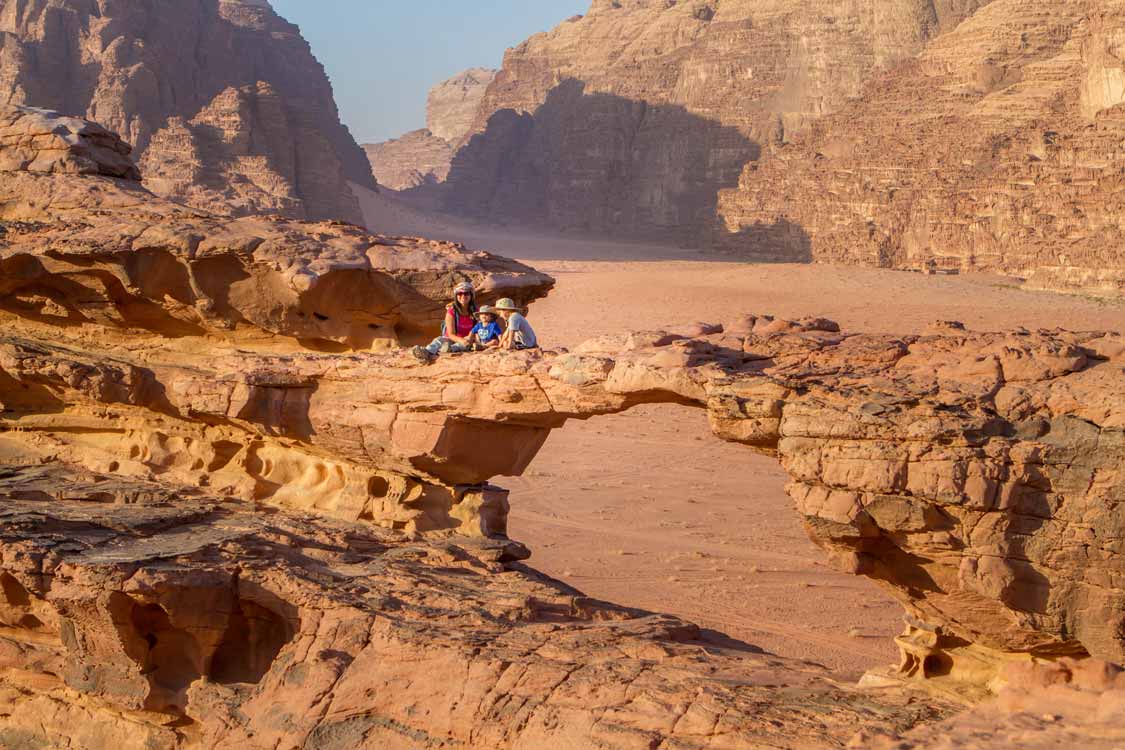 Touring Wadi Rum was one of our all-time favorite experiences while traveling in Jordan with kids. The Valley of the Moon, or Wadi Rum, is a breathtaking desert that is packed with narrow gorges, towering cliffs, and stone arches.
Explore Wadi Rum on a 4×4 tour and watch as local Bedouins herd packs of camels from water hole to water hole. Climb the red sand dunes that tower over the landscape and then sandboard down the other side.
Most Wadi Rum tours are run by local Bedouin families. Don't be surprised if your "luxury 4×4" experience is actually a bench in the back of a beat-up Toyota Hilux driven by someone who looks to be about 14.
The desert was a huge part of the filming of many movies including Lawrence of Arabia, Star Wars, The Martian, and many more. And one glimpse at the rust-coloured landscape and you'll understand why.
One of the most popular attractions in Jordan is a Wadi Rum glamping experience run by one of the local Bedouin communities. This was, without a doubt, our favorite night in the country. Relaxing under a blanket of stars next to a roaring fire while eating food cooked underground in traditional Bedouin-style was magic. You can read about our Wadi Rum glamping here.
Wadi Mujib
Wadi Mujib is one of our biggest reasons for returning to Jordan. Not only is Wadi Mujib one of the coolest things to do in Jordan for adventure-lovers, it's also one of the most beautiful places to visit.
Unfortunately, it's not an option when traveling in Jordan with kids. This is because access to Wadi Mujib is limited to those who are 18 and over. Because our kids were 2 and 4 at the time, not even fake mustaches would help us skirt those rules.
The big draw of Wadi Mujib is canyoneering and rapelling down towering waterfalls and plunging through natural waterslides into warm water pools nestled in narrow gorges.
We can't wait to get back when our kids are older and experience this must-visit attraction.
Shobak Castle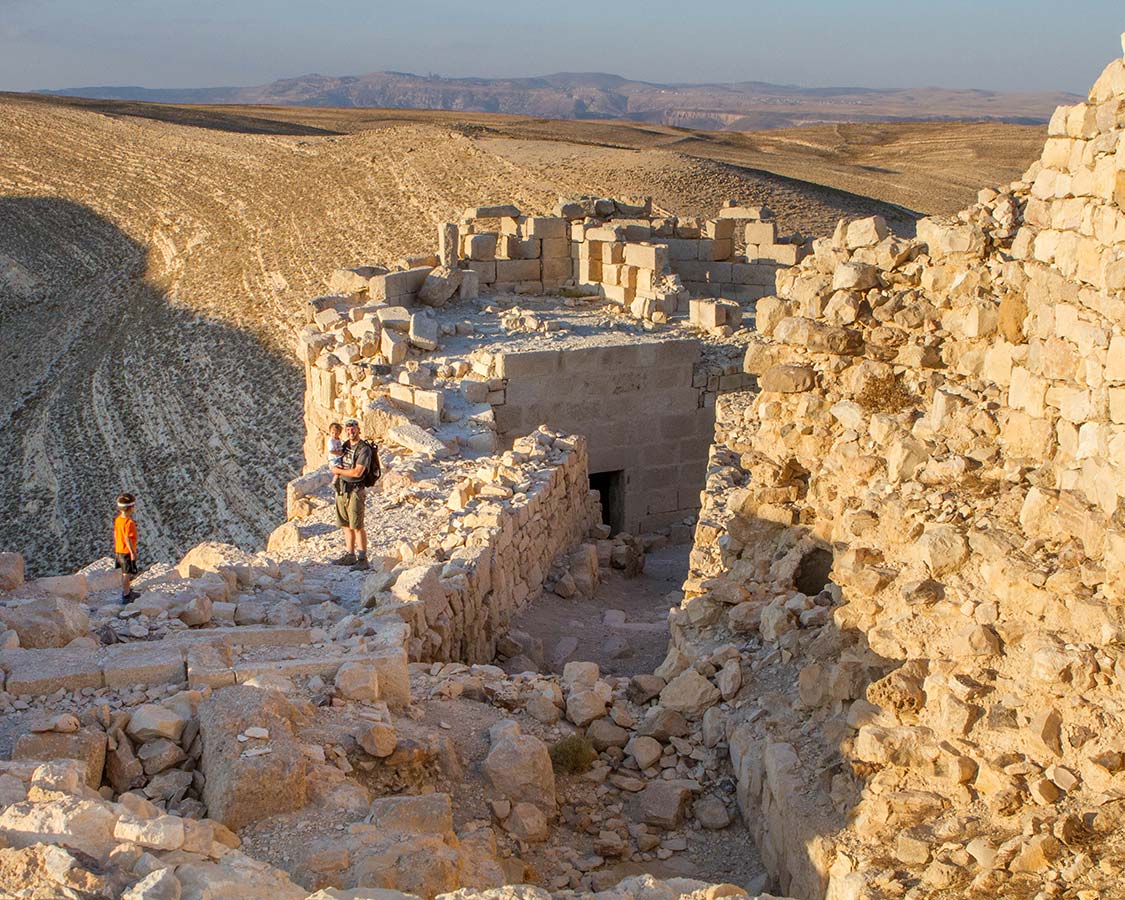 This 12th Century Crusader castle lies off the beaten path in Jordan. Although it's technically along the popular King's Highway route, it still requires a bit of a detour to get there.
Shobak Castle is just one of the many castles in Jordan. It sits majestically on a rocky outcrop that offers sweeping views of the surrounding landscape. And because of it's more remote location, it is rarely crowded with tourists.
What makes this castle so fascinating is that it is still not fully-excavated. Work was being done during our visit, but seeing the castle with almost no reconstruction and the raw preservation of the walls and arches was incredible.
There is a secret tunnel that leads down to the town below, see if you can find it!
Kerak Castle
Another awesome Jordan castle on the King's Highway is Kerak Castle. Contrary to Shobak Castle, this is one of the largest and most well-preserved Crusader Castles in Jordan. It sits majestically on a hilltop in the village of Kerak. You can find out more about this and other castles in Jordan here.
Madaba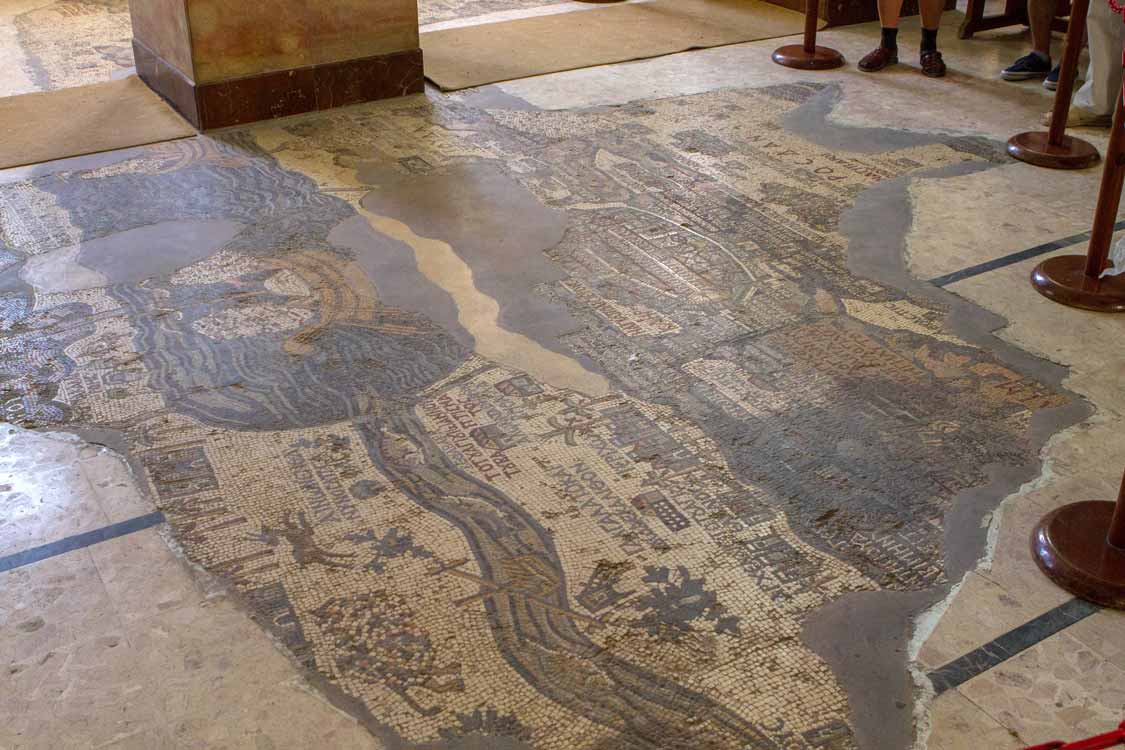 The city of Madaba, which lies along the King's Highway is one of the most popular places to visit in Jordan. The town itself is beautiful with many local shops and restaurants to explore. But it's the incredible mosaics that lie within St. George's Church that draws many people to the city.
The mosaics were discovered accidentally in 1884 when the church was undergoing renovations. Amidst the ruins of a Byzantine church they discovered one of the most complete and significant maps of Palestine.
Access to the church is open to all with a small fee. Since our visit, it has been roped off to keep visitors from treading on this important archaeological find.
The Dead Sea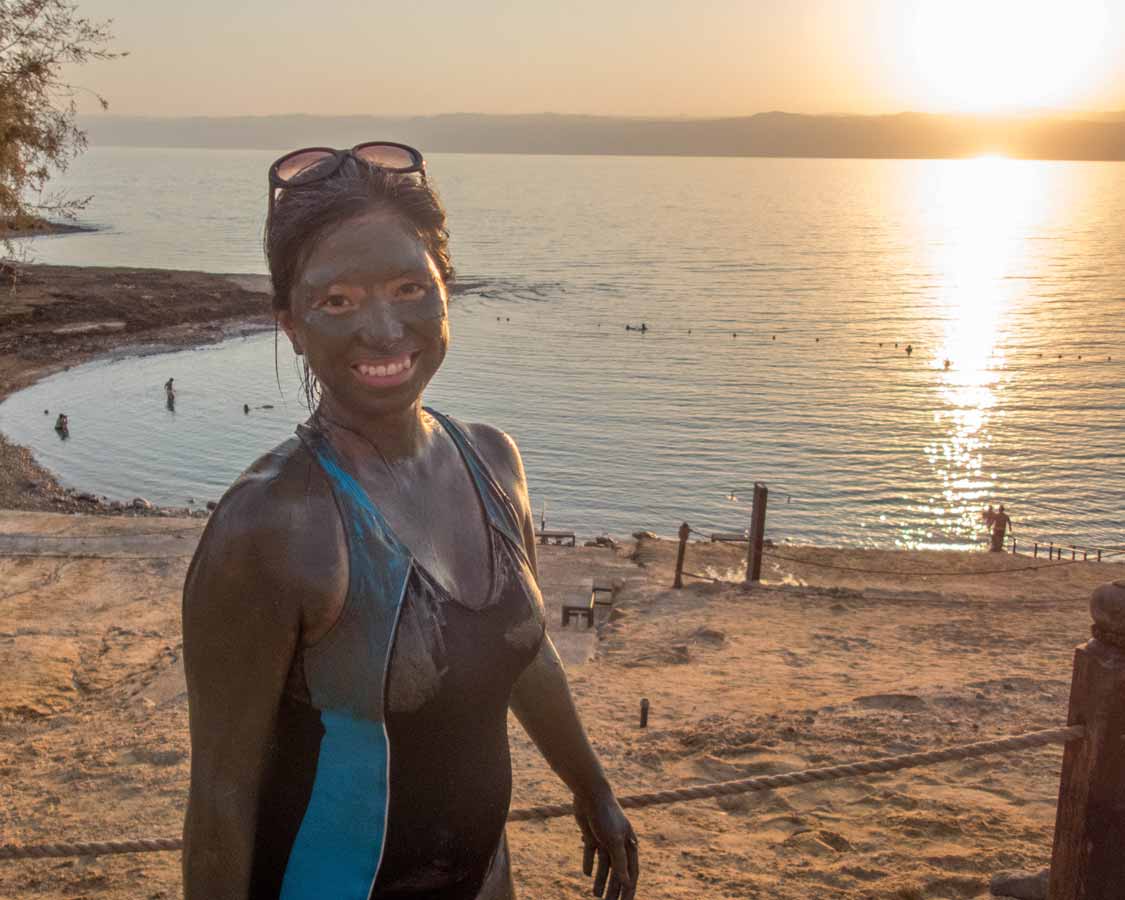 The lowest point on earth keeps getting lower. Tread down to the sinking shores of the Dead Sea for one of the most incredible things to do in Jordan.
The Dead Sea, aptly named as its milky waters contain salt levels four times higher than the world's oceans, is one of the most popular places to visit in Jordan. Not just because of its unique landscape, but for the healing powers of the mud that lines the shores.
For centuries visitors have been coming to the shores of the Dead Sea to lather in the mineral-rich mud and then clean off by effortlessly floating in the salty waters.
The shores of the Dead Sea are lined with luxury resorts and spas that take the healing powers of the minerals to an entirely new level. We stayed at the Kempinski Resort and absolutely loved it.
For a fun photograph, bring a newspaper or magazine to read as you float in the water. Just make sure you don't have any fresh cuts or scratches. They sting when they hit the water.
You can read about our time at the Dead Sea here.
Bethany Beyond The Jordan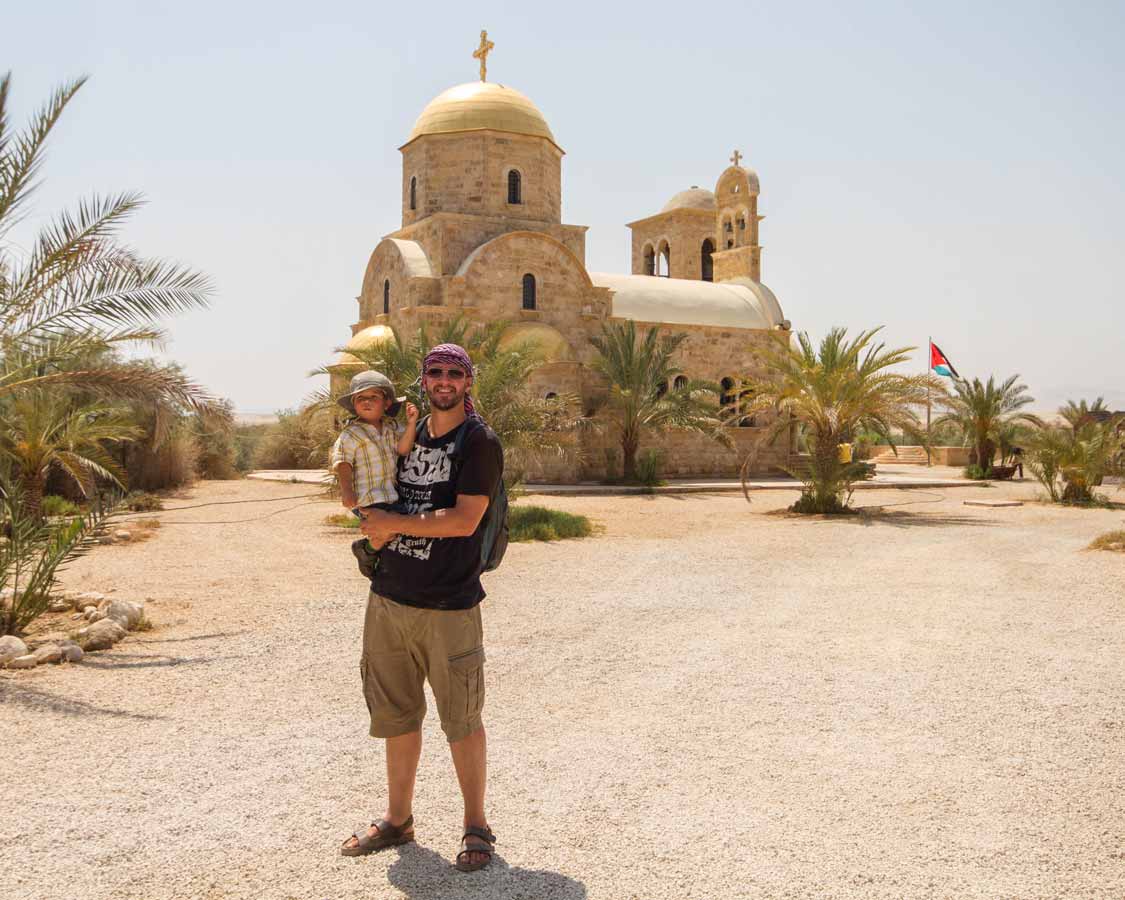 Like Mount Nebo, Bethany Beyond the Jordan is one of the most important pilgrimage sites in Jordan. This incredible property, which lies along the River Jordan, is believed to be the location where John the Baptist baptised Jesus.
Although the water not longer runs along the same route, you can still find the stairs that lead down to the original river bed where it is believed that this took place.
Bethany Beyond the Jordan is a recent addition to the list of UNESCO World Heritage Sites in Jordan. But walking around this property, you can feel the importance and history of it.
One of our favorite parts was sitting at the water with our legs dangling in the water while we watched flocks of pilgrims being baptised in Palestine.
Amra Castle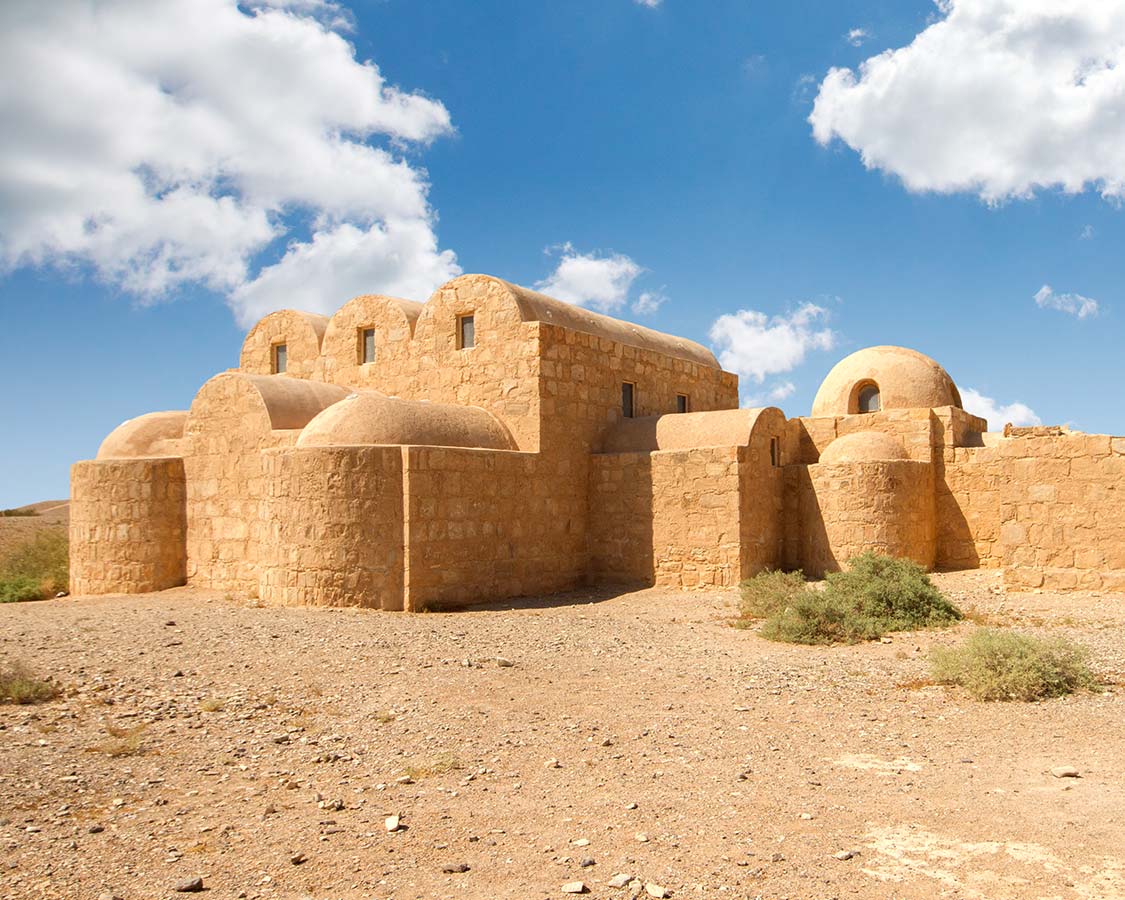 More of a palace than a castle, Qasr Amra is one of the coolest places to visit in Jordan thanks to it's spectacular frescoes and unique "Star Wars-like" architecture.
This unique 8th-century palace is incredibly preserved and was built as a royal oasis. It's one of the coolest castles in Jordan and definitely worth the short walk from the parking lot.
The Citadel and the Hand of Hercules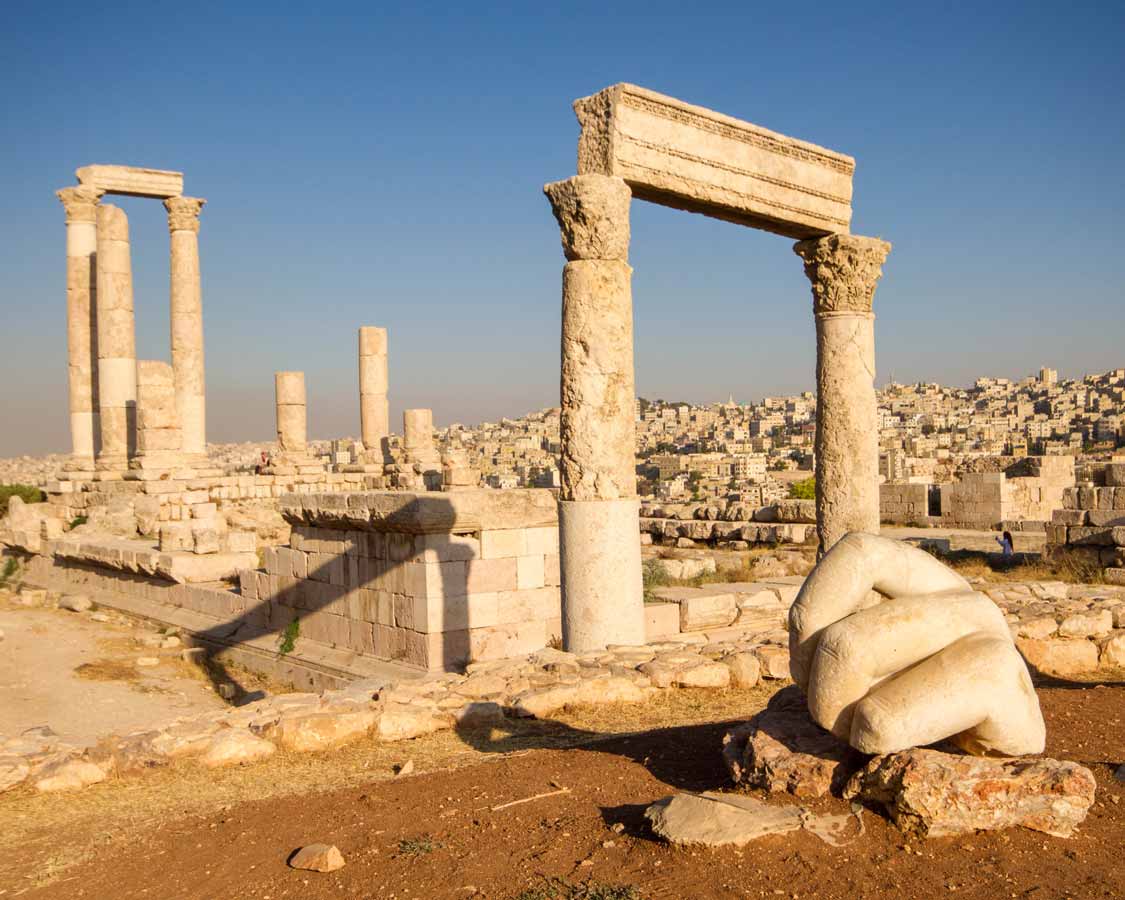 Located at the heart of the Jordanian capital of Amman, the ancient Roman ruins and Citadel are one of the most popular places to visit in Jordan. This area, which is believed to have been inhabited for more than 10,000 years, is full of magnificent history.
Explore the ages from the caves of ancient civilizations through to the Greek and Roman ruins that dot the Citadel. One of the coolest parts of the Amman Citadel is laying your eyes on the Hand of Hercules. This massive hand, which now lies on the ground near some columns, is believed to have once been part of a massive statue that acted as a tribute to Hercules. You can just imagine how gigantic the entire statue would have been.
The Citadel also houses a grove of fig tree's as well as newer palaces, including one still used by Jordan's royal family.
You can read about our time in the Citadel and Amman here.
Little Petra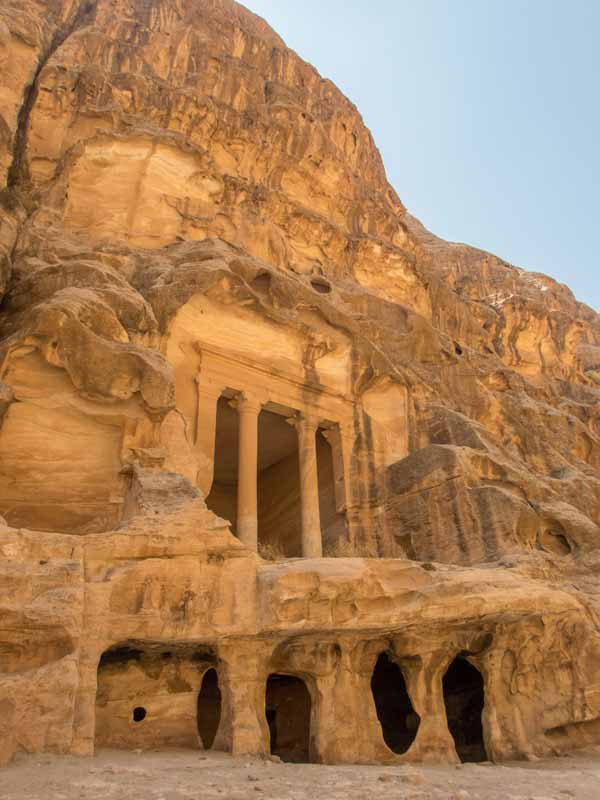 Just a short drive down the highway from its big sister, the suburb or Little Petra is one of the must-see things to do in Jordan. Unlike Petra, Little Petra is less about monuments and temples and is a more accurate representation of everyday living in Nabataean-era Jordan.
Stroll through the multi-level cave homes, many of which are still adorned with colorful mosaics from centuries past. The village is believed to have been used mainly to house locals and visiting traders who were traveling the Silk Road.
Petra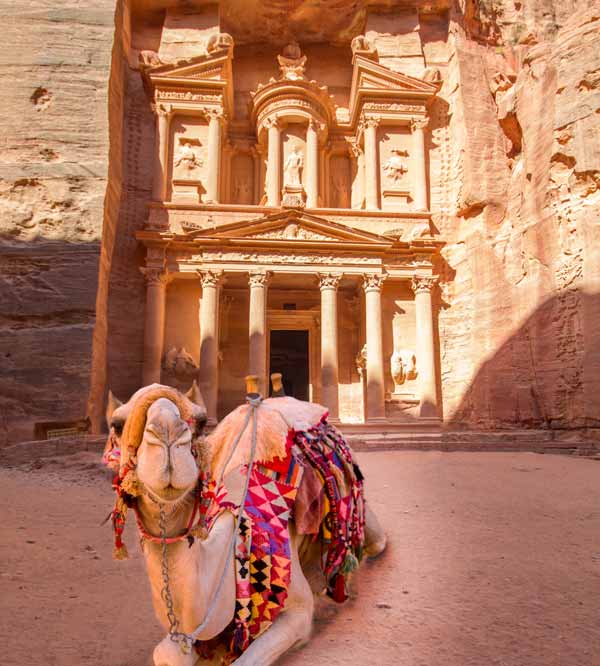 The crown jewel of all of the places to visit in Jordan is, of course, the rose city of Petra. This wonder of the world is worth at least two days of your time. Many visitors see the photos of the iconic Treasury and think it's one epic building. In fact, Petra is a sprawling city of more than 50 square miles and it is absolutely packed with incredible sites and attractions.
The most popular places to explore in Petra are the Siq, which is the long, narrow gorge that leads to the entrance of the city, and the Treasury, which is the stunning monument that sits at the end of the Siq. Throughout the city, you'll find all sorts of incredible buildings such as the Monastery, which sits at the top of a steep climb in the Petra Mountains, the Colonnaded Street, and the Nymphaeum, or even the High Place of Sacrifice.
If you're thinking of exploring Petra as a family, check out our guide to visiting Petra with kids here to help you prepare.
Final Notes On Travel To Jordan
Jordan is a magical destination. And I don't say that lightly. The people are warm, kind, and generous. The love we felt, and the kindness shown towards us as family travelers are among the warmest receptions we have received in any country during our travels.
When you visit, please remember that, although Jordan is a very progressive country, it is an Islamic State. As such, brush up on the rules, dress codes, and proper etiquette before you go. You can find much of that on our Jordan family travel blog.
If you're new to family travel, head over to our tips for international family travel post or our family travel gear guide to ensure that you have everything you need to explore Jordan comfortably. Many of the destinations in Jordan are not stroller-friendly. I recommend parents travel with a child carrier rather than a stroller for anything other than urban exploring.
And feel free to drop any questions, or comments below. I always answer them.
If you're passionate about family travel, head on over to our Family Travel Support Group on Facebook. It's a fantastic community of parents who love travel. We share experiences, knowledge, and the lessons learned along the way. You can also sign up for our newsletter to keep in the loop about new family travel adventures
Wandering Wagars is a participant in the Amazon Services LLC Associates Program, an affiliate advertising program designed to provide a means for sites to earn advertising fees by advertising and linking to amazon.com, amazon.co.uk, amazon.ca. Amazon and the Amazon logo are trademarks of Amazon.com, Inc., or its affiliates.
You May Also Like To Read: