Our guide to the Best Child Carrier Backpack in 2023 will help you explore with kids wherever you want to go. We examine child carriers for newborns, toddler carriers, and more to help you adventure safely and comfortably.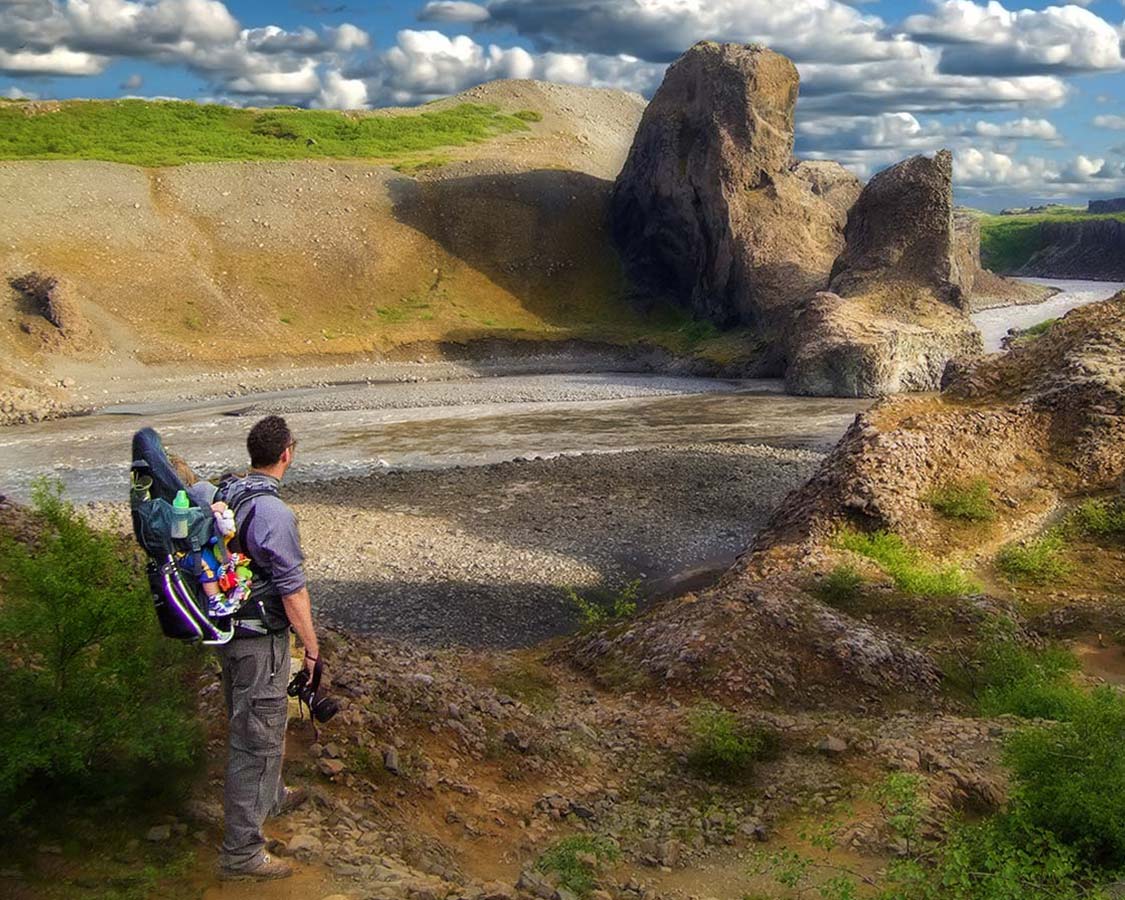 Getting outside and into nature opens up the best playground in the world for children. Having a great toddler carrier and experiencing that wild world makes it so much easier both for adults and kids.
Sometimes getting outdoors with kids in tow can be a challenge. Little legs may not be able to keep up during hiking excursions and piggyback rides may not be the easiest for either the parents or the child.
So we did a LOT of research to come up with the best toddler backpack carrier for hiking and travel and we've laid out all of our findings here to help you out!
What Is The Best Child Carrier?
Not everyone has time to read the breakdown of each of my top picks for the best child carrier backpack. So, if you want to jump straight to my picks, check out the chart below.
If you'd like some more details, feel free to read through and check out my detailed breakdowns of what makes the best baby carrier and toddler carriers a little further down.
Best Overall
Runner Up
Best Budget
Best Frameless
Deuter Kid Comfort Pro
Osprey Poco LT
Kelty Journey PerfectFIT
ErgoBaby 360 Mesh
Weight: 7.2 lbs
Weight: 7.14lbs
Weight: 5.4 lbs
Weight: 1.8 lbs
Comfort: 5/5
Comfort: 5/5
Comfort: 4/5
Comfort: 4/5
Capacity: 14L
Capacity: 26L
Capacity: 17L
Capacity: 0L
Durability: 5/5
Durability: 5/5
Durability: 5/5
Durability: 4/5
Features:
Most Comfortable Design
Tall Ride Height
Included Sun Shade and Rain Cover
Features:
Excellent Build Quality
Built-In Changing Pad
Large Storage Capacity
Features:
Accessible Storage
Sturdy Design
Decent Comfort
Fits Many Body Types
Features:
Reinforced Stitches
Comfortable
Lightweight
Keeps Baby Close
Buy Now
Buy Now
Buy Now
Buy Now
Why Trust My Opinion On Kid Carriers?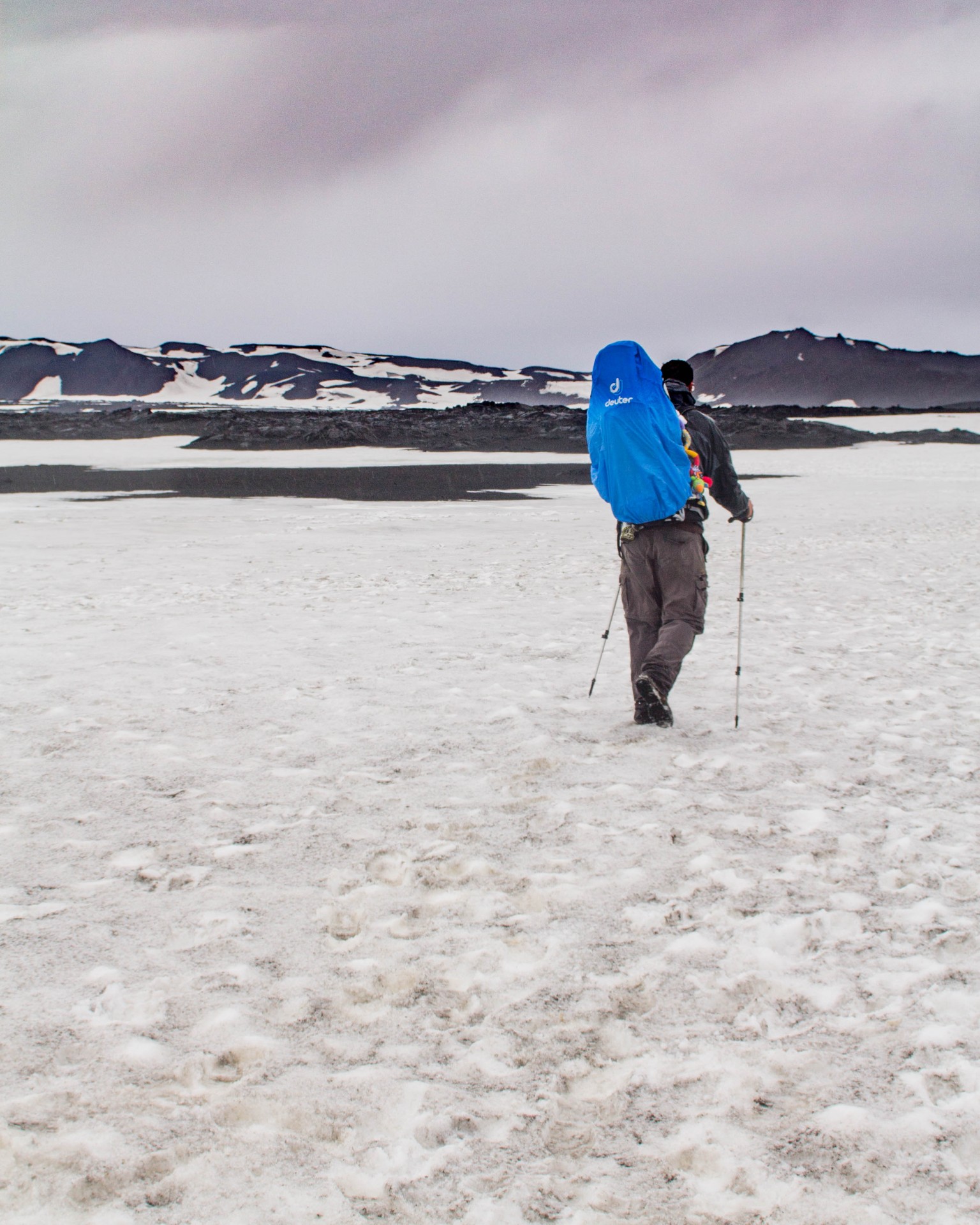 I'm a father of two who has been traveling with children for the past 11 years. For the past 8 years, I've been running this website helping parents from around the world navigate the ins and outs of family travel. I've even been brought in as a consultant by many destinations to help them understand how families travel. You might say that family travel has become one of the biggest parts of my life.
My children are 9 and 11 years old. But ever since they were born we've traveled together through more than 23 countries across five continents. In fact, by the time they had turned three, both my children had traveled through over 10 countries, many of which included destinations that were not stroller-friendly.
I've made family travel my life. And along the way, I've been cited as an adventure family travel expert by organizations including the Lonely Planet, Intrepid Travel, the Family Travel Association, Matador Network, the Canadian Broadcasting Corporation, and TripAdvisor.
I've used several toddler backpack carriers on my world travels with kids including exploring the ruins of Petra Jordan, hiking volcanoes in Iceland, and searching for Incan treasure in Colombia.
Since then I've made sure to keep up to date on the best family travel gear to share with my readers and my Family Travel Support Group on Facebook.
I regularly travel to gear events such as Outdoor Retailer in Denver, Colorado to stay abreast of new gear trends and technologies. Because having the right tools can make travel with kids even more enjoyable.
I also make sure to test these kid carriers on multiple body types. I'm 6'3 and my wife is 5'0. So everything that we recommend is comfortable for both of us.
What To Look For In A Toddler Backpack Carrier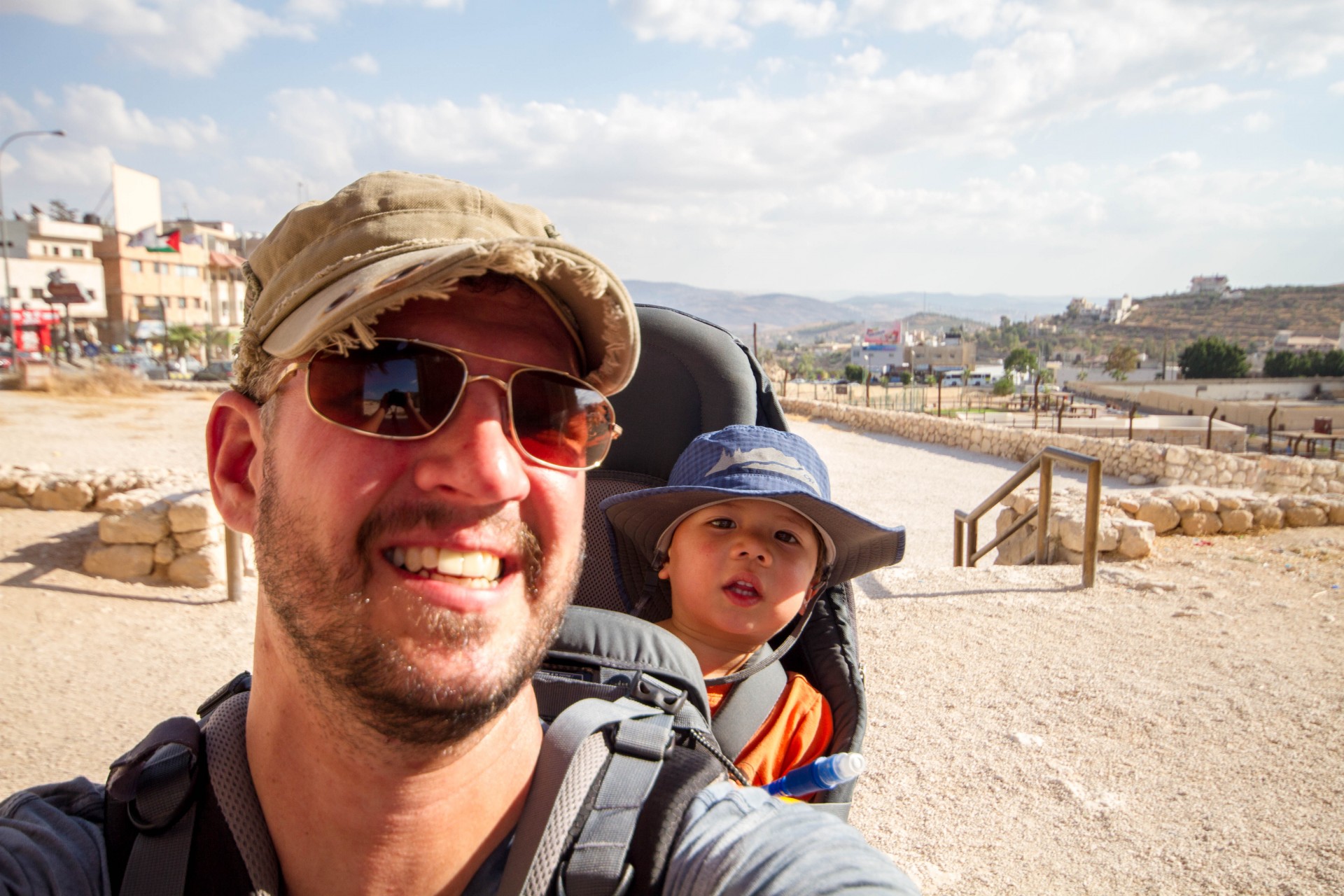 The best hiking baby carriers need to be comfortable for both the parents and the child. They need to be functional, ergonomic, lightweight, feature-packed, and of course, durable.
Toddler backpack carriers come in all sorts of different shapes and sizes, and not all of the models are perfect for every lifestyle. There are a number of hiking kid carrier backpacks that didn't make our list as well. Some of them we have extensive reviews on, such as the Freeloader Child carrier.
Whether you're looking for the best baby carrier or the best child carrier for hiking, the features need to be able to accommodate everyone.
And of course, the child's needs and comfort have to be part of the equation. We have used the following criteria to rank our favorite kid carrier backpack:
Weight – Weight can be a huge factor. The lighter the unit, the easier it is on the carrier.
Comfort – Comfort is measured for both the child and the carrier. Factors such as let straps, headrests, shoulder padding, and waist belts are all important.
Ease-of-use – The best toddler backpack carriers must be easy to use. The more complicated a product, the less likely they are to be used effectively.
Sitting Position – This is all about the child and their happiness with the view. The best child carriers let the children sit high where they can have an unobstructed view of the world around them.
Storage capacity – Adults don't want to have to carry multiple bags with them. The best kid carriers have storage areas where things such as snacks, bottles, and extra clothes can be stored safely.
Price – The best child carrier backpacks can be expensive. These units come in a range of prices, and not all of them are worth the money.
Features – We examine features such as hydration packs, standing frames, weather covers, and many of the extra features that make some child backpack carriers a better deal than others.
All of the best baby hiking backpacks that we tested performed very well. There were of course advantages and disadvantages to each one, and we'll list those a little more in-depth further down in the article.
But through all of our tests, one toddler hiking carrier consistently stood above the rest. With that in mind our Top Baby Carrier Backpack is:
The Best Child Carriers for Hiking and Travel
Now that our winner has been announced, let's sort out our ranking for the best baby carrier backpack for hiking and travel.
Because every family has different needs, different budgets, and own unique travel style, it's good to understand what makes each hiking baby carrier unique in order to determine which one is perfect for you.
Deuter Kid Comfort Pro Child Carrier – Our Choice For The Best Child Carrier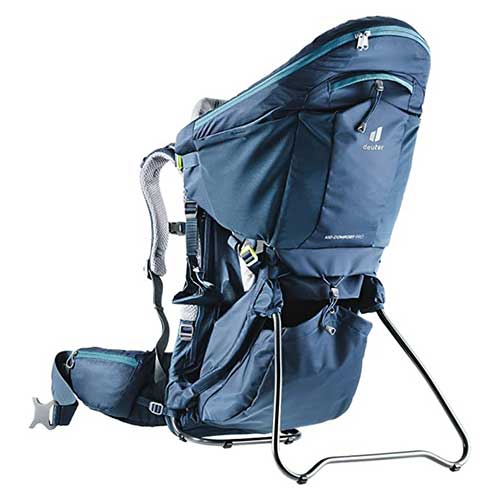 During our early family travels, the Deuter Kid Comfort III was our go-to child carrier for travel. That unit served us well but was replaced in the Deuter lineup by the Kid Comfort Active and Kid Comfort Pro series.
The newest model Pro includes a lighter chassis that makes long days on the trail easier. This year's model combines high levels of comfort and safety paired with one of the top manufacturing designs around.
Deuter is known for its quality suspension systems. The sturdy aluminum frame is designed to accommodate a growing, active child. The model's comfortable hip belt and mesh back panel make it very comfortable for the adult carrying the pack as well.
The Deuter Kid Comfort Pro wins our vote for the best baby backpack carrier in the market. It's lighter, more versatile, and somehow packs even more storage space. This has become the benchmark child carrier hiking backpack for families.
We'll get deeper into what makes the Deuter Kid Comfort Pro the best toddler carrier later. But if you want to check the best prices on the Deuter Kid Comfort Pro, you can find that here.
You can check out the review of our first Deuter Kid Comfort III here. And if you want to skip the reading and just see our best child carriers for active families, you can see our features list below.
Deuter Kid Comfort Pro Pros
Comfort – This was the most comfortable unit for both adults and children
High Ride Height – The Deuter was the best child carrier for ride height. Views for the child were nearly unobstructed when set up correctly.
Durable – The Deuter is well-built and is designed to handle anything an adventurous family throws at it.
Included Sun Shade and Rain Cover – The Deuter Kid Comfort Pro includes both a built-in sunshade and a pullover rain cover.
Storage – The latest model of the Deuter Kid Comfort Pro includes a detachable front pack. This, in my opinion, is one of the best features of this product. You now have
Deuter Kid Comfort Pro Cons
Hydration Pack not Included – The Deuter is compatible with hydration packs. But for the price of the unit, it would be nice to have the hydration pack included. That being said, they aren't expensive and are easy to install. You can pick one up here.
Weight – The newest Kid Comfort Pro child carrier is over half a pound lighter than the previous model. While it is the most comfortable baby carrier, it would be nice if the next model shed an additional half of a pound.
Runner Up – Osprey Poco Plus Kid Carrier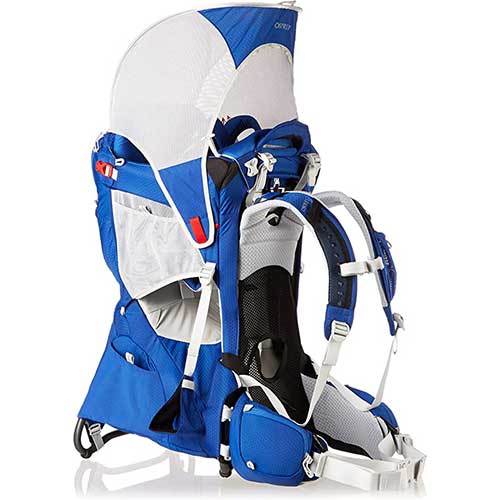 Osprey is one of the top names in travel backpacks. In fact, they make several of our favorite hiking daypacks. There is absolutely no denying the quality of the build of the Osprey backpacks. The Osprey Poco LT is no exception.
This runner-up to our best child carrier is built to last the toughest family activities and the wildest children. I really appreciate the child cockpit with a double halo child harness. It's adjustable with removable foot stirrups.
The brand new LT model upgrades their earlier Osprey Poco Plus to include a retractable rain cover. The minimum child weight is 16 lbs for use and the maximum weight including child, gear, and carriers is 48.5 lbs.
As far as toddler backpack carriers go, the Osprey Poco Plus is a high-quality unit. And the Osprey adjustable fitting system makes it very quick to fit different body types when you're on the go. You can read more about the Osprey Poco Plus here.
Osprey Poco Plus Pros
Well-Built– The Osprey child carrier is built with the high-quality materials and attention to detail that you would expect of an Osprey pack
Built-in-Changing Pad – It's a little thing, but having a diaper-changing pad included in the pack is a great thing for changing babies on the trail.
Storage – At 26L, the Osprey kid carrier has a lot of room for gear. And the convenient under-seat location helps keep the weight down low.
Osprey Poco Plus Cons
Comfort – There is no doubt that the Osprey baby carrier is comfortable, but it falls short of the Deuter Kid Comfort Pro levels.
Ride Height – We found that the seating height of the Osprey Poco makes visibility difficult for younger children.
Hip Belt– The Hip Belt is the main weakness of the Osprey child carrier. It does not seem to be designed with all body types in mind.
Best Budget Kid Carrier – Kelty Journey PerfectFIT Elite Child Carrier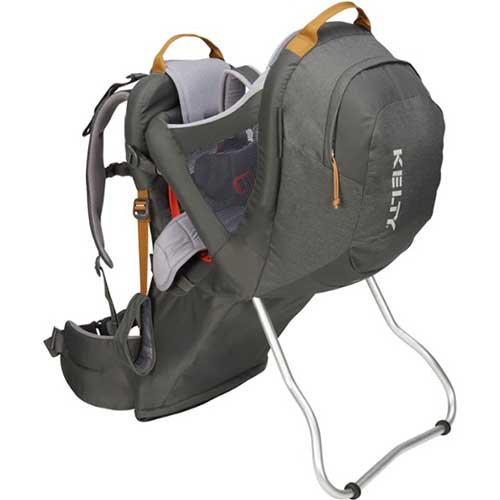 The Kelty Journey PerfectFIT series is an update from their older Kelty Pathfinder and Journey designs. The Kelty Journey PerfectFIT child carrier is a premium hiking kid carrier that sits at the top of the Kelty product line making it one of the top child carriers for urban and nature exploring.
This kid carrier is designed with adjustable straps to help fit most body types and does a great job of distributing the weight of the pack and its passenger to the hips rather than the shoulders.
At 5lbs 4oz, this is the lightest child carrier that we tested. While the new model has shaved off some weight, it did so at the expense of storage capacity. Even so, this remains one of the best kid carriers this year for those who are looking for lightweight models. You can read more about the Kelty Journey PerfectFIT Elite here.
Kelty Journey PerfectFIT Pros
Comfort – Next to the Deuter Kid Comfort Pro, the Kelty Journey PerfectFIT offers the most comfortable cockpit for children.
Storage – The Kelty backpack child carrier finds a good balance between storage capacity and overall weight.
Price – The Kelty Journey PerfectFIT is one of the lowest-priced framed toddler carriers on the market.
Kelty Journey PerfectFIT Cons
No Stirrups – As comfortable as the cockpit of the Kelty Journey PerfectFIT is, it has no stirrups for children to place their legs. This means long hikes could make for tired or uncomfortable legs.
Fit – The Kelty kid carrier fits great. And all but the smallest body frames would be very comfortable carrying it.
Setup – The manual for the Kelty child carrier is a bit confusing.
Best Frameless Baby Carrier – ErgoBaby 360 Mesh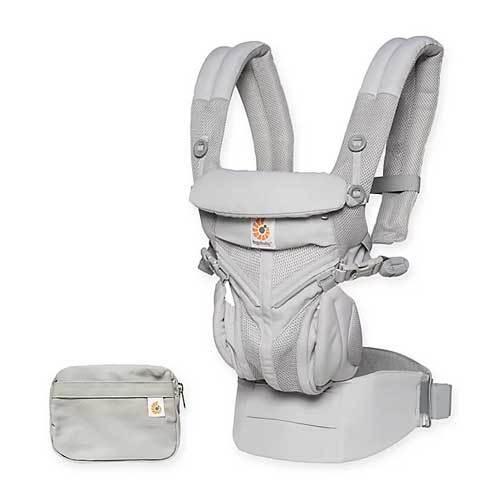 Many framed child carriers have height or weight limits due to the safety and height that the children sit at. In some cases, factors such as cold weather, tight spaces, or small children mean going with a smaller, more secure baby carrier for hiking. For those cases, a frameless child carrier is great for keeping babies close to the body and within easy reach of the adult's hands.
The Ergobaby 360 Mesh is the newest iteration from last year's Omni line. The brand-new Ergobaby Mesh 360 nudges its way to the top position thanks to the option of a rear-backpack position.
This is a great choice for hiking once the baby is able to hold their own head up. It's simple, lightweight, and comfortable. And unlike larger, framed child carriers, these models keep the little-one close to the parent for safety and comfort.
ErgoBaby 360 Mesh Pros
Comfort – Models such as the ErgoBaby Mesh 360 and the BabyBjorn are ultra-comfortable child carriers as the baby stays very close to the body maximizing weight distribution and body heat.
Fit – The ErgoBaby conforms nicely to practically any body type.
Safety – With the snug fit, the baby is in a very safe position both from falls and inadvertent bumps on the trail.
ErgoBaby 360 Mesh Cons
Storage – It should come as no surprise due to its size, but the ErgoBaby has no internal storage options.
Tips For Choosing The Best Baby Carrier Backpack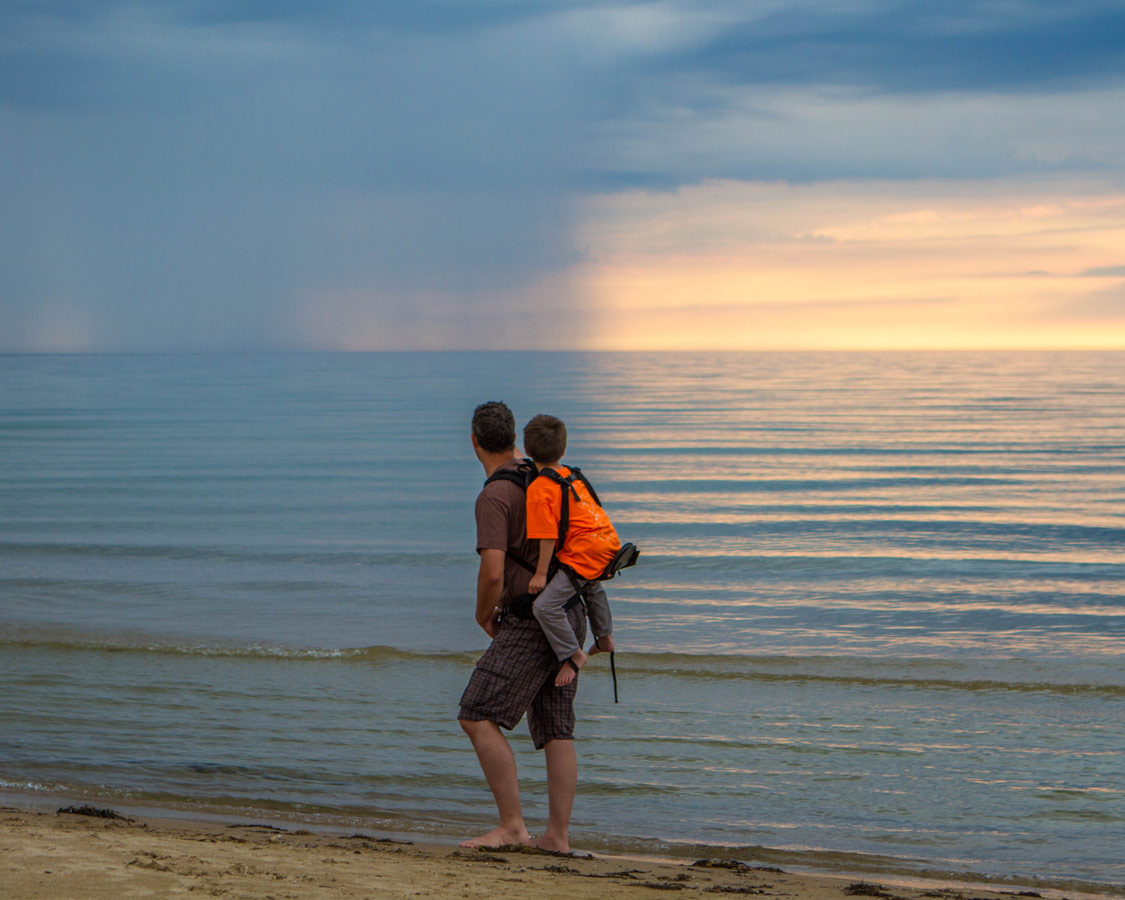 Comfort
From the baby harness to the hip belt to the shoulder straps, every piece of a baby hiking backpack should be comfortable. A hiking baby carrier should be able to be worn for long periods of time with minimal strain on either the child or the person carrying them.
Weight
Because of how much engineering goes into building a toddler back carrier, they can get heavy. But there needs to be a balance between durability, weight, and storage capacity.
Cockpit for the Child
The area where a child sits in a baby hiking backpack is normally called the cockpit. They should include padded areas that breathe well to keep the child from overheating on hot days. Cockpits should also include a 5-point harness that is easily accessed by the parent but can't be unlatched by the child.
Sun and Rain Protection
Although often sold as extra accessories, having included sunshade and rain covers is a good feature to look for in a baby carrier hiking backpack. Having to purchase these items separately can quickly boost a child carrier's price beyond the competition.
Adjustable Straps and Harness
Having adjustable harnesses is important if more than one person will be carrying the hiking backpack carrier. The most comfortable baby carrier should fit all body types.
This is also important for the child in the cockpit. Seats, stirrups, and straps need to be able to be adjusted to fit the child as they grow.
Storage Options
Keeping weight down is important, but having enough room to store your gear when on the trail or in the city is important too. You don't want to have to carry multiple packs around with you, so having enough storage to fit clothes, snacks, and gear can make a big difference.
Other features to look for in the top baby carriers
Water Storage/Hydration Packs
These are great for keeping hydrated when using a hiking child carrier on the go. The best child carriers should have hydration slots accessible for both the child and parent to access should they get thirsty.
Stirrups
Stirrups in a toddler baby carrier offer children a spot to rest their legs while they are in the cockpit. A lack of stirrups could mean that the child's legs dangle unnecessarily. This can cause a lack of blood flow, causing the child's legs to fall asleep.
Size and Weight Limits
Make sure your child fits between the size and weight limitations listed by the manufacturer. The top baby carriers should be very clear about what those limitations are.
What Is Your Favorite Toddler Backpack Carrier?
Whether you're traveling locally or internationally, these kid carriers will help make your potty training a lot easier. If you're passionate about family travel, head over to our Family Travel Facebook Community and share your tips. We would love to hear about your favorite experiences.
Wandering Wagars is a participant in the Amazon Services LLC Associates Program, an affiliate advertising program designed to provide a means for sites to earn advertising fees by advertising and linking to amazon.com, amazon.co.uk, amazon.ca. Amazon and the Amazon logo are trademarks of Amazon.com, Inc. or its affiliates.
You May Also Like To Read:
Pin This Post For Later: